One of the little annoyances that camping and RVing can entail is finding ways to charge your devices. Things like smartphones can plug into car chargers, but for laptops and other essentials it can be a lot harder. Thankfully, 12V adapters have your back. They provide a way to convert the power from your car or RV dash to usable AC power for larger devices. Today we're covering some of the best 12V adapters on the market to help you find the perfect one for your needs.
Best 12V Adapters
The best 12V adapters aren't the same as the best RV inverters. While they serve similar purposes, 12V adapters are much smaller and less expensive.
They're designed for use in the front cab running off your dash cigarette lighter outlet or hooked into your battery bank. For their role, they do a darn good job.
We picked out some of the best 12V adapters available to review for you. They include models of all different capacities, design styles, and prices.
BESTEK 300 Watt Pure Sine Wave 12V Car Adapter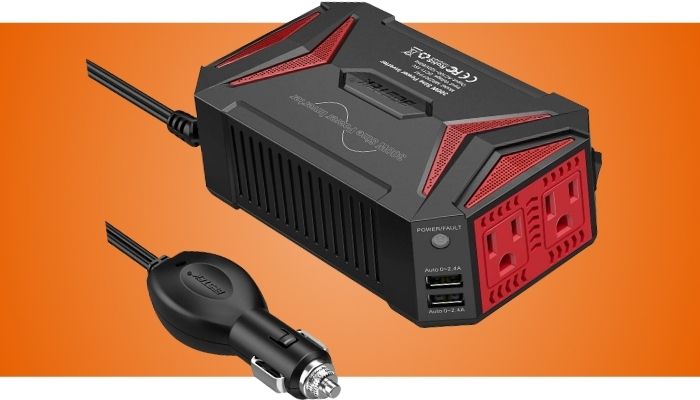 The BESTESK 12V Car Adapter is a compact and powerful adapter well suited for car or RV use. It uses a pure sine wave inverter and includes some really nice safety features.
The inverter itself offers 300W of continuous draw and up to 700W of peak draw. That's enough to effectively power larger appliances like mini-fridges, TVs, and powerful laptops.
It also includes a pair of USB ports, each capable of providing 2.4A of power. When you consider many 12V adapters only offer up to about 3A of power spread across multiple ports you see why that's a great feature.
The body of the adapter has a dark black and red design that's pretty sharp and allows you to put it just about anywhere. It includes a 40A integrated fuse, an automatic fan, and a range of important voltage and heat protections.
If you're looking for an affordable and reliable 12V adapter the BESTEK is a good choice to make.
Pros – Things we liked
Uses a pure sine wave inverter
300W continuous draw
Pair of USB ports
Automatic fan
Cons – Things we didn't like
Needs external fuse as it's tricky to replace
Ampeak 100W DC 12V to 110V AC Car Adapter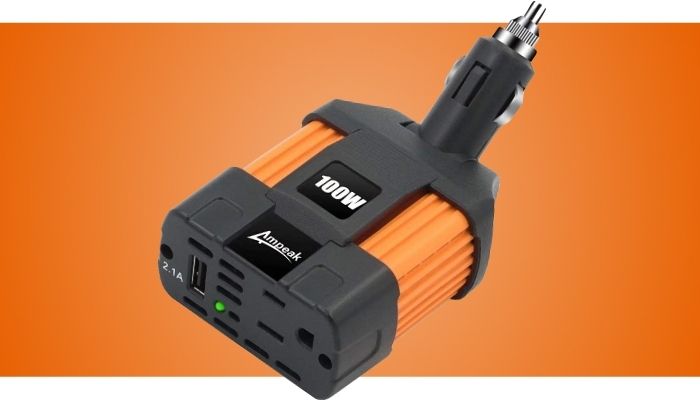 The Ampeak 12V Car Adapter is a fixed position inverter for use in your car or RV. It uses a direct plug design that makes it extremely compact but does limit its usability somewhat.
It has a 100W inverter with a 300W surge capability. That's just about enough to power things like laptops, tablets, and other small electronics.
Portwise it has just a single AC plug and one 2.1A USB port. Give its relatively low power rating this is a good arrangement.
We thought we were going to dislike the lack of a power cord but were pleasantly surprised. It plugs directly into your dash cigarette outlet and just kind of hangs there. It makes it harder to use if you've got shorter cords on your devices but overall made it a lot easier to keep things organized.
If you're looking for a basic way to charge up a laptop or similar device from your dash DC outlet the Ampeak 100W provides just enough power in a very compact package.
BESTEK 150W Power Adapter with 2 USB Charging Ports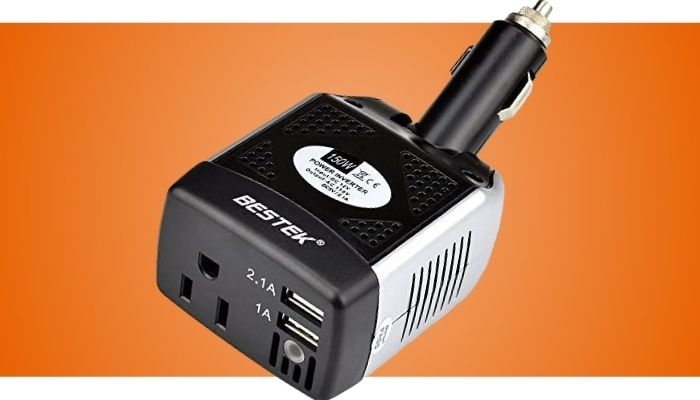 The BESTEK 150W is a fixed plug 12V adapter capable of powering a few small devices. It has a pair of USB ports and a single AC outlet.
The inverter offers 150W of power plus a 360W surge for starting up larger devices. This is a really nice sweet spot between the smallest 12V adapters and the larger 300W+ models.
It's just right for powering a laptop, small fan, or similar device. The two USB ports offer 2.4A and 1A respectively and allow you to charge up a tablet and another smaller device at the same time.
We were really impressed with the integrated safety features. Despite its small size the BESTEK 150W includes a cooling fan plus automatic shutdown sensors in case of an overload or overheating.
All in all the BESTEK 150W is a good product if you want to power up your AC devices while driving without drawing on the battery bank of your RV.
Giandel 300W Pure Sine Wave Power Adapter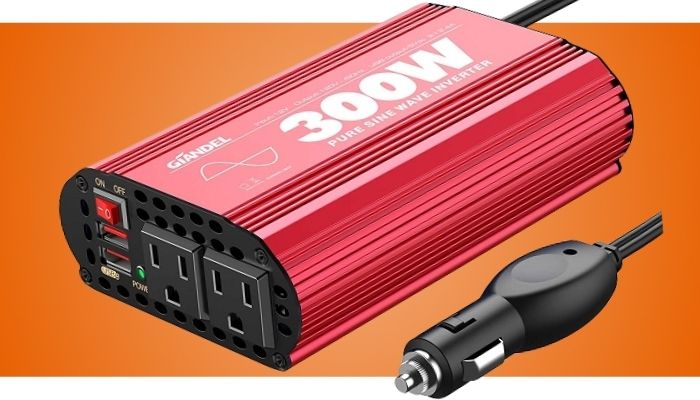 The Giandel 300W is a classic 12V power adapter built for RV and car use. It provides you with a pair of AC outlets and two USB ports for charging a range of devices.
The purse sine wave inverter is rated for 300W continuous and 600W surge. That's enough to power some larger devices like a DC mini-fridge or a pair of laptops.
We really liked that each of the two USB ports was rated at 2.4A. That allows you to charge a pair of modern smartphones or tablets much faster.
From a safety perspective, the Giandel also gets high marks. It uses an externally accessible 35A fuse and comes with a pair of spare fuses. This protects you from the worst results of a short circuit and allows you to quickly get your adapter back up and running.
The Giandel 300W is a reasonably priced and well-made 12V adapter. It offers dependable performance plus the flexibility to be used in multiple situations.
POTEK 500W AC Car Converter with Digital Display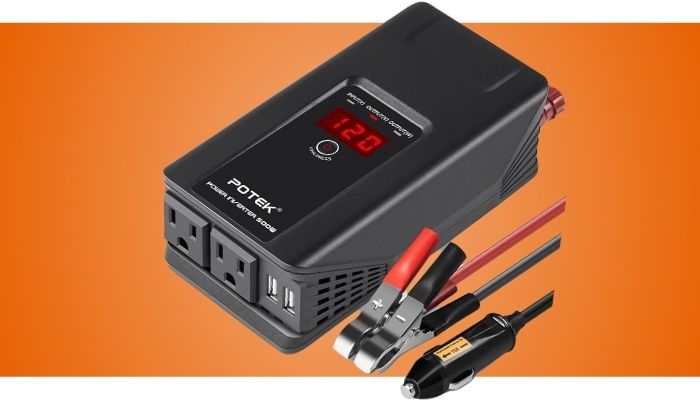 The POTEK 500W car adapter is a powerful and versatile tool for an RVer. It's designed for use with both standard cigarette outlets and a direct connection to a 12V battery system.
We loved the capacity of its inverter. It can provide 500W of continuous draw and fully 1000W of surge. That's enough power to run laptops, medical devices, mini-fridges, and other small to medium DC appliances. One thing to keep in mind though is that maximum power can only be provided through a direct connection to a battery.
Some other features we liked were the builtin digital display and comprehensive safety features. The display provided useful information like the input voltage, output wattage, plus safety warnings.
If you're looking for a higher powered 12V adapter capable of running off both a cigarette outlet and a direct battery connection, the POTEK 500W is a dependable choice.
Energizer 500 Watts Power Adapter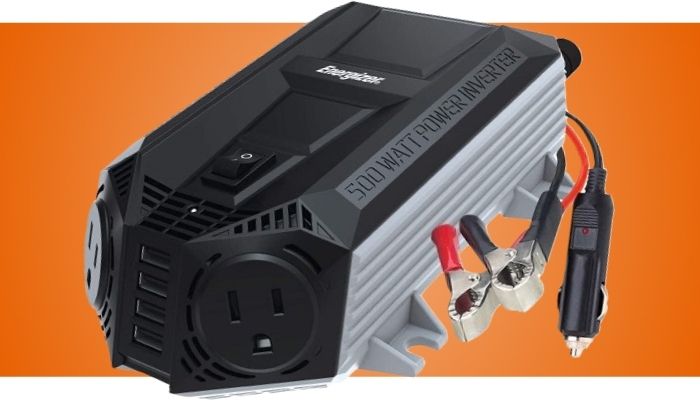 Energizer is a well known brand in the battery and consumer electronics market. What many don't realize is they also offer a full line of inverters, adapters, and other 12V gadgets.
Their 500W power adapter is capable of connecting to your cigarette style outlet or directly to a battery bank. This allows it to achieve up to 500W continuous power and a surge of up to 1000W. That's enough power to run appliances all the way up to small air conditioning units.
It has two 110V AC outlets and four USB ports. Each is capable of producing up to 2.4A even when all four are in use. That's a lot of charging capability for things like tablets and smartphones.
It includes an ultra quiet cooling fan plus a comprehensive range of key safety features. While it is a bit bulky, we think it makes up for it with its excellent performance.
Overall the Energizer 500W power adapter is a robust and powerful charging option for your RV or car.
Best AC to 12V Adapters
One stumbling block to a full-time RV life is how to power your DC appliances if you take some time off the road. If you're visiting family or renting a place for a month or so it's nice to be able to use your existing DC TV, refrigerator, and other appliances.
One great workaround for that is an AC to DC adapter. This allows you to power your DC appliances with a standard AC house outlet.
We picked out some of the best AC to DC adapters to help you find the perfect one for your power needs.
Sunforce AC/DC Power Converter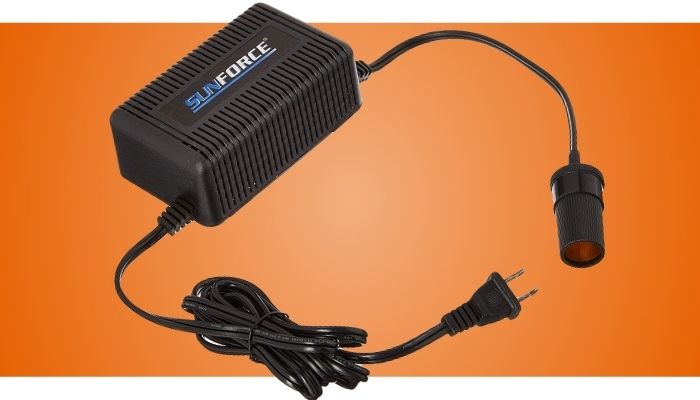 The Sunforce AC/DC Power Converter is a compact converter that allows you to run DC appliances in your home. It's a bit lower powered than some other converters but does a good job for lower powered devices at a budget price.
It's dead simple to use, just plug it into the wall and plug your appliance in, and it's reliable. It produces just under 6A of power. That's not enough to run larger appliances but works for many smaller devices.
Make sure and double check what the amp draw of your device/appliance is before purchase.
If you're looking to save a few bucks and still effectively power small devices, the Sunforce AC/DC power converter is a great option.
Schumacher 12V Power Converter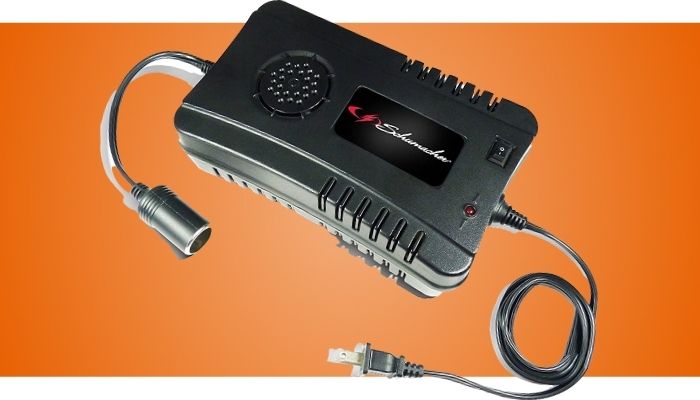 The Schumacher 12V power Converter is a more powerful and portable converter. It's capable of providing up to 15A of usable 12V DC power, perfect for running higher draw devices like pumps and small appliances.
It's a bit on the bulky side but given its performance we'll let that slide. We loved that it included an on/off switch. This lets you leave it plugged in when not in use without having it draw power from your home or other outlet.
While the Schumacher 12V Power Converter is definitely on the pricier side of the market it does provide more power than most comparable converters.
RoyPow AC to DC Adapter 12V Car Cigarette Lighter Socket
The RoyPow AC to DC Adapter is a light and portable adapter designed for use with a car or RV. It's capable of providing about 10A of 12V power for DC devices like vacuums and compressors.
This is great if you've got some tools you use with your RV that plug into a DC port but want to run them on AC power. It lets you save your battery bank while at a campsite without having to plug fully in.
Overall the RoyPow AC to DC adapter is a good option for those looking to use their DC tools and appliances without having to run a DC power source.
Cellet Universal AC Wall to DC Car Cigarette Lighter Port
The Cellet Universal AC to DC adapter is an ultra portable device that can help simplify your charging needs. If you're a full time RVer it can be annoying having to switch between AC and car style chargers.
The Cellet is rated to provide up to 2A of 12V power, enough to let you plug your DC phone charger in. This simplifies the number of cords you need to keep on hand and helps you better organize your charging needs.
While the Cellet adapter is too low powered for any kind of appliance, it can offer a useful solution for charging up devices with just a standard car style charger.
Yelesley AC to DC Car Cigarette Lighter Socket Converter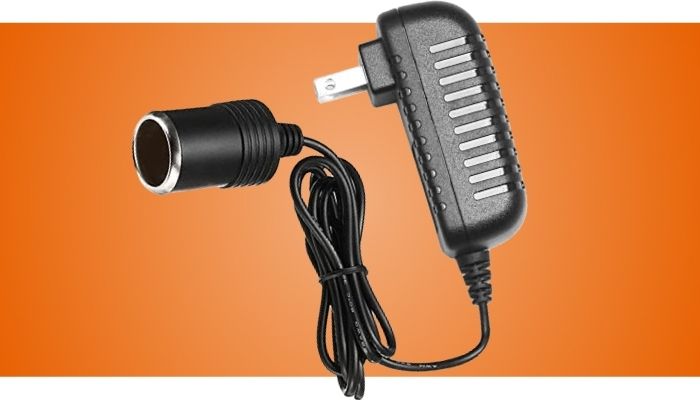 The Yelesly Converter is a compact and convenient device. It looks a lot like an old school phone charger with a cigarette lighter style port on the end of the cable.
It's rated to provide up to 3.8A, just about enough to power small air pumps or vacuums. That makes it pretty perfect for those looking to simplify the number of basic appliances they need to keep on hand.
Given its extremely affordable price and reliable performance we think the Yelesly Converter is a great option for those with lower power demands.
What is a 12V Adapter
12V adapters are compact and lower-powered versions of standard 12V inverters. They're designed to take 12V DC power and provide you with usable house standard AC power.
Adapters technically are inverters, but they aren't the same as the larger house/RV inverters that need to be permanently wired into a DC power system. 12V adapters plug directly into a standard DC cigarette outlet style port and provide AC power for small electronics such as computers as well as basic appliances.
Buyers Guide
Picking out the best 12V adapters comes down to where and how you intend to use it. You have to consider how much power you require and how many devices you want to operate at a single time.
There are also some extra features to look at that can help improve overall usability.
Price
For the kind of adapters we're talking about prices are generally quite low. You can get ones powerful enough to charge a single large electronic like a laptop for less than $50.
For a bit more capacity, such as the ability to power TVs, mini-fridges, etc, it's still usually well under $100.
Number of Outlets
The number of outlets on a 12V adapter affects how many things you can charge at one time. Basic adapters often only have a single outlet while larger and more powerful ones offer two or even three.
An important thing to keep in mind is that no number of outlets can distribute more than the approved wattage. Think about what you want to power from your adapter and figure out what percentage of its total output that will draw.
It doesn't really matter if you've got a three or even four outlet 12V adapter if a single appliance draws 90% of its available power.
USB Ports
USB ports are a value add we really like to see on 12V adapters. They allow you to charge all kinds of phones, tablets, and other small electronics without having to break out another AC cord.
Most modern 12V adapters will come with at least one or two of these, though some offer as many as four to five. Realistically though the power they're capable of providing doesn't scale much above two USB ports.
Cord Length
The length of your 12V adapter cord affects where and how you can use it. Most come with at least a two to three foot long cord with some substantially longer.
A longer cord allows you to plug into your RVs DC battery banks and power standard household devices indoors and outdoors. It's a much more affordable way to use your existing systems without purchasing a more comprehensive and permanent inverter option.
Pure vs Modified Sine Wave
12V adapters include small inverters that actually do the work of changing 12V power into 110V AC. Picking between a pure sine wave and modified sine wave inverter affects performance, price, and what you can charge.
Modified sine wave inverters are cheaper but less capable. The power they produce isn't quite as clean and may damage sensitive electronics. Pure sine wave inverters cost a bit more but produce a much cleaner and more efficient form of power.
Design and Materials
The materials used in 12V adapters are pretty much the same for the body and outlets themselves. The cord used and the internals can greatly change the performance and safety of a 12V adapter.
We like to see copper wiring, isolation voltage protection, and a cooling fan if possible. The physical layout of the adapter can also affect its usefulness.
Adapters that distribute the ports and outlets across their body are easier to use when charging multiple devices.
Intended Use
What you intend to use your 12V adapter for and how many devices it needs to power are major factors to consider. Different adapters offer different operating and surge wattages. This determines how much power they can provide and what type of devices they can power.
You should also think about where you intend to use your 12V adapter. If you intend to power things that are outside your RV you need to know how far away they'll be from an outlet, what kind of draw they have, and how long they'll be running.
Some 12V adapters, especially the more value-priced models, aren't intended for continuous operation. How long they run for and at what level can cause them to overheat.
Top 12V Adapters Video
Final Thoughts
With 12V adapters it really comes down to power and safety.
You want to pick out a model with a good safety record that still has enough capacity to power the devices you need.
So long as you know what you're powering and what kind of capacity your vehicle battery system can offer it's easy to pick out the best 12V adapter.