If you own an RV, then a 12V air compressor is an indispensable piece of kit.
Whether you're planning an extended road trip or a weekend getaway; a 12V air compressor will save you time locating gas stations to top up your tires and reduce the risk of getting stuck at the roadside.
Wondering how to choose the best 12V air compressor for your RV? Find out all you need to know and more in our top air compressor reviews and buying guide.
Best 12v Air Compressor
Here's our comprehensive selection of nine of the very best 12V air compressors. We have included a wide range of options, so you're sure to find the perfect choice for your next RV adventure.
VIAIR Automatic Portable Compressor Kit (450P-RV)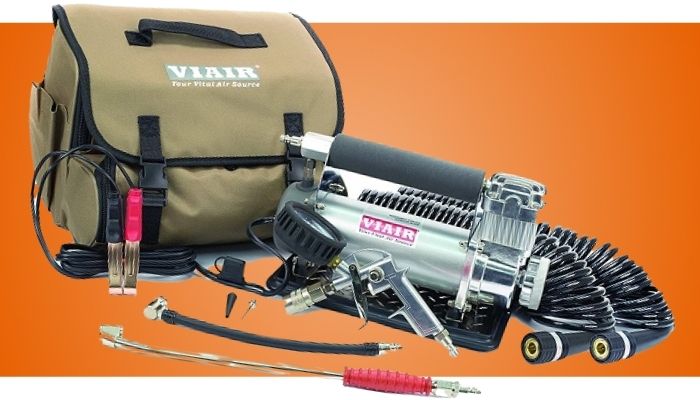 If you're looking for the very best RV-specific air compressor, then the 450P-RV by Viair ticks all the boxes. Suitable for your class A, it comes with a special extended reach chuck for dual rear wheels – perfect if you drive a big rig.
This compressor is one of the finest on the market, capable of reaching 130PSI. This model offers high-performance, but it can also run for up to an impressive 40 minutes at a time before needing to be shut down. It has the capacity to inflate most Class A RV tires from 80 to 90 PSI in around 50 seconds; so it really is one of the most impressive models around, even accommodating tires sized up to, and including 40 inches.
For added convenience, this air compressor is automatic, so you won't have to waste time going back and forth to the unit to shut it down between tires. Its close-ended gas station-style air gun, complete with a twist-on chuck, makes it simple to use, while the included primary air hose and extension air hose both come in at 30 feet each. Checking the pressure is also easy thanks to the large, easy-to-read 160PSI inline gauge.
While this unit is one of the most expensive around, if you're the proud owner of a big rig, it's one of the few models capable of filling your tires fully. It has the added advantage of having been created specifically for the RV market, for maximum ease of use.
While you could make do with a cheaper model for a smaller RV, if you have a large class A and you're looking for maximum usability and durability – we think this is the one to go for.
Pros – Things we liked
Special extended reach chuck
Capable of reaching 130PSI
Automatic
Twist-on chuck
Cons – Things we didn't like
Expensive
VIAIR 85P Portable Air Compressor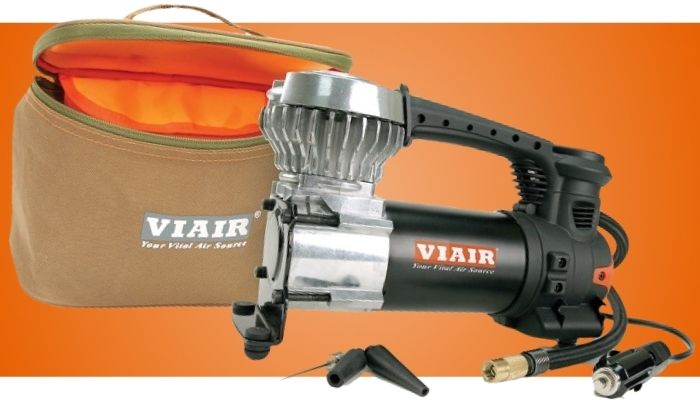 If your RV is a little smaller and you don't want to spend big bucks, take a look at the Viair 85P Portable Air Compressor. Suitable for tires up to 31 inches; this compact unit makes an excellent choice thanks to its reliability and ease of use.
With a duty cycle of 20 minutes at 30 PSI, this model has a maximum working pressure of 60PSI, making it an excellent choice for most class Bs or small class Cs, as well as more compact fifth wheels. You can monitor your tire pressure using the unit's easy to read 100 PSI gauge, while the built-in LED work light comes in handy in dark conditions
This air compressor also has an accessory power plug and power indicator, as well as three inflation tips and a carry bag. The unit weighs just 4.3lbs, making it easy to carry, while the solid brass, twist-on tire chucks are simple to fit. Furthermore, the power cord measures 10 feet, with an air hose length of three feet; so it's plenty long enough to stretch from your cigarette lighter port to your rear tires without any trouble.
All in all, for the price, this handy little 12V air compressor makes a great bargain. From a reliable brand that specializes in high-quality air compressors for the RV market – if your RV tires are compatible with this model, then it certainly makes an excellent choice.
VIAIR 400P Portable Compressor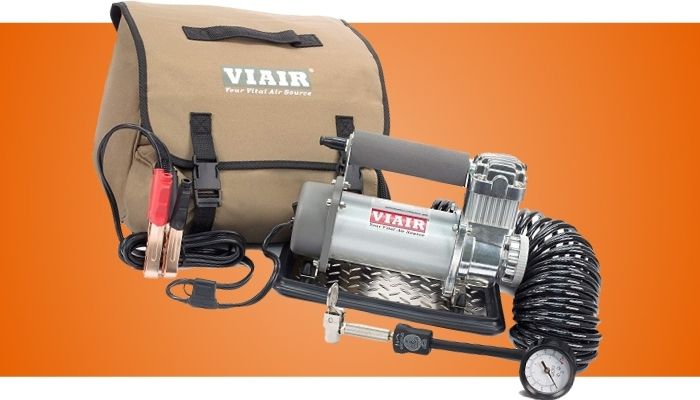 The 400P-RV is Viair's fastest filling RV compressor, capable of inflating a 35-inch tire from 0-30 PSI in just six minutes. This large and powerful portable air compressor is designed to inflate tires up to and including 35-inch models.
Capable of running continuously at 100 PSI for 20 minutes, or up to 150 PSI for 15 minutes with a 30-minute cool down period; the 400P is certainly a powerful unit that has been designed to get you back on the road fast. Use the included alligator clips to easily attach it to your 12V battery power source.
It comes with an open-ended, 5-in-1 tire inflation hose that can be set to inflate or deflate continuously, intermittently or to check your tire pressure. At 25-feet long, plus the included eight-foot power cord, this model has plenty of reach. However, if you have a big rig, you may want to invest in an additional extension hose. The manufacturer advises against using the included air hose in sub-zero conditions, so bear this in mind if you use your RV year-round.
This 12V air compressor comes complete with a strong carry bag, an inline fuse holder, a three-piece inflation tip kit and an I-Beam sand tray for greater stability and fewer vibrations. While there are plenty of cheaper models out there, if your RV has tires 35 inches or less, we think this air compressor is one of the very best you can buy.
Helteko Portable Air Compressor Pump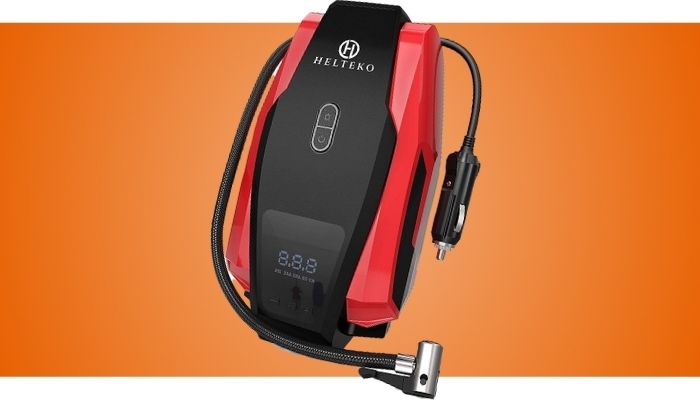 If you're looking for a low-price air compressor pump for PSI adjustment and partial inflation only – take a look at this model by Helteko. While it's not suitable for large RV tires, if you have a small trailer or a class C, this unit should be powerful enough to get you to a nearby gas station.
With a continuous work time of 10 minutes, followed by a cool down period, this compact model compensates for its short runtime with a flow rate of 35L per minute. For use up to a high maximum pressure of 150 PSI; the pump automatically shuts off once it has reached the pre-set tire pressure for added safety and convenience.
The digital LCD display is easy to read and this model comes complete with an LED light to help you out during late-night emergencies. Simply plug the compressor into your cigarette lighter socket via the 11.5-foot cable. Bear in mind that the air hose itself is fairly short; so make sure that the distance between your rear tires and your dashboard is less than this amount before you purchase.
All in all, this 12V air compressor is a decent choice if you're on a budget and own a motorhome that's compatible with its size restrictions. Easy to use, lightweight and compact, this mini air compressor is easily one of the cheapest models around.
Kensun 12V Portable Air Compressor Pump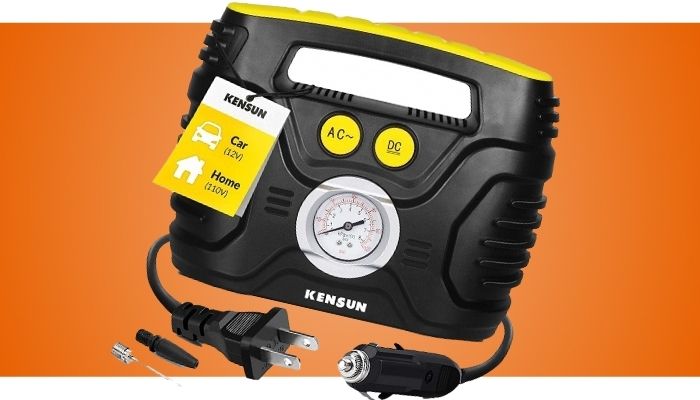 The Kensun 12V Portable Air Compressor Pump measures and inflates up to a maximum pressure of 100 PSI. Lightweight, portable and low-cost, this easy to use compressor makes a good choice for topping up your RV tire pressure.
Thanks to its auto cut-off and easy to read pressure gauge, you can set the accurate pressure for your RV tire in just a few minutes. Its power cable measures just under 11 feet, which should be long enough for regular-sized RVs. Simply attach the air hose with its simple screw-on fitting for a tight, reliable connection.
This model inflates at a rate of 18 liters per minute, with a maximum running time of 30 minutes at 35 PSI, making it a little slower than many other compact 12V air compressors. However, this is somewhat compensated for by its longer runtime.
For added convenience, if you're setting off from home or have shore power, you can use this machine on AC power with a faster inflation rate of 20 liters per minute. It comes complete with three accessory nozzles, so you can also use it for inflating other items, as well as a carry bag for stowing it away on board.
While this model is slightly less powerful than some other 12V air compressor pumps, it is compact and easy to use, with a good runtime. It also is priced at the lower end of the scale, making it a good value for money buy for your RV.
EPAuto 12V DC Portable Air Compressor Pump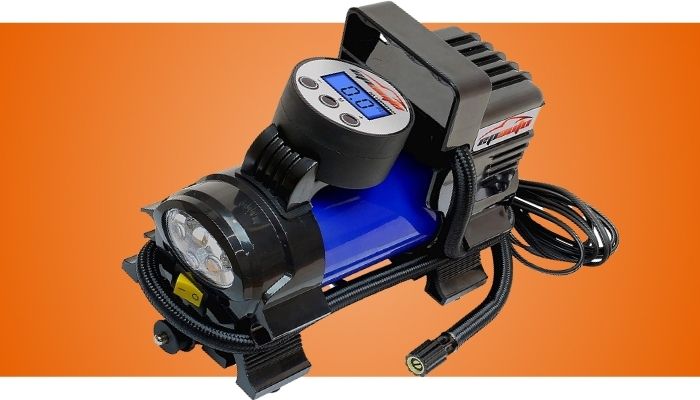 If you're looking for a budget 12V air compressor and your RV has regular tires, not light truck tires, then this model by EPAuto could be a good low-cost option. It only has a maximum working pressure of 70 PSI though, so be sure to check that you won't need a higher pressure for your vehicle.
Complete with both auto shut-off and overheat protection; this model cuts out when the desired pressure is reached or if it becomes overloaded. To compensate for any lost air when detaching the unit, it automatically pumps an extra half a PSI to ensure that your tires are fully inflated to the correct pressure, making it extremely easy to use.
This model has a flow rate of 1.06 CFM, which equates to around 30 liters per minute. While this is a fairly decent rate for a budget compressor, note that it pumps considerably slower at higher PSI levels. If you don't want to wait around for several minutes, then you would be better opting for a more powerful model.
The backlit digital display is easy to read and this unit also features a built-in bright LED flashlight, ideal for inflating your tires in low visibility. However, you should note that the light cannot be turned off. The cord is around nine feet long and the hose has a length of around 2.5 feet. For storage purposes, these can be neatly wrapped around the compressor itself.
On the whole, this compact, budget 12V air compressor makes a good choice if it's compatible with the reach and pressure that you need for your RV. While it can be fairly slow when inflating near to its maximum PSI; it does get the job done and it's very easy to use.
FORTEM Digital Tire Inflator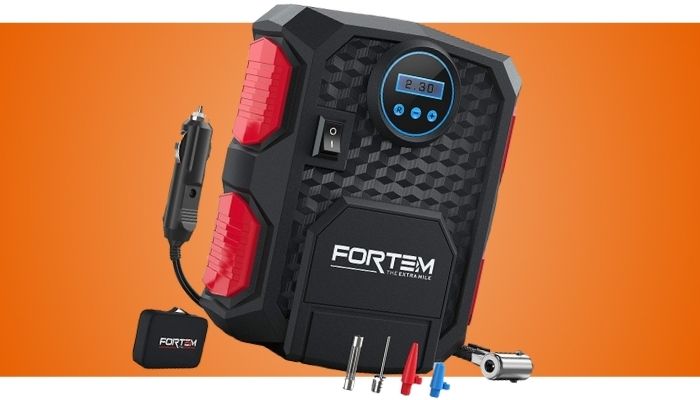 This compact, lightweight 12V air compressor by Fortem is another good low-priced model, suitable for smaller RVs. It has an impressive maximum pressure value of 150 PSI, with a one-year warranty and a simple, easy to use design.
Featuring an automatic cut-off, this model stops inflating once the desired pressure is reached, preventing over inflation. It is easy to set the pressure via the push buttons located below the large digital display gauge and it comes with an inbuilt LED flashlight for use during dark conditions or roadside emergencies.
Note that this unit's manufacturer does not provide a flow rate and that the continuous maximum working time is only eight minutes. This could prove inadequate if you need fairly high levels of pressure. Furthermore, the absence of a thermal overload cutout, given the short operation time, means that you'll have to keep a very close eye on it.
The power cord measures almost 10 feet with a 1.64-foot hose length. As this is fairly short, be sure to measure up the distance to your rear tires from your dash. The cables stow away neatly inside the unit when not in use, making it neat and tidy and easy to store away inside the included zippered carry bag.
Overall, if your RV isn't too long for this unit and you don't envisage having to run this compressor regularly for long periods, this model could make a good money-saving buy.
HausBell Portable 12-Volt Air Compressor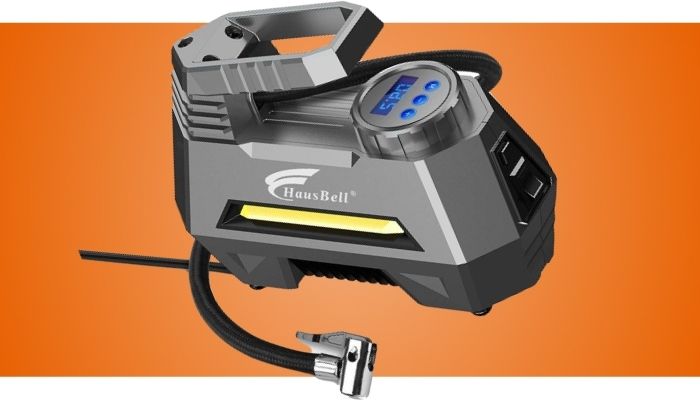 If you're looking for an inexpensive 12V air compressor with a high maximum working pressure and an easy to use interface – this version by Hausbell could be worth considering.
With a maximum working pressure of 150 PSI, this model also features an above-average inflation rate of 35 liters per minute. Not bad for low-priced units, but it only has a short runtime of eight minutes before it needs to be shut down to cool off. However, it does feature an overheat protection cut out for security.
The digital display is easy to read and allows you to set your desired pressure with little fuss. Once your tires have reached that figure, the pump stops inflating automatically, so you don't have to worry about overinflating. It also features a built-in LED flashlight for roadside safety in darkness.
Like many other modestly-priced 12V air compressors, this one also features a fairly short cord, measuring just under 10 feet long. The air hose adds on almost two additional feet, so be sure to check the distance between your 12V cigarette lighter and your rear tires.
On the whole, this budget model is a good choice. Provided you don't need very high pressure levels and you don't own a big rig; this handy little pump should more than suffice for getting your tires up to the correct pressure.
TIREWELL 12V Tire Inflator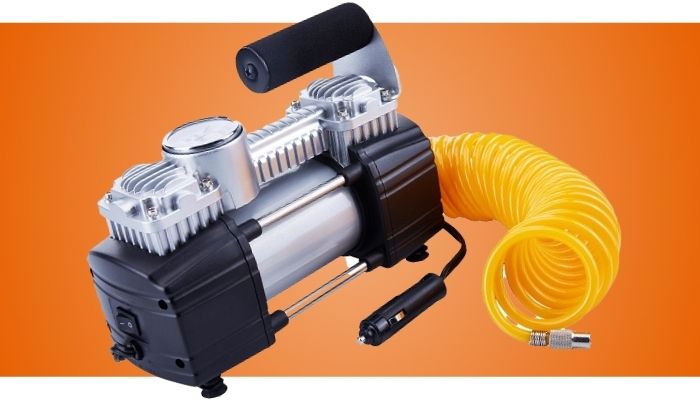 The Tirewell 12V Tire Inflator costs a little more than many of the budget models, but it is a good quality product that has a high maximum working pressure and an energy-efficient design. Ideal for adjusting the pressure in your RV tires, just be aware that if you need to inflate over 100 PSI cold, then it can take a while.
With a high maximum working pressure of 150 PSI, this model has a good flow rate of 50 liters. However, this is taken at 0 PSI, which means at higher pressures it will take considerably longer – although it can inflate a standard 35 PSI tire in just two minutes. The maximum continuous runtime is 10-15 minutes to avoid overheating.
It has an easy to read dial gauge, making it quick and easy to check your RV tire pressure. However, this air compressor doesn't feature an automatic shut off, so you'll need to be ready to turn it off manually.
You can either plug it into your vehicle's cigarette lighter socket or use the included battery clamps to power it directly from your battery. It has a 11.5-foot power cord and a 1.8-foot inflation tube with a 16-foot extension hose. While it's certainly long enough for most RVs, if you have a long fifth wheel, you may also want to purchase an additional 12V extension.
All in all, this popular 12V air compressor makes a good purchase, although it may take a while to reach pressures over 100 PSI. While it doesn't feature a pre-set pressure level or an automatic shut off, it's a reliable model that is capable of reaching up to 150 PSI if you're not in a hurry.
What we Considered when Picking the Best 12v Air Compressor
Not sure which model is best for your RV? Find out everything you need to look out for in our best 12V air compressor buying guide.
Price
While you tend to get what you pay for, there are plenty of good 12V air compressors out there at budget prices. For faster inflation times at higher pressures, it makes sense to opt for a higher-priced model.
However, there's an abundance of models that are suitable for regular-sized RV tires that require topping up to pressures around 70-90 PSI. Sure, you may have to wait a few minutes longer, but these models could save you a fair amount of cash.
On the other hand, if you have a large Class A with dual rear tires or a long fifth wheel, you may struggle with a standard low-priced 12V air compressor. In this case, it's best to opt for models that are specifically designed for such vehicles.
Different Types of Sockets
Most 12V air compressors simply plug into your cigarette lighter socket located on your vehicle's dashboard. This is extremely convenient, making it easy to get your compressor plugged in and running, no matter where you may be.
Certain 12V air compressors also come with the option to plug directly into your mains power at home. This can be useful for adjusting your tires before setting off on your travels, and when you're out and about, you can simply use the cigarette socket as necessary.
Other 12V air compressors include battery clamps for direct attachment to your vehicle's battery. This can take a little longer and can be less convenient than using the cigarette lighter plug. You can also purchase conversion leads to adapt your cigarette lighter lead to connect directly to a battery if desired.
PSI – Pound-force per Square Inch
PSI is a measurement of pressure in your vehicle's tires. In basic terms, it can be equated to the amount of force that is exerted on one square inch. The recommended pressure of your average 16 inch RV tire can be anywhere around 30-80 PSI.
Too much pressure decreases your traction levels and makes for a stiffer ride. Too little pressure can cause the side walls of your tire to over flex and heat up, resulting in dangerous blowouts. Therefore, you should always respect the recommended pressure levels for your particular vehicle.
If your RV has a high recommended PSI, then you'll need a high-performance air compressor that will be capable of inflating efficiently at these levels. Remember to always check your compressor's maximum inflation pressure, not merely what it can measure up to. Cheaper units tend to struggle to inflate efficiently over levels of 100 PSI but tend to be more than adequate at lower levels.
Inflation Speed
Whether it's an emergency or you're just topping up your tire pressure before hitting the road, you'll want to avoid wasting unnecessary time waiting for your tires to inflate.
Always check the inflation flow rate given by the manufacturer. Most 12V air compressors should be able to inflate a standard tire with a low 30-40 PSI in less than a few minutes.
However, if you need to inflate tires over 80 PSI, you may find that some of the lower-priced models available start to struggle and end up taking much longer. Taking a look at the flow rate indicated for a specific PSI will give you a much better idea, as the inflation speed inevitably slows down the higher the pressure becomes.
Runtime Before Overheating
Do not buy a 12V air compressor without checking out its maximum runtime before it overheats.
Some more expensive models can run for over 30 minutes before needing to cool down. Other cheaper units have shorter runtimes of around eight minutes. While this won't be a problem for standard tires with a low PSI; if your tires are larger and need a higher pressure, you could find yourself spending a considerable amount of time trying to inflate them fully.
If you're considering purchasing a 12V air compressor with a low flow rate and a low runtime, make sure that you will be able to inflate your tires to the recommended PSI before having to shut it down. Should your RV tires have an above-average recommended PSI rating, then you may be better off opting for a higher-priced model with a longer runtime or a faster flow rate.
Display & Lights
Some models feature analog gauges, others digital screens. While traditional-style gauges are certainly popular, backlit digital screens are also useful in dark conditions and for a fast readout.
Some air compressors also come with a built-in flashlight which can be very useful at night time, especially if you need to inflate your tires on the roadside. This will not only help you to see better, but it also increases safety should there be any oncoming traffic.
Auto Shut Off
Auto shut off features are well worth looking out for, as they make inflating your tires much easier. Once your tire reaches your desired pressure, the unit simply stops inflating, so you don't have to worry about standing over your pump waiting until it reaches the correct pressure, before manually stopping it.
Many air compressors also come with a thermal cut out that automatically stops your compressor before it overheats. This is particularly useful on models with short continuous runtimes, for both safety and product longevity.
Power Cord Length
The majority of 12V air compressors have power leads that are at least 9 feet long. If you have a class A or a fifth wheel, you will struggle to reach your rear tires with a standard length power cord.
Models designed specifically for the RV market and big rigs will usually be able to accommodate the longer lengths required. You could also consider purchasing a 12V extension. Always be sure to measure the distance between your power source and rear tires before purchasing.
Size and Weight
As with anything RV related, size and weight really do matter.
There are plenty of compact models out there. If you can, look for portable compressors that stow away neatly with a place for all their fittings and cords, or a durable storage bag that you can tie down in your RV basement.
Keep in mind that if you need a higher performance compressor, then it is likely to weigh more. However, for a small RV with average-sized tires, you can generally use one of the lightest, most compact models to save yourself precious weight and space in your basement area.
Warranty
If a manufacturer stands by the quality of its product, it should have a good warranty of at least one year against any manufacturing defects.
A high-quality 12V air compressor is no different. So, when you're making your choice, take into consideration the manufacturer's warranty and how long it is valid for. Generally, the longer the guarantee period, the better the product is likely to perform.
Top 12V Air Compressors Video
FAQ – Best 12V Air Compressor
As RV enthusiasts, we understand that choosing the right 12V air compressor for your travels can be a crucial decision. To help you make an informed choice, we have compiled a list of frequently asked questions regarding the best 12V air compressors for RVs. Whether you're new to the world of air compressors or seeking clarification on specific aspects, this FAQ section aims to address common queries and provide you with the essential information you need.
From understanding the purpose and benefits of a 12V air compressor to finding the right features for your RV needs, we've covered a range of topics to guide you through the selection process. We delve into factors to consider, such as pressure and airflow capacity, power source compatibility, and portability. We also address questions on using 12V air compressors for inflating RV tires, connecting them to your RV, and exploring other potential applications.
Additionally, we touch upon maintenance tips to ensure the longevity of your air compressor and address concerns regarding noise levels and operating in extreme weather conditions. While this FAQ section provides a comprehensive overview, we always recommend referring to the manufacturer's instructions and specifications for your chosen air compressor model to ensure proper usage and maintenance.
Read on to find answers to the most commonly asked questions, empowering you to make an informed decision and enhance your RVing experience with the best 12V air compressor for your needs.
What is a 12V air compressor?
A 12V air compressor is a portable device that runs on a 12-volt power source, typically the auxiliary power outlet (cigarette lighter) in a vehicle or RV. It is designed to inflate tires, sports equipment, and other inflatables efficiently and conveniently.
Why do I need a 12V air compressor for my RV?
Having a 12V air compressor is essential for RV owners as it allows you to maintain proper tire pressure, ensuring safety and improved fuel efficiency. It also enables you to inflate other items like air mattresses, inflatable boats, and beach toys while on the go.
Can a 12V air compressor inflate RV tires?
Yes, a 12V air compressor can inflate RV tires, but it's important to check the compressor's specifications to ensure it has the necessary pressure and airflow capacity to meet your RV's tire inflation requirements.
What factors should I consider when choosing a 12V air compressor for my RV?
When selecting a 12V air compressor for your RV, consider factors such as maximum pressure, airflow rate, power source compatibility, portability, built-in pressure gauge, automatic shut-off feature, and durability. It's also important to consider user reviews and the reputation of the brand.
How do I connect a 12V air compressor to my RV?
Most 12V air compressors come with a power cord that can be plugged into the auxiliary power outlet (cigarette lighter) in your RV. Some compressors may require direct connection to the RV battery using alligator clips or a separate power cord. Always refer to the manufacturer's instructions for proper installation.
Can I use a 12V air compressor for other purposes besides inflating tires?
Yes, a 12V air compressor is versatile and can be used for various tasks beyond tire inflation. It can inflate sports equipment, air mattresses, inflatable toys, and even power certain pneumatic tools, depending on the compressor's specifications.
How loud are 12V air compressors?
The noise level of 12V air compressors can vary depending on the model and brand. Some compressors are designed to be quieter than others. When purchasing, check the product specifications or user reviews for information on noise levels, especially if noise is a concern for you.
Can I run a 12V air compressor off my RV's solar power system?
In most cases, it's not recommended to run a 12V air compressor directly off an RV's solar power system. Air compressors generally require a significant amount of power, which may exceed the capacity of a typical RV solar system. It's best to use the compressor with the RV's auxiliary power outlet or a dedicated 12V power source.
Are there any maintenance tips for 12V air compressors?
To ensure optimal performance and longevity, regularly check and clean the air filter, inspect the compressor for any signs of wear or damage, and store it in a dry and clean location when not in use. Refer to the manufacturer's instructions for specific maintenance guidelines.
Can I use a 12V air compressor in extreme weather conditions?
Most 12V air compressors are designed to operate within a specific temperature range. Using a compressor outside of its recommended temperature range may affect its performance or even damage it. Always consult the product manual to determine the suitable operating conditions for your air compressor.
Remember, it's always important to refer to the manufacturer's instructions and guidelines specific to the 12V air compressor model you choose.
Final Thoughts
We've covered a wide variety of models in our best 12V air compressor reviews and it's clear that there's an excellent range to choose from.
Whether you need a high-performance, RV-specific model like the Viair 450P-RV with its extended chuck for dual rear tires, 130 maximum PSI and impressive 40 minutes runtime; or a low-budget, compact model like the Hausbell Portable Air Compressor with its low purchase price, high 150 PSI but short runtime – you're sure to find the best model for your needs right here.