Whether you take your RV out for a weekend or a year at a time, it's going to pick up some dust from the road. The outside is easy to hose down, but inside you're going to need some RV sized tools to get the job done. One of the best of these is the handheld vacuum. Today we'll be covering the best 12V car vacuum cleaners to find the one most suited for your needs.
Best 12v Car Vacuum Cleaner
Most car vacuums are pretty similar. They offer mostly comparable levels of performance and come in just a few different shapes.
We spent a while going through a lot of different car vacuums to find the ones that stood out from the crowd. Our list below includes a range of corded and cordless vacuums at various points on the performance spectrum.
BLACK+DECKER Flex 12V Corded Car Vacuum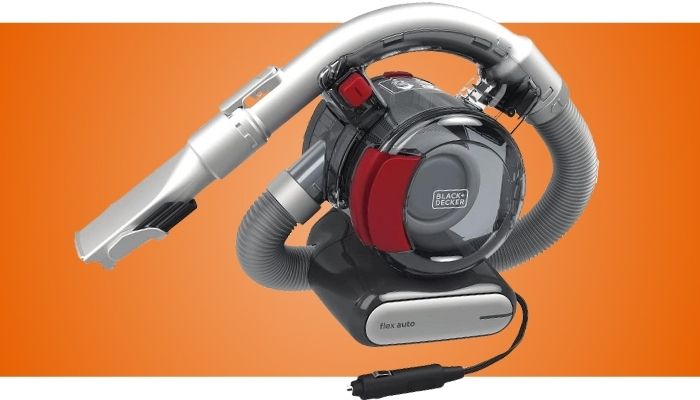 The BLACK+DECKER Flex is a 12V corded vacuum designed for use in cars and RVs. It has a long 16 ft power cord that plugs right into a standard cigarette style outlet.
It was designed to be ultra-compact while still having the suction and reach to be useful. It uses a patented two in one crevice brush that makes it easy to get hard to reach places while still clearing out seats and other larger surfaces.
The Flex has a 19 oz bagless tank that incorporates a motor in filter design. This helps prevent it from clogging up during use and makes it a lot easier to get those really dirty and dusty areas clean.
While not quite as portable as a cordless 12V vacuum, the BLACK+DECKER Flex is a great option for use in most small to medium-sized RVs.
Pros – Things we liked
16 ft power cord
Plugs into standard cigarette outlets
Ultra-compact
19oz Bagless tank
Cons – Things we didn't like
No cord wrap
No storage for tools
HOTOR Corded Car Vacuum Cleaner with LED Light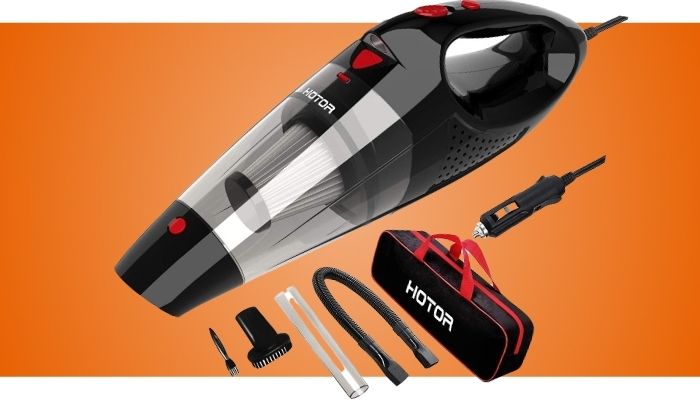 The HOTOR corded car vacuum is a handheld 12V car vac with a built-in LED light. It helps illuminate the areas you're cleaning and makes it easier to really clean out areas in darkness.
It has a 16.4 ft cord that plugs into a standard cigarette style outlet. The HOTOR uses a pretty traditional handheld design with a detachable head.
This makes it really easy to empty out when needed, cutting down on overall cleanup time. It uses paper filter caps and includes a spare with purchase.
Accessory wise it comes with a flexible hose, an extension tube, and a brush nozzle. It doesn't come with a crevice tool though, that can make it difficult to get into the really hard to reach areas.
Overall the HOTOR corded car vacuum is a reasonable choice for those in small to medium-sized RVs.
This Worx 12V Car Vacuum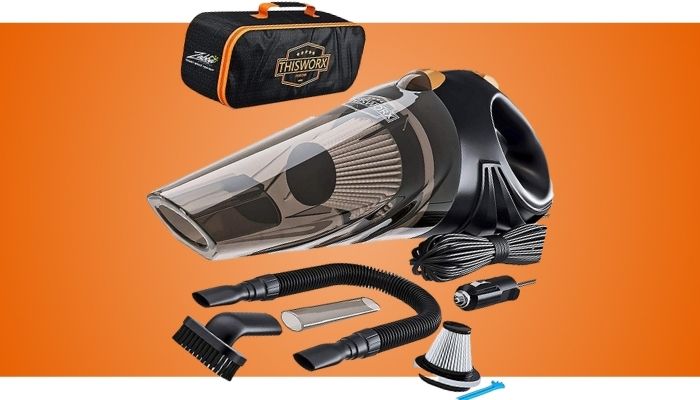 The Worx 12V Car Vacuum is a handheld 12V vac designed for car and RV use. It has a 16 ft power cord and includes a range of useful accessories.
The vac itself uses the popular one-handed design and has an easy to empty tank located at the front. It uses a paper filter but also comes with a small cleaning brush to help extend the filters life.
We really liked the nozzle and brush accessories. It has a long flexible hose with crevice sized nozzles that make it really easy to get into those hard to reach areas. The whole kit packs down into a compact carry bag for easy storage and transport.
For small to medium-sized RVs the This Worx 12V Car Vacuum is a reasonably priced and effective cleaning tool.
Stanley 12V DC Wet/Dry Vacuum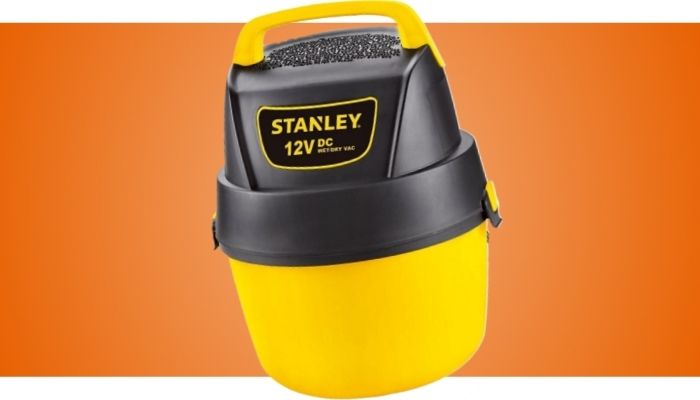 The Stanley 12V Wet/Dry Vacuum is a corded wet/dry vac with a one gallon capacity. It has a 16.5 ft long cord and is designed to operate quietly for use in confined spaces such as a car or RV.
It uses two different filter systems depending on the type of material you're suctioning. This allows you to suck up wet or dry objects quickly and efficiently.
There are three included nozzle tools, including a flexible hose, a crevice nozzle, and a utility nozzle. The crevice nozzle provides more suction through its smaller opening, but the utility nozzle was great for picking up dust and small debris over a larger area.
If you're worried about wet spills and similar messes in your RV it's hard to beat the Stanley 12V Wet/Dry Vacs utility and portability.
MEG 12V Handheld Cordless Vacuum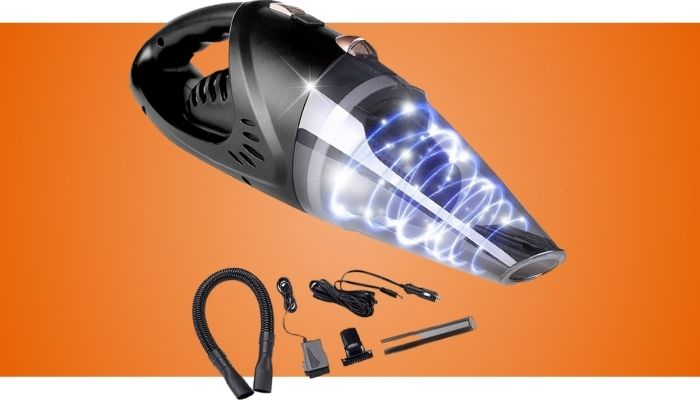 The MEG 12V is a handheld cordless vacuum that offers dual charging functionality. It uses a 2,600mAh lithium-ion battery and is capable of providing substantial suction.
It comes standard with both a 12V DC charger and a traditional wall plug. You can plug it into your dash cigarette lighter port, your battery bank, or charge it up at home or in a campground.
The MEG uses a washable plastic filter and includes several useful attachments. We love the flexible extension hose and narrow crevice nozzle. The broader dust brush also made it really easy to get up things like pet hair or stuck in dust.
It has a transparent dust tank that pops right off when full. This makes it really easy to tell when you need to empty it out while cleaning.
All in all the MEG is one of the better 12V cordless vacuums out there. It's extremely portable, has a good tank capacity, and is flexible in where and how you charge it up.
Dirt Devil Express 12V Bagless Car Vacuum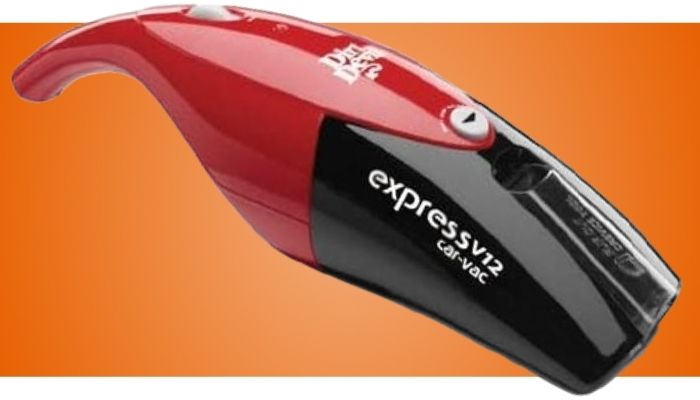 Dirt Devil has been in the vacuum space for a long time. They know what customers are looking for and come through when it counts. The Dirt Devil Express is a handheld bagless vacuum with 12V capability.
It has an interesting design with a built-in crevice tool designed to flip up when needed and tuck away when not. Not only does this make it extremely easy to adjust your cleaning method, it makes sure you won't accidentally lose one of your attachments.
The tank itself is a bit on the small side for an RV vacuum but still does a good job getting up small messes and dust.
If you're looking for a reasonably priced car vacuum with 12V capability the Dirt Devil Express is a great option to consider.
GNG Cordless 12V Hand-Held Vacuum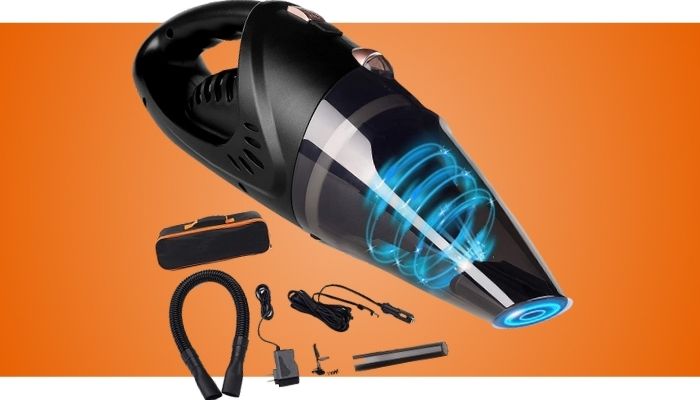 The GNG Cordless is a 12V hand-held vacuum with a lot of great features. It uses a rechargeable lithium-ion battery and is capable of providing substantial suction through various nozzles.
It comes with both a 12V DC and a 110V AC charging cord. This allows you to charge up your vacuum in your car, RV, or at home.
The GNG provides you with a flexible extension, a dust brush, and a crevice tool. That's a pretty good combination of features to handle most day to day messes.
We really liked how easy it was to empty and clean the vac. It has a single button release that allows you to dump it out over a trash can without spilling dust out into your home.
If you're looking for a cordless 12V vacuum it's hard to beat the GNG Cordless Hand-Held Vacuum.
Wagan Cyclonic Action EL7207 12V Powerful Auto Vacuum with Carry Bag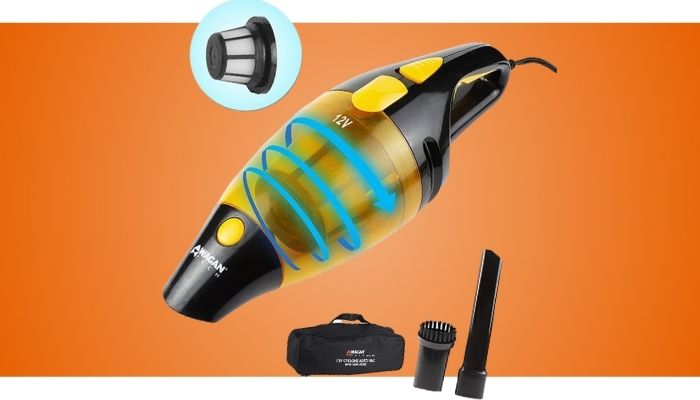 The Wagan EL7207 is a 12V car vacuum packed with features and extras. It uses a standard 12V cigarette style plug that works with any car or RV.
It uses a two-stage filter system that includes a HEPA filter and plastic sieve. This extends the life of your filter and improves the overall cleaning capability of the vacuum.
The Wagan comes with two attachments, a crevice tool and dust brush, and provides excellent suction. The only real downside is its shorter than the average cord. At just 11 ft you won't be able to clean much more than a car or a small RV.
All in all the Wagan EL7207 is a good choice for your car or RV needs.
Buyer's Guide to Buying the Best 12 Volt Vacuum Cleaner
Picking out the best 12V vacuum cleaner comes down to how you intend to use and store it. There are several key factors to take into account such as corded vs cordless, suction power, battery life, and included accessories.
Price
The price of compact vacuums has been dropping for years, and 12V car vacuums are no exception. You can get really great models with ample features for under $50.
Value priced models with acceptable performance can even be found for around $20 to $30.
Corded or Cordless
The corded vs cordless argument for 12V vacuums come down to power vs convenience. Corded vacuums have an effectively unlimited amount of power available, and so can provide more powerful suction.
If you strictly want to use them to clean your car they're a good option, but they lose some of their value when you're talking about cleaning an entire RV. Cordless vacuums are increasing in power and efficiency plus they offer substantial benefits in portability and convenience.
You can take a cordless vacuum anywhere you need without having to worry about a cord. As battery tech gets better the performance of cordless vacuums is rapidly approaching that of their corded cousins.
The exception to this is wet/dry vacs. These are still almost entirely corded.
Suction Power
The suction power of a 12V vacuum is the clearest measure of its performance. It determines how effectively it will suck up dirt and other debris as well as how much space it can clean at once.
For RV use we recommend you consider more powerful models where possible. They're usually larger but they offer substantial benefits in cleaning efficiency.
Attachments
Very few modern 12V vacuums come without additional attachments. There are several we highly recommend for cleaning specific areas and types of flooring.
You should absolutely get a crevice tool and a pair of soft/hard bristle brushes. The crevice tool lets you get under seats, behind appliances, and in those hard to reach places that like to accumulate dust.
The bristle brushes are best for getting sunk in dust and dirt out of carpeting and other softer materials like upholstery. You should also consider a hose attachment that allows you to extend the reach of the vacuum if it isn't handheld already.
The last attachment you'll see on most 12V vacuums is a claw attachment. This is for picking up larger objects without also pulling in dust. It's a great tool to have for doing multiple passes over a really dirty area.
Wet Clean and Dry Clean
Wet/Dry vacs are some of the best and most effective cleaning tools available. They allow you to pick up both dust, debris, and other dry objects and remove clean up liquid spills.
It's especially useful for cleaning up wet carpet as it can physically suck the liquid out of the fibers. We don't have to tell you how annoying cleaning soda out of seat upholstery can be, a wet/dry vac allows you to pull the bulk of the liquid out from deeper within the cushion and fabric.
The downside to a wet/dry vac is size, price, and power consumption. They're noticeably larger on average than comparable dry vacs and need either larger batteries or a greater draw from your vehicle.
Keep in mind what kind of messes you think you'll most likely need to clean and purchase accordingly.
Tank Capacity
12V vacuum capacity is generally much smaller than a full-size vacuum. Many house vacuum cleaners, and especially shop vacs, have rated tank capacities of several gallons.
For a 12V vacuum, you're looking at more like a quart or less. The good news is they're almost all bagless and are designed to be easy to empty out as needed.
You may have to make a few trips to the trash can to dump it out before you're finished cleaning, but this is a small price to pay for a much more storable vacuum.
Portability – Size and Weight
Any tool or appliance for your RV needs to be as compact and packable as possible. Handheld cordless 12V vacuums are the best for this as they take up very little space.
Some corded models are also quite compact, but make sure you take cord storage into account as well. Look for vacuums that are designed for automotive or RV use.
These often have storage options that make them very easy to pack away when not needed.
Battery Runtime
Runtime is an important part of a 12V cordless vacuum. The last thing you want is to be halfway through cleaning and have your vac go dead on you.
Thankfully, most cordless vacuums offer at least an hour runtime, plenty of time to clean up most cars and RVs. If you think you'll need more time than this consider a corded vacuum or cordless vacuum with exchangeable battery packs.
Charging Options
While we were looking specifically for 12V functionality here, we definitely prefer vacs with multiple charging options. Many of the cordless vacuum cleaners are designed with the ability to charge from either a 12V DC outlet or a standard 110V AC house outlet.
Having that flexibility makes it a lot easier to use your vacuum both in your home or in your RV. It's great for people who live part-time in their RVs or who travel frequently but still like having a home base.
Top 12V Vacuum Cleaner
Final Thoughts
So long as you know what you need to do with your car vacuum picking out the best one is pretty straightforward.
Focus on specific features such as corded vs cordless and make sure you know just how much space you have to spare for storage.
If you keep that in mind you'll have no problem finding the best 12V car vacuum for your needs.