Exploring the country in an RV is one of the greatest experiences out there. Unfortunately, it can also be one of the hottest and muggiest trips. Thankfully, you can greatly improve your overall comfort with a simple little tool, a 12V DC fan. Today we'll be covering the best 12V fans to make it easy to pick out the perfect one for your style of travel.
Best 12 Volt Fan
12V fans are specialized tools designed for campers, RVers, and those looking to beat the heat while traveling. They're smaller, lighter, and easier to power than traditional box fans.
Most importantly of all, they run off standard 12V DC power. This allows you to use them directly in your RV or car without having to worry about an inverter or other expensive system.
We picked out some of the best 12V fans to help you choose the perfect one for your needs. Let us know what you think.
HITOPTY 12V Electric Car Dash Fan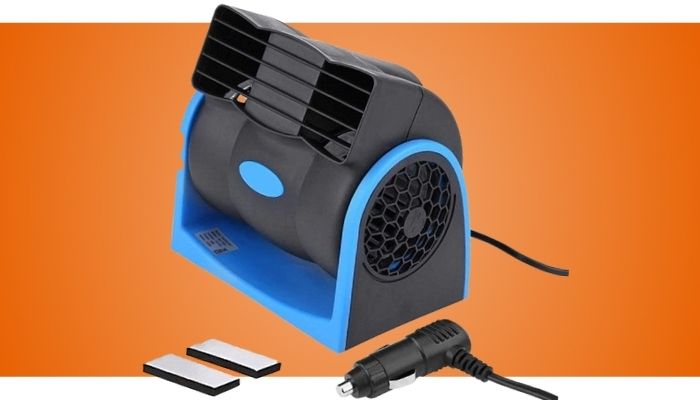 The HITOPTY 12V car dash fan is a compact and lightweight fan designed for use in vehicles. It relies on a standard 12V cigarette outlet style plug and has a safety forward build structure.
Instead of a traditional spinning fan in a cage, the HITOPTY uses an enclosed fan design. It looks a lot like much larger contractor fans and is noticeably quieter than fans of similar power.
It offers both low and high-speed modes and can rotate around its core to direct air wherever you need it. The shape of the fan makes it really easy to set up where you need it.
You can set it on your dash or mount it to the side of your RV. This gives you a ton of options for a refreshing breeze.
The HITOPTY 12V Dash Fan is an affordable and effective product. It provides good performance and is easy to set up.
Pros – Things we liked
Lightweight fan
Plugs into standard cigarette outlets
Enclosed fan design
Low & high speed modes
Cons – Things we didn't like
A little noisy
Alagoo 12V Car Cooling Vehicle Clip Fan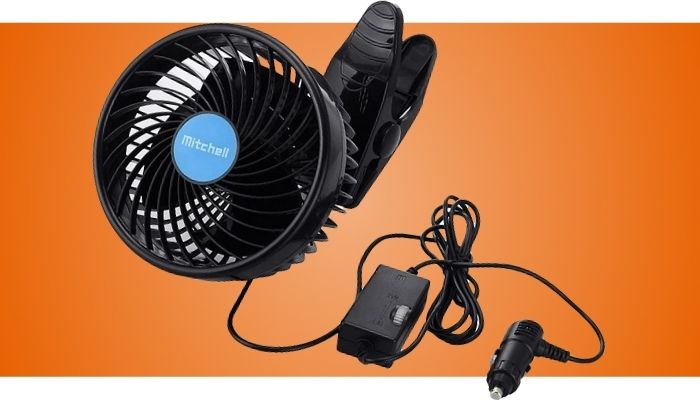 The Alagoo 12V Car Cooling Fan is a clip style adjustable fan. It has three broad fan blades and uses a standard cigarette style plug.
One thing we really like about the Alagoo is how adjustable the airspeed is. Instead of a few settings, you can actually adjust the speed from flipping the switch all the way to max power. This makes it really easy for you to find the perfect breeze strength for your comfort.
The clip style attachment point is also a big plus. You can clip it to the back of your seat, on a sun screen, or even to your dash. When combined with its long 2.5-meter power cord you have a ton of flexibility to move it around your RV.
It requires minor assembly out of the box but we found it easy to set up overall. When you consider its reliable construction, affordable price, and versatile clip system, the Alagoo 12V Car Cooling Fan is a good option for RVers and other vehicle camping enthusiasts.
O2COOL Portable Rechargeable Fan, Multiple Power Options – AC/DC Adapter, USB Port & Battery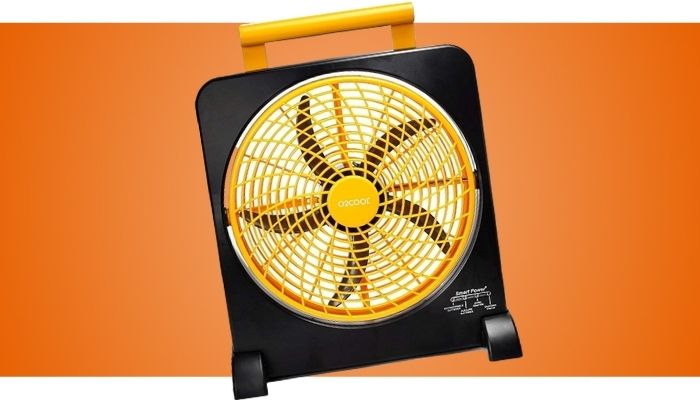 The O2COOL is a unique offering among RV fans. Rather than needing to be plugged in constantly, it includes a built-in battery pack that can be charged with both AC and DC power.
It's easy to see the benefits of this design. You can keep it plugged in while you're inside your RV or take it with you to sit out and enjoy the scenery.
It uses five 10" fan blades and has a pretty standard box fan design. You can set it just about anywhere and enjoy a comfortable breeze. The included battery powers it for about five hours, plenty of time to enjoy a beautiful sunset while eating dinner.
You can tilt the fan itself within its base to direct the breeze where you need it most. Choose from two different speed settings to really customize the feel of it.
If you're looking for a seriously portable and flexible 12V fan that still provides a great breeze, the O2COOL Portable Rechargeable Fan is a really good option.
Yesurprise Electric 12V Car Fan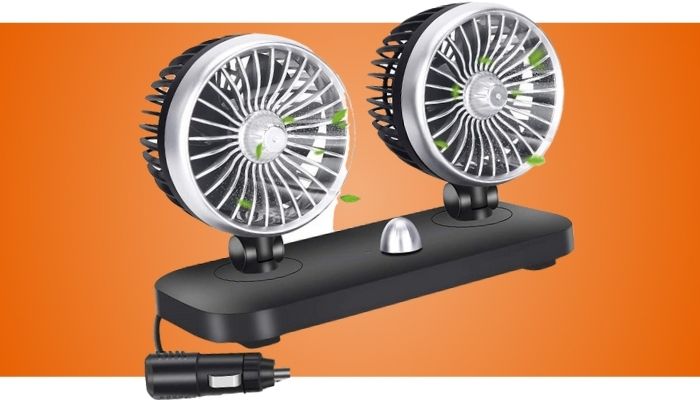 The Yesurprise Electric 12V Car Fan is a double fan system designed for maximum airflow. It has two small DC fans mounted to a small platform powered by a standard DC cigarette outlet style plug.
Each fan can rotate independently up to 180 degrees. This allows you to cool multiple people at once or to put a much stronger blast of wind on yourself.
It has a strip of 3M adhesive tape on the bottom of the main structure. It securely attaches to any flat surface you like and provides an excellent breeze.
While this does prevent you from moving it around, it also lets you use it comfortably even while driving.
If you plan to travel with a partner it's not a bad idea to have a fan with multiple heads. The Yesurprise Electric 12V Car Fan offers good performance at a reasonable price.
EXCOUP 12V Vehicle Fan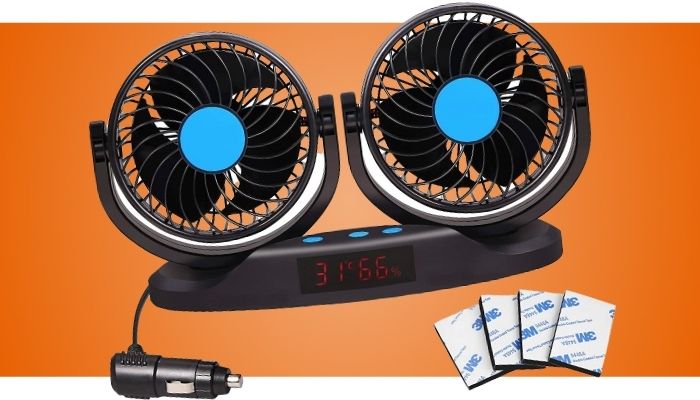 The EXCOUP 12V Vehicle Fan is a dual head car and RV fan. It features a pair of 5" fans mounted on a sturdy platform.
Performance wise the EXCOUP offers 12 different blade speeds. Each fan head can be swiveled independently, allowing you and a passenger to get just the right amount of airflow.
Some extra features we really love were the inclusion of a digital clock/hygrometer. This lets you quickly see the time and find out what the current humidity is. The power cord is nearly six feet long as well, plenty for most RV users.
The EXCOUP 12V is compact, powerful, and easy to set up. It offers some really useful features that are perfect for your average RV
Go Gear 12 Volt Oscillating Fan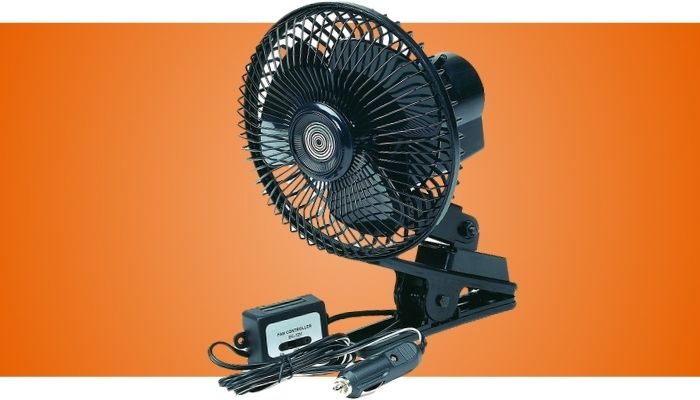 The Go Gear 12V Oscillating Fan Is an updated version of a standard oscillating fan. It provides a strong and steady breeze while still being easy to set up.
It uses a clip style base that allows you to attach it just about anywhere. You can even move it around your RV or take it outside to wherever you need a breeze most.
There are three broad fan blades that produce a lot more airflow than you'd think for such a small fan. The only real downside we found with the Go Gear is its lack of power adjustability.
It only has two settings, on and off, and lacks the ability to provide a gentle breeze that more adjustable fans offer.
All in all we liked the Go Gear Oscillating Fan, but found other 12V fans to offer greater capability for about the same price.
HueLiv Electric Car Cooling Fan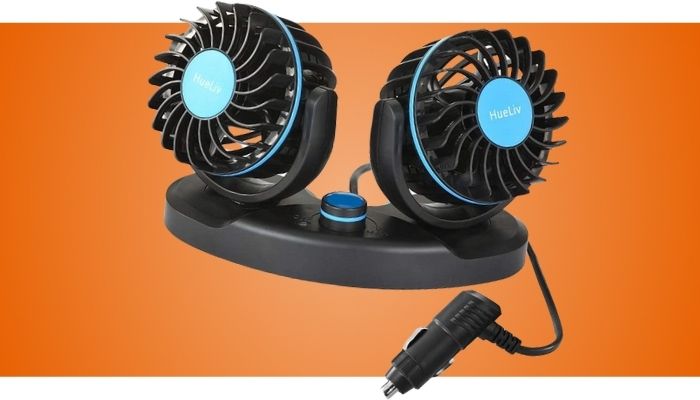 The HueLiv Electric Car Cooling Fan is a dual-headed DC fan designed for car and RV use. It uses a standard DC cigarette outlet plug and has a 2.5 m power cord.
This allows you to plug it into your car or RV port and place it just about anywhere within. Because it has two independently moveable heads the HueLiv is a great option for RVers who travel with a partner.
It lets you cool yourself and your traveling companion without having to purchase a second fan. You can either mount it permanently with an adhesive mounting strip or simply place it where you need it when you need it.
Either way you end up with a quiet and capable rv fan that's quite affordable.
AboveTEK Dual Head Car Fan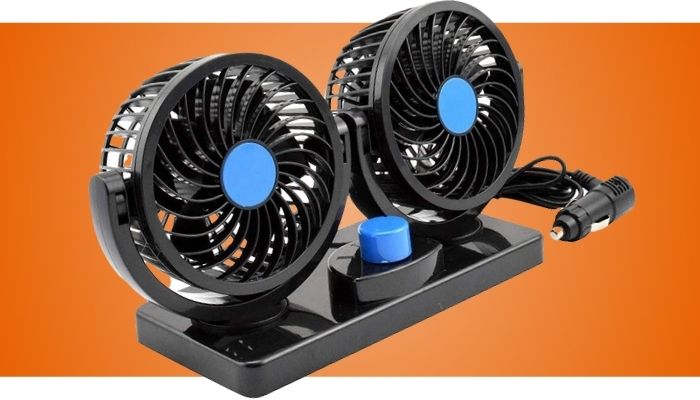 The AboveTEK Dual Head Car Fan is a lightweight yet highly capable little 12V fan. It has two separate fan heads capable of moving 360 degrees.
This allows you to point them just about anywhere you want some extra airflow. Both fans are controlled by a small central knob that also serves to control their strength.
You can either secure it to one place with included 3M adhesive or move it around. Either way you get a refreshing breeze for a very low power draw.
It has a 9 foot power cord to help with this. You can move it around a pretty good distance from the plug without worrying about running out of cord.
If you're looking for a way to provide multiple blasts of cooling air in your RV the AboveTEK Dual Head Fan is a good option. It's affordable, well made, and provides excellent performance.
Tvird Negative Ions 12V Cooling Air Fan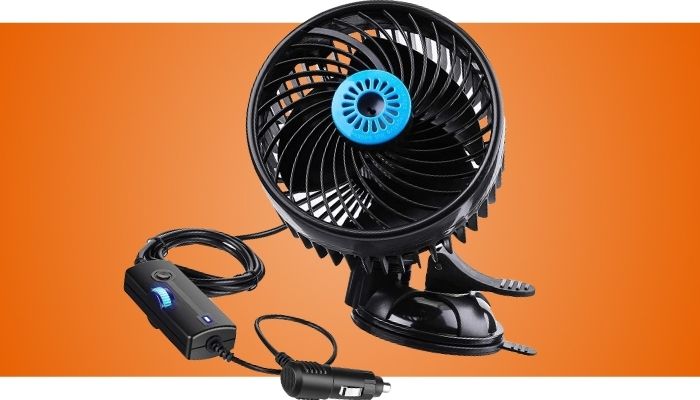 The Tvird Negative Ions 12V Cooling Air Fan is a large and capable fan designed for car and RV use. It has a 6 inch diameter fan blade and offers some pretty interesting features.
To start with it has a sizable power cord with an integrated control system. The fan head can rotate fully as well, allowing you to direct the flow to just about anywhere.
What really helps the Tvird stand out is its suction cup stand. It's designed to attach securely to any smooth and flat surface. You can put it on windows, walls, tabletops, etc, without worrying about marking them up.
If you're looking for a powerful fan that can move around easily, the Tvird Negative Ions 12V fan isn't a bad option at all.
Buyer's Guide to Buying the Best 12V Fans
Choosing the best 12V fan really comes down to a number of important factors. Chief among these are size, power, and usability.
You can find out more about these factors below.
Price
12V fans are widely and cheaply available. Most models retail for about $20, with a few running a bit higher or lower.
Generally price isn't a major factor in choosing the best 12V fan.
Blades
The number of fan blades and their size plays a bigger role in fan capability than you'd think. Bigger blades and more of them equal more airflow, so long as the motor can keep up.
If you want the highest capacity fan possible you're going to need a combination of multiple blades of large size with a motor powerful enough to turn them.
Speed Settings
Speed settings are one of the key features to look for in a great 12v fan. It allows you to adjust the speed of the airflow to match your level of comfort.
Slower settings are great if you just want a little ventilation and are quieter to boot. If you're really feeling that summer heat a high-speed fan is a great way to take a breeze with you everywhere you go.
Noise
With fans power almost always equals noise. Smaller fans on lower settings are quieter than larger fans on higher settings.
Some manufacturers design their fan blades and especially fan motors to help reduce this noise but it can only go so far. A good rule of thumb is to go with smaller fans if you plan to sleep with them and larger if you want them for daytime use.
Portability – Size and Weight
12v fans are almost all designed with portability in mind. Most are smaller and lighter than traditional fans and some include really nice portability features.
In an RV space is always at a premium, look for fans that fold up when not in use or that can be partially disassembled. This allows you to quickly set them up and put them away when you need them.
Weight isn't as much of an issue as size for an RV 12v fan. You're unlikely to carry it much at all so focus mostly on the physical footprint of the fan.
Stand or Clips
Different 12v fans have different types of stands and attachment methods. Smaller fans often use large clips while larger ones come with stands.
The clips look a lot like oversized chip bag clips and can be attached to headboards, seatbacks, the dashboard, and pretty much any protruding surface. They let you put your fan all over the place and focus the airflow where you want it.
Larger fans generally use a stand, sometimes with the ability to lock in place. This limits where you can put it some but makes sense given their greater size and weight. Look for fans with hooks and other hanging points.
These often look like reinforced picture hanging points. This allows you to hang your fan in the air or against a window screen.
Cord Length
For 12v fans, cord length is a matter of debate. Longer cords give you more flexibility in where you can put it, but can also increase dc power usage.
Depending on the size of the fan and how you intend to use it a shorter cord may work just fine. We definitely recommend you get one with at least a 24″ cord.
Top 12V Fans Video
Final Thoughts
The 12V fan market gives you a lot of choices. Single head, multi head, adjustable, permanently mounted, there are more categories and styles than most people know what to do with.
As long as you focus on the basic factors that really affect how your fan will perform it's a whole lot easier to find the best one for your needs. Think about where you want to use it, how you want it to be mounted, and how powerful it needs to be.
If you can answer those three questions you'll end up with a much shorter and more manageable list.