One of the best things about traveling in an RV is bringing the comforts of home along. For a lot of people, there's nothing better after a strenuous day than relaxing in front of the TV with your loved ones. RV TVs have just kept on improving as TV tech has advanced, to the point where you can now get a beautiful and durable HD TV that runs entirely on 12V DC battery power. Today we'll cover the best 12V TVs to help you find the best one for your RV or travel trailer.
Best 12v TV
12V TVs used to be rinky dink little things that practically ran on AA batteries. You might get a 10" screen, but good luck watching the game or a soap with those fuzzy colors and low brightness levels.
Nowadays you can get full size 32" and above HD TVs that run directly off your battery bank or solar. They even offer really cool features like streaming media, HDMI connections, and bluetooth connectivity.
We put our list together by comparing the best and most affordable 12V RV TVs on the market. Check it out and let us know what you think.
Free Signal TV Transit Series – 12 Volt TV 22-40 Inch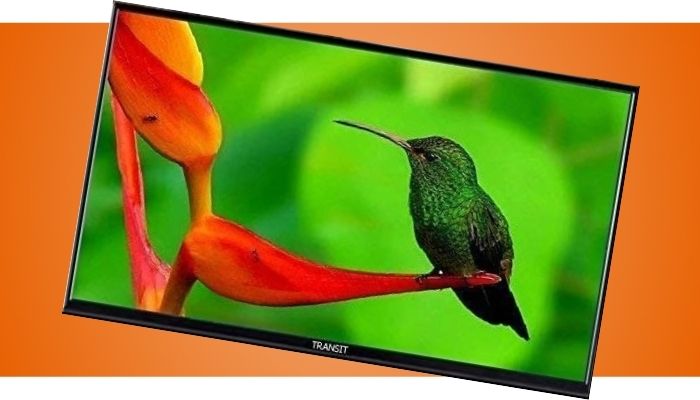 The Free Signal TV Transit series is a line of 12V LED HD TVs popular among RVers. They range in size from 22" models all the way up to 40" monsters.
The 32" model is one of their most popular offerings and includes many of the most in-demand features among RVers. It's designed to use either a standard cigarette style connection or to be wired directly into your RV's battery bank.
The Transit 32" has a strengthened mounting chassis, a versatile range of connection options, anti-glare coating, improved brightness, and extra wide viewing angle. All of these combine to produce a much crisper and clearer picture in the conditions RV dwellers are likely to encounter.
Even better, Transit offers an AC adaptor that allows you to use their TVs in the home. If you're looking to maximize your savings you can move the Transit TVs between your home and RV for infrequent use.
All in all the Free Signal TV Transit Series has a lot going for it, at a very attainable price. If you're looking for the most traditional TV viewing experience with a big screen, the Transit may be the TV for you.
Pros – Things we liked
Range from 22" up to 40"
Uses standard cigarette outlets
Anti-glare coating
Strengthened mounting chassis
Cons – Things we didn't like
Sound quality could be better
Furrion Sense 32″ 12-Volt HD LED RV TV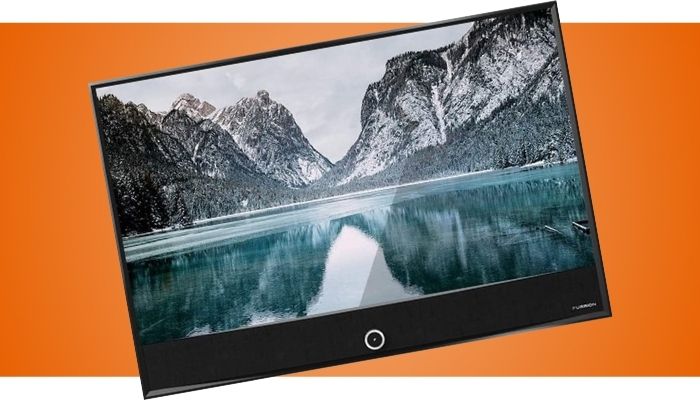 The Furrion Sense 32" is a 12V LED TV designed specifically for use in RVs. It offers a 720p HD picture, integrated stereo soundbar, and an exceptionally wide viewing angle.
There are multiple HDMI ports, composite AV ports, USB, AUX inputs, and many more.This allows you to quickly and easily connect all your favorite devices to the TV.
Our personal favorite was the front mounted HDMI. Nothing worse than fumbling around behind your TV, trying to plug a gaming console or laptop cord in. We also loved its included Bluetooth capabilities. Now you can connect your headphones directly to the TV and watch a movie while your partner catches some sleep.
It uses Furrion's proprietary VibrationSmart and ClimateSmart technologies to protect your TV from a rough ride. These include a reinforced steel mounting frame and silicon-sealed electronics.
While the Furrion Sense 32" has slightly lower screen brightness than some other TVs on our list, we feel the included stereo and soundbar plus its comprehensive durability enhancements make it a great choice for the full time RVer.
Jensen JTV19DC HD Ready 19 Inch 12V DC RV LED TV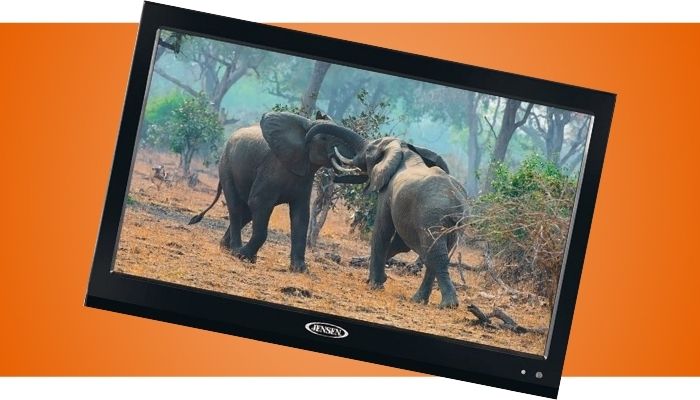 The Jensen JTV19DC is a 19" 12V DC TV built for use in RV environments. It provides a wide viewing angle, reinforced body, and anti-glare coating.
At 19", the Jensen JTV19DC is a little smaller than what many people are used to. It's more suited for a bedroom TV or one placed near your dining area or couch living space.
It includes the most important durability and longevity upgrades to body the frame, mounting chassis, and electronics within. Because of this it's much more prepared to handle bumps, potholes, and rough riding.
We loved its overall design and durability, but did find the limited number of ports a bit of a letdown. It only offers a single HDMI port. Every time you want to switch between a streaming stick and something like a Blu Ray player or game console you'll have to physically change out the cords.
Not a big issue, but something that could easily have been avoided.
Overall the Jensen JTV19DC is a well made 12V DC TV, but lacks the wow factor of other products. If you're looking for a smaller TV to watch the news on while eating breakfast though, it's a good enough option.
Continu.us Travel Series TV for Motorhomes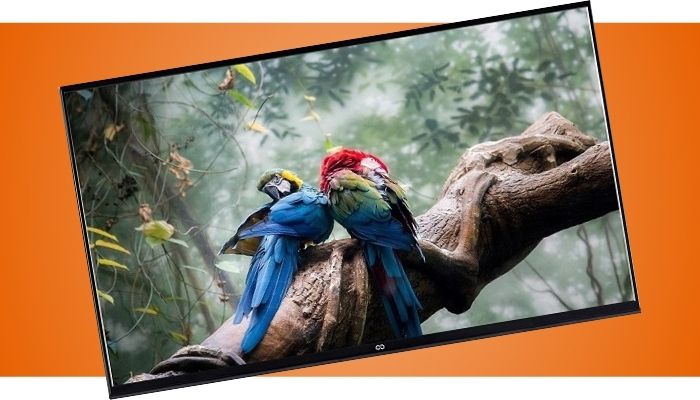 The Continu.us Travel Series are TVs designed from the ground up for use in RVs and Motorhomes. They're available starting at 22" and go as big as 40" for times when you want to entertain in your RV.
Continu.us designed every possible enhancement and durability feature they could into their TVs. They use a specialized LCD screen that's more than capable of handling rough roads and sudden bumps. Its universal VESA TV mount is reinforced specifically to handle sudden jars and knocks without a problem.
Each version offers 720p HD picture quality with an extra wide viewing angle and above average brightness. When combined with the anti-glare coating this gives you a much crisper picture whatever outside conditions are.
We loved the number of ports and connections available. It offers three HDMI ports, including a front facing one for temporary hookups like a game console.
The Continu.us Travel Series is a robust line of 12V TVs. They offer excellent performance for your money and are sized to fit just about any RV.
Naxa Electronics TV with Car Package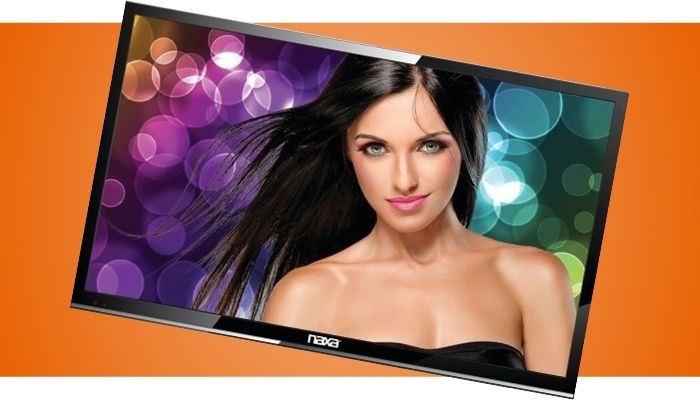 The Naxa Electronics TV is a 12V 19" TV designed to work in cars, trucks, and RVs. It's small size and 720p resolution make it a really good choice in smaller RVs and travel trailers.
It includes both a wall mounting point and a removable stand. It also comes with an AC adaptor. This allows you to use it as either a permanent addition to your RV setup or as a spare TV in your home and RV.
Given its small size we weren't expecting miracles where the ports were concerned, but we were pleasantly surprised. It offers just a single HDMI connector but also includes a USB port, VGA, and a pair of accessory connections.
This allows you to permanently connect things like DVD players while leaving the HDMI free for gaming consoles and streaming media sticks.
While the Naxa Electronics 19" isn't the best 12V TV on the market, it does offer acceptable performance for its exceptionally low price. It's a good model for use in a dining area or right next to your bed.
SuperSonic LED Widescreen TV with 12 Volt Compatibility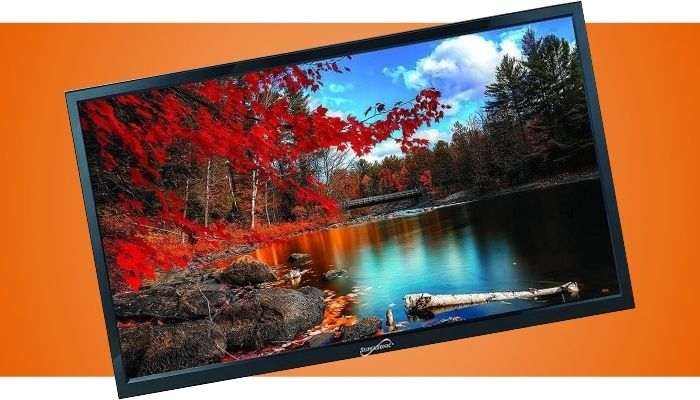 The SuperSonic LED TV series includes several small DC compatible TVs plus a few larger AC only models. The 13" through 24" models are fully 12V compatible, but the 32" and 40" require an AC power source.
So long as you keep this in mind, the smaller TVs are still a great value. They provide crisp picture quality and reasonable brightness for their size.
A couple things to remember though. This isn't an RV specific TV. It doesn't have a reinforced chassis and it lacks many of the shock absorbing and humidity protection features.
If you're a full timer you should probably choose one of the other TVs on our list. For folks who just go out a few weeks of the year though, this is a very affordable 12V compatible TV that offers good performance.
Buyer's Guide to Buying the Best 12V TV
12V TVs are nearly identical to standard home TVs, so most of the things you're considering are pretty similar. Price, sizing, and screen resolution are all comparable to standard TVs so you really just need to look at the durability and environmental compensation features like brightness, anti-glare, and viewing angle.
Price
It's never been a better time to buy a 12V DC from a price perspective. Just like the prices of regular TVs have plummeted over the last decade, RV TVs are equally affordable.
You can get small screen models for well under $200, and will rarely see a 32" TV priced much above $300. Even if you want a really big screen TV you'll be able to find a good bargain.
Anti-Glare
Most home TVs are designed to provide a beautiful picture, but to do it under home lighting conditions. I'm sure you've noticed that something as simple as an open window can cast a pretty substantial glare on a standard TV.
RV 12V TVs are different. They're treated with an anti-glare coating that helps increase the visibility of the screen in sunny conditions and improve the angles at which the screen can be viewed.
We highly recommend you pick a TV with a quality anti-glare coating.
Internal Chassis and Mounting Options
One of the biggest considerations when installing a TV in your RV is safety. Regular TVs just aren't built to handle the constant moving and shaking of road travel.
This is especially apparent in the mounting hardware. Typically the bolts used to mount regular TVs to the wall are secured only to the plastic body of the TV. This is fine when your TV only has to sit still on the wall, but totally inadequate when you're going over rough roads in rural Texas.
12V TVs built for RV use include a strengthened internal chassis. It ensures that your TV will stay in place no matter how rough the ride gets.
The mounting options are also an important consideration. The best 12V TVs will mount directly to dedicated spots on your RV, often with articulating arms.
They make it really easy to stow your TV when not in use then pull it out and position it facing the front seats, your dining area, and a guest bed.
Humidity and Environmental Protections
If we know anything about electronics it's that they can be finicky things. Unfortunately for RVers, this also applies to the sensitive internals of TVs.
RVs go all over the place. Many times these changes in scenery can also create changes in temperature, air pressure, humidity, etc. These aren't major changes to be sure, but the sensitive chips, transistors, and other components of off the shelf TVs can be affected.
RV specific TVs take this into account and include features like sealed electronics and monitoring systems. It raises the price a bit, but does buy you peace of mind to know that moving from a desert to a mountaintop won't accidentally fry your TV.
RV Size to TV Size
Before you even look at RV 12V TV brands you need to decide how big you want to go. Different types of RVs offer substantially different amounts of space to work with.
Just the difference between a bedroom TV and one for your living area can significantly impact the correct size. Even with your slide-outs extended, in most RV viewing situations you're unlikely to be more than about 6-8 feet away from your screen.
Not only will a smaller TV provide nearly the same viewing experience as a larger one at that distance, it will also run on considerably less power.
Think too about where and how you're going to mount it. Clear wall space is at a premium in any RV. The last thing you want to do is pick out the perfect TV, only to find out it's two inches too long to fit on your wall.
Online/Offline
Many TVs these days come with built in wifi receivers and the ability to use all kinds of viewing apps. It's not uncommon for a new TV to arrive from the factory with Netflix, Hulu, and a dozen other streaming services' apps preinstalled.
This can be nice if you frequently use these services, but does add to the power draw of the TV. If you're the kind of person who prefers to watch broadcast TV or you have a large library of favorite DVDs/Blu Ray discs, it can be a better idea to go with an offline model.
This is especially true given how inexpensive and easy to use things like streaming TV sticks are. Amazon, Google, Roku, and tons of other companies all offer inexpensive options to add internet capability to your TV.
HDMI, USB, DVD, PC inputs
Different 12V TV's offer different types of inputs. For the majority of uses an HDMI port is going to offer the most versatility.
Satellite boxes, internet streaming sticks, and even some computers now offer HDMI ports to connect to TVs. Other important connection points include USB, VGA, and old school cable jacks.
The USB allows you to plug things such as flash drives into your TV and watch digital media you own. VGA is another method to connect a computer to your TV and use it as a monitor.
Some of the best 12V TVs actually include integrated DVD or even Blu Ray disc players. These allow you to watch movies you already own without the added bulk of a dedicated player.
Antennas
Another important factor in RV TV viewing is your choice of antenna. We aren't talking old school rabbit ears here either. The best RV antennas are mounted outside your living area and fall into three categories.
These are manual crank, automatic crank, and dome antennas. You'll purchase your antenna separate from your TV so we'll just give you a basic overview here and explore more about them in a later article.
Manual and automatic crank antennas are pretty much identical to traditional home antennas, with the exception that they're designed to crank up and down. They allow you to vastly improve signal strength when deployed but do have a serious potential downside.
You have to remember to crank them down before you drive off.
They can stick up off the top of your RV several feet, plenty high enough to hit low hanging branches, an overpass, or even worse, power lines. This also means your signal strength will drop precipitously once you're mobile again.
Dome antennas are a newer innovation and rapidly becoming the most popular option. They're entirely electric and don't require any movement to work. They also offer pretty great reception whether stationary or mobile.
Keep in mind too that every time you move more than a few miles the channels will likely change. It's a good idea to run a basic channel scan on your TV whenever you stop somewhere for the night.
Regular TV vs 12 Volt RV TV
A lot of part time RVers find it easier to use a standard TV instead of a 12V RV TV. If you only take your rig out a few times a year this can be okay, but for anyone full timing it we don't recommend it.
Regular TVs just aren't built to handle movement. We already covered the strengthened internal chassis, but that's just the start. Regular TVs lack anti-glare coatings, require standard 110-220V AC power, and are a lot more sensitive to any bumps and rough treatment.
We've seen regular TVs mounted to RVs with cracked screens from a bad pothole before.
RV TVs are strengthened, buffered against frequent movement, and can run directly off your battery bank. That means you can use a smaller, more efficient inverter to power other AC requisite appliances.
Top 12V TVs Video
Frequently Asked Questions: Best 12V TVs for RVs
As RV enthusiasts, we understand the importance of having a reliable and energy-efficient television while on the road. That's why we've put together this FAQ section to address some common questions about 12V TVs for RVs. Whether you're a full-time RVer, a weekend camper, or a boating enthusiast, we aim to provide you with the information you need to make an informed decision when choosing the best 12V TV for your recreational vehicle. From understanding what a 12V TV is to installation tips and considerations, we've got you covered. So, let's dive into the frequently asked questions and discover everything you need to know about these versatile TVs designed specifically for life on the move.
What is a 12V TV?
A 12V TV is a television that operates on a 12-volt power supply, which is commonly found in recreational vehicles (RVs), campers, and boats. These TVs are specifically designed to be compatible with the electrical systems of these vehicles and offer entertainment on the go.
Why do I need a 12V TV for my RV?
Most RVs have a 12-volt DC electrical system, and having a 12V TV allows you to power it directly from the RV's battery without the need for an additional power inverter. This is beneficial because it helps conserve energy and enables you to watch your favorite shows and movies even when you are off-grid or don't have access to shore power.
Can I use a regular TV in my RV with a power inverter?
Yes, you can use a regular household TV in your RV by using a power inverter to convert the 12-volt DC power from your RV's battery into 120-volt AC power that traditional TVs require. However, this method may be less energy-efficient and could drain your RV's battery more quickly compared to using a dedicated 12V TV.
What are the advantages of a 12V TV for RVs?
The advantages of a 12V TV for RVs include energy efficiency, compatibility with the RV's electrical system, and ease of installation. These TVs typically consume less power than regular TVs, ensuring longer battery life. Moreover, they often come with built-in features like TV tuners, DVD players, and HDMI ports, making them convenient and versatile for RV owners.
Can I use a 12V TV outside of an RV?
Yes, you can use a 12V TV outside of an RV as long as you have a 12-volt power source available. These TVs are not limited to RVs and can be used in other applications such as boats, trucks, and off-grid cabins. However, it's essential to ensure that the TV is protected from the elements if used outdoors, such as using a weatherproof enclosure or cover.
What screen sizes are available for 12V TVs?
12V TVs are available in various screen sizes to suit different preferences and spaces. Common screen sizes range from 15 inches to 32 inches, although larger sizes may also be available. Consider the available space in your RV and your viewing preferences when choosing the appropriate screen size.
How do I install a 12V TV in my RV?
Installing a 12V TV in your RV is typically a straightforward process. Most models come with a mounting bracket that allows you to secure the TV to a wall or a suitable surface in your RV. Additionally, you'll need to connect the TV to a 12-volt power source and an antenna or cable/satellite connection for receiving signals. Consult the TV's user manual for specific installation instructions.
Can I use streaming services with a 12V TV in my RV?
Yes, you can use streaming services with a 12V TV in your RV, provided you have a stable internet connection. Many 12V TVs offer built-in smart features or have HDMI ports that allow you to connect streaming devices such as Roku, Amazon Fire Stick, or Apple TV. This way, you can enjoy your favorite streaming platforms just like you would on a regular TV.
Are there any special considerations for using a 12V TV in an RV?
When using a 12V TV in an RV, it's essential to consider power consumption and battery life. Ensure that your RV's battery is properly charged and that you have a suitable power source or generator to avoid draining the battery excessively. Additionally, make sure the TV is securely mounted to withstand movement during travel and use appropriate voltage protection devices if necessary.
What are some popular brands of 12V TVs for RVs?
There are several popular brands that offer 12V TVs suitable for RVs, including Jensen, SuperSonic, Axess, Majestic, and Naxa. These brands are known for their quality, durability, and features designed specifically for mobile applications.
Remember to conduct thorough research and read customer reviews to determine which 12V TV model and brand best suits your specific needs and preferences.
Final Thoughts
Picking out the best 12V TV for your RV or travel trailer comes down to sizing and longevity. You want to find a high-quality TV with durability enhancements that make it suitable for use in a moving vehicle.
Price and picture quality are mostly comparable to standard TVs and there's wide compatibility across the market on ports and connections.
Figure out where you want to place your TV, how large a space it is, what kind of mount you want to use, and you'll basically know exactly what 12V TV you need.