Whether you like to relax in the RV park or hit the backcountry, having access to a power source is essential for your comfort and safety.
From charging up your cell phone to running your refrigerator, a portable solar powered generator offers a reliable source of power that can be replenished by the sun, without all the noise and unpleasant fumes associated with gas generators.
In this article, we take a look at some of the leading models on the market right now – so you can power all of your essentials no matter where you choose to pitch.
Best Portable Solar Powered Generator
Choosing the right solar powered generator for your needs isn't easy, especially if you're new to RVing.
To help you decide, we have reviewed a wide range of models across all price points and capacities, so you're sure to find your perfect match.
Jackery Portable Power Station Explorer 500 – Solar-Ready Generator
Jackery is perhaps one of the most well-known manufacturers of portable power stations. They offer generators in a variety of sizes, including smaller 240w and 160w versions – but in this review, we will be looking at their most popular model, the Explorer 500.
Featuring a generous 24 amp-hour lithium battery, with a maximum capacity of 518 watt-hours; this portable generator has plenty of power to keep your essentials fully-charged. It has multiple outlets for maximum connectivity, with a DC and AC outlet, as well as three USB ports. So no matter what devices you have, there'll be an outlet to match.
If you're out in the wilderness without shore power, or get caught in an unexpected blackout, this impressive portable generator has enough power to see you through. With 500W of sine wave power and surge peak protection of 1000W, you can be confident that this model can keep your essential appliances going when you're off-grid.
Jackery sells a 100W compatible solar panel (although it can be used with other solar panels) which can be connected to this model to charge via the sun. In bright sunlight, the Explorer 500 can reach a full charge in around 14-16 hours, making it perfect for keeping your appliances and gadgets running during extended summer adventures.
Alternatively, if you're heading out on a short trip, you can charge it up via a wall outlet in half the time. And should you get stuck on the road in bad weather, you can also charge it up via the DC lighter port in your vehicle, but this will take about 16 hours to reach a full charge. An LCD display clearly shows the charge status at a glance, so you'll always know how much power you have at your disposal.
Perfect for RVing or camping in your trailer, this portable solar generator is also lightweight at only 13lbs and easy to carry. The handle on the top allows for a comfortable grip and we also like the inclusion of a handy LED flashlight for roadside emergencies.
Pros – Things we liked
Variety of sizes offered
24 amp-hour lithium battery
Multiple outlets
LCD display
Lightweight – 13lbs
Cons – Things we didn't like
Expensive
Goal Zero Yeti 1400 Lithium Portable Power Station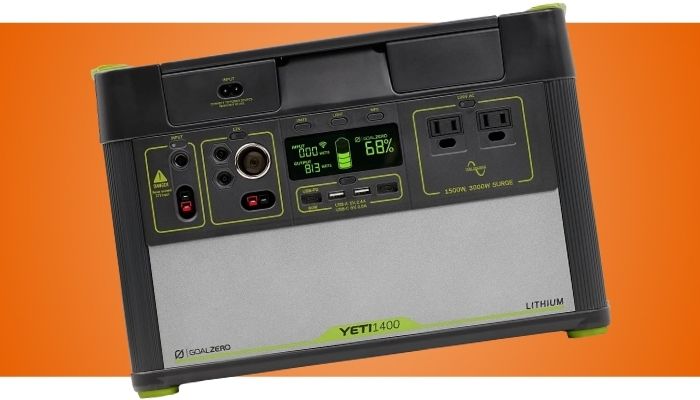 Just like Jackery, the Goal Zero Yeti range offers solar generators in several different sizes. But this model, the Yeti 1400 Lithium Portable Power Station, is one of the most powerful in their range.
Boasting a 1425Wh capacity and 132Ah battery, this portable power station can pack enough juice to run all of your essential appliances out on the road; including cell phones, refrigerators, laptops, health equipment, microwaves and more. In fact, this model can power a refrigerator for more than 23 hours and recharge a headlamp over 230 times!
This model features 3000 watts surge capacity and a pure sine wave inverter at 1500 watts, while the numerous USB, USB-C, USB-PD, 12V and AC ports allow you to connect as many as 10 devices at any one time. An attractive LCD display clearly shows input, output and overall charge remaining, so you'll always know how much power you have left.
While the Goal Zero Yeti 1400 can be fully charged via solar panels, you should keep in mind that this takes quite a long time, even in strong sunlight. You should allow for around 30 hours charging time in bright conditions and even more if the weather is a little overcast.
That said, you can always charge it up via an AC wall outlet in around 25 hours or give it a boost with the cigarette lighter port in your vehicle (so long as the engine is running!)
All in all, this portable solar generator is a great choice for Rving and camping. Its generous choice of ports and considerable capacity makes it a convenient and compact solution to off-grid power.
MAXOAK Bluetti EB150 Camping Solar Generator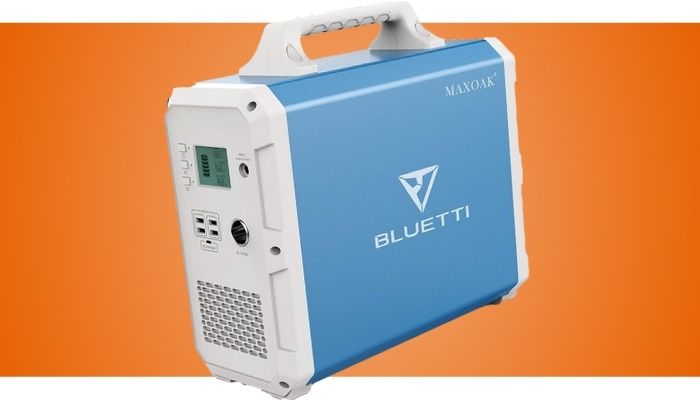 With a 1500Wh capacity and 101Ah lithium-ion battery, the MAXOAK Bluetti EB150 Solar Generator is another great option for RV and camping enthusiasts.
Offering enough power to run all your essentials while you relax in the Great Outdoors, this generator has a 1000W pure sine wave inverter for reliable electricity no matter where you choose to pitch up for the night. It also offers overload protection, so it will shut off automatically if necessary to keep you safe.
You could opt to charge this generator up via a wall outlet before departing on your adventure, which will take about 10 hours. But if you're out on an extended trip, you have the option to connect the MAXOAK Bluetti to a maximum of 500W of solar panels and harness the sunshine to recharge. This method takes as little as 5.5 hours and offers a fantastic alternative when touring the backcountry.
Lightweight at just 38 pounds and with a convenient carry handle, this portable solar generator is ideal for use in trailers and campers where space is limited. It has one USB-C port, two 110V AC ports, four USB ports and a DC 12V port so you can charge from your dash.
Easy to use, this solar battery pack holds its charge incredibly well, so you can store it for future trips without much loss of power; while the backlit LCD display makes checking battery capacity simple, even in strong sunlight.
ROCKPALS 300W Portable Generator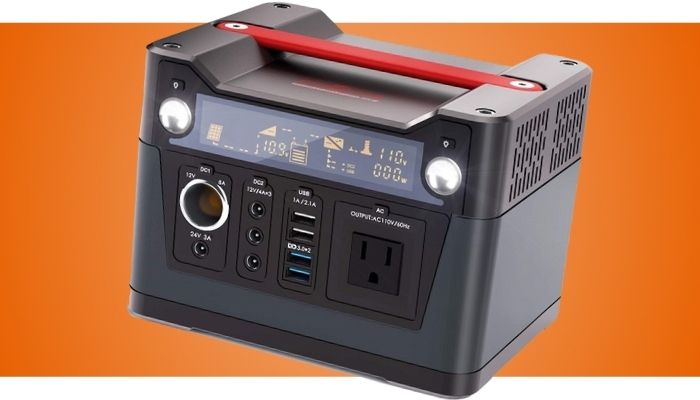 Boasting a 280Wh capacity and numerous ports, the ROCKPALS 300W Portable Generator is a fantastic option to power your RV essentials or as an emergency backup.
Despite its high capacity, this portable solar generator is lightweight and compact, weighing 7.3lbs. It packs enough juice to charge smartphones 25 times, laptops up to 5 times and run small appliances for as long as 5 hours.
When connected to a compatible solar panel, the ROCKPALS can reach a full battery charge in between 4-10 hours depending on the conditions and solar panel wattage. This model must be used with 60W or 100W solar panels only, the higher the wattage, the faster it will charge. This makes this model a great, fast-charging choice for wilderness camping trips.
Alternatively, you can also charge this generator up via a wall outlet or car charger if the weather forecast doesn't look good. This can take between 6-7 hours. The ROCKPALS Portable Power Station also offers a pure sine wave inverter for higher equivalent wattage output and quiet operation.
If you like to take a variety of electrical items with you on your adventures, this model has a great selection of ports to cover almost every need. It comes with one 12V AC outlet, four 12V DC outlets, one 24V DC, four USB ports.
The AC output is impressive too, at 300W continuous with a 600W surge maximum. However, while you can power multiple items at one time, it's important to note that there's no master off switch, so you'll have to turn them all off individually.
With a large LCD display and convenient safety lights, this handy little solar generator is a great choice for camping trips off grid.
ExpertPower Portable Lithium Polymer Solar Generator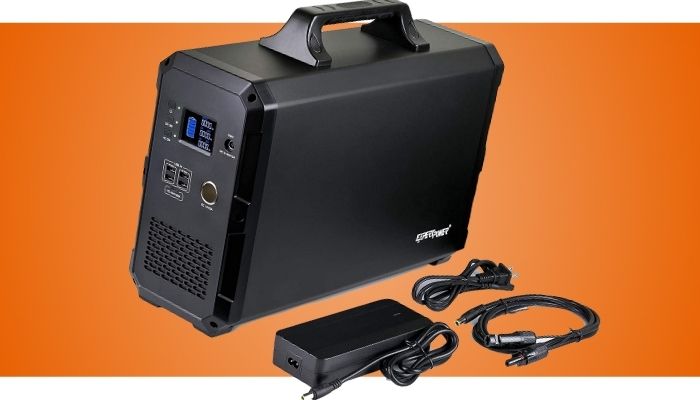 Next on our list is the ExpertPower Portable Lithium Solar Generator. Offering 2400Wh of power, this model has a large capacity that's perfect for running all of your RV essentials.
While it's quite bulky and heavy at 48.5lbs, this portable solar generator makes up for it by charging incredibly fast. When connected up to 500W solar panels, this model can reach a full charge in as little as 7 hours.
The built-in MPPT controller ensures efficient charging for maximum results. Additionally, if solar energy isn't available, you can always charge this model up via AC or DC connections.
Easily capable of powering a full size refrigerator, the inverter offers 1000W of continuous power and 2000W of surge capacity – making it one of the most powerful solar generators on our list. If you often head out into rough or remote terrain, this model will give you peace of mind that you can stay connected in an emergency.
Overall, we think this model is one of the best high-capacity solar generators for Rving on the market today. It may be expensive, but with its fast-charging capabilities and fantastic range of AC, DC, standard USB and USB-C output ports – you'll have no problem keeping all of your electronic items running during your trip.
EF ECOFLOW River Portable Power Station Generator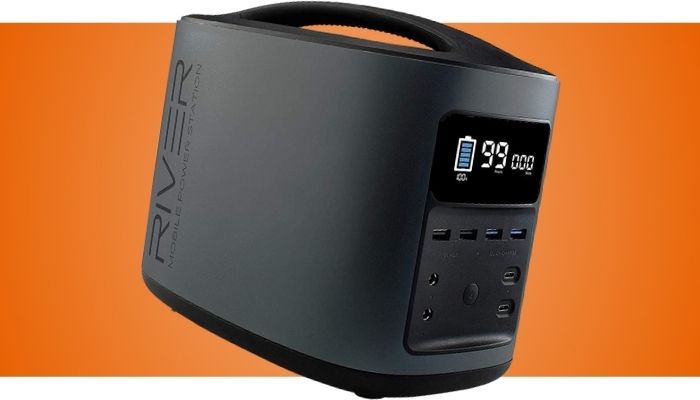 Featuring a 412Wh capacity lithium-ion battery and lightweight design, the River portable solar generator by EF ECOFLOW makes a good choice for RV and camper enthusiasts who like to get away from the beaten track.
Simple to use, this solar generator is ready to go straight out of the box, making it a great choice for beginners. The 114Ah battery and pure sine wave inverter offers continuous power at 300 watts with a surge max of 600 watts, so it's ideal for small appliances and electronic items.
Perfect for weekend trips, the ECOFLOW can be connected to solar panels which will achieve a full battery charge in around 10-15 hours, depending on sunlight intensity. If the weather isn't agreeable, or you're short of time, you can also charge the battery via a wall outlet in 6 hours, or the cigarette lighter port in your vehicle in around 9 hours.
Another cool feature is the large LCD display, that clearly shows the remaining hours, battery charge level and watts currently in use. This enables you to keep a close eye on the power levels, so you won't get caught out with a flat battery unexpectedly.
With two AC ports, two DC ports, two USB-C ports, four standard USB ports and a 12V carport, this model has enough outlets for you to connect 11 devices at one time. So, whether you need to give your cell phone a boost, browse the web on your laptop or power your mini fridge; this portable solar generator has got you covered.
Renogy Phoenix Portable Generator with Built-in Solar Panels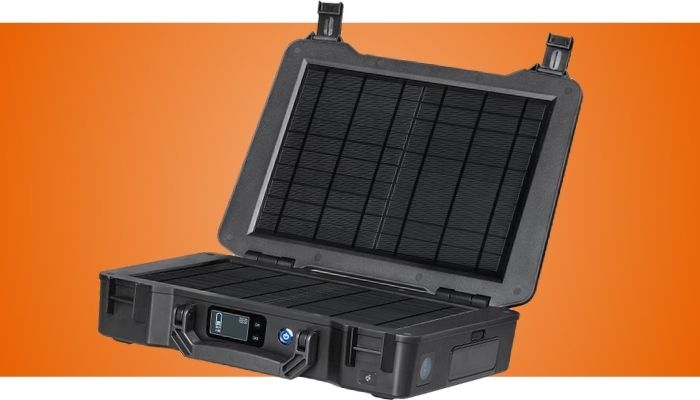 Showcasing a smart, compact suitcase design, the Renogy Phoenix Portable Generator is the only model on our list that comes with its own pair of built-in solar panels.
Each solar panel is 10 watts, which gives an overall wattage of 20 watts. This may not sound like much, but the built-in panels offer enough power to recharge the battery in 15 hours on a good sunny day. If you like, you can also add further solar panels up to a total of 100 watts, which will reduce the charging time down to just 2.5 hours.
This model can also be charged via a wall outlet or 12V cigarette port in as little as 5 hours.
With such a fast charging time, it's clear to see that this model is an excellent choice for wilderness camping and trips to the backcountry. The lithium-ion 17 Ah battery has a capacity of 246 Wh and can maintain charge incredibly well. Ideal for storing in your RV, if you take regular trips, this solar generator can hold its charge for up to 2 months, ready for your next adventure.
This model also features a LCD display and LED light which is great for use in emergencies. It has 8 output ports, which consist of four USB ports, one AC outlet, two DC outlets and a 12V car port. Pure sine wave inverter power runs a continuous current of 150W for safe charging.
Lightweight, stylish and coming complete with built-in solar panels; this portable solar generator is an excellent all-rounder for trips to remote areas. The only downside is that the battery can overheat quickly in high-temperatures, so you'll need to be careful in high summer conditions.
Buyer's Guide to Buying the Best Portable Solar Generator
Still unsure which is the best solar powered generator for you? Check out our in-depth buying guide to find out.
Price
As with any product, the price for solar powered generators can vary widely.
Generally, the higher the battery capacity and performance, the more expensive a model will be. Highly-respected, market-leading manufacturers are often the pricier options, due to their reputation for quality.
Whether you opt for a top-end model or a lower-priced version with a lower-capacity and fewer features will depend on your intended use. For example, if you're only heading out for short weekend trips not too far from civilization, a cheaper model is likely to be more than sufficient.
Charging Options
Of course, solar power is a key charging option in all of the models we have featured. But it is important to consider alternative charging methods when picking the best solar powered generator for you.
Even if you live in a desert state, you'll know that bright sunny days are not always guaranteed. Charging via solar panels is also often the slowest method; therefore, having the option to charge up your generator from mains power, USB connection or the cigarette port on your dash is crucial.
Be sure to check that your preferred solar generator offers other charging options before purchasing, and when charging from the 12V port in your vehicle, always keep the engine running!
Output Options
Similar to charging options, having a wide variety of output choices is a huge benefit. The more output options you have, the more items you can power.
Consider the appliances you have in your RV, trailer or camper and choose a generator which has the appropriate outlets to run/charge them.
For example, high voltage AC outlets will be required for most large, power-hungry appliances like refrigerators, microwaves and TV's, while smaller items such as cell phones, tablets and fans can be powered via a USB outlet.
Charge Time
Most solar powered generators will state their charge time in the product description; however, if they don't, you can make a reasoned estimate of overall charge time by examining both the battery capacity and charge capacity of a particular model.
As previously mentioned, charging your generator via solar panels is usually the slowest method. While higher wattage solar panels can help to reduce overall charging time, if your generator has a low charge capacity, it's important to remember that the battery will take a long time to charge no matter how high the input.
For example, if your generator has a battery capacity of 1500 watts, but only has a charge capacity of 150 watts, you could charge your battery for 5 hours and only achieve half of the total capacity.
(150 watts x 5 hours = 750 watts)
Run Time – Storage Capacity
When deciding which solar powered generator is right for you, battery capacity or 'run time' is one of the most important factors to keep in mind.
The key specification to look out for is 'watt hours' or 'Wh'. This is the maximum power the battery can discharge over a period of time. You'll need to add up all of your power requirements to make sure your generator can accomodate all of the appliances that you'll want to run at once.
For example, if you have a mini fridge that uses 60 watts and a TV that uses 70 watts, the total wattage would be 110 watts.
If you were to run both of these appliances for 6 hours, that would equate to 660Wh.
Therefore, if your solar powered generator only has a 500Wh capacity, you wouldn't be able to run both of these appliances at the same time for more than an hour.
Of course, if you're only interested in charging up essential items on weekend trips, then a solar generator with lower watt hour capacity will be sufficient. On the other hand, if you're planning longer adventures or running large appliances for hours at a time, you'll need a model with a higher capacity.
Generator with MPPT – Charge Controllers
A charge controller prevents the battery from overcharging by regulating the flow of current coming into the battery.
If the voltage exceeds the maximum, simple controllers will cut off the connection to protect the battery. But more advanced, maximum power point tracking (MPPT) controllers, actively regulate the flow to maintain efficient charging.
MPPT controllers are especially important when connected to solar panels, as the input voltage level can change rapidly.
Surge Power Capacity
Surge power capacity refers to the highest burst of power the generator can create to start an appliance.
This surge of power is fleeting, lasting less than a second, but it is crucial to kick start an electrical motor and get it running. For example, a television may require 500W of continual power to run, but as much as 2000W to get it started.
Therefore, you'll need to make sure your solar generator has a high enough surge power capacity to restart all of your key appliances in the event of an outage.
Intended Use
When choosing the best solar powered generator for you, it's important to take the time to consider how you will be using it.
If you like to head out into the wilderness for extended trips, it's best to opt for a high-capacity solar generator that can handle all your essential appliances, has an extended runtime and can be recharged efficiently by several methods. This will ensure you have a reliable source of back up power in the event of an emergency.
On the other hand, if you mostly head out for weekend adventures at RV parks or open spaces close to civilization, a lesser model will suit just fine for keeping your cell phone charged up and basic appliances running.
Portability – Size and Weight
Thankfully, the majority of portable solar generators are designed to be compact and relatively lightweight, but some are better than others.
Most portable generators will weigh somewhere between 10 and 40 pounds. If you have a big rig, larger and heavier solar generators are less of an issue, as you will have more space to store them and probably won't need to move them around much.
However, if you have a trailer or camper set up, space will be at more of a premium and you'll likely find yourself having to shift items around when packing and unpacking your gear. In this case you'll want to opt for a lightweight model that has a comfortable carry handle for easy transportation.
Display Panel
While not essential, an LCD display panel is a useful feature to have.
Most displays will show you the remaining charge available, so you won't get caught by surprise. Others may also include data such as current output wattage, input and runtime at current output; thus keeping you informed of the battery status and how long you can run your appliances before using up available charge.
Top Portable Solare Generator Video
Final Thoughts
There's no denying that a portable solar generator is an awesome bit of kit to take on your next RV adventure. Not only will they keep your essentials running, but their ability to harness the natural energy of the sun is essential in an emergency.
Whether you're looking for a high-capacity, rapid-charging model like the ExpertPower Portable Lithium Polymer Solar Generator, or a compact and convenient source of emergency backup power, like the Renogy Phoenix Portable Generator – you're sure to find your perfect match on our list.