So, you're looking to buy a gift for an RV owning friend or loved one. Luckily for you, your good fortune has brought you to our extensive list of the best gifts for RV owners. Whether it's a birthday present, a Christmas gift, or something special for an anniversary, we have you covered.
We have tried to keep our gift selections in a typical price range for gifts. But we have also added a few cheap Christmas stocking stuffer ideas and some more expensive special occasion gifts.
Best Gifts for RV Owners
What makes for a great RVing gift? You have two main options. Firstly, you have RV themed gifts that your RV owning loved one can display in their office, workplace, or bricks and mortar home. This could be an RV shaped money tin or an RV printed pillow. Anything that will remind them of the good times they have had out on the open roads or for adventures to come.
Your second option is to buy a useful tool or piece of equipment for their RV. RV people love space-saving gear, things that are collapsible or can be folded away, or equipment that helps organize their RV possessions.
Luxury RV items, like an espresso maker, are also loved by RV'ers. And, if you know a bit about RVing yourself, you can also buy some of the more technical gear, such as a GPS navigator.
RV Door Mat
A great gift RV owners can use at both their bricks and mortar home or their on the road home is an RV designed doormat. We really like this "Home is where you park it" doormat and message.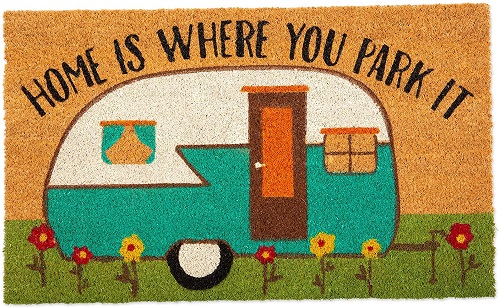 Folding Step Stool
If you know an RV owner that struggles to get into the top cabinet or overhead storage then a folding step stool is the perfect gift for them. It's easy to store and helps to give that extra few inches of reach, but it is also obviously a handy stool to sit on.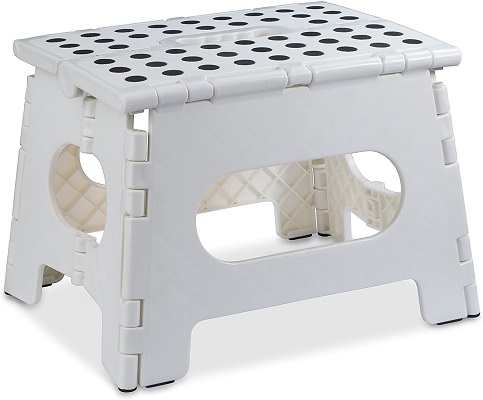 Each Happy Camper Towel
You can't go wrong with buying dish towels. It's an item people will always use. So if you're going to give an RV'er a dish towel as a gift, we recommend giving one with an RV camper design or pattern.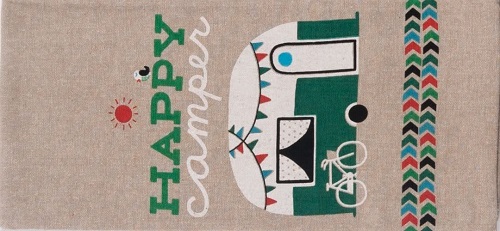 Life is Better at The Campsite Tumbler
One of the best perks of van life or RV travels is to sit outside in the evening with a cold glass of your favorite beverage. So give the gift of a campsite tumbler to your loved ones to make that drink even more special.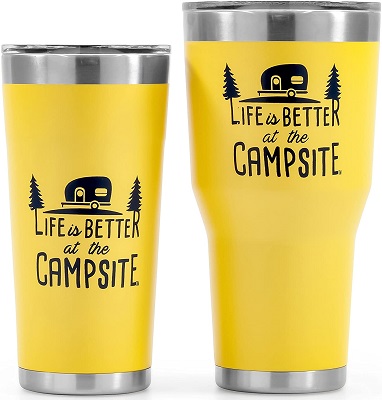 RV Shaped Bottle Opener
A lovely little stocking filler for the RV owner in your life is a camper van shaped bottle opener. It's one of those gifts that can be carried around every day reminding your loved one of you and their favorite pastime.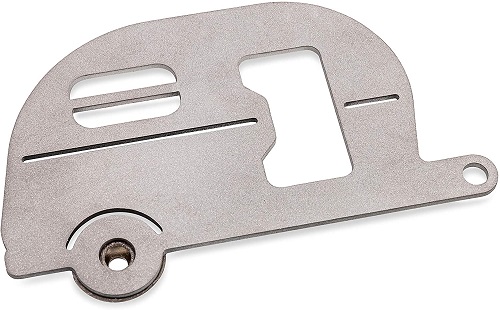 Travel Trailer Coin Bank
A nice gift to give to an RV camper as it will help them remember what they are saving for – a nice road trip away in the RV.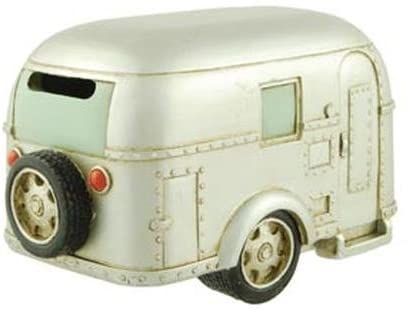 Vintage Camper Pencil Holder
The perfect gift for an office friend that loves to holiday in their RV. They can have this on their desk as a constant reminder of better things to look forward to.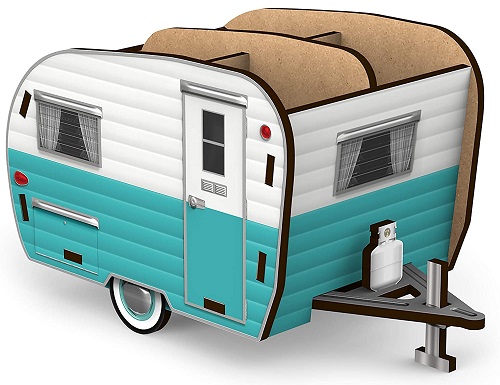 Retro RV Shaped Bamboo Cutting Board
Anything that resembles a travel trailer or RV makes for a great gift for RV owners, even if it's an item that has zero reasons or benefits to being designed in the shape of an RV – like this great chopping board.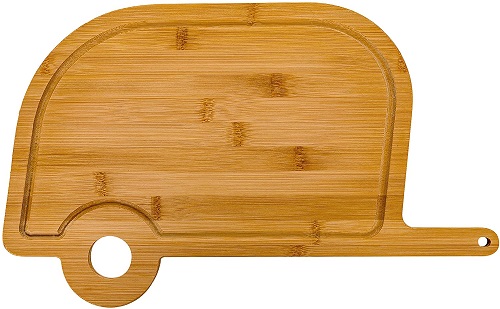 Life is Better at The Campsite Heat Resistant Oven Mitt and Pot Holder
Anyone that spends time in the kitchen will benefit from having an oven mitt/potholder. So why not have one with cute little travel trailers, campers, and RV's.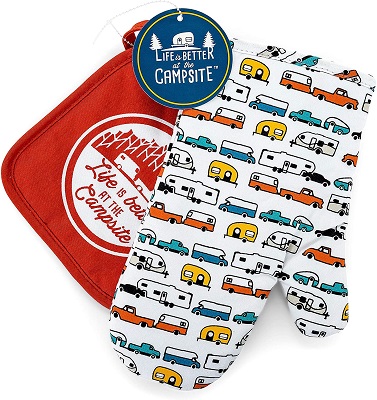 Camper Salt & Pepper Holder
I doubt I have ever been to someone's house and they don't have salt and pepper, so why should an RV be any different. And what is better than a standard salt and pepper holder? Well, an RV-shaped one of course.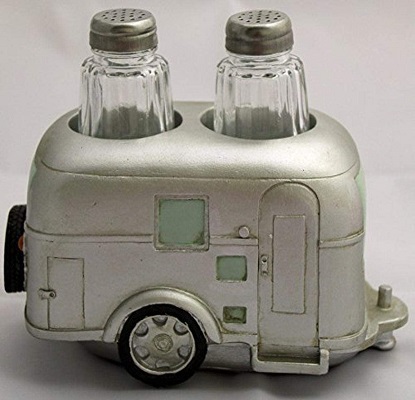 RV Designed Nesting Bowls with Lids
Nesting bowls are a great little space saver in the kitchen. And as we well know, RV owners love space-saving ideas. So these RV designed bowls will make for the perfect present.

RVing Designed Plate Set
Give your RV loving loved one the perfect outdoor plate set. These RV patterned plates and bowls are perfect for picnics, camping, and of course RVing.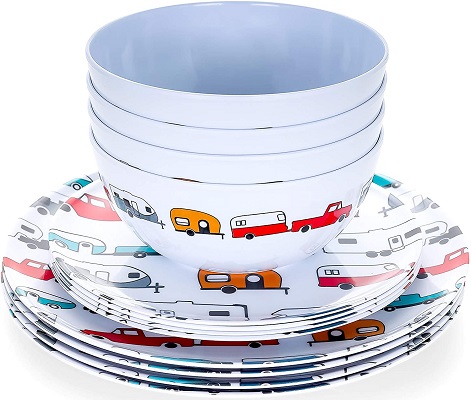 National Parks Pass
The beauty of National Parks is what first inspires most people's love of the great outdoors. And if they still inspire your loved ones then a National Park Pass is the perfect gift for them.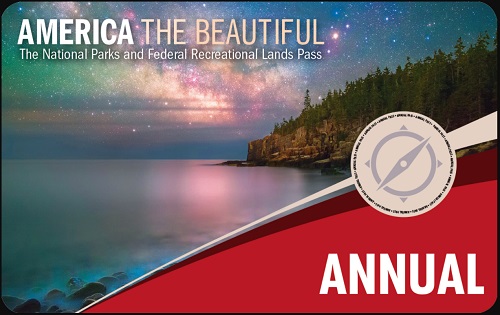 Harvest Hosts Membership
Unless traveling to the middle of nowhere most RV owners will need a place to park. And a Harvest Host Membership offers exactly that through a network of wineries, breweries, distilleries, farms, and attractions.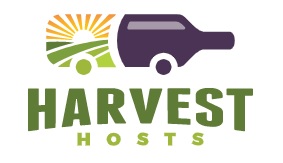 Amazon.com Gift Card
Even if you're not sure what they want, Amazon.com Gift Cards are the ideal option to offer them exactly what they want. Millions of products are available on Amazon.com for the redemption of Amazon.com Gift Cards. A single real Amazon.com Gift Card that is nestled within or with a free gift accessory is the item that is sent.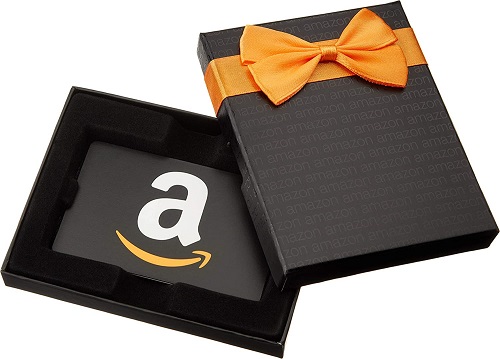 Multi-RV Print Bed Sheets and Pillow Covers
With the RV Bed Sheet Set from Camco, you can flaunt your love of RVing. The sheets have a multi-RV print pattern and can be washed in the washing machine. Quality goods are produced by Camco for RVing, boating, camping, towing, tailgating, grilling, and other activities. Their goods enable you to further develop your love of the great outdoors.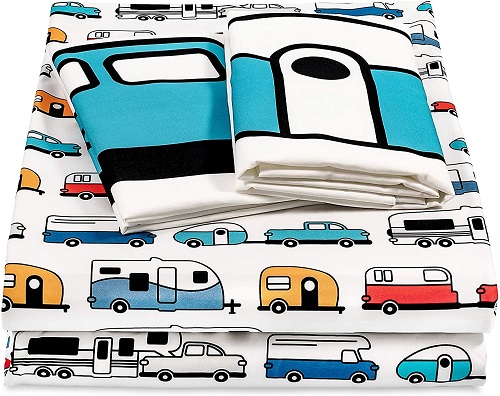 Vinyl Cover for Your Spare Tire
All 27-inch tires are compatible with Camco's spare tire cover. The cover, which is made of sturdy vinyl, shields your spare tire from the sun, rain, and dirt. A snug fit is provided with an elastic hem, and the seams are weatherproofed with strong thread. It has an eye-catching, fade-resistant RV camping pattern that is printed on it.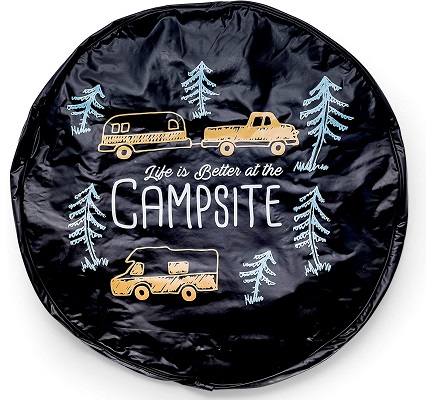 RV Print Picnic Mat
This Handy Mat can easily accommodate up to four persons and is great for carrying about. It's perfect for outings, picnics, and RVing. Has convenient compartments for holding personal stuff on both sides and built-in handles. Features a print with a reversible RV motif.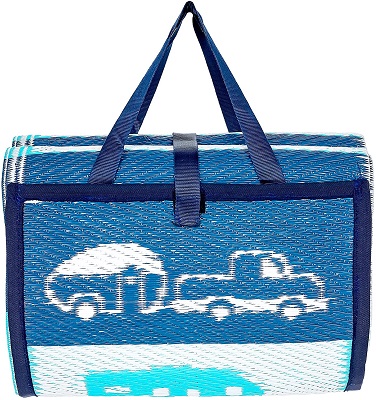 RV Camper Ornament for Christmas Tree
This lovely silver camper Christmas ornament is guaranteed to be a hit with everyone who enjoys camping. Purchase it for your own Christmas tree or as a lovely present for a friend or member of your family this season.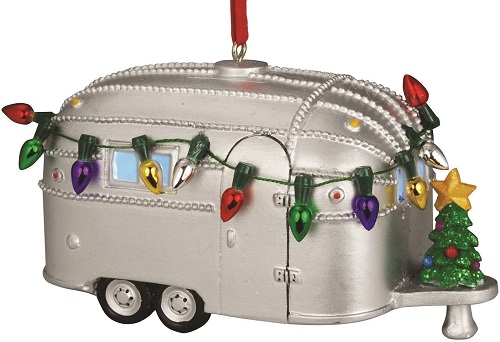 The Ultimate RV Logbook
The ideal logbook for RVers who want to meticulously document their travels. Keep a list of all the positive and negative camping facilities and characteristics. The book has check boxes and easy-to-read prompts for everything from hookups to management to mobile coverage and more.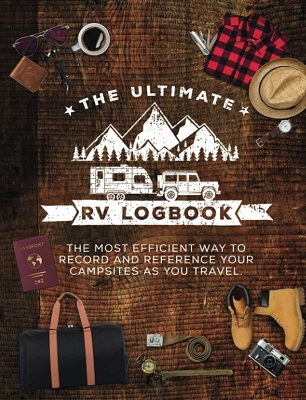 AeroPress Coffee and Espresso Maker
Make your own coffee! Make various types of coffee, such as drip, espresso, and cold brew, using the AeroPress Original coffee maker. Lattes, cappuccinos, and other coffee shop staples can be made at home or in your RV with espresso.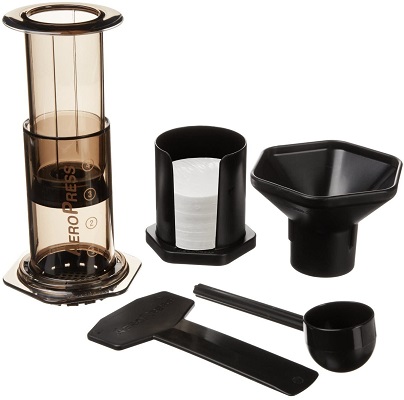 RV State Sticker Travel Map
Remember all of your unforgettable travels and show off your adventures! With our large permanent print vinyl state decals, you can plan any road trip. Just peel and place the state into its appropriate location on the map. Each distinctively colored map is customized based on your travels! The easiest way to keep track of all the US locations you have visited or plan to visit is with personalized graphical art.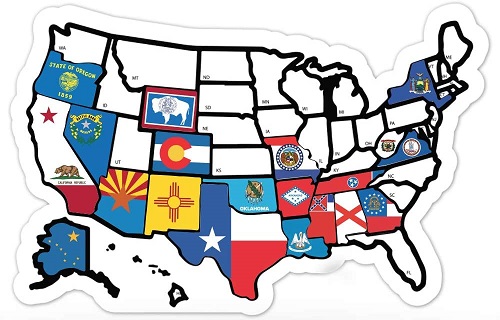 RV Water Filter with Flexible Hose Protector
The TastePURE RV/Marine Water Filter from Camco minimizes chlorine, sediment, and unpleasant tastes in drinking water.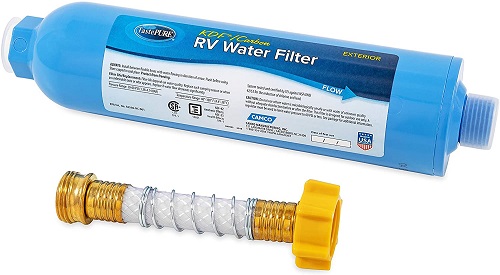 Collapsible Multiuse Wash Bin
Wakeman Outdoors' Collapsible Multipurpose Wash Bin is the ideal addition to any outdoor activity. Both indoor and outdoor use are ideal for this collapsible container. It can be used as a sink for washing dishes or hands, an ice bucket for drinks, or a storage container for your camping, hiking, boating, picnics, or tailgating gear, among other things!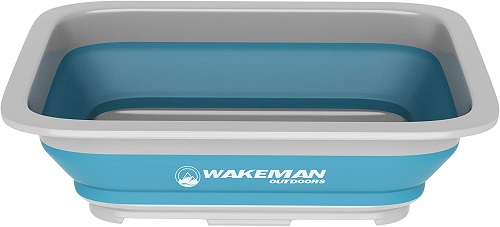 Camper and RV Coffee Mugs
The ideal setting for some hot coffee or hot cocoa must be the snow-capped mountains, right? To enjoy your tea, soup, chili, or even ice cream, look no further than this Bird's Eye View mug! A traditional camping accessory that matches every RV and campground!
Retro Travel Trailer Party Lights
Your outdoor living space gets a festive glow from Camco Party Lights. You can flaunt your lively style wherever you go with ten diverse and vibrant looks to pick from. At the end of the night, they can also assist you and your children in telling your trailer apart from the others.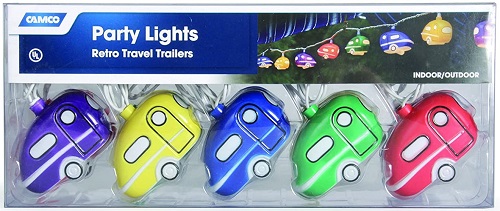 Outdoor Portable Propane Gas Fire Pit
The Outland Firebowl Deluxe is ideal for outdoor recreation since it adds atmosphere to any outdoor activity and provides a simple substitute for labor-intensive traditional campfires. You can bring the warmth and experience of a pleasant campfire with you wherever you are outdoors with this 19″ diameter approved fire pit, which is safe to use during the majority of campfire bans.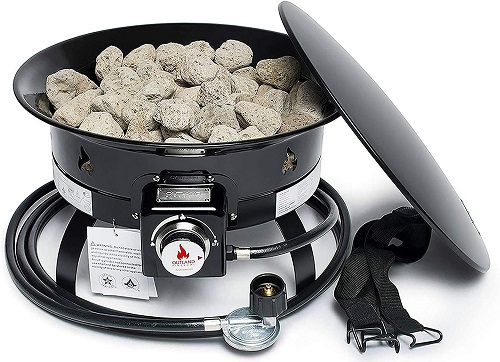 Collapsible Measuring Cups Set
Anyone who enjoys cooking or is a beginner cook needs a good measuring set for their RV kitchen. People frequently complain that commercial measuring tools get rusty, their markings wash off, and they take up too much room. Stop worrying now, Kaptron offers the ideal option.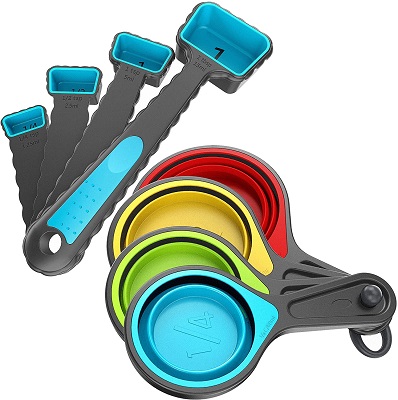 Kindle Paperwhite
With a sleek, contemporary design that is the thinnest, lightest Kindle Paperwhite ever, you can read for hours on end in comfort. It has twice as much storage as the previous version and the trademark 300 PPI, glare-free Paperwhite display, and laser-quality text, among other features. In addition, a battery charge lasts weeks as opposed to days.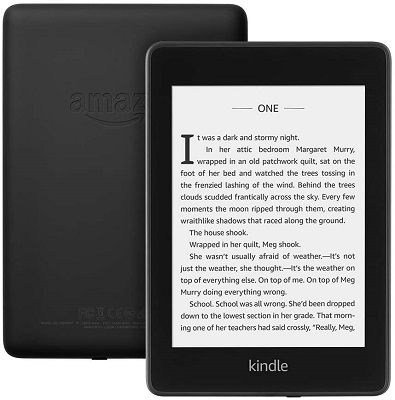 Bedside Storage Organizer
Room-saving organizer – This black bedside organizer is lightweight, and space-saving, with a big capacity and is simple to transport and store. It is made up of 3 mesh pockets and 1 huge pocket (A4 size).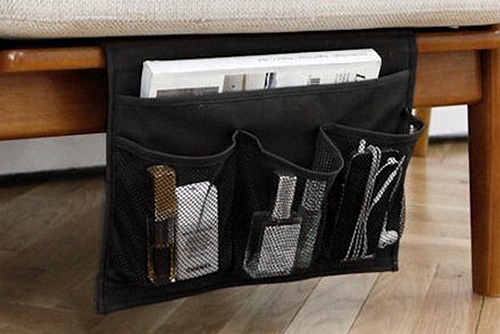 Door Mount Pocket Organizer
Over the door large pockets for storage. Without any hardware, hangs from a normal door or closet rod.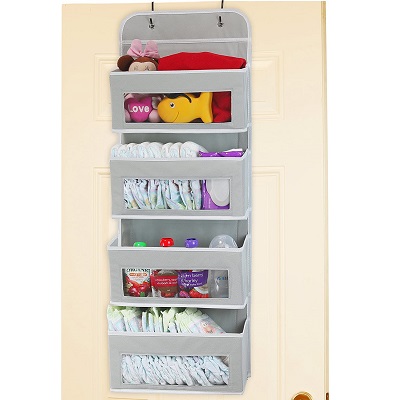 Travel Toiletry Kit Organizer
This multipurpose toiletry kit from eBags can hold toothpaste, deodorant, hair products, and other overnight necessities. The TechLite diamond nylon-made eBags Portage Toiletry Kit – Medium has a well-constructed design with a flat bottom that enables it to sit upright on a countertop. Two inner zipper compartments, five elastic mesh pockets, a detachable hanging hook, and elastic loops to carry brushes and razors are all included in the fully lined and detailed interior.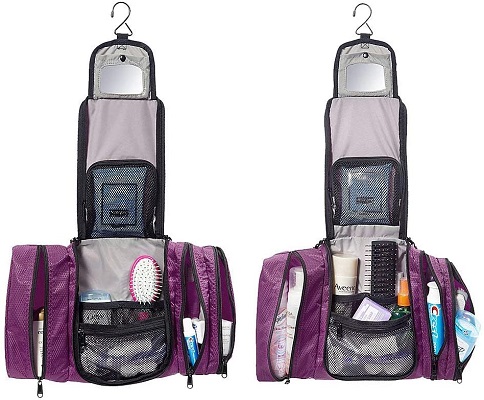 Folding Camp Chair
Wherever it goes, the Extra Wide King Kong Folding Camp Chair provides plus size support and comfort. This chair is prepared for anything the outdoors may throw at it, whether it's at the beach or in the garden. holds up to 800 pounds. Compact design with an extra-wide 24″ seat, a high backrest, a side pocket, and a cushioned polyester material folds easily and fits in a 7″ x 41″ bag that is 38″W x 20″D x 38″H.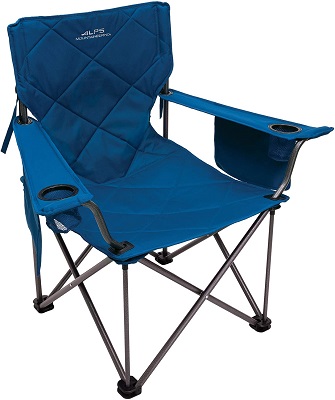 Telescopic Extension Ladder
The Xtend & Climb Telescoping Ladders are a practical alternative to conventional heavy extension ladders. They are made for both commercial contractors and residential do-it-yourself users. These strong, time-saving ladders are lightweight, robust, and expand by the foot. They have locking tabs for smooth, secure operation and ergonomic designs.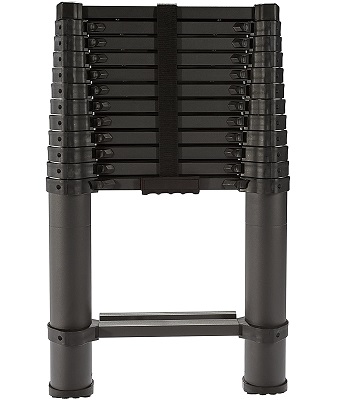 HitchSafe Key Vault
Protect your belongings so you may enjoy outdoor activities without worrying about losing your valuables like cards or keys. With the help of this covert key vault, you may covertly keep your belongings safe while participating in outdoor activities where it could otherwise be a bother.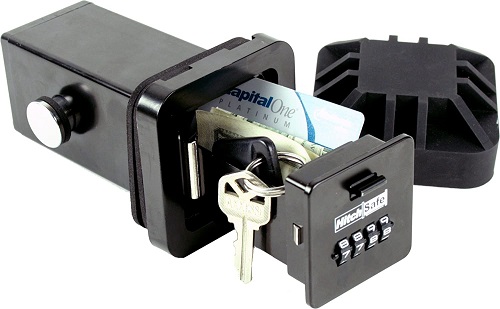 Universal Clip-On Towing Mirror
Large factory truck, RV, and van mirrors can be fitted with CIPA's Clip-On Towing Mirror. The Clip-On Towing Mirror is fastened to your car's existing mirror with rubber straps, and its easily adjustable arms fit snugly for a sturdy, vibration-free ride.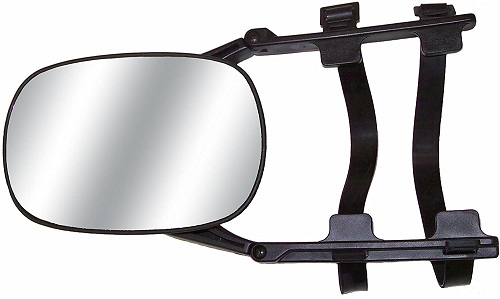 RV Designer Klippy Klips
Hang banners, flags, chimes, and other decorations. made of plastic with tremendous impact. springs made of rust-proof stainless steel.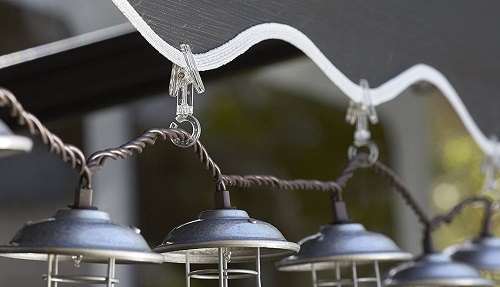 Upright Plate Holder
Plates can be conveniently kept upright in a cupboard or on a counter. Perfect for self-service buffets and drying at the sinkside.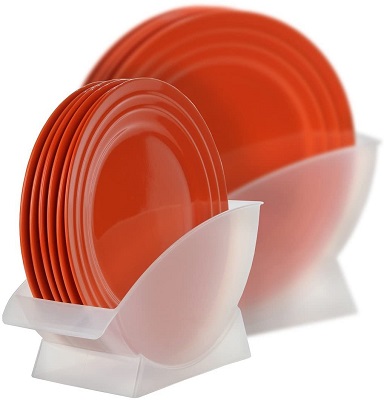 RV Wrap Around Step Rug
Camco RV Gray Wrap Around Step Rug can be adjusted to accommodate a tread of 8″ to 10.5″. Simply wrap around your current RV step and secure springs into the appropriate holes. No tools, glue, or screws are required. The hook ends of springs are turned back, which makes installation simpler. reduces the amount of dirt that is tracked into your RV, which keeps it clean. RV steps, whether manual or motorized.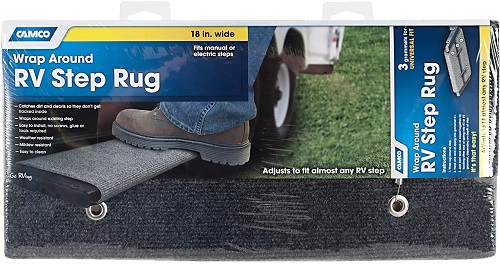 RV Refrigerator Brace
The RV Fridge Braces from Camco prevent your food from rolling around when you're driving. To lessen the possibility of messy spillage, they assist in keeping containers upright. They affix to the wire shelves of your refrigerator quickly and firmly. comes in a two-pack.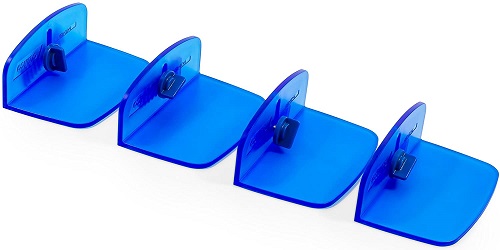 Fridge Airator
The Camco RV Fridge Airator keeps your food fresher and aids in more uniform cooling of the RV refrigerator. This air purifier has a high-volume air circulator that uses an exchangeable activated charcoal filter to capture odors. It is simple to use and battery-operated.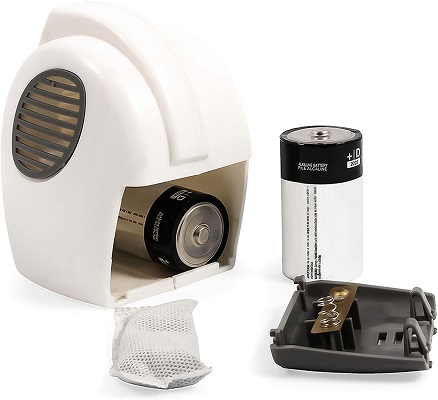 Adjustable Broom and Dustpan
The RV Broom and Dustpan Set from Camco telescopes down from a full-size long broom to a smaller broom designed for small storage spaces. For maximum cleaning effectiveness, the soft-bristle head can be adjusted at various angles, and the handle length can be changed as well. For simple storage, the dustpan attaches to the broom's handle.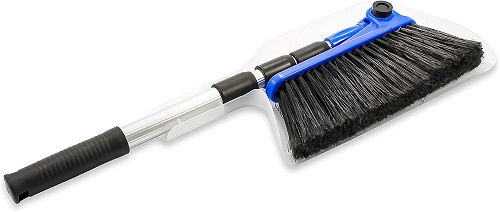 Scented Citronella Candles
With this three-pack of Coleman Scented Tin Citronella Candles, create a nostalgic atmosphere outside. These durable outdoor candles offer the sound of a crackling fire to your outdoor entertaining places because they are made with crackle wood wicks. This collection of citronella oil candles will fill your outdoor environment with the wonderful scents of pine, s'mores, and campfire.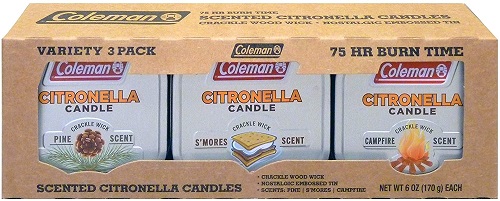 National Geographic Guide to Scenic Highways and Byways
With this, you get your money's worth and it would be ideal to pack in your car-trip backpack because you never know where the journey may lead.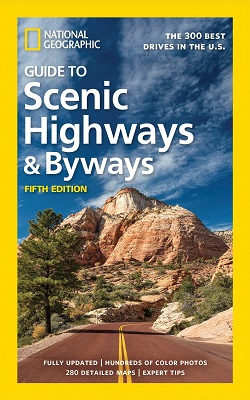 RV Themed Sofa Cushion
Pillows are a great way to decorate your home's beds, windows, sofas, and other furniture. Throw pillows for the couch make the ideal holiday presents for your wife, husband, parents, siblings, and other loved ones.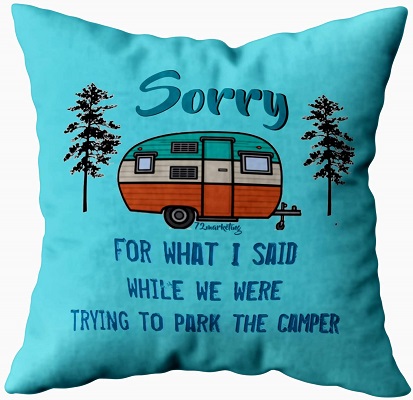 Camper Trailer RV Theme Photo Frame
This colorful photo frame holds a 5″ x 3.5″ photo and is shaped like a camper trailer. It stands horizontally.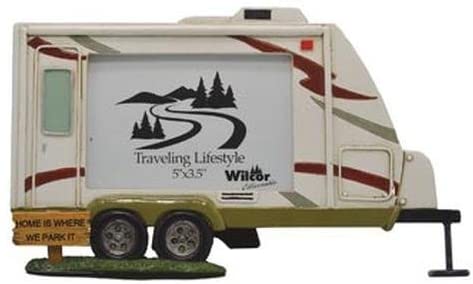 Picnic Backpacks
All-occasional ALLCAMP Picnic Backpack with a straightforward and fashionable style. Bring your family or friends and a picnic basket to experience a real "natural" restaurant in your free time. Breathe in the fresh air, taste delectable food, and take in your own free time.
Magazine Subscriptions
The readers of Trailer Life magazine are those whose primary mode of transportation and leisure is an RV. Each issue has product reviews, travel pieces, and other content, including everything from cooking advice to car maintenance.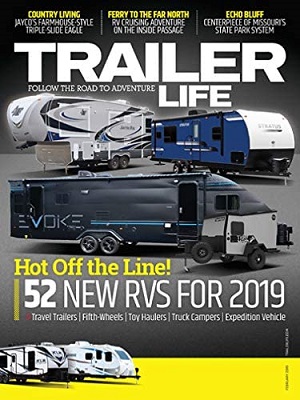 Wireless RV Backup Camera System
Easy & quick installation. High Resolution IP65 Waterproof Camera with 120° Wide Viewing Angles, Live Streaming, Intelligent IR Cut Filters, and Durable and Intelligent Camera System.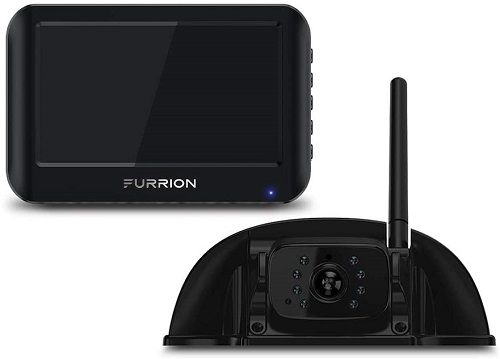 Enjoy the independence of the open road while using a reliable guide. Garmin first RV navigator, the 760LMT, directs you with a large, easy-to-read 7″ display and powerful speakers.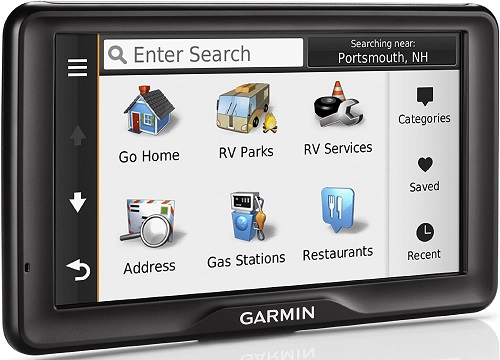 Frequently Asked Questions (FAQ) – Best Gifts for RV Owners
Welcome to the Frequently Asked Questions (FAQ) section of our article on the best gifts for RV owners. Whether you're an RV enthusiast yourself or seeking the perfect gift for a friend or family member who loves the open road, we understand that choosing the right gift can sometimes be challenging. That's why we've compiled this list of frequently asked questions to provide you with insights, ideas, and inspiration for finding the ideal gift for RV owners.
In this FAQ section, we'll address common queries related to practical and unique gifts, tech gadgets, eco-friendly options, outdoor activities, safety-related items, and budget-friendly choices. From practical camping essentials to creative and personalized gifts that capture the spirit of RV life, we've got you covered.
So, if you're looking to surprise a seasoned RVer or want to enhance the adventures of someone new to the RV lifestyle, read on for answers to some frequently asked questions and discover a wide range of gift ideas that are sure to bring joy and enhance the RV experience. Let's explore the world of RV gifting together!
What are some practical gifts for RV owners?
RV leveling blocks or ramps
Portable folding chairs and tables
Outdoor camping gear (e.g., grills, cooking utensils)
RV organization and storage solutions
Portable power banks or solar chargers
Compact and versatile kitchen appliances
What are some unique and creative gifts for RV enthusiasts?
Personalized RV accessories (e.g., custom license plate frames)
Decorative RV-themed signs or wall art
RV-themed clothing or accessories
RV-inspired jewelry or keychains
Fun and functional gadgets for RV living (e.g., multi-tool gadgets)
Subscription boxes tailored for RV owners
What are some tech gifts that RV owners would appreciate?
GPS navigation systems specifically designed for RVs
Portable Wi-Fi hotspots or signal boosters
Smart thermostats or climate control devices for RVs
RV-specific apps and digital tools
Entertainment gadgets like streaming devices or portable projectors
Are there any eco-friendly gift options for RV owners?
Solar panels or solar-powered camping gear
Reusable and sustainable kitchenware
Eco-friendly toiletries and cleaning products
Portable water filters or purifiers
Gift certificates for eco-conscious RV campgrounds
What are some gift ideas for RV owners who love outdoor activities?
Portable folding bicycles or electric scooters
Hiking gear, including backpacks, walking poles, and trail maps
Kayaks, paddleboards, or inflatable boats
Fishing equipment and accessories
Outdoor games and sports equipment (e.g., frisbees, cornhole)
Are there any safety-related gifts for RV owners?
Carbon monoxide detectors and fire extinguishers
Emergency roadside kits
Tire pressure monitoring systems
RV security systems and alarms
First aid kits and medical supplies
What are some budget-friendly gift options for RV owners?
Camping cookware sets
Travel-sized toiletries and personal care items
RV-themed books or magazines
Campsite guidebooks or maps
RV maintenance tools (e.g., wrenches, tire pressure gauges)
Where can I find these gifts for RV owners?
Many of these gifts can be found on online marketplaces like Amazon, eBay, and camping-specific websites.
Local RV supply stores often have a wide range of RV-related gifts.
Specialty gift shops or online stores catering to RV enthusiasts may offer unique and personalized options.
Final Thoughts on RV Gifts
Small, collapsible, folding, portable, multi-purpose, and reliable. These are the words that should describe your gift. RVs are just tiny homes on wheels, so if your gift would be a great addition to a tiny home you can be sure it will make an amazing gift for an RV owner.
Now it's your turn, if you bought one of the gifts we have recommended, or decided on something completely different, let us know in the comments section. This sort of information will help others that have stumbled on this page looking to bring a smile to a loved one's face.