Finding the best RV kitchen accessories isn't as straightforward as it first seems. It isn't enough to simply choose compact versions of every single item you'd have in a residential kitchen. You also need to get inventive and look for new ways to use items, as well as favoring multipurpose accessories as much as possible.
From innovative space savers to kitchen lifesavers, we've rounded up the very best RV kitchen accessories around. Check out our list and see how many you can cross off.
Best RV Kitchen Accessories
Here are some of the most essential RV kitchen accessories. Most are special space saving designs, with a couple of multi-purpose models.
We've also included numerous essentials to prevent your food ending up all over your RV when you're on the road, from fridge braces to cupboard bars.
Over the Sink Cutting Boards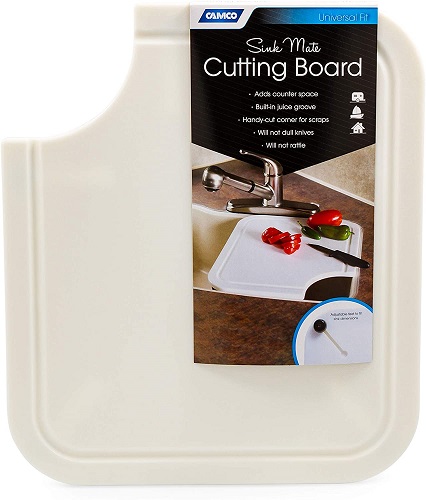 Over the sink cutting boards are one of the very best ways to quickly extend your countertop for prepping your meal.
Not only do you instantly get plenty of extra space to chop your veggies, fruit, fish, meat etc, it's also an ingenious way to make clearing up afterwards so much easier. Simply scrape off any bits you don't want into your sink until dinner's cooking and you're ready to start cleaning up.
One of our all time favourites is the handy Camco Sink Mate Cutting Board, with it's cut out corner to get rid of peelings and off cuts, you'll even save space on your chopping board! It also benefits from adjustable feet to adjust to your sink size, a juice groove for your roasts, and a sturdy, hygienic polyethylene construction that won't nick your best blades. What more could you ask for?
Multi-purpose Cutting Boards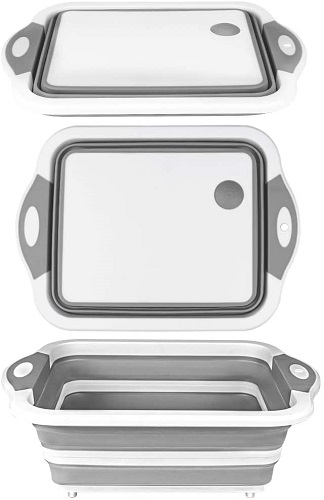 An RV kitchen can never have too many multi-purpose items and multi-purpose chopping boards are one of the absolute must-haves. While you probably have an array of chopping boards in your bricks and mortar kitchen, opting for a multipurpose second or third chopping board in your RV is a great way to save space in your cupboards, as well as saving you money buying three or four different items.
Sound too good to be true? Take a look at this collapsible cutting board by QiMH to get a better idea of just what one kitchen item can do. Use it as a chopping board, a colander, a dish tub, or for rinsing your vegetables.
In fact, you'll probably find at least a dozen extra uses for it in its first week and best of all it folds down completely flat, taking up next to no storage space.
Collapsible Dish Drying Rack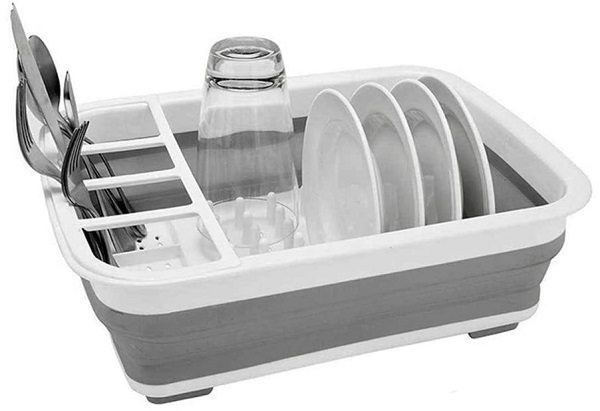 Dish drying racks are essential to any kitchen, no matter how big or small.
The problem with regular dish drying racks in RVs is that they take up all of your counter space and then once you've put away your dishes you're left with a huge rack that won't fit in any of your cupboards. So you've got even less countertop space or you have to play a juggling game moving the empty dish rack around your RV until it finally ends up where it started taking up all of your spare kitchen counter space.
Before you lose your sanity and possibly all of your dinnerware, get yourself a collapsible dish drying rack. There are plenty of inexpensive ones out there like this handy RV version by Fafcitvz.
It's compact but not too small, so you can fit it in your cabinets or stand it up behind your sink faucet when you're done. It simply folds away and pops back up with four integral compartments for more organized drying, so it's easier to get your silverware drip free without polishing.
RV Dishes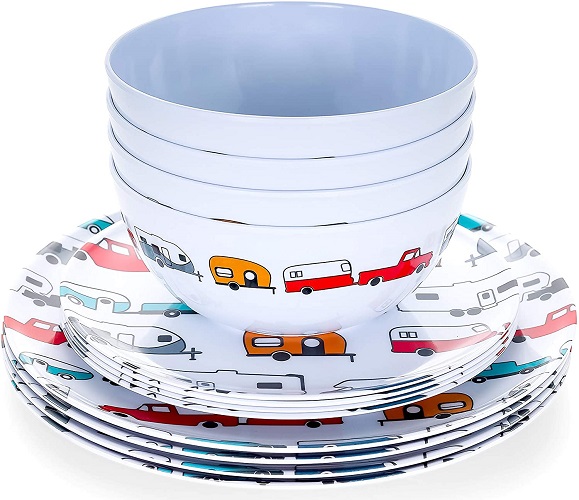 Life on the road isn't always kind to your most fragile possessions. Don't risk your heirloom bone china or any fragile dinnerware that you can't easily replace.
Best play it safe and get yourself some melamine RV dishes. You'll thank yourself later down the line when you park up and find your entire cabinet contents on your RV floor. It's much easier to simply pick up your plastic RV dinnerware and put them away rather than sweeping up broken china and eating out of pans for the night.
Show off your sense of humor with these stylish Camco RV-themed RV dishes – Life Is Better At The Campsite! Not only are virtually unbreakable, they are also sure to become a focal point when you have guests for lunch or dinner. They come in a really handy 12-piece set consisting of four bowls, four side plates, and four dinner plates.
Pop Up Trash Can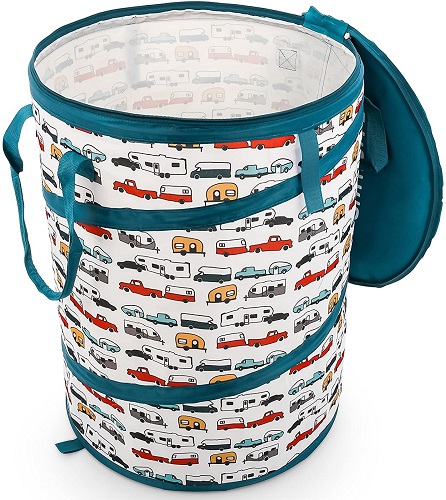 Whether you're dining in your RV or outdoors, a pop up trash can makes things so much easier, especially when you've got the whole family with you.
When you've emptied your trash, pop up versions simply fold away to less than a couple of inches high and are easily secured. You really don't want a regular bin bouncing around in your RV while you're on the road, empty or not.
If, like us, you just can't get enough of the RV-themed print on those Camco dishes we just shared with you, you're going to love this pop up trash can. With its printed mix of fifth wheels, travel and teardrop trailers this bin is both practical and good looking.
It folds away to under 2.5 inches and pops up to a generous 24 inches tall by 18 inches wide, complete with a fully zippered lid, padded handles, and a durable liner.
Refrigerator Door Lock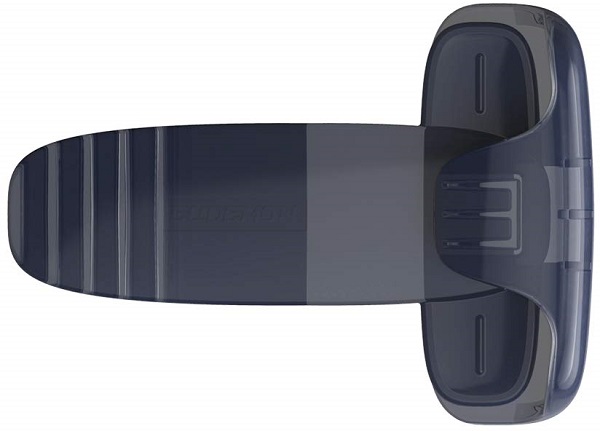 An RV refrigerator door lock is more than a kitchen accessory, it is absolutely essential. So much so, we recommend purchasing several of them to keep just in case.
Even if you have never had any issues with your RV fridge opening when you're on the move, there is, as the saying goes, a first time for everything. Arriving late at night at the campground with all your fresh provisions strewn around your warm trailer, staining your upholstery, and not a cool beverage in sight is not really the best way to start off your vacation. Plus you'll lose an extra day going back to buy everything all over again.
These handy fridge locks by Eudemon Home require no tools and install in just seconds. They fit both thin and thin seal models, so you won't have to worry about any nasty surprises after your long drive. They are also a great way to keep pets out of your RV fridge if they like to help themselves when your back's turned, as well as young children.
Cabinet Door Locks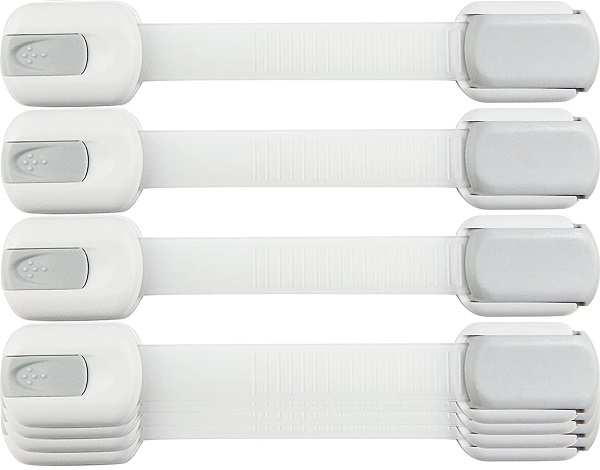 Cabinet door locks are another absolute essential unless you want to spend the first day of your vacation reorganizing the entire contents of your RV. Not only are they essential for all of your kitchen cabinets, they are also useful for any other cabinet storage, keeping your possessions safely stowed away.
As you can never have too many cabinet door locks in an RV, goodness knows where they all go to, make sure you pick up a good pack like this bumper 10 piece set by Wappa.
These safety straps work on both corners and flat surfaces. Thanks to their strong 3M adhesive tape on both sides you'll find a multitude of uses for them in your RV. They are great at keeping drawers closed too and don't leave behind any sticky residue. Simply install in seconds and hit the road.
Fridge Airator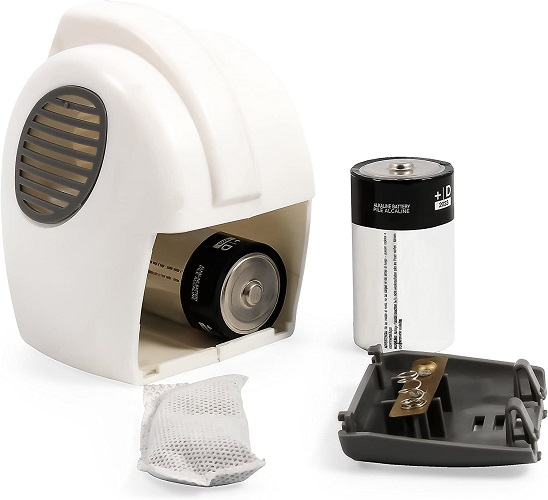 Is your RV fridge underperforming? A fridge aerator is a great little gadget to help improve your RV fridge by circulating the cool air better for fresh food and even cooling throughout. When you're stocking up for your vacation, it makes sense to install one of these little devices to help prevent an unnecessary waste of food and money.
Camco has a genius little fridge airator that is even battery operated, so you can simply place it in your RV fridge and leave it to get to work. Thanks to its high-volume air circulator, your fully stocked fridge will benefit from even cooling throughout. It has an on and off switch for when your trip's done, plus a really handy activated charcoal pack to absorb odors.
Fridge Odor Absorber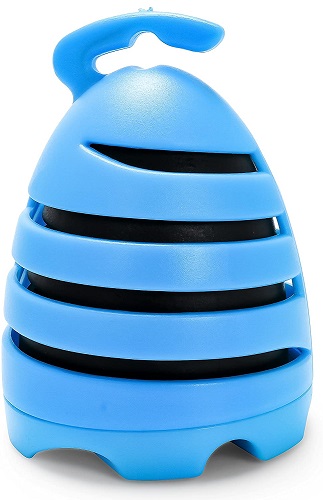 While you probably can't wait for your next RV trip, chances are you could quite easily do without dealing with your RV fridge before you set off. No matter how clean and gleaming it is when you return home, for those first few days on the road that unpleasant odor is almost enough to put you off eating groceries out of it.
All RV fridges can benefit from a fridge odor absorber. It's a simple yet highly effective way to get rid of that musty odor that taints your fresh produce and makes your RV smell unpleasant. Our favorite, the Camco Adjustable Fridge Deodorizers lasts for up to six months.
Its swivel design allows you to increase its odor absorbency, while its hook means you can hang it off your refrigerator rack to save space. What's more, the inner charcoal bag is also replaceable.
Nesting Cookware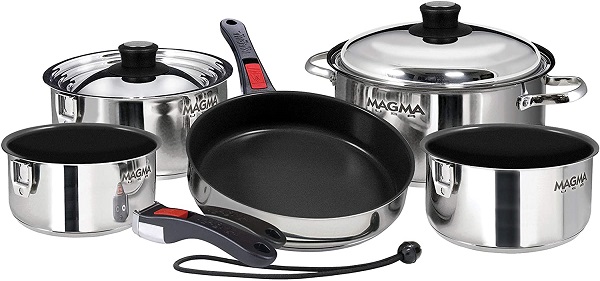 Good cookware is essential to enjoying cooking in your RV kitchen. Conventional handled pans just take up too much space in your small RV kitchen.
Nesting cookware makes an excellent choice for your RV, not only does it store neatly away, you also save plenty of cabinet or drawer space. Nesting all of your pans all within the largest one keeps them neatly organized, just add silencing liners and your cabinet locks and you're good to go.
Kit out your RV kitchen with this space-saving 10-piece cookware set by Magma. Made with a non-stick, ceramic finish, these high-quality nesting pans are an excellent choice. The long handles detach and all of the pans stack inside the large one which comes with a special tie to keep the entire set safely enclosed.
RV Coffee Maker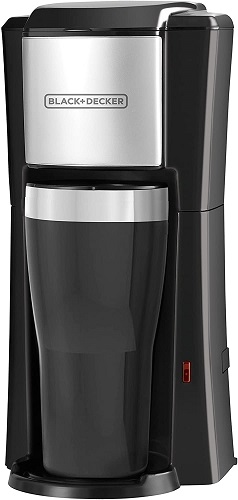 With next to no spare kitchen counter space, you'll need to choose your RV coffee maker very carefully, or you just won't have enough room to prepare your meals or use any other appliances.
Even models that look small in your home kitchen will still dominate, so it's best to focus on coffee makers with small footprints that can be easily tidied away when not in use.
This model by Black+Decker is highly practical and just about perfect for any small RV kitchen. Designed for busy, on-the-go lifestyles, it even comes complete with its very own travel mug. Simply add coffee grounds or pods and fill with water, the entire coffee maker isn't much bigger than the mug itself. It also has an auto-off function and a one-button operation.
Cupboard Bars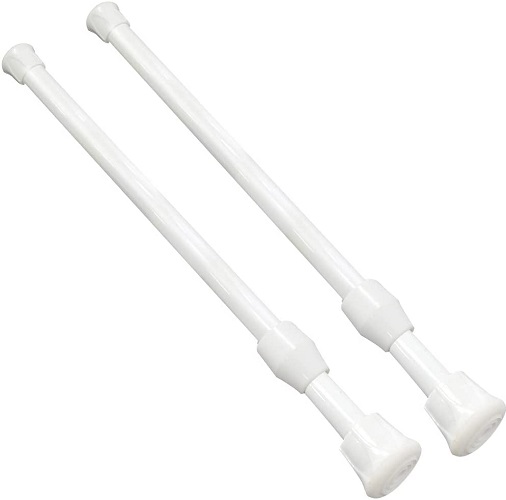 Stop open packets from falling over creating messy spills when you're on the road. Cupboard bars are essentially mini tension rods that are a great way to keep order in your fridge and cabinets when you're driving.
Look out for spring loaded, adjustable width models that will fit snugly inside your cabinets. They are also really useful for adding an extra rack or hanging space in your fridge or cabinets when you arrive at your location.
Easy to adjust, this 10-pack of cupboard bars by GoodtoU is available in a variety of colors, including pink, red, brown, white, and silver. Thanks to their adjustable springs, they're a good tight fit in any cabinet with an internal width between 28 and 48 inches.
RV Fridge Brace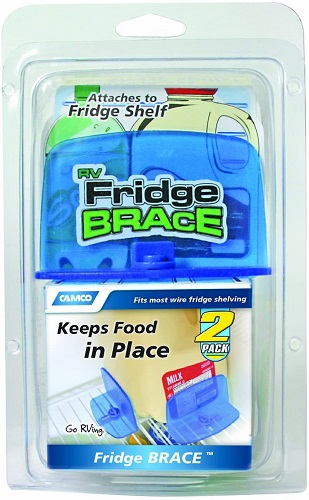 RV fridge braces are a great way to save time dealing with messy spills on your arrival at the campsite.
It can be really difficult to stop items from sliding backwards and forwards on your fridge shelves, especially on poor quality roads. Fridge braces provide you with a great way to secure heavier items inside your fridge, preventing them from squashing soft produce or even breaking out of your fridge all together.
When it comes down to RV fridge braces, this version by Camco is one of the very best. Simple, yet highly effective, attach the braces to your wire fridge racks to lock any bulky or heavy items into place. Reusable and easy to clean, these braces are a good size for cartons or even large soda bottles.
Counter Top Extension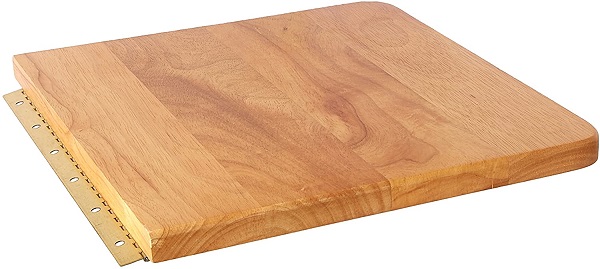 A counter top extension is a great multipurpose addition to your RV. Attach one to the end of your kitchen counter top and open it up whenever you need extra space for meal preparation, aperitifs, an extra place setting, to play cards, read a book… There are literally hundreds of uses for an RV countertop extension. Best of all, when you no longer need the extra space, simply fold it down and it's almost invisible.
While there are also some good pull-out versions available, we really like this drop leaf style extension by Camco. It attaches to the side of your kitchen and folds out just like a drop leaf table with a sturdy metal brace holding it secure and straight. Its warm oak shade looks good with most decors and it will give you an extra 12 inches of counter top space
Under-Shelf Pull Out Drawer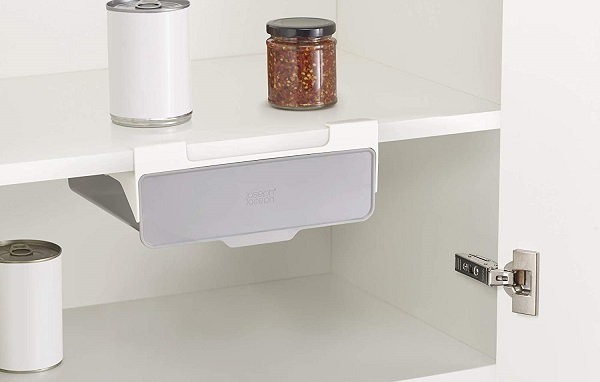 Keep small loose kitchen items neatly stored away with an under-shelf pull out drawer. If you don't have much space in your cabinets, but enough height, installing a drawer to the bottom of the upper shelf inside gives you a great little secure space to keep all those little items that are easily lost.
Joseph Joseph has some really well designed, highly practical space-saving pieces and this under-shelf drawer pull out is a great example. It doesn't even need any tools to fit inside your cabinet. Simply stick it into position and hold for 30 seconds. It's an excellent way to use up your cabinet shelf's extra height without piling items one on top of another.
Spice Rack Organizer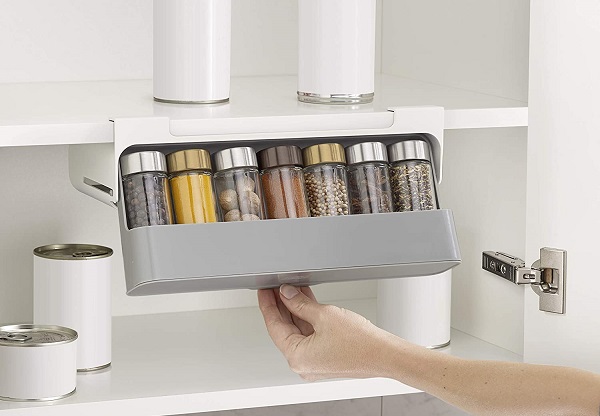 Look out for spice rack organizers that will fit in the unused spaces inside your RV kitchen cabinets. Whether you opt for a model that fits on the inside of your cabinet door or one that is attached to the bottom of the internal shelf, it's important to find one that allows you to easily view and select your favorite seasonings.
Another great Joseph Joseph classic, this spice organizer holds up to seven standard spice jars. It attaches to your cabinet shelf and simply pulls out to reveal its contents allowing you to make your selection, before closing it back up saving space and time.
Kitchen Drawer Organizer Tray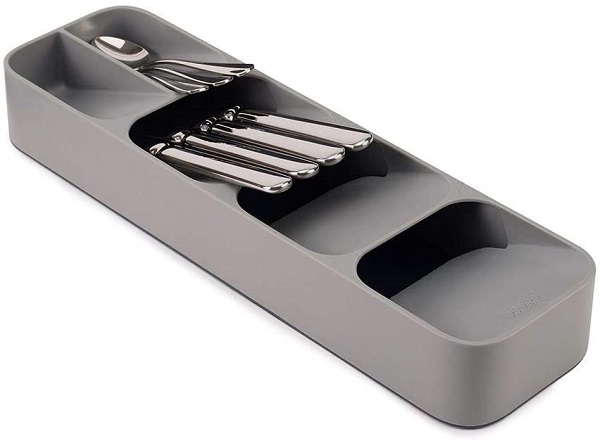 At home you may have a whole drawer dedicated to your silverware. That's a lot of space in a miniature RV kitchen. When storing your RV silverware, you'll need to look for a smaller model that won't take up too much space, but still allows you to neatly organize your forks from your spoons.
Check out this stylish yet compact silverware organizer by Jospeh Joseph. It takes up less than a third of the space of traditional models that lay out your different flatware types side by side. This handy space-saver keeps your silverware neatly organized and visible with a much smaller footprint so you have more space to store your cooking utensils and other items in the same drawer.
Stove Top Work Surface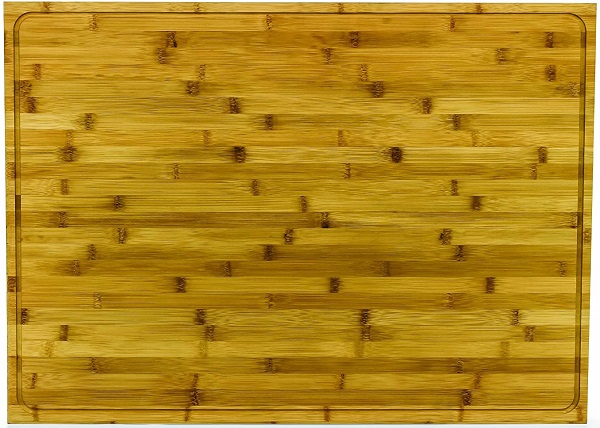 Make the very most of your RV kitchen countertop by converting your stove top to a work surface when it's not in use. Stove top work surfaces give you valuable extra space for meal preparation, drinks,and entertaining.
While some RV stoves manufacturers sell them as extra accessories designed especially to fit their particular product, you can often find generic models with various systems designed to keep them in place over your stove.
The Camco Bamboo Stove Top Work Surface has a built-in juice grove for carving joints of meat. To keep it steady over your four burners it has a system of four adjustable legs that you can extend to get good stable coverage. Its sturdy construction makes it a good choice for all kitchen tasks, plus as it is made from bamboo, it won't dull your kitchen knives.
RV Sink Cover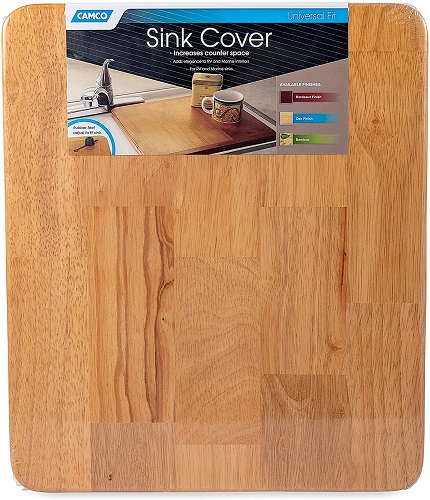 Aside from using your stove top as extra counter space, you can also block off your RV sink with a special cover. It's a handy way to quickly gain a little extra area for food preparation and unlike a large stove cover, you can easily store a small RV sink cover just about anywhere.
The Camco Oak Accents RV Sink Cover has a universal fit, measuring 13 by 15 inches. Designed to fit all standard marine and RV sinks, it comes with special rubber feet to keep it securely in place when you're chopping.
Its solid oak finish benefits from a super-hard, non-toxic gloss to ensure it remains well protected from moisture. A fast and easy way to gain little extra space for cleaning, cooking, or entertaining.
Roll-up Dish Drying Rack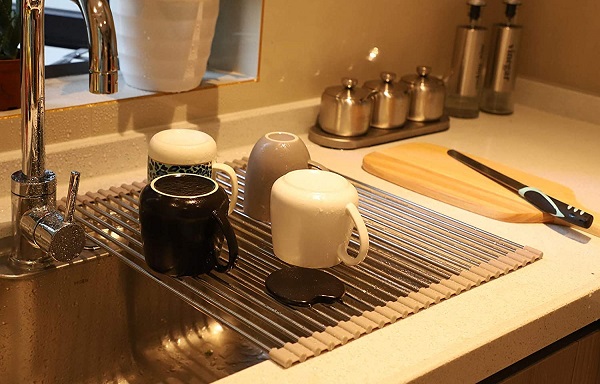 If space is really tight, consider getting yourself a roll-up dish drying rack for your RV kitchen. While they can't hold a large number of dinner plates, they are a great choice for air drying a couple of dinnerware items, glasses, or even fruit and vegetables. One of the main advantages of this type of dish drying rack is that it can simply be rolled up when you're done.
If you're looking for a minimalist version that will take up next to no space over your sink or in your drawers, take a look at this RV dish rack by Ahyuan. Made from durable stainless steel with anti-slip rubber grips at each end, this model can also be used as a space-saving trivet in your RV kitchen, protecting your countertop from hot pans up to 450 degrees F.
Solid and sturdy it's a good multipurpose RV kitchen accessory that you'll end up using more than you'd imagine.
Flexible Cutting Board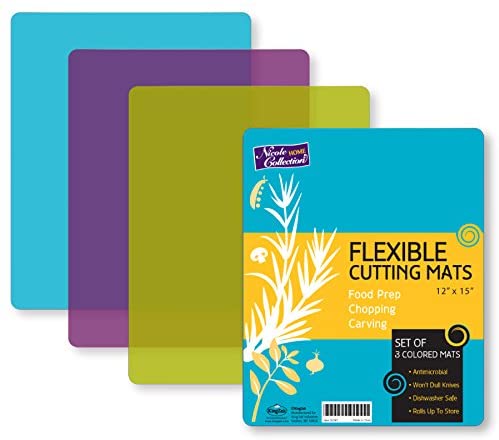 Flexible cutting boards are great for saving space, as well as allowing you to neatly transfer your chopped up items to bowls or pans without making a mess of your countertops. Ultra slim, pick up a couple of different models and use one for each category of food to help to prevent cross contamination.
This color coded set of three flexible cutting boards by Nicole Home Collection weigh next to nothing and take up very little space. BPA-free and easy to sanitize, they will do a great job of keeping your counter clean while all three take up less space than a standard chopping board.
Microfiber Dish Drying Mat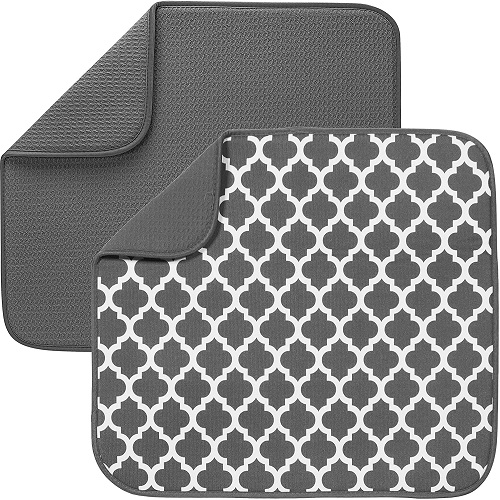 Another fantastic RV kitchen accessory, get yourself some microfiber dish drying mats and ditch the drying rack all together. As microfiber is highly absorbent it will dry your dishes in next to no time. When you've put away your dinnerware, simply wash it with your RV dishcloths.
Available in twin packs, these stylish microfiber dish drying mats by S&T Inc cushion your glass and dinnerware. Machine washable and foldable for easy storage, they are easy to store just about anywhere. Choose from a variety of different colors and styles, it's a great inexpensive way to add a touch of color to your RV kitchen area.
Oven Mitt and Pot Holder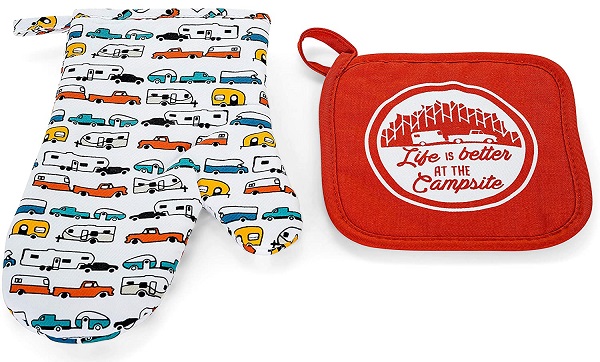 Don't forget to kit yourself out with an oven mitt and pot holder, or you may risk burning your hands or even dropping dinner all over your RV interior. A simple oven mitt and pot holder can be easily stored in a drawer when not in use or hung up inside a cupboard.
In keeping with some of our favorite RV kitchen accessories from earlier, if you weren't won over by the dinnerware or the pop up trash can, it's third time lucky with Camco's Life Is Better At The Campsite printed oven mitt and pot holder.
Good enough to even leave out on show in your RV kitchen this heat-resistant cotton set would make a perfect addition to any RV with its quirky colorful trailer pattern.
Adjustable Apron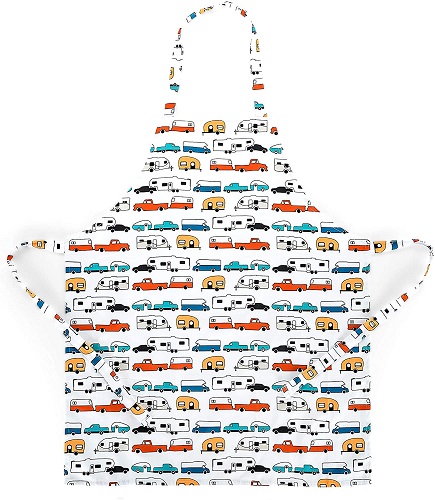 In a tight space, things often tend to get more messy and RV kitchens are no exception. Protect your clothes and reduce the amount of unnecessary laundry you end up doing with an adjustable apron.
Protecting your clothes from splashes and stains can also save you a lot of time and money in the long run. An adjustable apron can be worn by any aspiring chef or BBQ champion.
Treat yourself or a family member to this stylish trailer printed Camco adjustable apron. Whether you're baking a cake, BBQing a rack of ribs, or preparing Thanksgiving turkey, you'll definitely look the part. Made from 100% cotton, this handy apron is machine washable and a comfortable one-size fits all.
Recreation Vehicle Fire Extinguisher

An RV fire extinguisher is an absolute essential that no RV should be without. What starts off as a small spark of a flame can very easily engulf a whole trailer in just minutes.
Given the fact that RVs are mostly made out of highly flammable materials, not to mention the fact that they either contain gas or are situated in close proximity to a truck full of gas, it's better to be safe than sorry and immediately extinguish any slight cause for concern.
If you don't have an RV fire extinguisher to hand right now, make sure that you order one immediately. First Alert manufacture this inexpensive model, specially designed for use in RVs. The rechargeable REC5 is UL rated 5-B:C and can be used on flammable liquid and electrical fires thanks to its sodium bicarbonate extinguishing agent.
It comes complete with a bracket and a strap to ensure a secure placement, while the metal head and pull pin make it easy to use.
Suction Cup Hooks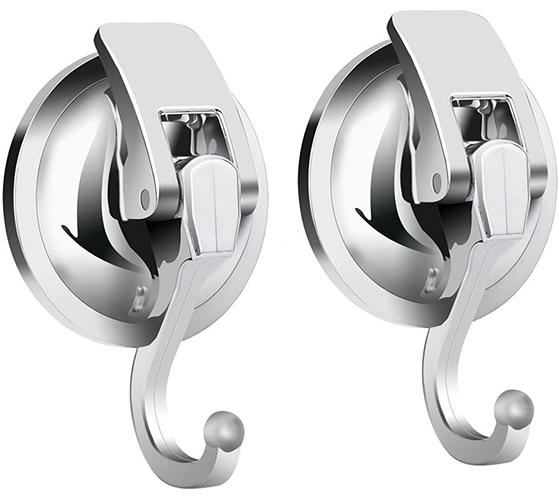 Keep your dish cloths, towels, and oven mitt neatly hung up when you've reached your destination. Suction cup hooks can be easily placed, removed, and replaced as necessary without any tool or damage to your RV kitchen cabinets or walls. They are also a good way to allow your damp kitchen clothes to dry out while you're waiting to launder them.
These heavy duty suction cup hooks by iRomic can hold up to 13 pounds and stay in place on a polished surface for several years. Time for a change of location? Simply push the lever handle and it detaches from your wall automatically, ready for placement elsewhere. Available in a handy two pack, lightweight yet highly durable, you could also pick up a second set for your RV showeroom.
RV Tea Towels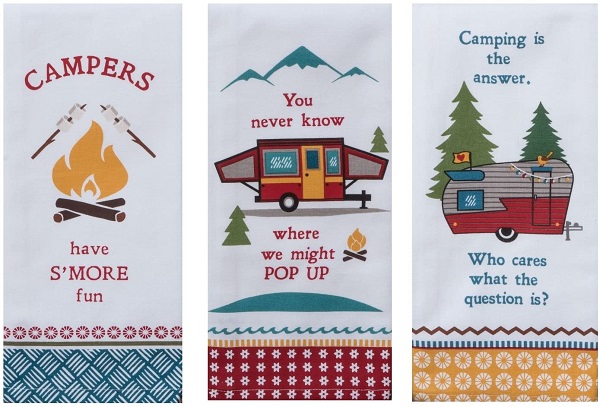 As your RV kitchen is such a small space, even a couple of new tea towels can make an impression. Whether it's to dry your new RV dinnerware or to soak up a spill, tea towels are incredibly handy to have around in any kitchen.
So why not treat yourself to this RV-themed three-pack from Kay Dee Designs. Featuring trailer and camping designs, they will add a nice homely touch to any RV kitchen. Made from 100% cotton, if you are ordering yourself a set why not pick up a second one to offer to your RVing friends or family.
Egg Holder
When you're traveling down uneven roads with sharp bends, you'll need more than a standard egg holder to keep your eggs from smashing. RV egg holders are designed to fully encase your eggs ensuring that even if the holder moves around, the eggs will remain undamaged inside.
Possibly the ultimate RV egg holder, if you enjoy your eggs in the morning, don't hesitate, Coghlan's Egg Holder is the one to go for. Made from virtually unbreakable plastic that won't crush your eggs, this stylish yellow egg holder comes in various sizes to protect two, six, or 12 eggs.
The six and 12-egg versions come with sturdy carry handles. Either stand it up or lie it down inside your fridge.
Carry Case Kitchen Toolset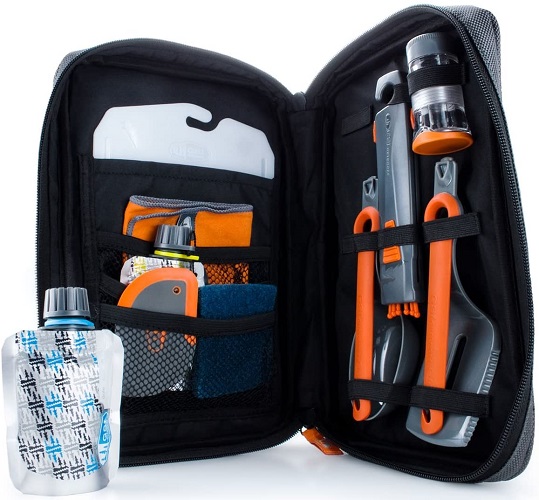 Don't forget you'll need some space-saving utensils to cook with. Regular kitchen utensils tend to take up a lot of space and are often fairly heavy and unwieldy. When you are looking for utensils for cooking inside your RV, try to favor sets that don't take up too much storage space.
If you also enjoy cooking outside a lot, round the campfire or BBQ, this handy set by GSI Outdoors makes a good choice. It contains everything you need to cook a decent meal, including a spatula, spoon, cutting board, scraper, scrubber, and plenty more, all housed in a neat ballistic nylon case. A great way to keep your kitchen utensils neatly ordered and from cluttering up your drawers.
Top RV Kitchen Accessories Video
FAQ: Best RV Kitchen Accessories
As RV enthusiasts, we understand that outfitting your recreational vehicle with the best kitchen accessories is essential for a comfortable and convenient on-the-road culinary experience. To help you make informed decisions and optimize your RV kitchen space, we have compiled a list of frequently asked questions regarding the best RV kitchen accessories. Whether you're a seasoned RVer or embarking on your first adventure, this FAQ section aims to provide answers to common queries, guiding you towards the most suitable accessories that will enhance your cooking capabilities and make the most of your limited kitchen space. From compact cookware sets to ingenious storage solutions, let's delve into the world of RV kitchen accessories and discover the must-haves for your home on wheels.
What are the must-have kitchen accessories for an RV?
There are several essential kitchen accessories for an RV that can greatly enhance your cooking and dining experience. Some of the must-have items include compact cookware sets, space-saving utensils, collapsible food storage containers, RV-specific cutting boards, and efficient kitchen appliances like compact ovens or grills.
Can you recommend a compact cookware set for RV kitchens?
Yes, a popular choice for RV enthusiasts is the XYZ Compact Cookware Set. It features a nesting design, which means the pots, pans, and lids can be stacked together to save space. This set is made of durable materials, is non-stick, and is designed to withstand the rigors of travel.
Are there any space-saving utensils available for RV kitchens?
Absolutely! Space-saving utensils are designed to take up minimal space in your RV kitchen. Look for sets that include collapsible measuring cups, nesting mixing bowls, and foldable silicone spatulas. These utensils can be easily stored in drawers or cabinets without cluttering your limited space.
What are some useful storage solutions for an RV kitchen?
RV-specific cutting boards with built-in storage compartments are a great choice. These cutting boards often come with collapsible or sliding storage drawers to hold knives, peelers, and other small kitchen tools. Additionally, investing in a set of collapsible food storage containers allows you to store leftovers without taking up too much space in your fridge or pantry.
Are there any kitchen appliances that work well in RVs?
Yes, there are several kitchen appliances designed specifically for RV use. Compact ovens or grills, portable induction cooktops, and 12-volt refrigerators are some examples. These appliances are compact in size, energy-efficient, and ideal for RV kitchens where space and power consumption are important considerations.
How can I maximize storage space in my RV kitchen?
To maximize storage space in your RV kitchen, consider using organizers and storage solutions specifically designed for RVs. Install adjustable shelves or stackable organizers in your cabinets, use hanging baskets or hooks for additional storage, and make use of vertical space whenever possible. It's also helpful to declutter regularly and only keep essential items in your kitchen.
Can I use regular kitchen accessories in my RV?
While it's possible to use regular kitchen accessories in your RV, it's generally more convenient to invest in RV-specific accessories. RV kitchen accessories are designed with space-saving features, durability, and portability in mind, making them better suited for the unique challenges of RV living.
Where can I find the best RV kitchen accessories?
You can find a wide selection of RV kitchen accessories at camping supply stores, RV specialty stores, and online retailers. Popular online platforms like Amazon, Camping World, and RV supply websites offer a variety of options to choose from. Reading customer reviews and checking product specifications can help you make an informed decision.
Remember, equipping your RV kitchen with the right accessories can make your cooking and dining experiences more enjoyable while maximizing the available space. Choose accessories that suit your specific needs and the size of your RV kitchen.
Final Thoughts
Unlike shopping for standard kitchen items, when you need to update your RV kitchen accessories, it's essential that you focus on space-saving alternatives. Otherwise, your RV kitchen will very quickly become swamped with too many items.
When possible, choose good quality multi-purpose RV kitchen accessories that can save you a maximum of space by combining two or three different items in just one.
Multipurpose chopping boards, such as the Collapsible Chopping Board by QiMH can be used to chop food, wash dishes, or even as a colander, saving you plenty of storage space. Other excellent multipurpose RV kitchen accessories include the Camco Fridge Airator with its built-in odor absorber.
Aside from food preparation and saving space, a lot of RV kitchen accessories are also devoted to keeping your kitchen free from messy spills when you're on the move, such as the ever popular Camco RV Fridge Braces or the handy flexible cupboard door locks by Wappa.