RV roofs require regular cleaning with a specialized cleaner. If your RV roof has seen better days, don't leave it too long to sort it out, you could end up with stubborn stains, a leak, or a hefty repair bill.
Purchasing an RV-specific roof cleaner will ensure that you're using the right product to clean, condition, and protect your roof. Here's how to choose the best RV roof cleaner for your motorhome.
Best RV Roof Cleaner
Here's our top selection of the very best RV roof cleaners. Take a read through – you're sure to find the ideal cleaning product for your motorhome roof right here.
Best RV Roof Cleaner & Protector
Camco Pro-Tec RV Rubber Roof Care System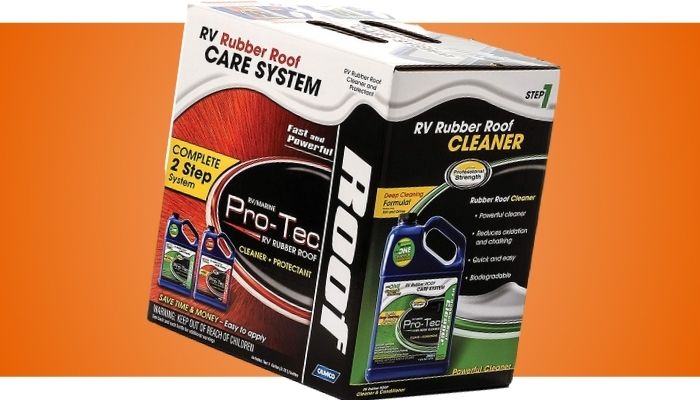 Clean, condition and protect your RV rubber roof with this popular two-stage Pro-Tec RV Rubber Roof Care System by Camco.
It contains a gallon of roof cleaner that cleans off even tree sap, as well as general road grime. Use the roof cleaner first and scrub away dirt from your rig's roof, this product can even tackle years' worth of build-up, including black streaks and oxidation.
Stage one also utilizes a combination of surfactants and conditioners to not only deep clean but also condition your RV roof so it looks like new again. To protect your clean roof, add step two the Pro-Tec Rubber Roof Protectant to reduce chalking, protect against UV rays and resist dirt build-up. Used together this two-step system can help to keep your RV roof in prime condition and reduce future maintenance costs.
While the roof protectant works great at keeping your RV roof shiny clean, it does make the surface pretty slippery. Although this helps to prevent your roof from getting dirty, if you need to access your roof you'll have to be extra careful as it will create a slipping hazard.
Also, while this product is safe for cleaning EPDE RV roofs, stage two, the protectant, is not required for TPO roofs. So if you have a TPO RV roof, you would be better off choosing another RV roof cleaner.
For superior cleaning results and excellent protection, this two-stage RV roof clean and protect system is a popular choice that will keep your motorhome roof cleaner for longer.
Pros – Things we liked
Removes black streaks & oxidation
Also conditions RV roofs
Protects against UV rays
Reduces maintenance costs
Cons – Things we didn't like
Roof becomes slippery
Editors Choice for Best Value RV Roof Cleaner
Dicor Corporation RP-RC-1GL Rubber Roof Cleaner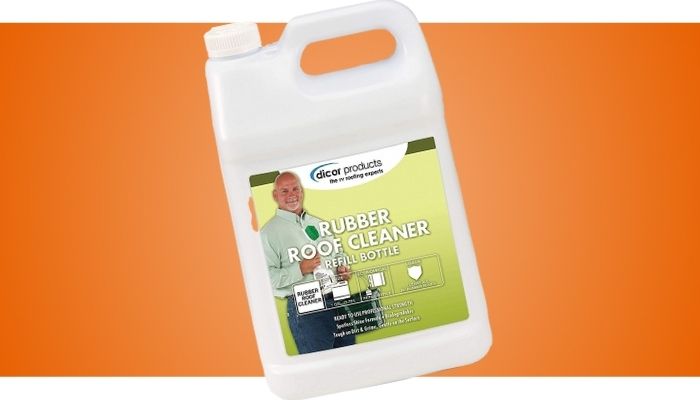 This Rubber Roof Cleaner by Dicor Corporation features a mild formula that has been specially formulated to be suitable for all RV rubber roofing.
This includes TPO, vinyl, fiberglass, and EPDM rubber RV roofs. While it is less effective on black marks and streaks, it lifts off dirt and grime without damaging your trailer roof – which isn't always the case with harsher, more concentrated versions.
This biodegradable RV roof cleaner utilizes water-softening agents to ensure that your motorhome has a spotless shiny finish, without hard water spotting. Easy to use, simply spray it on, brush and rinse. This cleaner makes cleaning your rubber roof quick and easy; however, if you are looking to remove dark stains then you may need to try out another product.
Available in an economical one-gallon format, this cleaner is good value for money. It should be good for washing a 19-footer three to four times per gallon container, depending on how dirty your trailer roof is. Just bear in mind that for the best results, you'll need to follow your cleaning with an RV roof protectant to prevent dirt building up again on your clean roof.
Whether your RV is a new to-you-purchase and in need of some TLC, or in prime condition and you want to keep it this way, this mild RV roof cleaner spray is an excellent option.
Best Rinse Free RV Roof Cleaner
Protect All RV Rubber Roof Cleaner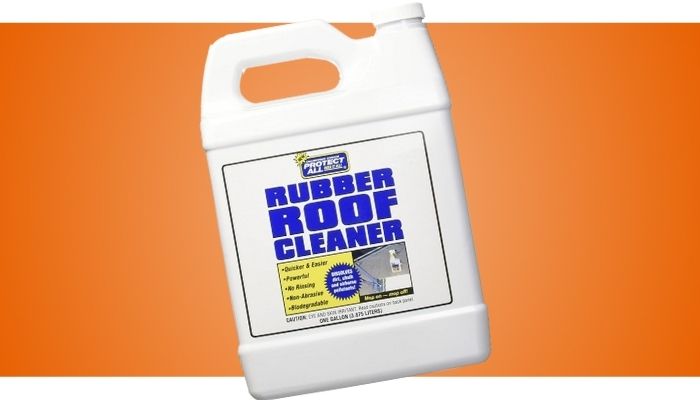 Safe for all EPDM roofs, this RV Rubber Roof Cleaner by Protect All is ideal if you're short on time and water. Thanks to its special non-abrasive formula that cleans and degreases, no rinsing is necessary. Simply spray on the cleaner over small sections, mop or brush, then leave your roof to air dry.
While this RV roof cleaner is extremely fast and easy to apply, be careful not to allow any residue to overflow and run down your motorhome's sides, as the EDPM can create white streaks – so be sure to remove all excess liquid.
Biodegradable and non-toxic, this motorhome roof cleaner dissolves and cleans grime and chalk accumulation for an easier clean and time spent scrubbing, even on older models. This version also spreads easily and a little goes a long way.
On the downside, bear in mind that while you will use less water, as no rinsing is required, you will need to spend quite a bit of time mopping your roof. However, the results are generally excellent and this cleaner takes great care of rubber. For optimum results that last, you will need to purchase an additional product for UV protection.
On the whole, a good no-rinse RV rubber roof cleaner that is non-abrasive and non-toxic. Although you'll have to take care that it doesn't drip down your sides, on the whole, this product makes a great EPDM RV rubber roof cleaner that is very effective at lifting dirt.
Best "All-in-one" RV Roof Cleaner
Thetford Premium RV Rubber Roof Cleaner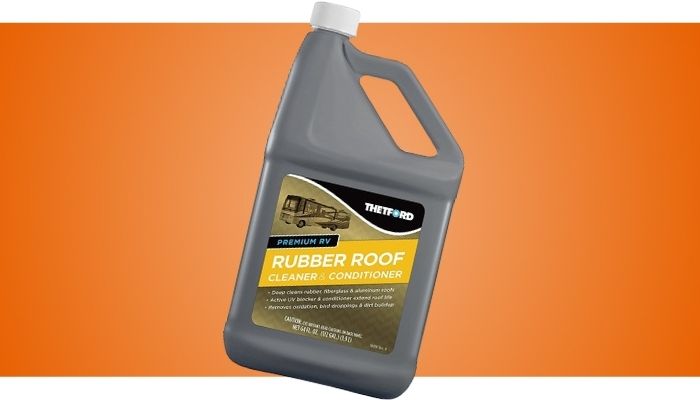 Looking for a superior RV roof cleaner that protects as well as cleans? Check out this premium version by Thetford. Suitable for rubber, fiberglass and aluminum RV roofs, this product deep cleans and conditions your motorhome roof for a cleaner, longer lasting finish.
This roof cleaner has a non-toxic, biodegradable formula that does not contain petroleum, which can damage rubber roofs, causing cracking. It removes even tough stains, including bird droppings, tree sap and oxidation. Unlike many other formulas, this version also contains a UV blocker, so you won't have to purchase an additional protectant, saving you time and money.
Application is simple. Spray on, sponge or lightly scrub depending on the amount of dirt built up, then rinse and leave your roof to air dry. However, be careful to avoid residue running down your RV sides if you have an EPDM roof, as this can cause white streaks.
As this cleaner also protects and conditions, it makes a good value for money choice. Although there are cheaper RV roof cleaners available, with this model, you won't need to purchase an additional protectant.
Whether you have a fiberglass, aluminum or EPDM rubber trailer roof, this all-in-one cleaner and conditioner removes even tough stains for a brighter finish, as well as protecting your roof from the sun.
Best Overall RV Roof Cleaner
Dometic D Line Roof Cleaner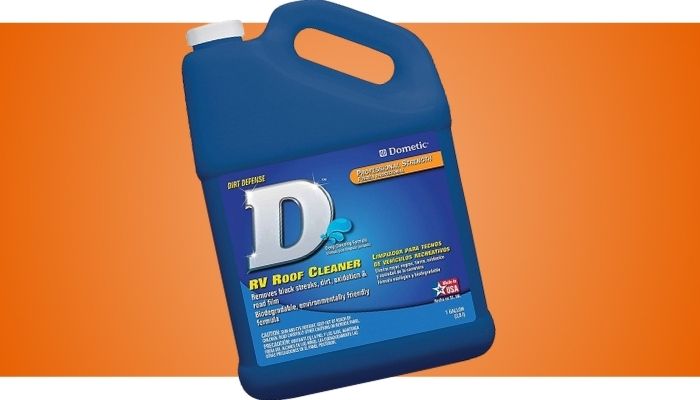 If you are looking for a professional RV roof cleaner that is highly effective on stains, check out the Dometic D Line Roof Cleaner. Suitable for use on most RV roofs, including TPO and fiberglass models, this cleaner makes a great choice for getting even very dirty trailer roofs sparkling clean.
Black streaks, mold, oxidation and general dirt are all easily removed with this product. Not only does it remove growth and stains, it also leaves behind a silky UV-resistant finish, so your motorhome will stay looking good and in great shape for longer, reducing maintenance costs and future roof cleaning time.
In spite of its high efficacy, this formula is in fact biodegradable and environmentally friendly, so you won't have to worry about causing damage when using it. It is also easy to apply and a little goes a long way making it good value for money. For hard-to-remove stains use a small amount neat, otherwise mix 12oz to a gallon of water.
Just be careful if using this product in summer, as you will need to ensure that it doesn't dry on your roof before you rinse. So, while this is an excellent stain remover and general cleaner for your RV roof, especially for mold, if you need to wash your roof outdoors in the heat, you may prefer to choose another option.
All in all, a powerful formula that gives professional results, complete with a UV-resistant finish. Great at removing stains and good value for money.
Best RV Roof Cleaner for Premium Budgets
Propack B.E.S.T. Rubber Roof Cleaner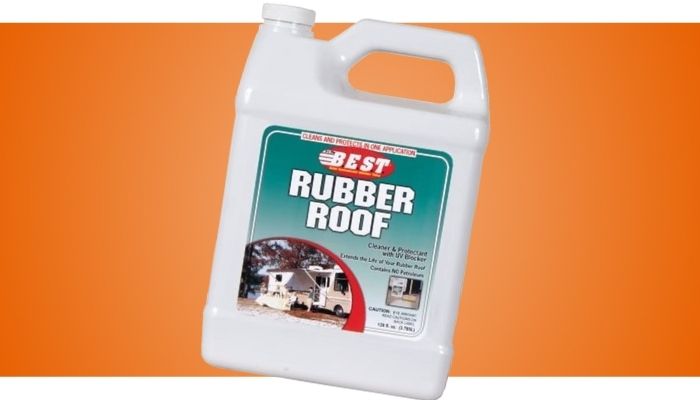 The B.E.S.T Rubber Roof Cleaner by Propack is a popular all-in-one RV roof cleaner and protectant.
At first glance, it does appear to be pretty expensive, however, as you dilute it for use, you should be able to get about three uses for a thirty-foot camper. What's more, as it cleans and protects, you won't have to pay for an additional product, which actually makes this cleaner good value for money as well as a handy timesaver.
This professional strength formula is specially designed to care for, clean and protect rubber RV roofs. For this reason, it is petroleum-free – so it won't cause cracking or any degradation. Not only will it help to remove streaks, oxidation and road film, this roof cleaner for RV also helps to prevent fungus, mold and mildew growth. This ensures that your roof stays in prime condition for longer, as well as looking great.
Aside from deep cleaning and conditioning your rubber roof, Propack B.E.S.T. also contains a UV blocker to protect your RV roof from the sun's rays. The manufacturers recommend using this product twice a year for optimum protection.
If you have an RV with a rubber roof that is in need of a deep clean, as well as conditioning and protecting, then this all-in-one RV roof product is an excellent choice. One gallon should be enough for a year depending on the size and condition of your RV roof.
In spite of its high price, as you only need the one product, you could actually save money, in addition to a lot of time using multiple products.
Best RV Roof Cleaner for Versatility
Bio-Kleen Roof Clean and Protect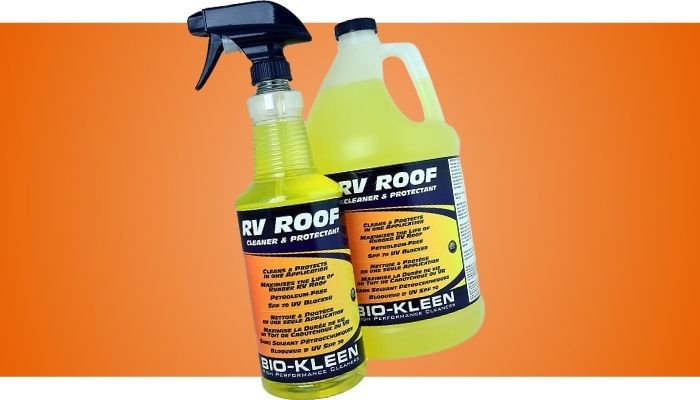 Protect your RV roof and get it looking like new with Bio-Kleen's Roof Clean and Protect.
Safe for almost all RV roofs, including PVC, TPO, and EPDM, this highly effective formula is safe, non-toxic and biodegradable. It contains no harsh abrasives, citrus ingredients or petroleum solvents, so it won't damage rubber trailer roofs.
Use it to remove black streaks, oxidation, general dirt build-up, and more. Simply spray on and scrub, then rinse and you're done. Not only does this product clean and remove stains from your RV roof, it is also a protectant that will maximize the life of your rubber motorhome roof. Its SPF 70 UV blocker provides up to six months of protection against UV rays, degradation, streaking and chalking.
Aside from being biodegradable, the spray bottle is also aerosol free, so you can be sure that you're not damaging the environment. What's more, Bio-Kleen Roof Clean and Protect is made in the USA and to reduce their carbon footprint as much as possible they use biodegradable shipping packaging whenever possible.
Use twice a year for optimum results, or if needed, you can treat your vehicle more frequently and dilute this product to save money. While it is not the cheapest, it's a good price and given its wide range of benefits and long lasting protection, we think it makes a top choice for any rubber RV roof.
Best RV Roof Cleaner for Stubborn Stains
Duragloss 542 Marine and RV Cleaner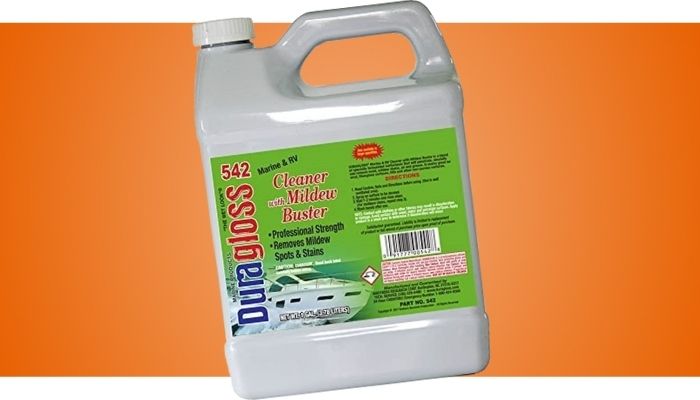 Unsightly and notoriously difficult to remove, nothing blights the look of an RV as much as mildew. Whether you've purchased an RV that's in need of a makeover, or you've just not managed to get round to cleaning your trailer roof, Duragloss 542 Marine and RV Cleaner is a great one to go for.
Thanks to its specially formulated surfactants, complete with mildew eliminators, this outstanding product emulsifies and removes molds, mildew, oils, and grease, as well as general dirt build-up. It's strong stuff and works instantly. Use it on non-porous surfaces including vinyl and fiberglass.
If you are despairing and can't get your roof to come up clean, then this is one of your best options to go for. You can also use it inside or on the sides of your RV, provided it doesn't come into contact with any porous materials, such as clothing or fabrics. Also, do not use it where it could come into contact with wood or metal.
Economically priced, this RV cleaner is ideal to have on hand to remove any stains, including oil or grease from your fiberglass panels. However, bear in mind that while it does an excellent job where other cleaners do not, it does not contain any UV blockers or protectants, so you will have to invest in another product for use afterwards.
On the whole, if your rig is troubled by mildew or grease stains, then this product makes an excellent, highly effective option, that will save you many hours of scrubbing with less powerful products. Just be sure to check your RV roof compatibility before using.
Compare the Best RV Roof Cleaners
Table Comparing the Top 8 RV Roof Cleaners
Image
Title
Price
Rating
Buy
Camco Pro-Tec RV Rubber Roof Care

$$$$

Buy on Amazon

| | | | | | | |
| --- | --- | --- | --- | --- | --- | --- |
| Camco Pro-Tec RV Rubber Roof Care | $$$$ | 2 Gallons | 17.98 lbs | Prime | 10.88 x 10 x 7.63 inches | Buy on Amazon |

Dicor Corporation Rubber Roof Cleaner

$$

Buy on Amazon

| | | | | | | |
| --- | --- | --- | --- | --- | --- | --- |
| Dicor Corporation Rubber Roof Cleaner | $$ | 1 Gallon | 8.33 lbs | Prime | 12 x 7.5 x 4 inches | Buy on Amazon |

Protect All RV Rubber Roof Cleaner

$$$

Buy on Amazon

| | | | | | | |
| --- | --- | --- | --- | --- | --- | --- |
| Protect All RV Rubber Roof Cleaner | $$$ | 1 Gallon | 8 lbs | Prime | N/A | Buy on Amazon |

Thetford Premium RV Rubber Roof Cleaner

$$

Buy on Amazon

| | | | | | | |
| --- | --- | --- | --- | --- | --- | --- |
| Thetford Premium RV Rubber Roof Cleaner | $$ | 0.5 Gallon | 2.43 lbs | Prime | 17 x 10.5 x 8.3 inches | Buy on Amazon |

Dometic D Line Roof Cleaner

$$$

Buy on Amazon

| | | | | | | |
| --- | --- | --- | --- | --- | --- | --- |
| Dometic D Line Roof Cleaner | $$$ | 1 Gallon | 7.6 lbs | Prime | 6.75 x 4.25 x 10.25 inches | Buy on Amazon |

Propack B.E.S.T. Rubber Roof Cleaner

$$$$

Buy on Amazon

| | | | | | | |
| --- | --- | --- | --- | --- | --- | --- |
| Propack B.E.S.T. Rubber Roof Cleaner | $$$$ | 1 Gallon | 8.73 lbs | Prime | 11 x 7.5 x 3.5 inches | Buy on Amazon |

Bio-Kleen Roof Clean and Protect

$$$

Buy on Amazon

| | | | | | | |
| --- | --- | --- | --- | --- | --- | --- |
| Bio-Kleen Roof Clean and Protect | $$$ | 1 Gallon | N/A | Prime | 11 x 5 x 5 inches | Buy on Amazon |

Duragloss 542 Marine and RV Cleaner

$$

Buy on Amazon

| | | | | | | |
| --- | --- | --- | --- | --- | --- | --- |
| Duragloss 542 Marine and RV Cleaner | $$ | 1 Gallon | 8.5 lbs | Prime | 10.7 x 7.5 x 4.1 inches | Buy on Amazon |
Buyer's Guide to Buying the Best RV Roof Cleaners
If you've not yet decided which product to go for, take a look through our handy RV roof cleaner buyer's guide. Here's all you need to know to find the best RV roof cleaner for your motorhome.
Price
You'll find many RV roof cleaners at a range of different prices.
While you may be tempted to opt for the cheapest product, you could in fact save yourself time and money by opting for a more expensive all-in-one product, rather than a separate cleaner and protectant.
Aside from considering what extra benefits your formula may provide, you should also consider the format when deciding on a price. If you are comparing a spray bottle with a concentrated product, for example, while the spray-on could be cheaper, the concentrated format is likely to last you much longer and often provides better value for money.
Finally, if you've not yet settled on a brand or specific type of RV roof cleaner, we recommend trying out a smaller version first. While this will cost you a little more first time round, you won't be stuck with a large amount of product that is unsuitable for your rig or not effective enough for your roof condition.
Also if it's a spray version, you can often later purchase larger, more economically priced refill formats to top up.
Roof Type
Always double check that your roof cleaner is suitable for your RV roof before buying. It sounds obvious, but as RV roofs can vary considerably, you really need to make sure that your cleaning product is intended for your specific roof type.
EPDM rubber or TPO roofs can be damaged by cleaners containing petroleum causing them to crack and lose their durability. Using an unsuitable type of cleaner for this type of roof will quickly reduce its lifespan, leading to some costly repairs, especially if your RV is parked up over winter and you're unaware you've got a leak.
Likewise, for fiberglass RV roofs, certain chemical compounds can damage your roof's protective coating. If you're not sure, drop the manufacturer or the seller a quick inquiry to find out more. Otherwise, stick to products that clearly mention their suitability with your roof type.
Roof Size
If you drive a big rig, obviously you're going to need a lot more roof cleaner than someone who tows a teardrop trailer. However, once you find a really good roof cleaner, there's no reason not to invest in a large bottle that will suffice for a year or longer.
For large class As and fifth wheels, you'll want to select a large format, preferably one that you can dilute. That way you should have enough for one intensive clean or two standard washes. For small trailers, you may want to opt for smaller spray on versions, however, it can be useful to have a larger quantity on hand for future use and those unexpected occasions where you unexpectedly end up needing to clean your roof.
Is it Biodegradable?
Before purchasing an RV roof cleaner, check that it is biodegradable. As your RV roof cleaner may end up in waterways, rivers and oceans, it makes sense to ensure that it will break down quickly to minimize any negative impact upon nature.
RV Roof Cleaner Types & Formats
RV roof cleaners tend to come in three main types: spray-on, concentrate and rinse-free. Here are some of the reasons you may want to opt for or avoid each type of RV roof cleaner.
RV Roof Spray Cleaners
Practical – simply spray on, no need to mess about with buckets and mixing.
Ideal for small surfaces, or targeting stubborn stains over small areas.
Less suitable for very large roof surfaces.
Use less product – save money and better for the environment.
Smaller quantity – often less value for money, but ideal to try out.
Concentrated RV Roof Cleaners
Tend to offer better value for money as they work out cheaper per gallon once mixed up.
Use less packaging.
Good choice for large RV roof surfaces – you can go over again without worrying about running out halfway through.
Excellent for tough stains – use neat to spot treat.
Bulky and heavy to transport – decant into a smaller container for on-board storage.
Rinse-free RV Roof Cleaner
Save time rinsing your roof after cleaning.
Use less water and have less product dispersing into waterways – more environmentally friendly.
If your RV roof is very dirty, then you may need to rinse off the dirt regardless.
Best for RV roofs in good condition.
Why Do You Need An RV Roof Cleaner?
RV roofs need regular cleaning to avoid costly degradation and maintenance. If you don't look after your RV roof then sooner or later, it will need repairing.
Using a specialist RV roof cleaner is the best way to ensure that cleaning your roof is going to protect and condition it rather than inadvertently damaging it further.
Here's why you need an RV roof cleaner.
RV Roof Specific
First off you need an RV roof cleaner to get your roof sparkling clean. While you may be thinking your standard dish soap will do the trick, RV roof cleaners do much more than just clean.
What's more, if you are using a product that has not been specifically designed for your roof material, then you could end up doing more damage than good.
Protect
RV roof cleaners provide protection to help to keep your roof clean for several months. Not only does this improve your roof's lifespan, it also makes the next time you clean it much easier.
Remove Stains
RV roof cleaners are formulated to remove RV specific stains, such as tree sap, mold and bird droppings, for example.
Using an RV roof cleaner ensures that you have the right cleaner to target these stains, for an easier clean, with less scrubbing. Using an ineffective generic cleaner could lead to you having to scrub your roof harder than necessary which can cause damage over time and lead to ingrained strains and a degradation of your roof's protective covering.
Save Repair and Maintenance Costs
If your roof becomes damaged, either because you used an inappropriate cleaner, or you didn't clean it at all, then you'll be in for some costly repairs. Not only will you have to at the very least patch your roof, you'll also probably have to repair the water damage internally from the leaking roof.
UV Protection
Most good RV roof cleaners provide UV protection to prevent the sun's rays from aging and weakening your roof. If yours doesn't, be sure to apply a separate RV roof protector after having cleaned, or opt for an all-in-one protect and care system.
Protect Your Investment
RVs are expensive, so is RV maintenance. So, why risk reducing the value of your investment for the sake of a few dollars and half a day's work?
Keeping your roof in pristine condition will not only save you on costly repairs, it will also ensure that your RV holds its value. Whether it's just for your own enjoyment, or if you want to RV share or upgrade someday, it makes financial sense to keep your RV in top condition.
Best RV Roof Cleaners Video
FAQ: Best RV Roof Cleaners
Have questions about cleaning your RV roof? We've got you covered! In this FAQ section, we address some of the common queries regarding the best RV roof cleaners. Taking care of your RV's roof is vital to ensure its longevity and prevent potential issues down the road. From choosing the right cleaner to understanding cleaning frequencies and precautions, we provide answers to help you keep your RV roof in top shape. Read on to find solutions to your queries and gain valuable insights into maintaining a clean and well-maintained RV roof.
Why is it important to clean my RV roof?
Regularly cleaning your RV roof is crucial for maintaining its condition and preventing damage. Accumulated dirt, debris, and stains can lead to deterioration, leaks, and even structural issues if left unchecked. Cleaning your RV roof helps extend its lifespan and keeps it looking good.
What type of cleaner should I use on my RV roof?
The best cleaner for your RV roof depends on the material it's made of. For rubber roofs, it's recommended to use a gentle cleaner specifically designed for EPDM or TPO roofing materials. Fiberglass roofs typically require a non-abrasive cleaner. Always check your RV manufacturer's recommendations for the appropriate cleaner.
How often should I clean my RV roof?
Cleaning frequency depends on several factors, such as the environment you travel in and the level of dirt and debris your RV roof accumulates. As a general guideline, aim to clean your RV roof at least once or twice a year, or more frequently if you notice excessive buildup.
Can I use household cleaners on my RV roof?
It's generally not recommended to use household cleaners on your RV roof, as they can be too harsh and potentially damage the roof material. Stick to cleaners specifically formulated for RV roofs, as they are designed to be safe and effective without causing harm.
Are there any special tools or equipment required for cleaning an RV roof?
Cleaning an RV roof typically requires a few basic tools and equipment. These may include a soft-bristle brush or mop, a hose or pressure washer (if appropriate for your RV roof material), a bucket, and the chosen RV roof cleaner. Additionally, it's a good idea to have a ladder or step stool for easier access.
Should I apply any protective coating after cleaning the RV roof?
Applying a protective coating after cleaning your RV roof can provide an extra layer of defense against the elements and help maintain its condition. There are various RV roof protectants available that can enhance UV resistance and prevent fading. Consult your RV manufacturer's recommendations for compatible products.
Can I use the same cleaner for the rest of my RV exterior?
While some RV roof cleaners can also be used on other parts of your RV exterior, it's essential to read the product instructions carefully. Certain cleaners may be specifically formulated for roof materials and may not be suitable for other surfaces like sidewalls, windows, or awnings. Always use the appropriate cleaner for each part of your RV.
Are there any precautions I should take while cleaning my RV roof?
When cleaning your RV roof, it's important to take a few precautions. Use a sturdy ladder or step stool and ensure proper footing. Avoid using abrasive tools or brushes that may damage the roof material. If using a pressure washer, use a low-pressure setting and keep an appropriate distance to avoid causing any harm.
Final Thoughts
There's no shortage of excellent RV roof cleaners on the market.
When making your choice, be sure to first consider any cleaner's compatibility with your roof type before committing to purchase. Then to find your best RV roof cleaner, consider which types and formats work best for you and your RV roof size.
If you are short on time and need a quick all-in-one product to clean and protect, opt for the Thetford Premium RV Rubber Roof Cleaner. It removes harsh stains, conditions and protects from UV damage in one application. Simply spray on, rub and rinse, plus it's suitable for almost all roof types.
For a rinse-free application, our favorite is the Protect All RV Rubber Roof Cleaner. The special non-abrasive formula is also biodegradable and non-toxic. It dissolves grime and chalk for sparkling results without needing to rinse. This cleaner will leave your rubber roof in great condition.
Lastly, if your camper roof has seen better days, or you're taking on a restoration project then get rid of mildew and stubborn stains effortlessly with the 542 Maine and RV Cleaner by Duragloss, and save yourself plenty of time and elbow grease. It also removes oil and grease stains from vinyl and fiberglass panels. If you are struggling to restore your trailer roof to its former glory, this could be the miracle product you need.
Whatever your RV roof type and condition, you're sure to find the perfect RV roof cleaner from our top selection of recommendations.