Without an RV thermostat, getting your living and sleeping areas to a comfortable temperature can be a very time-consuming affair. Once you finally manage to get the temperature just right, keeping it that way is pretty much impossible without one of the best RV thermostats.
Whether you have just installed a new AC unit or your thermostat has started to malfunction, finding a new replacement model doesn't have to involve a complex, drawn-out search.
We've selected some of the very best units around, so you can save time and get your new RV thermostat up and running as smoothly as possible. Read on for our top-rated RV thermostat reviews and buying guide.
What is an RV Thermostat?
Most RVers don't really pay much attention to their RV thermostat until it needs replacing or upgrading. Nonetheless, RV thermostats are essential to keeping your coach interior comfortably warm, as well as comfortably cool if yours is hooked up to your AC system as well as your furnace.
RV thermostats have integrated sensors that measure heat levels. When the temperature inside your RV drops to below your preset temperature your RV thermostat will automatically switch on your furnace. Once your interior warms up to your set level, your thermostat will switch off your furnace, cycling back on and off as needed to keep your RV at your set temperature.
RV thermostats can control just your heating, or both your heating and cooling. More advanced units may be referred to as climate control units as they allow you to program your RV's climate to ensure that your motorhome is always comfortably cool or cozy and warm, all completely dependent upon your very own preferences.
Best RV Thermostats
Here is our top selection of the best RV thermostats on the market. Whatever type of RV thermostat you're looking for, you're sure to find the best model for your RV right here.
Best RV Thermostat for Different Zones
Dometic Comfort Control Center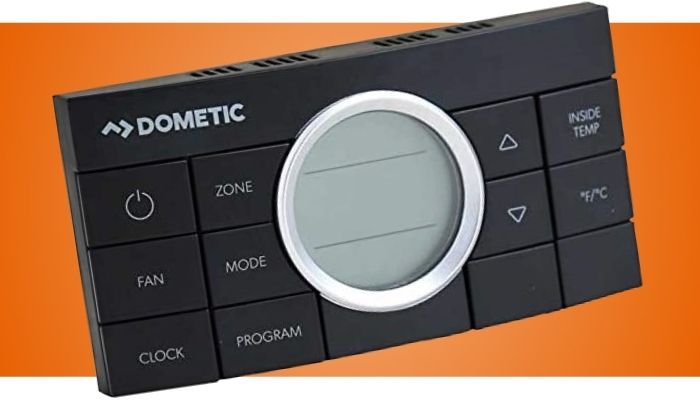 Looking to replace your Dometic RV thermostat? The Comfort Control Center makes an excellent upgrade thanks to its modern, user-friendly design that even allows you to program different temperatures for daytime and night, as well as heating or cooling up to four independent zones.
Thanks to its digital blue light display, it's easy to see your RV's temperature, as well as the zone and mode even in the dark. The click response buttons let you know straight away that your changes are registered, rather than having to press several times wondering if you've used enough pressure. With 12 buttons, controlling your RV internal environment is much easier.
Available in black or white, this RV thermostat has a low profile and modern detailing. The internal memory also makes it easy to set and forget, while the built-in error codes are useful in the event of a problem with your RV HVAC system. Bear in mind that this isn't a universal model, so check its compatibility with your system before ordering.
If you are looking to make controlling your RV heating and cooling as simple as residential-style climate control, this programmable RV thermostat is going to be the right choice for your motorhome.
Pros – Things we liked
Heating or cooling 4 different zones
Program day & night temps
Easy to read blue light display
Responsive buttons
Available in two colors
Cons – Things we didn't like
Requires a unique connector
Doesn't mount flush
Editors Choice of Best Thermostat
Coleman-Mach RV Camper Manual Thermostat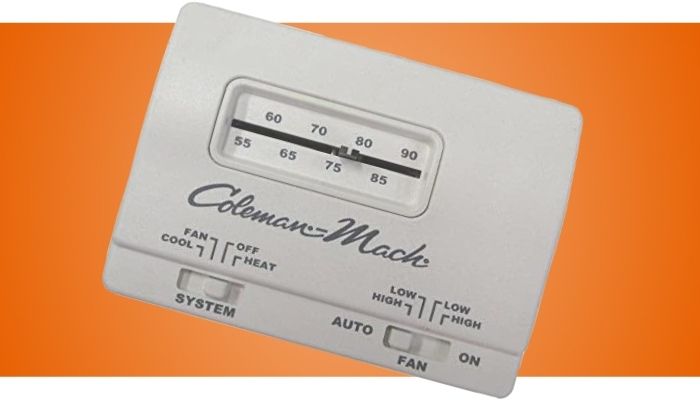 The Coleman-Mach RV Camper Manual Thermostat is easy to install and operate, with its clear color-coded wires and simple analog design. While it certainly isn't the most modern-looking RV thermostat, if you need to replace a 7330*335 Coleman-Mach thermostat, this basic unit is a highly reliable choice.
Providing simple yet complete control over your AC and heating, slide the selection switch to your desired temperature and the thermistor temperature sensor will activate your heating and cooling as necessary. The dual lower switches allow you to alter your fan, heating, and cooling speeds individually.
As this is an analog dual-function control unit, you have less precision when it comes down to setting the exact temperature compared to electronic versions. Also, there is no display for internal temperature readings, so you may want to purchase a separate thermometer.
On the whole, if you are looking for a new basic, non-programmable thermostat, this analog unit makes a popular choice that is also a good value for money buy. Just bear in mind that it does look fairly dated and you won't have any of the functionalities that you get with newer style RV climate control units.
Best RV Thermostat for Easy Reading
Honeywell Non-Programmable Thermostat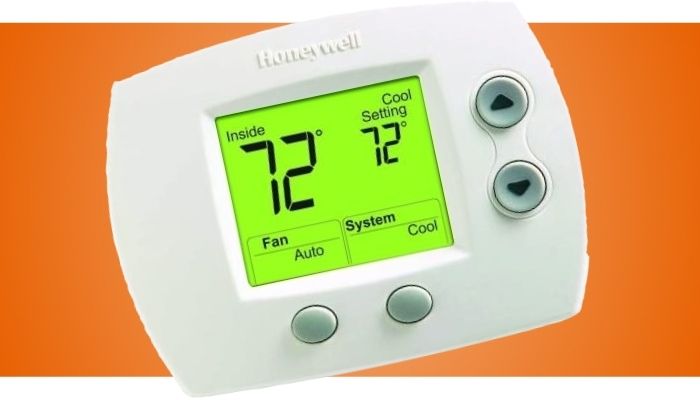 With its large, easy-to-read backlit display, the Honeywell Non-Programmable Thermostat makes it easy to check on both your current indoor temperature, as well as your set temperature, displaying both simultaneously. Measuring 1.5-inches, the digital display is larger than most similarly priced models, allowing you to easily check on your settings.
Compatible with one heating and one cooling conventional systems and heat pumps, this digital thermostat gives you precise control over your RV interior temperature. Thanks to its soft-key controls this unit is one of the simplest models to use. As it can be dual-powered, it is also easy to install. Either use it exclusively with batteries or hardwire it into your RV system.
The battery replacement door is very easy to access, located on the side of the unit. To make sure that you don't run out of power unexpectedly, there is a convenient low battery indicator to let you know when it's time to change batteries. As this model utilizes two AAA batteries, you won't be struggling to find any unusual battery types when you're traveling far from large stores in your RV.
For basic RV heating and cooling systems, this model makes a good easy-to-use option. However, if you want to be able to control multiple zones or to program your RV thermostat, you'll need to choose a different RV climate control unit.
Best RV Smart Thermostat
ecobee3 Lite SmartThermostat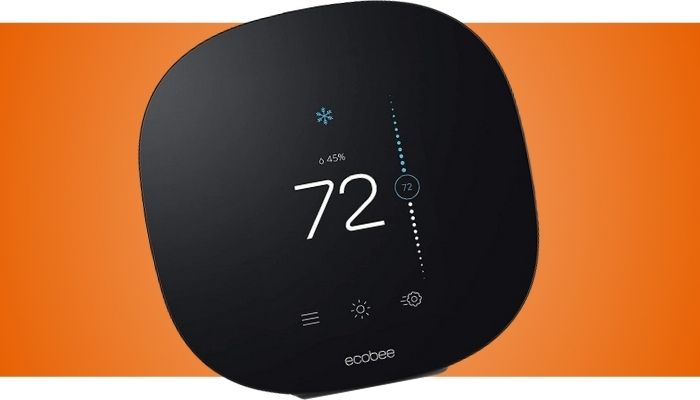 The ecobee3 Lite SmartThermostat is one of the most advanced smart thermostats around.
Energy-star certified, this thermostat could help you to save money on heating and cooling your motorhome. This sleek and stylish unit can be used via its touch screen, with a voice assistant, or via the app on your smartphone.
While you will need to have an internet connection to operate this unit remotely, you can also use it in person via its touchscreen without a connection. It is multi-speed fan compatible and has numerous control features including an auto mode, geofencing, and scheduling functionality.
If you are thinking of installing the ecobee3 Lite in your RV, bear in mind that as it has been designed for the residential market it runs off 24V rather than your standard 12V RV power. It also uses an Rh/Rc call system in line with most residential units which is different from the system used in RV thermostats.
These differences mean that the ecobee3 Lite SmartThermostat will not be suitable for use in your RV without some considerable adjustments and workarounds which will require extensive knowledge of electrics and for you to be willing to invalidate the three-year warranty.
All things considered, for all but the most determined RVers with electrical DIY skills, this unit will not be suitable for RV installation.
Best RV Thermostat for Small Budgets
Suburban Wall Thermostat – Heat Only
Designed to provide a single-stage wall control unit for Suburban RV furnaces, this thermostat will replace any standard 12V two-wire model. Very easy to install, if you don't have AC in your trailer, this unit makes a good budget buy that you can have up and running in just minutes when replacing like for like.
While this RV thermostat is rather dated in appearance and the mechanical readout is not the most accurate, it does work well and is a fairly reliable model. The temperature range is 50-90 degrees Fahrenheit, although not all units feature printed numbers on the actual thermostat part, so this may not be the best option for you if you want to set your RV living area to a particular temperature, rather than just selecting warmer or cooler.
As it is a basic single-stage RV thermostat, this unit is very reasonably priced. If you are looking for a very easy install to replace your current two-wire RV furnace thermostat and don't particularly want a modern-style version, this unit could save you some money on the purchase price, while also making sure that your RV living area is kept comfortably warm.
Best RV Thermostat for Small Areas
Dometic CT Single Zone Thermostat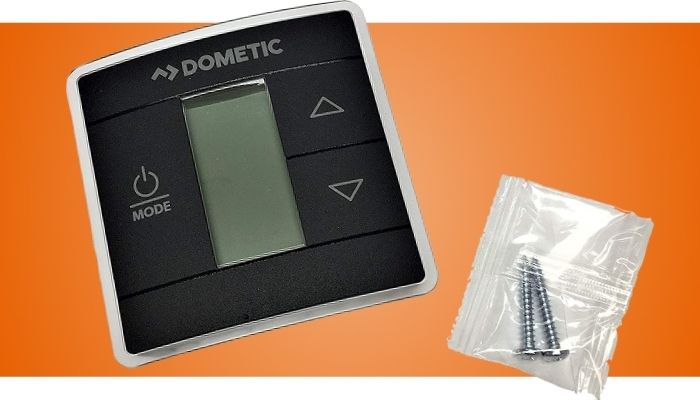 Designed to control your RV Dometic heating and cooling appliances, this single zone RV thermostat also works with a wide variety of three-wire HVAC systems. Available in a sleek black finish, this modern RV thermostat features a large central LCD complete with oversized buttons to make easy adjustments.
The display lights up when you change your heating or cooling settings, making it easy to see just what you have altered your temperature to. Bear in mind that this is not a programmable model, so you cannot set your heat or AC to come on at certain times. Choose from fan, heat, or cooling modes, with heat and cool on or off depending on your selected temperature.
For a basic, single-zone RV thermostat, this unit is a fairly decent choice, although it is a little expensive for what you get. As you cannot control multiple zones with it, it's a better option for small RVs.
Thanks to its easy installation process, this low-profile RV thermostat with an LCD makes a good choice for self-installation and will definitely bring a touch of modernity when upgrading from an older model.
Compare the Best RV Thermostats
Table Comparing the Top 6 RV Thermostats
Image
Title
Price
Rating
Buy
Dometic Comfort Control Center

$$$$

Buy on Amazon

| | | | | | | |
| --- | --- | --- | --- | --- | --- | --- |
| Dometic Comfort Control Center | $$$$ | Four independent zones | 5.6 Oz | No Prime | 7.8 x 0.6 x 2.5 inches | Buy on Amazon |

Coleman-Mach RV Camper Manual Thermostat

$$$

Buy on Amazon

| | | | | | | |
| --- | --- | --- | --- | --- | --- | --- |
| Coleman-Mach RV Camper Manual Thermostat | $$$ | Manual Thermostat | 3.2 Oz | No Prime | 5 x 5 x 5 inches | Buy on Amazon |

Honeywell Non-Programmable Thermostat

$$$

Buy on Amazon

| | | | | | | |
| --- | --- | --- | --- | --- | --- | --- |
| Honeywell Non-Programmable Thermostat | $$$ | Clear backlit digital display | 1.28 Oz | No Prime | 4.5 x 1.5 x 3.4 inches | Buy on Amazon |

ecobee3 Lite SmartThermostat

$$$$$

Buy on Amazon

| | | | | | | |
| --- | --- | --- | --- | --- | --- | --- |
| ecobee3 Lite SmartThermostat | $$$$$ | Smart phone controls | 1 lbs | No Prime | 4.05 x 1 x 4.05 inches | Buy on Amazon |

Suburban Wall Thermostat – Heat Only

$

Buy on Amazon

| | | | | | | |
| --- | --- | --- | --- | --- | --- | --- |
| Suburban Wall Thermostat – Heat Only | $ | Heat Only | 0.2 lbs | Prime | 2.75 x 1.25 x 3.5 inches | Buy on Amazon |

Dometic CT Single Zone Thermostat

$$$

Buy on Amazon

| | | | | | | |
| --- | --- | --- | --- | --- | --- | --- |
| Dometic CT Single Zone Thermostat | $$$ | Single zone RV thermostat | 3.2 Oz | No Prime | 3.3 x 3.1 x 1.3 inches | Buy on Amazon |
Buyer's Guide to Buying the Best RV Thermostats
If you're having difficulty selecting the best RV thermostat for your motorhome, take a read through our buyer's guide to find the best model for your needs and HVAC system.
Price
RV thermostats come in over quite a large price range depending on what features they include and system compatibility.
Very basic, heat-only analog models tend to cost around $20-$30. While they may look outdated and be limited in terms of features, they do work very well and are often the most long-lasting, reliable choice.
If you are looking to control heating and cooling, as well as having better control over your system's settings, you should expect to pay out around $50 and over for your new RV thermostat.
For larger RVs with multiple zones or if you are looking for a more technologically advanced thermostat that you can control via your smartphone, you will need to consider spending $100 and over for a cutting-edge model.
Ease of Use
You'll want to make sure that your RV thermostat is going to be easy to use. While units with buttons and backlit displays can make setting your RV thermostat easier, they can also be more complex than simple analog models with sliding switches.
If you are considering upgrading your RV thermostat to a more modern version, take a quick look at the manufacturer's user guide before you buy to get a better idea of just how easy it is to program.
Display
RV thermostats with displays give you a clear readout of your temperature, current mode, as well as any settings. Look out for models with large digital displays with some form of lighting.
This will make it much easier to read the information on your climate control screen, as well as making adjustments. A digital RV thermostat with a large display will make it much easier to set your RV living space to a more precise temperature than with an older-style analog version.
Heat only or Heat and cooling
If you don't have an AC unit inside your RV then it's pointless paying out more for a thermostat that can control both heat and cooling.
Obviously, if you have both then you will want to invest in an RV thermostat that can control both for you, cycling between the two modes as necessary to keep your RV at a comfortable temperature during your entire trip.
Features
While basic analog models will have little in the way of features, newly designed RV thermostats can come with a huge array of extra features and settings.
Precise temperature selection – a digital model allows you to select the exact temperature that you find most comfortable.
Connectivity – some new units can be controlled via your smartphone thanks to WiFi or Bluetooth connectivity.
Touchscreen – with tablets and smartphones prevailing, using a touchscreen RV thermostat can easily become second nature, with touchscreens providing a sleek, modern look and being extra easy to program.
Automatic backup memory – if you lose power, you don't want to have to reprogram your entire climate control schedule and preferences. An automatic backup memory stores your unit's data, so even if you temporarily cut power to your thermostat, you won't have to waste a lot of time trying to figure out how you had it set up.
Power Source
Your RV thermostat can either be hardwired into your 12V power supply, run off batteries, or both. While hardwired versions are more reliable, battery ones and dual powered models also have their advantages.
Installation can often be easier with a battery-powered model and they tend to have more smart features. However, you'll need to regularly check for low batteries and make sure that you replace them at least once a year.
If you are looking for a battery powered RV thermostat, make sure that your new model has a low battery indicator, so that you won't get caught out without replacements ready. The battery replacement door should also be in a convenient location to make it easy to remove and replace your batteries without having to dismount your thermostat unit from your wall.
System Compatibility
Replacing your RV thermostat with a like-for-like model or a recommended replacement is the best way to ensure full system compatibility.
Obviously, your thermostat will need to be compatible with your HVAC system, including your furnace, heat pump, and AC units. Your RV thermostat will also need to match the number of zones you have in larger RVs.
If you are looking at replacing your RV thermostat with a recommended replacement, then the likelihood is you can do a straight swap. On the other hand, if you are replacing a basic analog model with a new, more technologically advanced thermostat, you may need to do some extensive rewiring.
If your new thermostat has not specifically been created for an RV or marine environment then you may need to come up with numerous workarounds to get your system switched over.
Warranty
A thermostat with a good warranty period is generally a good sign of a high-quality product.
Even if your thermostat was not very expensive and took you just a couple of minutes to replace, if your thermostat breaks down when you're out RVing and you can't get hold of a new one for several days or weeks, it's going to impact upon your enjoyment of your vacation.
Look out for RV thermostats with long warranties to best ensure that you get a long lasting model that you can rely on. Bear in mind that the more complex your RV thermostat is, the more potential you have for it to break or malfunction. Sometimes simplest is best, depending on your needs and preferences.
Brand Reputation
Before you order a new RV thermostat, if you are branching out and trying out a new brand, take a few minutes out to do some quick research into the manufacturer and how good their products and customer service are.
Most well-known RV thermostats brands such as Dometic or Coleman are highly trusted and have many decades of expertise in creating products for the RV industry. If you start looking away from the main brands, make sure that you will still be getting a high-quality product and the help you'll need if you come up against any issues, be it during installation or at a later date.
Types of RV Thermostat
One of the most important decisions you'll need to make when choosing your new RV thermostat is which type you are going to go for. Here's our guide to the main RV thermostat types to help you to decide whether to stick with a similar model to your last thermostat or to upgrade.
Analog
The most basic, but also often the most reliable, analog RV thermostats remain popular despite the huge range of newer, more feature-packed alternatives.
Analog RV thermostats are generally easy to install, especially if you are replacing your broken thermostat with the latest version of the same model. As they have fewer parts to break, analog thermostats can last for many years and seldom become obsolete.
On the downside, analog RV thermostats often look dated, even brand new ones. If you are in the middle of an RV remodel and are looking to modernize your living space, an analog thermostat will definitely look out of place.
What's more, analog versions tend to have very little in the way of extra features and with their sliding switches, you cannot get a very precise temperature reading or setting.
Electronic
Electronic or digital RV thermostats come with a display that gives you a precise temperature reading, as well as indicating which mode your thermostat is currently set to run. If you are looking for a more modern-looking RV thermostat that is easy to use, an electronic version makes a good choice.
While electronic versions are more precise than analog thermostats, they can be slightly less durable and a little harder to install unless you are replacing like for like. Opting for a battery-powered electronic RV thermostat can make the installation process easier in some cases.
Programmable
Programmable RV thermostats allow you to preset your thermostat to come on at different times or at different temperatures. For example, you can program extra warmth for the morning when you're taking a cold winter RV trip, or set up your thermostat to automatically cool a couple of degrees lower on hot summer afternoons.
With a programmable thermostat, the idea is that you won't have to spend a lot of time manually adjusting your temperatures. You should be able to simply set your programmable unit and forget it, leaving it to automatically keep your RV living area at the most comfortable temperatures.
While in theory, programmable climate control units should be the easiest to use, in practice, some can be a little tricky to set up, especially for the first time.
If you struggle to program basic household appliances, you may want to stick to an electronic or analog thermostat that you can simply adjust as you need.
Communicating Thermostats
With the internet of things and our ever-increasingly connected homes and devices, little surprise that you can now purchase communicating thermostats for your RV.
If you relish the idea of being able to control your heating and cooling via your smartphone, then a communicating thermostat is going to be the best model for you.
As communicating thermostats often come packed with extra features, including energy saving functionalities and even the option to control your RV climate remotely, they make a good choice for frequent or full-time RVers. Just be aware that to turn up your heating from the store, you'll need your trailer to have a WiFi internet connection.
Otherwise, models with Bluetooth connectivity allow you to program your thermostat via your smartphone within several meters.
Top RV Thermostats Video
Final Thoughts
Choosing a new RV thermostat can be fairly tricky, especially if you are looking to change to a new model. If you are not going with a recommended replacement, make sure that you thoroughly check your model's compatibility with your RV HVAC system before purchasing.
If you are looking for a top-of-the-range RV thermostat that is easy to use and programmable, the Dometic Comfort Control Center makes an excellent choice. It allows you to control and set up cooling and heating for four independent zones, complete with 12 buttons for easy programming and a clear, easy-to-view LCD screen.
Older RVs without AC can still benefit from having their thermostat replaced with a new updated version. Opt for the Suburban Wall Thermostat – Heat Only and benefit from an easy two-wire installation. This unit is a great budget buy and very easy to use making it ideal for technophobes and blending in with vintage RV interiors.
Lastly, if you are looking for an easy-to-install, modern RV thermostat with an electronic display, you can't go wrong with the popular Honeywell Non-Programmable Thermostat. This dual-powered model can either be hardwired or run off batteries. It features a clear, large display and gives you precise control over your RV temperature.