Van life is becoming an ever more popular lifestyle choice in modern times. Whether you live in your camper all year around, or take every opportunity to hit the road for another weekend trip, having the best pop up camper awning can almost double your available space.
Pop up camper awnings are relatively simple to install and offer a wealth of benefits. Not only do they keep you comfortably shaded from the sun's beating summer rays, but they can also shield you from wind, rain, bugs and nosy neighbors. Some models are even big enough to create an additional enclosed room, so you enjoy your extra space in privacy.
In this guide, we take a look at six of the best pop up camper awnings on the market and tell you everything you need to know before you buy.
Best Pop Up Camper Awning
To help you find the best pop up camper awning for your lifestyle, we have selected six of the leading awnings money can buy. We have chosen a variety of models that are suitable for different vehicles and environments, so there's something to suit every camper.
Great easy to install roof awning
Tuff Stuff Rooftop Awning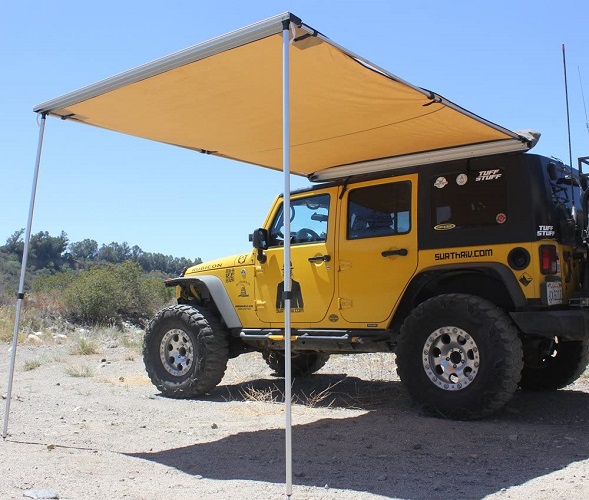 If you're looking for a heavy-duty rooftop awning that's built for wilderness camping, then the Tuff Stuff Rooftop Awning could be just what you need. This model is made from super-durable materials to keep you protected from the searing sun and provide comfort on your adventures.
The Tuff Stuff Awning can be mounted to your camper in multiple ways, thanks to the included universal L-shaped brackets. Once fitted, it can be pulled out to offer 8 feet of outward shade and 6.5 feet of protection across, so you can enjoy the great outdoors without getting sunburn in open environments.
This rooftop awning is constructed from premium quality, cotton/polyester fabric that is windproof and tightly woven to offer protection against the elements. It has been rigorously tested to resist strong winds and inclement weather, so no matter the climate, this awning should be able to stand up to it. The tough zipper is also resilient in harsh conditions, and it includes a hard-wearing, roadworthy PVC cover for when you're driving.
The Tuff Stuff Rooftop awning comes with a total of four support arms for basic setup but also includes extra tie ropes for enhanced support if the weather is a little wild. The aluminum frame is strong and sturdy for peace of mind, and it's delivered with all of the hardware you'll need to install it – so you won't need to worry about buying additional parts.
Overall, this pop up camper awning has an impressive, tough and easy to use design that is sure to bring comfort to your road trip adventures. You can also purchase a compatible shade wall to block the afternoon sun and wind or install a Tuff Stuff LED light strip to illuminate your camp at night.
Pros – Things we liked
Multiple mount options
Premium quality cotton/polyester fabric
PVC cover
Four support arms
Aluminum frame
Cons – Things we didn't like
Arms not sold seperatly if you lose them
Best awning for keeping bugs at bay
ARB Awning Room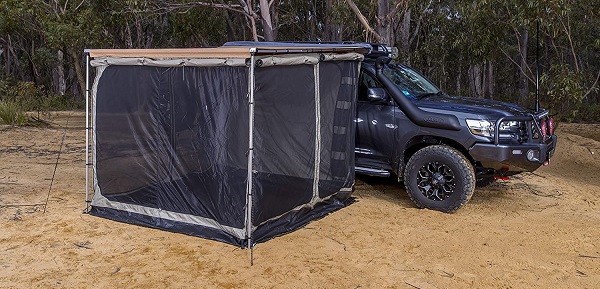 If you're seeking some privacy, or simply some respite from biting insects, we recommend checking out this deluxe camper awning room from ARB. This model allows you to create an additional, completely enclosed room attached to your camper, so you can enjoy extra space without exposure.
This pop up camper awning is available in a choice of two sizes: offering either 6.5 x 8.2 ft of floor space, or 8.2 x 8.2 ft of floor space. It also comes with a waterproof floor and a separate ceiling for all-round enclosure and protection from creepy crawlies, so you can feel perfectly shielded from insects and strong sunshine.
Despite its size, this camper awning room is quick and easy to set up, but keep in mind it's designed to be used in conjunction with ARB model 2500 and 2000 awnings. The mesh panels are completely midge and mosquito-proof to prevent irritating bites from ruining your trip, while the solid walls are made from Oxford 300D Waterproof Polyester, that has UV resistant qualities to keep you cool, dry and defended from the wind inside.
When you arrive at your camping spot, this awning is easy to deploy in just a few minutes. The walls and mesh screens can also be rolled up and secured, so you can use it as an open sun shade and enjoy the view from your pitch. The awning attaches to the poles via highly durable nylon hooks to ensure it stays firmly in place and it also comes complete with two guy ropes and a set of six pegs for simple setup.
All in all, this model is a great option if you often find your trips blighted by hungry insects or would prefer some more privacy on crowded campsites. The tough materials, waterproof floor and dual wall panels create a cozy, convenient space shielded from the elements, where you can enjoy some chill-out time in peace.
Best pop-up awning for versatility
Hasika Pop-up Awning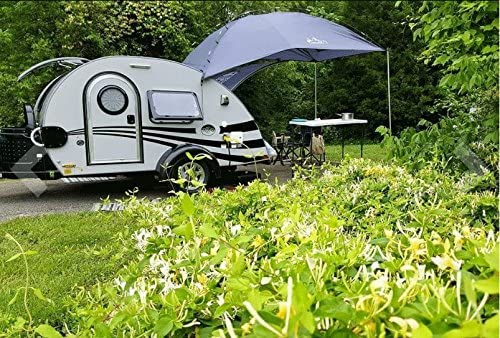 Next up, we have the Hasika Pop-up Awning. This compact yet effective model is great for day or weekend trips with family and friends, and is especially good for use with teardrop campers.
The Hasika Pop-up Awning boasts a generous shade area of 60-76 square-foot, so it will easily shield your picnic table and cooler, while still providing plenty of space for everyone to relax while protected from the elements. The awning is crafted from highly-durable, 210T ripstop polyester, so you can be sure that it's tough enough to handle your outdoor adventures without tearing or letting water in.
This pop up awning is very simple to set up, so you can get right to enjoying your downtime without any hassle. The rear of the awning attaches to your vehicle with the included paracord and suction cups, while the front end is secured to the ground with fibreglass poles and guy ropes.
The overall construction is pretty sturdy, and the odd gust of upward wind shouldn't shake it, due to the integrated air vents. However, some people have complained that the suction cups aren't the best quality, so you may wish to buy some stronger ones instead. We like that it comes with two sandbags, though, as this will add further security in windy weather.
If you tend to hit the road alone, you'll appreciate that this model is lightweight and easy to install and transport single-handedly. It's also simple to store when not in use, thanks to the accompanying, compact carry bag.
Best lightweight pop-up camper awning
Offroading Gear Portable Pop Up Awning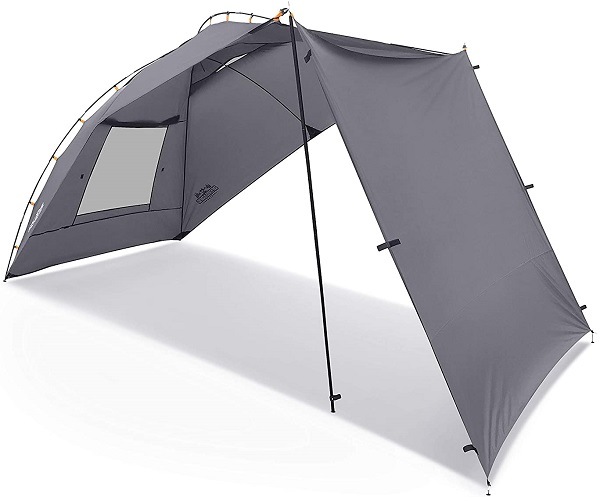 If you're looking for a lightweight and versatile awning that can be used both on its own or attached to your camper – then the Offroading Gear Portable Pop Up Awning is worth a look.
This highly-portable option can be set up as a beach shelter as well as acting as a standard vehicle awning to protect you from rain and the suns' rays. It includes a side wall to shield you on windy days, or offer some privacy from prying eyes on the campsite. The waterproof 210T polyester tent material is of high-quality and has a UV protective coating.
This camper awning measures 124′ x 85" and provides 75 square-feet of shade, so it has a generous capacity that's large enough to cover as many as four people. If you often hit the road with the family, this awning will ensure everyone can enjoy their trip in comfort, even if the weather is disappointing.
No matter how good an awning is, if it's not easy to set up, you won't enjoy using it. Thankfully, this model is so lightweight and straightforward to install, you can expect to have it deployed and ready to use in minutes, even if you're setting up by yourself.
The trio of sturdy fiberglass poles are flexible and strong, so they should last several years, and everything can be packed away into the included carrying bag for simple transport when it's time to leave.
Best camper awning for off road adventures
Offroading Gear Retractable Camper Awning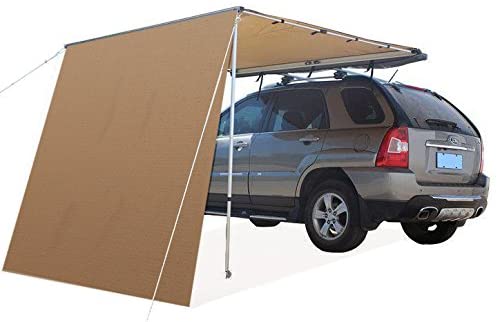 Another excellent choice is the Offroading Gear Retractable Camper Awning. Whether you head out in your camper to the wilds, beach or simply hit your favorite campsite, this model has everything you need to enjoy the trip in comfort.
This hard-wearing awning is available in either 6.5' x 6.5' or 6.5' x 8' and is suitable for almost any type of camper and 4×4. It's made from a combination of tough aluminum and durable Ripstop 600D polyester, which is thick and waterproof. This rugged material will keep you and your companions dry in wet weather, as well as shielded from intense sunshine on bright, summer days.
The Offroading Gear Retractable Camper Awning is simple to install in just a few minutes, and comes complete with all the hardware you need to get set up. It easily attaches to roof racks, but if you don't have one, you can secure it with the included L brackets instead.
Once installed, just unzip the built-in carry case, pull it out and extend the telescoping poles and you're ready. We like that this model also includes a bonus front wall panel, so you can take advantage of the extra space. The extension and retraction process takes almost no time at all, so it's super easy to deploy and pack away.
Overall, there's a lot to like about this model. It's rugged, hard-wearing design has been crafted to withstand tough off-road environments, and its ease of installation makes it a great option for beginners.
Great camper awning for portability
DANCHEL OUTDOOR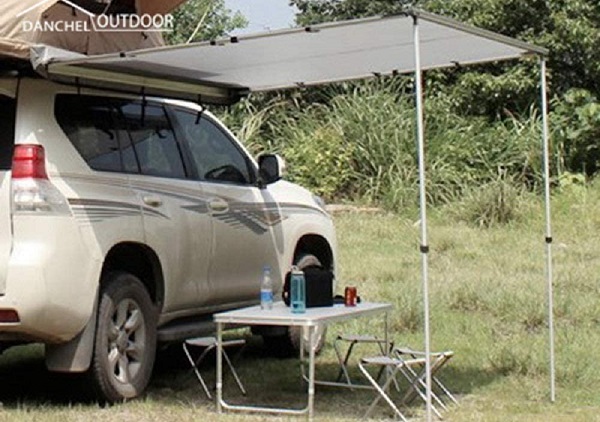 Last on our list is the DANCHEL OUTDOOR Camper Awning. This side awning has a simple yet effective design that will keep you and your companions cool and dry on your next road trip.
This model comes with all necessary hardware for installation onto sloped roof rails, but is also compatible with other types – you just may need to purchase some extra fittings to make it work. Its lightweight and portable design is great for impromptu weekend trips, while the wide choice of sizes means that there's an option for everyone.
The awning is made from 420D oxford fabric, which is very thick and waterproof to protect you and your belongings from downpours. The material also has UV blocking qualities that shields damaging sun rays, so you can relax and enjoy the view in comfort.
Once installed, the awning height is easily adjusted via the aluminum telescoping poles, so you can tweak the set up to meet your requirements. On the downside, these poles are very lightweight, and they may not stand up well to wind. If you're expecting a storm to blow through, we'd recommend packing this awning away in its included cover bag or putting in place some further reinforcement measures just in case.
Compare the Best Pop Up Camper Awnings
Table Comparing the Top 6 Pop Up Camper Awnings
Image
Title
Price
Rating
Buy
Tuff Stuff Rooftop Awning

$$$

Buy on Amazon

| | | | | | | |
| --- | --- | --- | --- | --- | --- | --- |
| Tuff Stuff Rooftop Awning | $$$ | Windproof fabric | 26 lbs | No Prime | 78 x 6 x 6 inches | Buy on Amazon |

ARB Pop-up Awning Room

$$$

Buy on Amazon

| | | | | | | |
| --- | --- | --- | --- | --- | --- | --- |
| ARB Pop-up Awning Room | $$$ | Ventilated mesh roof | 3 lbs | Prime | 22 x 11 x 22 inches | Buy on Amazon |

Hasika Pop-up Awning for RVs

$$

Buy on Amazon

| | | | | | | |
| --- | --- | --- | --- | --- | --- | --- |
| Hasika Pop-up Awning for RVs | $$ | Rip stop fabric | 9 lbs | No Prime | 137.8 x 41.34 x 94.49 inches | Buy on Amazon |

Offroading Gear Portable Pop Up Awning

$$

Buy on Amazon

| | | | | | | |
| --- | --- | --- | --- | --- | --- | --- |
| Offroading Gear Portable Pop Up Awning | $$ | Privacy wall | 7.9 lbs | Prime | 5.91 x 23.64 x 6.3 inches | Buy on Amazon |

Offroading Gear Pop-up Camper Awning

$$$$

Buy on Amazon

| | | | | | | |
| --- | --- | --- | --- | --- | --- | --- |
| Offroading Gear Pop-up Camper Awning | $$$$ | Made from durable aluminum | 30.4 lbs | Prime | 81 x 5 x 5 inches | Buy on Amazon |

Danchel Outdoor Pop-up Camper Awning

$$$

Buy on Amazon

| | | | | | | |
| --- | --- | --- | --- | --- | --- | --- |
| Danchel Outdoor Pop-up Camper Awning | $$$ | Aluminium twist lock poles | 16.96 lbs | No Prime | 63 x 5 x 4 inches | Buy on Amazon |
Buyer's Guide for Buying the Best Pop Up Camper Awning
If you're still finding it difficult to decide which pop up camper awning is right for you, have a read through our in-depth buying guide. In this section, we tell you everything you need to consider before buying.
Some more great RV camper gear guides
Screen
Price
Pop up camper awnings come in a wide range of styles, weather resistance and sizes. As a result, the price can also vary significantly depending on which type of awning you choose.
The best place to start is by considering your intended use. Are you going to be heading out on the road every weekend? Or just taking a few trips a year? Do you prefer to take adventures into the backcountry or stick to services campsites?
The answers to these questions will give you a good foundation as to how rugged your awning needs to be to meet your requirements. Those that are made from the sturdiest and most robust materials with great weather resistance tend to be more expensive, so the climate in the area you are traveling in should be considered, too.
That's not to say that the most expensive option in your price range is the one you should buy. As with most products, there's often a lot of cross-over when it comes to features, and brand-on-brand competition also plays into pricing. In short, it pays to do your research.
Overall, you can expect to find a good-quality pop-up camper awning in the region of $100-$350. Models at the lower end of this range tend to be made from lower spec materials, while those at the higher end are usually best for harsh conditions or frequent use.
Ease of Set-Up
Awnings are fantastic for increasing your recreational space while keeping you shielded from the elements. However, they'll quickly become a source of frustration if they're too difficult to set up every time you come to use them.
The best pop up camper awnings will feature a secure, zipped case that can be simply opened and the awning smoothly pulled out and secured as required. Other models that provide a fully sealed additional room can take a little more time to put up, but that's to be expected considering their design.
No matter the style, the setup process shouldn't be arduous or particularly time-consuming, so it's worth reading reviews to see what other users are saying before buying.
Size & Weight
The max size of your campervan awning is limited by the dimensions of your campervan. But after you have determined this, the actual size you decide to buy depends on how you intend to use it.
If you want to get an awning for use as an additional room or for further storage space, then you'll need a larger model than if you just want somewhere to shelter from the elements.
All awnings should make it clear what dimensions are available and they often offer a range of different sizes. You should make sure to double-check the dimensions and height before buying to make sure it will be compatible with your camper.
With regard to weight, awnings that are fixed to your camper are unlikely to weigh enough to cause any issues once installed. However, if you choose a non-fixed model, you should consider how heavy it is before purchasing. A lightweight option will be less hassle to set up each time, but it may also be less sturdy in bad weather.
Storable
Storage when not in use is another key feature to keep in mind. When camping, space is usually at a premium, so it's important to choose wisely.
Fixed awnings should have a secure storage bag that zips up to protect the awning while retracted. This type of awning is permanently attached to the exterior of your vehicle, so they take up no storage space inside. This makes them a popular choice with frequent campers.
On the other hand, non-fixed awnings have to be taken apart and packed away in a carry bag when not in use. The carry bag should be robust and offer good protection while your awning is being stored.
Some models can be disassembled down to relatively small packed dimensions, so it's worthwhile checking out the packed size if you have little space to sacrifice for storage.
Compatible with your Vehicle
Most fixed awnings are attached to the top or side of your vehicle via roof rails, with brackets, or they may be secured by sliding them into a separate connecting rail. They should come with all the hardware you need to install, but you may find you'll need additional parts to get them to fit your particular camper.
Checking that an awning is compatible with your vehicle before buying is an absolute must. If you're at all unsure, contact the seller or manufacturer who will be able to advise you.
Top Pop Up Camper Awning Setup Video
FAQ: Best Pop Up Camper Awning
We understand that when it comes to choosing the best pop up camper awning for your outdoor adventures, you may have some questions. To help you make an informed decision and ensure you have all the information you need, we have compiled a list of frequently asked questions about pop up camper awnings. Whether you're a seasoned camper or new to the world of pop up campers, these questions and answers will provide valuable insights and guidance. Read on to discover everything you need to know about pop up camper awnings, from their purpose and types to installation, maintenance, and safety considerations. If you have a question that isn't addressed here, feel free to reach out to us, and we'll be happy to assist you. Let's dive in and explore the world of pop up camper awnings!
What is a pop up camper awning?
A pop up camper awning is a retractable shade structure designed to attach to the side of a pop up camper or RV. It provides an additional covered outdoor space, offering shade and protection from the elements.
Why do I need a pop up camper awning?
A pop up camper awning is a valuable accessory for several reasons. It creates a comfortable outdoor living area, shields you from sun and rain, provides extra storage space, and helps to extend the usable area of your camper.
How do I choose the right pop up camper awning?
When selecting a pop up camper awning, consider factors such as size, material, ease of installation, durability, and additional features. Assess your needs and preferences to find an awning that best suits your camping style and budget.
What are the different types of pop up camper awnings?
The most common types of pop up camper awnings include traditional manual awnings, electric awnings, and bag awnings. Manual awnings are operated by hand, electric awnings extend and retract automatically with the push of a button, while bag awnings are compact and easy to set up.
How long does it take to set up a pop up camper awning?
The time required to set up a pop up camper awning can vary depending on the type and model. Manual awnings typically take a few minutes to set up, while electric awnings are faster and more convenient, often taking less than a minute.
Can I install a pop up camper awning myself?
Yes, many pop up camper awnings come with installation instructions and can be installed by the owner. However, if you're uncertain or prefer professional assistance, you can also have it installed by a dealer or a qualified technician.
How do I maintain a pop up camper awning?
Regular maintenance is essential to prolong the lifespan of your pop up camper awning. Clean it regularly using mild soap and water, and make sure it is completely dry before storing. Inspect the awning for any signs of wear, such as tears or loose stitching, and address them promptly.
Can I use a pop up camper awning in windy conditions?
It is not recommended to use a pop up camper awning in strong winds or severe weather conditions. High winds can damage the awning or even cause accidents. Always retract the awning during inclement weather or when you're away from the campsite.
Are there any safety precautions to consider when using a pop up camper awning?
Yes, safety should be a priority when using a pop up camper awning. Make sure the awning is properly secured to your camper or RV. Avoid placing heavy objects on the awning and be cautious of its position in relation to campfires or BBQ grills. Always follow the manufacturer's instructions and guidelines for safe usage.
Final Thoughts
Using the best pop up camper awning can dramatically change your comfort levels during your trip.
Not only will you have somewhere to relax away from the blazing sun rays, but they will shield you from wet and windy weather, too. Camper awnings are also a great way to enjoy some privacy on the campsite and expand your available living space.
Any of the models we have featured in our pop up camper awning reviews will make excellent choices, but the best option for you really depends on your vehicle and intended use.
If you would like a fully-enclosed extra room or respite from biting insects, then the ARB Awning Room is your ideal choice. This model is perfect for expanding your recreational space and offering privacy too. The double-wall and floor design protects you from creepy crawlies, strong sunshine, wind, rain and prying eyes – but is still simple to install.
Alternatively, if you're just after lightweight weather protection to keep you dry and cool, then the Hasika Pop-up Awning or the DANCHEL OUTDOOR Camper Awning are great picks. Both of these options are lightweight, easy to deploy and have great weatherproof qualities.
For those of you who like to hit the backcountry and take adventures in the wilderness, then the rugged Offroading Gear Retractable Camper Awning should be top of your list. This awning is made from highly-durable materials, offers generous coverage and is simple to use.
Whichever type of camping you enjoy, you're sure to find the best pop up camper awning for your needs in our selection.