Designed to protect you from unappealing weather, biting bugs, and provide some privacy from nosy neighbors – the best RV screen room can help you make the most of your time in the great outdoors.
Also known as awning rooms or extend-a-rooms, RV screen rooms are a great way to extend your living space with a handy enclosed patio area. But with so many different models to choose from, picking the right one for your needs can be difficult.
If you're struggling to choose the best RV screen room for you, don't worry. Today, we take a look at the top-rated RV screen rooms on the market and explain everything you need to know to make the right choice.
Best RV Screen Rooms
RV screen room sales have rocketed in recent years, so there's never been a better time to buy one.
To help you to find the best model, we've reviewed nine of the very best RV screen rooms, covering a range of budgets, sizes and styles.
Read on to find the model that's just right for your setup.
Best RV Screen Room for Weather Resistance
Carefree Vacation'r Awning Screen Room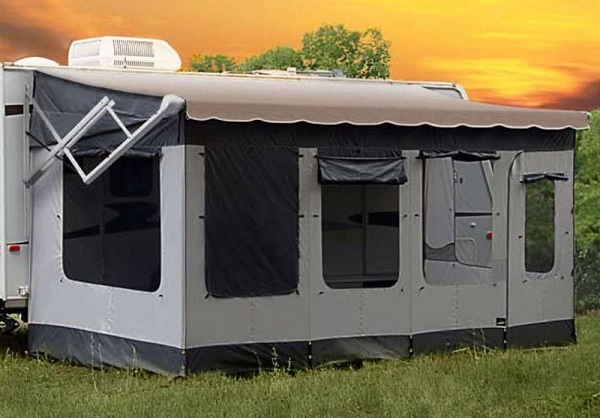 The Vacation'r Awning Screen Room by Carefree of Colorado is suitable for nearly all traditional awnings with an eight-foot extension and most 12V models.
If you have a Carefree 12V awning, then this screen room makes a great choice for your RV as its water dump feature has been specifically designed to work with their own brand awnings.
Thanks to its one-piece design, whatever your compatible awning brand, setup is quick and easy. What's more, you won't have to attach any permanent fasteners to your rig with the drill-free, no-tool installation process. It is also easy to take down and the whole room stores neatly away in the included storage bag ready for use at your next destination.
Thanks to its tough, lightweight polyester tent material, this RV screen room weighs between 32-43 pounds depending on your chosen length. This is almost half the weight of conventional vinyl models.
It is also highly weather-resistant and features multi-position privacy panels that keep the rain, as well as prying eyes, firmly out. Note that while the privacy panels work well, they are located on the outside. The zippered door is good quality, but you may want to replace it with a magnet closing screen version if you have a lot of in-and-out foot traffic.
This easy-to-fit RV screen room comes with everything you need, including skirting for the open areas of your RV, as well as ground stakes, a storage bag, and awning rail clamps.
While there are cheaper versions out there, they do not have the same high functionality and ease of installation. In short, this is one of the best RV screen rooms if you need a lightweight, easy fit model that has great compatibility.
Pros – Things we liked
Water dump feature
No-tool installation process
Included storage bag
Lightweight polyester material
Cons – Things we didn't like
Zippered door is a pain if you are in and out a lot
Best RV Screen Room for Premium Budgets
Carefree Buena Vista+ RV Awning Room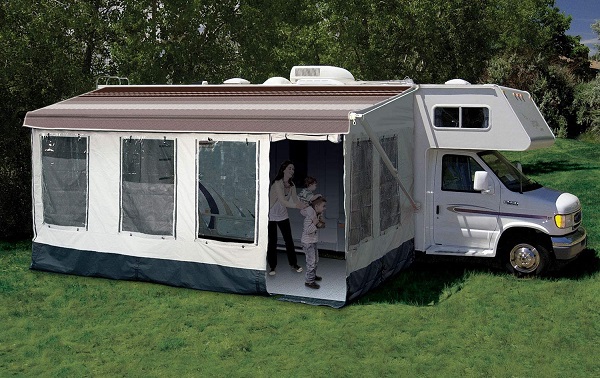 The Buena Vista+ is a premium RV awning room from Carefree of Colorado. Designed to fit all brands of traditional awnings and 12V models with 10-21 foot long vertical arms, this model is a great choice given its fast, tool-free installation and customizable room layout.
This RV screen room sets up completely in just 15 minutes from start to finish. No drilling is required, and it simply attaches directly to your existing awning. When it's time to move on, it is also quick to take down again and the included tote bag makes it easy to store ready for your next adventure. Weighing around 50 pounds, depending on your chosen length, this lightweight version is easy to handle, as well as store.
You can mount the doorway to the left or right to suit your needs, location, and layout. If it's damp outside but you don't want to miss out on the view, you can use the clear weather-view zippered panels to keep the rain out while letting light in. Alternatively, you can use the privacy panels and enjoy your evening without that over-looked feeling, even when your site could be a little wider.
Complete with skirting to prevent the wind blowing in from under your RV, as well as ground stakes and rafter arms, this RV screen room is ready to go from the moment you receive it. It also comes with a useful optional extension piece to accommodate a wider variety of awning lengths.
While this model is one of the more expensive versions, its ease of installation, lightweight, and customizable layout make it one of the best premium RV screen rooms available.
Best RV Screen Room for 4×4's
ARB Awning Room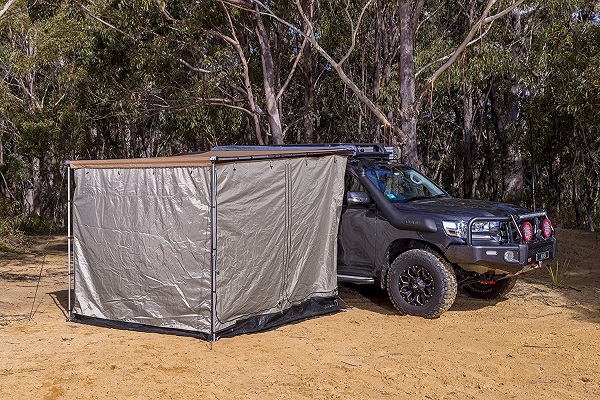 Make the very most out of camping with your 4×4 or trailer with the ARB Awning Room. Compatible with the ARB4402A and 814201 ARB awnings, this highly practical RV screen room is an excellent way to enhance time spent in the great outdoors.
Use it as a fully enclosed room, roll up the sides and enjoy the view, or protect yourself from insect bites with the mesh panels, this multi-purpose model is highly versatile and extremely practical.
Thanks to its durable waterproof floor, it makes a great addition to any off-road trip. Even with the all-weather sides down accessibility remains great thanks to the zipper-operated access doors situated in all of the four walls.
This awning room easily attaches to your deployed awning, for less time spent getting set up and more time free for exploration. For easy access to your vehicle, simply unzip the rear wall. Power cord guides in the roof corners will help keep your cables safe and organized. All walls are made from UV-resistant, highly durable 300D Oxford polyester, for a long product lifespan even in harsh backcountry conditions.
Weighing just 17.6 pounds, this screen room is highly packable and it won't take up too much space in your vehicle. Two guy ropes, six pegs, and a storage bag are also included with your purchase.
If you enjoy camping with your 4×4, then you'll enjoy it even more with the ARB Awning Room for extra space and all-weather protection.
Best RV Screen Room for Small Budgets
Dometic Veranda Room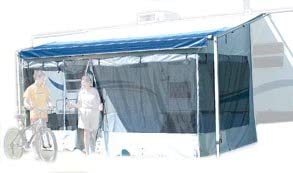 If you want a customizable RV awning room that you can adapt to your needs, with no hassle or fuss, the Dometic Veranda Room should be right at the very top of your list. Available in a standard or tall version, simply purchase a starter kit and add on two, four, or eight-foot front panels as required to complete your set up.
Unfortunately, this modular system works out a little on the expensive side. However, for ease of installation and versatility, you won't find many better models. Set up is extremely easy.
After the initial installation, just hang the panels and zip them together. It's that simple. Enclose all of your awning area or just part of it, with the Dometic Veranda Room, you decide how much space you want to enclose.
Made from a durable, white vinyl fabric with gray mesh panels, this RV awning room is compatible with most eight-foot extension awnings. The vinyl fabric is moisture resistant to improve weather-resistance. It also dries out extra quickly, helping to prevent mildew formation.
The starter kit includes two end panels, a zippered storage bag, a door panel, skirting, and a wheel cover, as well as all of the hardware required for installation. Taking down this screen room is as easy as putting it up, and it is also compact enough to store without difficulty.
Whether you want to enjoy bug-free evenings or just need some extra living space, the Dometic Veranda Room is lightweight, fast, and easy to set up after its initial installation.
With its innovative modular design, if you are having difficulty finding a suitable RV screen room, be sure to check this one out.
Best RV Screen Room for Easy Setup
Coleman Screened Canopy Tent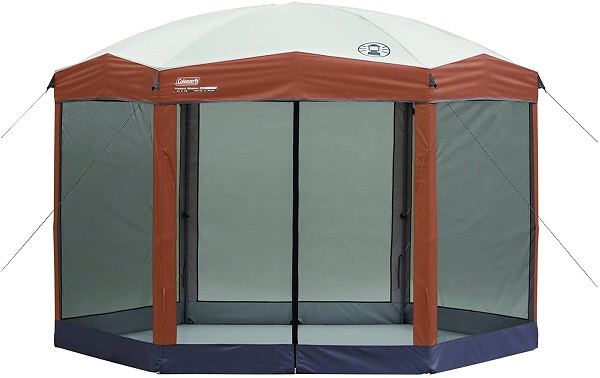 If you want to enjoy dining al fresco when you're RVing this summer, without getting bitten by mosquitoes or having to fend off flies and bugs, then check out the Coleman Screened Canopy Tent.
While this isn't, strictly speaking, an RV screen room, it is a great alternative that is perfectly suitable for RVing. Although it does not attach to your motorhome, it is available at a very reasonable price.
Coleman boasts that this screen house can be put up in just a few minutes. Realistically, setup takes around 15-30 minutes depending if you have help and how handy you are. Completely free-standing, the metal feet feature holes that allow you to stake them into position. It takes about the same amount of time to get it packed up into its wheeled carry bag, that makes getting it to and from your trailer that bit easier as it is pretty heavy.
This screen room is designed for you to enjoy the great outdoors without getting attacked by bugs. So, whether it's enjoying a family meal in peace, sitting out to read, or savouring a drink, this model will keep you protected from insects. However, keep in mind that this means that there are no privacy panels or weather-proof sides. The canopy roof provides welcome sun protection rated to UV 50+, and some rain protection too, so you'll be fine to dine even if there's a light shower.
Very tall and roomy, this makes a great alternative to an RV screen room for occasional use. It has two entry panels and a stylish hexagonal shape, that is great for getting all the family gathered around.
Available at a reasonable price, this model is a worthy option to consider if bugs frequently ruin your camp evenings.
Best Overall RV Screen Room
Clam Quick-Set Escape Shelter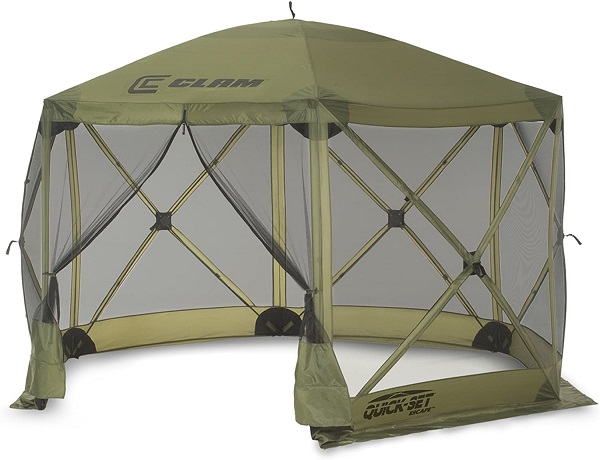 Another great alternative to an RV screen room, the Quick-Set Escape Shelter by Clam is a lightweight option that is exceptionally easy to set up. No assembly is required and it is ready to use straight out of the box, with setup taking less than one minute.
Ideal for dining and insect-free evenings sitting out, this spacious screen room has a 94 square-feet interior that can easily accommodate a standard-sized picnic table. You can use the included tent stakes and ropes to ensure your screen room won't budge, while the 50+ rated UV guard protective roof keeps the sun and rain at bay. The roof is also seam taped to ensure higher water resistance.
Made with "no-see-um" mesh screen panels to keep bugs out, you can also improve this model's privacy and weather-resistance with optional extra weather panels. The built-in roof flaps direct rainwater over these panels to ensure you stay dry inside.
When it's time to pack up and go, this awning room folds down quickly and easily into its oversized storage bag for a hassle-free end to your vacation. And with a pack size of just 72 by 8 inches, this 32-pound awning room is easy to carry and stow away in your RV.
If bugs blight your summer evenings when RVing, this awning room makes an exceptionally easy to use, high-quality choice that can accommodate up to eight people.
Best RV Screen Room for Van Camping
Vango Cruz Screen House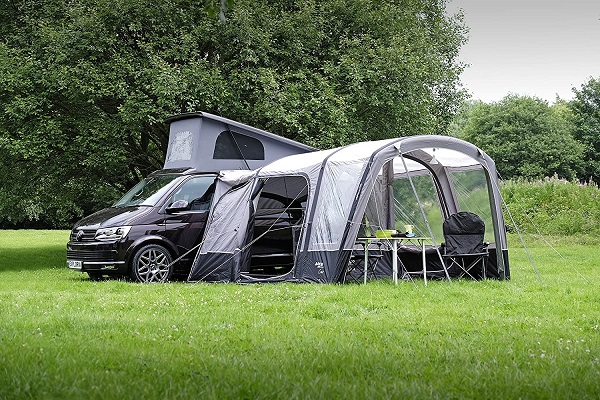 Thanks to its innovative AirBeam Technology, the Cruz Screen House by Vango sets up in just minutes.
An ideal RV screen room for your camper, the Cruz is an excellent choice if you lead an active lifestyle and need a screen room that connects directly to your RV. It provides a convenient utility area for your muddy boots and outdoor kit, while also being spacious enough to double up as a dining, cooking or sleeping area.
Thanks to its pre-bend SuperBeams, this screen room offers a good head height without the need for any poles. The half-and-half door situated at the front has a convenient overhang for storing your footwear and providing shade and protection if you want to sit out. Inside, a connecting tunnel gives you direct access to your RV.
Featuring a groundsheet, fully zippered mesh doors, and webbing storm straps, the Cruz is ready for all weathers thanks to its highly durable, weather-resistant Sentinel Pro 420 fabric.
For warm days, roll open the door for increased ventilation. In stormy weather, the Bracer Beams in the front and roof keep your awning stabilized. The only thing we dislike about this fantastic, four-season RV screen room is that it takes quite a while to get all of the air out so you can get it packed away.
Fully wind and rain tested, if you need an awning room for your camper that can be used all year round, then the Vango Cruz Screen House is one of the very best models available.
Best RV Screen Room for Space
Quictent Ez Pop-Up Canopy Tent with Netting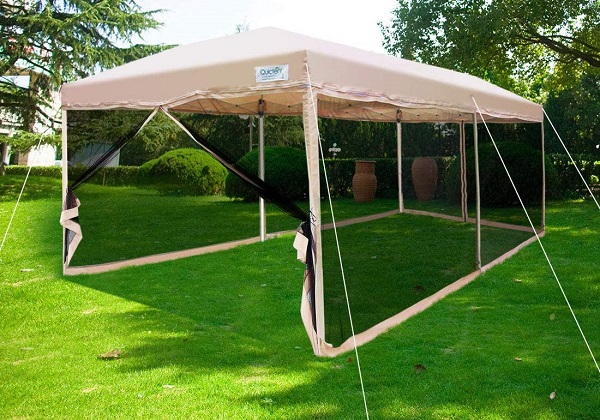 For bug-free days at the campsite, the Ez Pop-Up Canopy Tent with Netting makes an excellent budget choice. It is extremely easy to set up and take down. Thanks to its fully assembled frame it's ready for use in just minutes.
Made from a durable powder-coated steel frame, no tools are required at all to set it up. Simply unfold the frame and cover with the one-piece mesh net that ensures bugs and mosquitoes can't make their way in. Featuring zippered front and back doors, you can dine, relax or chat away, knowing you're safe from getting bitten or persecuted by pesky flying insects.
While this canopy tent will not provide you with much privacy, it is waterproof and sun-resistant. The durable 420D Oxford fabric will keep those unexpected summer showers out, while the UPF 50+ anti-UV sun protection makes it comfortable and safe to sit out in, even when UV levels are very high.
Complete with a wheeled transportation bag, this model is easy to get to and from your RV. It is also quick to set up and is sure to provide welcome relief when RVing in mosquito-infested areas.
Available in three sizes, 8×8 feet, 10×10 feet, or 10×20 feet, no matter how big or small your RV is, this screen room will provide you and your family with extra living space and protection from insect bites and summer showers.
Best RV Screen Room for Privacy
Solera Family Room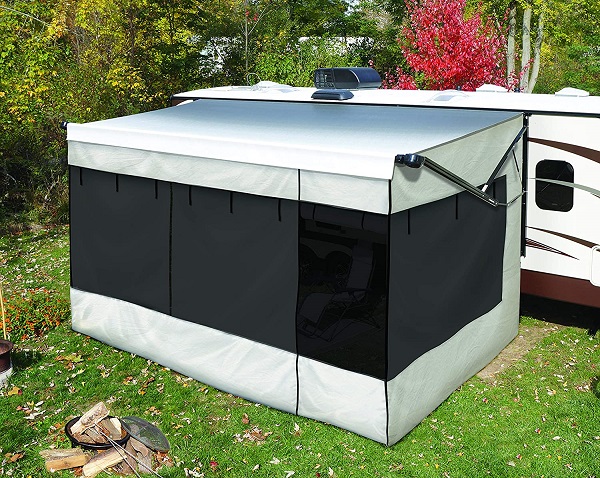 The Solera Family Room is a popular RV screen room that adds up to 160 square feet of enclosed space to your RV. While it should fit most 15-foot manual and power awnings, bear in mind that it is only compatible with Solera, Carefree and Domestic awnings
This RV screen room is an excellent way to enjoy warm summer camping trips without insect bites. It's plenty large enough to use the extra space as a dining, kitchen, or additional sleeping area. For more privacy or when the weather starts to turn, simply roll down the all-weather panels and settle down for a dry, comfortable night regardless of the weather.
Easy to set up, this RV awning room is also lightweight and easy to store – stowing away in its included travel bag. Unfortunately, there isn't much in the way of installation instructions included with this model, but you can find some excellent guides to help you out online.
Thanks to its UV-resistant cool gray polyester fabric, this model is a stylish addition to any motorhome. While there are cheaper options available, if the Solera Family Room is compatible with your awning type, then it makes a great screen room that has all of the features you'll need for an enjoyable, hassle-free RV vacation.
Compare the Best RV Screen Rooms
Table Comparing the Top 9 RV Screen Room
Image
Title
Price
Rating
Buy
Carefree Vacation'r Awning Screen Room

$$$

Buy on Amazon

| | | | | | | |
| --- | --- | --- | --- | --- | --- | --- |
| Carefree Vacation'r Awning Screen Room | $$$ | Fits most 12 volt awnings | 25 lbs | No Prime | 30.4 x 12.6 x 12.2 inches | Buy on Amazon |

Carefree Buena Vista+ RV Awning Room

$$$$$

Buy on Amazon

| | | | | | | |
| --- | --- | --- | --- | --- | --- | --- |
| Carefree Buena Vista+ RV Awning Room | $$$$$ | Includes ground stakes and a skirting panel | 40 lbs | Prime | 57 x 12 x 12 inches | Buy on Amazon |

ARB Ventilated Mesh Awning Room

$$

Buy on Amazon

| | | | | | | |
| --- | --- | --- | --- | --- | --- | --- |
| ARB Ventilated Mesh Awning Room | $$ | Polyethylene waterproof floor | 3 lbs | Prime | 23 x 11 x 11 inches | Buy on Amazon |

Dometic Easy Set-up Veranda Room

$

Buy on Amazon

| | | | | | | |
| --- | --- | --- | --- | --- | --- | --- |
| Dometic Easy Set-up Veranda Room | $ | Zippered panels to create any sized room | 3.15 lbs | No Prime | 14.9 x 11.5 x 3.3 inches | Buy on Amazon |

Coleman Screened Canopy Tent

$$

Buy on Amazon

| | | | | | | |
| --- | --- | --- | --- | --- | --- | --- |
| Coleman Screened Canopy Tent | $$ | Easy-pull wheeled carry bag | 52 lbs | Prime | N/A | Buy on Amazon |

Clam Quick-Set Escape Shelter

$$$

Buy on Amazon

| | | | | | | |
| --- | --- | --- | --- | --- | --- | --- |
| Clam Quick-Set Escape Shelter | $$$ | 45 seconds set up | 34 lbs | No Prime | 140 x 140 x 75 inches | Buy on Amazon |

Vango Cruz Screen House

$$$$

Buy on Amazon

| | | | | | | |
| --- | --- | --- | --- | --- | --- | --- |
| Vango Cruz Screen House | $$$$ | Fully sewn-in Oxford groundsheet | 48.83 lbs | No Prime | 165.35 x 125.98 x 82.68 inches | Buy on Amazon |

Quictent Ez Pop-Up Canopy Tent

$$

Buy on Amazon

| | | | | | | |
| --- | --- | --- | --- | --- | --- | --- |
| Quictent Ez Pop-Up Canopy Tent | $$ | Ultraviolet Light Protection | 31 lbs | No Prime | 50.4 x 9.5 x 9.5 inches | Buy on Amazon |

Solera Rail to Ground Family Room

$$$$

Buy on Amazon

| | | | | | | |
| --- | --- | --- | --- | --- | --- | --- |
| Solera Rail to Ground Family Room | $$$$ | Accommodates RVs with awning rail | 28 lbs | No Prime | 30.5 x 12 x 12 inches | Buy on Amazon |
Screen Room Pros
Extend your living space – Even larger RVs can be a little on the cramped side. Adding a screen room gives you extra space to work, dine, or just relax.
Extra space for guests – if some of the family are coming out to join you, a screen room can provide an extra sleeping and dining area. This means the whole family can eat together and then sleep all (almost) under the same roof – without getting under your feet too much.
Protection from insects – screen rooms are a great way to sit out on those long summer evenings without getting bitten. They allow you to dine in peace without having to swat pesky flies every two minutes.
Extra privacy – let's face it, sometimes your site can be a bit tight, and as friendly as your neighbors may be, you just want to sit out and enjoy your own company. Don't hide away in your RV on those balmy summer evenings. Install a screen room and you won't feel pressured into conversation or feel like you're being watched.
Protection from the elements – provided you're not faced with any extreme weather conditions, a screen room can keep the rain, wind, and sun off you and your possessions.
Help keep your RV cleaner – a screen room also works a little like your porch at home. It can save you walking dirt into your motorhome and provides a closed-off, protected area, preventing dust and dirt from making its way into your motorhome whenever you open the door.
Declutter your RV – relegating some of your equipment and accessories to your screen room is a great way to declutter your RV, for more space inside as well as out.
Screen Rooms Cons
Purchase price – while there are plenty of excellent budget RV screen rooms available, most models are still fairly expensive. Also, quality and ease of use tend to increase with cost. You'll really need to consider if buying an RV screen room works out as value for money for you and if you'll get your anticipated usage out of it.
Can be tricky to put up – most RVers struggle with a new screen room, especially the first time around. However, once you become accustomed to it, setting up your RV screen room will get easier and faster every time.
Time-consuming to take down – if you use your RV to travel all around the country, seldom stopping for long in one place, then a regular screen room might not be for you. However, there are some models that are much faster to put up and take down that would make it more worth your while if you're only staying one night before setting back off on your travels.
Buyer's Guide to Buying the Best RV Screen Room
Before you jump in and commit to buying, be sure to read through our buyer's guide. In this section, we include everything you need to know to buy the best RV screen room for your setup.
Price
At first sight, RV screen rooms don't come cheap and while there are some bargains to be had, in almost all cases you're talking upwards of several hundred dollars.
While price is a major consideration when choosing your RV screen room, there are plenty of other factors that you also need to take into account – so don't think that by paying more you are automatically going to get the best RV awning room for your rig.
Like any investment purchase to enhance your RV and your experience RVing, choosing an RV screen room takes a lot of careful thought and research. So, decide on your realistic budget first, and then take a look at what's on offer around that price range.
Reading through our RV extend-a-room reviews and buyer's guide will give you a helpful insight into the features that you really need, as well as letting you know what works best.
Ease of Fitting
Some screen rooms are easier to fit than others, although in almost every case, you will find your first time fitting your awning room to be considerably longer and trickier. Most RVers end up get setting up their screen room down to a fine art only once they've done it a few times over.
That said, it helps to check out the installation process before purchasing. Some models require you to fix brackets onto your rig, which may be a no-go for some owners with pristine new RVs. Checking what putting up your screen room actually entails is a smart move before you buy.
Obviously, you'll also need to double-check your screen room's compatibility with your awning. If they are not made to go together, then even if you can make it work, it's going to be far from easy. So always check compatibility and sizing for an easier setup.
Easy to Dismantle and Store
Unless you tend to park up for months at a time, your RV screen room is going to need to be easy to dismantle and take up a minimum of storage space.
As space is always at a premium onboard motorhomes, look for models that pack away neatly to save on space. Some RV awning rooms fold away into bags to make them easier to store while ensuring you don't misplace any parts.
Doors and Windows
Make sure that your RV screen room has sufficient openings.
Some models feature customizable layouts that allow you to choose where you want to place your door. You should also pay close attention to the type of openings and whether they will meet your needs.
Mesh panels are great for keeping insects out, especially for avoiding mosquito bites. They also provide high levels of ventilation, ideal if you are looking to use your screen room for cooking as well as dining. For wet weather camping, you may also want to look for a screen room with clear plastic window coverings, so you can keep out the wet, without reducing the amount of light.
For greater privacy and year-round RVing, look for awning rooms with weather-protective panels that drop down over your mesh panels. They also make a great choice if you're planning on using your awning room as a sleeping area, giving you extra privacy and blocking out light so you can get a good night's sleep.
Zippered doors are the norm, enabling you to keep insects out. However, if you have a lot of foot traffic in and out of your RV awning room, you may want to look at switching out your zippered door for a magnetic fastening one.
Materials
At the very least, you will need an RV screen room that has a waterproof and UV-resistant upper to ensure longevity, as well as protecting you from the sun and any unexpected downpours.
Durable polyester or nylon fabric with a high denier are popular choices for lightweight durability and extra protection against the elements.
Size & Weight
In most cases, unless you opt for a freestanding screen room for camping, your RV screen room size will be dictated by your awning size. Weight will also be directly affected by the screen room size, design and construction materials.
If you are looking for a freestanding version to use when RVing, look for a decent-sized model that can take your exterior table or a standard campsite model. If you are traveling as a large group, the bigger the better.
However, bear in mind that larger models will take up more storage space, as well as weighing more and potentially also taking longer to erect.

Weather Resistance
Even if you are planning on using your RV screen at the height of summer, you're still likely to be faced with the occasional, unexpected summer downpour.
Unless you're always RV'ing in arid, desert states, we recommend checking that your RV screen room at the very least, features a waterproof roof section. For moderate to heavy use all year round, you'll need an awning room that securely fixes both to your RV awning and into the ground to improve stability.
All-weather panels are a good choice to keep water from penetrating through your mesh sections. You should also look out for awning rooms that have a close seal to your RV and provide underbody skirting to prevent wind from blowing in under your motorhome.
Top RV Screen Rooms Video
FAQ: Best RV Screen Rooms
We understand that choosing the right RV screen room can be a decision that requires careful consideration. To help you make an informed choice, we have compiled a list of frequently asked questions regarding RV screen rooms. Whether you're new to the world of RVing or a seasoned traveler looking to enhance your outdoor experience, this section aims to provide answers to common queries about RV screen rooms. From understanding the benefits to finding the right size and maintenance tips, we've got you covered. Read on to find answers to the questions you may have about the best RV screen rooms.
What is an RV screen room?
An RV screen room is an accessory that attaches to the exterior of your RV and provides an enclosed outdoor space with mesh walls. It allows you to enjoy the outdoors while keeping insects and bugs out.
Why should I consider getting a screen room for my RV?
A screen room offers several benefits for RV owners. It provides a bug-free and comfortable space to relax and enjoy the outdoors. It can also serve as an additional living area, dining space, or storage area for your camping gear. Furthermore, it helps to create a barrier against debris and leaves, keeping your RV cleaner.
How do I choose the right size of a screen room for my RV?
To choose the right size, measure the length and width of the awning or area where you plan to attach the screen room. Most screen rooms are available in various sizes to accommodate different RV awnings. Make sure to select a size that matches the dimensions of your RV's awning or designated area.
Can I install a screen room on any type of RV?
Screen rooms are typically designed to fit a variety of RV types, including motorhomes, travel trailers, and fifth wheels. However, it's important to check the compatibility of the screen room with your specific RV model. Some screen rooms may require specific mounting hardware or may not be suitable for certain types of awnings.
Are screen rooms difficult to set up?
The level of difficulty for setting up a screen room can vary depending on the brand and model. However, most screen rooms are designed to be user-friendly and come with detailed instructions. Some models even offer easy-to-use mechanisms, such as quick-release buckles or color-coded poles, to simplify the setup process. With a little practice, you should be able to set up your screen room relatively easily.
Can I leave the screen room attached to my RV while driving?
It's generally recommended to remove the screen room before driving your RV. Screen rooms are not designed to withstand the wind resistance and forces experienced while driving. Leaving it attached during transit can cause damage to both the screen room and your RV.
How do I clean and maintain my RV screen room?
Regular maintenance and cleaning can help prolong the lifespan of your RV screen room. Use mild soap and water to clean the mesh walls, framework, and any other components. Avoid using harsh chemicals or abrasive cleaners that may damage the materials. Additionally, ensure that the screen room is completely dry before storing it to prevent mold or mildew growth.
Can I use a screen room in all weather conditions?
While screen rooms are designed to withstand various weather conditions, it's important to consider the limitations of your specific model. Some screen rooms may have additional accessories, such as rain panels or sunshades, to provide protection in different weather conditions. However, extreme weather conditions, such as heavy rain or strong winds, may require you to take down or stow the screen room to prevent damage.
How much does an RV screen room cost?
The cost of an RV screen room can vary depending on the brand, size, and features. Generally, prices range from $200 to $800. Higher-end models or those with additional accessories may be more expensive. It's advisable to compare prices, read reviews, and consider your specific needs and budget when selecting a screen room.
Final Thoughts
RV screen rooms are a great way to extend your living space. They are highly versatile, providing you with additional sleeping, dining, and sitting areas, so you can accommodate your loved ones without everyone getting under each other's feet.
If you are looking for a great all-round RV screen room that is also highly weather-resistant and easy to fit, check out the Vacation'r by Carefree of Colorado. It's multi-position privacy panels make it a good choice as an extra sleeping area or if your neighbors are a little too close for comfort.
Alternatively, if you are looking for a budget option to keep your family free from insect bites and able to enjoy outdoor dining all summer long, then the Quictent Ez Pop-Up Canopy Tent with Netting is an affordable option that is available in three sizes. Easy to set up and take down, it's folding powder-coated steel frame is highly durable, as is its 420D Oxford fabric with its 50+ UPF protection.
For all-weather RVers looking for a practical solution, the Cruz Screen House by Vango is a great choice. Thanks to its inflated pre-bend SuperBeams, this model offers excellent head height and storm resistance. Add in its waterproof groundsheet, fully zippered mesh doors, and strong webbing storm straps and you have a high-performance RV screen room that is suitable for heavy use all-year-round.
Whatever type of RV awning room you need, you're sure to find the ideal match for your setup in our top-rated RV screen room reviews.