Your RV battery is responsible for powering all of your onboard appliances, from your lights to your refrigerator. Your trip would be little fun without any power, so it's important that you take good care of your RV battery and shield it from the elements with the best RV battery box.
RV batteries are vulnerable to damage from bad weather, extreme temperatures, knocks, bumps and acid spills. They're also a common target for thieves. Therefore, choosing a secure, durable, weather-resistant storage box is a great way to extend the lifespan of your RV battery and keep it safe.
In this guide, we take a look at the best RV battery boxes money can buy, to help you find the right option for your rig.
Best RV Battery Box
Here's our selection of six of the best RV battery boxes on the market right now. We've included models in a variety of sizes and with various features – so you're sure to find the perfect battery box for your setup.
Best Overall RV Battery Box
NOCO Snap-Top Battery Box For RV, Camper, And Trailer Batteries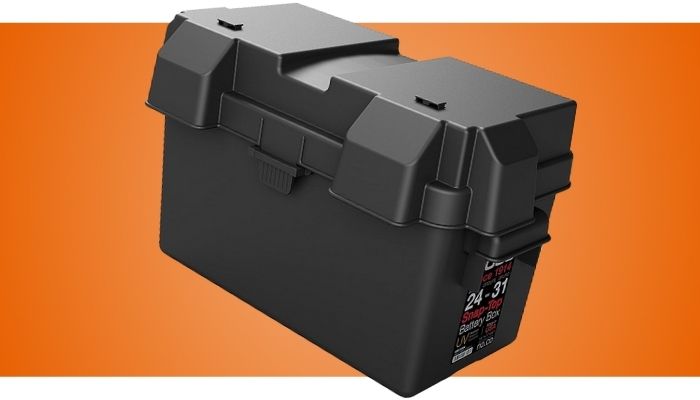 Top of our list is the NOCO Snap-Top Battery Box. This heavy-duty battery box is suitable for single group 24-31 RV batteries and comes with a divider that can be adjusted to accommodate different group sizes.
We like that this battery box is made from tough, reinforced plastic, so it will keep your battery protected from the elements. Not only is it impact-resistant, but it also won't become damaged by oil, gas, acid or UV exposure, and can withstand temperatures as low as minus 20-degrees without cracking.
Because it offers a close fit, there's little room for your battery to move around. This reduces the risk that the battery terminals will accidentally short out on the road. The vented design allows gases to escape, while the reservoir in the base safely collects any battery acid and keeps it out of contact with the battery itself.
The rugged lid secures to the base with strong locking tabs that hold it good and tight during transport. If you need to move it, the reinforced handles make it easier to manage and reduce the risk of cracking as you relocate it.
All in all, this battery box is a good, rugged choice to keep your RV battery safe and secure on your travels. The only downside is that the vents can let in water during heavy rain, so you may wish to make ventilation holes in the side and seal up the top vents to prevent this.
Pros – Things we liked
Adjustable divider
Made from reinforced plastic
Can withstand temps as low as -20
Vented design allows gases to escape
Rugged lid with strong locking tabs
Cons – Things we didn't like
Vents can let in water with heavy rain
Best Battery Box for Small Budgets
Camco Heavy Duty Battery Box with Straps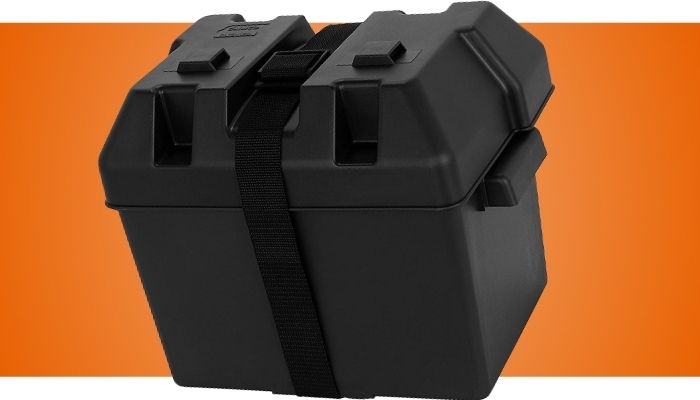 Another great choice is the Camco Heavy Duty Battery Box with Straps. This model fits group size 24 batteries and is made from polypropylene, so it's lightweight and easy to move around if needed.
Despite its lightweight design, the Camco 55362 is tough enough to keep your RV battery well protected during your adventures. It is heat, moisture and corrosion-resistant, so any acid leaks won't burn through the base of the box. The lift-off lid has plenty of headroom for battery terminals, and is simple to remove for fuss-free access.
We like that this model comes complete with extra installation accessories such as brackets, stainless steel screws and includes sturdy woven hold-down straps for a secure fit. The cable outlet gaps between the lid and body are a convenient size and orientation for a snug install, too, so you won't need to worry about fiddling with cables.
While polypropylene is lightweight and strong, it doesn't fare too well with prolonged exposure to UV rays. So, if you live or spend a lot of time in states with sunny climates, this model may not be the best choice for you.
That said, this model is a great option if you're looking for a sturdy battery box that's secure, easy to install and carry.
Great RV Battery Box for External Terminals
Minn Kota Battery Box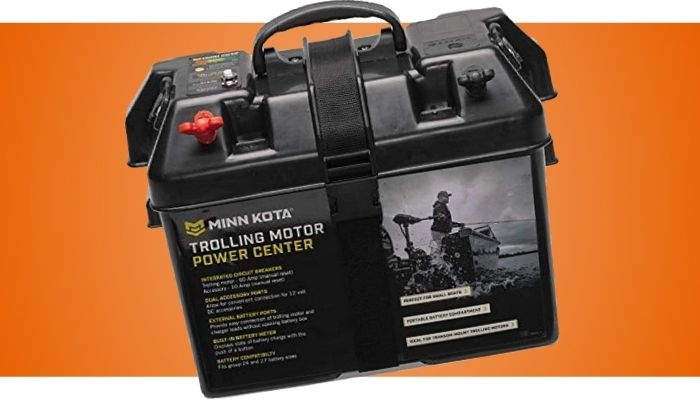 Next on our list is the Minn Kota Battery Box with trolling motor. This RV battery box is easy to use and has a clever design that allows you to access the terminals without having to remove the lid.
This model is suitable for group 24 to 27 batteries. It comes with a range of useful accessories, such as 60A and 10A manual reset circuit breakers and 12-volt plugs to help you set up to your preferences. We particularly like that it has a built-in LED battery power meter, so you can easily check to see how much charge you have left.
The Minn Kota Battery Box has a fairly tough exterior and will keep your RV battery well protected while enabling easy access to the terminals without any hassle. It's also pretty lightweight at just 1-pound, and features top and side handles that make moving and transporting it easier to manage.
The lid is kept secure thanks to the thick nylon strap and strong buckle. The lid also has downward-facing vents to allow adequate ventilation while reducing water ingress. The manufacturer makes no mention of temperature and UV resistance, though, so it may not be suitable if you regularly travel to extreme environments.
Editors Choice for Best Value Battery Box
Attwood Marine Battery Box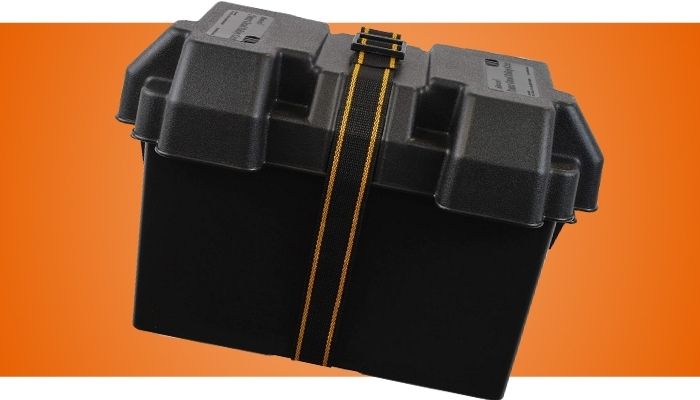 If you need a large and tough RV battery box for Group 27 batteries, the Attwood Marine Battery Box is a great choice.
This large box has big dimensions and is designed to fit group 27 batteries and hold them secure with little room for movement and potential damage during transport. The box is very durable and hard-wearing, so it's ideal for trips in harsh climates. It's made from heavy-duty plastic to resist the elements and protect your battery while on the road.
The Attwood Marine Battery Box has been rigorously tested to ensure it can stand up to the challenges of harsh environments. It can withstand wide ranges in temperature from between 120F and -20F, and is resistant to battery acid leaks. The manufacturer has also drop tested this model to make sure it won't crack or shatter if it falls to the ground.
This model comes with a strap and buckle that keeps the lid tightly closed and enables you to secretly attach it to your rig. These straps can resist an incredible 350 pounds of force, so you can be sure your battery box isn't going anywhere. We also like that it has ergonomic side handles for easy carrying.
On the downside, this tough model has ventilation holes in the top of the lid, which will let water in during rain. This is quite disappointing considering the overall high-quality design, but if you're installing it on the exterior of your rig, you can easily modify it if necessary.
Best RV Battery Box for Premium Budgets
Newport Vessels Smart Battery Box Power Center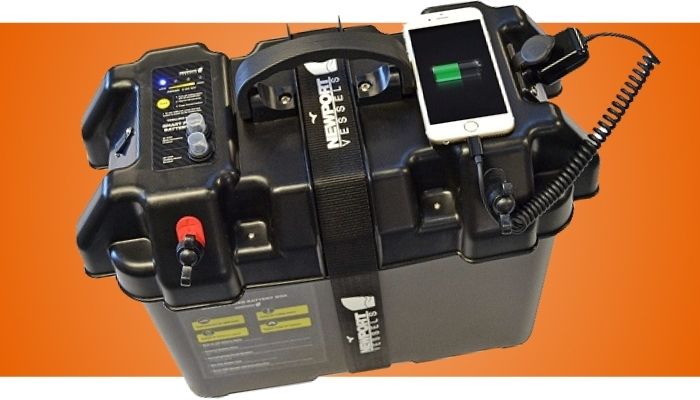 Next on our list is the Newport Vessels Smart Battery Box Power Center. This cleverly-designed battery box comes with several features that make it a versatile and easy to use choice.
The Newport Vessels Smart Battery Box Power Center is suitable for Group 24 and Group 27 RV batteries. It has external battery ports so you can easily access your battery without having to open the lid, and has integrated 10 and 60 Amp waterproof circuit breakers to protect against electrical damage.
Another great feature of this RV battery box is its built-in battery charge meter. At the push of a button, the LED lights illuminate to show you how much charge you have left and take away the need for any guesswork.
Aside from this, the Newport Vessels Smart Battery Box Power Center can also be used as a complete charging station. It has a USB and 12V DC outlet, so you can charge your cell phone, laptop or plug in your heated blanket directly into the battery when off-grid.
This box is waterproof and durable, but the manufacturer makes no mention of a temperature rating or any integrated UV protection. However, it does have rubberized feet that will prevent it from sliding around when stored.
The Newport Vessels Smart Battery Box Power Center has a built-in handle for easy transport and comes with a thick strap to keep the lid secure when installed. Overall, we think this versatile model is a great choice if you want easy access to your battery and like the idea of being able to charge and power devices directly from it.
Best RV Battery Box for Two Batteries
Camco Heavy Duty Double Battery Box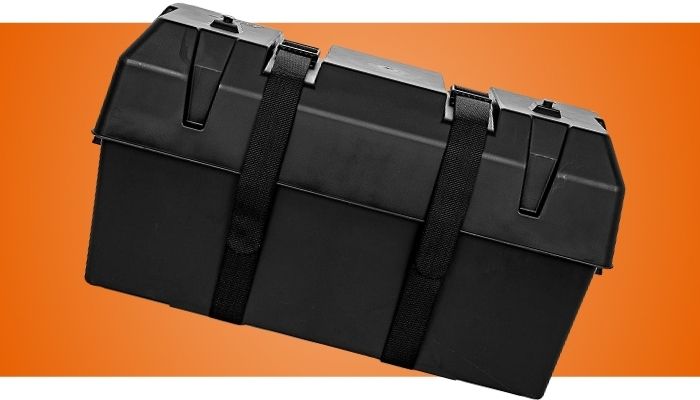 The Camco Heavy Duty Double Battery Box is a good option for RV owners who need a box that can protect two 6-volt or two 12-volt batteries. This model has been specially designed to fit these sizes and hold them securely.
The Camco Heavy Duty Double Battery Box has a heavy-duty, durable design that is resistant to corrosion. The sturdy polypropylene construction protects batteries against the elements, but it's still lightweight and easy to handle.
The lid can be lifted off to access the battery terminals, and there is a reservoir molded into the base to safely collect battery acid. Integrated vents provide good airflow so fumes can escape, and the built-in handles on the sides are ergonomically shaped for comfortable carrying. Although the lid cannot be locked, it does come with a thick, woven strap and screw-in strap clamps to hold it secure once installed.
As 6-volt and 12-volt batteries come in various dimensions, it's important to measure your batteries first to ensure that they will fit in this RV battery box. The interior dimensions of this model are 21. 5 x 7. 4 x 11. 2 inches.
Compare the Best RV Battery Box
Table Comparing the Top 6 RV Battery Box
Image
Title
Price
Rating
Buy
NOCO Snap-Top Battery Box For RVs

$$

Buy on Amazon

| | | | | | | |
| --- | --- | --- | --- | --- | --- | --- |
| NOCO Snap-Top Battery Box For RVs | $$ | Patented locking tabs | 2.7 lbs | No Prime | 17.6 x 10.7 x 10 inches | Buy on Amazon |

Camco Heavy Duty Battery Box

$$

Buy on Amazon

| | | | | | | |
| --- | --- | --- | --- | --- | --- | --- |
| Camco Heavy Duty Battery Box | $$ | Woven hold-down strap | 2.07 lbs | No Prime | 11 x 9 x 13 inches | Buy on Amazon |

Minn Kota Battery Box for RVs

$$$$

Buy on Amazon

| | | | | | | |
| --- | --- | --- | --- | --- | --- | --- |
| Minn Kota Battery Box for RVs | $$$$ | Easy access battery terminals | 1 lbs | Prime | 14.9 x 8.7 x 15 inches | Buy on Amazon |

Attwood Marine Battery Box

$$

Buy on Amazon

| | | | | | | |
| --- | --- | --- | --- | --- | --- | --- |
| Attwood Marine Battery Box | $$ | Meets U.S. Coast Guard standards | 1.53 lbs | No Prime | 10.12 x 18 x 21.75 inches | Buy on Amazon |

Newport Vessels Smart Battery Box

$$$$

Buy on Amazon

| | | | | | | |
| --- | --- | --- | --- | --- | --- | --- |
| Newport Vessels Smart Battery Box | $$$$ | Integrated with circuit breakers | 3 lbs | Prime | 12 x 10 x 17 inches | Buy on Amazon |

Camco Heavy Duty Double Battery Box

$$

Buy on Amazon

| | | | | | | |
| --- | --- | --- | --- | --- | --- | --- |
| Camco Heavy Duty Double Battery Box | $$ | Strap clamps with screws | 5.64 lbs | No Prime | 24 x 14.8 x 11.75 inches | Buy on Amazon |
Buyer's Guide to Buying the Best RV Battery Box
Battery boxes may seem like a simple product at first glance, but choosing the right one for your needs can be more difficult than expected. If you're still not sure which is the best RV battery box for your rig, our below buying guide has the answers.
Price
The price of RV battery boxes varies dramatically across the range of models available.
Some factors that will influence the cost are the construction materials, whether it has had any durability testing and whether it comes with any additional features or accessories.
That said, the most expensive RV battery box is not necessarily the right one for your needs. You can find reliable and durable battery boxes in the >$30 price range, while more advanced options can cost as much as $50 and up.
Size
Size is a key consideration when choosing the best RV battery box for your rig.
The box should be large enough for your batteries to fit inside, but not so large that there's room for them to wobble around during transport.
Some battery boxes are compatible with a variety of battery group sizes, and may come with an adjustable divider to hold them steady if they're a little small for the box. Each model should make it clear what size of batteries they are suitable for, so be sure to double-check the specifications before purchasing.
Weather Protection
If your RV battery box is going to be mounted to the exterior of your rig, it will need to offer protection against the elements.
Batteries can become damaged by water, UV rays, dirt and extreme temperatures, so depending on your lifestyle, you'll need to ensure your RV battery box can resist these challenges.
Almost all plastic RV battery boxes will be waterproof, but some models may have vents in the lid that can let water in during heavy rain. Therefore, if you travel in regions that have a rainy climate, it's best to opt for a battery box that has shielded ventilation holes to keep water out.
Some RV battery boxes have been strength and shatter tested in a variety of temperatures. These are the best options if you live or travel to areas that have extreme climates.
The same is true for UV protection – strong sunshine can weaken and fade your battery box, reducing the level of protection for your battery. If you spend a lot of time in desert states, you should look for a model that has built-in UV protection.
Mounting Options
RV batteries are pretty heavy, so when choosing your box, make sure that it is strong enough to handle the weight of your batteries when mounted.
Many models will come with some hold down straps and other mounting hardware accessories to help you install the box securely. This is important to ensure that your battery doesn't move around too much during transport.
The Lid
The lid on your battery box must be close-fitting and seal tightly to keep it well protected during transport and bad weather. But it should also be easy enough to open without struggling.
Some boxes feature locking latches, while others are held in place with strong nylon straps and buckles.
Ease of Install
The best RV battery box for you will be one that's easy to install without too much time and hassle.
Some battery boxes will come complete with all the mounting hardware you need for a secure fit, but some cheaper models may not. Either way, the installation instructions should be clear and straightforward, so you can be sure you have mounted it safely and correctly before hitting the road.
Portability
Batteries are pretty heavy, and lugging them from place to place can be a bit of a strain. To make this task less arduous, we recommend looking for an RV battery box that is lightweight and includes strong, comfortable handles for easy portability.
Some models have carry handles on the top, while others may have ergonomic hand grips molded into the sides. The right option for you will depend on our preferences.
Easy Access
Your RV battery box should allow you quick and easy access to your battery for day to day needs, checking your remaining charge as well as in the case of an emergency.
The lid shouldn't seal so tightly that you struggle to open it every time you need to get to the battery. Some models are designed with convenient external battery ports, so you can access the battery without having to take off the lid at all.
Smart Features
More expensive RV battery boxes may come with additional smart features, such as LED battery charge meters, 12V outlets and USB ports so you can charge up your devices off-grid.
Battery charge meters are particularly useful, as they allow you to check the remaining charge in your battery without having to resort to guesswork. Usually, the remaining charge is displayed via an LED light panel at the push of a button.
USB ports and 12V outlets are useful for powering your cell phone and gadgets if you don't have a power hook up, but as most RV owners will carry a power pack on board anyway, you'll have to decide if this feature is really worth the additional cost.
Security
RV batteries aren't cheap, so unfortunately, they're a prime target for would-be thieves looking to make a quick buck.
While not all RV battery boxes are lockable, they do act as a deterrent to thieves. When strapped down and securely installed, a thief won't be able to whisk away your precious batteries in the blink of an eye. They'll have to put some work into it first, thus increasing the likelihood they'll draw attention to themselves.
That said, if you live or are expecting to travel in an area that has a history of theft, or simply want greater peace of mind, we recommend opting for a lockable battery box for optimum security.
Top RV Battery Boxes Video
FAQ: Best RV Battery Boxes
As you consider the best options for your RV's battery storage, it's natural to have questions. In this section, we've compiled a list of frequently asked questions to provide you with valuable insights and help you make informed decisions when it comes to selecting the ideal RV battery box.
From understanding the purpose of an RV battery box to determining the right size, material, and installation process, we aim to address common inquiries that RV enthusiasts like yourself often encounter. Whether you're a seasoned RVer or new to the world of recreational vehicles, these FAQs will guide you through the essentials and equip you with the knowledge needed to choose the best RV battery box for your specific needs.
Read on to find answers to commonly asked questions about RV battery boxes and gain a deeper understanding of the key factors to consider in your search. We're here to assist you in making an informed choice that will protect your batteries, enhance safety, and contribute to a seamless RVing experience.
What is an RV battery box?
An RV battery box is a protective enclosure designed to house and safeguard the RV's batteries. It provides a secure and weather-resistant compartment to prevent damage to the batteries and protect against potential hazards.
Why do I need an RV battery box?
An RV battery box is crucial for several reasons. It shields the batteries from external elements such as rain, dust, and debris, prolonging their lifespan. It also prevents accidental short circuits and offers an added layer of safety by containing any potential battery acid leaks.
What should I consider when choosing an RV battery box?
When selecting an RV battery box, consider factors like size, material, ventilation, and installation options. The box should be large enough to accommodate your batteries, constructed from durable and weather-resistant material, have proper ventilation to dissipate heat, and offer convenient installation features.
What are the different types of RV battery boxes?
RV battery boxes come in various types, including plastic battery boxes, metal battery boxes, and battery box vent kits. Plastic boxes are lightweight, corrosion-resistant, and easy to install. Metal boxes offer enhanced durability but may require additional insulation. Battery box vent kits are designed to provide proper ventilation and prevent the buildup of hazardous gases.
How do I determine the right size of battery box for my RV?
To determine the appropriate size of the battery box, measure the dimensions of your RV batteries, including length, width, and height. Ensure that the chosen battery box has ample space to accommodate your batteries with some additional clearance for ease of installation and maintenance.
Can I install the battery box myself, or do I need professional help?
Most RV battery boxes are designed for easy installation and can be set up as a DIY project. However, it's important to carefully follow the manufacturer's instructions and ensure a secure and proper installation. If you're unsure or uncomfortable with the process, it's advisable to seek professional assistance.
Are RV battery boxes waterproof?
While many RV battery boxes offer a high degree of water resistance, they may not be entirely waterproof. It's essential to choose a box with proper sealing and consider additional precautions, such as applying a sealant or positioning the battery box in a protected area, to minimize water ingress.
How do I maintain an RV battery box?
Regular maintenance of an RV battery box involves inspecting for cracks or damage, cleaning any debris or dirt accumulation, and ensuring that the box's sealant or gasket remains intact. Additionally, check the ventilation system for obstructions and ensure proper airflow to prevent heat buildup.
Can I use any battery box for my RV, or are there specific ones for different RV types?
It's important to choose a battery box that is suitable for your RV type and battery setup. Different RV models and configurations may require specific battery box sizes or styles to ensure a proper fit and compatibility. Refer to your RV manufacturer's guidelines or consult an expert to select the right battery box for your specific needs.
Where can I buy RV battery boxes?
RV battery boxes can be purchased from various sources. Check with your local RV dealerships, automotive supply stores, or RV specialty stores. You can also explore online marketplaces and websites that cater to RV parts and accessories.
Remember, selecting the best RV battery box is an essential step to safeguarding your RV's electrical system and prolonging battery life. Take your time to research and choose a reliable and suitable battery box that meets your specific requirements.
Final Thoughts
All of the models we have seen in our RV battery box reviews would make excellent options, but the right choice for you depends on your rig and your lifestyle.
If you need a super heavy-duty battery box that can handle everything the elements throw at it, then we recommend the NOCO Snap-Top Battery Box. This model is made from highly durable reinforced plastic, and resistant to impacts, acid, UV rays, oil, gas and extremes of temperature. It accommodates a wide range of battery sizes and features strong locking tabs to keep your battery secure during your adventures.
If you'd like to protect your RV battery but have easy access to the terminals, then the Minn Kota Battery Box is a good choice. This model is lightweight but has a tough exterior that shields your battery from knocks and bumps. We like that it includes a battery power meter and also has built-in handles for easy transport.
Alternatively, if you like your high-tech gadgets, then the Newport Vessels Smart Battery Box Power Center could be your ideal choice. This versatile model includes a battery power meter and 12V and USB outlets, so you can power your devices when off-grid. The terminals are easy to access without removing the lid and it includes waterproof circuit breakers for additional peace of mind.
These are just some of the excellent models we have seen in this guide. Whatever you're looking for, we're confident you'll find the best RV battery box for you in our selection.