Whether you have an urgent RV roof leak repair on your hands or are just doing some annual RV roof maintenance, you'll need to purchase the best RV roof sealant to ensure that your motorhome can withstand the rain, sun, and snow.
A tiny leak left unsealed could potentially cost you thousands of dollars in repairs. So, be sure to keep a close eye on the condition of your RV roof and always have a tube of RV roof sealant spare to repair any damage wherever you are.
Before you go out and buy the very first RV roof sealant you come across, you'll need to make sure that it's compatible with your rig. Check out our top-rated RV roof sealant reviews and buyer's guide to find your ideal match and protect your motorhome's interior from the weather.
Best RV Roof Sealant
Here is our top selection of the very best RV roof sealants on the market. We've covered all types and all budgets, so you are sure to find the perfect RV roof sealant for your motorhome right here!
Best RV Roof Sealant for Flexibility
Geocel Pro Flex RV Flexible Sealant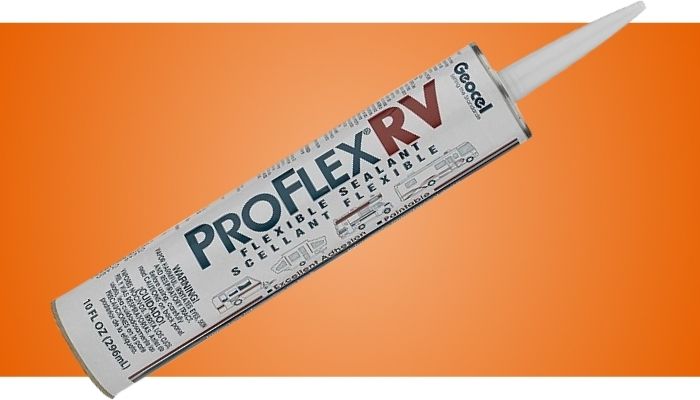 One of the most popular RV-specific sealants around, Pro Flex RV Flexible Sealant by Geocel comes in clear, making it suitable for any roof color, as well as in various assorted shades. Recommended for use on steel and coated steel, fiberglass, vinyl, aluminum, wood, and glass, this RV caulk is a great choice for the vast majority of RV roofs, rubber excluded.
Its non-stringing formula makes it relatively easy to apply. What's more, it is resealable so you can apply it over itself, for an even easier application. Pro Flex RV sealant is also paintable and mildew-resistant once cured, for a clean, homogeneous look. It also resists dirt pick-up, so your roof will be in prime condition for even longer.
Completely crack-resistant, this sealant even bonds to damp, frozen, or slightly oily surfaces, so if you need to seal your roof in a rush, then this is the one to go for. It cures very quickly, meaning you won't have to wait around for ages before heading off after a quick leak repair.
Thanks to its excellent expansion and contraction properties, this RV roof caulk can easily withstand the joint movements and large temperature fluctuations that are part and parcel of RVing. In fact, the team at Geocel are so confident in their product that it comes complete with a 25-year guarantee.
While it's not the cheapest, it sure isn't the most expensive either. So, if you have a compatible roof, this RV roof caulk is definitely one of the top sealants to consider.
Pros – Things we liked
Multiple shades as well as clear
Non-stringing formula
Completely crack-resistant
Excellent expansion and contraction properties
25-year guarantee
Cons – Things we didn't like
Not to be used on rubber
Best RV Roof Sealant for Fast Cure
3M Marine Fast Cure Adhesive Sealant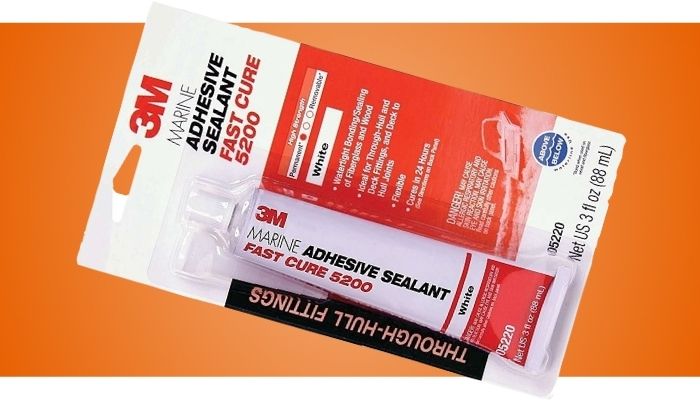 If you are having difficulty stopping a leak in your RV roof, you might want to try the Marine Fast Cure Adhesive Sealant by market leaders 3M. Designed to seal below the waterline on boats, this high-strength sealant permanently bonds aluminum, gelcoat, wood, and fiberglass.
Its highly flexible, durable elastomeric bonds provide a watertight seal, thanks to its gap-filling, moisture-curing polyurethane formula. As it is so flexible, it allows for joint movement, vibrations, and stress for a permanent bond. What's more, it is also easy to apply, remaining workable for up to four hours after applying with a trowel or spatula. Plus, it won't sag or flow in horizontal or vertical seams.
However, this ease of application also means a cure time of around 48 hours, although it does become tack-free within one to two hours. This sealant does stick exceptionally well, which justifies its fairly high price tag. While you should be able to fix small leaks with this three fluid ounce tube, you may want to invest in the larger 10 ounce version for more extensive roof renovations.
If you live in a very hot climate, or frequently travel to areas where you get a lot of sun, you may want to check out some of our other recommendations for RV roof sealants with extra UV protection. However, against the wet alone, you won't find a harder-working sealant than this one.
Best Tape RV Roof Sealant
EternaBond Roof Seal Sealant Tape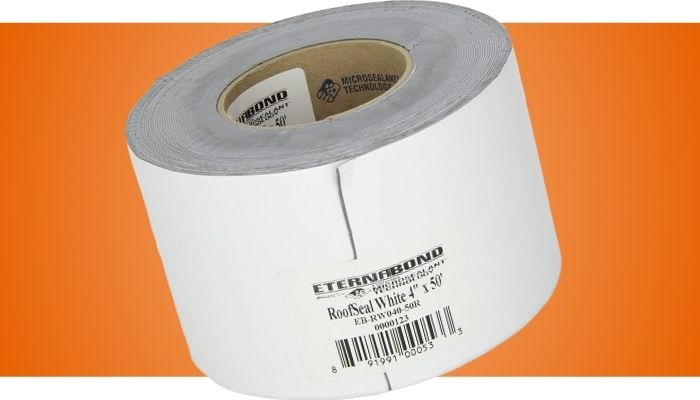 Looking for an easy way to a professional RV roof seam finish? One that will keep water out of your coach for years to come? EternaBond Roof Sealant Tape is the ideal solution to repair and seal any tear or open seam on your RV's roof. What's more, it's compatible with almost all motorhome roofing materials, including EPDM and TPO roofs.
Installation is extremely simple, with just a little surface preparation required before use. You can also use this sealant tape to seal around certain objects, for example, vents, as the tape also sticks to itself. However, curves can be fairly tricky to master, so you're best starting off with straights. Also, once you've stuck it down, it's very, very difficult to get it back up, so slow and steady is the rule!
Thanks to its MicroSealant Technology, consisting of synthetic resins, thermoplastics, and non-curing rubber, EternaBond Sealant Tape has a very high elongation factor. This not only ensures that your roof remains watertight, it also means that the seal is able to expand or contract depending on changing conditions for outstanding long-term performance.
Its UV-stable backing ensures that this roof sealant can stand up to sunny environments, while its built-in primer allows for maximum adhesion. At four inches wide and 50 feet long, this roll should be plenty to do your RV roof seams with a little leftover for any emergency situations.
While it is pretty expensive, this stuff can last for years and years, ensuring your coach remains protected. It also reduces the amount of time you'll need to spend on RV roof seam maintenance, so much so that over 25 prestigious RV manufacturers are now using EternaBond products during their manufacturing process. Need we say more!
Best RV Roof Sealant for Self-Leveling
Dicor Self-Leveling Lap Sealant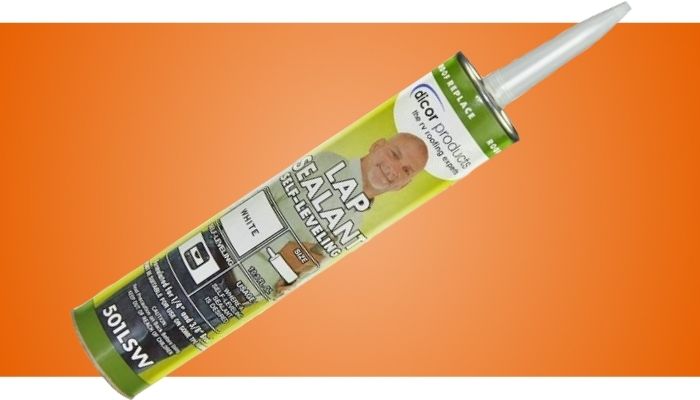 Trusted by RVers all over the country, the ever-popular Dicor's three-stage roofing system is certainly tried and tested. This self-leveling Lap Sealant is the third part, providing a secure secondary seal wherever you need it on your RV roof.
Specially formulated for ¼" and ⅜" beads, use this sealant to keep water out of your coach. It seals roof edges, around air vents and pipes, as well as screw heads and seams. Fiberglass, galvanized metal, aluminum, vinyl, mortar, wood, and concrete, this sealant adheres to a wide range of materials.
While it is also compatible with EPDM and TPO sheeting, bear in mind that the packaging states that it may not be suitable for some TPO roofs, so double-check if this could potentially affect you.
This self-leveling formula is an excellent choice for a professional finish on your RV roof. Once applied, the sealant flattens out, which will allow water to flow across it, while securely sealing your exterior. This makes this RV roof sealant very easy to apply, a must if you have shaky hands or are just no good at caulking in general.
Another advantage of this particular RV roof sealant is that it remains flexible once applied, so you can be sure it won't crack, even with joint movement. UV-stabilized to prevent discoloration and deterioration, you can rely on this product to keep your coach protected in all weather conditions.
Waterproof in four hours, 80% cured after 48, and fully cured after a month, this product is highly effective and available at a good price, making it well worth having a tube or two to hand.
All in all, a top RV roof sealant that is one of the easiest around to apply.
Best "No Caulk Gun" RV Roof Sealant
Premier Pro Products RV Roof Sealant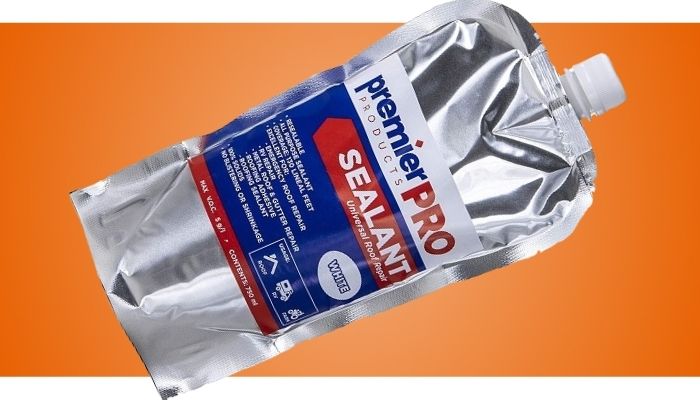 This Universal Roof Repair Sealant has been formulated by Premier Pro Products after over 30 years of hands-on experience in the roof repair industry. Made in the USA, this RV roof sealant comes in an innovative 25.3 fluid ounce pouch, making it easily resealable, unlike your average 10 fluid ounce tube.
Another advantage of this product is that you don't need a caulk gun to use it. Getting a smooth bead out of the bag does take a bit of practice, however, you can use tape and wipe it over with a damp cloth for a smooth, neat finish. As it is easy to clean off before it tacks up, it's a great choice if you are a little heavy-handed and have trouble with regular caulk that is often tricky to remove.
As this lap sealant is self-leveling, you get good results for very little effort. What's more, as with all self-leveling products, you get a finish that water will flow over, rather than pooling. This universal sealant is suitable for rubber, metal, asphalt, and most roof types.
This RV sealant provides exceptional sag resistance. It also has some tough physical properties, boasting high tensile strength and excellent elongation – ideal for taking on the harsh exposure that your RV roof goes through.
With 130 linear feet coverage in one pack, it certainly goes a long way, and what you have left over can simply be resealed for future usage.
Best Clear RV Roof Sealant
Sashco Clear Lexel Adhesive Caulk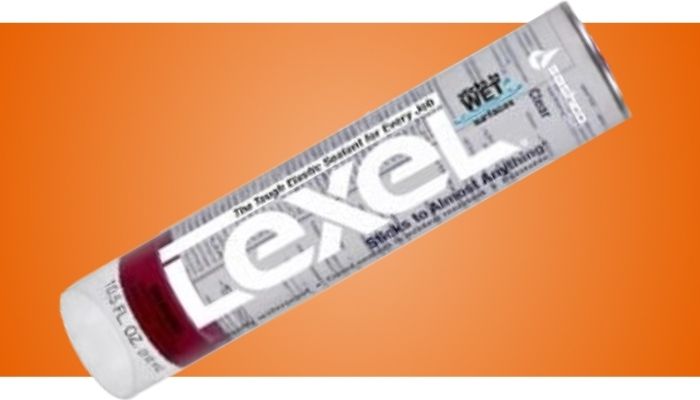 Highly versatile and available at an affordable price, Lexel Adhesive Caulk by Sashco makes a great buy. This copolymer rubber-based sealant is made in the USA and compatible with a wide range of materials, so you can use it to touch up other areas in addition to your RV roof.
While Lexel is suitable for use with most plastics, metals, and common building materials, including fiberglass, PVC, vinyl, aluminum, steel, glass, and plexiglass, among many, many more, unfortunately, it does not work at its best with rubber or silicone materials. In fact, if your RV roof has a rubber liner or a Kynar finish, it is recommended that you do not use this product.
Lexel is tough and extremely tear-resistant. However, it is also a soft rubber. This allows it to flex with your RV, being able to handle up to 400% joint movement. What's more, it is also highly UV-resistant, so you won't experience any yellowing or loss of protection due to sun exposure. It is also easy to paint and crack resistant.
Thanks to its high levels of elasticity, Lexel is also easy to apply. You can even apply it in any weather as it is instantly waterproof upon application and it won't freeze. It even sticks to itself for recoating purposes, or if you decide you need a bit extra to fill out a deep seam.
Tough, elastic, and UV resistant, if you are looking for a sealant for your RV roof, as well as for applying around your RV, both inside and out, Lexel is a highly versatile, relatively low cost buy.
Great EPDM RV Roof Sealant
Proguard Liquid Roof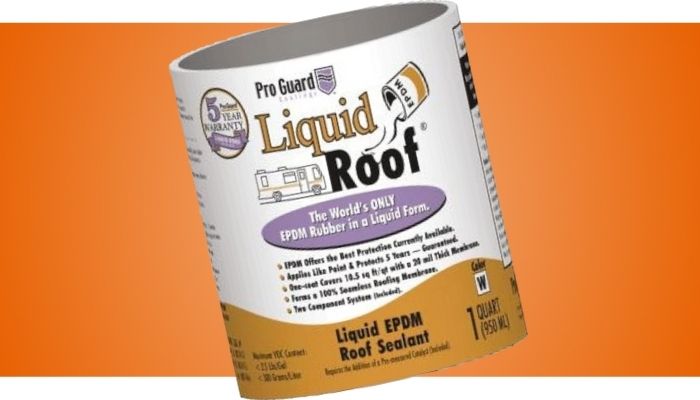 Restore your RV roof and repair multiple leaks in one go. With just one coat of Proguard Liquid Roof, you'll have a brand new rubber roof that will protect your motorhome and improve its general condition and value. The world's only EPDM roof in liquid form, this quart container covers 14.5 square feet with a 20 mil membrane for a seamless finish.
Suitable for EPDM roofs, metal, wood, and fiberglass, some types will need priming first, so make sure you double-check before purchasing. Also, Fleetwood Trailers with Alpha roofs require the ProFlex Primer to ensure correct adhesion.
This 100% EPDM rubber roof has a five-year warranty, although it's not uncommon to discover it's still in excellent condition 10, or even 15, years down the line. It provides unparalleled protection for your RV and really gives your roof a seamless, professional-looking finish. You can even apply more a month after as being a rubber it adheres to itself.
As you would expect, getting your entire roof ready and finished is quite a bit of work. However, once you have cleaned and primed if necessary plus caulked, this product goes over like a coat of paint. Just be sure you have all your tape in place and are 100% ready to go before mixing the two parts thoroughly and getting started. It can get a bit messy and you'll want some throwaway gloves, old clothes, and brushes.
This sealant waterproofs immediately on application, protecting your coach from water damage. It does, however, take 24 hours to develop a skin, so be sure to park up away from any trees or anywhere where you're likely to get dirt falling on your new unset roof. After three days, you can walk on it, so it's really pretty quick considering you're getting a whole new roof coating.
Understandably, this product doesn't come cheap. However, it still costs considerably less than replacing your entire roof, so it could actually save you money in the long term.
Great Liquid RV Roof Sealant
Sashco Quart Clear Roof Sealant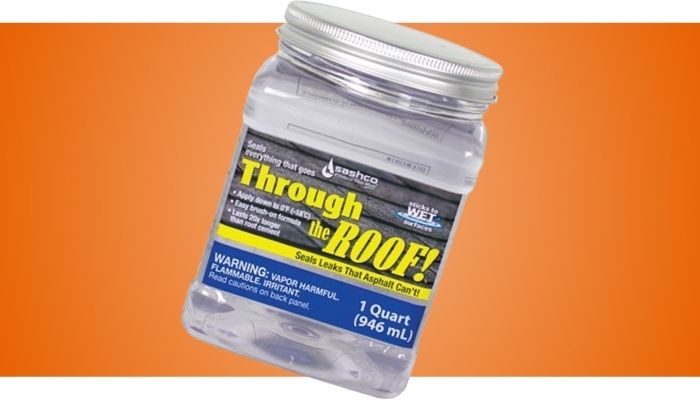 Clear, waterproof, and very flexible, if you are looking for a cost-effective sealant for your RV roof, then be sure to check out Sashco's "Through The Roof" clear roof sealant. This high-performance copolymer rubber sealant gets to work fast, instantly waterproofing your roof.
Compatible with a wide variety of roofing materials, including metals, plastics, and wood, note that this product is not suitable for use on rubber membrane roofing. Easy to apply, it adheres to most existing roof patches and it is also paintable, as well as being mildew resistant.
Thanks to its high flexibility, this sealant remains unaffected by temperature changes and extreme weather conditions. It also has high levels of UV protection, so it won't crack or go yellow. What's more, it won't freeze, meaning you can leave the container in your unheated RV or garage over the winter storage period without any damage.
This one-quart container covers approximately six square feet. After 30 minutes, this sealant skins over, however, you'll need to wait a week until it fully cures. Apply it in the rain, snow, or sun, this easy-to-use RV roof sealant is a highly versatile choice that is also reasonably priced.
Thanks to its exceptional adherence, flexibility, and strong tear resistance, it's an increasingly popular choice among RVers.
Best RV Roof Sealant Tape for Value
Cofair Quick Roof Extreme with Steel-Loc Adhesive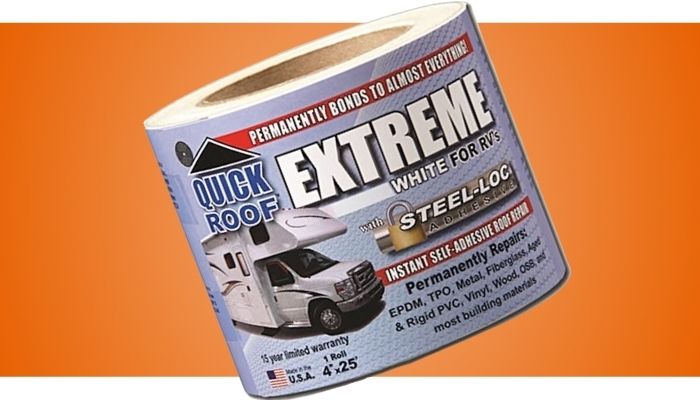 If you are looking for a tape sealant for your RV roof, be sure to take a look at this highly popular version by Cofair Products. Made in the USA, this RV roof sealant tape comes complete with a 15-year limited warranty, so you can be sure you're getting a high-quality product.
Four inches wide and 25 feet long, this tape permanently bonds to just about anything. Metal, EPDM, TPO, fiberglass, PVC, wood, and many more, it can be used just about anywhere you need a watertight seal. Thanks to its Steel Loc adhesive, simply clean the area you need to seal, peel off the backing, and stick it down.
Just bear in mind that once stuck it is almost impossible to reposition, so you'll want to get it right the first time. This means that long seams or roof edges are generally better tackled with two pairs of hands to ensure a straight application.
Unlike your average caulk or silicone, this tape won't crack, harden, or shrink, giving you a reliable, durable bond that will really hold for years to come. What's more, as it's a tape, you get instant waterproofing, with no waiting or cure times.
While it does cost more than your average RV roof sealant adhesive, it won't go off, and it's well worth having a roll handy onboard for any sudden overhead damage.
Compare the Best RV Roof Sealants
Table Comparing the Top 9 RV Roof Sealants
Image
Title
Price
Rating
Buy
Geocel Pro Flex RV Flexible Sealant

$$

Buy on Amazon

| | | | | | | |
| --- | --- | --- | --- | --- | --- | --- |
| Geocel Pro Flex RV Flexible Sealant | $$ | 10 FL Oz | 0.9 lbs | Prime | 2 x 2 x 11.38 inches | Buy on Amazon |

3M Marine Fast Cure Adhesive Sealant

$$

Buy on Amazon

| | | | | | | |
| --- | --- | --- | --- | --- | --- | --- |
| 3M Marine Fast Cure Adhesive Sealant | $$ | 3 FL Oz | 0.3 lbs | Prime | 2 x 5 x 9 inches | Buy on Amazon |

EternaBond Roof Seal Sealant Tape

$$$$

Buy on Amazon

| | | | | | | |
| --- | --- | --- | --- | --- | --- | --- |
| EternaBond Roof Seal Sealant Tape | $$$$ | N/A | 3.5 lbs | Prime | 6.3 x 6.3 x 4 inches | Buy on Amazon |

Dicor Self-Leveling Lap Sealant

$$

Buy on Amazon

| | | | | | | |
| --- | --- | --- | --- | --- | --- | --- |
| Dicor Self-Leveling Lap Sealant | $$ | 10.3 FL Oz | 0.8 lbs | No Prime | 12 x 4 x 4 inches | Buy on Amazon |

Premier Pro Products RV Roof Sealant

$$$

Buy on Amazon

| | | | | | | |
| --- | --- | --- | --- | --- | --- | --- |
| Premier Pro Products RV Roof Sealant | $$$ | 25.3 FL Oz | 2.69 lbs | Prime | 11.6 x 5 x 2 inches | Buy on Amazon |

Sashco Clear Lexel Adhesive Caulk

$$

Buy on Amazon

| | | | | | | |
| --- | --- | --- | --- | --- | --- | --- |
| Sashco Clear Lexel Adhesive Caulk | $$ | 10.5 FL Oz | 0.7 lbs | Prime | 2 x 11.38 x 2 inches | Buy on Amazon |

Proguard Liquid Roof for RVs

$$$$$

Buy on Amazon

| | | | | | | |
| --- | --- | --- | --- | --- | --- | --- |
| Proguard Liquid Roof for RVs | $$$$$ | 32 FL Oz | 9.75 lbs | No Prime | 7.25 x 9.75 x 8.75 inches | Buy on Amazon |

Sashco Quart Clear Roof Sealant

$$$

Buy on Amazon

| | | | | | | |
| --- | --- | --- | --- | --- | --- | --- |
| Sashco Quart Clear Roof Sealant | $$$ | 32 FL Oz | 1.6 lbs | No Prime | 4.7 x 4.2 x 4.2 inches | Buy on Amazon |

Cofair Quick Roof Adhesive

$$$

Buy on Amazon

| | | | | | | |
| --- | --- | --- | --- | --- | --- | --- |
| Cofair Quick Roof Adhesive | $$$ | N/A | 1.4 lbs | Prime | 5.6 x 5.1 x 4.3 inches | Buy on Amazon |
Buyer's Guide to Buying the Best RV Roof Sealant
With so many different RV roof sealants to choose from, choosing the right one can be a little tricky. Here's what you need to look out for when you're buying a new RV roof sealant.
Price
No one wants to pay over the odds. However, when it comes down to choosing a roof sealant for your RV, you're better off spending a few extra dollars to get a high quality RV-specific sealant.
Not only will it save you money in the long term, as you won't have to replace it as often, a tried and trusted RV roof sealant will better protect your coach and could potentially save you hundreds, or even thousands, of dollars in costly repairs caused by water damage.
Unless you are looking at adding a liquid rubber membrane, most RV sealants are priced fairly evenly. Expect to pay anywhere between 10-22 dollars for your average 10 fluid ounce tube. Tape comes in at a bit more, however, it can save you time on application, plus any unused part of the roll won't go off and is very handy to have onboard in case of any damage.
Type of Roof Material
Perhaps the most important criteria, you need to be absolutely certain that your RV roof sealant is compatible with your roof type. If you don't, it could fail to adhere correctly, wasting your time and money, or in the worst-case scenario, it could even damage your roof.
Rubber
Rubber is the most common type of RV roof around. Lightweight and relatively cheap, it's easy to see the advantages of using rubber for your motorhome's roof. However, they do require regular maintenance.
Most RV rubber roofs are either EPDM or TPO roofs. You really need to know the exact specifics of your RV rubber roof before selecting an appropriate sealant. Always make sure that your sealant clearly states that it is suitable for use with your particular type of rubber roof. If you have any doubts, contact the manufacturer for further details.
As general roof and all-purpose sealants tend to be less suitable for EPDM and TPO roofs, it's best to use an RV-specific version that is specially recommended for these materials.
Fiberglass
Lightweight and strong, fiberglass is another popular RV roofing material. While fiberglass roofs are less common than rubber ones, they do have the advantage of requiring less maintenance. They are also compatible with the vast majority of RV roof sealants, so the stakes won't be quite as high when you make your selection.
Metal
Less common again, metal roofs are more likely to be found on old-style RVs. Aluminum in particular, given its low weight and high resistance to the elements, is a proven favorite. It is also highly durable and requires little in the way of maintenance.
Elasticity & Tear Resistance
To withstand conditions out on the road, you'll need a roof sealant that has plenty of elasticity. Unlike your bricks and mortar roof, RV roofs need to withstand vibrations, bumps in the road, and increased expansion and retraction of joints.
Elasticity alone is not enough, your RV roof sealant also needs to be tear resistant. This will ensure that your sealant, be it tape or caulk, has enough tensile strength to withstand the forces that are placed upon by various weather conditions as well as driving on the freeway and down uneven roads littered with potholes.
UV-Resistance
RV roofs tend to get a lot of sun, so it makes sense to opt for a sealant with UV-resistance. Not only will this protect against any ugly yellowing, it will also protect against your sealant during out and cracking, extending its lifespan and efficacy.
Ease of Application
Even if it's the best RV sealant in the world, if it's not easy to apply then you're unlikely to finish its application.
While caulking, in general, can be a little tricky, most RV roof sealants in our selection are fairly easy to apply. Above all, you need to take your time and prepare your area carefully before applying.
Don't try to do too much in one go. Sealants that remain flexible for some time afterward can generally withstand more corrections. While tape is a popular choice, you need to be very well prepared and focused for a smooth application.
If you don't stick it correctly, then you won't be able to start over again.
Reason for Getting a Sealant
You also need to match your RV roof sealant to your needs. Do you have an emergency leak that you need to stop right away? Are you doing annual maintenance? Or, are you looking for a just-in-case sealant for your next trip?
If you need to urgently stop a leak, you will be focusing on rapid delivery times and a rapid cure. For your annual maintenance, you will probably want a decent amount of RV sealant to go over any potential areas that could leak in the near future.
Just-in-case sealants can be pretty much any type, however, they need to be easy to apply when you're out and about on the road. Tape is a popular choice or a caulk that tacks over pretty quickly.
Curing Time
The curing time is how long it will take for your sealant to completely set.
This can vary considerably from one manufacturer to another. Sometimes you may find that faster setting versions are priced higher, however, in a lot of cases your sealant will skin over within a few hours.
If you need to get your RV out on the road as soon as possible, then take a closer look at the curing times. If you are doing your annual maintenance and have a more relaxed schedule then this won't really be much of an issue for you.
Some RV roof sealants can take several weeks to cure completely, although most are waterproof on application.
Types of RV Roof Sealant
There are several different types of RV roof sealant on the market. Find out which is best for your motorhome, skills, and needs, right here with our guide to the most popular RV roof sealant types.
Caulk
Simply put, caulk is a waterproof filler that is used in repairs and maintenance.
Standard RV roof caulk comes in 10 fluid ounce tubes that need to be applied with a caulking gun. Just like caulking around your bathroom at home, you want to get a nice bead that will fill the gap that you need to seal.
While caulk is fairly easy to apply depending on how much practice you've had, it doesn't tend to keep very well after use, so you may want to look at smaller or resealable versions if you only have a small area to treat.
Liquid
Liquid EPDM RV roof sealants tend to be the most work to apply, requiring large amounts of preparation and extensive priming.
While most liquid RV roof sealants go on like paint, you still need to tape up your edges and prime your roof. They give you a seamless finish and excellent waterproofing. They can take a while to fully cure, however, after a month or so you can add another coat or do another part of your roof as the rubber adheres to itself.
This is a great way to improve the quality of a neglected RV roof. While Liquid RV roof sealants are relatively expensive compared to simple sealants for spot repairs, they do work out a lot cheaper than replacing the entire roof.
Also, their seamless finish and improved weather resistance will improve the looks of your RV and add value.
Tape
Tape sealants are another popular choice. They have no curing time and are fairly easy to apply, as long as you place them down correctly the first time over, as there won't be a second time. They give you a neat seal with no cure time or cleaning up required afterward.
Adhesive
Mostly PU polymers, RV adhesive roof sealants are extremely tear-resistant. They provide exceptionally strong bonds, making them a good choice for resistant leak sites that other sealants have failed to adequately block.
Self-leveling
Self-leveling RV roof sealants are a good choice for a neat finish, without having to do too much work.
This makes them easier and faster to apply, however, they are only suitable for horizontal application. As they self-level flat, they will give you a good finish that will prevent water from pooling, preventing any future issues from developing in that area.
Top RV Roof Sealants Video
Frequently Asked Questions about RV Roof Sealants
When it comes to protecting your RV from the elements, a crucial component to consider is the roof sealant. The roof of your RV is constantly exposed to harsh weather conditions, UV rays, and potential leaks. That's where RV roof sealant comes in. To help you navigate the world of RV roof sealants, we have compiled a list of frequently asked questions to provide you with the information you need.
In this FAQ section, we will address common inquiries about RV roof sealants, their importance, types available, application procedures, maintenance, and more. Whether you're a seasoned RV owner or a newbie exploring the world of recreational vehicles, this guide will assist you in understanding the ins and outs of RV roof sealants.
From understanding the different types of sealants to learning when and how to apply them, we've got you covered. We'll also address important considerations, such as the longevity of roof sealants, safety precautions during application, and where to find reliable products.
Remember, proper maintenance of your RV's roof is crucial for the longevity of your vehicle and your overall camping experience. By choosing the right RV roof sealant and applying it correctly, you can safeguard your investment, prevent leaks, and ensure a comfortable and enjoyable journey on the road.
So, let's dive into the frequently asked questions about RV roof sealants and equip you with the knowledge to make informed decisions about protecting and maintaining your RV's roof.
What is RV roof sealant, and why is it important?
RV roof sealant is a specialized product designed to protect and seal the roof of your RV. It creates a waterproof barrier that prevents leaks, protects against UV rays, and helps maintain the integrity of your RV's roof. It is important because a properly sealed roof can prevent water damage, mold, and structural issues.
When should I apply RV roof sealant?
It is recommended to apply RV roof sealant at least once a year as part of regular RV maintenance. However, you should also check for signs of damage or wear, such as cracks, gaps, or peeling sealant, and address them immediately by reapplying the sealant.
What types of RV roof sealants are available?
There are several types of RV roof sealants available, including silicone, acrylic, and butyl rubber. Silicone sealants offer excellent waterproofing and UV protection, while acrylic sealants are more affordable and easier to work with. Butyl rubber sealants are known for their flexibility and durability.
Can I apply RV roof sealant myself, or should I hire a professional?
Applying RV roof sealant can be a DIY project if you are comfortable working on your RV. However, if you're unsure or have a complex roof structure, it may be best to consult a professional to ensure proper application and avoid potential issues.
What preparation is needed before applying RV roof sealant?
Before applying RV roof sealant, it is crucial to clean the roof thoroughly to remove dirt, debris, and old sealant. Use a suitable cleaner and a soft brush or sponge to scrub the surface gently. Allow the roof to dry completely before applying the sealant.
How long does RV roof sealant last?
The lifespan of RV roof sealant depends on various factors, such as the type of sealant, weather conditions, and maintenance. On average, a well-applied RV roof sealant can last anywhere from one to five years. Regular inspections and maintenance can help identify when reapplication is necessary.
Can I apply RV roof sealant over existing sealant?
In most cases, it is not recommended to apply new sealant directly over existing sealant. It's crucial to remove any old or damaged sealant before applying a new layer. Failing to do so may result in poor adhesion and compromised waterproofing.
Are there any specific precautions I should take when applying RV roof sealant?
Yes, when applying RV roof sealant, it is essential to wear protective gloves and goggles to avoid skin and eye irritation. Follow the manufacturer's instructions regarding application techniques, temperature requirements, and curing time. Work in a well-ventilated area and avoid applying sealant during rainy or excessively humid conditions.
Can I walk on the roof after applying RV roof sealant?
It is generally recommended to avoid walking on the roof after applying RV roof sealant, especially during the curing period. Walking on the sealant can disrupt its adhesion and affect its effectiveness. If access to the roof is necessary, use proper precautions and walk on support beams or boards to distribute your weight.
Where can I purchase RV roof sealant?
RV roof sealants are available at RV supply stores, camping stores, and online retailers. You can also check with your RV manufacturer or local service centers for recommended sealant brands and suppliers.
Remember, while this FAQ section provides general information, it's essential to consult the specific instructions provided by the manufacturer of your chosen RV roof sealant for the best results.
Final Thoughts
There are so many different RV roof sealants to choose from. If you are struggling to make up your mind, first of all, check exactly what your RV roof is made of. Then go back over our top-rated RV sealant reviews to find the one that's most compatible with your needs and preferences.
Looking for a good all-rounder with exceptional levels of performance? You can't go wrong with the non-stringing Geocel Pro Flex RV Sealant, complete with its 25-year guarantee. It is highly crack-resistant and supports wide temperature fluctuations as well as plenty of movement.
If you prefer a tape roof sealant for your RV, be sure to take a second look at the EternaBond RoofSeal. Compatible with almost every type of RV roof, it's also easy to apply and requires no caulking time whatsoever.
For EPDM, fiberglass, and metal roofs that have seen better days, rather than just filling in the cracks one by one as the leaks start, why not cover your entire roof with the highly popular Proguard Liquid Roof. The 100% EPDM formula stops all leaks in one coat and gives your rig's roof a full makeover. Complete with a five-year warranty, its seamless membrane is just as good as a new roof with a considerably lower price tag.
Whatever type of RV roof sealant you need, you're sure to find your ideal match in our selection.