Finding the best RV deep cycle battery can take hours and hours of research. After all, it's a costly investment and with so many different models to choose from, all with different specifications, it can easily become very confusing.
To make things easier, we've selected some of the very best models on the market and put together a comprehensive RV deep cycle battery buying guide. Read on and find out all you need to know.
What is an RV Deep Cycle Battery?
Unlike a starter battery, an RV deep cycle battery is designed to put out long-term energy delivery and last for hundreds or even thousands of recharge cycles. Starter batteries have thin plates and are designed to provide a huge, quick burst of energy. RV deep cycle batteries have thicker plates and provide less instant energy.
Your deep cycle batteries are used to run your RV appliances when you're off-grid. You'll need a way to recharge your batteries, solar panels are a great option for when you're out and about, as well as an inverter to change your output from 12V to 120V.
With your RV deep cycle batteries, you'll be able to watch TV, cook, use your lights, and run your fridge. You can use one or several batteries together depending on your needs and the amount of time you're intending on spending off-grid.
Best RV Deep Cycle Battery
We've selected the very best RV deep cycle batteries on the market to help you to find your ideal match. Whether you need a high capacity model, are looking for a specific type, or have a strict budget, you're sure to find the best RV deep cycle battery for your needs right here.
Best RV deep cycle battery for the money
Renogy Deep Cycle AGM Battery 12 Volt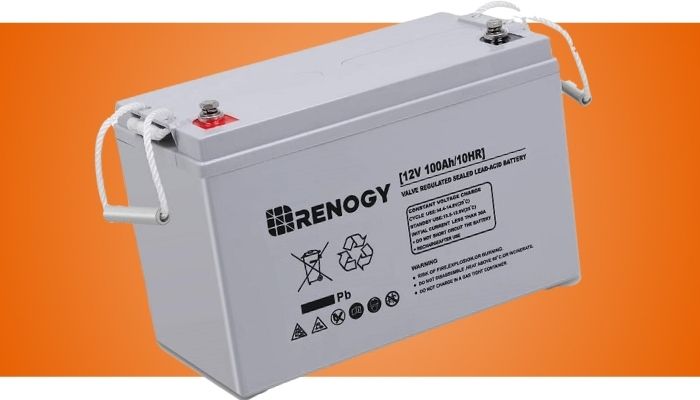 The Renogy Deep Cycle 12V AGM Battery is highly reliable, combining excellent performance with affordability. A popular choice for solar power setups, this battery is also maintenance-free thanks to its thick absorbent glass mat separators and valve regulation technology.
With its generous 100Ah capacity, this battery makes an excellent choice for off-grid trips in your RV. Its quinary alloy plates and specially treated plate grids have been formulated to enable low internal resistance and high discharge currents. Ideal for all your appliances with high start-up currents, this RV battery boasts an impressive 1100A maximum discharge current.
Taking into account a low 80% power conversion efficiency and not running your battery down below 50%, this unit could power your 70W TV for seven hours. If you need more power, it is also available as a 200Ah model or you can connect several batteries in a series or parallel battery bank.
One of the main advantages of this particular deep-cycle battery for RV use is its low monthly self-discharge rate – under three percent at 77-degrees F, testament to the high purity materials used. Its improved electrolyte formula ensures stable battery capacity at low temperatures, with an impressive discharge operating temperature range of 5-122 degrees F, making it ideal for traveling.
Its tough, leak-proof design allows for storage on its side, although it is recommended you store it upright whenever possible. This is a heavy model, but it comes with durable string handles and has a relatively compact footprint. On the whole, an excellent choice and well worth the money.
Pros – Things we liked
100Ah capacity
Low monthly self-discharge rate
Leak-proof design
Absorbent glass mat separators
Cons – Things we didn't like
Heavy – 63.9lbs
Best deep cycle batteries for boondocking in a camper
Mighty Max Deep Cycle Battery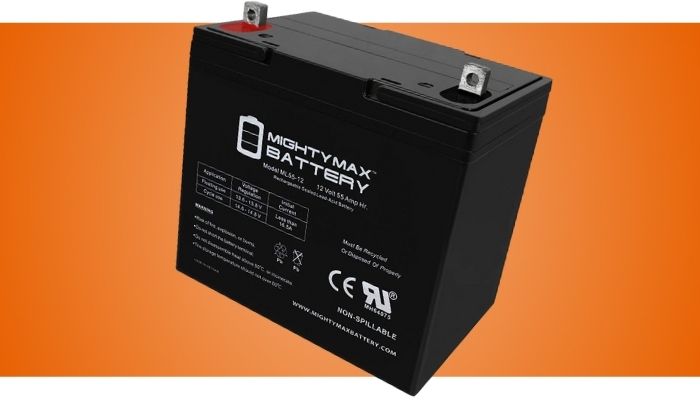 Mighty Max produces a wide variety of deep cycle batteries. Here, their ML55-12 model is an SLA battery with AGM technology, making it maintenance-free and completely sealed for safe indoor use.
With its compact size and 55Ah capacity, it is one of the best deep-cycle batteries for boondocking in a camper. The state of the art heavy-duty calcium-alloy grid provides fantastic performance levels and has a generous 550A max discharge current at 77 degrees F for appliances with high startup draws.
Ideal for both everyday and occasional use, this model benefits from a low self discharge rate. Leave it fully charged in your camper and you'll get 90% capacity after three months of storage or 80% after six months. A good choice then if your RV spends several months off the road.
Thanks to its fully sealed construction, this deep cycle battery can be stored in any position, except upside-down. So, you're sure to be able to find a space for it, even in a small camper. Even more so given its compact footprint of just a little over 9 x 5.4 x 9 inches. Its low weight of just under 37 pounds makes it easy to move around or to transport.
Designed for use in all seasons, you get 100% battery capacity at 77 degrees F. This drops to a respectable 80% at 32 degrees F or 65% at 5 degrees F. This deep cycle battery can also resist shocks and vibrations, making it a good choice for exploring the great outdoors in your motorhome.
Great deep cycle battery for RVs with a high load
Optima D31M BlueTop Starting and Deep Cycle Battery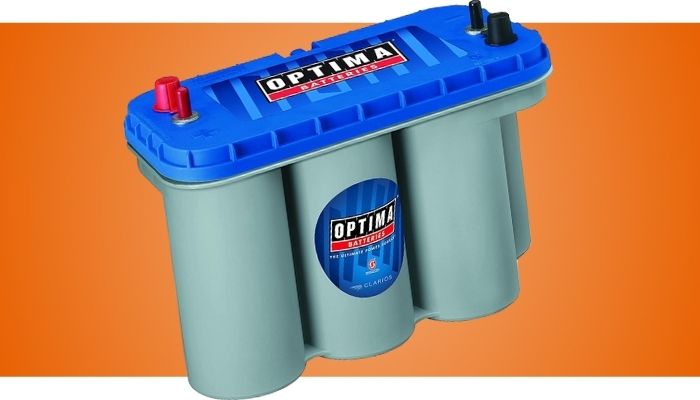 Optima manufactures their batteries in their own facilities for exacting control over their very high product standards. The D31M is designed for use with RVs with a high load when used as a deep-cycle battery.
With its 75Ah capacity, this battery provides up to 900 start-up Amps, and it boasts a 155-minute reserve capacity at 25 Amps. At this capacity, it's a good choice for dry camping in medium-sized RVs without a huge power draw, or for larger set ups when you want to use your kitchen, for example, when taking a break en route to your destination.
This battery costs quite a bit more than others with a comparable 75 Ah capacity. It does, however, have plenty of advantages over the competition. Like all AGM batteries, it is maintenance-free and spill-proof. Unlike others, it benefits from a special SpiralCell design which is much more precision-controlled than standard flat plate AGM RV batteries.
Thanks to its unique structure, Optima batteries provide you with a longer lifespan, so you won't need to replace your deep-cycle battery as often. They also have lower levels of self-discharge due to the high purity of the lead in their plates.
At 59.8 pounds, the D31M is not light, although it can be mounted in almost any position. Measuring 12 13/16" x 6 ½" x 9 ⅜" it isn't too bulky and you'll have no trouble fighting it in. Ideal for use on the road, it also has outstanding vibration protection.
Expensive, but highly durable, if you are looking for a 75Ah battery and you're not on a tight budget, the Optima D31M could be your best buy. Batteries for personal use benefit from a 24-month warranty.
Great spill-proof lead-acid battery
XS Power D3400 XS Series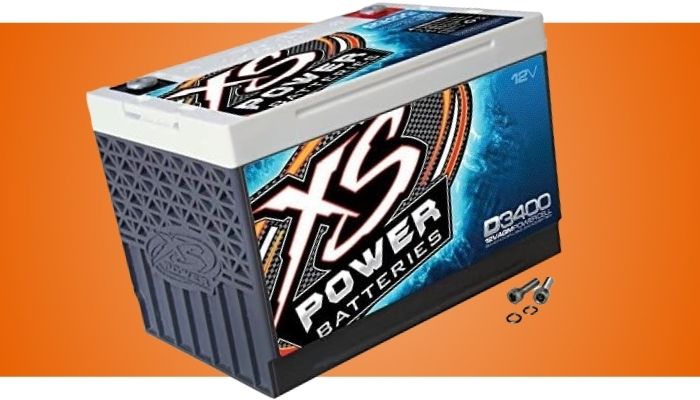 Marketed towards the competition car audio and racing circles, the D3400 XS Series by XS Power also makes a good deep-cycle battery for your motorhome. This lead-acid battery is an AGM model with the electrolyte suspended in fiberglass. Completely sealed and valve regulated, it requires no maintenance and is spill-proof.
Thanks to its ultra-low internal resistance levels, this 12V battery provides superior performance. At 65Ah capacity, it is advertised as putting out up to 2500W as a primary battery, or up to 4000W when used as a secondary audio source – plenty enough to power your RV essentials for short periods. It has a cranking amp rating of 1000A at 32 degrees F and a reserve capacity of 135 minutes at 25 Amps.
This unit can be mounted in almost any position and weighs 48 pounds, making it easier to remove and transport home when your RV is in storage. Given their popularity on the car audio scene, these batteries are highly resistant to vibrations, making them a good choice for traveling up and down the country on all types of roads.
More expensive than your standard AGM lead acid battery with a 65Ah capacity, the D3400 is a very good model. It also comes with an impressive three-year warranty, which more than justifies its higher than average price tag.
Best LiFePO4 Deep Cycle Battery
Battle Born LiFePO4 Deep Cycle Battery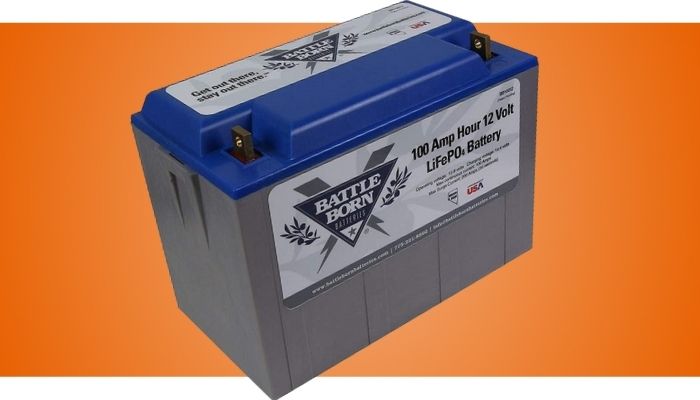 If you can afford them, we highly recommend making the switch to deep cycle lithium iron phosphate batteries for your RV. The LiFePO4 Deep Cycle Battery is an excellent, high-quality model made by Battle Born. All of their batteries are assembled in Reno, Nevada.
While it might seem like a large initial outlay, these batteries can last 10 times longer than their lead counterparts. This 12V battery has a 100Ah capacity, with a 100Amp continuous current, 200Amp 30-second surge current, and can even accommodate higher surges for under half a second – making it a great choice for your RV.
Not only does this model have an excellent capacity, Battle Born gives it a life expectancy of around 3,000-5,000 cycles, with lifespans well over 5,000 cycles frequently occurring in their lab tests and units typically retaining around 75-80% capacity after 3,000 cycles.
It is also a fantastic choice for unattended storage, being able to hold its charge for up to one year without the need for any trickle charging. You can discharge it 100%, unlike your average lead-acid AGM model – giving you double the power for the same specifications. Lithium iron phosphate deep cycle batteries also charge up to five times faster than lead-acid ones – ideal for when you're off grid.
Weighing just 31lbs and measuring 12.75" x 6.87" x 9", this lithium iron phosphate RV battery will definitely reduce your weight, for savings on fuel. Thanks to its built-in Battery Management System, you can use this battery in your RV and benefit from its safe and internally optimized performance levels.
While the purchase price is pretty high, if you use your RV regularly and want to enjoy exploring the great outdoors without missing your creature comforts, then this really is the best RV deep cycle battery. It even comes with an industry-leading 10-year warranty, so you'll have peace of mind that it truly is money well spent.
Great maintenance-free deep cycle battery
Renogy Lithium Iron Phosphate Battery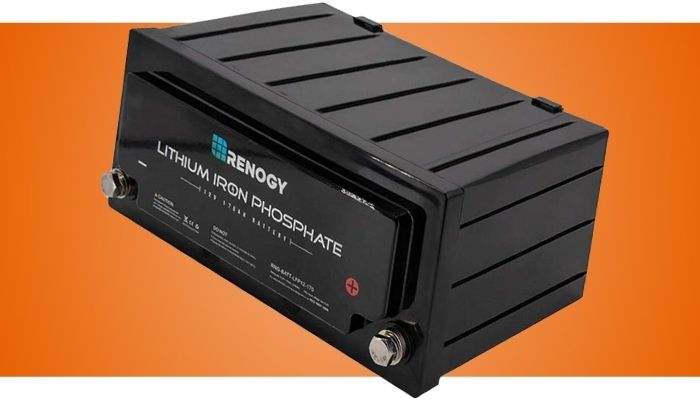 If you need more power than Battle Born's 100Ah model, you could opt for Renogy's 170Ah Lithium-Iron Phosphate 12-Volt battery rather than purchasing two 100Ah models. With its rapid charge and high capacity, you can enjoy camping off-grid in your RV without having to worry about your electricity consumption.
This maintenance-free lithium deep-cycle RV battery is marketed as lasting for over 2,000 life spans, more than double that of most regular lead-acid versions. With its huge 170Ah capacity, you get a maximum continuous discharge current of 125Amps, plenty enough to run all of your essential appliances.
Thanks to its Triplex sealed construction and internal battery management system, this LiFePO4 deep cycle battery is long-lasting with minimal self-discharge rates of under 3% per month. Ideal for when you put your RV into storage.
Benefiting from almost four times more usable capacity than regular lead-acid batteries, this model is surprisingly compact and lightweight for its large capacity. Weighing just 48.5 pounds and measuring 13.7" x 6.1" x 10.6", it puts out a lot of power for its size and can save you on fuel costs.
While not quite as generous as the Battle Born, the five year pro-rata warranty is still good assurance of a quality product, although the life cycle expectation is considerably lower. If you need a large capacity deep cycle RV battery, then this is one of the best around at 170Ah.
Best RV Deep Cycle Battery for small budgets
Universal Power Group 12V SLA Deep Cycle Battery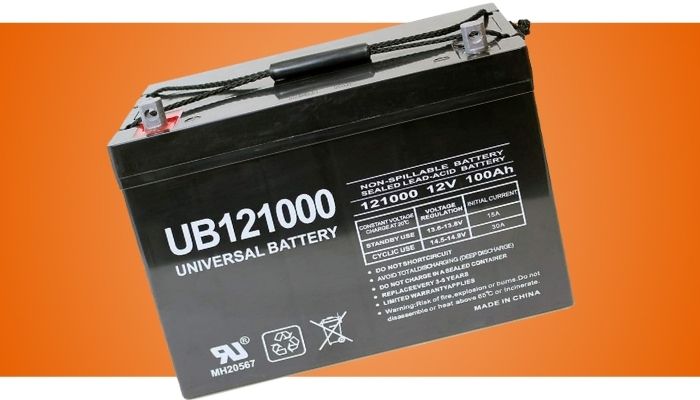 The UB121000 12V Deep Cycle Battery by Universal Power is a good budget choice if you need a high capacity RV battery but don't want to spend a lot. This SLA AGM battery also has the advantage of being spill-proof and maintenance-free.
With its generous 100Ah capacity, you get a lot for a low price. As this is a lead battery you won't want to drain it any further than 50%, giving you approximately 600 usable Watts per battery, not accounting for any inefficiency levels. If you want to run a lot of appliances while you're dry camping, you could also purchase two of these batteries to run in parallel.
This 100Ah deep cycle Rv battery has a good estimated shelf life of approximately 91% at three months when kept at a temperature of 68 degrees F, going down to 83% after six months. So, you won't have to worry if you don't regularly use your RV throughout the year.
Measuring 12.2" x 6.6" x 9.2", this is quite a compact model for its high capacity, however, it is pretty heavy at just under 64 pounds. Shock and vibration-resistant, this fully-sealed battery can be mounted in any position to save you space.
This battery comes with a one-year warranty, although if you have any issues, you will need to sort out the return shipping. There have been some quality control issues with certain batches of this model, although if you are looking for a budget-priced 100Ah battery, you won't find many more reasonably priced.
Best compact battery for small campers
ODYSSEY Deep Cycle Battery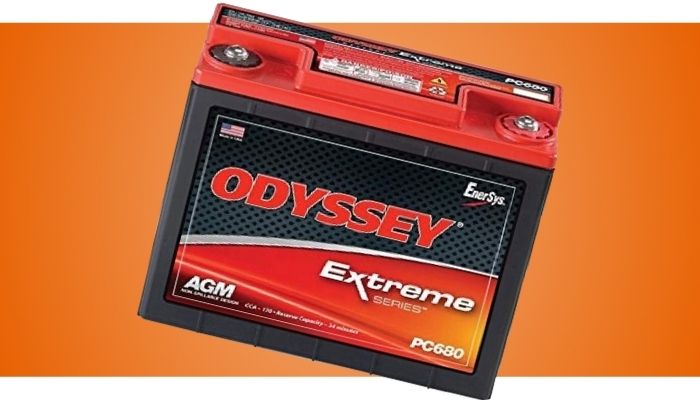 If you have a small camper and are looking for a very compact lead-acid AGM battery, you might like to try out this motorcycle one by Odyssey. Designed to be used in power-sport applications where low weight is important, as well as high cranking power, if you have low energy needs and space is of a premium, then it could be a possibility.
With a 16Ah capacity and 24 minutes of reserve power, this tiny battery could help keep your lights on when you're boondocking. It has an impressive 170CCA for its size and can be drained over 60% instead of the regular 50% threshold that you need to respect with most models.
Made with 99.9% thin plate pure lead technology, this Odyssey battery has 15% more plate surface inside than spiral engineered versions. This enhances reserve capacity, so even though this is a very small model, you are still getting better performance than other 16Ah deep cycle batteries.
This battery has an estimated 3-10 year service life, with up to 400 cycles at an 80% depth of discharge. One of the main advantages of this model is that you can fully recharge it in just 4-6 hours. Another is its low 15-pound weight and compact size, measuring just 7.15" x 3" x 6.65".
With its two-year limited full-replacement warranty, if you need a very small deep cycle battery for your camper, this one may just do the job.
Great deep cycle battery for premium budget
WindyNation Deep Cycle Sealed Lead Acid Battery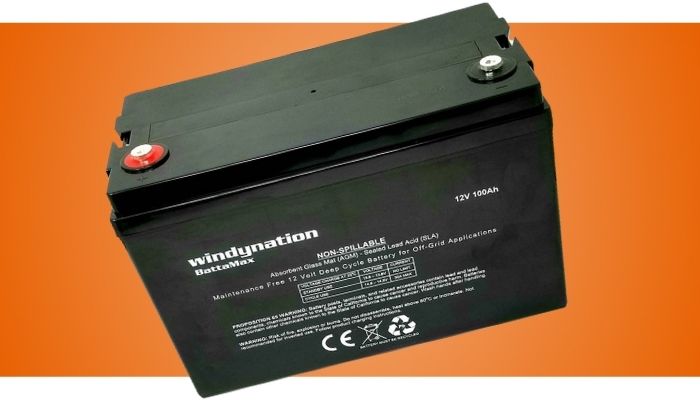 Another top budget option, the BattaMax Series Batteries by WindyNation have been specially designed for all of your off-grid power needs. Thanks to their sealed, maintenance-free design, this SLA AGM battery makes an excellent low-priced option for replacing your RV deep cycle batteries.
With its generous 100Ah capacity, this 12V RV battery is a good choice for your off-grid travels. To handle high starting surges it has a maximum discharge current of 1200A for five seconds – ideal for your appliances with high start-up Amps.
Made from 99.9% pure virgin lead, this battery has a low discharge rate and maximum power storage. It also benefits from a good discharge temperature range from 5-122 degrees F. As you would expect with a 100Ah SLA battery, this one is heavy, weighing in at 67 pounds. At 13" x 6.8" x 8.7", it is not overly large and you can mount it in any position except with the terminals facing down.
The WindyNation Deep Cycle Battery comes with a one-year warranty which is perfectly acceptable given its low price and large capacity. If you are starting out a budget solar power system for your RV, or simply need to upgrade your deep cycle batteries on a budget, you get a lot for your money with this model.
Compare the Best RV Deep Cycle Batteries
Table Comparing the Top 9 RV Deep Cycle Batteries
Image
Title
Price
Rating
Buy
Renogy Deep Cycle AGM Battery 12 Volt

$$

Buy on Amazon

| | | | | | | |
| --- | --- | --- | --- | --- | --- | --- |
| Renogy Deep Cycle AGM Battery 12 Volt | $$ | 100 Ah | 63.9 lbs | Prime | 13.1 x 6.9 x 8.6 inches | Buy on Amazon |

Mighty Max Deep Cycle Battery

$

Buy on Amazon

| | | | | | | |
| --- | --- | --- | --- | --- | --- | --- |
| Mighty Max Deep Cycle Battery | $ | 55 Ah | 38.6 lbs | No Prime | 9.02 x 5.43 x 9.13 inches | Buy on Amazon |

Optima BlueTop Starting and Deep Cycle Battery

$$$

Buy on Amazon

| | | | | | | |
| --- | --- | --- | --- | --- | --- | --- |
| Optima BlueTop Starting and Deep Cycle Battery | $$$ | 75 Ah | 59.8 lbs | No Prime | 12.8 x 6.5 x 9.38 inches | Buy on Amazon |

XS Power D3400 XS Series

$$$

Buy on Amazon

| | | | | | | |
| --- | --- | --- | --- | --- | --- | --- |
| XS Power D3400 XS Series | $$$ | 65 Ah | 49.97 lbs | Prime | 10.24 x 7.16 x 6.89 inches | Buy on Amazon |

Battle Born LiFePO4 Deep Cycle Battery

$$$$

Buy on Amazon

| | | | | | | |
| --- | --- | --- | --- | --- | --- | --- |
| Battle Born LiFePO4 Deep Cycle Battery | $$$$ | 100 Ah | 31 lbs | No Prime | 12.75 x 6.88 x 9 inches | Buy on Amazon |

Renogy Lithium Iron Phosphate Battery

$$$$$

Buy on Amazon

| | | | | | | |
| --- | --- | --- | --- | --- | --- | --- |
| Renogy Lithium Iron Phosphate Battery | $$$$$ | 170 Ah | 48.5 lbs | Prime | 13.7 x 6.1 x 10.6 inches | Buy on Amazon |

Universal Power Group Deep Cycle Battery

$$

Buy on Amazon

| | | | | | | |
| --- | --- | --- | --- | --- | --- | --- |
| Universal Power Group Deep Cycle Battery | $$ | 100 Ah | 60 lbs | No Prime | 0.48 x 0.26 x 0.33 inches | Buy on Amazon |

ODYSSEY Deep Cycle Battery

$

Buy on Amazon

| | | | | | | |
| --- | --- | --- | --- | --- | --- | --- |
| ODYSSEY Deep Cycle Battery | $ | 16 Ah | 13.45 lbs | Prime | 7.15 x 3 x 6.65 inches | Buy on Amazon |

WindyNation Deep Cycle Sealed Lead Acid Battery

$$

Buy on Amazon

| | | | | | | |
| --- | --- | --- | --- | --- | --- | --- |
| WindyNation Deep Cycle Sealed Lead Acid Battery | $$ | 100 Ah | 71 lbs | No Prime | 13 x 6.8 x 8.7 inches | Buy on Amazon |
Buyer's Guide to Buying the Best RV Deep Cycle Battery
Choosing a new RV deep cycle battery can be pretty confusing. Read through our Best RV Deep Cycle Battery Guide to help clarify your needs and make sure that you make the right choice.
Price
Deep cycle batteries are often a substantial purchase and one that shouldn't be made lightly. So, before you start looking into the specifics, it's helpful to draw up your budget. If you're looking for an inexpensive model, bear in mind that you will likely need to replace it sooner. All batteries age, some much sooner than others.
On the other hand, you may want to spend a significant amount on a top of the range RV deep cycle battery. If so, you will want to get one with a long lifespan which will validate paying the extra cash. Other factors aside from technology will also impact the price, such as the capacity, brand name, and warranty.
If you are just starting out with a new solar set up, you'll have a lot of expenses already going on. Some RVers prefer to make do with a budget high capacity deep cycle battery and to upgrade in the near future once they've got their setup in action.
No battery will last indefinitely, although it's true that some of the budget models can die prematurely. As most batteries will benefit from good charging habits, take a closer look at what your manufacturer recommends. If you are not likely to keep it in good condition, then you may be better off replacing a budget model every couple of years.
Expect to pay from $100-$200 for a budget Sealed Lead Acid battery with a high capacity, several hundred for a higher quality version, or $800-$1500 and over for a technologically advanced LiFePO4 battery.
With each jump in price you should be getting superior performance and a longer lifespan.
Maximum Current
The maximum current is an important measurement to take note of when choosing your RV deep cycle battery. The higher the maximum current rating, the higher the load it will be able to handle. When calculating your power needs, it's important to take your appliances' surge startup needs into account as well as your running Amps.
Your battery's maximum discharge current will usually only peak for several seconds, however, this should be long enough to get your appliances up and running, past the start up surge rating. Just make sure that you also calculate the length of time you want to run your equipment and that you'll be able to run all of your essentials with your chosen battery.
Capacity
Battery capacity is measured in Ah – Ampere hours. The standard rating involves taking an amp rating for 20 hours. So, with a 100Ah battery, if you draw from it for 20 hours, ie 100 divided 20, gives you 5Amps.
However, that is only true on paper, as, in reality, your capacity will decrease with your load. Plus you will also have to account for some inefficiency in power conversion if you're using an inverter, as well as the fact that most types of deep-cycle batteries cannot be drawn right down without experiencing a loss of life cycles.
So, the higher the Ah of your RV deep cycle battery, the more appliances you can power. You can also use a higher capacity battery to use more energy intensive appliances, or to go for longer between charges. This can be important if you are looking at spending several days and nights off-grid.
Bear in mind that a higher capacity also means increased size and weight, as well as increased charging times especially when you're looking at SLA models.

Voltage
Deep cycle batteries are available in a range of different voltages, with 6V and 12V being the most commonly used versions for RVs. In our selection, we've only covered 12V batteries, because we believe that they offer the best performance. However, there may be certain scenarios where you would prefer to use 6V batteries, so let's check out both types.
12v RV Battery – One of the main advantages of using a 12V RV battery is that should you ever get a failure you can use it to run your RV. 12V batteries also tend to be more common and cost less than their 6V counterparts.
On the downside, some models may be less durable, however, if you opt for a true deep-cycle battery, not a marine version, it should more than match a 6V in terms of durability.
6v RV Battery – 6V batteries are generally synonymous with golf carts. To use 6V batteries with your RV you will need to wire up two of them in series to get 12V. However, when you connect your batteries in series, instead of in parallel, you get an increase in voltage, but not in capacity, so your Ah rating will not increase.
6V batteries are smaller and easier to handle. However, they can cost more and you'll need to buy a higher capacity to compensate when using in series.
While you'll need to have your 6V batteries in series, it helps to do a bit of math to illustrate the difference between 12V and 6V RV batteries. Let's take, for example, a 60(W) appliance and divide it by 6(V), you'll get a 10Amp draw. On the other hand, if you were to power that same appliance with your 12V battery, you'd get a 5 Amp draw. With the lower current, your system will be more efficient and your battery will last longer.
Depth of Discharge
Most RV deep cycle batteries can handle up to 50% depth of discharge, whereas others can take as much as 80%.
Cheaper SLA batteries often benefit from being kept above 50%, some will even begin to degrade once they regularly drop below 80%. Deep discharging over the manufacturer's recommended levels can severely reduce your battery's capacity and life span.
When choosing a new deep cycle battery for your RV it is important to factor these levels into your calculations. For example, if you choose a LiFiPO4 battery, you can discharge them down to 100%, although it is recommended that you keep them at a minimum of 20%.
On a 100Ah battery, that would give you 80Ah. With an SLA 100Ah battery with a 50% maximum recommended discharge depth you effectively lose half of your total capacity, rendering only 50Ah usable.
Power at Low and High Temperatures
Don't forget to look at the operating temperatures on your manufacturer's specification sheet before you make up your mind which RV deep cycle battery to choose. There will usually be at least two ranges given, one for discharging and another for charging.
Batteries work less effectively in cold weather, as the cold reduces the amount of chemical reactions that take place. If you live in or regularly visit cold climate areas, you'll want to pay close attention to these figures.
Some manufacturers provide you with the details of how much the cold can affect your battery power, this can be very useful to know if you live in an area that often has freezing temperatures, allowing you to factor in for decreases in performance.
Warranty
A good warranty is important, especially when you are spending a lot of money on an important piece of equipment like a good RV deep cycle battery. When it comes down to RV deep cycle batteries there are two common types of battery warranty.
Repair/replace warranties – the manufacturer engages themselves to repair or replace your battery within a set period provided that it is faulty and not been tampered with or inappropriately used. Bear in mind that returning used batteries can be a nightmare and some companies are less than understanding. If you are paying out a sizable chunk of cash, best to look out for a good brand with a reputable customer service department.
Pro-rata warranties – if your battery fails during the pro-rata warranty period, you are entitled to a discount on a new replacement battery that reflects the amount of time your previous battery worked. Say your battery failed halfway through the warranty period, this could entitle you to 50% off a replacement battery
Types of RV Deep Cycle Battery
There are several different types of RV deep cycle batteries available on the market. Here's a closer look at some of the most popular versions.
Lead Acid Deep Cycle Batteries
Also known as wet cell batteries, flooded lead acid batteries are unsealed and have an electrolyte solution of water and sulfuric acid surrounding the lead plates. These types of batteries will need to be placed upright in a well vented location.
As they are unsealed, they can better adapt to being overcharged than sealed versions. They need to be regularly checked and occasionally topped up to stay in good condition.
AGM Deep Cycle RV Batteries
AGM deep cycle batteries are a type of Sealed Lead Acid (SLA) battery.
They consist of an Absorbed Glass Mat (AGM) that allows the electrolyte to be suspended in close proximity to the plates. This makes AGM batteries more efficient to recharge and discharge. They generally need recharging before dropping below 50% capacity to ensure a good long lifespan of 300 plus cycles.
Given their improved construction and performance, they are more expensive than standard lead acid batteries. As they are sealed they can be used inside your RV. Most models hold their charge fairly well when not used over several months. Given their performance and relative affordability, AGM RV deep cycle batteries are one of the most popular types available.
Deep Cycle Gel Batteries
Gel batteries are yet another type of lead acid battery. They are similar to AGM batteries in that their electrolyte is suspended, however, they use a form of gel to keep it in suspension. This makes them more of a wet cell battery than a dry one.
The recharge voltage on this type of battery is lower when compared to standard wet lead acid and AGM models. It is also the most sensitive to overcharging, so care is needed, although they do tend to last a little longer than the others in hot weather applications.
Lithium Iron Phosphate Deep Cycle Batteries
Lithium iron phosphate batteries (LiFePO4), similar but not to be confused with lithium-ion batteries, are long cycle, high current discharging batteries designed specifically for use in high power applications. LiFePO4 is a non-toxic lithium-based material that is extremely safe.
With no active maintenance required, a high discharge and charge efficiency, low weight, very low self-discharge rates, and a greater depth of discharge, the only real negative is their often prohibitive cost.
Given their extremely long life cycle, they don't actually work out quite so much more when compared to replacing your average lead version every 2-3 years.
How to Charge an RV Deep Cycle Battery
All RV deep cycle batteries will need recharging, some sooner than others. If you have a lead battery, it's important to charge it as soon as possible to ensure a long lifespan. Here are the most common ways to charge up your RV deep cycle battery.
Charge RV Battery With Generator – Generators are not really designed for charging up your RV deep cycle batteries. However, if you are out in the wilds and your batteries are running low with no shore power to plug them into, then you can use your generator to help to keep them topped up.
Charge RV Battery With Solar Panel – This is one of the best ways to top up your RV batteries. As the power you get from your solar panels is quite low, it can take a while to fully recharge your batteries. However, it's a great way to make them last for longer and to stop them from discharging too much. Plus once you've paid for your solar panels, energy from the sun is free, as well as being eco-friendly.
Charge RV Battery With Jumper Cables / Battery Charger – Jumper leads are not the most efficient way to recharge your deep cycle battery.
When your engine is idling you're not putting out huge amounts of power so you'll need to press on your gas pedal and get your engine really revving up to transfer small amounts of power to your deep cycle battery.
If you're really stuck, this can just about work, but it is not recommended as a regular means of charging up your battery.
Charge RV Battery With Converter Charger – Deep cycle batteries generally require a 14V supply to charge up and a lot of converters only put out around 13.6V, so check your setup first. Even if they are compatible, at 13.6V output, it would take over approximately 80 hours to fully charge up a 125Ah battery.
As not fully charging your battery can result in a shorter lifespan, you don't want to have to regularly rely upon your convertor to top up your battery. Even if it manages to raise the level of charge a little, in most cases it's not going to have a high enough voltage to reach the levels needed to ensure that your battery doesn't degrade.
Charge RV Battery While Driving – Provided you don't really run your batteries right down, driving for several hours can help to keep them topped up. Bear in mind that you may need to use thicker wire for your charge circuit to get better levels of charge.
Top RV Deep Cycle Batteries Guide Video
Frequently Asked Questions about RV Deep Cycle Batteries
As you embark on your RV adventures, ensuring a reliable power supply is crucial for a comfortable and enjoyable journey. Deep cycle batteries are the heart of your RV's electrical system, providing the necessary power to run lights, appliances, and other onboard systems. However, choosing the right battery and understanding its features can be overwhelming.
To help you navigate the world of RV deep cycle batteries, we have compiled a list of frequently asked questions. Whether you're a seasoned RVer or new to the lifestyle, this FAQ section will address common queries, dispel any confusion, and provide you with the knowledge you need to make an informed decision when selecting the best deep cycle battery for your RV.
From understanding the differences between deep cycle and regular car batteries to tips on battery maintenance, lifespan, and selecting the right battery type, we've got you covered. We'll also explore the advantages of various battery technologies and offer insights on configuring battery banks for increased capacity.
By the end of this FAQ section, you'll have a clear understanding of deep cycle batteries, their benefits, and how to choose the ideal battery to meet your RV's power demands. So, let's dive in and explore the answers to your most pressing questions about RV deep cycle batteries!
What is an RV deep cycle battery?
An RV deep cycle battery is a type of battery specifically designed to provide a steady and reliable power source for recreational vehicles (RVs). Unlike regular car batteries, deep cycle batteries are designed to discharge a large amount of their capacity over an extended period of time and then be recharged repeatedly.
Why do I need a deep cycle battery for my RV?
RVs require deep cycle batteries because they provide a consistent and reliable power supply for all your onboard systems and appliances. Unlike starting batteries used in cars, deep cycle batteries are optimized for deep discharges and prolonged use, making them ideal for RV applications where power demands are higher and sustained.
How does a deep cycle battery differ from a regular car battery?
The main difference between a deep cycle battery and a regular car battery lies in their design and purpose. Deep cycle batteries are constructed with thicker lead plates, enabling them to handle deep discharges and repeated recharging cycles without experiencing significant performance degradation. Regular car batteries, on the other hand, are designed to deliver a quick burst of energy for engine starting, but they are not built to handle the sustained discharge and recharge cycles required by RVs.
What are the different types of RV deep cycle batteries?
There are three main types of deep cycle batteries commonly used in RV applications: lead-acid (flooded), gel, and AGM (absorbent glass mat). Lead-acid batteries are the most affordable option but require regular maintenance. Gel batteries are maintenance-free and can withstand deep discharges, while AGM batteries are highly durable, provide excellent performance, and are virtually maintenance-free.
How long will an RV deep cycle battery last?
The lifespan of an RV deep cycle battery depends on several factors, including its quality, usage patterns, maintenance, and charging practices. On average, a well-maintained deep cycle battery can last between 3 to 7 years. However, it's important to monitor battery health regularly and replace it if you notice significant deterioration in performance or capacity.
How do I properly maintain an RV deep cycle battery?
To maximize the lifespan and performance of your RV deep cycle battery, here are a few maintenance tips:
Regularly check the battery's water levels (for lead-acid batteries) and top up with distilled water if necessary.
Keep the battery terminals clean and free from corrosion.
Avoid deep discharges as much as possible and recharge the battery promptly after use.
Store the battery in a cool, dry location when not in use and ensure it remains charged.
Consider using a battery maintenance charger or a solar charger to keep the battery charged during storage periods.
How do I choose the best RV deep cycle battery for my needs?
Choosing the right RV deep cycle battery depends on factors such as your power requirements, budget, and preferred battery type. Consider the battery's capacity (expressed in amp-hours), its cycle life, maintenance needs, and compatibility with your RV's electrical system. Additionally, reading reviews and consulting with experts can provide valuable insights into the performance and reliability of different battery brands and models.
Can I use multiple deep cycle batteries in my RV?
Yes, it is common to use multiple deep cycle batteries in an RV to increase overall capacity and provide longer-lasting power. This setup is often referred to as a battery bank. When connecting multiple batteries, it's important to ensure they are of the same type, age, and capacity. Additionally, using a battery isolator or a charge controller can help balance the charging and discharging process among the batteries.
Are there any safety considerations when using RV deep cycle batteries?
When working with RV deep cycle batteries, it's essential to follow proper safety precautions. Here are a few guidelines to keep in mind:
Always handle batteries with care, using gloves and eye protection.
Avoid short-circuiting the battery terminals and prevent metallic objects from coming into contact with them.
Never mix battery types or connect batteries with different voltages together.
When charging, use a charger specifically designed for deep cycle batteries and follow the manufacturer's instructions.
Properly dispose of old or damaged batteries in accordance with local regulations.
Final Thoughts
There are a lot of excellent RV deep cycle batteries out there, but not every model is going to be right for your rig, needs, and budget. If you're struggling to make up your mind, take another look over our top RV battery recommendations, you're sure to find the right model for your setup in our selection.
Looking for a good value for money RV deep cycle battery that is highly reliable with a good solid performance? Then you should take a closer look at the Renogy Deep Cycle AGM Battery. This maintenance-free AGM battery has a generous 100Ah capacity with a maximum 1100A discharge current – ideal for starting up your energy intensive appliances. With its low monthly self-discharge rate and high quality construction, little surprise it is a top choice.
If you're tempted by all of the advantages of LiFePO4 batteries, you can't go wrong with the Battle Born's Deep Cycle Battery. It can be discharged up to 100%, has an exceptionally long life span, 100Ah capacity, and an incredible 10-year warranty. In short, you simply won't find a better lithium iron phosphate deep cycle battery for your RV.
On the other hand, if you need a cheap RV deep cycle battery, check out the SLA Deep Cycle Battery by the Universal Power Group. This budget-priced RV battery has a great 100Ah capacity with a spill-proof, maintenance-free construction, and a low self-discharge rate. Get your off-grid energy setup off to a great start and connect two in parallel for high capacity at a low price.