One of the great joys of RVing is enjoying delicious meals in the great outdoors with the people you care about. We don't know about you, but there are few things we like more than firing up the grill and cooking some perfectly seared burgers, steaks, or delicious vegetables. RV grills offer you the ability to make your grilling dreams come true without taking up too much precious storage space. Our review today covers the best RV grills to help you find the size and model perfect for your needs.
Best RV Grills
There's a wide range of grills available to use while you're RVing. While you can go for a standard deck grill, we recommend picking one purpose-built that offers greater compactness and packability.
Our list below focuses on those grills that provide extra value for the RVer above and beyond standard grills.
Best RV Specific Grill
Camco Olympian 5500 RV Grill Range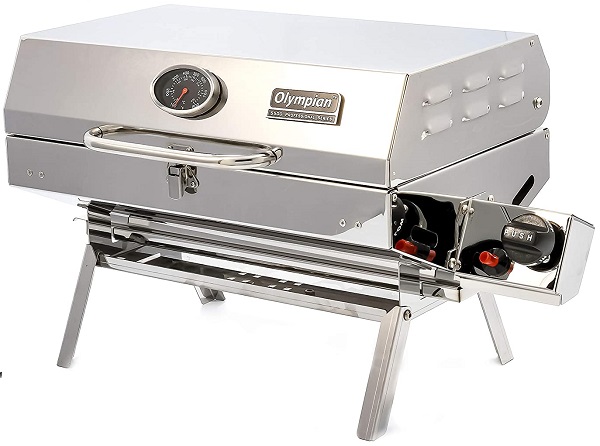 Camco is one of the most prolific manufacturers of RV accessories in the world, and their Olympian line of RV Grills really showcases their expertise. They're available in a variety of sizes and configurations, but we recommend the 5500 for most users.
It offers the most flexible mix of cooking size and packability. It's got a 17.5-inch grill surface and comes standard with both traditional grill grates and a cast-iron smoker plate.
You can choose between both gas and electric versions, with the gas version designed to connect directly to your RV's low-pressure propane system with a quick connect outlet. You can also decide whether you want to use it with the included Camco mount to attach it to your RV's rail or deploy the legs of the grill and cook on a tabletop.
Overall the Olympian line from Camco offers most of the features the modern RV enthusiast looks for at a reasonable price.
Pros – Things we liked
Available in several sizes
Gas & electric versions
Quick connect outlet
Included mount attachment
Cons – Things we didn't like
Cast iron heat diffuser too thin
Best Overall RV Grill
Weber Q Series Best Portable Grill

The Weber Q Series Grills include a range of gas and electric grills in a variety of sizes. For the purposes of RVers, we recommend the Q2200 and Q2400.
They both have 280 square inch cooking surfaces and are incredibly easy to set up and control. The gas grill offers 12,000 BTU of output while the electric grill provides a near-matching performance level.
They use porcelain-enameled cast-iron grill grate and come ready to go out of the box. There's no assembly required for the electric version and almost none needed for the gas one.
One of the best things about either grill is their compact size. They also each offer a pair of side tables for holding sauces, dishes, and utensils. They're each priced at about average for grills of this size and style.
We think the Q Series from Weber has some pretty great gas and electric grills depending on your needs and the type of grilling you're doing.
Best Wheeled RV Grill
Coleman RoadTrip 285 Portable Stand-Up Propane Grill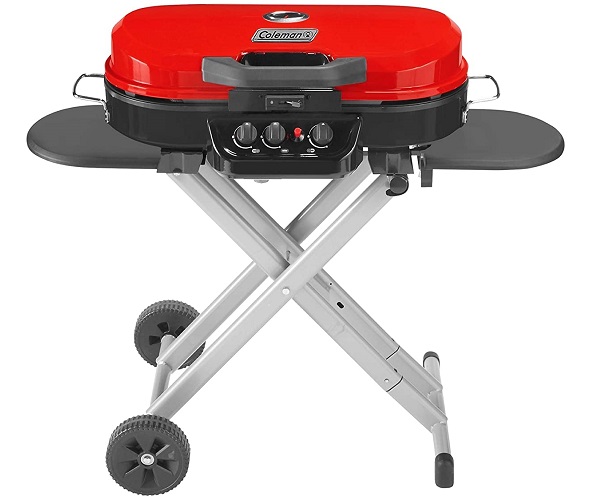 The Coleman RoadTrip 285 is a portable propane grill designed for camping, tailgating, and RV use. It starts out looking like nothing so much as a rolling metal suitcase but stands up into a full-size grill.
It offers 285 square inches of cook space capable of producing 20,000 BTU that can be used in multiple configurations. It comes with easy-clean cast iron grill grates but you can also pick up both griddle or stove grates as accessories. That allows you to cook up a steak dinner one night, make breakfast on the griddle in the morning, and cook up a big pot of chili for the afternoon.
There are three temperature zones on the grill. These allow you to target the cooking temp of different areas to get just the right sear on different types of food.
Last but not least, the RoadTrip 285 has a pair of slide-out tables on either end of the burners. They're great for holding plates, sauce, cooking tongs, or even an ice-cold beer for the chef.
The only potential downside of the RoadTrip 285 is its size. It's certainly smaller than a full-size grill, but there are several RV grills that beat it in packability.
If you want the next best thing to a home grilling experience in your RV the Coleman RoadTrip 285 may be the perfect grill for you.
Best RV Grill for Portability
Weber Go-Anywhere Portable Grill for RV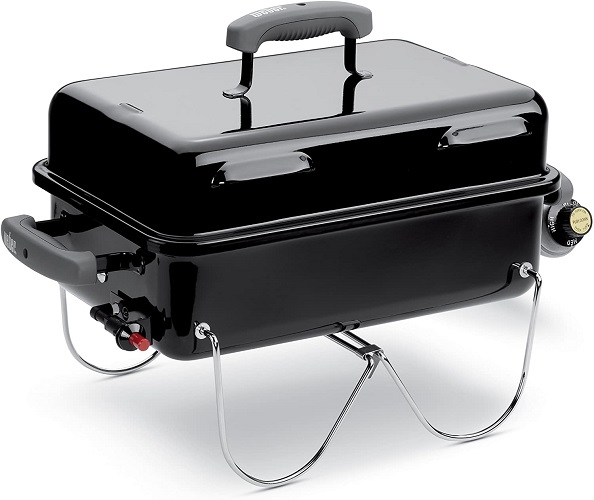 The Weber Go-Anywhere Portable Grill is a line of lightweight and compact grills in both gas and charcoal options. It has a slim rectangular design and uses a pair of folding legs for supports.
They can be carried easily via a top-mounted handle that locks into place with the folding legs. They have porcelain-coated stainless steel grill grates for more natural cleanup and corrosion resistance.
The gas model has a single stainless steel burner with an easy to control dial. The charcoal model uses a simple removable grate to cover the charcoal bay for easier cleanup when you're done cooking out.
These are pretty basic grills, but they get the job done. You won't be able to cook quite as much as with some other grills, but the low price and extremely compact design more than make up for it in our opinions. Even better, these are some of the most affordable grills you can find.
Best RV Grill for Single Person
Cuisinart Portable Tabletop RV Gas Grill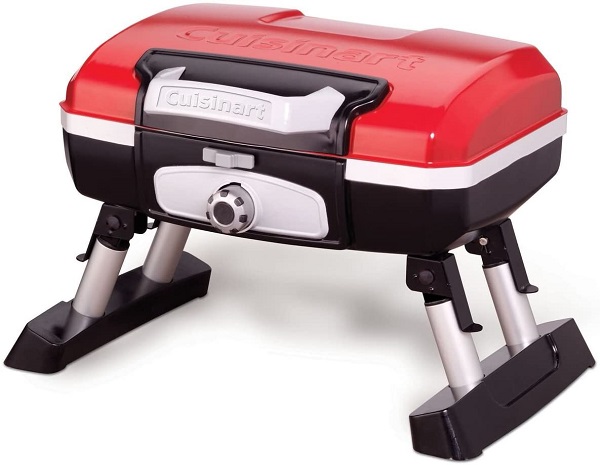 The Cuisinart Portable Tabletop RV Grill is a petite propane-powered grill available both with and without legs. The smaller model can be used on a tabletop while the fully legged model can stand-alone as needed.
Let's get one thing straight; this is a seriously compact little grill. It provides just a 150 square inch cooking surface and produces only 5,500 BTU. That's enough for making small meals of small batches of food, but not a full-scale meal for more than one or two people.
By far, the most significant benefit of this grill is its compact size. It takes up much less space than other gas grills and is incredibly easy to store in an RV.
If you're looking for the ultimate in small spaces grills the Cuisinart Portable Tabletop RV Gas Grill may be just the one. It's compact, easy to use, powerful for its size, and quite affordable.
Best RV Grill for Small Budgets
Smoke Hollow Stainless Steel High Quality Tabletop RV Grill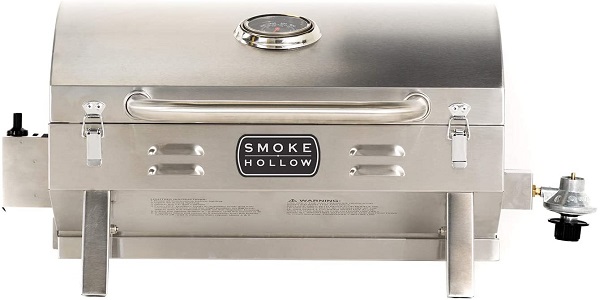 The Smoke Hollow Stainless Steel Tabletop RV Grill is a compact portable grill great for smaller RVs. It has an attractive stainless steel finish that helps prevent corrosion and offers 288 square inches of cook surface.
It uses a U-style stainless steel burner with a single temperature zone capable of producing a maximum of 10,000 BTU. Given its cooking surface, that's a bit less power than we'd like to see. It can definitely cook up some meat, but we expect that had we tried it out during cold conditions, it may have struggled some.
It's powered by propane, using the common and inexpensive 1-lb camping style bottles. These can be found just about everywhere and make it very easy to set up and pack away the grill.
All in all, we'd say the Smoke Hollow Tabletop RV Grill is a good choice for warm weather camping, but probably not if you want to grill out during winter.
Best Tabletop Charcoal RV Grill
Char-Griller Table Top Charcoal Grill
The Char-Griller is a tabletop charcoal drum grill designed for both direct grilling and indirect smoking. You can cook up small batches of steaks and burgers alongside ribs and other smoked meats.
It gives you 250 square inches of cooking space and has many features for easy maintenance and cooking. To start with, the actual coal box is mounted on a removable tray.
It's easy to slide in and out as needed to add charcoal, adjust the placement of pieces, and sweep out ash when you're done.
Since it's a charcoal grill controlling the temperature is a bit harder than with a gas or electric grill, but with some practice, it can be done.
The Char-Griller is a good option if you're looking for that smoky wood charred flavor but otherwise is overshadowed by other more easily controllable grills.
Best RV Grill for Surface Area
Blackstone Grills Tailgater – Portable Gas Grill and Griddle Combo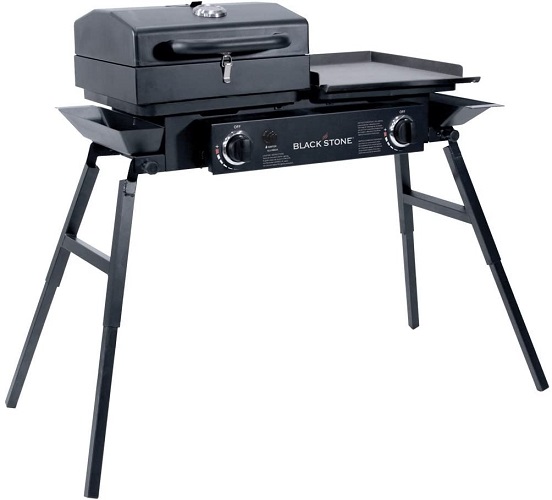 The Blackstone Grills Tailgater is a portable propane-powered grill and griddle combo. It uses two independently controllable burners combined with a removable griddle plate and grill box.
The design is one of the most flexible we've seen as it allows you to cook with a grill, a griddle, both, or even neither. Both units lift off and give you access to the powerful burners underneath for pots and pans.
The burners produce 15,000 and 20,000 BTU each, plenty for cooking just about anything. There were a few other design touches we really wanted to touch on. The first was the overall build quality, namely how excellent it was.
The grill felt rock-solid, with heavy-duty powder-coated stainless steel fittings mixed with cast iron cook surfaces. It definitely raised the weight some but overall we think it was a good choice.
Another thing we loved was the adjustable legs. Some of the campsites we've been to before are quite far from level. The legs let you keep your grilling surface nice and flat.
We really liked the Blackstone Grills Tailgater. It offers a good combination of usability, durability, and value. The only real downside is its larger size and heavier weight.
Best RV Grill for Fuel Efficiency
Pit Boss Grills Stainless Steel Two-Burner Grill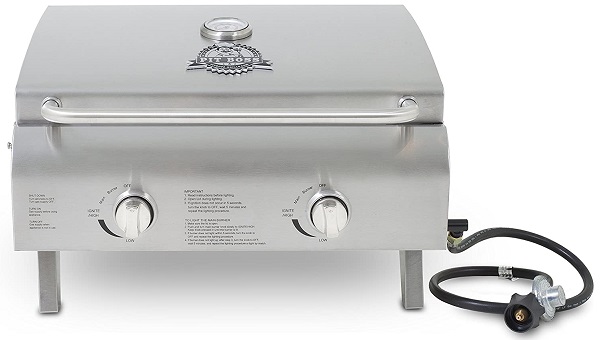 The Pit Boss Stainless Steel Two-Burner Grill is a pint-sized powerhouse of an RV grill. It's made from durable and corrosion-resistant stainless steel and offers a 276 square inch cooking surface.
It's a tabletop style portable grill with a latching lid and built-in carry handle. You can put it into storage easily and set it up in minutes when you're ready to cook.
What helps set the Pit Boss apart from similar grills is its powerful dual burner design and fuel source. It uses a pair of 10,000 BTU burners that let you independently control the temperature on either side of the cooking surface.
Instead of 1-lb bottles, it comes with a regulator and long fuel tube to hook it up to standard 20-lb tanks. That allows you to cook longer and more economically.
We were impressed with the quality and performance of the Pit Boss, but less so with the price. It's definitely a premium product, but you pay a premium price for it.
Compare the Best RV Grills
Table Comparing the Top 9 RV Grills
Image
Title
Price
Rating
Buy
Camco Olympian Best RV Grill Range

$$$$

Buy on Amazon

| | | | | | | |
| --- | --- | --- | --- | --- | --- | --- |
| Camco Olympian Best RV Grill Range | $$$$ | 180 sq in | 26.1 lbs | No Prime | 14.25 x 25.5 x 17.5 inches | Buy on Amazon |

Weber Q Series Gas & Electric Grills

$$$

Buy on Amazon

| | | | | | | |
| --- | --- | --- | --- | --- | --- | --- |
| Weber Q Series Gas & Electric Grills | $$$ | 280 sq in | 41.4 lbs | Prime | 25.1 x 51.4 x 26 inches | Buy on Amazon |

Coleman RoadTrip 285 Portable Grill

$$$$

Buy on Amazon

| | | | | | | |
| --- | --- | --- | --- | --- | --- | --- |
| Coleman RoadTrip 285 Portable Grill | $$$$ | 285 sq in | 41.5 lbs | Prime | 32 x 18.5 x 15.5 inches | Buy on Amazon |

Weber Go-Anywhere Portable Grill

$$

Buy on Amazon

| | | | | | | |
| --- | --- | --- | --- | --- | --- | --- |
| Weber Go-Anywhere Portable Grill | $$ | 160 sq in | 13.5 lbs | No Prime | 12.2 x 21 x 14.5 inches | Buy on Amazon |

Cuisinart Portable Tabletop RV Gas Grill

$$$

Buy on Amazon

| | | | | | | |
| --- | --- | --- | --- | --- | --- | --- |
| Cuisinart Portable Tabletop RV Gas Grill | $$$ | 145 sq in | 2.2 lbs | Prime | 12.2 x 18 x 12 inches | Buy on Amazon |

Smoke Hollow Stainless Steel Tabletop RV Grill

$$

Buy on Amazon

| | | | | | | |
| --- | --- | --- | --- | --- | --- | --- |
| Smoke Hollow Stainless Steel Tabletop RV Grill | $$ | 288 sq in | 17.8 lbs | Prime | 17.24 x 27.36 x 12.08 inches | Buy on Amazon |

Char-Griller Table Top Charcoal Grill

$$$

Buy on Amazon

| | | | | | | |
| --- | --- | --- | --- | --- | --- | --- |
| Char-Griller Table Top Charcoal Grill | $$$ | 250 sq in | 41 lbs | No Prime | 18.5 x 16 x 17 inches | Buy on Amazon |

Blackstone Tailgater Grill and Griddle Combo

$$$$

Buy on Amazon

| | | | | | | |
| --- | --- | --- | --- | --- | --- | --- |
| Blackstone Tailgater Grill and Griddle Combo | $$$$ | 477 sq in | 78 lbs | No Prime | 37 x 20 x 18 inches | Buy on Amazon |

Pit Boss Grills Stainless Steel Two-Burner

$$$

Buy on Amazon

| | | | | | | |
| --- | --- | --- | --- | --- | --- | --- |
| Pit Boss Grills Stainless Steel Two-Burner | $$$ | 276 sq in | 27 lbs | Prime | 23 x 19.5 x 16 inches | Buy on Amazon |
Buyer's Guide to Buying the Best RV Grill
Picking out the best RV grill comes down to what kind of grilling you want to do and how much space you have available. Other key factors include fuel type, BTU output, heat control, and grate options.
Price
The price of an RV grill varies depending on the size, fuel type, and feature-set. Compact charcoal grills are the least expensive, with gas and electric grills sitting at the midpoint and pellet grills consistently near the top.
You can get a charcoal grill for around $100, while most RV gas and electric grills run closer to $200-$300. Pellet grills start at about $300 for bare-bones models and only go up from there.
Fuel Source – Gas, Electric, Charcoal or Pellets
There are four significant categories of RV grills, separated by the type of fuel. These are gas, electric, charcoal, and pellet.
Gas Grills – Gas grills are fueled by propane or occasionally butane and are some of the easiest to use. They provide highly adjustable heat that's direct and gives you an excellent sear on just about any type of meat or vegetables.
The biggest downside is that gas imparts no flavor to whatever you're cooking. If you enjoy a hickory or mesquite flavor to burgers, steaks, or ribs gas isn't the best choice.
Electric Grills – Electric grills are basically hotplates with grill trays. They're straightforward to use, heat up rapidly, and offer very controllable heat, but definitely have some downsides. It's really more like frying than direct grilling and doesn't add any flavor or a real grill sear. Still, it's easy to do and basically free to fuel so long as you're hooked up to shore power.
Charcoal Grills – Charcoal has been used for grilling for thousands of years and is a favorite of bbq enthusiasts and grill masters all over the world. It's available in a wide variety of flavors, price points, and quality levels.
Charcoal grills are generally the cheapest option initially but cost more to operate. Charcoal is by far the hardest fuel type to cook with for anything other than high heat burgers and dogs style barbecuing. Once you've mastered it, though, you can effectively cook just about any meat to smoky perfection.
Pellet Grills – Last but certainly not least we have pellet grills. These are relative newcomers to the grilling world but offer the most flexibility in what you can cook. Pellet grills combine an electric ignition system with a computerized control setup that allows you to precisely target a specific temperature with natural wood fuel.
You wind up with a combination smoker/grill that can cook just about anything to perfection with very little input. There are some caveats, though.
Pellet grills are power hogs. You'll need either serious extra wattage on your generator or shore power to run them for a reasonable length of time. Both the grill itself and the pellets are still quite expensive as well.
If you're cool with that though, they're excellent grills that make you look like a true grillmaster effortlessly.
Grill Area
The grill area determines how much food you can cook at once. Larger grill areas allow you to cook bigger meals for more people, at the cost of greater size.
Factor in how much food you consistently need to cook vs. the amount of storage space you can devote to your grill.

Side Burner
A side burner on a grill is very similar to a traditional camp stove. It's basically one or two round eyes that allow you to cook in a skillet, saucepan, or pot.
It can really come in handy if you want to cook your entire meal on the grill without going into and out of your RV.
As with grill area, though, side burners add extra size to your grill.
BTU Output
BTU, short for British Thermal Units, is the standard unit used to measure heat output. RV grills are generally smaller than traditional grills and have lower overall BTU ratings, but follow the same general rule of thumb.
For standard grilling, we recommend 75-100 BTU per square inch of grill space. That gives you enough available power to put a serious sear on steaks or bbq while still giving you the flexibility to reduce fuel consumption and heat output.
Ease of Setup
Not all RV grills are created equal. The bigger grills are very similar to those you probably have on your back porch, while smaller models look like nothing so much as tabletop camping stoves.
Setting them up depends on the size and configuration. Larger stoves generally require nothing more than pulling them out of storage and lighting them off. Smaller models, and models specifically designed for RVs, may require some basic assembly.
The fuel type of your stove also affects the setup for your grill. Gas grills start-up and reach cooking temps much faster than comparable charcoal models. The downside to this is that you have to either hook them up to your RV propane tank or carry a second one just for your grill.
Portability & Storability
Any RV enthusiast knows that space is always at a premium in any RV. RV specific grills are designed to be as portable and storable as possible.
Some really nice features to look for are grills that break down and pack into a storage container. Others fold down into a smaller, more streamlined package.
You can also go for the extremely compact grills for the same purpose. Some are designed to sit on a table and take up barely more space than a trading camping stove.
Grates
One thing to really look for with RV grills are removable grates. Not only does this make cleaning your grill grates much, much easier, it allows you to swap them out for other styles.
We're quite partial to griddle/teppanyaki-style grill grates, but there are also ones with narrower or wider gaps between the bars and specialized seafood, steak, and other food grates.
Heat Control & Vents
How you can control the heat of your grill really depends on the fuel and grill type. Gas and electric grills are the easiest, followed by pellet and charcoal grills.
For gas and electric grills it's basically the same as when using a standard stove. You turn a knob to increase or lower the temperature until you get it just right.
Pellet grills are equally easy to control, but take more time to adjust. Every time you change the temperature setting, it takes 5-10 minutes to adjust the amount of pellets being fed into the burn chamber to change the temperature.
Lastly, we have charcoal grills. Controlling the heat of a charcoal grill requires the most skills of the fuel types.
It starts with choosing the right amount of charcoal and placing it in the right spot under or around your food. From there, you can adjust airflow using vents and change the physical arrangement of the charcoal pieces.
RV Grill Mount
Larger RVs, and especially motorhomes, often have an accessory rail running along the side. Many RV grills take advantage of this with an included mounting bracket.
It allows you to lock your grill into place and cook up dinner without having to worry about finding a flat piece of land. There are upsides and downsides to this, though generally, we like them.
The only real downside is that grills with RV mounts require more setup before you can get cooking than those without.
Top RV Grills Video
FAQ: Best RV Grills
When it comes to enhancing your RVing experience, having the right grill can make all the difference. Whether you're a seasoned RVer or new to the world of outdoor cooking, it's natural to have questions about RV grills. In this section, we've compiled some of the most frequently asked questions to provide you with the answers you need to make an informed decision.
From understanding the unique features of RV grills to selecting the right size and fuel type, we'll address your concerns and help you navigate the world of RV grills. We'll also provide tips on cleaning, installation, and using your RV grill safely. So, let's dive into these common queries and equip you with the knowledge to choose the best RV grill that suits your needs and enhances your outdoor culinary adventures.
Why do I need an RV grill?
An RV grill is a great addition to your outdoor adventures. It allows you to enjoy delicious grilled meals while on the road, making your camping or RVing experience even more enjoyable.
What makes an RV grill different from a regular grill?
RV grills are designed specifically for travel and outdoor use. They are typically more compact, lightweight, and portable than regular grills, making them easier to transport and store in your RV. They often come with features such as foldable legs, mounting options, and quick setup for convenience on the go.
What types of fuel do RV grills use?
RV grills can use various types of fuel, including propane, charcoal, and electric. Propane grills are popular due to their convenience and availability of propane tanks. Charcoal grills offer a traditional grilling experience, while electric grills are convenient for RVs with electrical hookups.
How do I choose the right size of RV grill?
The size of the RV grill depends on your personal preferences and cooking needs. Consider factors such as the number of people you typically cook for, available storage space in your RV, and whether you prefer a tabletop or a standalone model. Smaller grills are more portable, while larger grills offer more cooking surface.
Can I use my RV grill indoors?
It's generally not recommended to use an RV grill indoors. These grills are designed for outdoor use due to safety concerns associated with the use of open flames or combustible fuels. Always use your RV grill in a well-ventilated outdoor area away from any flammable materials.
Are RV grills easy to clean?
Many RV grills are designed for easy cleaning. Look for grills with removable grease trays or drip pans that can be easily emptied and cleaned. Some grills also have non-stick cooking surfaces that make cleaning a breeze. Follow the manufacturer's instructions for proper cleaning and maintenance.
Can I use my RV grill with a portable propane tank?
Yes, most RV grills are compatible with portable propane tanks. These tanks are readily available at camping supply stores and can be easily connected to your grill. Make sure to follow the proper safety precautions and guidelines for connecting and using propane tanks.
Can I mount my RV grill to the exterior of my RV?
Many RV grills come with mounting options that allow you to attach them to the exterior of your RV. This can be a convenient space-saving solution, especially for smaller RVs or if you want to free up valuable storage space inside your vehicle. Follow the manufacturer's instructions for proper installation.
Can I use my RV grill for other outdoor activities?
Absolutely! While RV grills are designed for RVing, they can also be used for other outdoor activities such as tailgating, picnics, and camping trips. Their portability and convenience make them versatile for various outdoor cooking needs.
Are RV grills expensive?
The price of RV grills can vary depending on the brand, size, features, and fuel type. You can find affordable options starting around $50, while more high-end models can range upwards of a few hundred dollars. Consider your budget and cooking requirements when selecting the best RV grill for you.
Final Thoughts
RV grills are one of the best ways to cook up a delicious meal in the great outdoors. No matter what size rig you have, it's possible to find a size and type of grill that fits your needs.
Keep in mind what you want to cook, how many people you want to prepare it for, and what kind of fuel you prefer to use. That, combined with your available size, makes it easy pick out the best RV grill.