If you can't get a comfortable night's sleep in your RV, it's pretty much pointless owning one.
If you're tired, you won't be able to enjoy your time exploring new places, and sleep deprivation could make driving could become downright dangerous. Plus, when living in such close quarters, fraying tempers from a lack of rest can quickly become full-blown rows.
To ensure you enjoy your vacation (and stay on good terms with your travel companions), you need to purchase the best RV mattress for your rig. Read on to find our top picks, and look forward to a restful night's sleep on the road.
Best RV Mattress
Here is our top selection of the best RV mattresses on the market. All of these mattresses come in various RV sizes, so you are sure to find the perfect sized mattress for your trailer.
Several companies also provide customized sizes, ideal if your motorhome has had an extensive refit or needs a non-standard RV mattress size.
Best RV mattress for the money
DynastyMattress 10-inch CoolBreeze Gel Memory Foam Mattress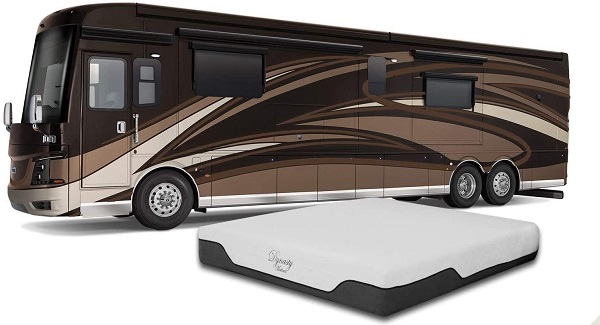 For a luxuriously comfortable night's sleep, even in hot summer temperatures, check out the 10-Inch CoolBreeze Mattress by DynastyMattress. Established over 13 years ago, this mattress manufacturer has several special RV-sized mattresses at affordable prices.
Its 10-inch profile consists of 2.5 inches of cooling gel-infused memory foam for body contouring and temperature regulation, plus 7.5 inches of durable high-density foam for structure and support. Beneath the four-way stretch cover, a fireproof barrier helps to keep you safe, while this mattress is CertiPUR-US certified for emissions, performance, and durability.
The foam construction is naturally hypoallergenic and resistant to mold, bacteria, and mites, making it ideal for use in RVs, as well as a highly durable model. Rated medium to medium-firm, this mattress is a good choice for back and side sleepers, although if you prefer a softer comfort level, you can always add an extra topper.
Weighing almost 80 pounds in the short-queen size, it's a little on the heavy side, but we think its pressure point-relieving cool gel layer makes it worth it. If you're sharing your RV with a significant other, rest assured that this RV mattress also provides excellent low motion transfer.
Complete with a 30-year limited warranty, this mattress is a great buy for the money. If it's compatible with your RV, it is well worth considering for extra comfort and a cooler night's sleep.
Pros – Things we liked
Cooling gel-infused memory foam
Four-way stretch cover
Mattress is CertiPUR-US certified
Naturally resistant to mold, bacteria, and mites
30-year limited warranty
Cons – Things we didn't like
Pretty heavy at 80 lbs
Best RV mattress for customizing
Tochta Custom Built RV Mattress
Whether your RV has an unusual size mattress or you are looking for extra luxury and comfort, a Tochta Custom Built RV Mattress makes an excellent choice. In business since 1980, all of Tochta's mattresses are handmade in Southern California out of CertiPUR-US foams.
Create your very own mattress to suit your exact specifications, without compromising on comfort. Choose between 2-10 inches thickness, up to 88" wide, and 100" long, with a Tochta mattress you're in complete control making it easy to replace your RV mattress. A standard RV queen size weighs around 63lbs depending on the mode – a good weight for a comfortable sleep.
All models use premium high-density foam, and as you adapt your choices to suit your preferences, you can upgrade to an upper Dual Phase Change Foam layer that provides extra spinal support and enhanced temperature regulation. No fire-retardant chemicals are used, instead, a fire barrier prevents flames from spreading, meaning you won't get any leeching of dangerous chemicals.
Each Tochta mattress can be used on a flat base, as well as an adjustable one, making them an excellent choice for any type of RV sleeping quarters. Thanks to their high-quality materials and construction process, your new mattress will be highly durable and comes complete with a 10-year warranty.
As you'd expect, these mattresses don't come cheap. However, there is a 100-night money-back trial, just in case you're not fully satisfied, as well as a reactive customer care team who can help and advise you in creating your perfect RV mattress.
If you have the money to spend, a Tochta Custom Built RV Mattress is definitely one of the very best RV mattresses around.
Best lightweight and low profile RV mattress
Bear RV Mattress

Looking for a foam RV-bunk, RV-queen, or RV-king mattress? Bear make all of their mattresses in the USA from premium-quality CertiPUR-US materials. Free from toxic chemicals and fire retardants, Bear RV mattresses are a great choice for any motorhome, especially recommended for full-timers.
While these mattresses are not customizable, they are lightweight with a low profile, making them ideal for your average motorhome. The RV-queen size weighs just 59lbs, lighter than most others with compatible high comfort levels.
Thanks to its multi-layered construction, this eight-inch foam mattress provides you with support and comfort. The breathable celliant cover helps to regulate temperature, as does the one-inch top layer of cooling graphite-gel memory foam for sink-in softness. Rated medium-firm in support levels, the middle layer features a one-inch thick responsive transition foam, followed by six inches of high-density support foam.
Long-lasting, thanks to its durable construction, the Bear RV mattress comes complete with a 10-year limited warranty plus a 100-night sleep trial. If you are dissatisfied after trying it out for 30 days, you can return it under the money-back guarantee.
This popular RV mattress combines great materials and industry know-how for an RV mattress that will more than live up to your bricks-and-mortar version. Whether you're living in your RV full-time or comfort and lumbar support is a priority for you whenever you hit the road, the Bear is a good choice at a reasonable price point.
Best RV mattress for heavy people
Brooklyn Signature Hybrid RV Mattress

The Brooklyn Signature Hybrid RV Mattress is available in various RV bunk and king sizes, all custom-made in the USA to your choice of three levels of firmness: soft, medium, or firm. Soft RV mattresses are few and far between, making this model a definite one to place on your list.
Deeper than most RV mattresses at 11-inches thick, make sure you have enough space to fit this luxury model. Thanks to its combination of highly supportive pocketed coils and a patented hyper-responsive foam, you're sure to get an excellent night's sleep with this hybrid RV mattress.
The premium quilted top provides cooling and resists body impressions, while the high-caliber perimeter coils give you great edge support, something that is virtually non-existent with foam-only mattresses. 1.5 inches of TitanFlex foam contours to your body, while the TitaniumGel draws heat away from your body. The second layer consists of either deep compressing Energex foam or high-density memory foam depending on the level of firmness you select.
The six-inch base part of the mattress contains up to 961 individually encased coils that decrease motion transfer from your partner, whilst providing excellent levels of support. Lastly, a bottom layer of high-density foam adds extra durability and provides support for the coils. All Brooklyn Bedding mattresses are capable of supporting weights up to 950 pounds, making them a great choice if your weight is less compatible with a foam-only mattress.
This company offers excellent customer service with Sleep Specialists at your service via chat or email, to help you find the best model for your needs. There is also a 120-night trial included, plus a 10-year warranty.
Best RV mattress for even weight distribution
Mattress Insider Luxury RV Memory Foam Mattress
A highly popular choice for motorhomes, the Luxury RV Memory Foam Mattress by Mattress Insider can be made to any size that you require – ideal for non-standard RV bunks. With a choice of 8 or 11.5 inches height, you're further able to customize this model to better fit your RV.
USA-made, this mattress combines a cooling gel memory foam upper layer with a counting support base, great for back support, as well as helping you to sleep well on hot summer nights. The outer cover is made from moisture-wicking 100% organic cotton that is soft, durable, and cool.
Thanks to the rapid recovery foam used in its production, this RV mattress evenly distributes your weight providing good levels of support. At 75 lbs for a queen size 8-inch model, it is a little on the heavy side, although you will appreciate the extra comfort.
Like most foam mattresses, this RV mattress is recommended for two people up to 250 lbs. If you're reaching that figure, you may be more comfortable with a coiled mattress for better back support.
The Luxury RV Memory Foam Mattress is a good choice for trips to warmer climates, helping you to stay cooler, while its customizable sizing makes it a fantastic choice for any RV. You can also contact the customer service team to order a specific shape RV mattress.
Complete with a 121-Night Comfort Guarantee and a 20-year warranty, you can rest assured that this is a high quality product. While it is not the cheapest, if you need a custom-sized RV foam mattress, this is certainly one to consider.
Made in the USA by a family-operated company
Sleep EZ Latex RV Mattress
The Latex RV Mattress by Sleep EZ is manufactured and designed to ensure a universal fit with most popular trailer and RV brands. Thanks to its upper layer of naturally dense and pressure-relieving latex, if you can only accommodate a six or nine-inch thick mattress, this is definitely the one to go for.
Made in the USA by a family-operated company, you can also order the Sleep EZ Latex RV Mattress in a custom size to suit your rig. Latex is a highly popular choice for mattresses, as it is naturally hypoallergenic, as well as being fully mold and mite resistant. Add on its impressive durability and air circulation properties and you can see why it's such a popular choice.
To keep it affordable, the lower 3 or 6 inches of each mattress are made from a high-density support foam that perfectly complements the latex, to alleviate pressure points by as much as 90%, for greater comfort and a more restorative night's sleep. The stretch cotton cover is also highly breathable and helps to keep your mattress in prime condition.
Complete with a long 20-year warranty, if you often toss and turn, having difficulty getting comfortable at night in your RV, this mattress makes a good choice. Depending on your bed size, it can be a little expensive, however, it is a great alternative to standard all-foam RV mattresses and provides extra comfort with a lower profile.
Budget-priced RV Mattress
Linenspa 8 Inch Memory Foam RV Queen

Looking for an affordable RV mattress? The 8-Inch Memory Foam RV Queen model by Linenspa won't break the bank and is a definite improvement over any standard RV mattress.
Featuring a quilted memory foam cover, to minimize pressure points and improve spine alignment, you'll be able to look forward to comfortable nights spent in your RV. Beneath this, a comfort layer of high-density foam provides extra support, while the lower base of tempered steel springs gives you extra breathability and durability.
This hybrid RV mattress effectively distributes your body weight to provide you with greater comfort and support as you sleep, no matter what your preferred sleep position. Rated medium firm, it provides good support levels, especially considering its low 8-inch profile which is ideal for if you have limited height in your trailer.
While this model makes a great affordable choice for your trailer, it is less suitable for full-time use. Used very regularly with two adults, the springs can become noisy and the support less comfortable. However, it's ideal for vacation use throughout the year.
CertiPUR-US certified, the Linenspa RV Mattress is a budget-priced model that is well worth getting to improve your comfort during trips in your RV. If you are a full-timer or have a bigger budget, there are plenty of other options out there that will be more suitable. If you urgently need a cheap RV mattress replacement, this is the one to go for.
Best RV mattress for kids
FoamRush Bunk Cooling Gel Memory Foam RV Mattress Replacement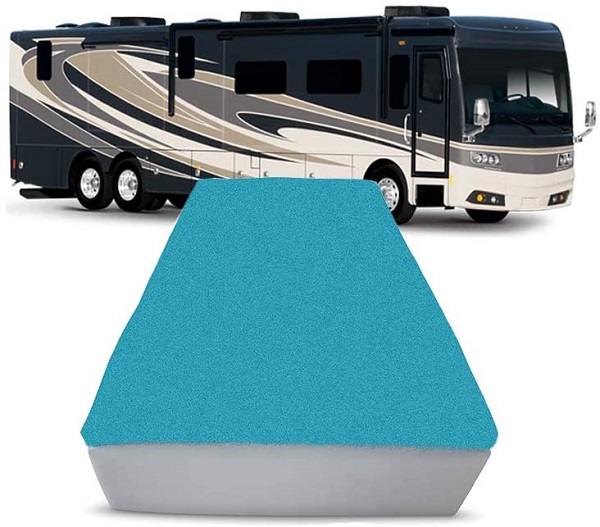 Need to replace the mattress in your RV bunk? This model by FoamRush is affordable and comfortable, whether you need to improve your children's sleeping quarters or your own.
Available in a variety of lengths, thanks to its low profile of just four inches, this mattress is compatible with most standard RV and trailer bunks. To improve your sleep quality on hot summer nights, this model features a one-inch upper layer of ventilated gel memory foam. This also improves contouring and easily adapts to multiple sleeping postures, ideal if you change your position frequently throughout the night.
Below, there is a highly supportive layer of high-density foam to ensure that you sleep comfortably. Rated medium, this RV bunk replacement mattress is a good all-round buy that combines comfort and affordability. However, note that the cover is not included and must be ordered separately.
As these mattresses are made in the USA, FoamRush can provide you with a custom cut foam mattress to suit your specifications on request. Ideal for conversions or if your camper has a non-standard size mattress.
While they are not the most durable, the company recommend a usage span of around five to seven years, nor the most luxurious, if you have just bought a new-to-you RV it is well worth swapping out the mattresses for new ones and these cool gel bunk RV mattresses are an affordable way to a more hygienic, better night's sleep.
Great money-saving RV mattress
Zinus Deluxe Memory Foam 8 Inch RV / Camper / Trailer / Truck Mattress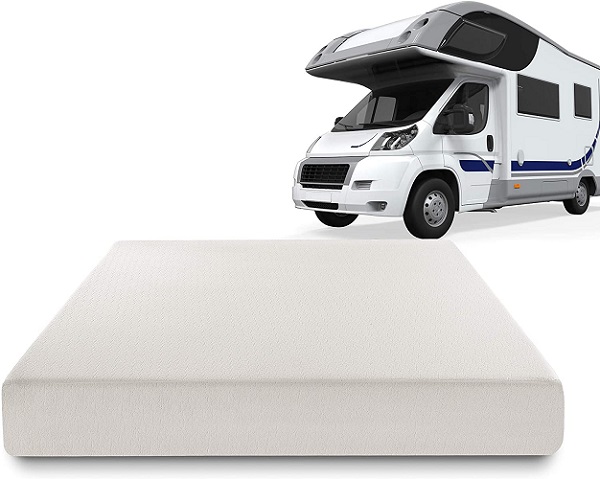 This short queen memory foam mattress is a great money-saving model for your RV. At 8-inches thick, it provides you with the comfort and support that you need, without taking up too much space inside your RV.
Rated as plush, this is a good model if you are looking for a soft, rather than a firm, RV mattress upgrade. The top is made with a two-inch memory foam layer that contours your body for softness and sink-in comfort. Beneath, a two-inch Pressure-Relieving Comfort Foam layer helps to support your joints and alleviate pressure on your hips and shoulders, especially recommended for side-sleepers.
For a long lifespan and extra durability, the four-inch high-density foam base will keep you supported in any sleeping position all night long. It also adds stability and prevents motion transfer, ideal if you have a partner who tends to toss and turn.
Lightweight at just over 42 pounds, this budget RV queen mattress is an excellent choice for the money. It is comparable to many models costing double or even triple the price and makes an excellent upgrade to any standard RV mattress.
Complete with a 10-year limited warranty, if you need to replace your RV queen mattress on a budget, you'll struggle to find a better model for the money than this one by Zinus.
Buyer's Guide to Buying the Best RV Mattress
To help you to find the very best RV mattress, we've compiled this buyer's guide full of useful advice on all of the most important features and considerations when choosing your new RV mattress.
Price
RV mattresses, just like regular mattresses, come in at a wide range of prices. From the most basic to the most luxurious, you can get away with spending a few hundred up to several thousand dollars.
While a good RV mattress will set you back at least several hundred dollars, understandably, most people who use their RV recreationally are reluctant to spend the same amount on a mattress they will only use for a few weeks as they would on one for their bricks-and-mortar home.
Full-timers, on the other hand, will be better off spending a substantial amount for a more durable mattress that will live up to being used every night of the year. In short, you need to factor in how often you're planning on using your RV, what your comfort levels are, and what your budget can stretch to.
For example, you may have just bought a new-to-you RV and need desperately to change the heavily used mattresses. Anything will be an upgrade, but spending more to get a better, more durable mattress makes more financial sense than replacing a cheaper one in a couple of years.
Ultimately it all comes down to the amount of cash that you have available, so set your budget, but revise if necessary.
Full-timers and frequent RVers should look at spending at over $500, whereas recreational, occasional RVers can get away with cheaper models for shorter periods of use.
RV Mattress Sizes & Profile
RV mattress sizes and profiles differ from standard mattresses. We strongly recommend measuring the space where your mattress goes and making your purchase accordingly. The reason for this is, over time the original RV mattress may have deteriorated or even been replaced with a less than well fitting model.
Most big brand RVs will have standard RV mattress sizes that fit one of the following RV mattress sizes, although if you have a conversion you may need to invest in a custom fit RV mattress.
RV king mattress – 72" x 80"
RV short king mattress – 72" x75"
RV queen mattress – 60" x 80"
RV short queen mattress – 60" x 74-75"
RV full mattress – 53-55" x 75"
RV three-quarter mattress – 48" x 75"/80"
RV bunk mattress – 28-35" x 75-79"
As you can tell, even some of the standard RV mattress sizes can vary considerably, so make sure you measure up your sleeping quarters before making your purchase.
Another important factor to consider is your RV mattress profile. In some large mobile homes, you'll be able to install a deep 10-inch or even deeper mattress.
In most RVs, however, you'll want to stick to below 10-inches, especially in smaller trailers or where the bed in question has height restrictions or is part of your seating area.
Weight
Weight is always an important factor to consider when purchasing equipment for your RV. We all want to keep our weight down, reducing fuel costs and tire wear.
In some cases you may even need to move your mattress around within your RV, so make sure that it is as lightweight as possible, without compromising too much on support and comfort levels.
Ideally, with a low-profile mattress you should be able to find models between 50-75 pounds. If you are RVing as a couple full-time, however, you may want to up this limit and sacrifice weight elsewhere. It all depends on your budget and what type of RV mattress best suits your sleeping style.
Contouring
Memory foam RV mattresses in particular provide excellent contouring. When a mattress conforms to your body's contours it helps to ease pressure points and provides comfortable relief from aches and pains.
Whether you've spent all day on the trail or behind the wheel, a contouring mattress will cushion your body while helping to keep your spine correctly aligned for a restful night's sleep.
Noise
Whether it's just you and your partner or your whole family sleeping in your RV, a noisy mattress can prevent you and others from getting a full night's sleep.
A frequent complaint with coil mattresses, foam and latex models tend to be virtually silent, making them a better solution for families or if your partner tends to toss and turn at night.
If you are looking for coil versions, look for hybrid models with noise-dampening foam layers below and above the coils.
Fireproofing
In order to meet Consumer Product Safety Commission standards, all mattresses must pass an open flame test.
While this is especially important in RVs, being full of highly combustible materials, unfortunately, some mattress companies take the easy-route to fireproofing and treat their mattresses with chemicals.
These chemicals can be extremely dangerous and are slowly released throughout a mattress' lifespan, potentially leaching into your body and endangering your health.
Responsible mattress companies will have CertiPUR-US certification, using non-toxic materials for fireproofing, such as wool or kevlar.
Mattress Firmness
Your RV mattress firmness is a matter of personal preference, some people will find the same mattress to be too hard or too soft.
However, aside from your preferences, you should also consider your bodyweight and sleeping position. Bear in mind that it can take a few weeks to fully acclimatize to a new mattress, so give yourself some time to adapt after installing your new RV mattress.
RVers with low body weight will find softer mattresses to be more comfortable, whereas heavier people will benefit from firmer mattresses to prevent sagging. Side sleepers often prefer more give to better accommodate their hips and shoulders, while front sleepers often need firmer mattresses. However, these are general guidelines rather than rules.
Does it Come With an RV Mattress Topper?
Some more luxurious RV mattresses may come complete with a topper. While this is often a separate after-purchase, investing in a model with a topper ensures that your topper will fit securely.
Mattress toppers are typically used to add an extra layer of softness to your mattress, while the mattress itself provides the support that you need for a comfortable night.
If you find that your new RV mattress is a little too firm for your liking, you can always add a topper, or try to improve the comfort of an older mattress while you save up for a new one.
Temperature Regulation
Some people tend to sleep hot at night, even in their bricks-and-mortar home. If you are traveling in your RV in summer, especially to a hotter climate, you may struggle to sleep on warm nights.
Even if you have AC fitted in your RV, you may not always be parked up with shore power available, plus some people don't like the noise of their AC on while they're trying to get to sleep.
Choosing a cooling gel mattress can help reduce your mattress sleeping temperature by one or two degrees. Breathable, moisture-wicking covers can also help, as well as special airflow passages built into the foam.
Traditional coiled mattresses or hybrid models tend to promote airflow for improved breathability as air can move more freely through the coils, transferring heat away from your body.
Warranty Coverage
As purchasing an RV mattress can be a large financial investment, it makes sense to look for a company that stands behind their product with a good warranty. This will ensure that should your mattress have any manufacturing defects, you can return it for a replacement or your money back.
Before purchasing, it's advisable to read up on the exact warranty terms as there can be quite a difference between different companies. Most reputable manufacturers will provide a five-year plus warranty for their RV mattresses.
Sleep Trial
If you are worried about purchasing a new RV mattress online, the best option is to go for a model that comes with an included sleep trial. This allows you to try out your mattress for a set period of time, during which you can return it for your money back if it doesn't meet your expectations.
Most mattresses with a sleep trial can be returned within around 100 days. While some require you to try out your mattress for at least 30 nights before returning, others allow you to do so sooner. Return shipping is an important consideration to take into account, it can cost several hundred dollars to return a mattress once it has been opened and has fully inflated.
Always check the return policy before purchasing, especially if the manufacturer covers return shipping for sleep trial. Otherwise, you could be left out of pocket and still without an RV mattress.
Are RV Mattresses Different from Normal Mattresses?
Yes, while sometimes you can manage to find a regular mattress that fits, RV mattresses are often shorter than standard models.
Aside from often being up to five inches shorter, so you can make the most of your limited RV living space, RV mattresses also tend to be thinner, making them lighter.
Thinner, lighter, and shorter, you should find that most RV mattresses are cheaper than standard equivalents, however, as there are fewer RV mattresses around, the savings in materials don't always directly translate into cost savings for the consumer.
Like regular mattresses, there are various types of RV mattresses available. Including foam, gel, memory foam, latex, innerspring, and hybrid models.
Best Types of RV Mattresses
To find out which type of RV mattress is best for your rig, take a look through the main types of RV mattresses that are readily available on the market.
Foam – Foam RV mattresses are one of the most popular types given their low weight and inexpensive price tag. While simple foam versions don't provide that much support they are easily cut to size, making them readily available in customizable sizes for not much extra. Simple foam mattresses don't tend to last that long and you won't want to be using one night after night over long periods.
Memory Foam – Memory foam mattresses come with a layer of special foam that creates a sink-in, hugging sensation for greater comfort. However, this can trap body heat making you uncomfortably hot during warm summer nights.
Gel Memory Foam – Gel memory foam RV mattresses address the heat problem by infusing the foam with cooling gel or graphite. This helps to lower your sleeping temperature by absorbing heat away from your body for a better night's sleep.
If you frequently RV in warmer climates or during the summer months, a gel memory foam mattress will be much more comfortable than a standard memory foam version.
Coiled – Coiled RV mattresses use springs to evenly distribute and support your body weight. They are less popular than foam or hybrid models, as they tend to provide lower comfort levels, sag more easily with age, and can be noisy. They do, however, provide good breathability with better airflow than foam mattresses.
Hybrid – Hybrid RV mattresses give you the support and breathability of coiled mattresses with the comfort of foam. The foam can also help to reduce any noises from the springs.
Unfortunately, hybrid RV mattresses are not currently very common, although they are growing in popularity. They are also fairly heavy, being thicker, which can make them more difficult to move.
Latex – Latex is a natural substance that is hypoallergenic, antimicrobial, and dust-mite resistant, making them a good choice for allergy sufferers. Unfortunately, full latex mattresses are expensive and very heavy.
You can, however, find RV versions that use a foam base with a latex upper layer so you can benefit from its natural springiness and body-molding properties.
Air – While you may associate air mattresses more with tent camping, if your camper doesn't have a dedicated sleeping area, or if you are accommodating an extra person this vacation, an air RV mattress is a great way to add an extra bed to your RV. Inexpensive and easily inflated and deflated, air beds take up next to no space when not in use and are fairly comfortable for occasional use.
Type of RV
Personal preferences and sleeping positions aside, your type of RV will heavily influence your choice of RV mattress. Here's how to choose the best RV mattress for each type of RV.
RV Mattresses for Motorhomes
Motorhomes, or RVs that you can drive, come in three distinct classes. They include some of the largest types of RVs around and can accommodate various mattress types and sizes.
Class A
Class A motorhomes are the largest available, often around 50-feet long. Depending on your class A's individual layout, you may well have generous sleeping quarters that can fit standard mattress sizes.
However, most class As will also have bunks or a convertible sleeping/living area for family members or guests that may well require an RV-specific sized mattress.
Class B
Smaller than class As, some class Bs still have ample sleeping quarters, while others may be more limited. It all comes down to your model's layout and how many people it sleeps.
Larger sleeping quarters and lower occupancy may allow you to accommodate a standard sized mattress or RV king or queen mattresses. If you sleep a crowd, space will be tighter and you'll have to look for RV-specific sizes only.
Class C
Class C RVs are smaller again. As they are built upon a truck chassis, they tend to feature pull-out sofas or over cab beds. You may need to order a custom-sized RV mattress or a low-profile RV mattress to make sure you have enough clearance.
RV Mattresses for Fifth Wheel Trailers
Fifth wheel trailers tend to have generous sleeping quarters, especially when they are destined for couples or small families.
While your luxury fifth wheel may have a master suite that can accommodate a large standard-sized mattress, some fifth wheel trailers are designed for larger families to get away and have less sleeping space.
RV Mattresses for Travel Trailers
Travel trailers tend to be long and feature fold-out beds or convertible seating. For this reason, you'll likely struggle to fit a standard mattress. RV bunk mattresses or custom-sized versions are the best options here.
Also. you may need to look for an RV mattress with a customizable thickness, as well as specific length and width measurements
RV Mattresses for Pop-Up Trailers
Pop-up trailers have very little space. If you are looking for a mattress for your pop-up trailer your best option is to order a thin one cut to your specific dimensions or to purchase an RV air mattress that you can simply deflate after use. Mattress toppers can also make a decent enough alternative for short trips.
Top RV Mattresses Video
Frequently Asked Questions about RV Mattresses
When it comes to outfitting your RV for comfort and relaxation, choosing the right mattress is paramount. However, navigating the world of RV mattresses can be overwhelming, especially if you're unfamiliar with the specific requirements of these unique sleeping spaces. To address your queries and help you make an informed decision, we've compiled a list of frequently asked questions about RV mattresses. Whether you're a seasoned RVer or embarking on your first adventure, this FAQ section will provide valuable insights and guidance as you search for the best RV mattress to ensure restful nights on the road. From mattress sizes and comfort levels to customization options and cleaning tips, we've got you covered. Let's dive in and find the answers you need to make your RV sleeping experience truly exceptional.
Why do I need a special mattress for my RV? Can't I use a regular mattress?
RV mattresses are designed specifically for the unique requirements of recreational vehicles. They are typically lighter, more compact, and often have special features like increased flexibility and durability to withstand the rigors of travel. Regular mattresses may not fit properly in the limited space of an RV or provide the necessary support during travel.
What is the ideal size for an RV mattress?
The ideal size of an RV mattress depends on the dimensions of your RV's sleeping area. Common RV mattress sizes include twin, full, queen, and king. Measure your RV bed platform to ensure the mattress you choose fits correctly and leaves enough space to move comfortably within the RV.
Are RV mattresses comfortable?
Yes, RV mattresses can be just as comfortable as regular mattresses. Many RV mattresses are made from high-quality foam or hybrid materials that provide excellent comfort and support. Look for features such as memory foam, cooling gel-infused layers, and individually wrapped coils for enhanced comfort during your travels.
How can I ensure a good night's sleep in my RV?
To ensure a good night's sleep in your RV, consider the following tips:
Choose a mattress with the right level of firmness or softness that suits your preferences.
Look for mattresses with motion isolation capabilities to minimize disturbances from partner movement.
Opt for mattresses with cooling properties if you tend to sleep hot.
Use mattress toppers or pads to add an extra layer of comfort and support.
Maintain good ventilation in your RV to prevent moisture buildup and ensure a comfortable sleeping environment.
Can I use regular bedding on an RV mattress?
In most cases, you can use regular bedding on an RV mattress as long as it matches the size of your RV mattress. However, due to the limited space in RVs, it's recommended to use bedding specifically designed for RVs as it is often tailored to fit the dimensions of RV mattresses more precisely.
Can I customize an RV mattress to fit my specific needs?
Yes, many manufacturers offer customization options for RV mattresses. You can often choose the level of firmness, select materials, or even have a mattress made to fit the exact dimensions of your RV sleeping area. Check with mattress manufacturers or retailers to inquire about customization options.
How long do RV mattresses typically last?
The lifespan of an RV mattress can vary depending on the quality of the mattress and how well it is maintained. On average, a good quality RV mattress can last between 8 to 10 years. However, factors such as usage frequency, weight distribution, and care practices can affect its durability.
Can I purchase an RV mattress online?
Yes, there are several online retailers that specialize in selling RV mattresses. You can browse through their selections, read customer reviews, and choose a mattress that suits your needs. Just make sure to check the return policy and warranty before making a purchase to ensure you have a hassle-free experience.
Are RV mattresses easy to clean?
Cleaning methods for RV mattresses may vary depending on the materials used. Most RV mattresses come with removable covers that can be machine washed, making them relatively easy to clean. Additionally, using a mattress protector can help keep the mattress clean and extend its lifespan. Always refer to the manufacturer's instructions for specific cleaning guidelines.
Can I use a regular mattress in my RV if I don't plan on traveling frequently?
If you have a stationary RV or don't plan on traveling frequently, you may be able to use a regular mattress in your RV, provided it fits properly and meets your comfort needs. However, keep in mind that regular mattresses might be heavier and less flexible, which could make installation and maneuverability more challenging in the limited space of an RV.
Final Thoughts
With an ever-increasing number of RV mattresses on sale, there is plenty of choice if you are looking to replace or upgrade your RV mattress.
Whether you've just bought a new-to-you trailer or suffer from backache every time you take a vacation in your RV, replacing your mattress is a must. A good night's restful sleep is essential to make the most out of your time spent exploring in your rig.
If you're struggling to make up your mind and are looking for an inexpensive replacement RV mattress, take a closer look at the Zinus Deluxe Memory Foam 8-Inch RV Mattress. It's a lot cheaper than many other models, but it has plenty of excellent features. Lightweight, this three-layer foam mattress combines memory, comfort, and supportive high-density foam for a good night's rest. It also has a 10-year warranty and an affordable price tag.
If you or your partner are fairly heavy and are looking for a highly durable, comfortable mattress that doesn't sleep hot, then the Brooklyn Bedding Hybrid Signature Mattress makes an excellent choice. Combining coils and foam, it's definitely well worth a closer look.
Alternatively, if you are looking for a luxury RV mattress that you can customize to suit your preferences, we recommend considering the Tochta Custom Built RV Mattress. With the freedom to choose your thickness, width, and length, as well as your desired level of firmness – this premium RV mattress is a highly popular model with full-timers.