Do you struggle to get comfortable in your RV? Does your seating area desperately need a remodel? With the best RV recliner not only will your interior look instantly updated, you'll also be able to relax in comfort and style. Here's how to choose the best recliner for your RV along with our selection of some of the very best models on the market.
What is an RV Recliner?
RV recliners are a type of comfortable chair with a backrest that tilts back allowing you to lean back and relax.
Just like their residential counterparts, they usually have a built-in extendable footrest that raises up and out as you recline back. RV recliners are lighter and smaller than bricks and mortar versions. They also often feature a swivel base and extra features such as cup holders or side tables.
Best RV Recliners
Take the easy route to finding the very best RV recliner with our top-rated reviews. Whether you're looking for a swivel recliner, a modern RV recliner, or the best recliner for your RV on a budget, we've got all options covered.
Best RV recliner for the money
Thomas Payne Collection Euro Recliner Chair with Footrest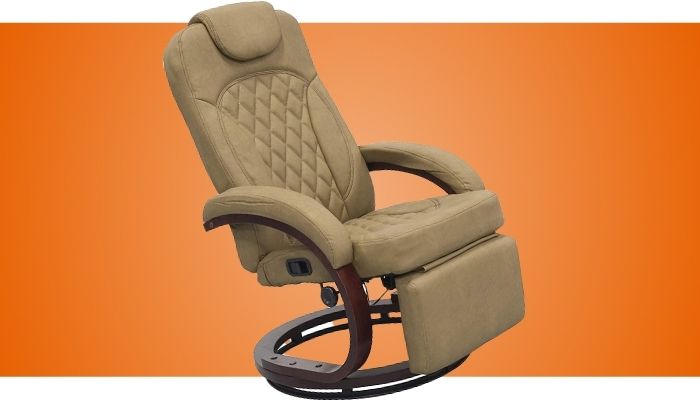 Created specially for the RV aftermarket, the Thomas Payne Collection combines quality, functionality, and style, as demonstrated by the Euro Recliner Chair with Footrest. Thanks to its sleek European styling and low 47-pound weight, this RV recliner is an extremely popular choice.
Available in several color options, it fits through a 26-inch door making it easy to install inside your motorhome. Simple assembly is required, although there are no instructions provided, it is very straightforward. You'll need seven inches of wall clearance at the top and 12 inches at the bottom, with a fully reclined depth of 60 inches – a perfect replacement size for most dated RV recliners.
Made from supportive high-density foam, this recliner is very comfortable. The diamond-stitched patterned upholstery is extremely easy to keep clean, with next to no maintenance required thanks to its durable PolyHide covering. The durable wooden base adds a touch of class and allows for a 360-degree swivel, making it one highly versatile chair.
Kick back and relax, take a snooze, or watch TV. With its smooth reclining motion and incorporated pop-out footrest, this recliner is incredibly easy to operate and requires no power. Space-saving when not in use, it has an extremely functional design, not to mention the highly comfortable padded headrest, armrests, and backrest.
While this RV recliner is not the cheapest, it is a really good quality model that is specially designed to live up to the constraints of space and RV life on the road. If you're a full-timer or just want to treat yourself to one of the best RV recliners, this one is a top choice for comfort, looks, and functionality.
Pros – Things we liked
Low 47 lbs weight
Available in several colors
Fits through a 26-inch door
Made from high-density foam
Easy to clean
Cons – Things we didn't like
No instructions provided
Best RV recliner for easy cleaning
RecPro Charles RV Euro Chair Recliner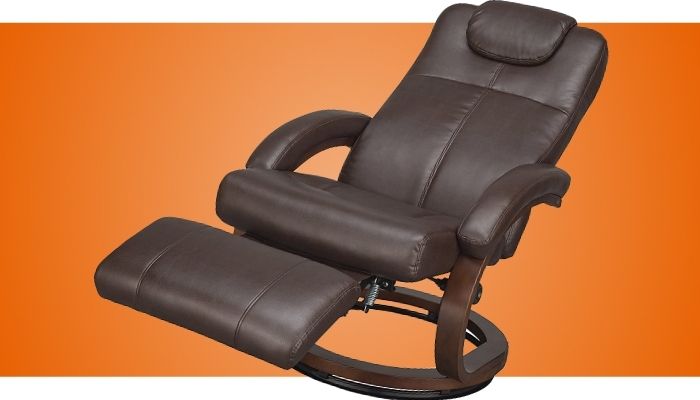 For a complete RV remodel, this set of two Euro Chair Recliners from the RecPro Charles collection will instantly update your RV interior.
Thanks to their streamlined profile, these modern RV recliners are compact enough for even small motorhome alcoves with a 27-inch wide frame. Weighing just 50 pounds, they are also a lot lighter than standard recliners.
Built specifically for RVs, the Euro Chair Recliner requires just 13 inches distance from your wall to fully extend into its reclining position of 57 inches. Easy to assemble, with a power-free operation, all hardware is included. They fit through most regular RV doors and thanks to their free-standing design, allow you to create a more open living area.
With their full swivel, these RV recliners are extremely practical, making them an ideal choice for multiple applications. Use them in your dining area, then swivel round and kick back to watch a movie. Choose from four color options to best match your decor, all Euro chairs come with a classic wooden circular base for longevity and style.
Thanks to its soft Suprima faux leather covering, complete with padded armrests, headrest, and backrest, this chair is very comfortable with a good amount of support. It is also more durable than cheaper vinyl versions and easy to clean. If you are looking for a set of two RV recliners in a modern style, this is one of the top choices around.
Best Traditional RV recliner
Thomas Payne Collection Manual Pushback Recliner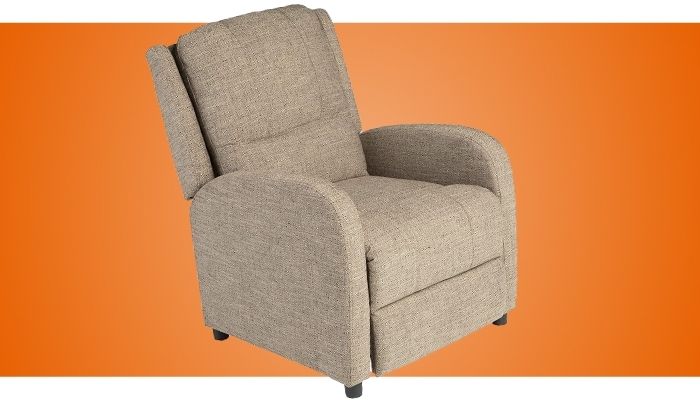 For a more traditional style, check out the Heritage Series Manual Pushback Recliner designed by RV furniture specialists at the Thomas Payne Collection. This comfortable RV recliner measures approximately 27.5 inches wide and should fit through most RV doors before assembly.
If you are purchasing this model to replace existing fixed seating, bear in mind that it requires 17 inches of wall clearance at the top and 17 inches at the bottom in order to fully recline. Unlike many other RV recliners, this one reclines right back for a relaxing fully reclined depth of 63 inches.
Thanks to its supportive web suspension and high-density foam construction it is very comfortable and highly relaxing. Ideal for RVing in hot climates, the low-maintenance Cobblestone Creek upholstery won't stick to your skin, unlike vinyl versions. Upholstery is also a good long-lasting choice as it won't crack or peel in the high temperatures often associated with RVing in summer.
Weighing 68 pounds, it's a bit heavier than some ultra-light slimline models, although it's still a good weight for your average trailer. While assembly is easy, unfortunately, there are some issues with certain models due to a change from the supplier resulting in a mismatch of the feet and the provided screws. As a result, you may need to screw in the feet on the wooden base next to where the predrilled holes are located.
This issue aside, this RV recliner is a good all-round choice if you are looking for a fixed upholstered model in a traditional closed design.
Best RV recliner for a low budget
Christopher Knight Home Swivel Recliner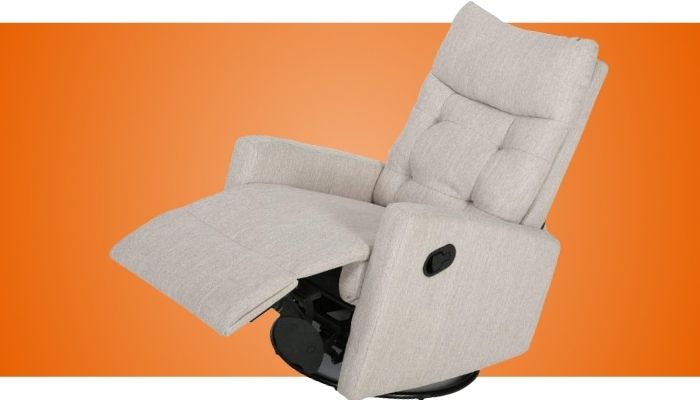 Another great fabric upholstered recliner for your RV, the Christopher Knight Home Swivel Recliner is both compact and lightweight.
Thanks to its contemporary styling, it's a popular choice to update a tired RV interior. What's more, aside from the light gray and beige shade fabric options, it's also available in a stunning teal or pink blush to provide your rig with a touch of modernity and a pop of color.
Measuring 25 inches wide, it will fit through most narrow RV doors before assembly. All instructions and tools needed to put it together are included, ideal if you're not very experienced at DIY. Weight-wise, it's on a par with a lot of specialist RV versions, weighing just 69 pounds making it easy to get into place.
In order to recline fully, you'll need around 16 inches of space between this recliner and your wall. So, while it is a compact model, you may need to pull it out before use. Thanks to its full swivel and gliding motion, it's a really versatile model that is well suited to RV life. Simply use your body weight to push back and the integrated footrest comes out and the chair reclines.
With its 100% polyester fabric covering, this chair will not peel or crack in the heat and your legs won't stick to it in summer. All in all, it's a great compact contemporary-styled model that works well in small spaces, making it a great choice to update your RV sitting area.
Best RV recliner for low maintenance
ACME Arcadia Recliner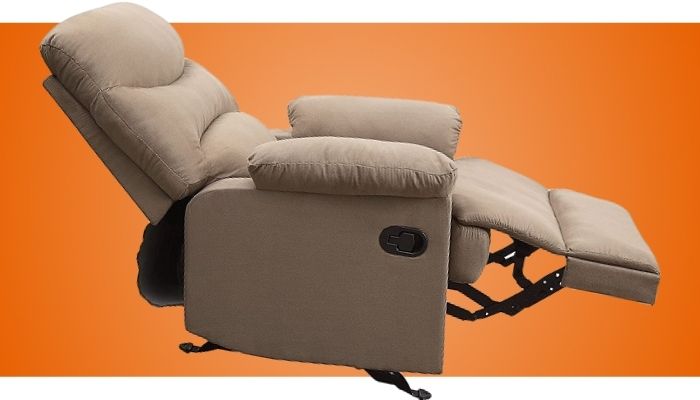 The Arcadia Recliner by Acme could be a good budget option for your RV seating upgrade.
A compact version of a traditional grandpa style recliner, this model is easy on the eye with a comfortable form and relaxed styling. As this model is wider than most standard RV recliners, measuring 35 inches wide, make sure you double-check your entry door width before you order.
Featuring a sturdy hardwood frame, this RV recliner comes with an integrated footrest. Use the side knob to lower back your seat, pull the lever to extend the footrest, and relax. While this model is easy to assemble and recline, the mechanism to close up the footrest after use can be a little stiff. Also, bear in mind that there is no swivel function.
One of the main advantages of this RV recliner is its stain-resistant microfiber upholstery making this model a great low maintenance model. It is also non-sticky to sit on in summer and won't crack with the heat. Very comfortable, the larger overstuffed fiber-filled arms add to its appeal.
Available in beige, sage, and chocolate shades, if you are looking for a budget-priced recliner for your RV, be sure to check this one out. While it may not be quite robust enough for full timers using it every day, it is a comfortable money-saving buy for occasional use.
Best RV ottoman and recliner set
Flash Furniture Recliner Chair with Ottoman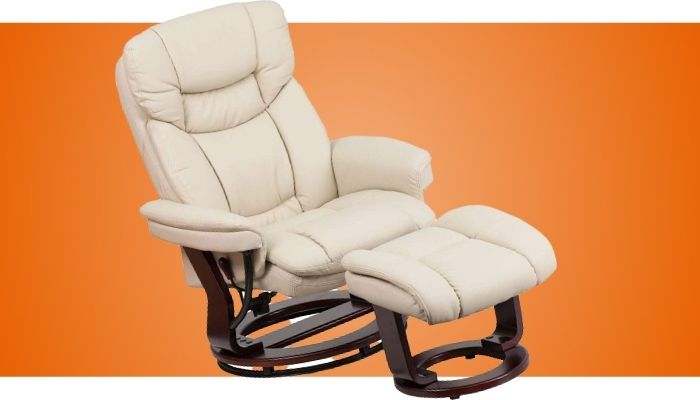 Stylish, comfortable, and low priced, if you are looking for a replacement RV recliner the Flash Furniture Recliner Chair with Ottoman is well worth considering.
Weighing just 54 pounds, it's almost as lightweight as specialist RV models. However, at 33 inches wide, you may have to assemble it inside your RV to make sure it fits through your door.
Elegant, this recliner and ottoman combo certainly looks a lot more expensive than it costs, while its classic lines and neutral shade go well with any style decor. The rich mahogany-colored wooden base is sturdy and an excellent complement to the faux-leather seat. Thanks to its ball-bearing construction, you get a smooth, full swivel motion for use in any direction.
As it is an ottoman and recliner set, you can place your recliner much closer to the wall, with just seven inches of clearance required. Simply pull the lever to adjust from upright to fully reclined, you can make infinite adjustments to the reclining inclination to kick back at an angle that is most comfortable for you.
Easily spot cleaned with a damp cloth, this model is very low maintenance. While the arms, integrated headrest, and backrest are filled with ample fire retardant foam, the seat can feel a little stiff when new. What's more, given its low weight and budget price, some of the reclining mechanism components are a little fragile, so it may not be the best choice for heavy use.
On the whole, given its great styling, easy care, and low price, this recliner is a good buy. While it's possibly not the most durable, it's definitely a good option to make your RV look and feel a lot newer inside.
Compare the Best RV Recliners
Table Comparing the Top 6 RV Recliners
Image
Title
Price
Rating
Buy
Thomas Payne Euro Recliner

$$$

Buy on Amazon

| | | | | | | | |
| --- | --- | --- | --- | --- | --- | --- | --- |
| Thomas Payne Euro Recliner | $$$ | 360 Swivel | 48 lbs | PolyHide | No Prime | 33 x 27 x 40 inches | Buy on Amazon |

RecPro Charles RV Euro Recliner

$$$$$

Buy on Amazon

| | | | | | | | |
| --- | --- | --- | --- | --- | --- | --- | --- |
| RecPro Charles RV Euro Recliner | $$$$$ | 360 Swivel | 50 lbs | Leather | No Prime | 34 x 27 x 40 inches | Buy on Amazon |

Thomas Payne Pushback Recliner

$$$$

Buy on Amazon

| | | | | | | | |
| --- | --- | --- | --- | --- | --- | --- | --- |
| Thomas Payne Pushback Recliner | $$$$ | High-Density Foam | 68 lbs | Cobble Creek Upholstery | No Prime | 30 x 29 x 25 inches | Buy on Amazon |

Christopher Knight Swivel Recliner

$$

Buy on Amazon

| | | | | | | | |
| --- | --- | --- | --- | --- | --- | --- | --- |
| Christopher Knight Swivel Recliner | $$ | 360 Swivel | 69 lbs | 100% Polyester | Prime | 25 x 35.75 x 39 inches | Buy on Amazon |

ACME Arcadia Recliner

$$$$

Buy on Amazon

| | | | | | | | |
| --- | --- | --- | --- | --- | --- | --- | --- |
| ACME Arcadia Recliner | $$$$ | Stain-Resistant Upholstery | 70 lbs | Microfiber | No Prime | 33 x 31 x 26 inches | Buy on Amazon |

Flash Furniture Recliner Chair

$$$

Buy on Amazon

| | | | | | | | |
| --- | --- | --- | --- | --- | --- | --- | --- |
| Flash Furniture Recliner Chair | $$$ | Ottoman Footrest | 58 lbs | Leather | Prime | 44.5 x 33 x 41.25 inches | Buy on Amazon |
Buyer's Guide to Buying the Best RV Recliners
To make sure you find the very best RV recliner for your motorhome, read through our RV recliner buying guide. We'll cover everything you'll need to consider when upgrading your RV seating so you can make your purchase with confidence.
Price
RV recliners are available at a wide variety of prices. Budget-priced models tend to be primarily designed for small spaces in residential homes and cost a lot less than specialist RV versions. As with a lot of furniture items, you tend to get what you pay for in terms of quality.
Our advice, if you are using your RV full time, are thinking of RVing full time, or tend to use your RV frequently, spend more and get yourself a hard wearing, top quality model. Otherwise, if you only use your RV a couple of times a year, you can easily pick up a cheaper version that will hold up just fine.
Depending upon the style and any extra features you require, you can purchase a recliner for your RV from around $200-$300. For a recliner designed for RV use that you'll be using day in, day out, you are going to be looking at models priced around $500 and over.
Will it fit through your RV door?
RV doors can vary in size considerably, although many popular models fall in between the 26-inch to 30-inch mark. One thing is certain, before you commit to buying any large item for your RV interior, you'll need to make sure that you can get it inside. So don't forget to double-check your RV door width before ordering.
If you have your doubts, reach out to the manufacturer and double check the measurements. While some recliners may be a struggle to get inside, others will fit through your door easily before assembly, so don't start putting it together outside.
If you've got your heart set on a particular RV recliner model, you may be able to get a better idea of if it will fit by consulting any assembly instructions and diagrams.

Features
To help you to make the most out of your RV recliner, multipurpose models with extra features are the best models to go for.
Cup Holder – relaxing with a hot or cold beverage is much easier with a dedicated cup holder.
USB Port – charge up your phone or tablet as you relax. A USB port gives you the chance to surf the web as you recline, without having to worry about stretching cables across your coach.
Fold Out Table – whether you want to surf the web, do a puzzle, or have a snack, a fold out table will boost your RV recliner's functionality.
Swivel or Legs
Here you'll really need to consider your RV layout and your current seating arrangements.
If you are upgrading from fixed seating and want more flexibility, a swivel base will allow you to comfortably relax at any angle. A lot of RVers enjoy being able to swivel round to watch a movie or round to face one another to have a meal or chat together.
However, this doesn't mean a swivel recliner is the best choice for every RV layout. If your recliner is going to be situated in an alcove or if your layout doesn't require you to change direction, then legs may work better for you.
Adaptability
Unlike a recliner in your bricks and mortar home, your RV recliner is likely going to be used for general sitting as well as kicking back and relaxing.
If you are not purchasing an RV specific model, you'll have to consider how well it will adapt to life on the road. Aside from weight, size is an issue, as well as how well the internal mechanisms respond to being bounced up and down over hundreds of miles of roads.
Lightweight, compact, and durably constructed recliners with high-quality components are better suited to RV use.
Comfort
While RV recliners are smaller and lighter than residential versions, this doesn't mean they have to be less comfortable. Look for models with thick padding. High-density foam is a popular option for extra comfort, although you'll also want to look for support as well as cushioning.
As comfort is subjective, look for a model that really meets your preferences. Some recline right back, whereas others don't. Other options included padded headrests and armrests. If you RV in hot weather, you may find a fabric model to be more comfortable in the heat.
Materials
Just like recliners for your home, RV recliners come in a wide variety of materials.
Leather RV recliners – they may be expensive and require special care, but leather is highly durable and comfortable.
Faux-leather/synthetic RV recliners – much cheaper and free from animal parts, high-quality faux-leather RV recliners are long lasting and easy to clean. Cheaper versions can deteriorate quickly with regular use.
Cloth RV recliners – a good choice for hot climates, fabric recliners won't stick to your legs in summer, or crack with the heat. They are also cozier in winter. Stain-resistant versions are great for families and pet owners, otherwise, spot cleaning can be tricky.
Screwing Options
Make sure that you will be able to adequately secure your RV recliner for when you're traveling. Unless you have chosen a wall hugging version that you intend to fix into place, you will need to pull out your recliner to be able to use it fully extended on arrival at your destination.
Most RV recliners are not designed to be fixed down permanently, leaving you free to arrange them for use once you're parked up.
Types Of RV Recliners
There are several different types of RV recliners on the market. Here are some of the most popular models available.
Standalone Recliners
Standalone RV recliners are single seats, although if you RV as a couple, likelihood is you'll want to pick up a set of two. The advantage of two standalone models is that you have a lot more placement options.
Double Recliners
Double RV recliners take up less space than two standalones and still sit two persons. Double recliners are more like a loveseat or small sofa in design, although you can find models that resemble two individual recliners connected via a central console unit for storage and use as a table.
RV Wall Hugger Recliners
While they cost more, wall hugger RV recliners are definitely worth paying out for as they help to save space. Unlike regular recliners that require a gap of over 12 inches, you can push them up to your wall. When you want to recline, the entire unit swings forward and away from the wall, taking up less space.
RV Power recliners
If you always park up with a shore power hook-up, you may want to get yourself an RV power recliner. Deluxe RV power recliners make settling down to a movie even more comfortable. If you have any mobility issues, you'll want to invest in an RV power lift recliner to help you to sit down, relax, and get back up unassisted.
Top RV Recliner Chairs Video
FAQ: Best RV Recliners
When it comes to enhancing the comfort and relaxation in your RV, investing in a recliner can make all the difference. Whether you're embarking on a cross-country road trip or enjoying a weekend camping getaway, having a cozy recliner in your RV allows you to unwind and recharge after a day of adventure.
In this section, we address some common questions that RV enthusiasts often have when it comes to choosing the best recliner for their mobile home. From the benefits of RV recliners to considerations for installation and upholstery options, we aim to provide you with the information you need to make an informed decision.
If you're new to the world of RV recliners or simply seeking guidance on the features and factors to look for, you've come to the right place. Let's explore the frequently asked questions about RV recliners and find the perfect seating solution for your RV lifestyle.
Why should I consider getting a recliner for my RV?
RV recliners provide added comfort and relaxation while on the road or during camping trips. They offer a cozy seating option that allows you to kick back and unwind after a long day of driving or exploring. Recliners are also versatile, as they can be used for seating, napping, or even as an extra bed in some cases.
What features should I look for in an RV recliner?
When choosing an RV recliner, consider factors such as size, material, comfort level, durability, and ease of installation. Look for recliners that are designed specifically for RVs, as they are typically more compact and have features like wall-hugging designs to save space. Additionally, features like adjustable footrests, cup holders, USB charging ports, and massage functions can enhance your overall comfort and convenience.
Are there different types of RV recliners available?
Yes, there are various types of RV recliners to choose from, depending on your preferences and the available space in your RV. Some common types include wall-hugger recliners, swivel recliners, rocker recliners, and theater seating recliners. Wall-hugger recliners are a popular choice for RVs, as they can be placed close to the wall without requiring much clearance space.
How do I ensure the recliner fits in my RV?
Before purchasing an RV recliner, measure the available space in your RV where you intend to place the recliner. Pay attention to the recliner's dimensions, including its width, depth, and height when fully reclined. It's essential to choose a recliner that fits comfortably in your RV without obstructing pathways or interfering with other furniture.
Can I install the recliner myself, or do I need professional help?
The installation process for RV recliners can vary depending on the specific model and your RV's setup. Some recliners come pre-assembled and are relatively easy to install, requiring minimal tools and DIY skills. However, if you're uncertain or uncomfortable with the installation process, it's recommended to seek professional help to ensure proper installation and avoid any damage to your RV.
Are RV recliners available in different upholstery options?
Yes, RV recliners come in a variety of upholstery options to suit different preferences and styles. Common choices include leather, faux leather, fabric, and microfiber. Each option has its own advantages in terms of durability, ease of cleaning, and aesthetics. Consider factors like comfort, maintenance, and the overall interior design of your RV when selecting the upholstery material.
Can I use a residential recliner in my RV?
While it is technically possible to use a residential recliner in your RV, it's important to note that residential recliners are often larger and bulkier compared to RV-specific recliners. They may not be designed to withstand the vibrations and movements experienced during travel, and they might not fit well in the limited space of an RV. It's generally recommended to choose recliners specifically designed for RVs for optimal comfort and functionality.
How much should I expect to spend on an RV recliner?
The cost of RV recliners can vary depending on the brand, quality, features, and upholstery materials. Prices can range from around $200 for basic models to over $1,000 for high-end recliners with advanced features. It's important to find a balance between your budget and the quality and features you desire, ensuring you invest in a recliner that provides comfort and durability for your RV adventures.
Remember, each RV owner's needs and preferences may vary, so it's essential to research and consider multiple options before making a final decision on the best RV recliner for you.
Final Thoughts
Whether your RV interior needs an update or you're looking for a more comfortable way to relax, there are plenty of excellent RV recliners to choose from. To ensure that you pick the best RV recliner for your lifestyle and available floor space, you'll need to carefully consider your needs, floorplan, and dimensions.
Combining comfort with low weight and great versatility, the Euro Recliner Chair from the Max Payne Collection makes an excellent choice. Specifically designed for RV use, this model is durable, easy to maintain, and very comfortable, making it a top choice amongst full-time RVers.
If you are after a budget model with a more contemporary style, take another look at the Home Swivel Recliner by Christopher Knight. Its soft polyester fabric is a good choice for year-round use, while its full swivel and gliding motion make it a highly versatile choice for RV use.