Want to enjoy the great outdoors minus the crowds? The best RV solar panels not only give you free electricity, they also provide you with a great way to care for your expensive batteries, as well as the chance to spend precious time in some incredible places – far from crowded developed campsites.
Enjoy the freedom of RVing without being tied to hookups or disturbing wildlife with your generator. If you love exploring the great outdoors, you need to get your RV set up for solar power.
Best RV Solar Panels
To help you choose the best solar panel for your motorhome, we've reviewed the leading models around. Read on to find your ideal RV solar panel.
Best overall rv solar panels
Renogy 200 Watt 12 Volt Monocrystalline Solar Panel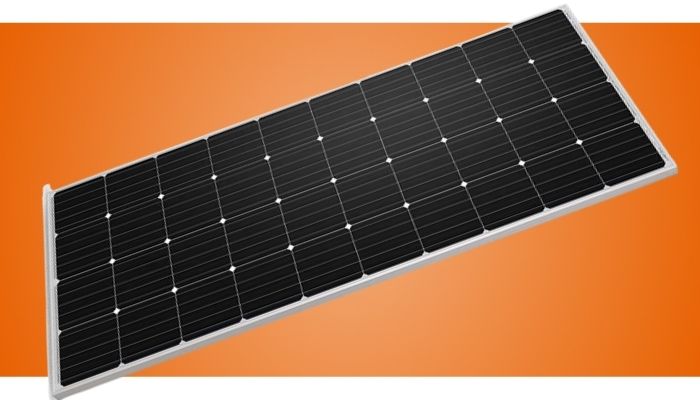 Whether you are looking to start off or supplement your existing RV solar setup, this 12V solar panel by industry specialists Renogy makes an excellent choice. Boasting 200W maximum output over 40 cells, this monocrystalline solar panel could save you space when paired instead of installing twice the number of 100W models.
Designed and manufactured to provide outstanding reliability with a long lifespan, this RV solar panel features multi-layered sheet laminations and is guaranteed free from hot spots. You can install and use this unit outside in all weather, without having to worry about any degradation – it is tested to withstand 2,400Pa winds and 5,400Pa snow loads, complete with a waterproof IP65-rated junction box.
Thanks to its corrosion-resistant aluminum frame, this solar panel should last you for decades, complete with low iron-tempered glass to enhance stiffness and impact resistance. It comes ready to install with pre-drilled rear holes for fast mounting and grounding, as well as being compatible with various Renogy mounting systems.
Weighing approximately 25.35 pounds (11.5kg), this panel measures 63.78 inches by 25.86 inches and is 1.38 inches thick (1620mm x 657mm x35mm). It features bypass diodes for great performance even in the shade and its TPT backing ensures excellent longevity. So much so, this solar panel comes with a 25-year power output warranty, with five years at 95%, 10 years at 90%, and 25 years at 80% efficiency ratings.
Thanks to its outstanding weather-resistance and impressive lifespan, we highly recommend investing in a couple of these solar panels for your RV.
Pros – Things we liked
200W maximum output
Multi-layered sheet laminations
Can withstand 2,400Pa winds and 5,400Pa snow loads
IP65 waterproof rating
Corrosion-resistant aluminum frame
Cons – Things we didn't like
Big proformance drop when shaded
Best rv solar panel for portability
Jackery SolarSaga 100W Portable Solar Panel for Explorer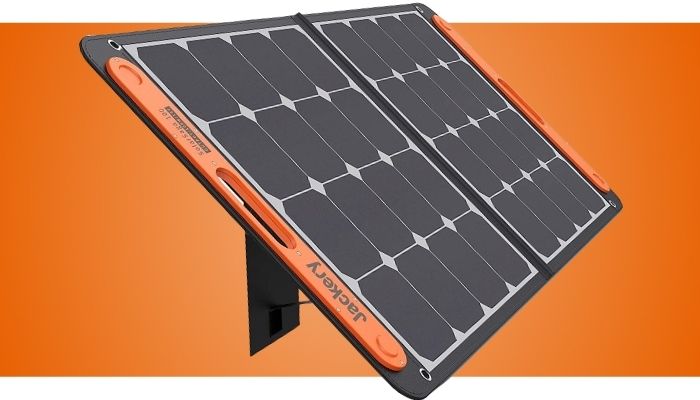 If you aren't intending on mounting your solar panels to your RV and are looking for a highly portable solution, check out the Jackery SolarSaga range. This folding 100W ETFE solar panel has a sturdy in-built carry handle and is very easy to store and deploy when you reach your destination.
With its 100W peak power rating, you can use it alone to power up your USB devices thanks to the two USB outputs located directly on the unit. If you are looking to power up your rig and other appliances, you'll need to invest in a Jackery Explorer Power Station that is specially designed to charge up off Jackery's 18V solar panels.
Exceptionally easy to use, when you open the Jackery SolarSaga Portable Solar Panel it sits at a slight angle with the legs deployed. This gives you the optimum tilt and at just 5.5 pounds with a comfortable handle, it's very easy to transport.
On the downside, the main issue we have with the SolarSaga is that it is not waterproof. So, if you tend to RV in a climate that is well suited for solar and only has occasional rainfall, it could work for you. However, you'll have to be vigilant, especially as there is no waterproofing on the connections and the panel itself can become damaged if wet.
What's more, while this system is very easy to use and set up, Jackery devices are proprietary, so you'll have to buy exclusively into the brand. Also, note that this particular unit, the SolarSage 100W, is not compatible with the Explorer 440.
Easy to use, if you are looking for a convenient setup and can keep your panels water-free, the SolarSaga could be a good choice for your RV. Ideal for campers, small trailers, or just for charging your gadgets while you're off-grid, this model is a popular choice.
Great solar panels for campers and small trailers
ROCKPALS 100w Foldable Solar Panel Charger with Kickstand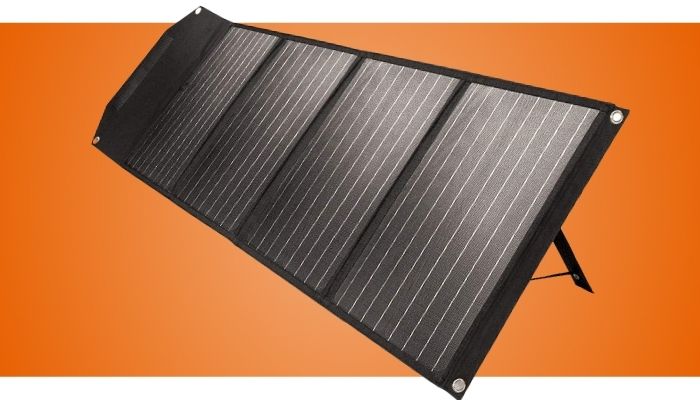 With its easy portability and high conversion rate of up to 23.5%, this 100W Foldable Solar Panel by Rockpals makes a good budget choice. Designed to charge up Rockpals and Jackery Power Stations, you can also use it to charge up your deep cycle batteries provided you invest in a charge controller.
This monocrystalline solar panel weighs 9.48 pounds, pretty lightweight, although nearly twice as heavy as the Jackery. It is, however, just as easy to carry, folding up to approximately the size of a briefcase and it also costs quite a bit less. Deployment is easy thanks to its kickstand that you can set up for maximum sunlight.
Fortunately, this 100W folding solar panel is durable and water-resistant. However, the junction box is not waterproof and while the panel itself is IPX4 waterproof, the manufacturer recommends against using this product in the rain.
Equipped with two USB outputs, one USB QC 3.0 and one USB C output, this model is great for quickly charging up your gadgets, up to four times faster than conventional chargers. It comes complete with a four-in-one cable, although you should check power station compatibility with the manufacturer, for example, this specific unit is not compatible with the Goal Zero Yeti 200x, 500x, or 1,000x.
If you are looking to power up several appliances, a substantial battery pack, or take a long trip off-grid, you'll want to purchase a second unit as this Rockpal solar panel can be used in parallel with another 100W unit and comes complete with the necessary cable.
All in all, a good buy if you are looking for a more budget-friendly folding monocrystalline solar panel. Great for campers and small trailers, bear in mind that it is only recommended you use two of the same models in parallel, effectively limiting your setup to a potential maximum of 200W.
Best RV solar panels for the money
Newpowa 210W High Efficiency Solar Panel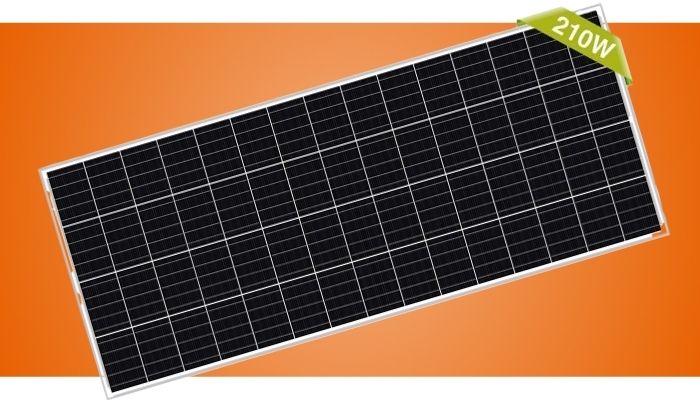 The Newpowa 210W High Efficiency Solar Panel features a new design for a superior light conversion rate.
With its maximum output of 210W, this fixed monocrystalline solar panel features bypass diodes for improved performance in the shade, as well as multi-layered sheet laminations for greater longevity.
Highly weather-resistant, thanks to its heavy-duty anodized frame, this solar panel is rated 2400 Pa for high winds and 5400 Pa for snow loads. The waterproof IP65 junction box is suitable for low-pressure water jet cleaning.
This unit makes a good choice for an expandable setup to recharge your house batteries. Fix one or several to your RV roof, the pre-drilled holes in the frame make it easy to mount while its 28-pound weight is manageable. It has a nominal 12VDC for standard output and comes complete with a pre-attached three-foot wire with MC4 connectors.
Very similar to the Renogy 200W 12V monocrystalline Solar Panel in many aspects, this unit also features a 25-year transferable power outlet warranty with a 10 year 90% power outlet warranty and 25 years at 80% power outlet.
It does, however, differ from the Renogy in terms of price, it's about a third of the price cheaper. This makes it well worth considering given its almost identical specification.
Best RV solar panel for small budgets
ECO-Worthy 195W 12V Solar Panel Monocrystalline Module
If you are on a budget and looking for a high-performance fixed solar panel for your RV, check out the 195W 12V Solar Panel by Eco-Worthy. This monocrystalline solar panel features high transparency, low iron-tempered glass for improved functionality and durability.
Rated at 195W maximum power, this solar panel can be easily mounted on your RV roof. Use the pre-drilled holes in the durable aluminum frame and either fix to your roof bars or use a tilting mount. The company also sells a mount that is specially designed for installing its solar panels on RVs. If you have a camper, it should fit nicely on your roof rack crossbars.
Thanks to its highly weather-resistant frame and finish, this unit can withstand high winds, up to 2,400 Pa, and even snow loads, rated 5,400 Pa, making it an ideal companion for year-round adventure. As it features two diodes, this solar panel works more effectively when partially shaded for maximum productivity.
Use it alone, or connect up several, and keep your house batteries charged up for full off-grid functionality. Measuring 58.3 inches by 26.3 inches, it's a highly versatile size that's sure to fit your motorhome. Weighing just under 30 pounds, it is not especially heavy considering its low price and high wattage.
This fixed solar panel comes complete with a waterproof IP65-rated junction box, suitable for low-pressure washing, and two pre-attached 12 AWG cables. On the whole, it's a great bargain for the money and certainly a popular model that has a lot of the same specifications as more expensive versions.
Best solar panel for car camping
Goal Zero Boulder 100 Watt Monocrystalline Solar Panel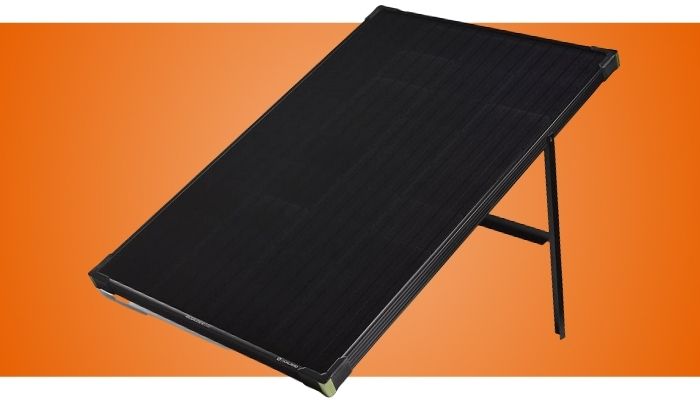 If you are looking for a very sturdy solar panel to use in the great outdoors, the Boulder 100W by Goal Zero won't disappoint you. Based in Salt Lake City, Utah, Goal Zero have designed this model to be extra durable to live up to your camping adventures.
Recommended for charging up your Goal Zero Sherpa 100 or 500x-3000x Yetis, it can fully recharge a Yeti 500x in approximately 6-12 hours depending on the amount of sunlight available. For extra power, you can chain it with multiple Boulder panels for greater solar capacity.
This standalone 100W monocrystalline solar panel can be mounted on your RV or used with the built-in kickstand and stored away when not in use. It measures a compact 40 inches by 26.75 inches, with a depth of 1.75 inches, making it suitable for all sized motorhomes. At 20 pounds, it isn't the lightest of 100W models to be carrying around, but it certainly is one of the most durable.
Thanks to its excellent build quality, this unit is worth the extra cost, built to last and survive all outdoor adventures. The anodized aluminum frame has added corner protection and the panel itself features a weatherproof tempered glass covering. It is very easy to use and its simple, yet highly effective design is highly user-friendly, coupled with a dedicated customer support team.
If quality is more important to you than cost, the Boulder makes a great choice. Despite its higher-than-average price tag, its reliability and rugged build make it stand out from the crowd.
Best RV solar panels for easy set-up
WindyNation 200 Watt Solar Panel Kit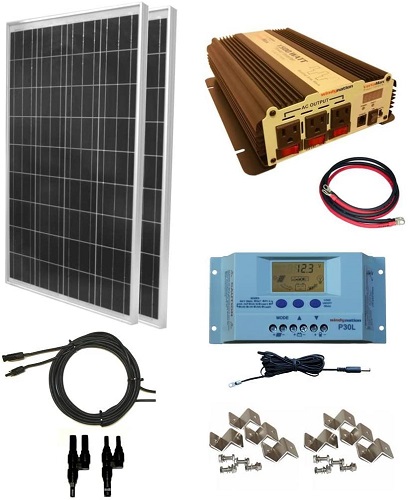 Feeling confused and looking for an easy way to get your RV set up with solar power?
The WindyNation 200 Watt Solar Panel has everything you need to get started, including all necessary cables and connectors, a solar charge controller, an inverter (necessary to use your solar power for your AC appliances in your RV), two 100W solar panels, and mounting brackets. All you need extra is a 12V deep cycle battery to store the power and the fuses as stated in the user manual.
Purchasing this bundle will save you time choosing, as well as cash. Plus you have the certitude that all of the elements are fully compatible. The included two 100W polycrystalline solar panels combine high efficiency with durability. Measuring 40 inches by 26.4 inches wide, these panels are suitable for all sizes of motorhome, from campers to fifth wheels.
The included 30Amp solar power charge controller features an LCD with user-adjustable settings. Essential for preventing your expensive batteries from getting damaged, it features overload, reverse polarity, and short circuit protection. The included modified sine wave inverter is rated 1500 running power, with 3,000W surge power.
For easy installation, this kit comes complete with eight anodized aluminum z-brackets and four stainless steel fasteners to easily mount the solar panels to your RV roof. The solar connectors allow for a fast, waterproof connection, simply cut the 40-foot UL-listed 12 AWG cable to your required length and attach the connectors. A great choice for anyone looking for a simple way to get started using solar power.
Best solar panels for cutting-edge technology
Renogy 175 Watt 12 Volt Flexible Monocrystalline Solar Panel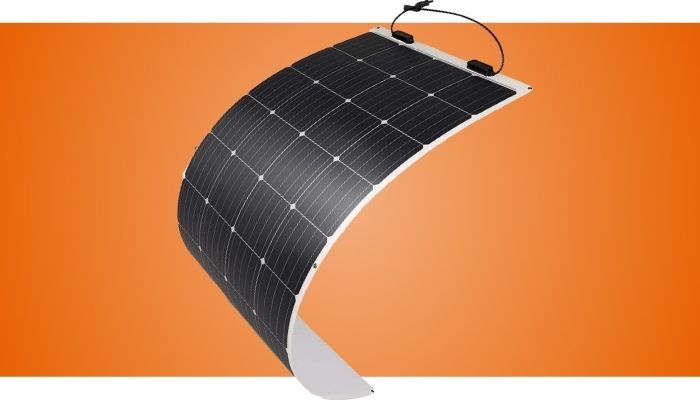 This cutting-edge technology, flexible solar panel by Renogy is ideal if you need a lightweight solar power solution, or have difficulty mounting a rigid solar panel onto your rig. It's a good solar panel for airstreams or any RV with a curved roof.
Thanks to its flex range of up to 248 degrees, this 175W monocrystalline solar panel is very easy to mount. With its advanced polymer materials, it weighs just 6.2 pounds, up to 70% less than conventional solar panels, for a lower GVWR and long-term fuel savings on top of your energy cost savings.
Not only is this solar panel lightweight, it is also extremely thin, measuring just one-tenth of an inch thick. Discreet, it won't detract from your vehicle's looks and profile. Despite its flexibility and slimline design, this solar panel is actually very hardy. It has been tested to ensure it stands up to extreme winds of 2,400Pa and snow loads up to 5, 400Pa.
The only real downside to this highly innovative solar panel is that the power leads are not equal in length which can limit your placement options on your out-of-the-box installation. Also, as you would expect for a flexible solar panel, it is more expensive than your standard rigid 175W versions.
Complete with a five-year warranty on material and workmanship, whether you want to reduce your RV load, have a curved roof, or just want to try out the latest technology, the Renogy 175W Flexible Monocrystalline Solar Panel is definitely well worth checking out.
Compare the Best RV Solar Panels
Table Comparing the Top 8 Solar Panels for RVs
Image
Title
Price
Rating
Buy
Renogy Monocrystalline Solar Panel

$$$$$

Buy on Amazon

| | | | | | | | |
| --- | --- | --- | --- | --- | --- | --- | --- |
| Renogy Monocrystalline Solar Panel | $$$$$ | 200 Watts | 95% efficiency rate | 39.1 lbs | Prime | 63.8 x 25.9 x 1.4 inches | Buy on Amazon |

Jackery SolarSaga Portable Solar Panel

$$$

Buy on Amazon

| | | | | | | | |
| --- | --- | --- | --- | --- | --- | --- | --- |
| Jackery SolarSaga Portable Solar Panel | $$$ | 100 Watts | Portability | 9.86 lbs | Prime | 22.83 x 19.69 x 2.36 inches | Buy on Amazon |

ROCKPALS 100w Foldable Solar Panel

$$$

Buy on Amazon

| | | | | | | | |
| --- | --- | --- | --- | --- | --- | --- | --- |
| ROCKPALS 100w Foldable Solar Panel | $$$ | 100 Watts | Water-resistant | 10.33 lbs | Prime | 18 x 16 x 2.5 inches | Buy on Amazon |

Newpowa High Efficiency Solar Panel

$$

Buy on Amazon

| | | | | | | | |
| --- | --- | --- | --- | --- | --- | --- | --- |
| Newpowa 210W High Efficiency Solar Panel | $$ | 210 Watts | 25 year/80% power output warranty | 24.4 lbs | Prime | 64.57 x 26.57 x 1.38 inches | Buy on Amazon |

ECO-Worthy Solar Panel Monocrystalline Module

$$

Buy on Amazon

| | | | | | | | |
| --- | --- | --- | --- | --- | --- | --- | --- |
| ECO-Worthy Solar Panel Monocrystalline Module | $$ | 195 Watts | Great value for money | 28.1 lbs | No Prime | 59.5 x 28.7 x 2.6 inches | Buy on Amazon |

Goal Zero Boulder Solar Panel

$$$

Buy on Amazon

| | | | | | | | |
| --- | --- | --- | --- | --- | --- | --- | --- |
| Goal Zero Boulder Solar Panel | $$$ | 100 Watts | Anodized aluminum frame | 20.1 lbs | Prime | 26.75 x 40 x 1.75 inches | Buy on Amazon |

WindyNation Solar Panel Kit

$$$$

Buy on Amazon

| | | | | | | | |
| --- | --- | --- | --- | --- | --- | --- | --- |
| WindyNation Solar Panel Kit | $$$$ | 200 Watts | Whole starter kit | 57 lbs | No Prime | 43 x 29 x 5 inches | Buy on Amazon |

Renogy Flexible 12 Volt Solar Panel

$$$

Buy on Amazon

| | | | | | | | |
| --- | --- | --- | --- | --- | --- | --- | --- |
| Renogy Flexible 12 Volt Solar Panel | $$$ | 175 Watts | Extremely light | 6.2 lbs | Prime | 59.2 x 26.5 x 0.08 inches | Buy on Amazon |
Buyer's Guide to Buying the Best Solar Panel for RV's
There's a lot to bear in mind when choosing your new RV solar panels. To make the process as simple as possible, take a read through our comprehensive RV solar panel buying guide and find out everything you need to know to make an informed decision.
Price
Along with vast improvements in technology, solar panels have become increasingly accessible in terms of price. Nowadays, you can quickly recoup the money you spend on your RV solar panel in just a few trips without paying for electrical hookups.
However, while there are plenty of cheap RV solar panels around, as with any product, the price is often a reflection of build quality, durability, and usability. Solar panels with a higher output will cost you more. Higher efficiency levels also equate to a more reliable build and better quality all-round.
On the other hand, if you are on a tight budget, there are plenty of good solar panels with very reasonable price tags. If you have concerns about their durability, check out any warranties and be prepared to pay a little more or compromise on your power output slightly to get a more reliable model. You can always add to your setup in the future for more power.
Budget-priced RV solar panels at lower wattages can be found for under $100. However, we recommend paying a little more and saving space with a higher wattage, more efficient model around $200.
If you can spend more you can get some really durable models with 200W outputs in the $300 and above category, complete with a good warranty and good customer service.
Ease of Installation
Solar panels are generally fairly easy to install. However, it all depends on your know-how, the included instructions, and your setup. If you are not sure, you can always get a professional to install yours for you.
Otherwise, there are plenty of resources out there to help you to get started. Before you purchase your solar panel, it can be helpful to take a quick read through any accompanying literature that the manufacturer has made available online. The installation guide will give you the best idea of just how easy your installation will be.
If you want to do it yourself, but have a couple of doubts, look for models with pre-attached cables. For a hassle-free way to a solar-powered trip, you could opt for a portable model and cut out time and hassle installing it onto your rig.
This can also be a good idea if you just want to give solar a try out before investing heavily in it and attaching panels to your rig's roof.
Power
The big question is, how much solar power do you need when going off-grid in your RV? It all depends on your needs and setup. If you have a small trailer or camper and have very minimal requirements, you could easily use a portable solar panel to top up a solar power station that will fulfill your average requirements.
If you have a 12V battery system and are looking for a good level of comfort when you're off-grid, you'll need enough power to recharge your batteries and keep them topped up each day.
For example, if a 100Ah battery is suitable for your setup, based on an average of eight hours of sunlight, you'd need at least a 150W solar panel. A 100Ah 12V battery (100 x 12) gives you 1200 Watt-Hours and 1200 divided by 8 (hours sunlight) gives you 150.
Bear in mind that these figures are estimates and you should always overestimate your needs slightly, to take cloudy days and seasonal differences into account. So in this case a 200W solar panel would probably be the best option.
Sunny days with minimal cloud cover can charge up even 350Ah batteries in just 6 hours provided you have sufficient solar panels available. Most RVers start with just one or two solar panels and add to them to get the best functionality.

Efficiency
More efficient solar panels will give you a higher output for the same amount of space. While efficient models cost more, if you are looking to build your way to an extensive setup, you'll be better served by several high-rated, efficient panels, especially if space is limited. If you have low power needs and space is less of an issue for you, you can save money with a less efficient solar panel that has a lower output.
Charge Interruption Recovery
You'll want to check out how well your solar panel recovers after a charge interruption, say, for example, a cloud or other shadow blocking the sunlight. The best RV solar panels will quickly revert to their high levels of power once the cloud has passed or you've moved it out of the shadow of a tree.
Size & Weight
Size and weight are always important to RVers, extra weight means extra fuel and space is nearly always of a premium, even on the roof. If you are investing in a portable RV solar panel, make sure it folds away neatly and can easily be stored inside your RV. It will also need to be light enough to carry out and set up with ease.
Several large roof-mounted RV solar panels can add on quite a bit of weight. Paying more will get you more efficient models that generate more power without weighing more. This can also save you roof space, ideal if you have a rooftop cargo carrier that blocks light to a substantial portion of your roof.
Expandability
Even if you are planning on buying all of your solar setup in one go, times change, as do our needs, and sometimes units break. Purchasing an expandable RV solar system is the best way to futureproof your investment. If you purchase new equipment and need more power, it's much easier to simply add another panel to your existing setup.
Mounting
Look out for units with pre-drilled holes for easier mounting. Some models come with brackets, however, in most cases, you'll have to purchase any mounting accessories additionally. This allows you to choose how you would like to set up your solar panels on your rig.
Take a closer look at any installation instructions provided by the manufacturer, as well as the dimensions and tools needed. It's also important to double-check exactly what is included – you don't want to get started mounting to find out you are missing an essential connector or cable.
Benefits of Solar Panels for RV
There are plenty of benefits to installing solar panels on your RV, not least of all the freedom they can bring, as well as the environmental benefits. Here are some of the top reasons to get solar power on your RV.
Save Money
Sure, solar setups don't come cheap. However, they will more than pay for themselves in the long run, saving you money on electricity. Think of all of the sayings you stand to make with free solar power. Not only will you save on electrical hookups, you also won't need to spend a fortune on fuel for your generator.
Save the Planet
Using solar power instead of shore power or your generator makes a better choice for the environment. If you love RVing, chances are you also love the great outdoors and want to help preserve our planet and precious wild spaces.
Low Maintenance
One of the best things about solar power is that it is very low maintenance. With practically no moving parts, there is very little to wear out. So once you've installed your panels, you can relax and get on with enjoying your free electricity.
Battery Life
Using solar power to keep your batteries topped up is a great way to keep those expensive deep-cycle house batteries in good shape. Your batteries will last longer when regularly charged and solar is a great way to ensure they don't drop down too much when you're off the beaten track.
Don't have to Rely on Hookups
RVing is all about freedom, enjoying the open road, making new discoveries, and impromptu stopovers. So it should be, however, in reality, if you don't have solar, you are more likely to spend more time at developed sites where you may end up feeling more like you're in a holiday village than experiencing the great wilderness.
RVing is essentially camping in luxury and without electricity and your gadgets and appliances, you lose an awful lot of that comfort. A solar setup on your RV allows you to travel far and wide wherever the road takes you, without having to find a developed site with an electrical hookup.
Less noise pollution
Even if you're at a dispersed camp site, that doesn't necessarily mean no one else will be around. You should also consider local wildlife and your own peace and quiet. Getting out a noisy generator isn't conducive to a relaxing morning in the great outdoors. Fortunately, solar power setups generate power in silence.
Types of RV Solar Panels
Wondering what is a CIGS solar panel? Let's take a closer look at the different types of RV solar panels on the market.
Monocrystalline – As their name suggests, these panes are made from a single crystal, with each cell containing a silicon wafer made from a single silicon crystal. Highly efficient and powerful, monocrystalline solar panels are the most popular type available. Given their complex manufacturing process, they are also the most expensive type on a like-for-like basis.
CIGS – Copper Indium Gallium Selenide solar panels are highly efficient with a thin, film-like structure. They work better than silicon types at high temperatures and are more light-sensitive, providing high efficiency levels.
Polycrystalline – Marbled blue in appearance due to the numerous crystals formed during the manufacturing process, polycrystalline solar panels are less efficient than monocrystalline versions. While they are cheaper to make and cost less to buy, the slight price difference isn't enough to put a dent in monocrystalline's popularity.
Amorphous – Amorphous silicon solar panels utilize a thin, non-crystalline form of silicon that is deposited onto flexible substrates.
It has a better temperature coefficient than crystalline versions and thanks to its flexibility, it makes a good choice for rounded trailer roofs where you may struggle to fit a rigid version. It does, however, have a lower performance efficiency compared to the crystalline versions.
Top RV Solar Panels Video
Frequently Asked Questions about RV Solar Panels
As the popularity of RVing continues to rise, many enthusiasts are turning to solar power as an eco-friendly and efficient solution to meet their energy needs on the road. However, navigating the world of RV solar panels can be overwhelming, especially for those new to the concept. To help you make informed decisions and get the most out of your RV solar panel system, we have compiled a list of frequently asked questions. From understanding the basics of RV solar panels to choosing the right size and brand, we aim to address common inquiries and shed light on this exciting technology. So, let's dive into the FAQs and discover the key information you need to know about RV solar panels.
What is an RV solar panel?
An RV solar panel is a device that converts sunlight into electricity specifically designed for use in recreational vehicles (RVs). These panels are installed on the roof of an RV to harness solar energy and provide power for various appliances and systems onboard.
Why should I consider installing solar panels on my RV?
There are several benefits to installing solar panels on your RV. Solar panels provide a sustainable and environmentally friendly source of energy, reducing your reliance on traditional power sources. They can help extend your battery life, allowing you to camp off-grid for longer periods. Solar panels also offer a quieter and maintenance-free alternative to generators, ensuring a peaceful outdoor experience.
How do RV solar panels work?
RV solar panels consist of photovoltaic cells that capture sunlight and convert it into direct current (DC) electricity. This DC power is then sent to a charge controller, which regulates the charging process and prevents overcharging of the RV batteries. The electricity stored in the batteries can be used to power various appliances and devices in your RV.
What size solar panel do I need for my RV?
The size of the solar panel you need depends on various factors, such as your power consumption, available roof space, and desired level of energy independence. A general rule of thumb is to have around 100 watts of solar power for every 100 amp-hours of battery capacity. However, it's recommended to assess your specific energy needs and consult with an expert to determine the ideal size for your RV.
Can I install solar panels on any type of RV?
Solar panels can be installed on most types of RVs, including motorhomes, travel trailers, and campervans. However, the installation process may vary depending on the RV's roof structure and design. It's important to choose solar panels that are compatible with your RV and consult the manufacturer's guidelines or seek professional assistance for proper installation.
What are the best solar panel brands for RVs?
There are several reputable brands known for manufacturing high-quality RV solar panels. Some popular options include Renogy, Go Power!, Zamp Solar, and HQST. It's advisable to consider factors such as panel efficiency, durability, warranty, customer reviews, and specific features offered by each brand before making a decision.
How much does an RV solar panel system cost?
The cost of an RV solar panel system depends on factors such as the number and size of panels, additional components like charge controllers and inverters, installation fees (if applicable), and brand quality. A basic RV solar panel system can range from a few hundred dollars to several thousand dollars. It's recommended to research different options and obtain quotes from reputable suppliers to get an accurate cost estimate.
Can I install solar panels myself, or do I need professional help?
While some RV enthusiasts with technical knowledge may choose to install solar panels themselves, it's generally recommended to seek professional help, especially if you lack experience in electrical work or are unsure about the installation process. Professionals can ensure proper wiring, safety measures, and compliance with RV manufacturer guidelines, minimizing the risk of damage or electrical issues.
Are there any maintenance requirements for RV solar panels?
RV solar panels require minimal maintenance. Regularly inspect the panels for dirt, debris, or shading that may affect their efficiency and clean them as needed. Ensure all connections are secure and periodically check the charge controller and battery bank for proper operation. Additionally, if you store your RV for extended periods, it's advisable to disconnect or cover the solar panels to prevent unnecessary discharge or damage.
Final Thoughts
With so many advances in solar technology, there has never been a better time to switch your RV to solar power. More affordable and reliable than ever before, solar power can give you the freedom to explore and enjoy time in the great outdoors off-grid.
If you are looking for a budget high-performance RV solar panel, we suggest taking another look at the popular 210W High Efficiency Solar Panel by Newpowa. Weatherproof and highly durable, this unit comes with a 25-year warranty and is on a par with more expensive models, making it a great buy for the money.
Confused? Want an easy way to get started? Take another look at the WindyNation 200W Solar Panel Kit. Simply add your deep cycle battery and fuses and you'll have everything you need to get started enjoying free electricity. The set even includes a 1500W inverter to convert your DC battery power to AC power, plus all connectors, wiring, and two 100W solar panels with fittings.
Looking for a cutting-edge, flexible RV solar panel with a performance to rival fixed models? The 175W Flexible Monocrystalline Solar Panel by Renogy has all of the benefits of highly-efficient monocrystalline with the advantages of a thin, lightweight, and flexible build.
Whatever your priorities, you're sure to find your perfect RV solar panel in our top-rated selection.