Does your trailer move about too much when you're parked up? Swaying and bouncing can impact upon your enjoyment of your vacation, as well as causing premature wear and tear to your RV.
Whether you want to invest in some additional jacks or are looking to replace your dated or broken factory ones, we'll take a look at some of the most popular models to help find the best RV stabilizer for your rig, slide outs, and even your RV entry steps.
What are RV Stabilizer Jacks?
If you own a travel trailer or a fifth wheel, you'll need to make sure you are equipped with appropriate stabilizers to keep your trailer securely in place when you're parked.
RV stabilizer jacks are essential for preventing bouncing and swaying. While some RVs come with permanent stabilizers attached, you may need an upgrade or to add on extra portable versions.
While stabilizers won't level your RV, they are essential to reducing movement when you're parked up for greater comfort, security, and peace of mind, as well as ensuring your fridge works correctly and reducing the chances of uneven wear on your tires.
Best RV Stabilizer
Unsure which RV stabilizers are the best for your trailer? Take a read through our top-rated selection and find the right set for your rig right here in our RV stabilizer reviews.
Best RV stabilizing jacks for the money
Eaz-Lift RV Stabilizing Scissor Jack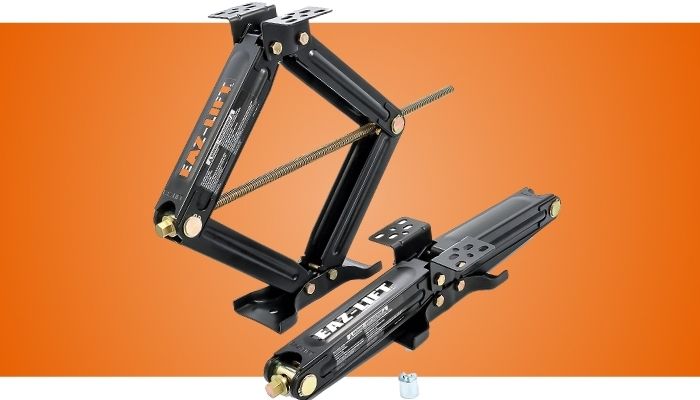 If you are looking for a high-quality, sturdy replacement to your existing travel trailer jacks, the classic Eaz-Lift Stabilizing Scissor Jack from Camco makes a good choice.
Available as a set of two, complete with a scissor jack socket for ease of adjustment, these jacks are made from a highly durable heavy-duty steel that is powder-coated to prevent rust and corrosion.
These 24-inch scissor jacks have a certified 7,500lb load capacity, making them suitable for large, heavy trailers, as well as pop-up campers. They can adjust from as low as 4 ⅜" right up to 23 ¾" tall.
Suitable for either bolt-on or weld-on installation, provided they line up with your old ones, you could have them bolted onto your trailer in just minutes. When adjusted with your power drill and the included socket, they are extremely rapid to deploy, so you'll be set up for the night in your trailer in no time.
While this two pack is fairly expensive, these are good sturdy scissor jacks that will prevent your trailer from swaying when you're moving around inside. Easy to adjust and extra durable, they are a popular choice that you'll definitely want to consider.
Pros – Things we liked
Made from heavy-duty steel
Powder-coated to prevent rust
Certified 7,500lb load capacity
Bolt-on or weld-on installation
Cons – Things we didn't like
Fairly expensive
Best RV stabilizing jacks for small budgets
Camco Olympian Aluminum Stack Jacks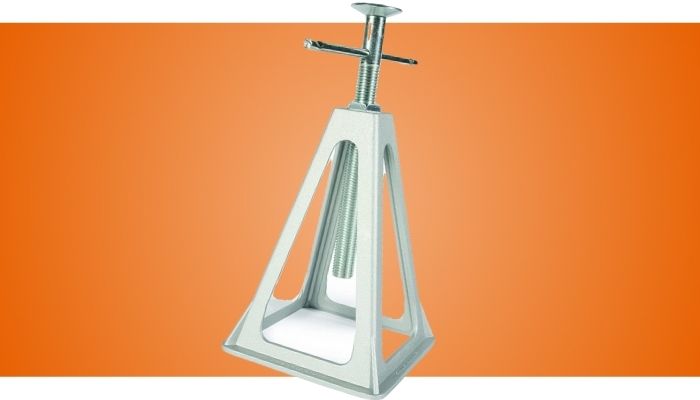 The Olympian Aluminum Stack Jacks by Camco are a great value for money buy to help stabilize your travel trailer.
Available in sets of four, these jacks are made from cast aluminum. Durable without being too heavy, they're easy to position and pack up after use. In between uses, simply remove the support and stack them on top of one another for space-saving storage in your RV.
Ideal for complementing your fixed stabilizers, simply position each jack where you need to stop swaying and raise it to the appropriate height. Each jack has a 6,000lb support limit and is adjustable from 11" up to 17". Note that the higher you raise them, the less stable they become, and at 17" maximum height, they are better suited to low frame trailers.
Easy to assemble and very simple to operate, these small RV stabilizers will reduce swaying and rocking when you use your trailer. However, for improved stability at the higher end of their adjustment range, you may want to use some wooden blocks or bricks to fill up part of the space.
Definitely a great buy, these small but effective RV stabilizers are well worth the money and will come in handy to help stabilize any trailers with a low frame.
Best RV stabilizing jacks for high frames
Lippert RV Scissor Jack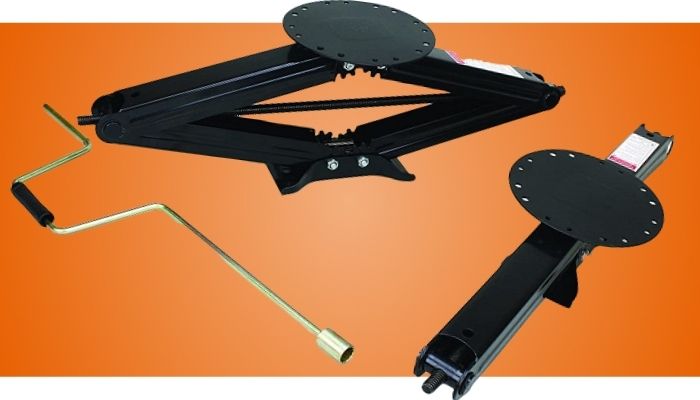 The Lippert RV Scissor Jack is a popular choice for trailers with higher frames. This kit includes two jacks plus mounting screws, and a crank handle. Made from heavy-gauge steel, these sturdy jacks have been treated with a tough black powder-coated finish that prevents rust and corrosion for greater durability.
Designed for use with both fifth wheels and regular travel trailers, each jack has a maximum load capacity of 5,000lbs. Thanks to their bow-tie base, these jacks provide extra stability and can be extended up to 30" high. They extend and retract smoothly with the easy-to-use, ergonomic crank handle.
When not in use these RV stabilizers can be retracted down to just 4 ¼" for easier storage. They can either be welded or bolted onto your trailer and each jack comes with four mounting screws. Ideal for replacing your old or broken trailer stabilizer with a more reliable model.
Given their sturdy steel construction, generous 30" height, and general ease of use, this two-piece RV stabilizer jack kit makes a great dependable choice. Ideal for trailers that need higher stabilizers with a good weight capacity.
Best built to last RV stabilizing jacks
BAL Deluxe Leveling Scissor Jack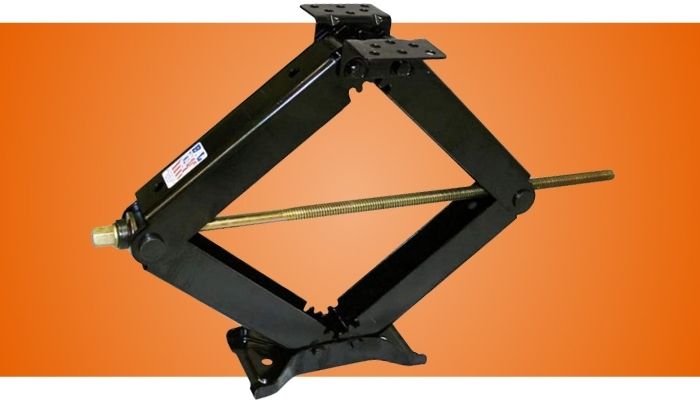 Replace your stock scissor jacks with these heavy-duty steel jacks made in the USA. This set of two Bal Deluxe Leveling Scissor Jacks come complete with a swivel-head crank handle. To ensure an extra-long life span, the jacks are finished with a rust inhibitive E-coating, while the crank handles feature a shiny zinc coating.
Capable of providing excellent support, these 30" deluxe scissor jacks have a large 5" by 8" steel base and frame mounting plates. Each jack has a 5,000lb maximum weight capacity.
Thanks to its patented roller-bearing assembly, you get a smooth, easy height adjustment, with the tooth gear scissor arm design ensuring straight vertical extension. The jack also rises rapidly with its double lead acme thread screw allowing the swivel-head crank to easily turn, even when tilted.
While this model doesn't come cheap, it is a highly stable, well-designed American product. If you are looking for a set of strong and sturdy scissor jacks for your trailer, this makes a top choice that is easy to adjust and highly durable.
Best Telescopic RV stabilizing jacks
Eaz-Lift Telescopic Jack
The Telescopic Jacks from Eaz-Lift make light work of setting up your stabilizer jacks to your desired height under your trailer. Made from durable steel with an inner, zinc-plated tube and screw assembly, these jacks are powder coated for maximum protection against moisture and the elements.
They can be adjusted from 16" to 30", so they are very easy to set up and tighten into place. Each unit has a 6,000lb weight capacity, making them a good choice for any size trailer. If your travel trailer has quite a high frame, bear in mind that they are less stable when fully extended.
Thanks to their tripod design, this two-jack set complete with quick release pins provides good support, although you will want to use them exclusively on hard ground or with a board to prevent them from sinking into soft earth.
Fairly lightweight for easy positioning, placement, and storage, these jacks are a good choice for stabilizing most trailers and come in at a decent price considering their ease of use and high durability.
Great value replacement RV stabilizing jacks
Stromberg Carlson Scissor Jack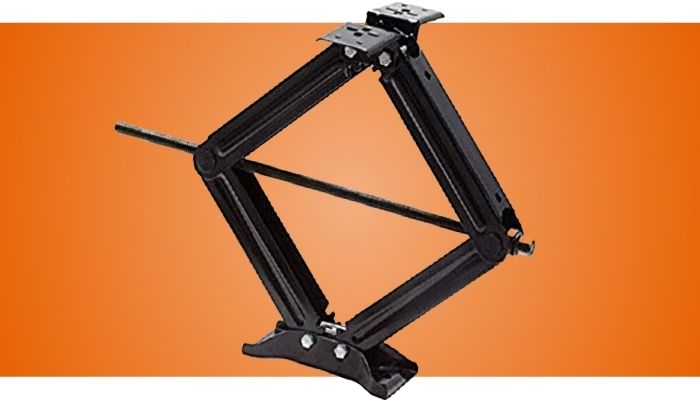 The Stromberg Carlson Scissor Jack is a highly popular model thanks to its sturdy steel construction. Capable of supporting up to 5,000lbs per jack, it's a good upgrade or replacement to the factory ones on your trailer.
This model collapses down to just four inches high, for easy deployment. Expandable up to 24-inches, unlike other types, this model does not lose stability when fully extended. Thanks to its bowtie base, it works well on both soft and hard surfaces, minimizing bounce and preventing your trailer from swaying.
Bear in mind that this model is sold as a single jack without any handle, although you can purchase the handle separately. However, given that this RV stabilizer jack takes quite a while to fully extend manually, you'd be better off using a portable drill.
Designed to easily replace most standard trailer jacks, the holes line up on a lot of models, although you may get unlucky and need to drill into your frame. Mounting bolts are not provided, so you'll need to source some ready.
On the whole, a good product at a good price and a popular replacement for poor or damaged factory stabilizers.
Best automatic RV stabilizing jack
Lippert Components High Speed Power Stabilizer Jack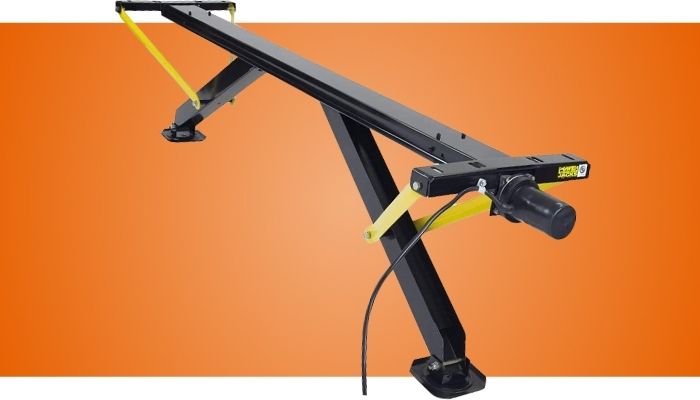 If you are looking for an easier way to set up camp, check out the High Speed Power Stabilizer Jack by Lippert Components. This automatic stabilizer jack raises into position at the flip of a switch for a hassle-free setup and no more cranking or power tools.
The PSXQ Power Stabilizer is compatible with most trailers, thanks to its universal fit that is designed to work with trailer frames up to 79" wide. Thanks to its heavy-gauge steel and embossed legs, complete with a powder-coated finish for protection, this sturdy RV stabilizer is designed to be long lasting and corrosion-resistant
Each leg operates independently, so you get a leveling action when you're parked up on uneven terrain. The maximum extended height for this unit is 30" and it retracts down to just 3.76" when not in use.
If you are replacing a like-for-like model, then you'll have no issues. Installing as a retrofit is fairly simple, however, the lack of instructions may cause some RV owners to struggle initially until they figure out the best way to proceed.
This unit comes complete with all mounting hardware, a 6 Amp breaker, and a black electric jack switch complete with harness. If you are looking for an easy way to a more stable trailer, the PSXQ could be just what you need. As you would expect it is fairly expensive, however, it does save a lot of time and hassle.
Best RV jacks for slide outs
Eaz-Lift Heavy Duty Slide Out Support

If your trailer or fifth wheel has unsupported slide-outs, over time you can risk damaging the mechanism. For better RV stability, peace of mind, and protection for your slide-out, you need to invest in a slide-out support jack.
These adjustable slide-out supports are made from strong, rust-resistant steel for extra durability. Available as a convenient two pack, each support can take up to 5,000lbs. The universal fit top is designed to support all slide-out rails types.
Adjust your supports from 19" up to 47", thanks to the incremental locked positions and 14" of minute height adjustment, you can get your slide out supported at its optimal height no matter where you're parked up. The space-saving handle and conveniently tethered pin make these supports easy to set up and pack away when your trip is at an end.
While you may not think your slide-outs need immediate support on a new trailer, if you use your slide-out room over extended periods, particularly with a large number of people, why take the risk?
These RV slide out stabilizer supports are great value for money and will also help to make the rest of your trailer feel more stable when you're parked up.
Best RV jacks for step support
Camco Save-A-Step Jack Stabilizes RV Steps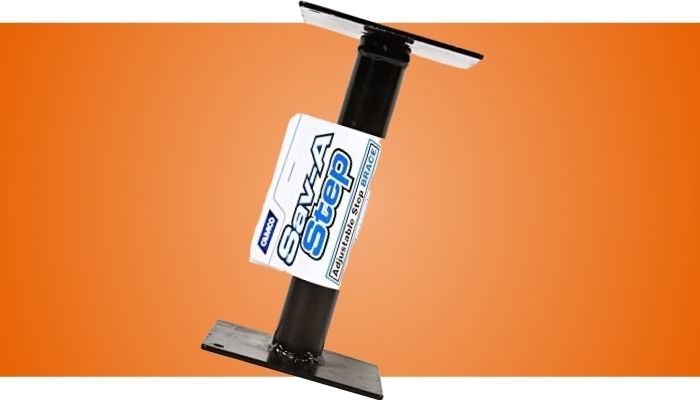 Does your RV start to rock when you climb aboard? Pick up a Save-A-Step Jack from Camco and stabilize your RV entry, preventing wear and sagging. The Save-A-Step Jack is a good choice for any trailer or fifth wheel, especially if you have a large family and lots of comings and goings.
Made from heavy-gauge steel with a ¾" solid metal screw thread, this durable RV step support will make a surprisingly big difference to your next camping trip. Simply place it under your trailer entry steps and adjust it by turning the upper support.
With an adjustment range of 7 ⅝" up to 14", it's a good size to support most RV lower steps. It also has a generous 1,000lb load rating. Very easy to use and install, this RV step brace is an excellent product that will improve your trailer's general stability when you're parked up, preventing the extreme rocking you often experience when someone enters your RV.
Inexpensive and very convenient, pick up two and secure your RV entrance, protecting your RV steps from premature wear and tear, as well as improving your experience RVing.
Compare the Best RV Stabilizer Jacks
Table Comparing the Top 9 RV Stabilizer Jacks
Image
Title
Price
Rating
Buy
Eaz-Lift RV Scissor Jack

$$$

Buy on Amazon

| | | | | | | | |
| --- | --- | --- | --- | --- | --- | --- | --- |
| Eaz-Lift RV Scissor Jack | $$$ | 7500 lbs | 28.47 lbs | Scissor Jack | Prime | 24 inches | Buy on Amazon |

Camco Olympian Stack Jacks

$$

Buy on Amazon

| | | | | | | | |
| --- | --- | --- | --- | --- | --- | --- | --- |
| Camco Olympian Stack Jacks | $$ | 6000 lbs | 7.75 lbs | Telescopic Jack | Prime | 17 inches | Buy on Amazon |

Lippert Scissor Jack

$$$$

Buy on Amazon

| | | | | | | | |
| --- | --- | --- | --- | --- | --- | --- | --- |
| Lippert Scissor Jack | $$$$ | 5000 lbs | 34.1 lbs | Scissor Jack | No Prime | 30 inches | Buy on Amazon |

BAL Deluxe Leveling Jack

$$$$

Buy on Amazon

| | | | | | | | |
| --- | --- | --- | --- | --- | --- | --- | --- |
| BAL Deluxe Leveling Jack | $$$$ | 5000 lbs | 35 lbs | Scissor Jack | No Prime | 30 inches | Buy on Amazon |

Eaz-Lift Telescopic Jack

$$$

Buy on Amazon

| | | | | | | | |
| --- | --- | --- | --- | --- | --- | --- | --- |
| Eaz-Lift Telescopic Jack | $$$ | 6000 lbs | 19.93 lbs | Telescopic Jack | No Prime | 30 inches | Buy on Amazon |

Stromberg Carlson Scissor Jack

$$$

Buy on Amazon

| | | | | | | | |
| --- | --- | --- | --- | --- | --- | --- | --- |
| Stromberg Carlson Scissor Jack | $$$ | 5000 lbs | 13 lbs | Scissor Jack | No Prime | 24 inches | Buy on Amazon |

Lippert Power Stabilizer Jack

$$$$$

Buy on Amazon

| | | | | | | | |
| --- | --- | --- | --- | --- | --- | --- | --- |
| Lippert Power Stabilizer Jack | $$$$$ | N/A | 58 lbs | Electric Jack | Prime | 30 inches | Buy on Amazon |

Eaz-Lift Slide Out Support

$$$

Buy on Amazon

| | | | | | | | |
| --- | --- | --- | --- | --- | --- | --- | --- |
| Eaz-Lift Slide Out Support | $$$ | 5000 lbs | 18.36 lbs | Telescopic Jack | Prime | 47 inches | Buy on Amazon |

Camco Save-A-Step Jack

$

Buy on Amazon

| | | | | | | | |
| --- | --- | --- | --- | --- | --- | --- | --- |
| Camco Save-A-Step Jack | $ | 1000 lbs | 2.14 lbs | Telescopic Jack | Prime | 14 inches | Buy on Amazon |
Buyers Guide to Buying the Best RV Stabilizer
There are plenty of factors worth bearing in mind when choosing new stabilizers for your RV. Here's what you need to look out for to choose the very best model for your trailer.
Price
While you undoubtedly have more exciting things to spend your RV vacation preparation fund on, try not to limit your budget too much when it comes down to choosing a new RV stabilizer. If you are replacing your main trailer stabilizers, make sure you look for a good quality model.
Purchasing a two or four pack can often provide significant savings and will make it easier for you to replace your stabilizers all in one go. If you're on a tight budget, try replacing your stabilizers with good quality over a longer period. After all. Purchasing and installing a lower quality, cheaper version can often result in a false economy requiring you to replace your stabilizer again, much sooner than intended.
Thankfully, there are plenty of good moderately priced stabilizers priced around $80-$100. More expensive versions priced over $100 tend to be made from higher quality steel, with superior design features for a smoother operation.
Ease of Install
Generally, most stabilizers that replace the ones on your trailer will be a universal fit, so in most cases, the holes should line up with those already drilled on your frame.
Unfortunately, sometimes they don't quite line up perfectly. If this is the case for you then you'll need to drill an extra hole or holes in your frame. Not all RV stabilizers include mounting hardware, so double check before you purchase.
Portable RV stabilizers will need to be easy to set up and should ideally come apart for easier storage. If your main stabilizers manage the bulk of your RV, you can often invest in some lightweight additional models to eliminate any persistent small amounts of sway or bounce.
Slide out stabilizers and step braces are highly useful at improving the efficacy of your regular trailer stabilizers.
Weight Capacity
Always check that your stabilizer's weight capacity is appropriate for the weight of your fully-loaded trailer. Obviously, stabilizers are there just to stabilize, they are not meant to lift up your trailer, or fully support it in any way.
In reality, your stabilizers will each take a small proportion of your trailer's weight. To make sure that they are up to the job, figure out your total loaded weight and divide it between the number of stabilizers that you are using. In all likelihood, your stabilizers, even if they had to take the entire weight of your trailer would be fine.
Trailers tend to weigh between 1,500 to 9,000 lbs, although a lot weigh under 3,000lbs, with a few very large ones a little over 9,000lbs. So even four RV stabilizers capable of supporting up to 5,000lbs each will be more than enough.
One point to bear in mind is that scissor jack stabilizers do not reach their weight capacity until they have been extended above a certain height. So, if you are purchasing this kind of RV stabilizer, make sure that it is in the correct height range for your trailer to ensure that you get the correct weight capacity at the right height.
As models vary, check the specifics with the manufacturer if you have any queries.

Materials
You'll want to look out for strong, heavy-duty stabilizers made from heavy-gauge steel, or aluminum if you need a lower weight option. Aside from a strong material with high tensile strength, you'll also need to check that it has a weather-resistant finish. Powder-coating is a popular means to protect steel from rusting, as well as general corrosion.
No Extra Tools Needed
A lot of stabilizers come complete with a crank, or have a removable pin, meaning they require no additional tools to set them up when you arrive at your destination. Some RVers prefer to use a cordless drill to set up their stabilizers quickly without having to crack each stabilizer for several minutes.
Manual or Electric
Manual is still pretty much the norm, however, there are some very good electrical versions.
While they are understandably more expensive, they do make for a hassle-free setup. If you are thinking of retrofitting an electric RV stabilizer take a good look at the installation process beforehand to verify that you are confident in your abilities and have the necessary wiring to hand.
Manual RV stabilizers are still a popular choice, especially for smaller trailers and pop-up campers. Mechanical manual versions don't run out of power and very rarely have a mechanical failure. Electric versions, on the other hand, while more convenient can be a lot more temperamental and there's a lot more that could potentially go wrong.
Adjustment Ease
You'll want to look out for an RV stabilizer that is easy to adjust. As your trailer "settles", don't forget to take a second look at how your stabilizers are doing. Ideally, your stabilizers will allow you to fine-tune their height to provide you with a maximum of stability and support for your parked-up trailer.
Stabilizer Pads
Don't forget that if you are parked up on soft terrain, your stabilizers will need to be supported with a block of wood or a special stabilizer pad. This will help to spread their load and prevent your stabilizers from sinking into the ground, where they will no longer support your trailer, increasing the likelihood of swaying, bouncing, or even sliding.
Types of RV Stabilizers
Wondering which type of RV stabilizer is best for your rig? Here's our guide to the most popular types.
Scissor Stabilizer – Scissor stabilizers look a lot like a regular car jack. They crank up to support the base of your RV and are a good choice for minimizing bounces, as well as improving lateral stability.
Tripod Stabilizer – With their three legs and central support for your trailer frame, tripod stabilizers spread out their load over a wider area. Very stable, as well as being quick and easy to set up, they are effective at reducing lateral trailer sway.
Telescopic Stabilizer – Telescopic stabilizers are often combined with tripod ones, with a central adjustment pole that telescopes out of the tripod base. They are useful for their rapid deployment, as well as being compact to store. They are useful to prevent your trailer from rocking and swaying.
Fifth Wheel Stabilizer – Fifth wheels tend to need taller stabilizers with more focus on supporting the weight at the front to prevent a rocking motion. A king pin stabilizer is essential for keeping your fifth wheel balanced and stable. You may also need to use fifth wheel tripod stabilizers at the front, as well as supporting your slide outs with slide out stabilizers.
Top RV Stabilizer Jacks Video
FAQ: Best RV Stabilizer Jacks
When it comes to enjoying the comforts of your RV, stability is key. No one wants to feel the constant rocking and swaying while parked, compromising their peace and comfort. That's where RV stabilizer jacks come into play. These essential devices are designed to provide the stability and support your RV needs, ensuring a secure and enjoyable experience wherever your adventures take you.
In this FAQ section, we have compiled a list of commonly asked questions to help you make informed decisions when it comes to selecting the best RV stabilizer jacks. Whether you're a seasoned RV enthusiast or a newbie just starting your journey, we have you covered. From understanding the different types of stabilizer jacks available to installation tips and maintenance requirements, we address the key aspects that will guide you towards choosing the right stabilizer jacks for your RV.
So, if you're ready to take your RV stability to the next level, let's dive into the frequently asked questions and find the answers you seek. Gain insights, clear any doubts, and make a confident choice as you equip your RV with the best stabilizer jacks to enhance your on-the-road experiences.
What is an RV stabilizer jack?
An RV stabilizer jack is a device designed to stabilize and level an RV when parked. It provides support and prevents the RV from rocking or swaying during activities inside the vehicle.
Why do I need stabilizer jacks for my RV?
Stabilizer jacks are essential for creating a stable and safe environment inside your RV. They help reduce vibrations caused by movement inside the vehicle, uneven terrain, or external factors such as wind or passing vehicles.
How many stabilizer jacks do I need for my RV?
The number of stabilizer jacks needed for an RV depends on its size and weight. As a general rule, most RVs require at least four stabilizer jacks, with one positioned near each corner of the vehicle. However, larger or heavier RVs may require additional jacks for optimal stability.
What are the different types of RV stabilizer jacks available?
There are several types of RV stabilizer jacks available, including scissor jacks, electric stabilizer jacks, hydraulic stabilizer jacks, and leveling systems. Each type has its own advantages and considerations, such as ease of use, weight capacity, and level of automation.
How do scissor jacks compare to electric or hydraulic stabilizer jacks?
Scissor jacks are manually operated jacks that require physical effort to raise or lower the RV. Electric stabilizer jacks use an electric motor for easy operation, while hydraulic jacks utilize hydraulic fluid and a pump system. Electric and hydraulic jacks offer quicker setup and are generally more convenient, but they can be more expensive than scissor jacks.
Can I install stabilizer jacks on my RV myself?
Yes, many stabilizer jacks can be installed by RV owners themselves. However, it is important to carefully follow the manufacturer's instructions and consider your skill level and experience with RV maintenance. If you are unsure, it may be best to consult a professional RV technician for installation.
What weight capacity should I look for in an RV stabilizer jack?
When choosing stabilizer jacks, it's important to consider the weight capacity of your RV. Check the manufacturer's specifications or consult your RV's manual to determine the weight of your vehicle. Choose stabilizer jacks that have a weight capacity exceeding the weight of your RV for optimal stability and safety.
Are there any maintenance requirements for RV stabilizer jacks?
Yes, regular maintenance is necessary to keep your stabilizer jacks in good working condition. This typically involves cleaning the jacks, inspecting them for damage or wear, lubricating moving parts, and tightening any loose bolts. Refer to the manufacturer's guidelines for specific maintenance instructions.
How can I ensure the best stability with my RV stabilizer jacks?
To achieve the best stability, it is recommended to park your RV on a level surface and use leveling blocks or pads as needed. Place the stabilizer jacks at the designated points near each corner of the RV, and extend them until they make firm contact with the ground. Avoid overextending the jacks, as this may compromise their stability.
Can I use stabilizer jacks to lift my RV off the ground?
No, stabilizer jacks are not intended to lift the entire weight of an RV off the ground. They are designed solely for stabilization purposes. If you need to lift your RV, it is advisable to use dedicated RV jacks or leveling systems that are specifically designed for lifting and leveling the vehicle.
Remember, it's important to review specific product details and recommendations from the manufacturer when selecting and using RV stabilizer jacks for your particular RV model.
Final Thoughts
With so many RV stabilizers to choose from, it's important to focus upon your trailer specifics and needs to find the best RV stabilizer for your next vacation.
If you are looking for a budget set of RV stabilizers to help reduce sway in addition to your universal stabilizers, take another look at the budget-friendly aluminum four-stabilizer set by Camco. Relatively lightweight, easy to store, and quick to deploy, if you're just after a little extra stability they could make all of the difference.
For a heavy-duty universal stabilizer replacement, opt for the popular USA-made Bal Deluxe Leveling Scissor Jack. This robust and high durable RV stabilizer is built to last and can support up to 5,000 pounds with a maximum height of 30 inches.
Sometimes it's the small extras that make all of the difference. Protect and stabilize your RV with the inexpensive Save-A-Step Jak by Camco. This star brace will get rid of that rocking sensation every time you enter your RV.
If you have slide outs, protect them with the Eaz-Lift Heavy Duty Slide Out Supports, this two pack is great value for money and will prevent any premature sagging and malfunctioning due to prolonged unsupported periods of use.