If you've looked at new cars or RVs in the last decade or so you probably noticed that heated seats are becoming more and more widespread. There's good reason for it too, having a gentle warmth come up through the muscles of your back and legs can really reduce the strain of long drives. For those of you with older RVs you still love, we've got a solution. 12V seat heaters. Today we're covering the best 12V seat heaters on the market to help you pick out the one that most suits your needs.
Best 12V Seat Heater
Seat heaters have been around for a while, but it's only in the last few years that they became seriously affordable. You can now choose from dozens of excellent 12V seat heaters that offer different levels of heating, targetable heat, and extra comfort features.
In putting together our list we considered a range of different models across the price and feature spectrum. Check them out to see which ones we thought were the real winners.
Snailax Seat Cushion Heating Pad
The Snailax Seat Cushion Heating Pad is a multi zone heating pad designed for use in your car or RV. It plugs right into a standard cigarette style outlet and has a system of straps and clips that lock it securely in place.
It also has a row of anti-slip tabs built into the back that prevent it from moving at all. It can even help keep your body in the optimum position for riding without sliding down your seat.
What's great about the Snailax is that it performs two different roles. In the winter it has two heat settings that warm up your back and upper legs while in the summer the ventilated fabric helps keep your body cool and comfortable. The heating system has an automatic 30-minute timer.
It even includes a fan that helps distribute air around your body. It increases both the warming and cooling effect significantly.
If you're looking for a seat cushion you can use throughout the whole year, it's hard to beat the Snailax Seat Cushion Seating Pad.
Pros – Things we liked
Plugs into standard cigarette outlets
Locks securely in place
Anti-slip tabs
Automatic 30 minute timer
Cons – Things we didn't like
Cord for the controller is short and limits where you can put it
Sojoy Universal 12V Smart Car Seat Heater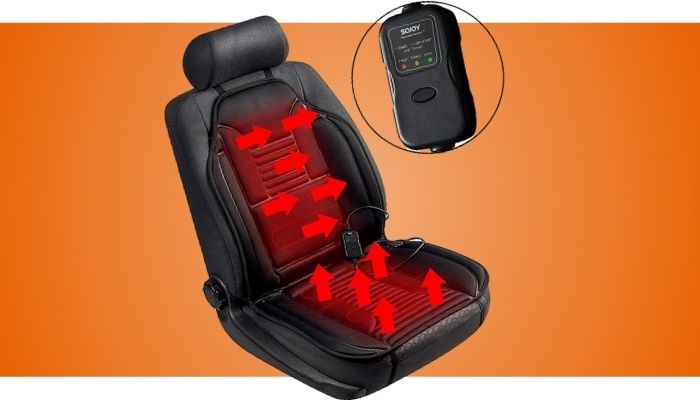 The Sojoy Universal 12V Smart Car Seat Heater is a comfortable and powerful seat heater. It offers three different heat settings with even distribution all across your back and upper legs.
It's made from a soft and stain-resistant fabric designed to allow ventilated airflow when the heat isn't on. While running you can choose from low, medium, and high settings, with temps reaching up to 120 degrees Fahrenheit and an automatic 45-minute timer.
We found it to fit well on a variety of car seats. We especially liked the design of the side wings and straps for giving it a more seamless look. It, unfortunately, doesn't offer added lumbar support but in general, was comfortable to sit on.
If you're looking for a reasonably priced yet effective 12V seat heater you can't go wrong with the Sojoy Univeral Smart Seat Heater.
HealthMate 12V Heated Seat Cushion by Wagan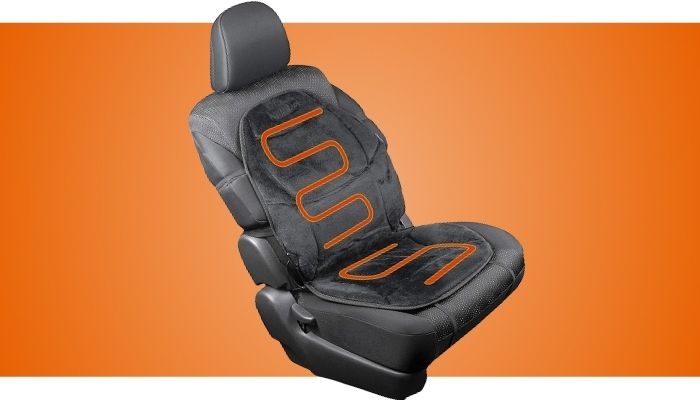 The HealthMate 12V Heated Seat Cushion is a compact and comfortable seat heater made by Wagan. It has a touchably soft velour top layer backed up by a comprehensive heating element.
It has a simple switch control that lets you choose between low and high power modes. One thing we noticed that was definitely a mark against it is the lack of an automatic shut-off. If your outlet is live and it's turned on it will continue running indefinitely.
It does include an inline fuse, which is nice, but we'd still really like to see that automatic shut-off.
Overall the HealthMate by Wagan is an okay choice for a value-priced seat heater but doesn't really stand out from the pack.
COMFIER Heated Car Seat Cushion
The COMFIER Heated Car Seat Cushion is a 12V seat heater designed for car and RV use. It offers an excellent range of features plus a great general build quality.
It uses a digital controller that offers independently targetable heat for the back and seat. You can choose from three different heat levels plus pick from a 15-, 30-, or 60-minute automatic shut-off.
It's also extremely flexible in where and how you use it. The strapping system provides an excellent fit on a car seat or regular chair. The fact that it includes both a 12V DC and 110V AC power cord lets you use it in the car, the RV, your home, or at the office.
When you add in its very affordable price the COMFIER heated car seat cushion becomes one of the best options out there for a 12V car seat heater.
KINGLETING Heated Seat Cushion with Intelligent Temperature Controller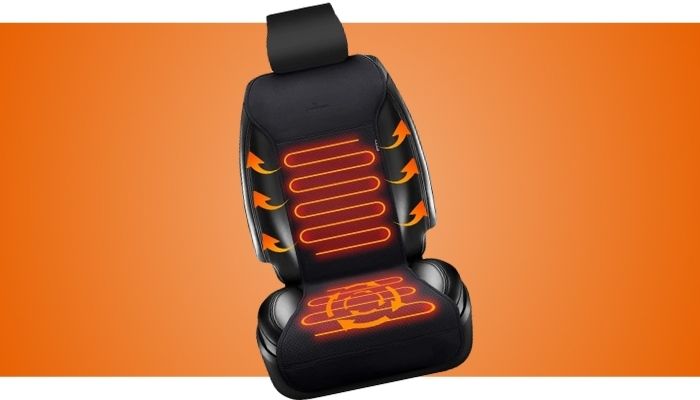 The KINGLETING Heated Seat Cushion takes a low profile approach to the seat heater model. It's much more slimline than many comparable seat heaters and looks a lot sleeker on premium seat materials like leather.
It's not just in physical form where the KINGLETING stands out from the crowd though. The actual tech under the hood is excellent. It offers fully customizable temperature settings from 86 to 140 degrees Fahrenheit.
You can also adjust the automatic shut-off to 30-, 60-, or 90-minutes. That allows you to get just the right temperature for your comfort level and keep it going for the perfect amount of time.
It doesn't have the molded padding or lumbar support some other seat heaters offer, but the slimline approach allows you to use the natural support of the seat much more effectively.
Given its affordably low price and robust feature set, the KINGLETING Heated Seat Cushion is an excellent choice for car and RV drivers.
AUDEW 12V Cigarette Lighter Heated Seat Cushion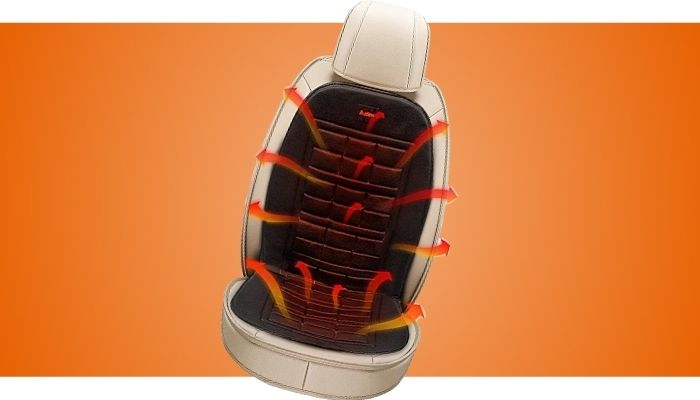 The AUDEW 12V Heated Seat Cushion soft and soothing seat heater built for car and RV use. It offers two different heat settings with temps of up to 150 degrees Fahrenheit.
The cushioning itself is relatively basic, with a squared pattern of cushions over the heating elements. They warm up really quickly, with noticeable warmth coming through in around a minute.
One thing to keep in mind is that there isn't as much variance in the high and low settings as we'd like to see. It gets hot fast, but it also stays quite hot even on the low setting. If you're looking for more of a comforting gentle warmth than a heated seat you may want to look elsewhere.
All in all the AUDEW 12V Heated Seat Cushion is an affordably priced if basic 12V seat heater. It doesn't have a lot of standout features, but provides reliable service at a reasonable cost.
Zone Tech Heated Car Seat Cushion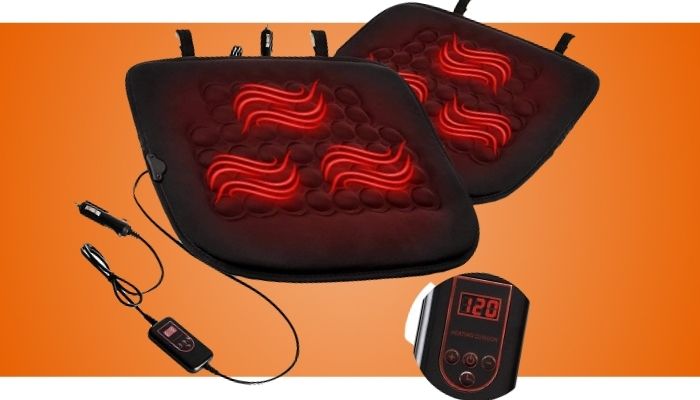 The Zone Tech Heated Car Seat Cushion is a seat only heater sold in a two pack. This allows you to provide comforting warmth for both you and your passenger at a price most charge for a single seat heater.
The tradeoff is that it only provides heat to your legs and upper thighs. It does this remarkably well and with great flexibility.
The seat itself is comfortably padded and has a unique bubble-like support system. It can be adjusted on a degree by degree basis all the way up to 120 degrees Fahrenheit. That's really nice for days where it's chilly and you want to warm up, but you don't want to end up sweating through the seat of your pants.
If you're okay without back heating and support the Zone Tech Heated Car Seat Cushion is a great option.
Sojoy Universal 12V Heated Rear Seat Cushion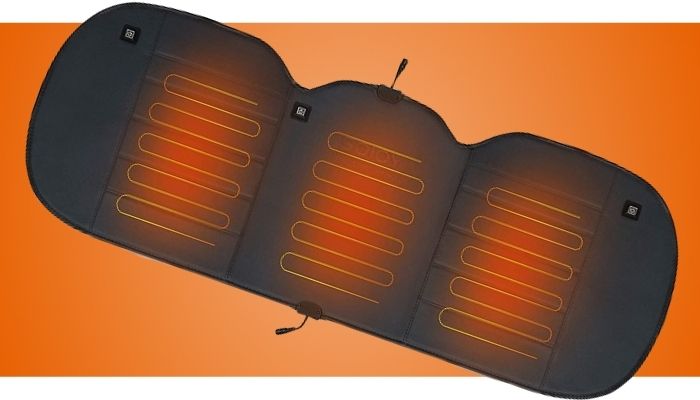 Drivers aren't the only ones who get chilly on a long road trip. The Sojoy Universal 12V Heated Rear Seat Cushion is one of the few seat heaters designed to work specifically in the back seat.
It doesn't offer the full back and leg heating that front seat heaters do but it does provide a comforting warmth for your legs and thighs. It's large enough to fit comfortably across three seats and allows you to independently control the settings for each seat.
It provides up to 120 degrees Fahrenheit of warmth with a gentle three minute warmup. The Sojoy includes important safety features like an inline fuse and an automatic shut-off timer.
If you're looking for a way to warm up the backseat of your car or the dining area of your RV, the Sojoy Universal Rear Seat Cushion is one of the best options out there.
Buyer's Guide to Buying the Best 12V Seat Heater
When it comes to picking out the best 12V seat heaters safety and comfort are the name of the game. Anything that has a heating element in it should always include comprehensive safety features.
Below you'll find out what comfort enhancing features to look for and the safety essentials you shouldn't go without.
Price
Pricing on 12V seat heaters is very favorable for consumers. You can get value priced models for $10 to $20, and top of the line units for under $50.
Unless you're looking for some really specific features or a high-end finish there's no reason to spend more than that.
Comfort
The most important factor when comparing seat heaters is how comfortable they are. This is something a good chunk of your body will be pressed against for hours on end in a confined space.
You want to make sure that it's supportive, molds to your body where needed, and doesn't have any annoying pressure points. The heat produced definitely helps to keep your body loose, but it's no excuse not to spend a little extra for one that will keep you fully comfortable.
Some things specifically to look for include a secure strapping system, molded padding over the heating elements, and definitely lumbar support.
Automatic Shut-Off
One of the most important safety features for a 12V seat heater is an automatic shut-off. They work in much the same way as on an electric blanket and prevent you from accidentally leaving your seat heater on after exiting your car.
If your car or RV has outlets that stay live even after turning off the engine, or if you're plugging your seat heater into a battery bank outlet, this is even more important. Seat heaters are quite safe, but it's definitely not a good idea to leave them running unmonitored for hours on end.
Temperature Settings
The most basic 12V seat heaters have only two settings: On and off. We prefer ones that offer a range of temperature settings that allow you to find your own comfort level.
The best 12V car seat heaters will even allow you to individually target different areas of your body. You can turn on the legs without turning on the back elements and get the heat just where you need it.
Controller
The controller on your seat heater is a lot more important than you'd think. Older seat heaters often use physical knobs that you turn to select your preferred heat.
They work alright, but they aren't nearly as precise or as easy to use as models with digital controls. These let you select an actual temperature you want your seat at and can maintain it precisely at that level.
Top-end models often include timers that allow you to set a specific temperature and length of heating you desire.
Cord Length
The length of your 12V seat heater's cord determines where and how you can use it. If you're in the driver's or passenger's seat you really only need a few feet.
If you're sitting in the backseat, or you're riding in the living space of your RV, a longer cord is much more important. Look for the longest cord you can find that works with the seat heater you like.
It's always possible to fold up the excess, but you'll need an extension cord if it isn't long enough.
Indicator Light
An indicator light is another important safety feature for seat heaters. They allow you to tell at a glance if your heater is still on.
That makes it really easy to double-check that you actually turned it off rather than just relying on the automatic shut-off.
Lumbar Support
Anyone who's ever taken a long road trip before knows the importance of lumbar support. There's nothing quite as annoying as stepping out of the driver's seat with an aching back from doing nothing.
12V seat heaters with lumbar support offer excellent support for your back and provide soothing heat to your muscles. It ensures that you'll arrive at your destination feeling loose and comfortable.
Top 12V Seat Heaters Video
FAQ – Best 12V Seat Heater
As you explore the world of RV comfort and convenience, it's natural to have questions about the best 12V seat heaters. To address your queries and help you make informed decisions, we have compiled a list of frequently asked questions about these popular accessories. Whether you're considering installing a 12V seat heater in your RV for the first time or seeking additional information, this FAQ section aims to provide you with valuable insights. From installation and compatibility to safety and power considerations, we'll answer the most common questions to help you choose the right 12V seat heater for your RV and enjoy cozy travels on the road.
What is a 12V seat heater?
A 12V seat heater is an accessory for vehicles, including RVs, that provides warmth and comfort by heating the seats. It operates on the vehicle's 12-volt power supply and typically comes with adjustable settings for temperature control.
Why should I consider installing a 12V seat heater in my RV?
A 12V seat heater can greatly enhance your comfort during cold weather trips in your RV. It provides warmth and helps alleviate discomfort caused by sitting on cold seats. Whether you're driving or parked, a seat heater can make your journey more enjoyable.
Are 12V seat heaters easy to install in an RV?
Yes, most 12V seat heaters are designed for easy installation. They usually come with straps or clips that secure the heater to the seat, and they can be connected directly to the 12V power outlet in your RV. However, it's always a good idea to read the manufacturer's instructions before installation.
Can I install a 12V seat heater on any type of RV seat?
In most cases, 12V seat heaters are compatible with various types of RV seats, including captain chairs, benches, and even some reclining seats. However, it's important to check the product specifications to ensure compatibility with your specific RV seat design.
Are 12V seat heaters safe to use?
Yes, 12V seat heaters are generally safe to use when installed and operated correctly. They are designed with safety features such as overheat protection and timers to prevent overheating and minimize the risk of accidents. It's crucial to follow the manufacturer's guidelines and not leave the seat heater unattended for extended periods.
Can I use a 12V seat heater while driving?
Yes, most 12V seat heaters are designed for use while driving. They are a great addition to keep you warm and comfortable during long drives in cold weather. However, it's essential to adjust the temperature to a comfortable level to avoid distraction or discomfort while driving.
Are there any power considerations when using a 12V seat heater in an RV?
It's important to be mindful of your RV's power capacity when using a 12V seat heater, especially if you plan to use multiple seat heaters simultaneously. Check your RV's electrical system specifications to ensure it can handle the additional power load. It's advisable not to overload the system and cause any electrical issues.
Can I use a 12V seat heater in other vehicles besides an RV?
Absolutely! While this article focuses on RVs, 12V seat heaters can be installed in a variety of vehicles, including cars, trucks, boats, and motorcycles. They are a versatile accessory that can enhance the comfort of your seats in any vehicle with a 12V power outlet.
How do I choose the best 12V seat heater for my RV?
Consider factors such as heating efficiency, adjustable temperature settings, ease of installation, durability, and safety features when choosing a 12V seat heater. It's also helpful to read customer reviews and compare different models to find the one that best suits your needs and budget.
Q10: Can I use a 12V seat heater if my RV has heated seats already?
A10: If your RV already has built-in heated seats, you may not need an additional 12V seat heater. However, if you want to enhance the heating capabilities or if the built-in heaters are not sufficient, you can still consider using a 12V seat heater as an additional source of warmth and comfort.
Remember to consult the product manuals and guidelines provided by the manufacturer for specific instructions on installation, usage, and maintenance of the 12V seat heater you choose.
Final Thoughts
12V seat heaters offer affordable comfort that can really take the edge off a long drive.
Depending on how warm you want it and how flexible you like to be with your settings, there are a whole bunch of great products available.
Picking out the best 12V seat heater really comes down to deciding just how much heat you want and where you want it placed.