To keep your RV looking its best, it's important to protect your RV from costly water damage with a high-quality sealant. Choosing the best RV caulk for your motorhome will ensure that rainwater stays out, while improving your climate control efficiency, and ensuring you're protected for years at a time. Find the best RV sealant for your vehicle right here with our RV caulk reviews and in-depth buyer's guide.
Best RV Caulk
To help you to find the best RV caulk, we reviewed some of the most popular motorhome sealants on the market. Check out our recommendations below.
Geocel Pro Flex RV Flexible Sealant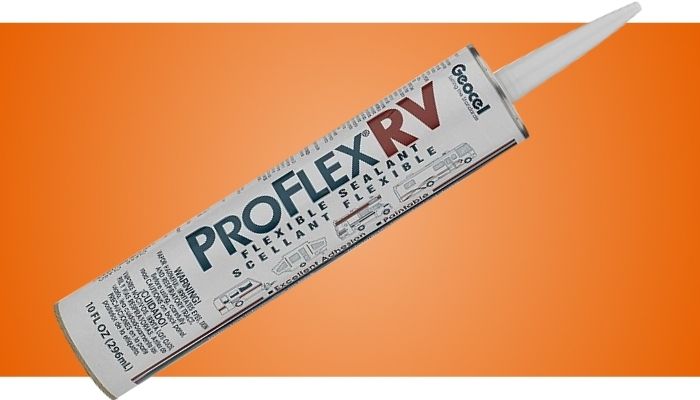 Geocel Pro Flex RV is a popular multi-purpose sealant that has been specifically designed for use on RVs. Thanks to its transparency, this clear sealant won't stand out or need to be painted, although should you wish to, it is paintable.
It is recommended for creating watertight seals on your RV seams, trim, and roof or around your vents, windows and doors. It will adhere to glass, coated steel, steel, wood, vinyl, and fiberglass, making it suitable for almost all RVs. However, note that it is designed for exterior use only and it is not suitable for use on acrylic skylight glazing surfaces.
As its name suggests, this sealant is extremely flexible. Not only does this make it a good choice for both hot and cold climates, as it won't crack, it also withstands movement. It is UV resistant, suitable for RVing in sunnier climates, so you won't have to worry about having to replace it prematurely. For easy maintenance and good looks, it is also resistant to dirt and once cured, mildew resistant.
Application is simple, even for novices, thanks to its exceptional flexibility. It's also easy to clean up if you make a mistake. Use it in the damp, on oily or even frozen surfaces, this sealant will still adhere. Complete with an impressive 25-year life expectancy, this long-lasting RV caulk is good value for money and a great choice to have around for any exterior touch-ups.
Pros – Things we liked
Multi-purpose sealant
Specifically designed for RVs
Transparent & paintable
Flexible & won't crack
Cons – Things we didn't like
Not suitable for acrylic
Dicor Self-Leveling Lap Sealant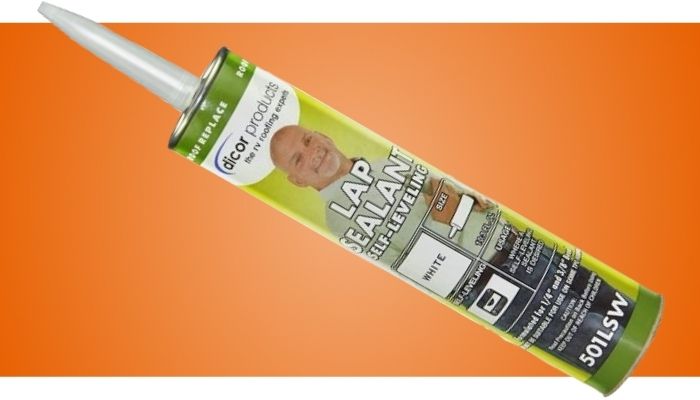 If you have a leak in your RV roof or need to seal any horizontal seam, then this lap sealant by Dicor makes an excellent choice. As it is self levelling, this product isn't suitable for use on vertical seams. However, used on horizontal ones, it slowly spreads and flattens out, filling potential leak spots to give a smooth finish over which water will flow across and dissipate.
This RV roof sealant can be used on EPDM rubber roofs and most TPO sheeting, as well as providing excellent adherence to vinyl, galvanized metal, wood, mortar, fiberglass, aluminum, and concrete. So, it's likely to be a great choice of caulk for your RV roof, just double-check compatibility before you order.
Whether you need to seal your air vents, roof edges, or screw heads, you'll get a smooth and secure seal with this product. Available in white, as well as a range of other shades, it is stabilized to prevent UV discoloration and cracking. What's more, this RV roof caulk will not stain or discolor your vehicle or trailer roof, so you won't have to worry about any damage when applying it.
Thanks to its flexibility, Dicor Self-Leveling Lap Sealant is easy to apply and long-lasting. It is waterproof in just four hours, so providing your RV is dry to start with, you can even apply it when just before heading off. While there are cheaper RV caulks out there, if you need to seal up your RV's roof, this high-quality self-leveling caulk is one of the most popular and effective versions available.
Sashco Clear Lexel Adhesive Caulk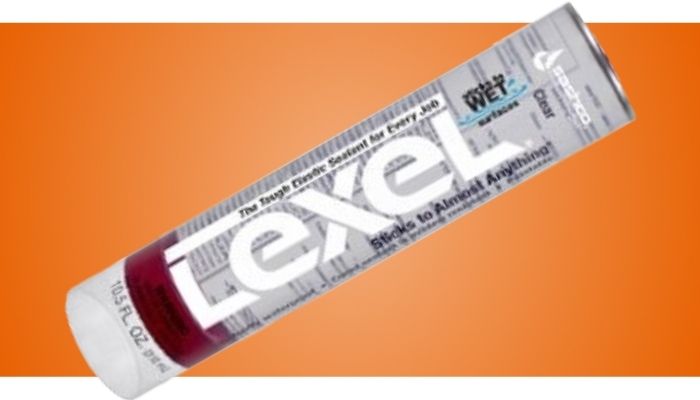 This Clear Lexel Adhesive Caulk by Sashco is a truly multi-purpose sealant, suitable for use on both your RV's interior and exterior. Easy to paint, this transparent copolymer rubber caulk can be used on just about any RV sealing project, be it around your shower or on your side vents.
Lexel Adhesive Caulk can be used with a huge variety of materials, sticking to metals, plastics and most other surfaces. Even if you don't need to seal anything urgently, it's a great product to have around just in case. Note that while it is suitable for a much wider array of materials than your standard RV caulks, it does not perform well with rubber materials or polystyrene foams, so double-check compatibility before application.
This RV sealant is flexible, handling up to 400% joint movement, making it a great choice for your camper. It stays clear even when exposed to UV light, so you won't need to worry about yellowing. It also stands up to abrasive cleaners and scouring pads, ideal for your kitchen or shower areas.
One of the main advantages of this RV caulk is that you can use it right away, even in the rain as it sticks to wet surfaces. It doesn't freeze and is waterproof immediately on application, so wherever you are, you can put a stop to water damage before it gets started.
For a good, true multi-purpose sealant for your RV, it's hard to find a better model for both internal and exterior use at a lower price.
3M Marine Adhesive Sealant 4000 UV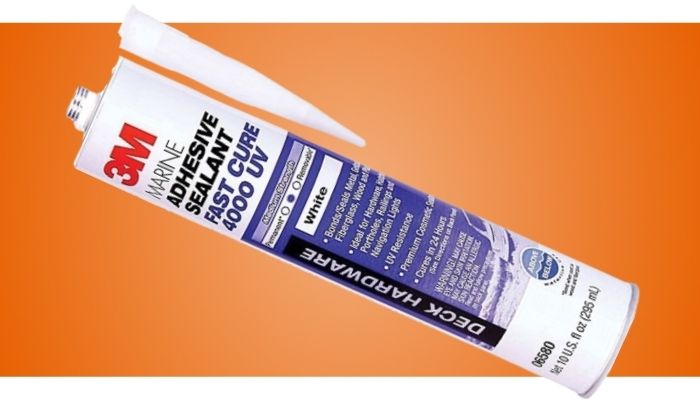 If you are looking for an RV caulk with exceptionally high levels of UV resistance, then this marine version by 3M is definitely worth considering. It provides a medium strength bond that allows for easy disassembly, while providing outstanding waterproofing.
Suitable for use on aluminum, gelcoat, wood, and fiberglass, this silane modified polymer is ideal for use in harsh conditions and will fully seal against the elements. You can paint it straight after application for a harmonized finish, unlike many other sealants.
Providing flexible and durable elastomeric bonding, this sealant stands up to the vibrations, swelling and shrinking that your RV exterior is put through. This prevents your sealant becoming damaged by UV rays, temperature fluctuations, and the weather, as well as life on the road in general.
For an excellent watertight seal that is highly UV resistant, it's hard to find a better product. Thanks to its firm, rubbery seal and high durability, this sealant is a good choice for most RV exteriors, standing up to vibrations, traffic and the climate. It does, however, cost quite a bit more than many other versions.
It can also be a little tricky to apply, especially if it's your first time applying a similar product. With a bit of practice, you should get great results and unlike other types of caulk, this version can be easily removed for reworking or repair to the seam.
ToughGrade Self-Leveling RV Lap Sealant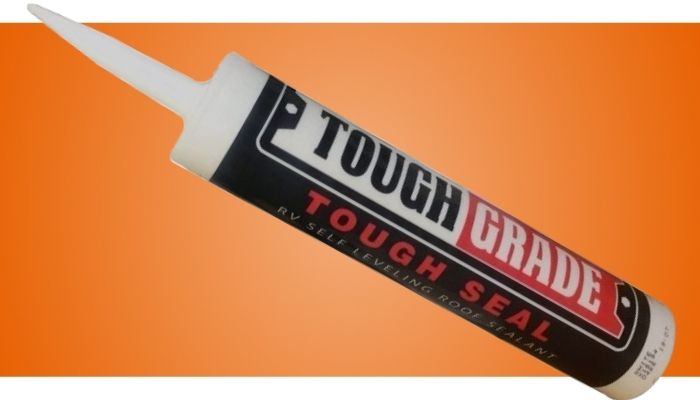 If you're looking to reseal your entire motorhome roof, then this four-pack version of Self-Leveling RV Lap Sealant by ToughGrade is an easy-to-use, convenient choice. Designed specifically for use on horizontal surfaces, in particular RV rubber roofs, this popular sealant is compatible with almost any roofing material.
As it can also be used to bond aluminum, galvanized metal, vinyl, wood, mortar, and concrete, it can be used for a variety of tasks. Aside from sealing your EPDM roof, you can also use it on your vent covers, pipes, screw heads, or around your air conditioning units. Its self-leveling formula ensures that the sealant covers the entire seam, for an easier application and enhanced weather protection.
This product is UV stabilized. This prevents it from cracking in the sun and yellowing, ensuring your RV stays protected and looking good. This also helps the sealant to remain flexible and continuously seal, with a good duration.
Easy to apply, this RV sealant can be used with any standard caulk gun. However, it does not self-level as easily as some other products. So, you may need to help spread it out a little with a putty knife.
As a four-pack, it represents good value for money and should be plenty enough to redo a 30-foot RV roof. All in all, this is a great, non-nonsense RV caulk for sealing your rubber roof seams.
RecPro Self-Leveling RV Sealant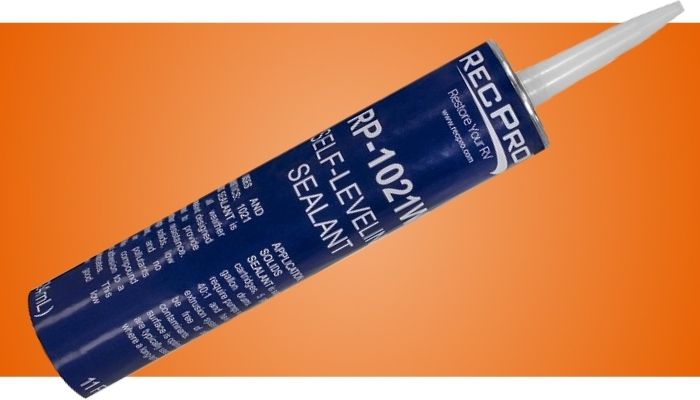 If your motorhome features a Superflex roof by Alpha Systems or a regular EPDM rubber roof, then this self-leveling RV sealant by RecPro comes highly recommended. Ideal for flat surfaces, it can also be used to fix leaks around pipes and vents to keep your RV protected from the elements.
Bear in mind that as a self-leveling sealant, this product is not for use on vertical surfaces, so you'll need a different product for any vertical seams that also need sealing. It dries white, but you can also paint it if necessary for a harmonized finish that matches your vehicle's roof or trim shade.
Thanks to its excellent flexibility, this RV caulk is resistant to the vibrations and shocks that motorhomes frequently undergo on the road. Capable of withstanding temperatures up to 250 degrees F and as low as -65, as well as being fully weather-resistant, you won't have to worry about this sealant cracking or deteriorating, no matter where your adventures take you.
Importantly, this sealant is also resistant to chemicals, greases, oils, salt, and fuel. So, even if it does come into contact with any of the aforementioned substances, it won't suffer any deterioration to its lifespan and will continue to protect your RV from water damage.
If you have a TPO or an EPDM roof, then this sealant is a must in your RV repair kit. It is easy to use and works a treat, whether you need to do your whole roof, or a fitting an AC unit or vents, it makes an affordable choice that gets the job done with fantastic durability and longevity.
Dap Clear Silicone Sealant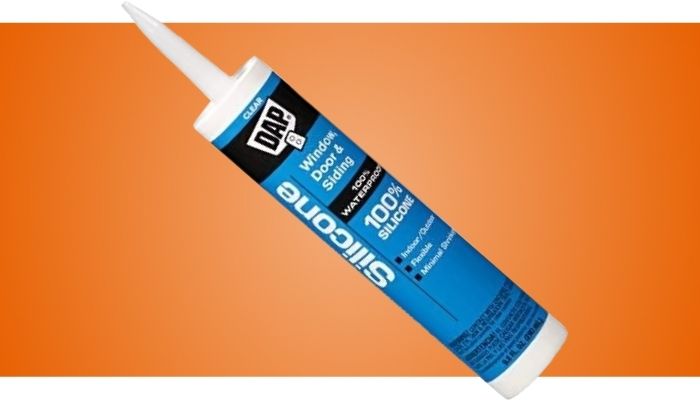 Silicone is often advised against as an RV sealant, mainly because it's so difficult to remove, making redoing your sealant in the future a nightmare. However, if you have the patience and time to remove it correctly, or if you are looking to use it inside and don't anticipate having to redo it anytime soon, it can be a low-cost, highly effective choice.
This clear version by Dap provides a watertight seal that is compatible with glass, ceramic, most metals, wood, plastics, rubbers and various painted surfaces. You could use it for your shower area, in your kitchen area or around your windows, vents or doors.
Completely weather and water-proof, this clear silicone sealant is unaffected by extreme temperatures. Whether you're RVing in the deep south or camping in your motorhome at Kenai Fjords National Park, this sealant will stand up to both ends of the temperature without cracking or shrinking.
Aside from its long-lasting flexibility, once cured, this RV caulk is also mildew resistant. This will keep your rig looking at its best even in damp conditions, preventing those unsightly black flecks from appearing.
While this silicone RV caulk is easy to apply, with good flexibility and an excellent adhesion, the cartridge can be problematic. If you are looking for a silicone RV caulk then this is a budget choice that is a good choice for areas that won't need to be resealed regularly.
Sashco Through The Roof Sealant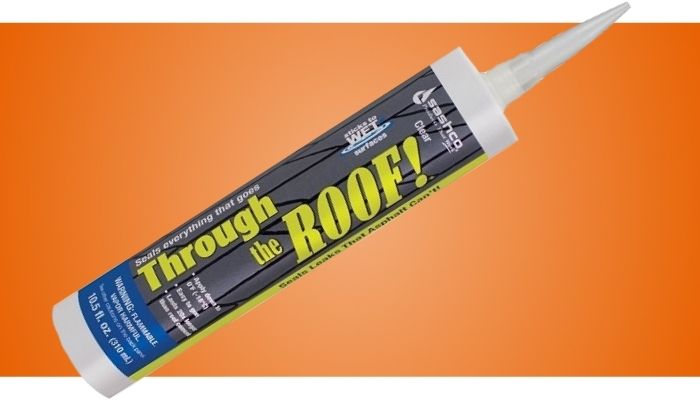 Looking for a low-price roof sealant for your RV? Through The Roof by Sashco is available as a pack of six, providing you with exceptional value for money. Its unique co-polymer rubber formula forms an invisible seal that lasts.
Suitable for use on a huge range of materials, including fiberglass and plexiglass, this RV caulk provides a permanently elastic roof seal. So, whether you're replacing some roofing panels, or need to repair leaks around your vents, AC unit, or skylights, it's a great choice. Just note that it is not recommended for use with polystyrene insulation.
Aside from its wide material compatibility, this sealant also has the advantage of being completely weatherproof, keeping your motorhome dry and free from water damage. Unfortunately, this sealant is less suitable if you like to travel far and wide in your RV. Although it won't freeze, once applied it stays tough in temperatures from 0 to 120 degrees F, which is a more restrictive range than some other sealant out there.
If you travel in fairly temperate regions, then this sealant could be a good choice for your RV. It can be used on wet surfaces, meaning you can fix leaks as soon as you become aware of them before any long-lasting damage occurs. What's more, it is also available at a very low price per cartridge when you opt for a value six-piece pack.
Sashco Big Stretch Caulk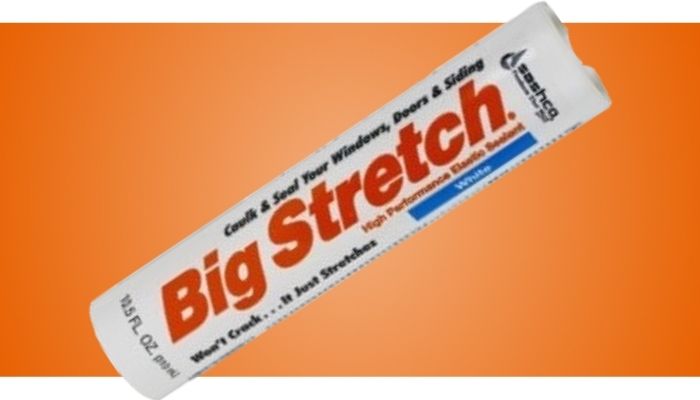 If you have leaks in your RV sides, take a look at Sashco's Big Stretch Caulk. Renowned for its ability to stretch more than 500% of its original size, if you are fed up with frequently re-caulking a leaking vertical seam on your motorhome, this product could well solve your problem.
For use both inside and out, this highly elastic, no-crack formula is a great choice for sealing around windows and doors, as well as slide outs and side vents. It adheres to a wide variety of materials, so it's more than likely to be suitable for your RV, just double-check before you order. Note that this product is not intended for use on roofs.
With a very high UV resistance, you won't have to worry about having to replace this sealant in the near future – it lasts for a long time and will not crack. Either purchase it in clear for an invisible finish, or select a color that matches your RV. You could also easily paint it for a perfectly matching appearance.
Unlike most other RV caulks, this formula is low-odor. So, it makes a great choice if you RV full time and need to seal your interior as well as the exterior of your motorhome. Easily cleaned up, it is simple to apply and you won't have to waste hours getting it off again if you make a mistake.
This high-performance, ultra-stretchy RV caulk is ideal for any join on your rig's sides that needs sealing with a high degree of flexibility. It provides a waterproof and weather-proof finish that lasts, with a high level of UV and temperature resistance.
Compare the Best RV Caulk
Table Comparing the Top 9 RV Caulks
Image
Title
Price
Rating
Buy
Geocel Pro Flex RV Flexible Sealant

$$$

Buy on Amazon

| | | | | | | |
| --- | --- | --- | --- | --- | --- | --- |
| Geocel Pro Flex RV Flexible Sealant | $$$ | 10 fl oz | 14.4 oz | No Prime | 2 x 2 x 11.38 inches | Buy on Amazon |

Dicor Self-Leveling Lap Sealant

$$

Buy on Amazon

| | | | | | | |
| --- | --- | --- | --- | --- | --- | --- |
| Dicor Self-Leveling Lap Sealant | $$ | 10.3 fl oz | 12.8 oz | No Prime | 12 x 4 x 4 inches | Buy on Amazon |

Sashco Clear Lexel Adhesive Caulk

$$$

Buy on Amazon

| | | | | | | |
| --- | --- | --- | --- | --- | --- | --- |
| Sashco Clear Lexel Adhesive Caulk | $$$ | 10.5 fl oz | 11.2 oz | No Prime | 2 x 11.38 x 2 inches | Buy on Amazon |

3M Marine Adhesive Sealant 4000 UV

$$$$

Buy on Amazon

| | | | | | | |
| --- | --- | --- | --- | --- | --- | --- |
| 3M Marine Adhesive Sealant 4000 UV | $$$$ | 10 fl oz | 1.08 lbs | Prime | 2 x 3 x 9 inches | Buy on Amazon |

ToughGrade Self-Leveling RV Lap Sealant

$$$$

Buy on Amazon

| | | | | | | |
| --- | --- | --- | --- | --- | --- | --- |
| ToughGrade Self-Leveling RV Lap Sealant | $$$$ | 10.3 fl oz | 5.1 lbs | No Prime | 12 x 8 x 4 inches | Buy on Amazon |

RecPro Self-Leveling RV Sealant

$$$

Buy on Amazon

| | | | | | | |
| --- | --- | --- | --- | --- | --- | --- |
| RecPro Self-Leveling RV Sealant | $$$ | 11 fl oz | 2 lbs | No Prime | 11.5 x 3.8 x 2 inches | Buy on Amazon |

Dap Clear Silicone Sealant

$$

Buy on Amazon

| | | | | | | |
| --- | --- | --- | --- | --- | --- | --- |
| Dap Clear Silicone Sealant | $$ | 9 fl oz | 14.4 oz | Prime | 11 x 2 x 2 inches | Buy on Amazon |

Sashco Through The Roof Sealant

$$$$

Buy on Amazon

| | | | | | | |
| --- | --- | --- | --- | --- | --- | --- |
| Sashco Through The Roof Sealant | $$$$ | 10.5 fl oz | 2.4 lbs | No Prime | 2 x 2 x 12 inches | Buy on Amazon |

Sashco Big Stretch Caulk Cartridge

$

Buy on Amazon

| | | | | | | |
| --- | --- | --- | --- | --- | --- | --- |
| Sashco Big Stretch Caulk Cartridge | $ | 10.5 fl oz | 1.6 lbs | Prime | 2 x 2 x 11.38 inches | Buy on Amazon |
Buyer's Guide to Buying the Best RV Caulk
To make sure you find the very best sealant for your motorhome, we've covered all aspects that you'll need to consider before buying.
Price
Buy cheap, buy twice. So the saying goes.
When you're looking for a sealant to protect your RV from the elements and the damage they can do to your vehicle, it's important to prioritize quality. And normally, quality tends to come at a price.
If you purchase a substandard RV caulk, then not only will you likely have to buy again, you will also have to waste your time removing and re-caulking. What's more, if your RV sustains any major water damage, then you'll have to spend even more time and money on some major repair work.
All the more reason to choose your RV caulk with caution, rather than looking to save a quick buck.
UV Resistance
When choosing an RV caulk, it's important to look for a formula that has a high level of UV resistance. Over time, versions that do not will crack and deteriorate with sunlight, even if you don't frequently spend time in a hot climate. A cracked seal on your roof can quickly lead to a leak that could cause thousands of dollars of damage if not caught in time.
RV caulk with high levels of UV resistance will remain in place for long periods without cracking. UV light can also cause formulas with a low resistance to yellow or fade, which can also look unsightly, even if they manage to remain leak-free.
So, be sure to pick a sealant with good UV resistance, or you'll be back to re-caulking in no time.
Waterproof
It goes without saying that your RV caulk needs to be 100% waterproof. However, when it comes down to protecting your motorhome, especially when you're re-caulking your roof, we always like to double-check that our sealant says it is completely waterproof.
What sealant wouldn't be waterproof, you ask? Well, you also need to consider the climate you live and travel in, as well as the condition of your RV. Are you likely to need to seal a leak in your roof in the rain? Not all RV sealants are fully waterproof on application. In addition, some can only be used on dry surfaces.
If your rig isn't in the best of shape and is prone to the occasional leak, we recommend getting a tube of waterproof sealant that gives an immediate waterproof finish and sets straightaway, even on wet surfaces. It could save you a lot of time, effort and money.
Flexibility
Flexibility is another key characteristic of a good RV sealant.
Life on the road, exposed to the weather, changes in temperature and vibrations can all take their toll on your RV caulk. That's why it's important to find a sealant that remains flexible, so that as temperatures rise and fall, your sealant will continue to fill the seams completely, flexing to ensure that there is no exposure.
RV sealants that lose their flexibility over time are likely to crack, peel or chip away. All of which will result in a leaking roof, vent or window. As RVs travel from one climate to another flexibility is more important than on a brick and mortar home. Bumps in the road, potholes, or just general vibrations from the motor all require an extra degree of flexibility than a standard caulk.
Tear Resistance
If you have a flexible RV caulk, then you're likely to have one with good levels of tear resistance. Joins and seams around slide outs or in areas that are subject to a lot of movement will need to have high levels of tear resistance to ensure that they do not snap and pull apart.
Consider What and Why you are Sealing
When choosing the right RV caulk for your camper, make sure you first of all consider what you are actually sealing.
If you are doing general maintenance work and want to retouch a few seams just in case, all around your RV, then you should look for a good multipurpose RV caulk that can be used on a wide variety of different surfaces.
For your RV roof, you should stick to a self-leveling RV caulk. These caulks are only designed for use on horizontal surfaces, so they are not suitable for your windows, doors or any side vents. Self-leveling caulks spread out to fully seal off your seam and leave a smooth, flat finish. This even finish causes rainwater to flow off your roof seal, without pooling. Otherwise, a sloped finish could risk water eventually damaging your sealant, causing a leak.
If you need to reseal your RV windows, doors, or any side seams, make sure that you don't use a self-leveling caulk as it will likely drip off before setting. Look for RV caulks that are suitable for vertical use. Extra flexible sealants are definitely the best ones to go for here. Think about the stress that your sealant goes through when you open and close your doors and windows several times a day. Hence why it's important to choose one with plenty of give that will not simply crack.
One more important point to bear in mind – surface compatibility. Not all RV caulks are compatible with all RV materials. Always double-check that your caulk is appropriate for use with your RV's surfaces. If you have any doubts, contact the sealant manufacturer to check.
Types of RV Caulk Sealant
Here's a quick roundup of the main types of RV caulk sealants, to help you find the best type for your motorhome.
Silicone Caulk
While silicone caulks are in widespread use for standard home renovation projects, we don't recommend them for general RV use.
You may want to use silicone, in your shower or kitchen area, same as you would in a brick and mortar home. Silicone has good anti-mildew properties making it a good choice for this type of use. It also stands up to extreme weather and has high levels of UV resistance.
However, the main reason we don't recommend using silicone sealant on your RV is that it's a nightmare to remove, making re-caulking much more tiresome.
Acrylic Caulk
Acrylic caulks are some of the cheapest around, making them good value.
They are also highly paintable, so you won't have to worry about matching up your shade if your RV is anything but white. However, they are not very elastic. For this reason, when faced with the large temperature differences that your RV will often go through, most acrylic caulks will not be up to the job and will simply crack.
Vinyl Caulk
Similar to acrylic caulk, vinyl is reasonably priced, paintable, yet also prone to cracking if exposed to large changes in temperature. They are, however, slightly more tear resistant than their acrylic counterparts.
Fireproof Caulk
You may wish to look into purchasing fireproof caulk. This could help to improve the fire safety of your RV, especially given that motorhomes tend to be made from highly flammable materials, contain highly flammable fuels and sometimes even naked flames. However, if the rest of your installation is not treated to reduce flammability ratings, then choosing a fireproof caulk is an almost redundant gesture.
Synthetic Rubber Caulks
These caulks are some of the most flexible on the market.
Synthetic-rubber sealants have excellent adhesive properties, can be applied in the heat or the cold and can reform after stretching. This makes them ideal for use on joints that move frequently. However, they can shrink when cured, so care needs to be taken when applying synthetic-rubber caulks.
What's more, until they are cured they can be flammable, so caution is needed. When possible opt for versions with short cure times.
Modified Silicone Polymer Caulks
These new hybrid caulks provide some of the highest levels of performance around. They are more expensive than traditional caulks, however, they are waterproof directly on application, which could potentially save you a huge amount of money by fixing your leak instantaneously.
They are also incredibly durable, highly flexible and don't shrink. If you're looking for the best type of RV caulk, then a new modified silicone polymer sealant is an excellent choice.
Benefits of Using RV Caulk
Checking and replacing damaged caulk is part of every RV owner's regular maintenance routine. But what are the benefits of using an RV caulk?
Stops Leaking
First and foremost, using a good RV caulk will seal your RV to the elements. This will stop your interior getting wet and will save you money replacing and renovating after water damage.
Prevents Mold Growth
By keeping your RV dry, your sealant will prevent mold from taking hold in your RV.
Sometimes, you'll only have a very slight leak, so light that it only just leaks through. This may be invisible from the inside, but enough to cause your walls to become damp internally, creating a breeding ground for mold and mildew.
This could even impact your health as spores can still find their way into the air you breathe inside your motorhome. So always check your sealant.
Prevents Insects and Debris From Entering
If your RV has any kind of gaps, insects and dirt can become a problem.
So if you don't have any damp or water damage issues, but you notice there is more dust or insects inside, then you need to double check your seals.
Using an RV caulk will ensure that dust and bugs stay on the outside, for a cleaner, more comfortable vacation.
Prevents of Energy Loss and Lower Energy Costs
You wouldn't run your furnace or AC with your windows open, would you?
If you've not sealed off your RV with a caulk, then you are going to lose a substantial amount of heat or cool air. This in turn will lead to you to run your AC or furnace for longer at lower or higher temperatures than you would need to if you had correctly sealed your rig.
So, buying a tube of sealant and stopping that draft can actually save you a lot of money on heating and cooling in the long run.
Adds Value to Your RV
Replacing damaged, unsightly, worn-out caulk with a new fresh sealant will make the world of difference to how your RV looks. It also speaks volumes about how well you maintain your RV.
If you are looking to sell, you may not really think about re-caulking. However, if potential new owners see a well looked after trailer, complete with fresh caulk, they will automatically assume that it is worth a higher price than one that needs resealing.
Top RV Caulk Video
Frequently Asked Questions about RV Caulks
When it comes to keeping your RV in optimal condition, ensuring a watertight seal is of utmost importance. RV caulks play a vital role in protecting your recreational vehicle from water damage, drafts, and other potential issues. However, choosing the right caulk and knowing how to apply and maintain it can be a daunting task for RV enthusiasts. To address common queries and provide clarity on this essential topic, we have compiled a list of frequently asked questions about RV caulks. Whether you're a seasoned RVer or new to the world of recreational vehicles, this section aims to shed light on key aspects of RV caulks, their importance, application techniques, and more. So, let's dive into these frequently asked questions to equip you with the knowledge needed to effectively seal your RV and keep it protected on your travels.
What is RV caulk, and why is it important for an RV?
RV caulk is a specialized sealant used to fill gaps, cracks, and joints in an RV's exterior to prevent water leaks, drafts, and damage. It provides a protective barrier against moisture, UV rays, and temperature fluctuations. Properly sealing your RV with the right caulk helps maintain its structural integrity and prevents costly repairs caused by water damage.
What are the different types of RV caulks available?
There are various types of caulks suitable for RVs, including silicone caulk, polyurethane caulk, butyl rubber caulk, and hybrid caulks. Each type has its own characteristics, such as flexibility, adhesion, and durability. It's important to choose a caulk that is specifically formulated for use on RVs to ensure it withstands the unique challenges of the road and weather conditions.
How often should I reseal the seams and joints on my RV?
Regular maintenance and resealing of your RV's seams and joints are essential to prevent water damage. It's generally recommended to inspect and reseal these areas at least once a year or whenever signs of wear, cracking, or separation are noticed. Additionally, it's important to check the caulk after a long trip or extreme weather events that could potentially compromise its effectiveness.
How do I apply caulk to my RV?
Applying caulk to your RV requires careful preparation and technique. Here are some general steps to follow:
Thoroughly clean the area to be caulked, removing any dirt, debris, or old caulk.
Use a caulk gun or squeeze tube to apply a thin and even bead of caulk along the joint or seam.
Smooth the caulk with a caulk smoothing tool or a wet finger to create a neat finish.
Allow the caulk to dry and cure according to the manufacturer's instructions before exposing it to water or other elements.
Can I paint over caulk on my RV?
In most cases, it is possible to paint over certain types of caulk. However, it is important to ensure that the caulk you are using is paintable and compatible with the type of paint you plan to apply. Check the manufacturer's instructions or consult with a professional to confirm the paintability of the caulk you choose.
Are there any special considerations for caulking around windows and vents?
Windows and vents are critical areas for proper sealing in an RV. When caulking around these areas, ensure you choose a caulk specifically designed for use on windows and vents. Take extra care to clean the surfaces thoroughly, remove old caulk, and apply a precise bead to create an effective seal. Pay attention to any specific instructions or recommendations provided by the manufacturer for these areas.
How do I remove old caulk from my RV?
Removing old caulk can be a tedious process but is necessary before applying new caulk. You can use a caulk removal tool or a putty knife to carefully scrape away the old caulk. Be cautious not to damage the RV's surface. After removing the old caulk, clean the area thoroughly with a suitable solvent or cleaner to ensure proper adhesion of the new caulk.
Can I use RV caulk for other purposes?
While RV caulk is specifically formulated for use on RVs, it can also be used for various sealing and caulking applications around the house, such as in bathrooms, kitchens, and other areas prone to moisture. However, always ensure the caulk is suitable for the specific application and follow the manufacturer's recommendations.
Remember, proper maintenance and regular inspection of your RV's caulking are crucial for its longevity and protection against water damage. If you have specific concerns or questions about caulk selection or application, it is recommended to consult with an RV professional or the manufacturer for personalized advice.
Final Thoughts
There are a huge number of different RV caulks on the market. While this makes for more choice and better prices, it can be difficult to find the best RV caulk for your motorhome, especially if you're new to RVing.
Firstly, consider what materials you will be sealing and their location. For example, if you have a EPDM rubber roof on your trailer, you should go for the Dicor Self-Leveling Lap Sealant. Specially designed for TPO and EPDM RV roofs, it levels out evenly, adheres well and is highly durable.
For vertical seams with a lot of pressure on joint movement, opt for a highly flexible RV caulk, such as the Big Stretch by Sashco. It can stretch up to 500% its original width, ideal for those bumpy rides. Complete with high levels of UV and temperature resistances, this sealant is a great choice for RVers who like to travel far and wide, experiencing different climates.
If you are looking for a good just-in-case RV caulk, to keep in your repair kit for when you're off-grid and miles away from civilization, then you should keep a tube of Sashco Clear Lexel Adhesive Caulk to hand. This caulk is truly multipurpose and can be used on just about anything. It is also highly UV resistant, stretches up to 400%, and best of all, it waterproofs straightaway on application – ideal for use in an emergency downpour.
Whatever the type and condition of your RV, we're confident you'll find the very best RV caulk for your vehicle in our RV sealant reviews.