If you have a 5th wheel, then choosing the best 5th wheel hitch will improve your time on the road and general towing experience.
Thanks to their location over your truck bed, a 5th wheel hitch can provide you with better stability, higher tow weight capacities, and a smoother ride. They can also make maneuvering your 5th wheel much easier, as well as minimizing the chances of any damage to your trailer or tow vehicle.
But with so many options on the market, you'll need to choose carefully. Fifth wheel hitches don't come cheap, so it's important to take your time to ensure that you make the right decision.
In this guide, we've reviewed eight of the leading 5th wheel hitches available today, and included an in-depth buying guide to help you find your best match.
Best 5th Wheel Hitch
Here is our top-rated selection of some of the very best 5th wheel hitches on the market. We've made sure to choose a range of options to suit all needs and budgets, so you can find the perfect option for your RV.
Best 5th wheel hitch for the money
CURT E16 5th Wheel Hitch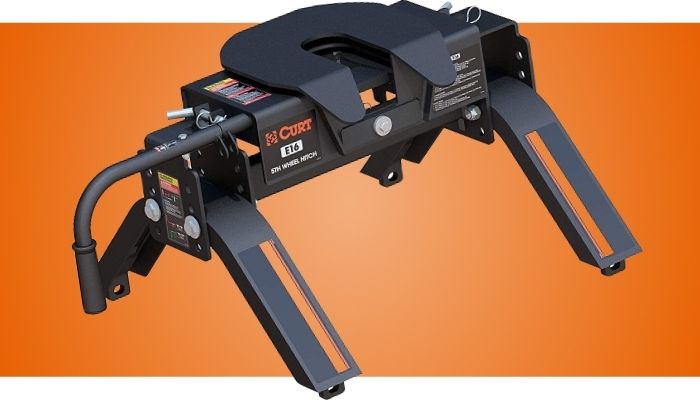 The E16 by Curt is an economically-priced fifth wheel hitch that doesn't compromise on quality and reliability. Boasting many of the features found on Curt's more expensive, premium Q-series of 5th wheel hitches, the E16 makes a top choice.
Available in just one trailer weight rating of 16,000 lbs, with a 4,000lb vertical load limit, make sure that your fully loaded trailer does not surpass this limit before ordering. It has an easy to use locking bar jaw, while the dual-pivoting head with 10-degrees of lateral motion makes for a smooth and stable ride. An anti-rattle skid plate ensures low vibration and rattling noises at the coupling point.
Thanks to its versatile fit, this 5th wheel hitch comes with standard legs designed to mount onto all industry standard 5th wheel base rails. Note that brackets and rails are not provided. It is also compatible with OEM puck system legs and rollers, as well as the Curt X5 gooseneck adapter, giving you plenty of mounting options to suit your tow vehicle. Furthermore, four lateral height adjustment positions allow you to alter the E16 to suit your truck bed wall height.
Coupling is safe and secure, thanks to the automatic locking mechanism, with an easy single-handle operation. Complete with a highly durable carbide powder finish for protection in all weathers, the E16 also benefits from a limited lifetime warranty. In short, you won't find many better at this relatively low price point.
Pros – Things we liked
Great value for money
16,000 lbs weight rating
Anti-rattle skid plate
4,000lbs vertical load
Mounts onto all wheelbase rails
Cons – Things we didn't like
Brackets and rails not provided
Best fifth wheel hitch for versatility
Andersen Hitches Aluminum Ultimate 5th Wheel Connection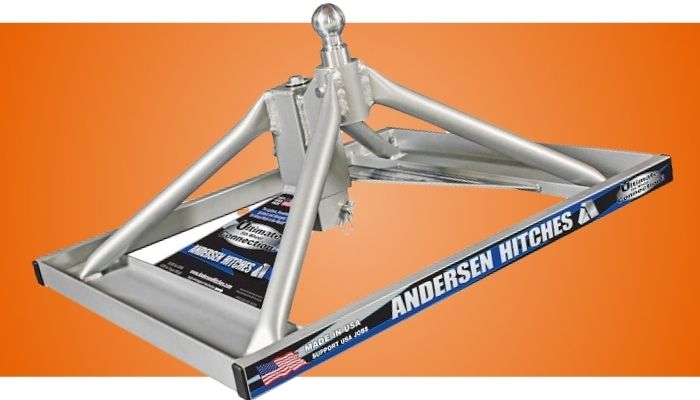 Designed to be used with short, standard, and long-bed trucks, the Ultimate 5th Wheel Connection is a highly versatile choice. Whether you're having trouble finding a good fifth wheel hitch that is compatible with your large fuel tank or toolbox, or don't want to install a slider in your short bed truck, this lightweight model is easy to remove in under one minute.
Made in the USA, this aluminum 5th wheel hitch is rated at 24,000 lbs gross trailer weight, with a 4,500 lb tongue weight, plenty enough for most average fifth wheel trailers. As the coupling rides on the ball you get a smooth and quiet ride with more swivel in every direction.
With the base weighing just 35lbs, it is really easy to put it and to take it out of your truck – ideal if you need your bed free for other loads. Pull it out in under a minute and use your truck as normal. First time installation takes under five minutes and this hitch is compatible with all standard brands of gooseneck hitches.
The patented hitch and unhitch cable makes light work of coupling, so much so, you can even couple or uncouple your trailer with ease on uneven terrain. With three height adjustments and a greaseless coupler, it's easy to fit it to your tow vehicle without getting your hands dirty.
An extremely popular 5th wheel hitch for short bed trucks without sliders, the Ultimate 5th Wheel Connection benefits from a limited lifetime warranty. It is also reasonably priced considering its ease of use and the fact that you can quickly take it out to use your truck for other needs.
Best fifth wheel hitch for premium budgets
B&W Companion 5th Wheel Hitch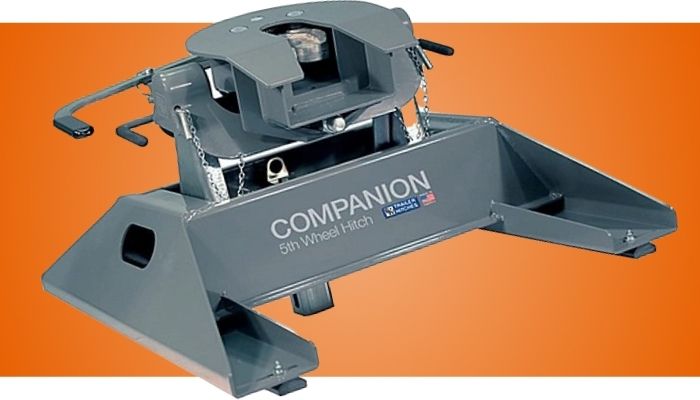 If you're looking for the best 5th wheel hitch, you should definitely check out the Companion by B&W, especially if you already have a B&W turnover ball hitch mounted to your truck's frame.
Manufactured using American-made steel, this premium quality 5th wheel hitch is welded on-site by skilled US workers, for superior strength and durability. All B&W hitches are tested to SAE J-2638 to ensure the highest of quality standards.
With its 20,000 lb gross trailer weight rating, with 5,000 lbs on the tongue, this hitch is a good choice for most fifth wheel trailers. Its dual one-inch thick jaws ensure a perfect fit around your kingpin, smoothing jerky stops and starts, while its wide stance improves overall stability and strength.
For a smoother ride, the head is fully articulated, allowing both front-to-back and side-to side pivoting. You'll also get a much quieter, rattle-free towing experience, thanks to the polyurethane bushings.
As the Companion mounts directly onto your underbed turnbull system, there are no mounting rails to get in your way, keeping your truck free for other uses. True, it's a little heavy to lift in and out, but this is a heavy-duty, premium 5th wheel hitch. You can use it to pull your fifth wheel or a gooseneck hitch trailer without having to switch systems.
Featuring three height adjustments and four inches of front-to-back adjustment, it's easy to get your hitch installed just right for your setup. Thanks to the cam action latching, you get a nice, easy release even if you're parked up on uneven ground.
With its superior construction and high quality American steel and welding, this model understandably costs a little more than your average 5th wheel hitch. It does, however, come complete with a limited lifetime warranty.
Editor's choice for best 5th wheel hitch
CURT Q24 5th Wheel Hitch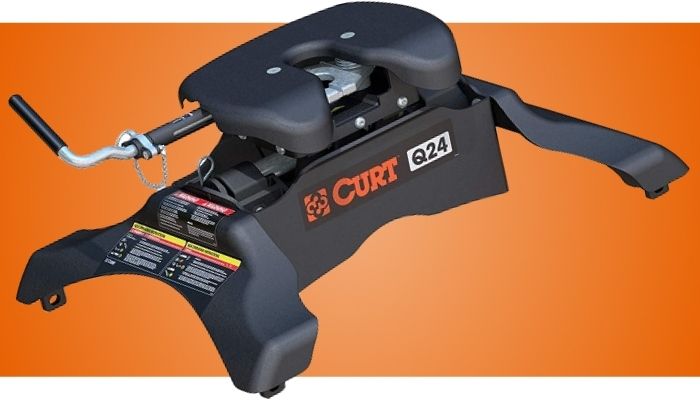 Available in three weight capacities, 20,000, 24,000, and 25,000lbs, the Curt Q24 5th Wheel Hitch is a highly versatile model that is compatible with a wide variety of mounting options. This highly popular 5th wheel hitch makes coupling easy and ensures a smooth, safe drive.
The 24,000 lb model has a 6,000 lb vertical load capacity, making it suitable for most large fifth wheel trailers. Engineered to ensure quiet operation, it eliminates those clunking noises you get at traffic lights with lower quality versions. Thanks to its patented spherical bearing and dual jaws that fully enclose the kingpin, the hitch head can pivot in any direction, reducing clunking and improving security.
Easy to mount, thanks to its universal compatibility with all industry-standard 5th wheel base rails, this model makes an excellent upgrade, as well as an easy-to-fit version for first time fifth wheelers. Your purchase includes the head, legs, and hardware, but you'll need to buy rails and brackets if you don't already have some fitted. Note that this model is not compatible with turret-style pin boxes.
It's three height adjustments make customizing it to fit your truck nice and easy. The lockable, short-throw handle engages automatically with the kingpin, while the wide head makes it easier to couple. A polyethylene lube plate removes greasy deposits, while the three-position coupling indicator gives you at a glance assurance that you're correctly coupled.
Safety tested to SAE J2638, the Q24 is a highly dependable 5th wheel hitch that is well worth the money. It also comes complete with a limited lifetime warranty.
Great 5th wheel hitch for lighter trailers
B&W Patriot Fifth Wheel Hitch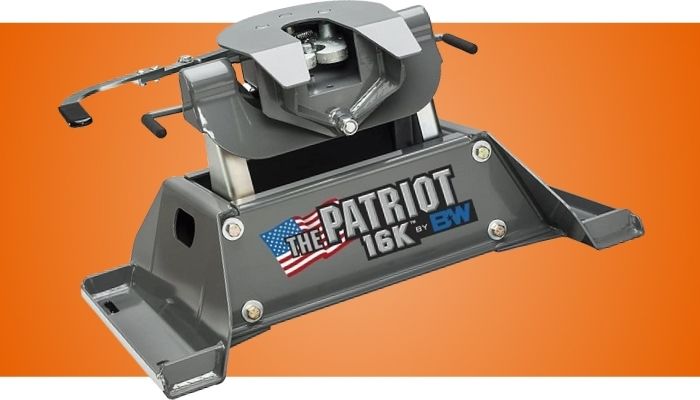 If you're in the market for a 16k 5th wheel hitch, then you won't find a better model than the Patriot Fifth Wheel Hitch by B&W. A less expensive, rail mounted alternative to their Companion hitch, the Patriot is ideal if you have a lighter trailer but still want the same exacting high-quality standards from B&W.
Manufactured in the USA from American-made steel, with all welds done in-house by skilled employees, this is one highly secure and very dependable hitch. It has a 16,000 lb GTW with a 4,000lb tongue weight.
The dual ¾-inch thick jaws wrap around your kingpin for a perfect precision fit, elminiating sloppy stops and starts. Thanks to its fully articulating head, front-to-back and side-to-side pivoting, it allows for one of the smoothest rides on the road, while the polyurethane bushings keep rattles at bay for a quiet towing experience.
One of the main advantages of the Patriot is that it utilizes standard rails to mount to your truck. This makes for an easy upgrade if you are dissatisfied with your current 5th wheel hitch. Being a very solid, highly dependable piece of kit, it is very heavy, however, you can detach it into two parts to lift it out of your truck when needed.
For non-sliding installations, you can adjust the height via the three adjustments from 16"-19", with four-inches of from-to-back adjustments for a perfect fit. The cam-action latching handle makes for a very easy release, even when your site isn't level.
Complete with a limited lifetime warranty, if you are looking for a 16,000lb 5th wheel hitch, the Patriot is one of the very best models around.
Best 5th wheel hitch for larger trailers
CURT A25 5th Wheel Hitch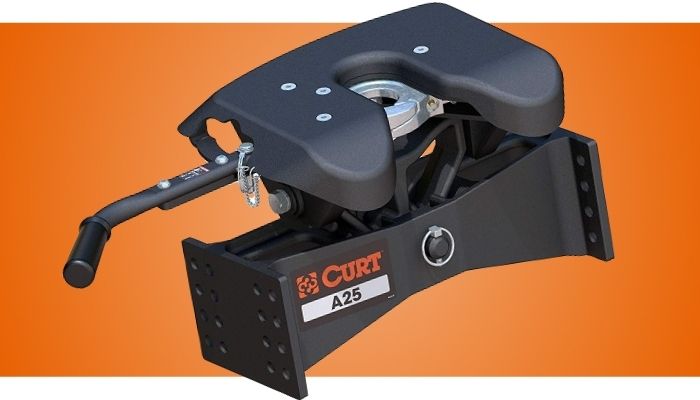 The A25 5th Wheel Hitch by Curt is a premium hitch, designed to tow the largest of 5th wheel trailers. Tested and rated for loads up to 25,000 lbs, with a vertical load of 6,250 lbs, it benefits from an extra-strong cast steel main body and precision construction.
The cast yoke is completed with poly-torsion inserts to suppress shock loads while reducing noise. Towing with the A25 is both secure and stable thanks to its patented technology with a fully articulated head. Tested to SAE J2638, this 5th wheel hitch provides exceptional stability, with its high-strength interlocking jaws allowing your trailer to pivot and swivel as needed.
Thanks to its versatile fit, the Curt A25 can either be mounted using 5th wheel legs, a roller, or into your puck system with Curt's towing prep package. Note that this is a hitch head only package. The Curt one-pin head removal system, makes taking your 5th wheel hitch off your truck lighter and easier.
Easy to couple with its extra-wide head opening, this high-quality 5th wheel hitch benefits from a coupling indicator, visible from your truck cab, for extra security and peace of mind on long journeys. What's more, the lockable, single-throw handle even resets automatically to the ready-to-couple position after uncoupling.
For extra protection from the weather and adverse conditions, this hitch is finished with a black carbide powder coating. This highly durable, heavy-duty 5th wheel hitch makes an excellent choice for towing large 5th wheel trailers and is covered by a limited lifetime warranty.
Great value for money 5th wheel hitch
Pro Series 20K Fifth Wheel Hitch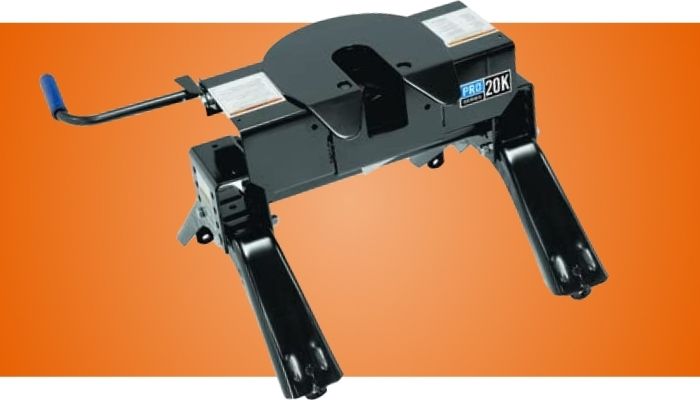 The 20K Fifth Wheel Hitch by Pro Series is a basic but highly effective model that makes a great value for money choice. With its 20,000 lb weight capacity and 5,000 lb tongue weight capacity, it is suitable for most medium-sized 5th wheels.
It provides a smooth ride thanks to its full floating head, complete with a dual jaw system to reduce wear. The lubricated, clamped side joints provide a tight and efficient operation, while its one-piece construction creates a wide and stable footprint.
This 5th wheel hitch is sidewinder compatible, if you are thinking of installing it on your short truck bed, as well as having a compatible slider system available. Note that the rail kit is sold separately. Some assembly is required, however, the instructions are not the clearest, so you may need some help if this is your first ever 5th wheel hitch and you're not that mechanically minded. Otherwise installation is fairly straightforward.
Easy to couple and uncouple, thanks to its full-floating head, while this hitch is heavy, it is also easily removable. Considering its relatively low price for a 5th wheel hitch with a 20k capacity, its 10-year limited warranty makes it a good budget buy.
Best 5th wheel hitch for fast removal
Reese 16K Fifth Wheel Hitch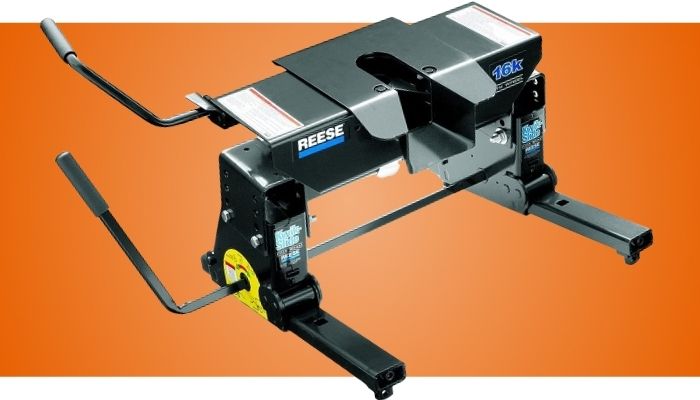 If you have a fifth wheel under 16,000 lbs fully loaded, then you'll want to take a closer look at the 16K Fifth Wheel Hitch by Reese. Its strong, reliable performance, and general ease of use make it a popular choice.
With its 16,000 lb capacity and 4,000 lb pin weight capacity, this fifth wheel slider hitch is a great choice for towing your small to medium fifth wheel trailer. One of the main advantages of this hitch is that it can be removed in just seconds, freeing up your truck for other uses It has one-piece legs for improved stability, complete with a two-jaw locking system allowing for back-and-forth plus side-to-side pivoting.
The slider on the hitch makes it a great help when maneuvering into tight corners, just slide the hitch back away from the cab and you can get an almost 90-degree turn. The hitch slides for a full 10 inches to get a greater turning radius. However, this particular slider 5th wheel hitch is not suitable for trucks with beds under six foot, as too short a bed could cause your trailer to hit your cab or extend too far beyond the rear axle.
Installation is relatively easy and a pull pin kit is included with the hitch. Rails or quick install brackets need to be purchased separately, with an optional 10-inch lube plate. This model can be vertically adjusted from 14.5-18-inches, ensuring you get an optimized fit for your tow truck.
With its lifetime guarantee, ease of use, and quality construction, if you have a medium bed truck and are looking for a 16k sliding 5th wheel hitch, this model by Reece is well worth checking out.
Compare the Best 5th Wheel Hitches
Table Comparing the Top 8 5th Wheel Hitches
Image
Title
Price
Rating
Buy
CURT E16 5th Wheel Hitch

$$

Buy on Amazon

| | | | | | | |
| --- | --- | --- | --- | --- | --- | --- |
| CURT E16 5th Wheel Hitch | $$ | 16,000 lbs | 95 lbs | No Prime | 27 x 17 x 12 inches | Buy on Amazon |

Andersen Hitches 5th Wheel Connection

$$$$

Buy on Amazon

| | | | | | | |
| --- | --- | --- | --- | --- | --- | --- |
| Andersen Hitches 5th Wheel Connection | $$$$ | 24,000 lbs | 55 lbs | Prime | 37 x 32.5 x 13.5 inches | Buy on Amazon |

B&W Companion 5th Wheel Hitch

$$$$$

Buy on Amazon

| | | | | | | |
| --- | --- | --- | --- | --- | --- | --- |
| B&W Companion 5th Wheel Hitch | $$$$$ | 20,000 lbs | 70 lbs | No Prime | 38 x 20 x 15 inches | Buy on Amazon |

CURT Q24 5th Wheel Hitch

$$$$

Buy on Amazon

| | | | | | | |
| --- | --- | --- | --- | --- | --- | --- |
| CURT Q24 5th Wheel Hitch | $$$$ | 24,000 lbs | 136 lbs | No Prime | 32 x 18 x 16.5 inches | Buy on Amazon |

B&W Patriot Fifth Wheel Hitch

$$$$

Buy on Amazon

| | | | | | | |
| --- | --- | --- | --- | --- | --- | --- |
| B&W Patriot Fifth Wheel Hitch | $$$$ | 16,000 lbs | 147 lbs | No Prime | 16 x 25 x 7 inches | Buy on Amazon |

CURT A25 5th Wheel Hitch

$$$

Buy on Amazon

| | | | | | | |
| --- | --- | --- | --- | --- | --- | --- |
| CURT A25 5th Wheel Hitch | $$$ | 25,000 lbs | 102 lbs | Prime | 24 x 16 x 14 inches | Buy on Amazon |

Pro Series 20K Fifth Wheel Hitch

$$$$

Buy on Amazon

| | | | | | | |
| --- | --- | --- | --- | --- | --- | --- |
| Pro Series 20K Fifth Wheel Hitch | $$$$ | 20,000 lbs | 23.7 lbs | Prime | 26 x 30 x 10 inches | Buy on Amazon |

Reese 16K Fifth Wheel Hitch

$$$$$

Buy on Amazon

| | | | | | | |
| --- | --- | --- | --- | --- | --- | --- |
| Reese 16K Fifth Wheel Hitch | $$$$$ | 16,000 lbs | 156 lbs | No Prime | 33.5 x 14.5 x 9.5 inches | Buy on Amazon |
Buyer's Guide to Buying the Best 5th Wheel Hitch
There is plenty to bear in mind when choosing your new 5th wheel hitch. Here are some of the main considerations that you should focus on before making your purchase.
Price
With their sturdy construction, a good 5th wheel hitches don't come cheap. After all, you'll be relying upon yours to tow your heavy fifth wheel and you'll need a good model that you can trust. For this reason, we recommend only considering 5th wheel hitches priced $500 and over.
While there are cheaper models out there, to ensure you get the best construction, complete with high-quality, dependable welds, you really need to look at 5th wheel hitches from $500. There are plenty of excellent models for heavy 5th wheels priced in excess of $1,000.
However, some of the biggest names in 5th wheel hitches and RV trailer supplies now make excellent budget ranges, such as the E16 by Curt, that use all of their know-how and exacting product standards at more affordable prices.
Weight Capacity
It goes without saying that your 5th wheel hitch should meet your fully loaded trailer weight, as well as not exceeding your tow vehicle's rating.
You should also consider your general towing needs, as well as looking to future-proof your investment. If you are likely to upgrade to a larger trailer in the not-so-distant future, then it makes sense not to limit yourself to your current trailer's capacity.
You could choose the highest rating that your tow vehicle can handle, to really make the most of the usefulness of your fifth wheel hitch compared to a heavy-duty ball hitch. However if you are more than happy with your current trailer size and unlikely to upgrade to a larger one, opting for a lower rated hitch can save you a considerable amount of money on your purchase.

Mounting Style
Your mounting style will be determined by the size of your truck. Stationary or fixed position hitches are most commonly found on large and standard-sized truck beds. Sliding hitches are normally necessary for trucks with small beds to prevent your trailer from hitting your cab when making tight turns.
Many new pickup trucks come with built-in mounting platforms, known as puck systems. Brands such as Nissan, Ram, Ford and Chevrolet all offer puck system options, consisting of a central gooseneck hole and a set of "pucks", otherwise known as anchoring points.
If your truck does not have this type of system built-in, you can install 5th wheel base rails. These can be either permanent or removable and consist of industry-standard mounting points to accommodate your 5th wheel hitch.
If you opt for a removable 5th wheel base rail system, you also have the opportunity to equip your truck with a gooseneck hitch as part of the system, enabling you to tow gooseneck trailers in addition to your fifth wheel trailer.
Pivoting System
While all 5th wheel hitches pivot two-way, backwards and forwards, some also pivot side-to-side. These models tend to cost more, but they make a much better choice when you're coupling or uncoupling on uneven terrain.
You may hear these four-way pivoting hitches referred to as "floating hitches". Not all models have the same degree of pivoting, so take a close look at the system specifics to get a better idea. A self-aligning head with height adjustment can also make for easier coupling.
Jaws
The jaws on your 5th wheel hitch hold the kingpin securely in place, stabilizing the load, reducing motion and noise when towing. Here are the main types of jaws found on 5th wheel hitches:
Sliding bar hitches – with more play between the kingpin and the hitch than other types of hitch jaws, this style is often found on cheaper models or those with low weight capacities. The kingpin is held in position by an inward-sliding handle that locks it into place. These types of hitch tend to be fairly noisy.
Double jaw hitches – most commonly found on 5th wheel hitches rated between 20,000-24,000lbs. They provide a quality connection, surrounding the kingpin. Thanks to the dual jaws, you get a very secure lock and less play than with a sliding bar hitch, for a quiet, smoother towing experience.
Single jaw hitches – considered the best type of 5th wheel hitch on the market, single jaw models have a one piece design that provides extra strength, ideal for heavy loads and extra security. With almost next to no play between the trailer and your tow vehicle you get the smoothest drive.
Ease of Installation and Use
If you are not too mechanically-minded, or it's going to be your first time towing a 5th wheel, you might want to get your 5th wheel hitch professionally installed. If you already have rails or a puck system and are considering a compatible 5th wheel hitch, then mounting it yourself shouldn't be too difficult at all.
You'll need a variety of tools to install your fifth wheel hitch, depending on whether or not you already have a puck system or rails installed. If not, allow for a drill, various drill bit sizes, and a torch wrench at the very least. To get a better idea of how to proceed with your specific model, it is always helpful to read through the installation process before committing to purchase.
If you purchase a fifth wheel hitch from a trusted manufacturer and specialist company, you should be able to contact them and receive prompt and helpful advice. This not only goes for installation but also for general usage.
Most popular 5th wheel hitch brands provide extensive documentation for using their products, including routine 5th hitch maintenance tips to help keep your 5th wheel hitch in perfect working order.
Types of 5th Wheel Hitches
While most 5th wheel hitches are either fixed or sliding models, you can also find a variety of different type heads and fittings. Let's take a closer look at some of the different styles of 5th wheel hitches.
2-Way Pivot Head – Two-way pivot heads allow your trailer to pivot back and forth. These types of hitch are cheaper than four-way models, but not recommended for use over uneven ground, including steep gradients. If you are mostly going to be towing on level terrain, then a two-way pivot hitch could work for you.
4-Way Pivot Head – A four-way pivot head 5th wheel hitch allows your trailer to pivot both back and forth, as well as side-to-side. This makes for a smooth towing experience as well as easier coupling. Four-way pivot head models tend to cost quite a bit more than standard two-way pivot heads and are essential for towing over uneven ground, reducing wear and tear on your hitch and kingpin.
Gooseneck Hitch – A gooseneck hitch allows you to tow industrial and horse trailers. If you are likely to be towing other trailers in addition to your fifth wheel, you can easily convert your existing gooseneck hitch by purchasing a gooseneck compatible fifth wheel hitch. It will connect directly to your truck's existing setup and can usually be installed or removed in less than 10 minutes, allowing you to tow different trailers. They also leave nothing left behind when removed, for an empty, usable truck bed.
Sliding Hitch – While 5th wheel legs are common on long-bed trucks, if you have a short-bed tow truck, you may need extra clearance to make tight turns without your trailer hitting into your cab. Sliding hitches slide back and forth on their base as needed. For normal driving conditions, you can position your hitch to the front or middle of your base. If you need to make a tight turn, simply move the neck closer to your gate before you start your maneuver to ensure you clear your cab.
Single Jaw – Commonly found on 5th wheel hitches rated over 25,000lbs, single jaw hitches are strong and highly dependable. This type of jaw wraps around your kingpin, providing you with maximum contact levels, while reducing noise and chucking. This is one of the most secure types of 5th wheel hitches.
Top 5th Wheel Hitches Video
Frequently Asked Questions about 5th Wheel Hitches
As you embark on your journey to explore the world of RVing and towing, understanding the ins and outs of 5th wheel hitches is paramount. These specialized towing devices are the backbone of safe and efficient hauling for 5th wheel trailers and RVs. However, navigating through the various options and features can be overwhelming. That's why we have compiled this FAQ section to address some of the most common questions about 5th wheel hitches.
In this section, we will shed light on the fundamental aspects of 5th wheel hitches, helping you make informed decisions and ensuring a seamless towing experience. Whether you are a seasoned RVer looking to upgrade your hitch or a newbie venturing into the world of RVing for the first time, these frequently asked questions will provide you with valuable insights.
From understanding the different types of 5th wheel hitches to determining the appropriate weight capacity, installation procedures, and compatibility with your truck and trailer, we've got you covered. Additionally, we'll touch upon maintenance tips and highlight key factors to consider when selecting the best 5th wheel hitch for your specific needs.
Towing a 5th wheel trailer can be an exhilarating experience, and having the right hitch is crucial for both your safety and the stability of your rig. So, let's delve into these frequently asked questions and unlock the knowledge you need to choose the best 5th wheel hitch that will complement your towing adventures.
What is a 5th wheel hitch?
A 5th wheel hitch is a towing device designed specifically for hauling heavy loads, primarily in the form of 5th wheel trailers or RVs. It mounts to the bed of a pickup truck and provides a secure connection point between the truck and the trailer.
Why do I need a 5th wheel hitch?
A 5th wheel hitch is necessary if you plan to tow a 5th wheel trailer or RV. It offers superior stability, weight distribution, and maneuverability compared to other types of hitches, making it safer and easier to tow large trailers.
What types of 5th wheel hitches are available?
There are generally two types of 5th wheel hitches: the fixed hitch and the sliding hitch. Fixed hitches are designed for trucks with long bed lengths and provide a secure connection without the need for sliding. Sliding hitches are ideal for trucks with short bed lengths, as they can slide back and forth to prevent the trailer from contacting the truck cab during tight turns.
What weight capacity do I need for my 5th wheel hitch?
The weight capacity of a 5th wheel hitch refers to the maximum amount of weight it can safely handle. It's crucial to choose a hitch with a weight rating that matches or exceeds the loaded weight of your trailer. Always check the specifications provided by the manufacturer and consider factors such as the trailer's GVWR (Gross Vehicle Weight Rating) to determine the appropriate weight capacity for your hitch.
How do I install a 5th wheel hitch?
Installing a 5th wheel hitch typically involves mounting the hitch assembly to the bed of your truck using specific hardware. The installation process may vary depending on the brand and model of the hitch. It's essential to follow the manufacturer's instructions and ensure that the hitch is properly secured for safe towing.
Can I install a 5th wheel hitch myself, or should I hire a professional?
While some experienced individuals may be able to install a 5th wheel hitch themselves, it's generally recommended to hire a professional for installation. They have the expertise and knowledge to ensure the hitch is installed correctly and that your truck's bed structure is not compromised during the process.
What features should I consider when choosing a 5th wheel hitch?
When selecting a 5th wheel hitch, several factors are worth considering. These include weight capacity, hitch type (fixed or sliding), ease of installation and removal, hitch height adjustment options, build quality and materials, compatibility with your truck and trailer, and any additional features such as built-in shock absorption or noise reduction mechanisms.
Are 5th wheel hitches compatible with all trucks?
No, 5th wheel hitches are not universally compatible with all trucks. They typically require a specific mounting system designed for your truck's make and model. Before purchasing a 5th wheel hitch, ensure that it is compatible with your truck's bed and towing capacity. Manufacturers usually provide compatibility information for their hitches, so be sure to check those details.
Can I use a 5th wheel hitch with a gooseneck trailer or vice versa?
While there are adapters available that allow you to tow a gooseneck trailer with a 5th wheel hitch or vice versa, it's generally recommended to use the appropriate hitch designed for the specific trailer type. Gooseneck hitches and 5th wheel hitches have different weight distribution characteristics, and using the wrong hitch type can affect towing stability and safety.
How do I maintain a 5th wheel hitch?
Regular maintenance of your 5th wheel hitch is essential for optimal performance and longevity. Keep the hitch clean and free from debris, lubricate moving parts as recommended by the manufacturer, and periodically inspect for any signs of wear or damage. It's also crucial to follow the manufacturer's guidelines for maintenance and check for any recalls or updates related to your specific hitch model.
Remember, when it comes to selecting a 5th wheel hitch, it's essential to choose one that matches your specific towing needs, vehicle compatibility, and safety requirements. Always consult the manufacturer's recommendations and guidelines to ensure a successful towing experience.
Final Thoughts
Whatever your 5th wheel trailer and tow truck combination, we're certain you'll find the best 5th wheel hitch for your setup right here.
If you are looking for a 16k rated 5th wheel hitch and want great quality at an excellent price, you can't beat the E16 by Curt. Easy to install, with a good weight limit, and high specifications, it's a good basic model.
If you have a heavier trailer and are looking for the very best of the best, take a second look at the Companion 5th Wheel Hitch by market leaders B&W. With its excellent 20,000 lb GWT, fully articulated head, and dual one-inch thick jaws, this high quality 5th wheel hitch is hard to beat.
Need a sliding hitch for your truck? The Reese 16K Fifth Wheel Hitch has all the features you need, including a life-time guarantee, easy installation, and a superior two-jaw locking system. It is also an excellent choice for making tight turns with ease when parking up your fifth wheel, for a smoother all-round experience.