Hitting the road in your RV comes with an incredible sense of freedom, but the sheer size of many RVs means that they can be a little, shall we say, cumbersome to maneuver around town centers and narrow streets. This is where having the best RV tow bar can help.
RV tow bars allow you to pull a "toad", the family car for example, along with you for your trip. Having a smaller, more nimble vehicle available on your vacation is super convenient, as it allows you to run errands into town or explore those narrow winding roads without having to tie everything down and pack up camp altogether.
But if you're new to tow bars, deciding which model is the correct one for you and your vehicles can be difficult. There's a wealth of options to choose from, but not all of these will be suitable, or safe, for your setup.
To help you find the best RV tow bar for your needs, we have reviewed six of the top RV tow bars and included an in-depth buying guide so you know exactly what to look for before purchasing. Read on to discover your ideal match.
Best RV Tow Bars
Here are six of the leading RV tow bars on the market today. We've made sure to include a range of models with differing setups and capacities – so you can find the right tow bar for your circumstances.
Best overall RV tow bar
Roadmaster Sterling All-Terrain Tow Bar (576)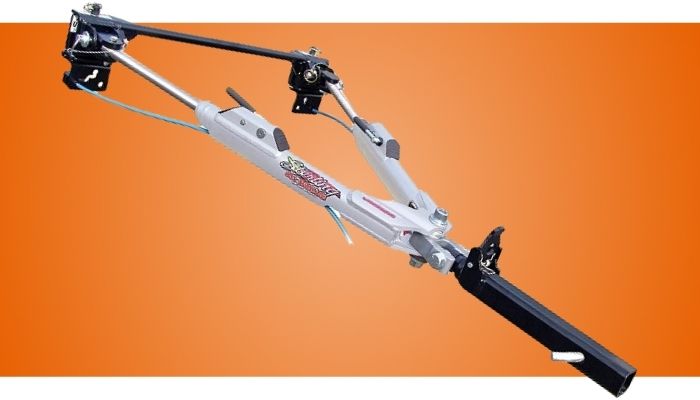 If you're looking for the strongest tow bar on the market, then the Roadmaster Sterling All-Terrain Tow Bar (576) should be top of your list. This aluminum tow bar is so strong, it's capable of towing vehicles that weigh up to 8,000 pounds.
Despite its strength, this model is lightweight at only 35 pounds. Its incredible strength is due to its innovative egg-design and aluminum outer arms, so it can handle those heavy loads effortlessly. This lightweight design makes it much more comfortable to use when connecting and disconnecting, and it won't weigh you down during storage either.
The inner arms are telescoping and can be independently-adjusted so it's simple to arrange into the position you require. Once positioned and pinned, just drive away and they will automatically lock into place. The inner arms are made from stainless-steel with polyurethane bushings, so they won't rub metal against metal like some other models.
This tow bar also features a non-binding freedom latch, which allows you to uncouple the towed vehicle alone without any hassle. This fuss-free latch works no matter what angle or incline you're parked on, so you won't have to waste time shuffling about to release it. Once you're done, this model can be mounted and stored on the outside of your rig for next time.
Aside from its strength and convenient latch, the Roadmaster Sterling All-Terrain Tow Bar (576) has a channel guide for the accompanying power cord and safety cables. This keeps them safe from dragging on the road and saves time and hassle spent wrapping them around the tow bar arms.
The cables have an easy hook-connect design for convenience, but keep in mind that the safety cable is only compatible with XL/EZ4 Roadmaster mounting brackets.
Pros – Things we liked
8,000lbs weight capacity
Lightweight – 35lbs
Innovative egg-design
Telescopic inner arms
Non-binding freedom latch
Cons – Things we didn't like
Expensive
Best RV tow bar for SUV's
Roadmaster Blackhawk 2 All-Terrain Tow Bar (422)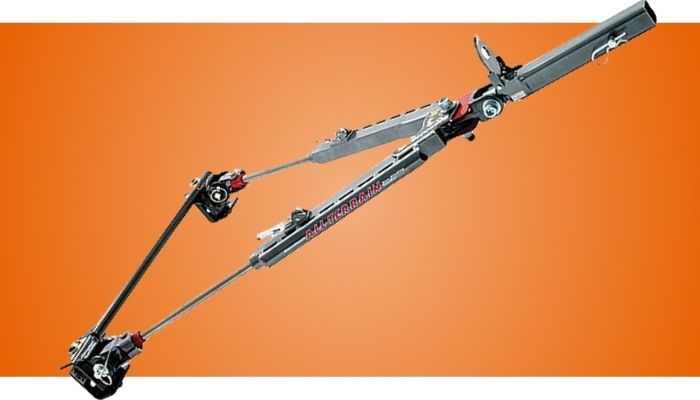 If you have a large SUV or other hefty vehicle that you need to tow behind your RV, then the Roadmaster Blackhawk 2 All-Terrain Tow Bar (422) is well worth considering. This reliable model is crafted from steel and is built to tow loads of up to 10,000 pounds.
As this model can pull such hefty loads and has a solid construction, it's quite a bit heavier than our previous model at 42 pounds. That said, if you need strength to pull a weighty vehicle, it's hard to go wrong with this option.
The steel design is highly-durable, so you can expect this tow bar to last you for several years. The inner arms are made from stainless steel with nylon bushing supports, so there'll be no metal-to-metal wear over time.
It also features a channel guide for your power cord and safety cables, to prevent them from trailing on the ground during use. The cord and safety cables are not included as standard, though, so you'll have to purchase these separately.
This model makes connecting and disconnecting a breeze, thanks to its intuitive, self-supporting system. Hooking up both your towed vehicle and attaching to your RV is super simple – the hook up radius is one of the widest in the industry, the telescoping inner arms are independently adjustable for convenience, and they automatically center themselves and lock as you pull away.
Just like the Roadmaster Sterling All-Terrain Tow Bar (576), this model includes Roadmaster's freedom latch for hassle-free disconnecting when you arrive at your destination. Nobody likes to struggle to release a binded tow bar, so this feature eliminates that issue for good. You can then store it away mounted on the outside of your RV.
Overall, there's little to fault about this model if you regularly tow heavy vehicles with your RV. The solid construction, ease of use and reliable design make it a hassle-free option for pulling hefty loads.
Best RV tow bar for smaller cars
Roadmaster Falcon All-Terrain Tow Bar (522)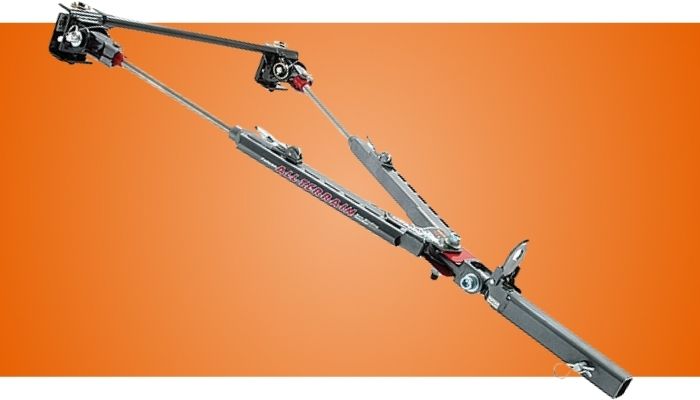 Yet another model from Roadmaster, the Falcon All-Terrain Tow Bar (522) is one of this leading manufacturer's most popular models. It features a steel construction and a weight capacity of up to 6,000 pounds. Therefore, it's a great option if you need to tow a small or medium-sized vehicle with your RV.
As this model is made from steel, at 66 pounds it's heavier than the aluminum Roadmaster Sterling that we covered earlier. However, unless you need a super lightweight tow bar that can haul a big load, this extra weight is unlikely to cause any issues during use.
The Roadmaster Falcon All-Terrain has all the stand-out features of our other Roadmaster models, including the channel guide for cables and power cord, and stainless steel adjustable arms that are cushioned with nylon bushings to prevent wear. Like the previous model we reviewed, this option also doesn't come with a power cord or safety cables, so you'll have to factor this into your costs.
This tow bar has the Roadmaster Freedom Latch for easy connection and disconnection no matter the toad angle or incline your vehicle is parked at. You can easily hook up and uncouple without worrying about frustrating binding or painful skinned knuckles, and the wide hook up radius means you can hit the road in minutes.
Once you get to your destination, the Roadmaster Falcon All-Terrain tow bar stores conveniently out of the way on the exterior of your RV, ready for its next use. Just keep in mind that you'll need to buy the mounting brackets separately, as they are specific to your particular vehicle.
Best RV tow bar for bumpy roads
Blue Ox Avail Tow Bar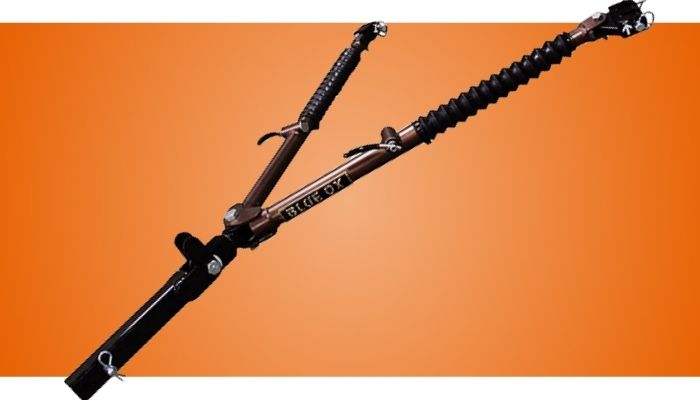 Next up we have the Blue Ox Avail Tow Bar. This model is made from top-quality steel and has a 10,000 pound capacity which is suitable for towing big SUVs or other hefty vehicles with your RV.
The premium metallic paint gives this towbar an attractive, glossy finish while its sturdy design is durable and reliable. The fortified steel construction provides impressive strength for peace of mind when towing, while the long legs give a good turning radius that keeps your vehicle a safe distance from your RV when taking tight corners.
The shock absorption qualities allow you to drive more comfortably over bumpy terrain and it's suitable for both narrow or wide towed vehicles. It comes complete with the safety cables included and we like that the specially-designed, non-binding latches ensure it's easy to release once you get where you're going.
Other great features include extendable legs so you can easily get hooked up and a self-tightening pivot connection to ensure everything stays secure. The tow bar is collapsible, too, so you can compress it down for space-saving storage.
On the downside, many users have complained that this model is particularly prone to rust, and that the warranty and customer service sometimes leaves a little to be desired.
Best RV tow bar for dinghy towing
CURT Universal RV Tow Bar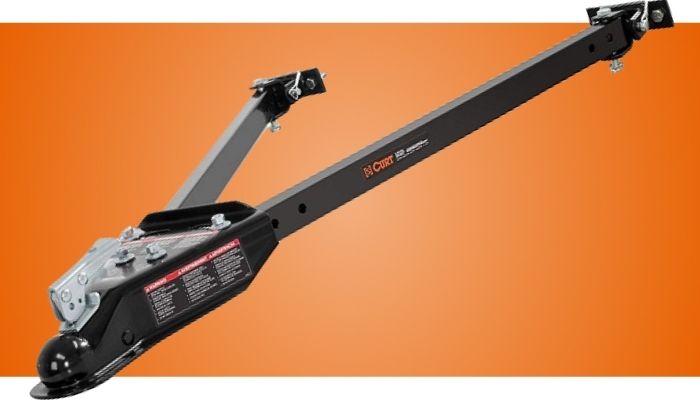 Last but not least, we have the CURT Universal RV Tow Bar. This model is great for flat or dinghy towing, and has a load capacity of 5,000 pounds – so it's a good choice for pulling the small family car along with you on your next vacation.
The CURT Universal RV Tow Bar has a robust design and can be adjusted between 41 and 26 inches to fit several types of vehicles. It comes complete with an industrial strength 2-inch trailer couple, to fit a 2-inch trailer ball for a tight hold, and is compatible with most vehicle bumpers.
The black powder coating ensures protection against the elements and guards against rust, so you can be sure that this tow bar will continue to look good and perform well, even in extreme weather conditions.
This adjustable tow bar is pretty easy to install, but as the nuts may be quite tight to turn, you might be better off using a power tool to get the job done. Simply attach the pair of bumper brackets and then the ball mount couples onto your trailer hitch on your RV. The brackets may need to be trimmed to get a good fit, so it's worth checking before you buy.
Considering the reasonable price, this tow bar is a reliable and easy to use choice for towing a small car on occasional getaways.
Compare the Best RV Tow Bars
Table Comparing the Top 5 RV Tow Bars
Image
Title
Price
Rating
Buy
Roadmaster Sterling All-Terrain Tow Bar

$$$$

Buy on Amazon

| | | | | | | |
| --- | --- | --- | --- | --- | --- | --- |
| Roadmaster Sterling All-Terrain Tow Bar | $$$$ | 8000 lbs | 50 lbs | No Prime | 45 x 68 x 8 inches | Buy on Amazon |

Roadmaster Blackhawk 2 All-Terrain Tow Bar

$$$

Buy on Amazon

| | | | | | | |
| --- | --- | --- | --- | --- | --- | --- |
| Roadmaster Blackhawk 2 All-Terrain Tow Bar | $$$ | 10,000 lbs | 50 lbs | No Prime | 34.4 x 42 x 4 inches | Buy on Amazon |

Roadmaster Falcon All-Terrain Tow Bar

$$$

Buy on Amazon

| | | | | | | |
| --- | --- | --- | --- | --- | --- | --- |
| Roadmaster Falcon All-Terrain Tow Bar | $$$ | 6000 lbs | 66 lbs | Prime | 45 x 65 x 8 inches | Buy on Amazon |

Blue Ox Avail RV Tow Bar with Safety Cable

$$$

Buy on Amazon

| | | | | | | |
| --- | --- | --- | --- | --- | --- | --- |
| Blue Ox Avail RV Tow Bar with Safety Cable | $$$ | 10,000 | 45 lbs | No Prime | 6 x 6.25 x 5.5 inches | Buy on Amazon |

CURT Universal RV Tow Bar

$

Buy on Amazon

| | | | | | | |
| --- | --- | --- | --- | --- | --- | --- |
| CURT Universal RV Tow Bar | $ | 5000 lbs | 31.6 lbs | No Prime | 45 x 12 x 5 inches | Buy on Amazon |
What is a Tow Bar?
A tow bar is a type of tool that makes it easier, more stable and safer to tow a vehicle with another vehicle. They may include extra wiring as an added layer of safety, and their use eliminates the need to have a driver in the towed vehicle to keep it steady.
The biggest advantage of using a tow bar is that it makes it simple to maneuver the vehicle being towed. With the use of integrated wiring, you can also control the brake and indicator lights in the towed vehicle to signal to other drivers.
The front brackets of a tow bar are usually connected to the towed vehicle, while the rear side is connected to the vehicle that will be doing the towing. This is a strong connection that's designed to keep both vehicles stable while driving. It also ensures a safe distance and prevents the towed vehicle from colliding with the vehicle in front if you come to a sudden stop.
Pros & Cons of RV Tow Bars
Using a tow bar to pull another vehicle behind your RV has its advantages and drawbacks. To help you decide if an RV tow bar is for you, let's examine the pros and cons.
Pros of Towing With Your RV
Better Fuel Economy – If you're planning to pitch up and spend some time exploring the area, you'll get more miles for your money by doing this in a car. RV's have a much lower fuel economy than cars, so it just makes sense to hit the road for day trips in another vehicle rather than driving your RV everywhere.
More Convenient – Once you reach your destination and have set up your camp, having the convenience of another vehicle is a great advantage. If you need to nip out to buy some supplies, you can just hop in your car and get it done. No need to pack up everything and drive your RV to the nearest supermarket.
You Always Have an Emergency Backup Vehicle – If your RV breaks down in the middle of the wilderness or on a spooky deserted highway in the dark, you have an attached escape route. Just disconnect the car, bring your essentials, and drive yourself to safety in the meantime.
You Can Explore All Roads – RV's are often too large for some roads, which means you can't explore everywhere you may like to. Towing a regular-sized vehicle with you gives you the freedom to access all roads and make the most of your trip.
Access to an Alternative Vehicle – Town centers and store parking lots can be difficult to get around in an RV, especially if you're not familiar with the area. Having access to a smaller, more nimble vehicle for day-to-day errands during your trip will take the stress off.
Additional Storage Space – So long as you stay within the weight limits that your RV can tow, using a tow bar to haul a trailer is a great way to utilize some extra storage.
Cons of Towing With Your RV
Time Consuming – Towing a vehicle with your RV requires some preparation and setup time. It's not as simple as leaping in your rig and driving into the sunset. Most tow bars are easy to use, once you get used to them, so the process of hitching to and uncoupling from your RV will become quicker with practice.
Fuel Economy – Having a smaller vehicle with you to explore your destination will help you to save fuel during your trip. However, the act of towing will reduce your RV gas mileage, so you'll need to weigh up whether it really saves you money overall.
Difficulties Backing Up – If you tow with all four wheels on the asphalt, you won't be able to back up while towing, unless you use a suitable tow dolly. This means you'll have to disconnect your tow to back up, which can be a little frustrating at times.
Road Limits – Some roads have length limits that will prohibit you from using them if your RV + Tow exceed the allowed length. This could prevent you from making the most of some scenic routes while enjoying your trip.
Cost – Installing a tow bar isn't cheap, with the best quality, high-strength models costing upwards of $800. Not all models come complete with safety cables and power cords, so you'll have to factor this into your budget too.
Buyer's Guide to Buying the Best RV Tow Bar
Still unsure which is the best RV tow bar to go for? Our in-depth buying guide has everything you need to know before making your choice.
Price
Price is often high on the list of considerations when purchasing any product. And while price doesn't always indicate quality, it can be a good indicator.
Tow bars aren't cheap, nor should they be. This piece of equipment has to be well-constructed, strong, reliable and safe – after all, a failure could have tragic consequences.
Most top-quality tow bars are priced in the region of $500-800+. These models are usually made of super-strong aluminum or steel, and have all-terrain capabilities.
It is possible to find lower-priced models, but make sure to thoroughly scrutinize the strength and safety features before making a final decision.
Towing Capacity
All tow bars will have an upper weight limit for what they can safely tow – known as the towing capacity.
The correct capacity for your needs will depend on your setup and what you intend to pull with your RV. Generally, towing capacity starts at around 5,000 pounds, with the strongest models capable of towing 10,000 pounds. The higher the capacity, the heavier the vehicle you can tow with it.

Towing Brackets
The towing brackets are the connection point that hold your vehicle, cable and tow bar together. It's worth remembering that your RV and towed vehicle may not have towing brackets attached already, so you might have to buy and fit them separately.
Depending on your vehicle and tow bar, they may have to be drilled or welded on, so keep this in mind when buying.
Compatible with your Vehicle – RV Receiver
One of the most important things to keep in mind when purchasing a tow bar is your RV receiver. If the tow bar doesn't match your receiver, it won't be any good. Be sure to check the receiver you have on your RV before buying to save yourself time and hassle. The majority of RV's have a 2-inch square receiver, but it'll take you 2 minutes to find out for sure.
Wiring Connections
Wiring connections enable you to control the brake lights of the vehicle you're towing for safety reasons. This isn't optional – it's the law.
As a result, most high-quality tow bars will come complete with wiring cords so that you can connect the towed vehicles' brake lights to your RV, but some models may not. If your tow bar doesn't come equipped with the wiring required for lights, you'll have to buy a universal wiring kit and electrical cord separately.
Do not attempt to tow without this wiring in place and functional. It's highly dangerous and against the law.
Safety Cables
Safety cables are an emergency tool that will keep your towed vehicle securely attached to your RV should the tow bar disconnect unexpectedly. Many tow bars will include these as part of the package, but some do not.
Safety cables should be capable of holding the weight of the vehicle you're towing. After all, they won't be any use as a back up safety feature if they immediately snap under the strain. They should be strong, thick and have sturdy hooks that stay firmly attached to your vehicles. Ideally, you should have several hooks just in case one or two fail.
Safety cables are only a back up. They should never be used in place of a tow bar.
Mounting
Your tow bar will not fit your RV unless it's compatible with your base plate. It's a good idea to purchase a tow bar that has universal compatibility with all types of baseplates, so you can be sure you'll get a fit. If you have a particular brand of base plate, choosing a tow bar from the same brand is also a smart choice.
When mounting your tow bar, you'll need to be conscious of its vertical height and ground clearance. The height should be 350-420mm, while the ground clearance should usually be 65mm as an absolute minimum. That said, these requirements can vary across models, so check the literature just to be sure.
Additional Features
Aside from the above considerations, there are some additional features worth keeping in mind:
Weatherproofing – Your tow bar is going to be consistently exposed to the elements, so it's smart to opt for a model that has weatherproof qualities. This will ensure that your tow bar doesn't rust and degrade over time, which leaves it more vulnerable to weakness.
Storage – Tow bars aren't exactly compact. If you want to save space, look for a model that can be collapsed for simple storage. Some models can be stored on the exterior of your RV so you won't have to remove it and store it elsewhere after each use.
Shock Resistance – We recommend looking for a tow bar that has built-in shock resistance, especially if you expect to drive over uneven terrain. This will help to limit the strain on your tow bar and protect against damage.
Different Types of Tow Bars
Tow bars can be generally divided into four types, but as technology advances and more modern modifications take place, some hybrid options are hitting the market.
Let's take a look at the most common types of tow bar available:
Horizontal Hitch – This type of tow bar is most often used to pull heavy loads, such as trailers and large SUVs. Horizontal hitch tow bars have a square tongue that connects to the receiver and they usually come in a choice of two sizes, either 40mm or 50mm. They commonly use a weight-distribution system and connect to the hitch with a very secure pin bolt that's durable enough to withstand hefty weights.
Rear Step – This type of tow bar is ideal for four wheelers as it provides a higher ground clearance. They have a farther reach from the back of your RV where the step is installed, and are a good choice for bumpy terrain. However, this type of tow bar is often much heavier than other types, and it may not be compatible with all vehicles – so be sure to check before buying.
Flat Tongue – This type of tow bar is best-suited for towing lighter vehicles. It has a horizontal slot, through which the detachable ball tow has to fit to connect the toad. Once this is done, the ball is secured in place with two strong bolts to keep it in place.
Flange Tow Bar – This tow bar is a commonly used type that is a little similar to a swan neck tow bar. It's very strong and has a detachable flange so that it looks like you don't have a tow bar fitted to your vehicle when not in use. It's pretty versatile and can be used in conjunction with bumper protectors. It's also easy to fit and suitable for many different types of vehicles.
Swan Neck – This type of U-shaped tow bar is very widely used in Europe, therefore, most vehicles in European countries have this type of tow bar permanently fitted. The tow ball and neck are one solid piece. They are lightweight and fairly inconspicuous, so they don't tend to get in the way.
Top RV Tow Bars Video
Frequently Asked Questions (FAQ)
As you embark on your RV adventures, having the right equipment is essential to ensure a safe and enjoyable journey. When it comes to towing a vehicle behind your RV, investing in a high-quality tow bar is of utmost importance. To help you make an informed decision, we have compiled a list of frequently asked questions about the best RV tow bars. Whether you're a seasoned RVer or new to the world of towing, this FAQ section aims to provide answers to common inquiries, guiding you towards selecting the perfect tow bar for your needs. From understanding the different types of tow bars to maintenance tips and safety considerations, we've got you covered. Read on to gain valuable insights and make the best choice for your RV towing setup.
What is an RV tow bar?
A tow bar is a device used to connect a motorhome or RV to a towed vehicle, such as a car or SUV, allowing you to tow it behind your RV. It provides a secure and reliable connection, enabling you to bring your vehicle along on your RV adventures.
Why should I invest in a high-quality RV tow bar?
Investing in a high-quality RV tow bar is crucial for several reasons. Firstly, it ensures the safety of your vehicle and other road users by providing a secure connection. Secondly, a reliable tow bar reduces the risk of damage to both your RV and towed vehicle. Lastly, a good tow bar offers ease of use, making the process of connecting and disconnecting your RV and towed vehicle more convenient and efficient.
What factors should I consider when choosing the best RV tow bar?
When selecting the best RV tow bar, consider factors such as:
Weight capacity: Ensure that the tow bar can safely handle the weight of your towed vehicle.
Compatibility: Check if the tow bar is compatible with your RV's towing system and the towing brackets on your vehicle.
Ease of installation: Look for a tow bar that is easy to install and requires minimal tools or adjustments.
Durability: Opt for a tow bar made from high-quality materials that can withstand various weather conditions and road conditions.
Tow bar type: Choose between self-aligning tow bars, which automatically align when connecting, or non-self-aligning tow bars that require manual alignment.
What are the different types of RV tow bars available?
There are primarily two types of RV tow bars:
Self-aligning tow bars: These tow bars feature mechanisms that automatically align the towed vehicle and RV, making the connection process easier and quicker.
Non-self-aligning tow bars: These tow bars require manual alignment when connecting the towed vehicle and RV. They often require an additional person to assist in aligning the vehicles.
Can I install an RV tow bar myself?
Yes, many RV owners choose to install tow bars themselves. However, it is important to carefully read and follow the manufacturer's instructions to ensure proper installation and safe towing. If you're unsure about the installation process, it's recommended to seek professional assistance.
How do I maintain my RV tow bar?
To maintain your RV tow bar, follow these tips:
Regularly inspect the tow bar for any signs of wear, such as cracks, rust, or loose components. Replace or repair any damaged parts.
Keep the tow bar clean by removing dirt, debris, and road grime. Regularly lubricate the moving parts as per the manufacturer's recommendations.
Store the tow bar in a clean and dry environment when not in use, protecting it from the elements.
Are there any safety considerations when using an RV tow bar?
Absolutely. When using an RV tow bar, consider the following safety precautions:
Always double-check the connection between your RV and towed vehicle before hitting the road.
Ensure that the towed vehicle's brakes, lights, and turn signals are properly connected and functional.
Observe the weight limits specified by the tow bar manufacturer to prevent overloading and potential accidents.
Adhere to speed limits and maintain a safe following distance to allow for proper braking and maneuvering.
Can I use any RV tow bar for any type of RV?
RV tow bars come in various weight capacities and styles, so it's important to select a tow bar that is suitable for your specific RV and towed vehicle combination. Consider factors such as weight ratings, compatibility with your RV's towing system, and the type of towed vehicle you plan to tow.
Remember, it's always recommended to consult the manufacturer's guidelines and seek professional advice if you have any doubts or specific questions regarding your RV tow bar.
Final Thoughts
Having a tow bar on your RV opens up a world of possibilities. Being able to tow your family car along with you on your next adventure is a huge advantage that makes getting around and exploring the local area much less hassle.
However, you can only enjoy the convenience of towing another vehicle behind your RV if you get the best RV tow bar for your rig. With such a vast amount of options and specifications to choose from, picking the correct model can be confusing.
If you need to pull a small to medium-sized vehicle and you're happy to handle a slightly weightier tow bar, then the Roadmaster Falcon All-Terrain is a good choice. This model is made from steel and has a capacity of 6,000 pounds. It has the Freedom Latch for hassle-free connection and disconnection, and stores conveniently when not in use.
For heavier, larger vehicles, the Roadmaster Blackhawk 2 All-Terrain Tow Bar is your best bet. This uber-strong model can handle up to 10,000 pounds, so it's ideal for pulling large SUVs. It has a large hook up radius for easy attachment, as well as the Freedom Latch for simple disconnection.
If you're looking for something in the middle, then we'd recommend the Roadmaster Sterling All-Terrain Tow Bar. This model can handle 8,000 pounds, yet is super lightweight, thanks to its aluminum construction.
No matter what type of RV tow bar you need, you're sure to find your perfect match among our RV tow bar reviews.