Your RV is a huge investment that brings you a lot of freedom and enjoyment. Getting the best RV door lock is a great way to protect your vehicle, and all its contents, from would-be thieves.
All RV's come with a door lock as standard, but many RV owners choose to upgrade their door locks after purchase. The factory-fitted models don't always offer the highest levels of security, and as technology improves, having the best door lock for your RV will put your mind at rest during your travels.
To help you choose the best RV door lock for your needs, we've reviewed six of the leading models on the market right now. We've also included a handy buying guide, so you can be sure you're making the right choice for your particular setup.
Best RV Door Lock
Here are our picks of the best RV door locks money can buy. We've made sure to choose a variety of models with different entry mechanisms, from simple options to the more high-tec, so you can find your ideal match.
Best overall RV door lock
RVLock V4 Keyless Entry Handle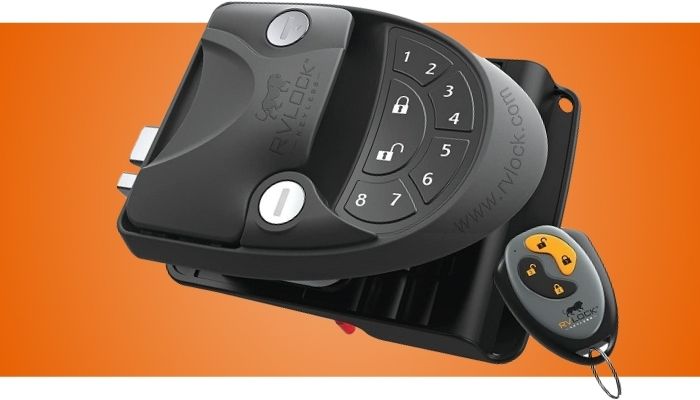 The first RV door lock on our list is the RVLock V4 Keyless Entry Handle. This wireless model offers high-level security and it can even be operated remotely for convenience.
The RVLock V4 is engineered to fit the majority of RV's and travel trailers, with doors that hinge on the right side – so it's highly likely to be suitable for your particular model. The super durable steel construction is very resilient to physical damage caused by determined thieves, and it's excellent weather-proof qualities mean it can stand up to the elements all year-around without weakening or rusting.
This RV door lock is battery-powered, but comes with two standard keys too, so you can gain access if the batteries run flat while you're out and about. You can unlock it using the accompanying keypad, or wirelessly via the included key fob from up to 65 feet away. Only one key fob is included as standard, but you can programme up to 10 fobs per lock – making it a great choice if you travel with a large family.
We like that this door lock has a backlit keypad for easy entry if you return to your RV at night. The metal alloy ergonomic handle is also teardrop-shaped and comfortable to operate, so you won't have to fight with it to get the door open.
Another great feature of this door lock is it's straightforward installation. Even if you've never fitted a door lock to your RV before, this model is so simple that you should be able to install it in as little as 10-minutes.
This model is quite pricey, but its range of features and level of security is hard to beat. It comes with all the hardware you need to fit and also includes a one-year warranty for your peace of mind.
Pros – Things we liked
Can be operated remotely
Engineered to fit most of RV's
Durable steel construction
Backlit keypad
Easy straightforward installation
Cons – Things we didn't like
Only one key fob
Quite pricey
Best rv door lock for deadbolt options
Leisure Locks RV Travel Trailer Entry Door Lock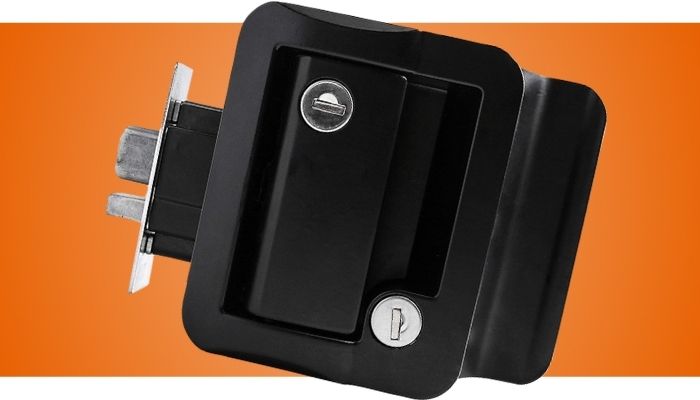 If you're after a simple deadbolt option, then the Leisure Locks RV Travel Trailer Entry Door Lock is a top pick. This model resembles a standard install RV door lock, but has a high strength deadbolt for superior protection against would-be thieves.
Coming in sleek, black design that will suit most RV's, haulers and travel trailers, this model is a compatible replacement for pre-installed door locks and will fit cutouts from 2 1/2″ x 3 1/2″ to 3″ x 4″ and doors that are between 1 1/4″ and 1 1/2″ thick.
It comes with secure latches on both the inside and outside, and includes a set of four keys. Two of these are to be used to operate the deadbolt, while the others are for the top lock. However, this system can be a bit awkward, and it means you need to keep track of two keys rather than just the one.
This lock is powder-coated for durability and fully-weather resistant, so it will stand up to the punishment of winter trips. It's also rust-proof and shouldn't crack in extreme heat or cold climates, which makes it a reliable choice if you travel widely in different environments.
The Leisure Locks RV Travel Trailer Entry Door Lock comes with all the hardware you need to install and is pretty simple to fit, so you should be ready to hit the road in no time. If you're looking for a simple solution to RV security, this model is a great, affordable and easy to install choice, but the double key system may become irritating.
Editor's choice for best rv door lock
RVLock Key Fob and RH Compact Keyless Entry Keypad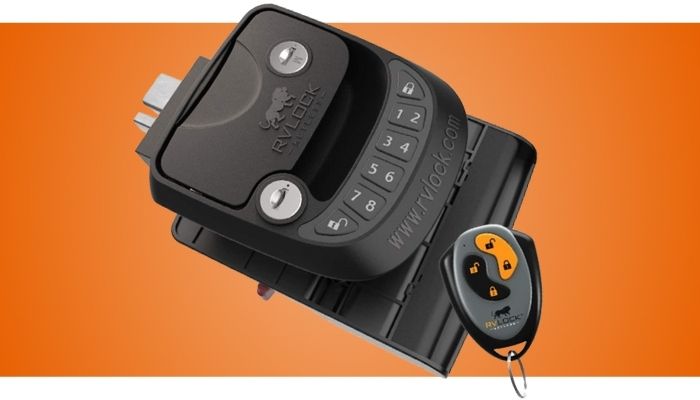 Another great option from RVLock is the RVLock Key Fob and RH Compact Keyless Entry Keypad. This right-handed model has a narrower front plate than the V4 model, offers super-convenient keyless entry and is designed to fit right hinged doors on most RV's, campers, 5th wheels and travel trailers.
With this RV door lock, you won't have to fumble with a key to gain access. The included battery-operated wireless fob can lock/unlock your door from a good distance, so you can walk right in without any hassle. Should the batteries run out, simply revert to one of the two accompanying mechanical keys in the meantime.
We like that you can sync up to 10 wireless fobs with this lock, so you can give every one of your companions their own if you travel with friends or family. Alternatively, you can set up an access code on the keypad. There's a choice of over 1 million potential codes, so you can be sure your rig is well secured against opportunist intruders.
The heavy duty steel core ensures reliable durability and resistance to attempts to break it off to gain entry. Despite its robust design, the lock doesn't look overly bulky or unattractive when fitted, and the handle is ergonomically-shaped to ensure it's comfortable to use.
RVLock are known for the quality of their products, so you can expect this model to last a long time even if exposed to rough weather during your travels. The lock is simple to install and it comes with all the necessary hardware to fit, so even if you're inexperienced, you should find it pretty easy.
The only real drawback to this RV door lock is the cost. This brand makes top-quality locks, so they're priced toward the upper end of the market. That being said, your RV is a major investment, so it makes sense to go for a reliable and super secure lock if you can afford it.
Great keyless door lock for durability
Carmtek – RV Keyless Entry Door Lock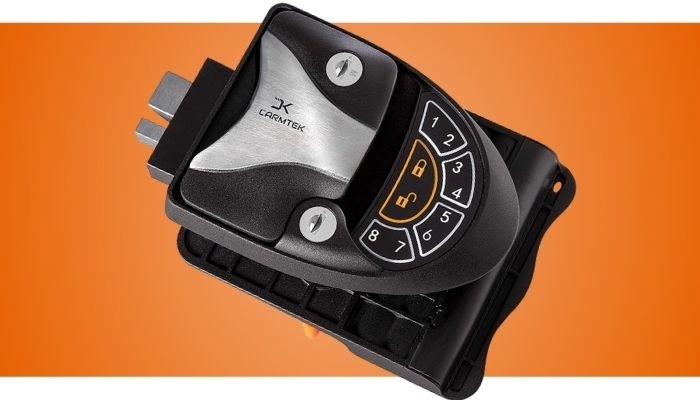 If you're prone to losing your keys, then this keyless entry RV door lock by Carmtek could be just what you need. It offers a variety of access options, including keypad entry, wireless fob and mechanical key as a backup.
This model is suitable for installation in the common opening size of 3.75″ x 2.75″ x 1.5″. It's compatible with a wide range of vehicle types, including C Class, A Class, Travel Trailer, 5th Wheel, Bumper Pull and Campers – so no matter your vehicle, this RV door lock is sure to be a good fit.
Made with a heavy duty steel core, this model is designed to provide optimum security against intruders and potential thieves. The front and rear of the handle is made from premium zinc-alloy for durability and flame-retardant nylon so it cannot be easily damaged by fire. It's also rated as IP65 waterproof, so it won't rust or weaken when exposed to the elements.
Alongside two standard mechanical keys, this model comes with two wireless key fobs that can lock/unlock your door from as far as 65 feet away. The keypad can also be used for access and locking, which is very useful if you lose your keys/fobs, or need to give someone else access to your RV when you're away. The code is simple to set up in just a few steps, and can be changed as needed just as easily.
We also like that this RV keyless door lock is straightforward to set up in as little as 10 minutes. All the required batteries and installation hardware is included, too, so you won't have to make a trip to the store before you get started.
Overall, this model is an excellent pick to keep your RV and all its contents safe and secure when you're not around. The lock comes with an easy to understand user manual and a very generous lifetime warranty – so you can be confident that this model is built to last.
Great heavy-duty RV door lock
TriMark Door Handle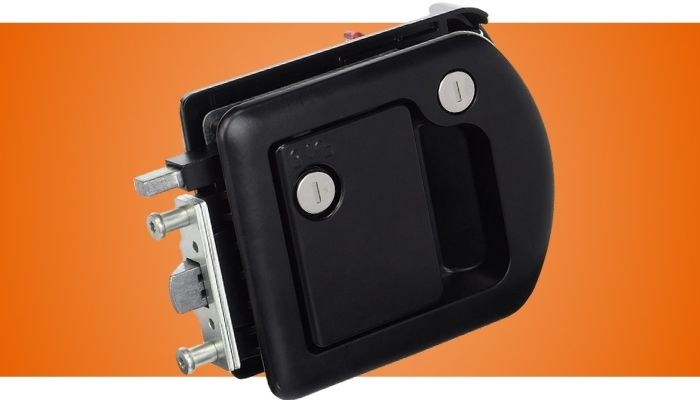 Another worthy option to keep your RV secure is the TriMark Door Handle. This durable model boasts a rugged design that works hard to prevent would-be thieves from breaking and entering your vehicle.
The TriMark Door Handle doesn't feature keyless entry with a keypad or wireless fob, but it gets the job done nonetheless. It comes with two sets of mechanical keys – one key is required for the top paddle lock, while the other must be used to retract the deadbolt. It is designed to fit RV doors ranging from between 1.39″ to 1.78″ in thickness.
If you tend to lose keys, then this model won't be the best option for you. But if you need something heavy-duty and simple to operate, the TriMark ticks all the boxes. Its sleek black design looks good on most rigs, and it can be fitted to both left and right hinge doors for convenience.
This model has a powder-coated finish to resist rusting and weakening caused by environmental damage, so you can rest assured that it will keep your RV secure all year round, even in harsh conditions. The sandwich mount installation is pretty easy to fit and it comes with an 18-month warranty for your peace of mind.
Great travel trailer lock for extreme weather conditions
AP Products Electric Travel Trailer Lock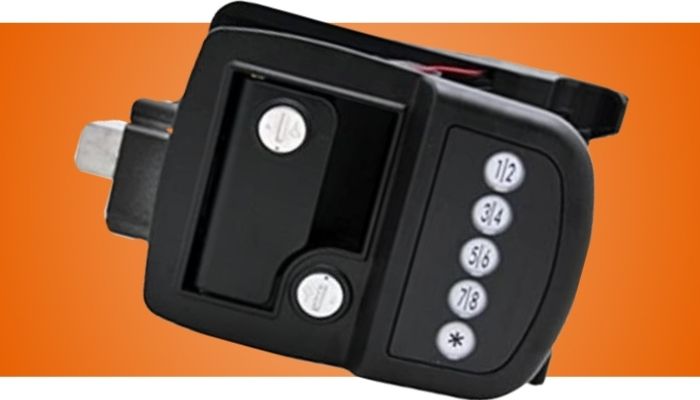 Last on our list of the best RV doors locks is the AP Products Electric Travel Trailer Lock. This model doesn't offer remote locking/unlocking, but gives you the choice to use it with the accompanying mechanical keys, or set a 4-digit code into the keypad for keyless entry.
The AP Products Electric Travel Trailer Lock is highly-durable and will easily resist any attempts to break it off by force. The black design looks good and it will blend in well with most vehicles and trailers. The keypad lights up when you're about to press it for ease of use in the night, and the low-profile shape doesn't interfere with any screen doors you may have installed.
If you take trips in your RV all year around, you'll be pleased to know that this model is built to withstand punishment from extreme weather conditions, strong sunshine and temperature fluctuations. It won't rust, crack or weaken from exposure to the elements, so it will keep your precious vehicle secured no matter the climate.
One potential drawback to this model is the dual mechanical key function. Like other locks we have seen on this list, you need to use two keys, one for each lock, to open it up if the batteries for the keypad have gone flat. It's not a complete deal-breaker, but if you often come back to your RV at night, it can be a bit frustrating to unlock in the dark.
That said, this RV door lock is a sturdy, durable and reliable choice that fits common door openings of 3-3/4″ x 2-3/4″ that are 1-3/8″ to 1-1/2″ thick. It doesn't require any awkward wiring to install, and is easy to fit even if you're a beginner. You'll have to buy your own AA batteries, though, as this set doesn't include them as standard.
Compare the Best RV Door Locks
Table Comparing the Top 6 RV Door Locks
Image
Title
Price
Rating
Buy
RVLock V4 Keyless Entry Handle

$$$$

Buy on Amazon

| | | | | | | |
| --- | --- | --- | --- | --- | --- | --- |
| RVLock V4 Keyless Entry Handle | $$$$ | Remote, Key, Keypad | 4.13 lbs | Prime | 8.7 x 5.91 x 3.82 inches | Buy on Amazon |

Leisure Locks RV Travel Trailer Entry Door Lock

$

Buy on Amazon

| | | | | | | |
| --- | --- | --- | --- | --- | --- | --- |
| Leisure Locks RV Travel Trailer Entry Door Lock | $ | BTU | 2.54 lbs | Prime | 6.5 x 4.5 x 3 inches | Buy on Amazon |

RVLock Key Fob and Keyless Entry Keypad

$$$

Buy on Amazon

| | | | | | | |
| --- | --- | --- | --- | --- | --- | --- |
| RVLock Key Fob and Keyless Entry Keypad | $$$ | Remote, Key, Keypad | 2.31 lbs | Prime | 8.62 x 5.87 x 3.86 inches | Buy on Amazon |

Carmtek – RV Keyless Entry Door Lock

$$$$

Buy on Amazon

| | | | | | | |
| --- | --- | --- | --- | --- | --- | --- |
| Carmtek – RV Keyless Entry Door Lock | $$$$ | Remote, Key, Keypad | 4.56lbs | Prime | 8.9 x 6.19 x 4.29 inches | Buy on Amazon |

TriMark RV Lock & Door Handle

$$$$

Buy on Amazon

| | | | | | | |
| --- | --- | --- | --- | --- | --- | --- |
| TriMark RV Lock & Door Handle | $$$$ | Key | 5.2 lbs | No Prime | 10.3 x 5.2 x 3.7 inches | Buy on Amazon |

AP Products Electric Travel Trailer Lock

$$$

Buy on Amazon

| | | | | | | |
| --- | --- | --- | --- | --- | --- | --- |
| AP Products Electric Travel Trailer Lock | $$$ | Key, Keypad | 3 lbs | Prime | 8 x 5 x 4 inches | Buy on Amazon |
What is an RV Door Lock?
RV door locks are fitted onto the door of your RV or travel trailer. They are available in a number of different styles, but the objective is always the same – to provide security against unauthorized access by intruders.
Rv door locks are usually constructed with a combination of plastic and metal, with the exterior cover made of plastic, and the interior mechanisms made from robust metal that can withstand attempted break-ins.
Most RV door locks feature a strong metal deadbolt, that is operated either manually, via a mechanical key, or electronically, with a wireless fob or keypad. All RV's should have a basic factory-installed door lock as standard, but these locks may not be as robust as other models on the market – which is why many RV owners choose to buy and fit their own for better security and increased peace of mind.
Buyer's Guide to Buying the Best RV Door Lock
If you're still on the fence about which RV door lock is the best for you, have a read through our in-depth buying guide below. In this section, we take a look at everything you need to consider before purchasing your new RV door lock.
Price
RV door locks are available at a wide range of different price points. The most well-known manufacturers that have the best reputation are usually the more expensive options, while lesser-known models can come up a little cheaper.
Basic RV door locks can cost as little as $70, but the more features and layers of security you have, the higher the price tends to be.
High-quality, robust and weather-resistant door locks usually cost somewhere in the region of $100-$200, with locks at the upper end of this range usually featuring the most secure designs and solid construction.
Lock Entry Mechanism
RV door locks are available with a variety of different entry mechanisms, each with their own benefits and drawbacks. Let's take a look at each one in more detail.
Key
This is the traditional entry mechanism that we're all familiar with. Unsurprisingly, this type of lock entry method is probably the most common type on the market.
Because it's so simple, key entry locks are often the cheapest types of RV door locks you can find. They're very easy to source and simple to install due to the lack of any electronic components.
This type of lock is best suited to you if you prefer to keep things simple, yet secure. You'll have to keep a good track of your keys, though, because there's no alternative for accessing and locking your RV without them.
Keypad
Keypad entry locks are becoming more popular. They require you to enter a pre-set code onto the keypad to operate the deadbolt.
This type of RV door lock is convenient to use, because you don't have to have your keys to hand to access your RV. You can also give the access code to someone else who you trust, if they need to get into your RV when you're not around. There's an almost infinite number of codes that you can choose, and you can change them at any time, which makes this method particularly secure.
Wireless
Wireless entry locks use a battery-powered key fob to remotely activate the lock. Like a key fob for your car, they have to be used fairly close to the RV to work, but some models are able to operate the lock up to 65 feet away.
This wireless system is particularly useful if you have your hands full, or are returning to your RV at night and would struggle to open the door with a mechanical key. Many models allow you to sync multiple fobs to the lock, too, so your traveling companions can all have their own.
On the downside, if the batteries in the key fob run flat, you'll still need your mechanical keys as a backup – so make sure to keep them with you just in case.
Bluetooth
The most premium option for RV door locks is a bluetooth lock entry mechanism. These models work by syncing with your smartphone, so you can operate the lock remotely from your phone, rather than having to keep a key fob to hand.
These models are fancy and very convenient, but if you lose your phone or the battery goes flat, you'll still need to open the lock with a good old-fashioned key – if you remembered to bring it with you, that is.
Security
Since we're talking about RV door locks, security is clearly the number one feature you'll be looking for when buying.
Your RV door lock should be constructed from heavy-duty materials that will provide a high level of resistance against potential thieves who may try to smash the lock off your vehicle, or pick it to gain entry.
Dual locks provide a great deterrent to lock pickers, as they make the process of trying to overcome the lock much more difficult. All but the most determined thieves are likely to try this, as they will almost certainly draw attention to themselves if they attempt it.
Keypad access locks are particularly secure, as you can select from a practically limitless variety of codes, and change them regularly to keep your RV well protected.
It should be pretty easy to identify a cheap, weak lock from a robust model that will be very difficult to break. If you're unsure whether a particular model is tough enough for your needs, ask a local retailer or check out reviews from other users before buying.
Durability And Resistances
The overall durability and resistance capabilities of your RV door lock is crucial if you want to keep intruders out.
The keypad and cover of the lock should be made from robust plastic that is difficult to smash open with sheer force, while the interior parts and deadbolt should be made from strong metal that will be practically impossible to break.
Weather-proofing is another important consideration if you want your door lock to provide a reliable level of protection long-term. We recommend looking for door locks that are waterproof and resistant to rusting and weakening from exposure to the elements.
Keep in mind that harsh swings of temperature and strong sunshine can cause low-quality plastics to crack and become brittle over time – so be sure to check that your preferred model is resilient enough to withstand these conditions.
Size and Fitting
While it's true that most RV door locks on the market are likely to be suitable replacements for the factory-fitted lock your RV came with, it's still very important to pay attention to compatibility and ease of fitting before buying.
Be sure to check the measurements of the cut out and the thickness of your door first, so you're certain that the new lock will fit properly and serve its purpose. Not all RV's and trailers are set up the same way. For example, you may have screen doors fitted that will interfere with the installation – this will just waste your time later if you don't bother to check beforehand.
Having all your relevant measurements written down before choosing a RV door lock will also save you time in the selection process. Once you know exactly what dimensions you need, this will narrow down the options available to you, so you're not trawling through models that wouldn't be suitable.
Also, keep in mind that not all RV door locks can be fitted to both left and right hinged doors. Some models are only compatible with one or the other, so don't forget to check this specification before buying.
Ease Of Installation
No one wants to waste precious vacation time struggling to fit a door lock on their RV. So, be sure to check the reviews of a particular model before buying to see how other users found the installation process.
Even if you've never fitted one before, all of the RV door locks we have featured in this guide are easy to install in around 15 minutes or less.
Lock Color
Of course, the color of your new RV door lock isn't going to have much impact on its effectiveness, but it's still worth considering for aesthetic reasons.
Most factory-installed RV door locks are designed to blend in fairly seamlessly with the body color, but you probably find it difficult to source a more secure model in the exact same hue.
Most RV door locks are black, but some manufacturers offer options in a small range of other colors. If appearances are important to you, it's worth doing your research to see if your preferred replacement is available in a more subtle shade that doesn't stand out so much.
Types of RV Door Locks
There are three main types of RV door locks: keyless, paddle, and handle.
Keyless Locks – As you would expect, keyless RV door locks enable you to open the door without requiring the use of a standard physical key. Keyless locks are a good choice if you're one of those people who are always misplacing their keys.
These types of door lock usually use a wireless keyfob so you can operate the lock remotely, a keypad system, or may use a bluetooth system whereby you control the lock with a smartphone. They can usually be operated with a physical key, too, as a backup.
Paddle Locks – Paddle locks are traditional RV locks which open the same way as the locks that are usually factory-fitted. They require a physical key to lock/unlock, and they don't have keyless options like keypads or key fobs.
To operate a paddle lock, you must insert the key and rotate the cylinders inside. Once you've done this, you'll be able to pull the paddle handle to open up the door. This method is very simple and may be preferable if you don't have much patience with technology.
Handle Locks – Handle locks can be manufactured in a variety of different ways. They enable the user to use the key just like a paddle lock. This is the most simple type of lock you are likely to encounter. Depending on the design, the handle may lift out towards you, or upwards.
Top RV Door Locks Video
Frequently Asked Questions About RV Door Locks
As RV enthusiasts, ensuring the security of our recreational vehicles is of utmost importance. With the rise in RV break-ins and thefts, it's crucial to invest in reliable and robust door locks to safeguard our valuable possessions and maintain peace of mind during our travels. In this FAQ section, we address some common queries and concerns regarding RV door locks. Whether you're a seasoned RVer or a newcomer to the world of RVing, these frequently asked questions will help you make informed decisions when selecting and upgrading your RV door lock. From understanding key features to installation processes and maintenance tips, we've got you covered. Let's delve into the FAQs to ensure your RV stays safe and secure on all your adventures!
Why should I upgrade my RV door lock?
Upgrading your RV door lock is crucial for enhancing the security of your recreational vehicle. Many standard RV door locks are susceptible to picking and forced entry. By investing in a high-quality RV door lock, you can better protect your vehicle and its contents from potential break-ins.
What features should I look for in an RV door lock?
When selecting an RV door lock, consider the following features:
Sturdy Construction: Look for locks made from durable materials such as solid metal or alloy to ensure long-lasting performance.
Keyless Entry Options: Consider locks that offer keyless entry through mechanisms like keypads, fingerprint scanners, or Bluetooth connectivity.
Deadbolt Functionality: Opt for locks that have a deadbolt feature for added security.
Easy Installation: Choose locks that are relatively easy to install or ones that fit existing holes to avoid extensive modifications to your RV door.
Are RV door locks universal or specific to certain RV models?
RV door locks are typically not universal and may vary based on the make, model, and year of your RV. Before purchasing a door lock, make sure it is compatible with your RV's door dimensions and mounting requirements. It's recommended to consult the manufacturer or check compatibility information provided by the lock manufacturer.
How do I install an RV door lock?
The installation process may differ depending on the specific lock and RV model. However, most RV door locks come with installation instructions that guide you through the process. Typically, you will need basic tools like a screwdriver and possibly a drill. If you are unsure or uncomfortable with the installation, it is advisable to seek professional assistance.
Can I replace my RV door lock by myself?
Replacing an RV door lock can be done by yourself if you are comfortable with basic DIY tasks. However, if you lack experience or are uncertain about the process, it's best to consult a professional locksmith or RV service technician who can ensure proper installation.
How much do RV door locks cost?
The cost of RV door locks varies depending on the brand, features, and quality. Basic models can start around $50, while more advanced locks with keyless entry options can range from $100 to $300 or more. Keep in mind that investing in a high-quality lock is worth it for the added security and peace of mind it provides.
Can I use a regular house door lock on my RV?
While it may be possible to use a regular house door lock on an RV, it is generally not recommended. House locks may not be designed to withstand the unique challenges and conditions of an RV environment. It's best to choose locks specifically designed and manufactured for RVs to ensure optimal performance and security.
How can I maintain my RV door lock?
To keep your RV door lock in good working condition, follow these maintenance tips:
Regularly clean the lock with a mild detergent and a soft cloth.
Lubricate the lock mechanism with a silicone-based lubricant to prevent rust and ensure smooth operation.
Check and tighten any loose screws or connections periodically.
Inspect the lock for signs of wear and tear, and consider replacing it if necessary.
Remember to refer to the specific maintenance instructions provided by the lock manufacturer for best results.
Can I retrofit my RV with a smart door lock?
Yes, it is possible to retrofit your RV with a smart door lock. Several manufacturers offer smart locks designed specifically for RVs. These locks typically provide keyless entry, remote control functionality, and integration with mobile apps for added convenience and security. Ensure compatibility with your RV model before making a purchase.
Are there any additional security measures I can take to protect my RV?
In addition to upgrading your RV door lock, consider implementing other security measures such as installing an alarm system, using motion sensor lights around your RV, and utilizing wheel locks or hitch locks. These additional measures can further enhance the security of your RV and deter potential thieves.
Remember, always prioritize your safety and consult professionals or reputable sources for specific recommendations based on your RV's make and model.
Final Thoughts
Installing the best RV door lock is the simplest and most cost-effective way to secure your RV against break-ins. However, with so many models on the market, all boasting different features, finding the right door lock for your rig can be tricky.
The best door lock for your RV depends on your own preferences and your intended lifestyle. If you travel with your family or a large group of friends, having a programmable keyless door lock is a good choice. This will allow you and your companions to access the RV via a code or a specially-synced fob – so you won't have to get a key cut for everyone.
Our favorite keyless models are the RVLock V4 Keyless Entry Handle and the RVLock Key Fob and RH Compact Keyless Entry Keypad. Both of these options are super durable, easy to install and offer a choice of keypad, fob or physical key entry for maximum versatility.
On the other hand, if you prefer to keep things simple, the TriMark Door Handle is a great choice. This model has a heavy-duty design that won't succumb easily to physical force. It's weatherproof, straightforward to install and comes with two keys. It can also be fitted on both left and right hinged doors, and comes with an 18-month warranty for extra peace of mind.