There's nothing quite like rolling up to a campsite and looking down at a perfect smooth site. Unfortunately, finding that smooth and level site for your RV isn't something you can count on. For those times where you find yourself walking at an angle RV levels and leveling blocks are there for you. Today we're reviewing a number of different options to help you find the best RV level on the market.
Best RV Levels
RV levels have been used ever since RVs themselves have been available. In the last decade or so we've seen more development and new products released than in the previous 50 years.
Picking out the best RV level has become a bit more complicated, though hopefully our list below will help you uncomplicate it and find the best one for your needs.
Editors Choice for Best Value RV Level
Hopkins Towing Solutions Graduated Level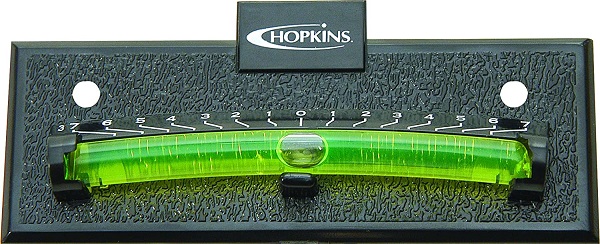 The Hopkins Towing Solutions Graduated Level is a specialized bubble level built to take all the guesswork out of leveling your RV. It uses a crescent shaped tube with bright green liquid for high-visibility and to aid in its special feature.
Instead of a basic set of lines to show when level is achieved it actually has specific measured markings that tells you just how many inches you need to raise your RV and what side it needs to be raised on. That's pretty incredible on the face of it, but when combined with the long-term durability of a bubble level it gets even better.
It's also one of the easiest to install, allowing you to use either an adhesive/magnet for temporary attachment or screws for permanent installation.
If you're looking for a reliable bubble level with a little extra added on, the Hopkins Towing Solutions Graduated Level is a great option.
Pros – Things we liked
Crescent-shaped tube
High-visibility liquid
Measured markings
Multiple installation methods
Cons – Things we didn't like
If installed with tape the level can move slightly
Best "Made in USA" RV Level
Camco EZ Level – Assists You In Leveling Your RV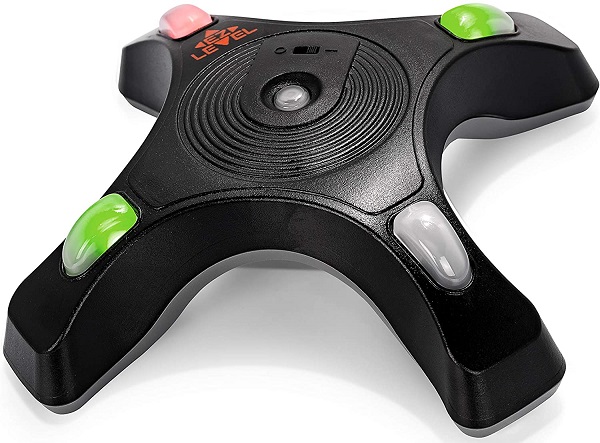 The Camco EZ Level is an electronic level designed for all types of RVs. It doesn't mount to the exterior, instead it lays flat on the floor of your RV or travel trailer and gives you an indicator light to tell you where to raise or lower your RV.
The indicators should be pointed towards the front, back, and both sides of your RV then turned on. Illuminated indicators will tell you what ends need to be raised and allow you to check it on the fly.
When we saw it for the first time we honestly thought someone had sent us a little electronic game by mistake, but once we gave it a try it actually worked really well. It works best on self-leveling RVs that you can adjust while inside, but is still quite usable for all other forms of RV as well.
Like all Camco products the EZ Level is proudly made in the U.S.A. and is exceptionally easy to use. If you're tired of fiddling with bubbles and dials and want something that can be checked from feet away you should give the Camco EZ Level a try.
Best RV Level for Ease of Use
Camco AccuLevel

The Camco AccuLevel is a bubble style level built in a crescent shape. It's different from a lot of other levels in that it can show you both front to back level and side to side for travel trailers.
There are actually a pair of levels built into the AccuLevel with the primary level much larger, large enough to be visible from your tow vehicle's mirrors. There's also a smaller level that shows front to back level for after you detach your trailer.
The design is pretty great to be honest and makes it much more convenient to get your RV set up. There are definitely some downsides though.
To start with, the clear fluid isn't nearly as easy to read in low light conditions as a brighter fluorescent style. Another is that Camco doesn't include a mounting bracket with the level itself, a decision we find ourselves questioning. After all, how are you supposed to use the tool you just bought if you can't even attach it out of the box?
For its intended purpose and in a narrow role though, the Camco AccuLevel provides a lot of value and is a very viable option.
Best Overall RV Level
Wheel Masters Level Master

The Wheel Masters Level Master is another double duty level with a very similar design to the previously reviewed AccuLevel. To be honest, the two are almost indistinguishable and provide roughly the same performance.
It has the same crescent shaped side-to-side level arrangement for travel trailers and motorhomes and the same smaller smaller level for front to back leveling.
One thing we do like about the Level Master over the AccuLevel is the brightness and visibility of the indicators. It uses thick blue lines on a bright white background to make it easy to adjust. Each line represents an inch of leveling block to help speed up the leveling process.
One big difference is that the Level Master comes with mounting hardware in the box. It's a little thing, but we definitely appreciated it.
All in all the Wheel Masters Level Master is a versatile and easy to use dual bubble level that you can rely on.
Best RV Level for Small Budgets
Camco RV T Level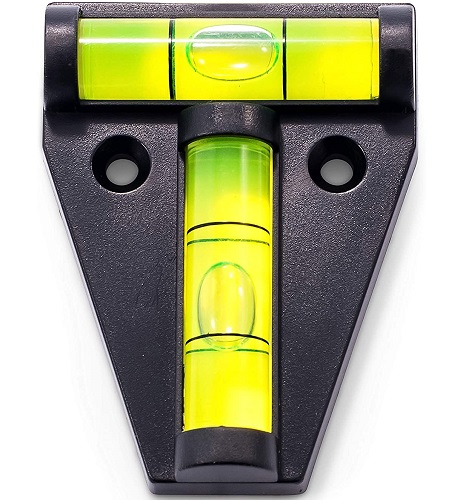 The Camco RV T Level is made up of two standard bubble levels mounted in a T shape. They're built to lay flat on your RV and show you both front to back and side to side level.
Given their simple yet easy to use design we found them really nice to work with. They were clearly designed to be mounted on a travel trailer's towing hitch but can be made to work on a motorcoach or fifth wheel without much difficulty.
By far the biggest pro of the T Level is price. They cost well under $10 and are one of the most cost effective ways to get your RV nice and level. The downside to this low cost approach is a loss of some convenience.
If you're looking to RV on a budget the Camco RV T Level will absolutely get the job done, and do it for a fraction of the price of some other levels.
Best RV Level for Viewing in Sideview Mirror
Hopkins RV Battery Powered Smart-Level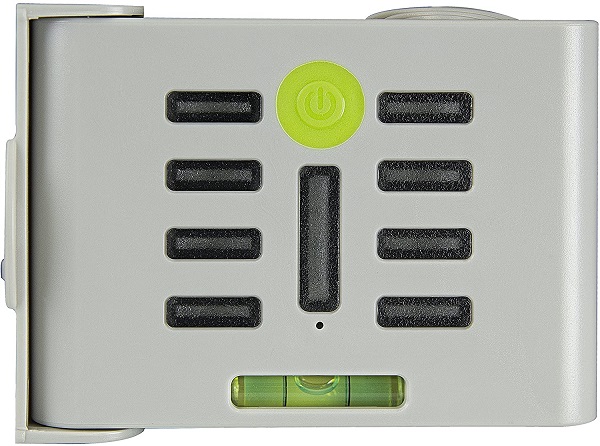 The Hopkins RV Battery Powered Smart-Level is a high tech option for those looking for an easier level than a traditional bubble level. It's built into a plastic housing that folds out for use then rotates back and into itself for protection.
It has a series of four indicators to show you exactly how many leveling blocks you need to use to reach level. It takes all the guesswork out of leveling your RV and allows you to instantly see how much you need to adjust it.
It can be mounted on either the passenger or driver's side of your RV and is designed to be easy to see even from a distance. It also includes a small bubble level to help you find front to back level.
Overall the Hopkins RV Battery Powered Smart-Level is an excellent tool to get your RV to a comfortable position. It's a lot more convenient to use than a traditional bubble level and isn't nearly as expensive as you might expect.
Best RV Level for Smartphones
LogicBlue Technology LevelMatePRO+ Wireless Vehicle Leveling System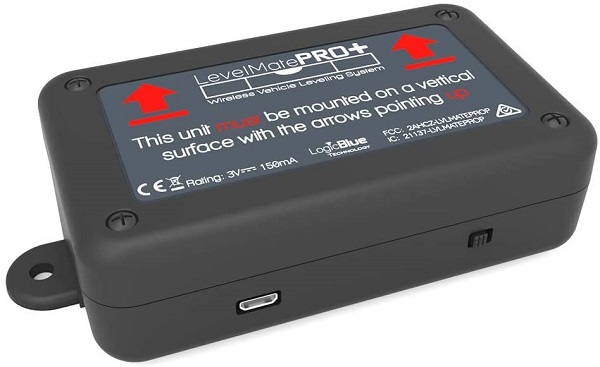 The LogicBlue Technology LevelMatePRO+ Wireless Vehicle Leveling System is an advanced leveling system designed to work with smartphones and tablets. It uses internal sensors to identify the exact points your RV is off level and how much you need to adjust it at each area to reach true level.
Setting it up is an involved process but once it's paired to your phone and attached to your vehicle it's one of the easiest RV levels to use. We were able to get exact measurements for adjusting the position of a travel trailer in seconds and reach a verified level position a lot faster than it would have taken with an old school bubble level.
The one big downside to the LevelMatePRO+ is its price tag. It's by far the most expensive level on our list and doesn't actually provide more accuracy than a basic bubble level.
If you're the kind of RVer who wants the best and is willing to pay for it, the Logic Blue LevelMatePRO+ is the RV level for you.
Best RV Level for Easy Installation
Sun Company 306-R Lev-o-gage II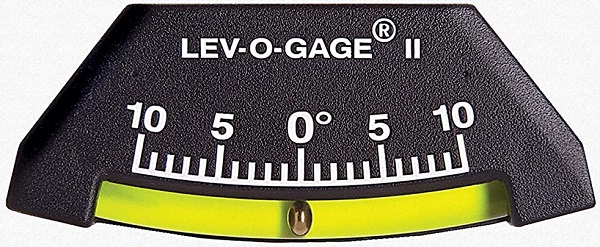 The Sun Company 306-R Lev-o-gage II is a specialized RV level designed for travel trailers and motorcoaches. It uses a brass ball rather than a bubble and provides a more durable and accurate leveling experience.
It comes with a strip of 3M VHB tape on the back, allowing you to install it in seconds and be on your way. The body and tube of the level is made from a durable polymer that's designed to resist impacts and other damage.
We found it to be easy to read and very accurate. The use of the brass ball rather than a bubble gives it a lot longer working lifespan and makes it a very competitive product overall.
Best Bullseye RV Level
YOTOM Bubble Spirit Level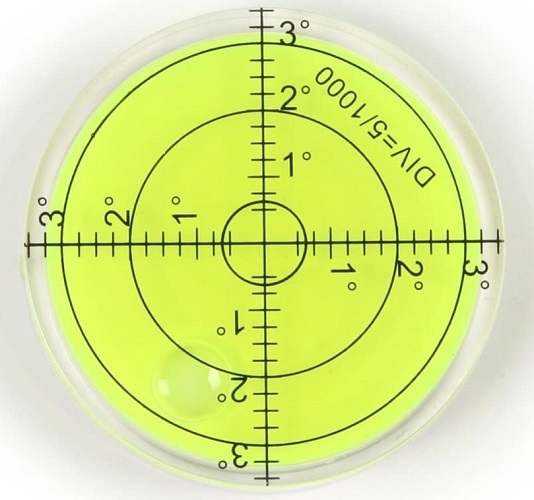 The YOTOM Bubble Spirit Level is the only bullseye level we chose to include on this list. It uses the familiar circular design with round markings that show both front to back and side to side level.
It has a bright yellow base with an overlaid bubble floating in clear fluid. You level your RV by lining the bubble up in the bullseye to get it at a comfortable position.
We'll level with you, we aren't the biggest fans of bullseye levels. They aren't the easiest to read and can make getting both directions level difficult as you're effectively looking at a reading for both of them at the same time.
Some RVers absolutely swear by them though, and they undeniably offer effective leveling indicators. If you like the idea of a bullseye level the YOTOM is a well-made example of them at a very reasonable price.
Compare the Best RV Levels
Table Comparing the Top 9 RV Levels
Image
Title
Price
Rating
Buy
Hopkins Towing Solutions Level

$$

Buy on Amazon

| | | | | | | |
| --- | --- | --- | --- | --- | --- | --- |
| Hopkins Towing Solutions Level | $$ | Self-sticking adhesive back | 0.8 oz | Prime | 6.88 x 5.75 x 0.75 inches | Buy on Amazon |

Camco EZ Level

$$$

Buy on Amazon

| | | | | | | |
| --- | --- | --- | --- | --- | --- | --- |
| Camco EZ Level | $$$ | Illuminated indicators | 9.1 oz | Prime | 12.6 x 8.3 x 2.5 inches | Buy on Amazon |

Camco AccuLevel RV Level

$$$

Buy on Amazon

| | | | | | | |
| --- | --- | --- | --- | --- | --- | --- |
| Camco AccuLevel RV Level | $$$ | Can be seen in mirrors | 11.2 oz | Prime | 11 x 1 x 2.75 inches | Buy on Amazon |

Wheel Masters Level Master

$$$

Buy on Amazon

| | | | | | | |
| --- | --- | --- | --- | --- | --- | --- |
| Wheel Masters Level Master | $$$ | Scale indicates one inch of blocking | 11.2 oz | Prime | 25 x 0.8 x 5 inches | Buy on Amazon |

Camco Screw-Mounted RV T Level

$

Buy on Amazon

| | | | | | | |
| --- | --- | --- | --- | --- | --- | --- |
| Camco Screw-Mounted RV T Level | $ | Front-to-back and side-to-side leveling | 0.96 oz | Prime | 4.68 x 3.09 x 0.59 inches | Buy on Amazon |

Hopkins RV Battery Powered Smart-Level

$$$

Buy on Amazon

| | | | | | | |
| --- | --- | --- | --- | --- | --- | --- |
| Hopkins RV Battery Powered Smart-Level | $$$ | Innovative two-way Levelling system | 7.2 oz | Prime | 5.6 x 5.1 x 1.5 inches | Buy on Amazon |

LogicBlue Technology LevelMatePRO+ Wireless

$$$$$

Buy on Amazon

| | | | | | | |
| --- | --- | --- | --- | --- | --- | --- |
| LogicBlue Technology LevelMatePRO+ Wireless | $$$$$ | High quality 3-axis digital accelerometer | 8.4 oz | Prime | 5.5 x 2.75 x 1.5 inches | Buy on Amazon |

Sun Company 306-R Lev-o-gage II

$$$

Buy on Amazon

| | | | | | | |
| --- | --- | --- | --- | --- | --- | --- |
| Sun Company 306-R Lev-o-gage II | $$$ | Shatterproof Design | 1.6 oz | Prime | 3.5 x 1.5 x 0.4 inches | Buy on Amazon |

YOTOM Bubble Spirit Level

$

Buy on Amazon

| | | | | | | |
| --- | --- | --- | --- | --- | --- | --- |
| YOTOM Bubble Spirit Level | $ | Free standing mounting | 1.23 oz | Prime | 2.6 x 0.39 x 2.6 inches | Buy on Amazon |
Buyer's Guide to Buying the Best RV Level
When picking out the best RV level for your particular rig it's important to focus on features and function. Durability, longevity, ease of use, and accuracy are some of the things we focused on while creating our list.
Price
With a few exceptions RV levels are priced in a very affordable range. You can get basic bubble levels without extra indicators for less than $10, and even the best bubble levels with multi-directional functionality and precise indicators rarely cost more than $20 to $30.
Where the price starts to rise is with electronic levels, and especially with bluetooth connected electronic levels. These provide highly accurate and convenient leveling, but can cost north of $100 for a high-end model.
Ease of Use
One of the cornerstones of taking out your RV is to take it easy and enjoy yourself. Having an easy to use level is a big part of this.
You want one that makes it instantly apparent when your RV is level and that doesn't require a lot of setup or even skill to use. Look for features like multidirectional leveling with bubble levels or the ability to pair with a smartphone app for electronic levels.
Level Accuracy
It may seem obvious, but the accuracy of a level is going to seriously affect how comfortable your trip is. It may be surprising to some, but bubble levels are actually more accurate than many electronic levels.
They rely on basic principles and aren't affected by malfunctions or miscalibrations. As long as the bubble is between the lines and properly set you know that your RV is level.
Electronic levels can help in some circumstances, but if basic reliability is your goal you should definitely go with an electronic level.
Readability
With bubble levels, readability comes down entirely to the color of the liquid inside and the clarity of the indicator markings. The bulk of bubble levels have bright green or bright yellow liquid, but you can also find blue.
They're all about equal visibility wise so it really comes down to your personal preference there. The indicator markings should be difficult to rub or scratch off and written in large and clear block letters/numerals.
For electronic levels, readability is a much bigger deal. They have a wide range of different display options and indicators, so make sure you find one you can read easily.
Durability
RV levels are a product you should only have to buy a few times in the lifespan of an RV. Picking out models made from high-quality materials with the proper weather and UV resistance is a big part of that.
Bubble levels are extremely easy to use and are intrinsically more durable because of how few moving parts there are. The biggest thing with a bubble level is making sure the housing protects it from bumps and that the glass offers proper UV resistance.
With electronic levels, water-resistance and robust materials are the name of the game. A gee-whiz electronic level may offer some really great features, but it also has a lot more points of failure than an old school bubble level.
Versatility
When we refer to RV level versatility we mainly mean what axes they can measure. Many basic levels can only help you level your RV in one axis, either front to back or side to side.
More versatile RV levels give you the ability to level both directions at once.
Types of RV Level
There are two types of RV level available on the market today: Bubble levels and electronic levels.
Bubble Levels – Bubble levels will be a familiar sight to anyone who's ever done woodworking or hung a picture. It's a small tube filled with a brightly colored liquid and a single bubble that moves back and forth over indicator markings.
The upsides to bubble levels are many and obvious. To start with, they're always accurate and rely on basic scientific principles that definitely won't malfunction. They're also inexpensive, easy to install, and highly resistant to damage.
The only real downside to a bubble level is that you have to be right there looking at them to know if you're level.
Electronic Levels – Electronic levels are a relatively new product for the RV market and offer a number of benefits if you're willing to accept the tradeoffs. They're extremely easy to use and install and offer features that bubble levels just can't match.
Basic electronic levels have bright indicator lights that let you know which direction your RV needs to be lifted or lowered on, but it's the advanced ones where you really start to see the value.
Some of them actually pair with your smartphone through a companion app and allow you to see the level status of your RV in real-time, without having to actually move from the wheel to look at the level.
There are a few downsides though. Electronic levels are much more prone to malfunction than bubble levels simply because they have a lot more points of failure. Batteries can die, sensors can get miscalibrated, and water damage can wreak serious havoc on the internals.
How Many Levels do You Need
Unless you're willing to spend for a fancy (though possibly not durable) electronic level, two bubble levels will serve you just fine. They need to be mounted properly for the two axes they're measuring.
For longitudinal (front to back) leveling you should put your first level directly over the axle for a single axle RV or centered between the axles on a dual axle RV. For latitudinal (side to side) leveling you should place your second level directly over the centerline of your RV, with just above the hitching point for trailers or the license plate for motor coaches about right.
Why Do I Need an RV Level?
A lot of old school RVers scoff at adding a level to their RV. After all, they've spent decades out on the road and never had a problem getting their RV comfortably leveled. Experience definitely counts for something here, but it's nothing compared with actually knowing that your RV is level.
Having even a slight incline to your RV can seriously affect your comfort level while inside and even lead to feelings of vertigo. It's not hard to get it 'mostly' level, but that last little bit of precision a level provides is worth every penny you spend on it.
Top RV Level Video
Final Thoughts
RV levels are a basic add-on for your RV that provides a lot of value. They make it a whole lot easier to get your rig into a level position and greatly increase your comfort.
Choosing the best RV level really depends on what type of RV you have, what level of convenience you're looking for, and how comfortable you are working with levels.
So long as you know the answer to those questions it's easy to pick out the best RV level for your needs.