Pulling into a new campsite is one of the most exciting parts of going out in your RV, but it does bring one little headache with it: Leveling your RV. You never know quite what kind of ground conditions you'll have, so it's a good idea to plan ahead and have a comprehensive system in place to get your RV to a comfortable level. That's where leveling blocks and ramps come in. We spent some time checking out some of the best RV leveling blocks out there to help you pick out the one that's right for your style of RVing.
Best RV Leveling Blocks
The best RV leveling blocks change in style, appearance, and material a lot depending on the size of your RV and how you intend to use them. More affordable models will get the job done, but they often lack the customizability and convenience of pricier ones.
Our list includes a range of different RV leveling blocks that run the gamut from basic plastic blocks all the way up to multi-stage systems designed to get that perfect range of leveling heights.
Editors Choice for Best Value RV Leveling Blocks
Camco Heavy Duty Leveling Blocks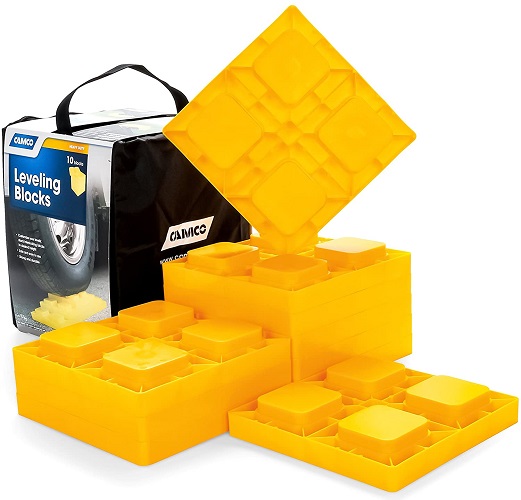 The Camco Heavy Duty Leveling Blocks are versatile and inexpensive leveling blocks available from one of the biggest names in RV accessories. They're made from a bright yellow polymer resin that's been stabilized to resist UV damage.
They come in a pack of ten and use an interlocking design that gives you a lot of flexibility in where and how you level your RV. Each block adds an inch of height when stacked and gives you a good way to staircase your RV up to the right height.
The design of these leveling blocks allows them to nest into one another when not in use. Even better, Camco includes a zippered storage bag to make keeping them neat and tidy much easier.
There are definitely some downsides to this design though. To start with, they work best on asphalt or concrete and are marginal at best on gravel, rock, or dirt. They may still work but the lack of stability can allow them to shift as the weight of your RV is placed on them, causing them to buckle or crack.
So long as you keep their limitations in mind though they're an excellent option for most RV users.
Pros – Things we liked
Inexpensive
Bright yellow polymer resin
Pack of 10
Included storage bag
Cons – Things we didn't like
Not great on unstable surfaces like gravel & sand
Best RV Leveling System
Hopkins Towing Solutions Endurance RV Leveling System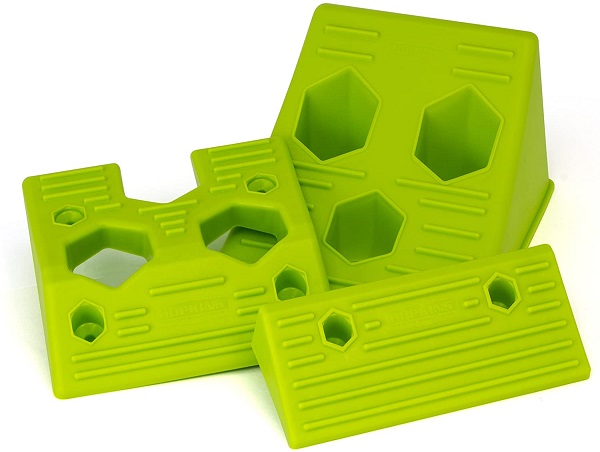 The Hopkins Towing Solutions Endurance RV Leveling System is a unique product that combines the benefits of stackable leveling blocks with a ramp-like design. They aren't actually leveling blocks themselves, rather small high-strength plastic wedges of bright green plastic that work to smooth out wooden boards.
We're honestly surprised no one else has thought of this design before as it has a lot of advantages over traditional systems. Unlike interlocking leveling blocks it gives you a smooth transition and solid chocks under your wheels as you reach the level you need.
It also greatly extends the lifespan of your leveling system as the sturdy wooden boards hold the weight of your RV while the leveling system provides structure and security.
Hopkins has honestly thought of everything with this system as it even includes an underlying non-slip mat that provides added traction when your RV is rising up the ramp.
The Hopkins Towing Solutions Endurance RV Leveling System is one of the best and most long-lasting leveling solutions out there. We highly recommend it.
Best Overall RV Leveling Blocks
Beech Lane Camper Leveler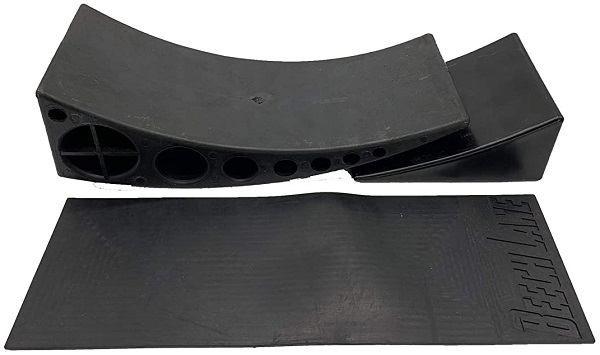 The Beech Lane Camper Leveler is a heavy-duty ramp style leveling system designed for heavyweight RVs. It's made from a high-density nylon polymer that's rated to hold up to 35,000 lbs.
What helps set the system apart from other ramp style leveling blocks is its simplicity. You actually want to roll the ramp portion of the system under your tire a bit as you're installing it. Once you reach just the right height you fit the included chocking block underneath and lock the whole system in place. Instead of leveling blocks that only allow fixed lifts, you can move up to exactly the right height every time.
The kit comes standard with blocks and ramps for two tires plus a rubber grip mat to help keep it in place. It's priced noticeably higher than many similar systems but is much more convenient and customizable.
If you're the kind of RVer who likes to get your RV perfectly leveled no matter what conditions are like or if you drive a heavy-weight Class A motorcoach, the Beech Lane Camper Leveler is an excellent option.
Best RV Leveling Blocks for Versatility
Quality Plastics Utility Block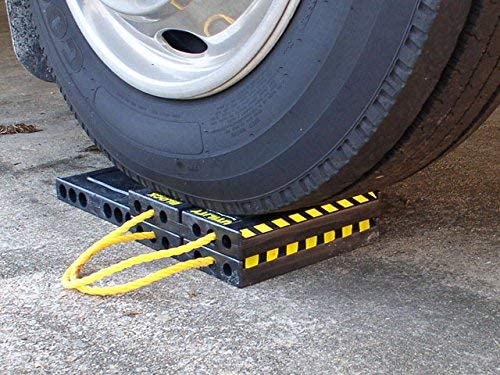 The Quality Plastics Utility Block is a curious product that combines a jack pad and a leveling block in one. They're about 1.5 inches thick and have a low interlocking design that makes it easy to stack them while also providing a secure center point for a jack.
They come in a pack of four and are made from heavy-duty plastic. Their combination design stacks together well for storage and is easy to set up while leveling your RV.
The real question becomes is the added flexibility of a jack pad/leveling block combo worth the premium price? Most RVers either use jacks or leveling blocks. There isn't really much demand for both on the same RV. These blocks definitely work well at either task, but we aren't certain if they've proven their overall usefulness.
If you're concerned about camping locations where you won't be able to use your jacks and would like the flexibility of jack pads that double as leveling blocks the Quality Plastics Utility Block is the way to go.
Best RV Leveler for Premium Budgets
BAL Light Trailer Tire Leveler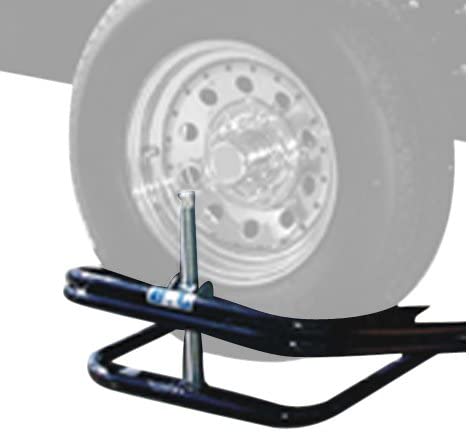 The BAL Light Trailer Tire Leveler is a travel trailer specific product that uses a unique design among leveling systems. Instead of going with blocks, ramps, or pads, it uses a heavy-duty screw system combined with a tire loop.
You drive your trailer into place over the loop then use a wrench to raise up one side or the other until your RV reaches level. It's a great design from the standpoint of leveling flexibility and reach.
We tried it out on a 2,600 lb popup camper and had no problems getting it in place using the included ratchet wrench. It was far easier to set up, reach level, and take apart than other systems we've used before.
So long as you've got a lightweight popup or travel trailer, the BAL Light Trailer Tire Leveler is one of the best ways you can find to get a comfortable level fit.
Best RV Leveler for Storage
Tri-Lynx Lynx Leveler Blocks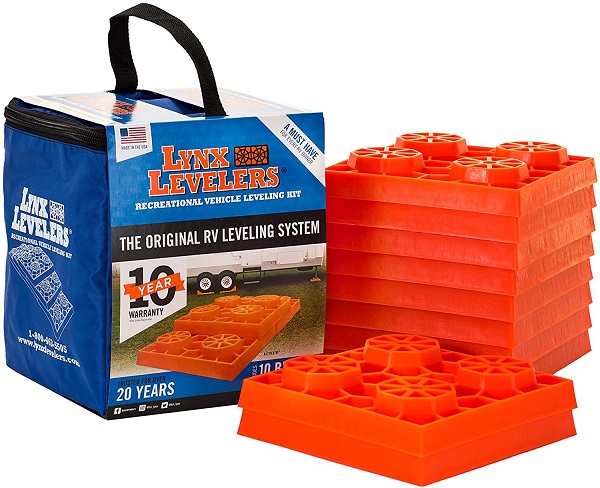 The Tri-Lynx Lynx Leveler Blocks are interlocking style blocks designed for the bulk of RV sizes. They're made from a bright orange polymer that's rated to hold up to 40,000 lbs.
Like other interlocking blocks on our list, the Lynx Leveler Blocks stack up in a pyramid shape to allow you to roll your RV wheels up to the proper height. They come in a stowable zippered bag that makes storage and use extremely convenient.
Tri-Lynx was the original plastic leveling block company. Their bright orange blocks have been synonymous with quality for decades and they're still just as good today as they were when they were first released.
If you're looking for a tried and true design that won't let you down when it counts, you could do a whole lot worse than the Tri-Lynx Lynx Leveling Blocks.
Best RV Leveling Blocks for Ease of Use
Camco Yellow Drive On Tri-Leveler

The Camco Yellow Drive On Tri-Leveler is a ramp style leveling system rated for lightweight RVs. It's made from bright yellow plastic and has a rated weight capacity of 3,500 lbs.
The design of the Tri-Leveler focuses on combining the benefits of true leveling blocks with ramp style levelers. It has three ledges just the right size to hold a lightweight RV tire and provide an effective step up leveling.
The system works, and works well, with our tester finding it easy to line up and even easier to move from one level to the next. The only real complaint we had was that Camco didn't include a chocking block or other security measures to lock the wheel in place on the level.
Call us overcautious, but we always like to make sure there's something stopping the RV from moving in both directions of travel.
If you're looking for the convenience of ramp levelers with the step up leveling action of interlocking blocks, the Camco Yellow Drive On Tri-Leveler is an inexpensive and reliable option for sub 3,500 lb trailers.
Best RV Leveling Blocks for Small Budgets
Camco RV Curved Leveler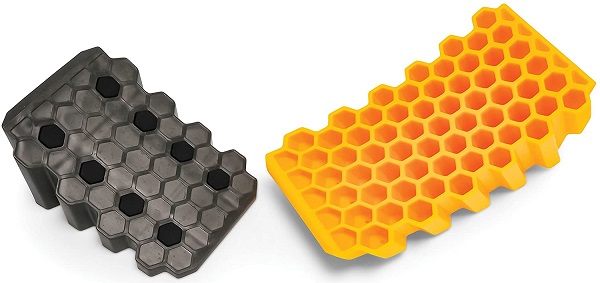 The Camco RV Curved Levelers are as fun to look at as they are easy to use. They look just like a honeycomb out of a beehive at first glance yet provide one of the easiest, most affordable, and most reliable leveling systems out there.
They're made from heavy-duty plastic with a honeycomb design that provides added strength and durability. There are actually two pieces you use on each tire, the bright yellow leveling ramp itself and a black chocking block that slips underneath.
To level your RV you just drive it up onto the ramp portion until you reach the height you need, up to four inches. Once it's in place the chocking block can be knocked securely into place to lock the whole system down.
You end up with a totally customizable level for your RV on a secure mount that prevents it from rolling or swaying. Even better, the Camco RV Curved Leveler is more affordable than many other leveling systems with similar designs.
Best RV Leveling Blocks for Durability
Andersen Hitches RV Leveling Blocks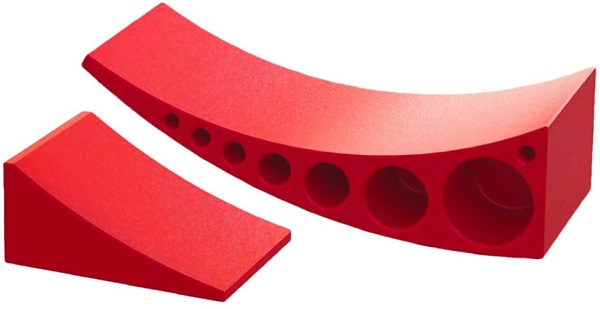 The Andersen Hitches RV Leveling Blocks are heavy-duty leveling blocks designed to be as easy to use as they are effective. They combine a rolling ramp style level with a chocking block to lock your RV's tires into place when the right height is reached.
They're made of bright red plastic and come in a pair of two. They're great for those situations where you need to get a more customized height than a simple inch up at a time system can provide.
Given their curved shape, they fit into one another really well when it's time to pack up and get on the move again. About the only downside we saw to these leveling blocks was their lack of a traction pad. Most other manufacturers of similar products include one as part of the standard option.
Still, though, the Andersen Hitches RV Leveling Blocks are a durable and effective product that gets the job done when it counts.
Compare the Best RV Leveling Blocks
Table Comparing the Top 9 RV Leveling Blocks
Image
Title
Price
Rating
Buy
Camco Heavy Duty Leveling Blocks

$$

Buy on Amazon

| | | | | | | |
| --- | --- | --- | --- | --- | --- | --- |
| Camco Heavy Duty Leveling Blocks | $$ | Includes zippered storage bag | 7.1 lbs | No Prime | 1 x 8.5 x 8.5 inches | Buy on Amazon |

Hopkins Towing Solutions Endurance RV Leveling System

$$

Buy on Amazon

| | | | | | | |
| --- | --- | --- | --- | --- | --- | --- |
| Hopkins Towing Solutions Endurance RV Leveling System | $$ | Non-skid traction mat | 4.24 lbs | Prime | 9.99 x 9.99 x 9.99 inches | Buy on Amazon |

Beech Lane Camper Leveler

$$$

Buy on Amazon

| | | | | | | |
| --- | --- | --- | --- | --- | --- | --- |
| Beech Lane Camper Leveler | $$$ | Comes with a Lifetime warranty | 16.37 lbs | Prime | 15.3 x 12.7 x 5.3 inches | Buy on Amazon |

Quality Plastics Utility Block

$$$

Buy on Amazon

| | | | | | | |
| --- | --- | --- | --- | --- | --- | --- |
| Quality Plastics Utility Block | $$$ | Provides a secure center point for a jack | 14 lbs | No Prime | 10 x 10 x 6 inches | Buy on Amazon |

BAL Light Trailer Tire Leveler

$$$$$

Buy on Amazon

| | | | | | | |
| --- | --- | --- | --- | --- | --- | --- |
| BAL Light Trailer Tire Leveler | $$$$$ | Corrosion-resistant finish | 14 lbs | No Prime | 21 x 19.5 x 4 inches | Buy on Amazon |

Tri-Lynx Lynx Leveler Blocks

$$

Buy on Amazon

| | | | | | | |
| --- | --- | --- | --- | --- | --- | --- |
| Tri-Lynx Lynx Leveler Blocks | $$ | Modular design | 7.231 lbs | Prime | 8.5 x 8.5 x 10.5 inches | Buy on Amazon |

Camco Yellow Drive On Tri-Leveler

$

Buy on Amazon

| | | | | | | |
| --- | --- | --- | --- | --- | --- | --- |
| Camco Yellow Drive On Tri-Leveler | $ | Has a built-in handle | 4.2 lbs | No Prime | 22 x 8 x 5 inches | Buy on Amazon |

Camco RV Curved Leveler

$

Buy on Amazon

| | | | | | | |
| --- | --- | --- | --- | --- | --- | --- |
| Camco RV Curved Leveler | $ | Non-slip rubber grippers on the bottom | 2.8 lbs | Prime | 5.27 x 9.95 x 3.83 inches | Buy on Amazon |

Andersen Hitches RV Leveling Blocks

$$$

Buy on Amazon

| | | | | | | |
| --- | --- | --- | --- | --- | --- | --- |
| Andersen Hitches RV Leveling Blocks | $$$ | Up to 30,000 lbs weight capacity | 12.25 lbs | No Prime | 16.26 x 13.03 x 12.36 inches | Buy on Amazon |
Buyer's Guide to Buying the Best RV Leveling Blocks
Picking out RV leveling blocks requires you to have a bit of vehicle-specific information and make a few preference choices. You need to know the dry weight of your RV and the size of the tires to start with, and you should also consider things like ease of use, durability, amount of adjustability, and, as always, price.
Price
RV leveling blocks are relatively affordable compared to many other RV accessories. On the low end, you can pick up basic leveling blocks for $30 to $40 for a full set, while some models that prioritized convenience and strength can run as much as $100+ per axle.
Just keep in mind that price and quality go hand in hand with basic products like leveling blocks.
Maximum Weight Capacity
By far the most important factor when picking out leveling blocks is weight capacity. You need to verify that the leveling blocks you're looking at will support your RV with a comfortable margin of safety.
Unfortunately, not all manufacturers provide an easy to find weight capacity for their blocks. Use common sense when considering different models and err on the side of caution for heavyweight RVs.
Ease of Use
It may surprise newbies to learn that there are a lot of leveling blocks that are a pain to work with. After all, how difficult is it to stack blocks and drive onto them?
Depending on the manufacturer and leveling pad type you may wind up with models that are a real headache to get into place and break down. Make sure you check out a few videos of various pads in use to find out what type you're most comfortable with.
Material, Construction, and Durability
The vast majority of RV leveling blocks are made from either hard plastic or rubber. Plastic blocks almost all use a ribbed designed to provide extra strength while also reducing the weight. Rubber blocks are usually denser and have a solid design.
Durability wise plastic blocks are usually going to suffer cracks more than rubber ones, but rubber blocks may rip, gouge, or even absorb oil/water/mess if they're not sealed.
Size & Weight
The size and weight of RV leveling pads play a significant role in how well they'll work, how easy they are to use, and how much space they'll take up in storage. Larger RVs are going to require bigger and heavier leveling pads, but in general, the different types of pads are similar in weight and size.
You can go with lighter and smaller pads if space is a priority, but you'll likely have to replace them more often.
Storage
One thing to keep in mind with leveling blocks is how to store them and how much space they'll take up. Plastic leveling blocks, and especially lighter plastic leveling blocks, have an advantage here as they often have a nesting design that allows them to stack easily.
The good news is that the vast majority of leveling blocks are rarely more than an inch thick. Even if you have spares you'll only have a few inches tall stack to find space for.
Types of Blocks
There are three main types of leveling blocks in use with most RVs. These are stackable/interlocking, ramp, and jack pads.
Stackable/Interlocking – The bulk of RV leveling blocks fall into the stacking and/or interlocking category. The most basic of these aren't much different from the small blocks of wood you might see real RV old-timers using to level their rig.
They're generally made of heavy-duty plastic or rubber and can be stacked on top of one another. They're basic, they work, but they're the most difficult to work with and aren't always the most stable on really uneven ground.
The next level up from these are interlocking style leveling blocks. These look a lot like oversized Lego blocks and work in the same manner. They're really easy to use, allow you to raise up your RV a set amount for each added block, and make it really easy to step your RV up to the level you need.
Ramp – The next most common RV leveling blocks are ramp style. These are small rubber or plastic blocks in either a smooth wedge shape or a true sloping ramp.
They're by far the easiest to set up and use, especially if you're camping alone and need to do it all yourself. They're also the most customizable in terms of getting your RV level, as you can stop your RV at any point along the ramp rather than having to move up a full inch.
They do have some downsides. The most obvious is that you're literally parking your RV on a ramp. You've got to double and triple-check the strength and placement of your wheel chocks to make sure it won't move once it's in place.
They also aren't as easy to accurately gauge how much you're raising your RV. You have to move up in small motions then check your RV level until you get it right.
Jack Pads – Jack pads aren't technically leveling blocks, but they come up a lot in the same discussions. They're a necessary accessory for RVs that have leveling/stabilization Jack's built-in.
They do two tasks, keeping your jack from sinking into softer ground and protecting it from harder surfaces like concrete. There's only one product on our list designed to be used as a jack pad, but if you're interested in learning more, check out our full jack pad review here.
Wheel Size
The size of your RV's wheels is another primary consideration when picking out RV leveling blocks. Larger wheels require larger blocks to provide the same level of stability.
Manufacturers will provide a range of sizes their leveling blocks will work with. Double-check to make sure they'll work with your RV wheels.
Non-Slip Coating
You should always, always, always prioritize a non-slip coating on your leveling pad. They're specifically designed to be under your RVs tires, so they need to have a very firm grip on the surface underneath them.
If you only camp in RV parks and other developed campsites you can get away with cheaper options, but on the whole, it's better to have ones with a non-slip coating that will work on a variety of different surfaces well.
Top RV Leveling Blocks Video
FAQ: Best RV Leveling Blocks
As RV enthusiasts, we understand that leveling your RV is a crucial part of ensuring a comfortable and stable camping experience. We know that questions may arise when it comes to selecting and using the best RV leveling blocks for your specific needs. In this section, we have compiled a list of frequently asked questions to provide you with the information you need to make informed decisions and achieve optimal leveling results.
From the importance of leveling blocks to their functionality, selection criteria, and usage considerations, we address the common queries that RV owners often have. Whether you're a seasoned RVer or new to the world of recreational vehicles, this FAQ section aims to provide clarity and guidance on leveling blocks, helping you make the most of your RV adventures.
Read on to find answers to the most frequently asked questions about RV leveling blocks and gain valuable insights to enhance your leveling experience and create a stable and enjoyable camping environment for you and your loved ones.
Why do I need leveling blocks for my RV?
Leveling blocks are essential for RV owners because they help to stabilize and level the vehicle. RVs have different weight distribution, and finding a level surface at campsites can be challenging. Leveling blocks provide a convenient solution to ensure your RV is stable, comfortable, and prevents unnecessary strain on the frame and appliances.
How do leveling blocks work?
Leveling blocks are typically placed under the wheels of your RV to raise or lower them, depending on the terrain. They come in various heights and designs, allowing you to stack them to achieve the desired level. By placing the blocks appropriately, you can level your RV and create a stable foundation, reducing the risk of items shifting or appliances malfunctioning.
What are the benefits of using RV leveling blocks?
Using leveling blocks for your RV offers several benefits, including:
Enhanced stability: Leveling blocks help stabilize your RV, minimizing rocking and swaying, especially on uneven surfaces.
Comfortable living space: A leveled RV ensures a more comfortable living environment, preventing the feeling of being off-balance.
Proper functioning of appliances: Leveling your RV ensures that appliances like refrigerators, stoves, and toilets operate correctly.
Prevents water pooling: Leveling blocks help prevent water from pooling on the roof, which can cause leaks and other issues.
Prevents strain on the RV's frame: An unlevel RV can put stress on the frame, potentially leading to structural damage over time. Leveling blocks distribute the weight more evenly, reducing strain.
How do I choose the right RV leveling blocks?
Consider the following factors when selecting leveling blocks for your RV:
Weight capacity: Ensure the blocks can handle the weight of your RV. Check the manufacturer's specifications to determine the appropriate weight capacity.
Durability: Look for sturdy and durable materials, such as high-density polyethylene or durable plastic, that can withstand the weight and weather conditions.
Adjustable height: Choose leveling blocks that offer adjustable height options, allowing you to customize the level according to your RV's needs.
Easy to use: Opt for blocks that are easy to stack, store, and set up. Look for user-friendly designs that simplify the leveling process.
Non-slip surface: Select blocks with a non-slip surface to prevent wheel slippage and maintain stability.
How many leveling blocks do I need?
The number of leveling blocks you need depends on the size of your RV and the level of unevenness in the campsite. It is advisable to have at least four blocks for each wheel to provide sufficient support and stability. Additionally, having a few extra blocks on hand can be useful in case of emergencies or extreme terrain variations.
Can I use leveling blocks with any type of RV?
Yes, leveling blocks are compatible with various types of RVs, including motorhomes, travel trailers, fifth wheels, and camper vans. However, it's important to choose blocks that can handle the weight of your specific RV model and provide the necessary stability.
Can leveling blocks damage my RV's tires?
When used correctly, leveling blocks should not damage your RV's tires. However, it's essential to exercise caution and ensure that the blocks are placed securely and evenly under the wheels. Avoid overextending the blocks or stacking them too high, as this can put excessive stress on the tires. Regularly inspect your tires for signs of wear or damage and follow the manufacturer's instructions for proper usage.
Are there alternatives to leveling blocks?
While leveling blocks are a popular and effective option, there are alternatives available. Some RVers use wooden planks, Lynx Levelers, or hydraulic leveling systems built into the RV. These alternatives offer different levels of convenience, but leveling blocks remain a versatile and cost-effective choice for most RV owners.
Remember, always consult your RV's user manual and follow the manufacturer's recommendations when using leveling blocks or any leveling system for your specific RV model.
Final Thoughts
With RV leveling blocks vehicle size and weight are key. Some leveling systems just won't work with heavier vehicles, while others are capable of supporting every type and size of RV.
So long as you keep safety considerations in mind it's easy to pick out the best style and type of RV leveling block for your needs.