If coffee is an essential part of your morning routine, you'll want to make sure you pick up one of the best coffee makers for RV for your rig. Whether you enjoy a long leisurely cup to get the day started or a quick shot of espresso after lunch, with our top RV coffee maker picks, you're sure to find your perfect model right here.
Best Coffee Makers for RV
We've reviewed the very best RV coffee makers on the market. Whether you're looking to enjoy a coffee at the campsite or off grid in a national park, here's our selection of the very best of the best.
Best RV Coffee Maker for Small Budgets
BLACK+DECKER Single-Serve Coffee Maker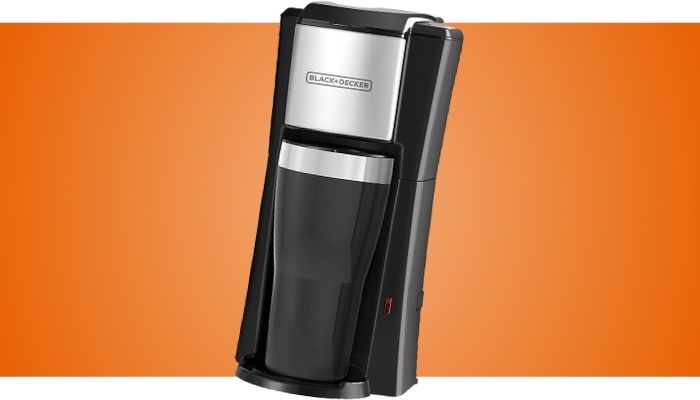 Inexpensive and easy to use, with a good compact size, little wonder the Single-Serve Coffee Maker by Black+Decker is such a popular choice with RVers.
Specifically designed for use in small spaces, it brews directly into mugs up to 16oz and even comes complete with its own seven-inch travel mug, although you can use your own mugs for leisurely mornings at the campsite.
Made from predominantly plastic with stainless steel accents, this RV coffee machine is very easy to clean. The reusable filter and basket detach and can be quickly rinsed out, plus they are also dishwasher safe. The included mug is also made from sturdy, easy-to-clean plastic, so you won't have to worry about it getting chipped on the road in your motorhome.
Measuring just 7.4" x 5.9" x 12.1", it has a compact footprint ideal for small RV kitchens. Thanks to its permanent filter you can use this RV coffee maker with coffee grounds or soft pods – ideal if where you are headed has little in the way of convenience stores. Operation is very simple with just one button and the auto-shutoff helps to save energy.
Bear in mind that some wider mugs are less suitable for use with this unit and you cannot stop the brewing process once it has started. Obviously, a single-serve model is less suitable for groups or if your family needs a good few coffees each to get going in the morning.
All in all, a really handy space saver that is great value for money and a perfect choice for any small RV.
Pros – Things we liked
Small & compact design
Comes with a travel mug
Easy to clean
Can use coffee grounds or pods
Energy-saving auto-shutoff
Cons – Things we didn't like
Larger, wider mugs will not fit
Can't stop brewing once started
Best RV Coffee Maker for Fast Coffee
Hamilton Beach Scoop Single Serve Coffee Maker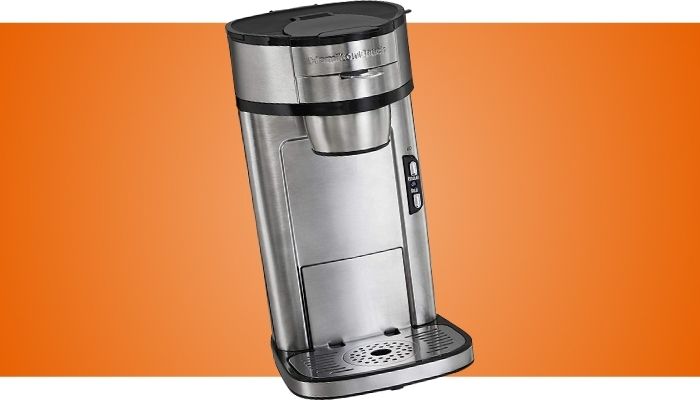 With its sleek stainless steel space-saving design, the Hamilton Beach Scoop Single Serve Coffee Maker is a perfect choice for any modern RV kitchen. Ultra easy to use, this fast-brewing RV coffee maker will get your caffeine fix in record time and can even accommodate various sized mugs.
This model has the advantage of using a steel mesh scoop for filtering fresh grounds, so you won't need to worry about picking up correctly filter papers when you're traveling. Simply scoop, insert, and brew, no need for overpriced pods and you can use it with your own blended coffee. The handy lines on the scoop let you know just how much coffee to add.
Highly durable, thanks to its stainless steel construction, this coffee maker is a good choice for RVs, being able to stand up to life on the road. It measures just 8.35" by 6.7" by 8.67", so it's suitable for even the very smallest of RV countertops. Not only is it easy to clean, it also has an adjustable stand that can be flipped to fill smaller coffee cups without any mess – so your RV will stay cleaner too.
Capable of brewing an 8-ounce mug in under 90 seconds, or a 14-ounce in less than two-and-a-half minutes, this quick and compact RV coffee brewer also brews to your liking thanks to its choice of regular or bold brew settings. It also has an automatic shut-off for peace of mind. Just make sure you clean it thoroughly before using, running through plenty of water as otherwise it can have a plastic taste.
All in all, a very easy to use RV coffee maker that can easily save you money on pods and filters, making it a great all-round buy.
Best Single Serve RV Coffee Maker
Keurig K-Mini Plus Maker Single Serve K-Cup Pod Coffee Brewer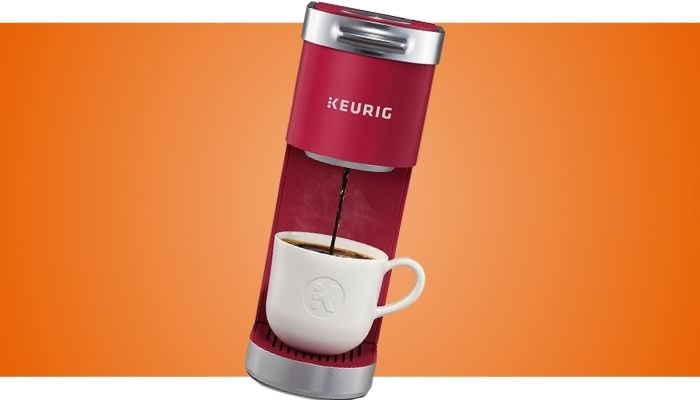 Fast, stylish, and small, the K-Mini Plus by Keurig is an excellent choice if you are looking to use K-Cup pods when you're on the road.
Granted, it's at the higher end of the price scale for a compact single-serve model, but in terms of looks and ease of use, you won't find better. Plus it's available in a wide range of fantastic colors to complement your RV decor.
Measuring less than five inches wide, even pop-up campers can accommodate a K-Mini Plus. When you're on the road, you can even store up to 9 K-Cup pods in the included pod storage unit that fits inside your brewer. For a neat and tidy kitchen, as well as when traveling, this unit also has integrated cord storage.
Despite its tiny size, this RV single-serve coffee maker has plenty of advantages. Firstly, it brews real fast and if you prefer a strong coffee, you can simply press the brew button for a bolder flavor. What's more, you can also choose how long you want your coffee. Fancy a large mug at breakfast and a short coffee after lunch? No problem, simply pour in the amount of water that you require, between 6-12oz.
Easy to use with great functionality, this model also has an auto shut-off 90 seconds after use. Choose your favorite coffee, tea, cocoa, and other K-Cup pod beverages for convenience and great tasting drinks on the road. Unfortunately, it can get a little expensive buying pods and if you're traveling way out of town availability may be limited.
Thankfully, you can also purchase an additional K-Cup reusable filter to brew your own coffee grounds with this RV coffee maker.
Best RV Coffee Maker for 4 Cups
Cuisinart 4-Cup Coffee Maker with Stainless-Steel Carafe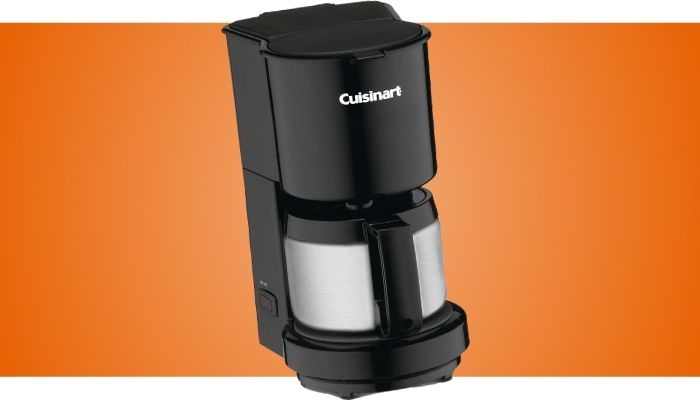 For leisurely breakfasts together, sometimes a single-serve RV coffee maker just won't do. The Cuisinart 4-Cup Coffee Maker is much smaller than your average residential carafe model, making it an excellent choice for your home-away-from-home on wheels.
Measuring just 10" by 8" by 5.25", this compact unit will fit in just about anywhere. As it brews and keeps your carafe hot, you won't have to keep guests waiting around while you fiddle with a single-serve model. It's also a great option for couples who love their coffee and like to have an extra couple to wash down the first.
Made mainly from a lightweight, durable plastic that is easy to clean, this Cuisinart RV coffee maker comes with a stainless steel carafe – ideal for serving outdoors, as it won't break if you accidentally drop it. Thanks to its Brew Pause capacity, you don't have to wait for the whole brewing cycle to finish before pouring yourself a cup. There is also a handy power-on light, plus a 30-minute automatic shut-off.
While this is a good compact RV carafe coffee maker, you should bear in mind that it doesn't come with a reusable filter or much information on what size paper filters you'll need to buy prior to purchase.
Best Large Coffee Maker for RVs
Coleman Camping Coffee Maker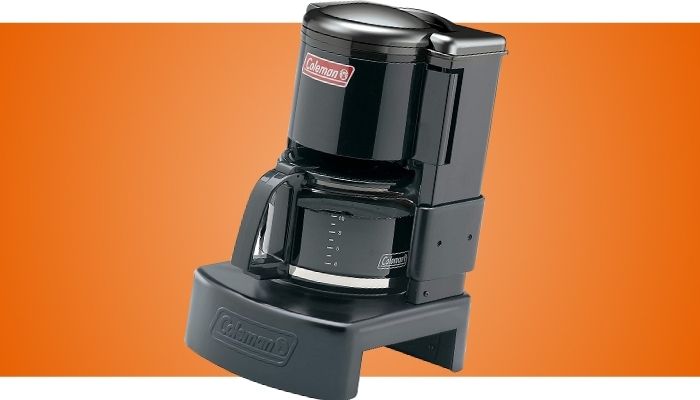 RVing off-grid doesn't have to mean no coffee. One of the easiest ways to brew up enough for the whole family when you're boondocking is to pick up a Coleman Camping Coffee Maker. It fits on most traditional two or three-burner camping stoves, so you can get coffee ready as you cook breakfast.
If you need a caffeine boost while you're serving up, use the Pause 'N' Serve feature to temporarily halt the brewing cycle while you help yourself to the first cup. This camping coffee maker can brew up to 10 cups in the included glass carafe. Its durable steel base goes straight on your stove, so you'll need to be careful to leave it out long enough to cool down before hitting the road.
Use your favorite ground coffee blend, the swing out filter basket takes 8-12 cup filters – either pick up some paper ones, or get yourself a reusable version for ease of use when you're RVing far from civilization. As this coffee brewer makes such a large quantity, it's less suitable for occasional coffee drinkers and RVers camping alone, although you can always make smaller quantities.
For plenty of coffee when you're dry camping, the Coleman Camping Coffee Maker is a must. Just be careful with the glass carafe, stainless steel would have been a better choice and don't forget your filters.
Best RV Coffee Percolator
Farberware Classic Yosemite Stainless Steel Coffee Percolator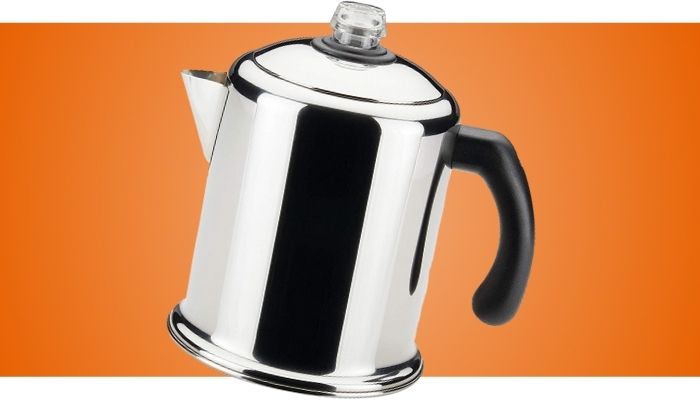 The Classic Yosemite Stainless Steel Coffee Percolator is a traditional way to great tasting coffee using your RV stovetop or camping grill. Provided you keep its plastic handle out of the way and don't use it directly on an open flame, you can even use it with a campfire.
Thanks to its large eight-cup design, you can also use it for heating up water for your wash bucket after you've enjoyed your coffee. Its robust stainless steel construction makes it a great RVing coffee maker. Unfortunately, this stovetop percolator has one main drawback – its fragile glass knob that needs extra careful handling.
Both stylish and convenient, this mirror-finished coffee percolator is fully immersible and dishwasher safe, so it's very easy to clean whether you're out in the backcountry or back home after your trip. Thanks to its tight-fitting lid and permanent filter basket, no filters are required. You can check on how your coffee is doing via the transparent knob, to see when percolating begins and ends.
Despite its fragile glass knob, this unit nonetheless comes with a lifetime warranty. Easy to use and highly practical, this percolator combines good looks with great functionality for great stovetop coffee in your RV.
Best Espresso Coffee Maker for RV
CONQUECO Portable Espresso Maker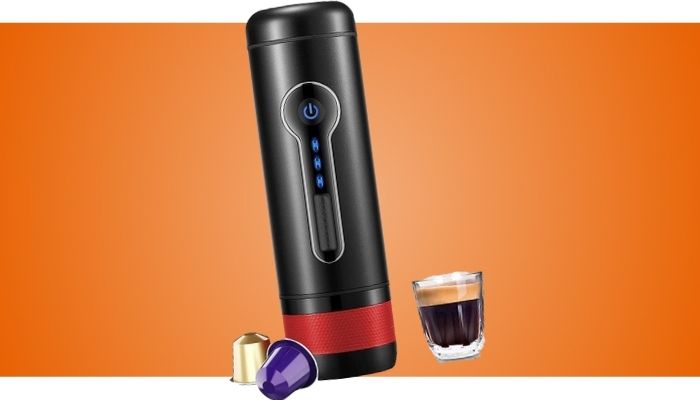 With a little patience, the Conqueco Portable Espresso Maker will provide you with great-tasting espresso when you're off-grid.
You can charge it up before going dry camping or use it and recharge with your RV 12V power supply. Whether you're out hiking for the day, enjoying a picnic lunch, or have parked up your camper in the wilderness, you can still enjoy an espresso.
Easy to use, this unit has a one-button operation. Simply insert your Nespresso capsule, fill with water to a maximum of 50ml, press the button, and wait. If you are using a campfire or stove, you can heat water for your machine to get automatic espresso in just seconds. Otherwise, with cold water, expect to wait around 10 minutes.
You can use this portable espresso maker when plugged into your 12V supply, however, when using the wall charger it cannot be used simultaneously while charging. With cold water, you only get around three to four shots per charge, as understandably the heating element uses a lot of power. It also has a series of lights to let you know how much battery you have remaining.
If you can't get by without your espresso fix when you're camping but love to go off-grid, this portable espresso maker is a good option that you can also use when you're out hiking. Just bear in mind that it can only be used with genuine Nespresso and L'Or capsules or else you'll risk a malfunction.
Editors Choice of Best Portable RV Coffee Maker
AeroPress Go Portable Travel Coffee Press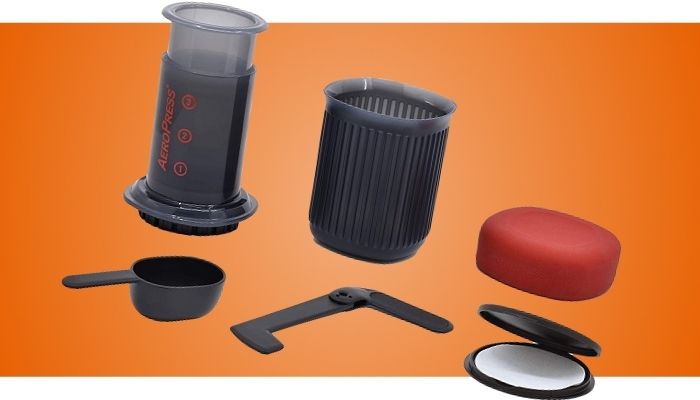 A new version of the popular original AeroPress, the AeroPress Go is a portable coffee press that comes complete with a lidded mug that serves as a carry case when you're on the go. Highly compact and easy to use, the AeroPress Go can make great coffee wherever you decide to park up your RV with no electricity required.
Simply add hot water and the immersion brewing process completes in just one minute for espresso or add extra hot water after brewing for a longer coffee. A scoop is included to measure out your grounds, plus you also get 350 micro-filters to ensure a smooth grit-free cup of coffee. Replacement filters are readily available, or you could also pick up a metal mesh filter. This will prevent the scoop from damaging your filter when they're all stored together.
Highly convenient and very easy to use, the AeroPress Go takes up next to no space – ideal for campers or pop-ups, as well as hiking trips when you're parked up in the wilderness. This coffee maker is also very easy to clean, simply rinse it out and leave it to dry before you pack up and go.
If you want to make a good cup of coffee wherever you park up in your RV and are more into rustic camping than glamping, the AeroPress Go is a great model to go for, although it's best reserved for individuals or couples rather than family use.
Best Cordless RV Coffee Maker
Makita CXTLithium-Ion Cordless Coffee Maker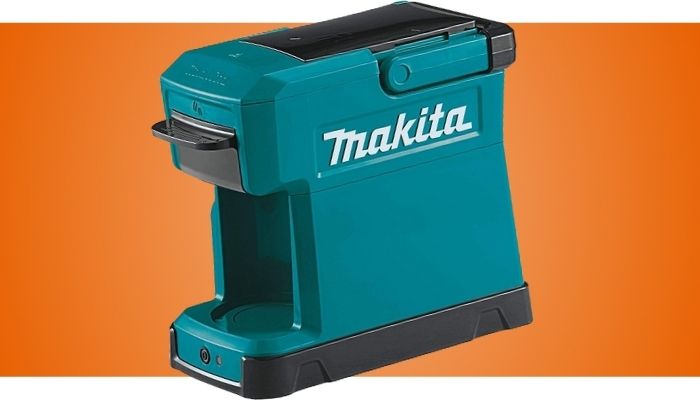 For Makita power tools enthusiasts, the Makita CXTLithium-Ion Cordless Coffee Maker is a handy way to brew the occasional coffee when you're not hooked up to shore power. This coffee maker is aimed at people who already have Makita 18V LXT batteries, as the unit itself does not include a charger or battery.
Attach one of your fully charged 5.0Ah LXT batteries to enjoy up to three five-ounce cups of hot coffee. You can use either single-serve soft pods or ground coffee, thanks to the permanent drip filter no additional filters are required, simply add your coffee and water to brew.
Compact, the Makita Coffee Maker measures just under nine inches tall, with a 3 ½" cup clearance. It comes complete with a Makita branded mug or you can use your own provided they are of a similar height or smaller. For a longer product lifespan and your safety, it has built-in boil dry protection.
Brewing takes around five minutes, which isn't too bad compared to other battery-powered coffee machines for your RV. However, bear in mind that you can only brew one cup at a time with the single-cup reservoir capacity.
All in all, for fans of Makita who already have plenty of batteries spare, this is a good quirky option. However, it's really best just for occasional use as you'll struggle to get more than three cups from one battery.
Compare the Best Coffee Makers for RV's
Table Comparing the Top 9 RV Coffee Makers
Image
Title
Price
Rating
Buy
BLACK+DECKER Single-Serve Coffee Maker

$$

Buy on Amazon

| | | | | | | |
| --- | --- | --- | --- | --- | --- | --- |
| BLACK+DECKER Single-Serve Coffee Maker | $$$ | 16 Oz | 2.24 lbs | No Prime | 6.14 x 5.47 x 9.41 inches | Buy on Amazon |

Hamilton Beach Scoop Single Serve Coffee Maker

$$$

Buy on Amazon

| | | | | | | |
| --- | --- | --- | --- | --- | --- | --- |
| Hamilton Beach Scoop Single Serve Coffee Maker | $$$ | 14 Oz | 5.25 lbs | Prime | 8.35 x 6.7 x 8.67 inches | Buy on Amazon |

Keurig K-Mini Plus Maker Single Serve K-Cup Pod Coffee Brewer

$$$$

Buy on Amazon

| | | | | | | |
| --- | --- | --- | --- | --- | --- | --- |
| Keurig K-Mini Plus Maker Single Serve K-Cup Pod Coffee Brewer | $$$$ | 12 Oz | 6.4 lbs | Prime | 11.3 x 4.5 x 12.1 inches | Buy on Amazon |

Cuisinart 4-Cup Coffee Maker with Stainless-Steel Carafe

$$$

Buy on Amazon

| | | | | | | |
| --- | --- | --- | --- | --- | --- | --- |
| Cuisinart 4-Cup Coffee Maker with Stainless-Steel Carafe | $$$ | 32 Oz | 3.25 lbs | Prime | 10 x 8 x 5.25 inches | Buy on Amazon |

Coleman Camping Coffee Maker

$$$

Buy on Amazon

| | | | | | | |
| --- | --- | --- | --- | --- | --- | --- |
| Coleman Camping Coffee Maker | $$$ | 80 Oz | 6.61 lbs | No Prime | 10.1 x 12.1 x 15.7 inches | Buy on Amazon |

Farberware Classic Yosemite Stainless Steel Coffee Percolator

$$

Buy on Amazon

| | | | | | | |
| --- | --- | --- | --- | --- | --- | --- |
| Farberware Classic Yosemite Stainless Steel Coffee Percolator | $$ | 64 Oz | 2.25 lbs | Prime | 9.2 x 8.7 x 7 inches | Buy on Amazon |

CONQUECO Portable Espresso Maker

$$$$

Buy on Amazon

| | | | | | | |
| --- | --- | --- | --- | --- | --- | --- |
| CONQUECO Portable Espresso Maker | $$$$ | 1.7 Oz | 1.94 lbs | Prime | 12.1 x 6.3 x 4.8 inches | Buy on Amazon |

AeroPress Go Portable Travel Coffee Press

$$

Buy on Amazon

| | | | | | | |
| --- | --- | --- | --- | --- | --- | --- |
| AeroPress Go Portable Travel Coffee Press | $$ | 8 Oz | 11.2 Oz | Prime | 3.7 x 3.7 x 5.3 inches | Buy on Amazon |

Makita CXTLithium-Ion Cordless Coffee Maker

$$$$

Buy on Amazon

| | | | | | | |
| --- | --- | --- | --- | --- | --- | --- |
| Makita CXTLithium-Ion Cordless Coffee Maker | $$$$ | 8 Oz | 3.08 lbs | Prime | 7.8 x 11.18 x 10.32 inches | Buy on Amazon |
Buyer's Guide to Buying the Best RV Coffee Maker
With so many models to choose from, finding the best RV coffee maker can seem like a never-ending search. Here's what you need to look out for to find the most suitable coffee makers for your RV.
Price
While coffee makers for your bricks and mortar home are often really expensive, the good news is RV coffee makers can be bought for under $50, with several great options coming in around $30. In fact, some of the cheapest models in our reviews are also some of the best. With the increase in price, you tend to get better styling and a more durable construction.
First of all, we'd say it's best to consider how often you'll be using your RV coffee maker. Full-timers and frequent RVers who can't get by without a good coffee should look to spend more than anyone who is only going to be using their machine just a couple of weeks per year.
Also, consider your camping style. If you have a large class A or fifth wheel with a fully fitted kitchen, you're going to be more likely better served with a fully automatic coffee maker that complements your decor. Expect to spend around $100 or more depending on the features you need.
If you're more of a camper than a glamper and like to enjoy breakfast coffee around your camping stove while you're cooking up bacon, opt for a more rustic model, such as a traditional percolator or a coffee maker designed for hiking. These can be bought from $30 upwards, depending on the design, capacity, and construction materials.
Size & RV Space
First of all, consider where your coffee maker is going to go inside your RV. Measure the space available, allowing clearance for any vertical openings. You should also check that your RV coffee maker will fit in your available storage space.
For non-electric coffee makers, especially ones you are planning on taking on picnics or hiking, size is also important. Make sure you choose a good compact model that is easily packed or carried.
Capacity – Number of People to Serve
While single-serve coffee makers are great for quickly getting your coffee fix, if there are five or six of you waiting for coffee, you're going to struggle.
Groups, families, and couples who enjoy taking their time with several cups of coffee over breakfast should look for RV coffee makers that drip-brew into a carafe or large French presses and percolators to ensure that everyone can enjoy a coffee at the same time.
Also bear in mind that the exact quantity of a "cup of coffee" can vary considerably from one manufacturer to the next. For example, if you enjoy long cups of coffee, you may only get enough for two large mugs out of a four cup model.
So, double-check the fluid ounces per serving referred to when comparing each coffee maker's capacity.
Power
If you are thinking of purchasing an electric coffee maker for your RV, you'll only mainly want to use it when you're hooked up to shore power. If you are going to be using yours frequently off-grid, consider a small model with a low wattage that won't run down your house batteries too much.
Otherwise, stove-top percolators and French presses make great options. Either use your propane RV stove or camping stove with your percolator or to heat up water for your French press.
Glass or Stainless Steel Carafe
Stainless steel carafes are much more durable and will survive a drop outside. If possible opt for a stainless steel version, although if you end up with a glass carafe, make sure that you pay particular attention when you're handling and cleaning it.
It may be better to serve coffee inside your RV and then take your individual cups outdoors. Also, make sure that your glass carafe is well protected before you set off down any bumpy road.
Stainless steel versions are much more robust and better suited to the great outdoors. Double-walled stainless steel carafes will keep your coffee warmer for longer too. Provided it is genuine stainless steel, your stainless steel carafe can go in your dishwasher for easy, thorough cleaning when your trip is over, just like your other non-coated stainless steel kitchen items.
Coffee Filter: Paper Vs Metal, Cone Vs Basket
In general, it's best to opt for reusable mesh filters rather than paper ones. If your RV coffee maker doesn't come with a reusable filter as standard, you can usually purchase one.
Not only are paper filters less eco-friendly, they are also another item you have to stock up and pay for. When you're out RVing far from civilization, driving back 50 miles to pick up some paper filters is really not going to make your vacation.
Cone-shaped filters are preferable to basket-shaped ones as they provide a more even brew. Thanks to gravity, your water will drip brew more efficiently through all of your ground coffee for a smoother, better flavor.
Brewing Time
Automatic electronic RV coffee makers can brew you a coffee in under a minute. Do check for any warm up time required prior to the dispensing process.
Percolators are best slow brewing, while a French press will depend on how long you take to heat up your water and then how long you want to leave it to brew.
In general, it's reasonable to expect to wait around five minutes maximum for any regular electronic coffee machine to get ready from being switched on to finishing brewing one cup. Other types will usually take between 5-10 minutes, as will large carafes.
Battery-operated RV coffee machines possibly take the longest to brew per cup at around 5-10 minutes plus to heat up the water prior to brewing.
Can the RV Coffee Maker Make Tea Also?
While tea purists are going to disagree here, you can get different types of hot beverage pods to use with some coffee makers, including teas and cocoa-style hot drinks.
Provided your coffee maker can run without a pod or coffee grounds, it will be able to dispense hot water. There is nothing to stop you from using this hot water with tea leaves or a teabag, although water for brewing tea should generally be much hotter than for coffee.
In short, yes, you can make tea with most RV coffee makers. Will your RV coffee maker make good tea? That's for you to decide, however, water boiled on your stovetop is probably a safer bet.
Ease of Use & Cleaning
Most RV coffee machines are designed to be very easy to clean. Electronic RV coffee makers often have built-in self-cleaning programs. Percolators and other models that will be used outdoors should be durable enough to stand up to getting washed in your camping kitchen.
Regardless of how easy your coffee maker is to clean, don't forget to periodically descale your RV coffee maker. This will remove the build-up of any limescale that could clog up your machine and cause it to malfunction.
When putting your RV into storage, consider taking your RV coffee machine home with you for maintenance cleaning and a good descale so it's ready for when you next decide to go exploring.
Types of RV Coffee Makers
Before you rush off to pick your new RV coffee maker, take a couple of minutes to look through the different types of RV coffee makers on the market. You may find that a particular style of coffee maker is better suited to making coffee on your RV trips.
Single-Serve Coffee Machines
Easy to use and easy to clean, single-serve coffee machines take pods or ground coffee. They are ideal for RVs thanks to their small footprint. While you can only brew one cup at a time, they are generally very rapid and more than adequate for couples and small families.
Drip Coffee Makers
Drip coffee makers are a good choice if you need coffee for a crowd or enjoy relaxing with several cups of long coffee. Most units come with a carafe that will keep the rest of your freshly brewed coffee warm.
Choose a slimline drip coffee maker for your RV if you are mostly hooked up to shore power and prefer long mugs of coffee to intense espresso shots.
Pour-Over Coffee Machines
Pour-over coffee machines are just like drip coffee makers, only in this case, you need to take care of heating up the water.
As pour-over coffee makers don't require any electricity, they are a good choice for boondocking, or if you are looking for an easy way to make copious amounts of coffee outdoors.
Easy to use, simply place your ground coffee in the filter and slowly pour over hot water until you have enough coffee in the carafe.
Percolators
Percolators used to be an extremely popular method of brewing coffee, however, nowadays many people find that they result in substandard flavor compared to other methods.
As the water is continually boiled this can result in more bitter extractions. What's more, the grounds can easily become over-extracted as the already brewed coffee passes back over again and again during the brewing process.
That said, old-style percolators are popular with campers and RVers alike. They are highly durable, can be used on your camping stove, and if you're careful with your timing, you can still get a great-tasting cup of coffee.
Percolators can be found in a huge variety of sizes from two cups up to 12 cups.
French Press
Easy to use and inexpensive to purchase, French presses don't require any electricity or paper filters. Simply pour your hot water over your coffee, leave it to brew, then press and enjoy. You'll find both large and small French presses on the market.
Espresso Makers
True espresso makers require very high pressure to give you a strong shot of perfectly brewed coffee. If you are looking to replicate a true espresso in your RV, you can find compact single-serve espresso machines that will fit your small kitchen area.
Espresso machines are more expensive than regular coffee makers, but can also be used to make a variety of coffee based drinks, including lattes, cappuccinos, and macchiatos, just make sure yours comes with a milk frother to heat and aerate your milk if you are not going to solely drink espresso shots.
Top RV Coffee Makers Video
FAQ: Best Coffee Makers for RVs
As coffee enthusiasts embark on their RV adventures, finding the perfect coffee maker that fits the unique needs of life on the road becomes a priority. To address the common queries that arise when selecting the best coffee maker for RVs, we have compiled this list of frequently asked questions. Whether you're a seasoned RVer or new to the world of mobile living, these answers will provide you with valuable insights and help you make an informed decision about the ideal coffee maker for your RV. From power source compatibility to cleaning and maintenance, we've got you covered. Read on to discover the answers to your burning questions about RV coffee makers.
Why do I need a specific coffee maker for my RV? Can't I just use any regular coffee maker?
RV coffee makers are specifically designed to be compact, lightweight, and durable, making them ideal for use in the limited space and on-the-go nature of RV living. Regular coffee makers may be bulky, heavy, and not built to withstand the vibrations and movements of an RV.
What are the key features to look for in an RV coffee maker?
When choosing a coffee maker for your RV, consider features like compact size, lightweight design, durability, power source compatibility (such as 12V DC or propane), brewing capacity, ease of use, and the availability of additional accessories like travel mugs or thermal carafes.
Are there coffee makers specifically designed for boondocking or dry camping?
Yes, there are coffee makers that are designed to operate without a direct power source, making them suitable for boondocking or dry camping situations. Look for coffee makers that are battery-powered, use propane, or can be powered by alternative energy sources like solar panels.
Can I use a coffee maker with a glass carafe in an RV?
It's generally not recommended to use a coffee maker with a glass carafe in an RV due to the risk of breakage during travel. Instead, opt for models with thermal carafes or travel mugs, which are more suitable for RV use as they are more durable and can keep your coffee hot for longer.
How much does an RV coffee maker typically cost?
The price range for RV coffee makers varies depending on the brand, features, and quality. Entry-level models can start around $20, while high-end or multi-functional units can go up to $200 or more. It's important to consider your specific needs and budget when choosing a coffee maker.
Can I use a regular coffee maker with an inverter in my RV?
Yes, if you have an inverter installed in your RV, you can use a regular coffee maker that operates on standard household power (AC). However, keep in mind that using an inverter for high-power appliances like coffee makers may drain your battery faster, so it's advisable to have a power management plan in place.
Are there any coffee makers that can brew both single cups and full pots?
Yes, there are coffee makers available that offer the flexibility to brew both single cups and full pots. Some models have a dual-functionality feature that allows you to adjust the brewing capacity according to your needs.
How do I clean and maintain an RV coffee maker?
Refer to the manufacturer's instructions for specific cleaning and maintenance guidelines. Generally, it's recommended to regularly clean the coffee maker's components, such as the brew basket, carafe, and water reservoir, using mild soap and water. Descaling the machine periodically, using a descaling solution, can also help maintain optimal performance.
Can I use my RV coffee maker in other settings, such as at home or in a hotel room?
Yes, most RV coffee makers can be used in other settings like homes or hotel rooms, as long as they are compatible with the available power source. However, it's always a good idea to check the power requirements and any voltage differences before using the coffee maker outside of the RV.
Final Thoughts
There are plenty of excellent RV coffee makers to choose from. Provided you carefully consider your needs and camping style, you're certain to find the best model for enjoying coffee when you're RVing.
If you're having difficulty deciding and are looking for a single-serve RV coffee machine, we recommend taking another look at the Black+Decker Single Serve Coffee Maker. Lightweight, compact, and very easy to use, it's also unbeatable value for money and can be used with pre-packaged soft pods or ground coffee.
For large groups, the Classic Yosemite by Farberware can be used with your stove-top or camping stove. Made from durable stainless steel with a generous eight-cup capacity, it's a good traditional choice that is also useful for heating up your dishwater.
The Aeropress Go Portable Travel Coffee Press is an excellent choice if you are RVing in a small trailer alone or as a couple. It's also great for hiking thanks to its extra compact size, ideal for a quick coffee when you're off-grid.