You probably already vacuum your RV before and after your trip, but it's really handy to have your very own RV vacuum to hand to tackle spills and dirt before they become trodden in or attract pests.
While you could use an old-fashioned broom, the truth is you'll only be recirculating dirt, allergens, and particles around your RV interior. Get yourself the best RV vacuum and keep your interior in great condition for a more enjoyable, comfortable, and hassle-free vacation.
Best RV Vacuum
Here is our top selection of the very best RV vacuums on the market. Read on and find the best model for keeping your motorhome spotlessly clean.
Best Handheld RV Vacuum
Shark Handheld Vacuum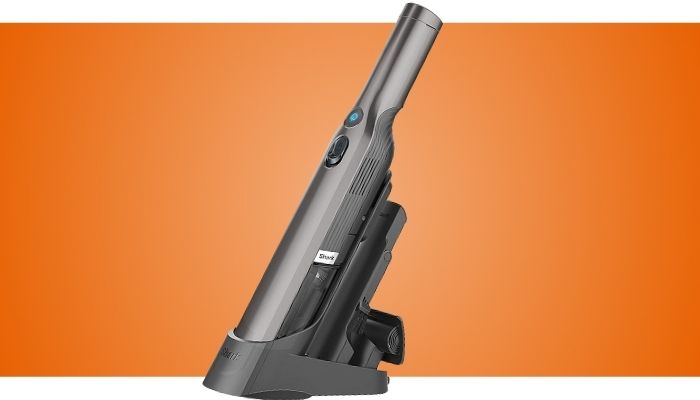 The Shark Handheld Vacuum is an excellent choice for any small RV. Compact, lightweight, and cordless it has a fast 2.5 hour charge time which gives you around nine minutes vacuuming. Provided you keep it on its base and use it regularly for quick clean-ups, it's more than enough for your average trailer.
Thanks to its high-speed brushless motor, the Shark WandVac has great suction power, ideal for removing walked-in dirt and gravel, as well as pet fur. Weighing just 1.4lbs, it is very easy to lift and clean wherever you need to. For your upholstery and carpets, use the Multi-Surface Pet Tool to tackle ground-in dirt and fur, then switch to the Duster Crevice Tool to get into tight spaces.
While it doesn't have a very long runtime, the WandVac lets you know exactly how much charge you have remaining via its LED control panel that also lets you know that it's correctly charging when returned to its base. When you're done cleaning, the detachable dust cup is very easy to empty without getting your hand dirty. At 0.08qts it's pretty small, but works well with the battery life and helps to keep the whole unit easily maneuverable.
Overall, this is a really handy RV vacuum for quick cleaning on a regular basis. The only real drawback is that the filter can be difficult to access and requires very regular cleaning. Aside from this, the WandVac by Shark makes a great RV vacuum that is very easy to maneuver with excellent suction.
Pros – Things we liked
Compact, lightweight & cordless
Fast charging time
Great suction power
LED control panel
Dust cap is easy to empty
Cons – Things we didn't like
Filter needs regular cleaning
Best RV Vacuum for Premium Budgets
Dyson V11 Outsize Cordless Vacuum Cleaner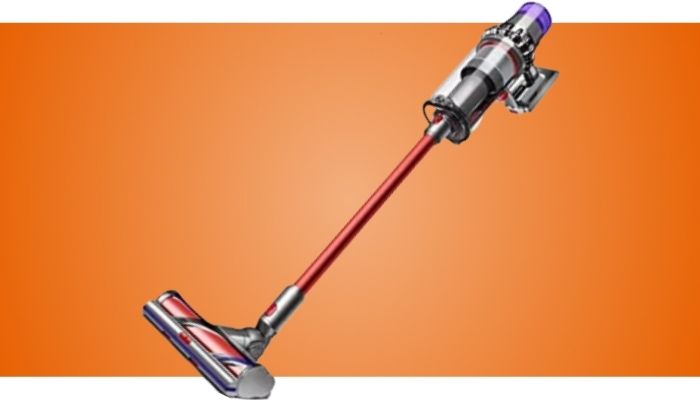 If you're a full-timer with a large class A or fifth wheel, the Dyson V11 Outsize Cordless Vacuum Cleaner makes an excellent albeit expensive choice. Complete with a full-sized 0.5-gallon bin and up to 120 minutes runtime, the V11 Outsize gives you all the cleaning power you need.
Ideal for larger trailers and motorhomes, this model has a full-sized cleaner head for fewer passes and faster cleaning. Suction is automatically adapted to deep clean whatever surface you're vacuuming without having to stop and change heads. Thanks to the advanced whole machine filtration system, 99.99% of particles as small as 0.3 microns are trapped, including allergens and bacteria.
Aside from its exceptional intelligent cleaning, this model's LCD screen also gives you a runtime countdown and displays maintenance alerts. Thanks to the two included batteries that can be charged both on and off the machine, you'll never be short of battery power even when using power-hungry attachments.
This powerful, intelligent cordless vacuum has three easily selectable cleaning modes so you can get all of your RV spotlessly clean. Its five included attachment tools ensure you have everything you need to get all areas cleaned thoroughly, while the improved dustbin benefits from a hygienic "point and shoot" mechanism, wiping down the inner silicone collar and driving out dust, for effortless emptying.
Last but not least, the V11 Outsize is also acoustically engineered to absorb vibrations and to keep sound levels at a minimum. In short, while it would be overkill for a tiny camper, if you are full-timing in a large RV, it's well worth paying out the extra for.
Editors Choice for Best Value Vacuum
Shark Rocket Ultra-Light Corded Bagless Vacuum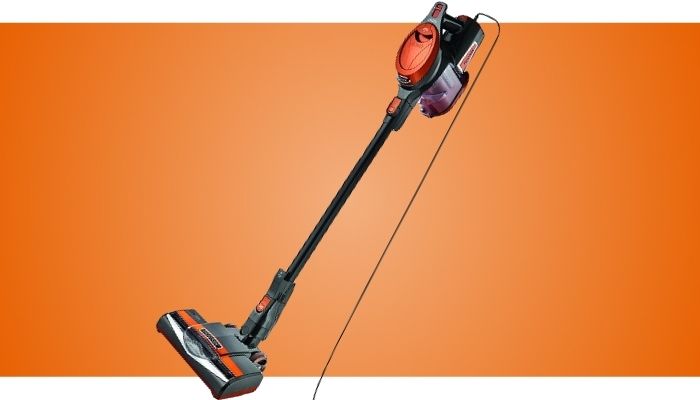 The Shark Rocket is a lightweight corded stick vacuum with a slimline design making it an excellent choice for getting around your RV with ease. Recommended in particular for hard floors, it also works well on carpets and has a decent 0.42-quart dustbin capacity.
Use it as a handheld to get into tight spots and for upholstery cleaning, or attach the included wand for floor or overhead cleaning. Thanks to its slim, portable design, and swivel steering capabilities, this vacuum easily cleans under furniture. Compared to traditional upright models, it is much easier to store inside an RV and you won't ever have to worry about running out of power, leaving you free to clean your entire trailer whenever you want to.
This model has a HEPA filter to ensure that all dust and allergens are removed from your RV making it a good choice for anyone with allergies or asthma. In addition to its main roller brush cleaning head, you also get a pet hair tool, dusting brush, crevice tool and a dusting attachment with a microfiber pad, so you've got plenty of accessories for a deep-down clean.
On the downside, like all stick cleaners, bear in mind that this vacuum cleaner is top-heavy and can't stand up alone. While it's only seven pounds, it can become a little heavy on the wrist after long periods of use.
However, given its reasonable price and excellent performance, it's a good choice for anyone with a large RV looking for a corded vacuum cleaner.
Best RV Handheld Vacuum for Suction Power
BLACK+DECKER 20V MAX Handheld Vacuum for Pets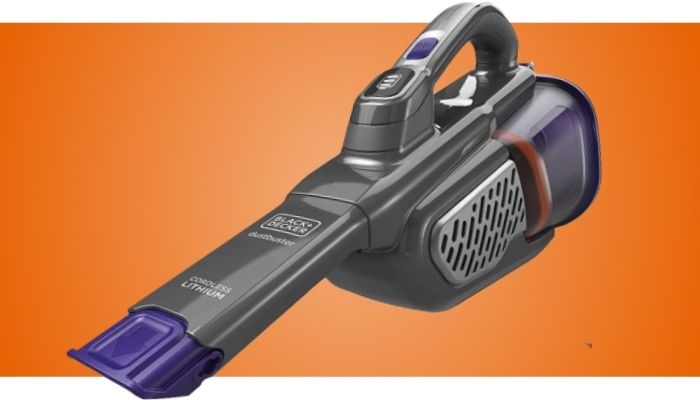 Looking for a heavy-duty handheld RV vacuum to keep your motorhome dirt and pet fur-free? The 20V Max Handheld Vacuum for Pets from Black+Decker combines powerful suction with great battery life to ensure that your RV stays clean. With four times more suction than previous models in the range, this lightweight, dual-speed cordless model is easy to use and maneuver.
Thanks to its anti-tangle, motorized rubber bristles, cat or dog hair is lifted and removed with ease even on upholstery or carpeted areas. The pre-filter and removable washable filter ensure that dander and dust are removed from your motorhome for a healthier, cleaner environment, while the one-touch 23.7oz dust bin is easy to empty.
Switch to the extra-long crevice tool to get into hard-to-reach spaces, whether you're in power boost or normal mode, the battery indicator lets you know how much power you have remaining to complete your RV cleaning. On the downside it is fairly noisy, although used in short bursts, it shouldn't be too much of a problem.
Note that if you or your pet have long hair, you may have to cut it off the motorized pet head when you're done to avoid it tangling further. On the whole, this is a great heavy-duty model that would work well for anyone RVing for short periods with their pets.
Best Smart RV Vacuum
Tineco Pure ONE S12 Smart Cordless Stick Vacuum Cleaner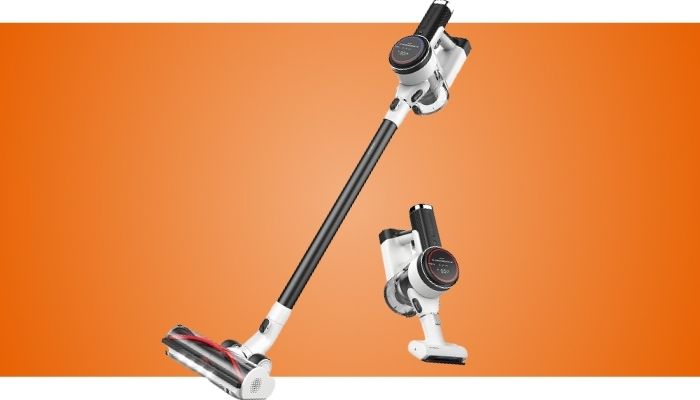 The Tineco Pure One S12 is a popular alternative to the Dyson V11. While it has a smaller dustbin and a slightly shorter runtime, it comes with plenty of attachments and a sought-after locking mechanism, allowing you to vacuum your RV without having to keep the power trigger permanently depressed.
This smart cordless vacuum has a larger display panel with a battery percentage meter and various alerts. You can also download and connect to the Tineco app for built-in app integration, complete with real-time performance monitoring, maintenance reminders, and technical troubleshooting.
Like the Dyson, this cordless vacuum also comes with two batteries for a total of up to 100 minutes runtime. Thanks to its iLoop Smart Sensor Technology, if it detects hidden dirt the suction power is automatically increased for a more effective clean. Lightweight, despite its powerful 500W motor, this vacuum is very easy to maneuver making it a good choice for getting around into every corner of your RV and tow vehicle.
Complete with numerous accessories, including an LED multi-tasker power brush, dusting brushes, two crevice tools, a charging dock, and two pre-filters, whatever you need to clean in your RV, this model will have a suitable attachment.
While the dustbin emptying could be improved slightly, if you are looking for an RV vacuum with a comparable performance to the Dyson V11, the Tineco could save you a few hundred dollars.
Best RV Vacuum for Small Budgets
VonHaus 2 in 1 Stick & Handheld Vacuum Cleaner
Looking for a budget-price vacuum for your RV? The VonHaus 2-in-1 Stick and Handheld Cleaner provides exceptional value for money. Its six-meter power cord is plenty long enough for RV use, plus you can use it in upright mode to get your floor clean then switch to handheld mode for your upholstery and overhead dusting.
The included easy glide floor brush is smooth to push along, even on carpeted areas, thanks to its integrated wheels. Switch over to handheld mode and use the crevice tool to easily vacuum up dirt and pet fur from tight spaces and gaps between furniture. With its large, easy-to-remove 1.3L dust tank, you won't have to stop to empty until you're done cleaning.
Despite its very low price, this versatile vacuum comes complete with a washable HEPA filter to remove dust, fine particles, and allergens from your RV, rather than simply recirculating them into the air. Suctionwise, this vacuum is very strong, although if you don't regularly clean out the filter you will notice a significant drop in power.
Given its ease of use and the fact that it can be used both as an upright and in handheld mode, this inexpensive corded vacuum makes a good budget choice for occasional RVers looking to keep their trailer nice and clean while they're away exploring.
Best RV Vacuum for Pet Lovers
BISSELL Crosswave Pet Pro All in One Wet Dry Vacuum Cleaner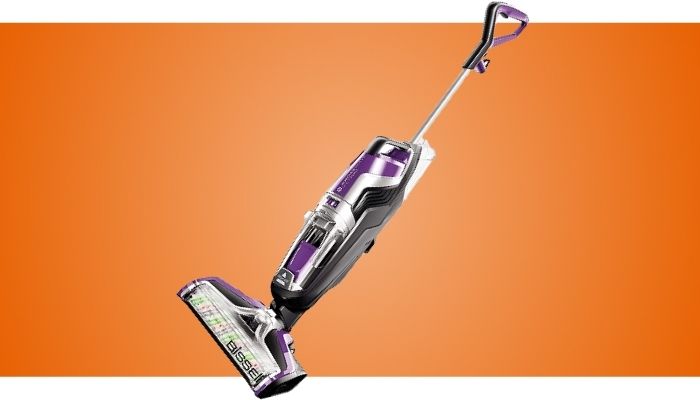 The Bissell Crosswave Pet Pro vacuums and washes your floors at the same time, saving your time on getting your RV spotlessly clean. While this could be an excellent choice for certain RVers with pets, it's not necessarily the best choice all round.
Firstly, the Crosswave Pet Pro is mainly designed for use with hard floors, plus the occasional rug, so if your RV isn't carpeted, it could work well. It has a twelve-inch cleaning path and its special multi-surface pet brush roll utilizes a combination of microfiber and nylon brushes to remove fur and mop clean simultaneously. Thanks to its two-tank technology dirty and clean water are kept separate.
While this vacuum makes a good choice for rapidly cleaning up after your pet, it is less suitable for general cleaning as you don't get a wand or handheld part to clean your furniture or anywhere above floor level. Also, it is almost impossible to get all of the pet fur out of this vacuum, so it requires extensive cleaning itself after use, or else it starts to smell.
For your average-sized RV, you would probably be better off with a smaller vacuum that's easier to store for better all-round cleaning, plus a small handheld steam mop for any pet accidents on your hard floor. If you do have a very large motorhome and your pets shed a lot and make a lot of mess, this model could work for you although you would want to also invest in a regular vacuum.
Best Canister RV Vacuum
Oreck Commercial XL Pro 5 Super Compact Canister Vacuum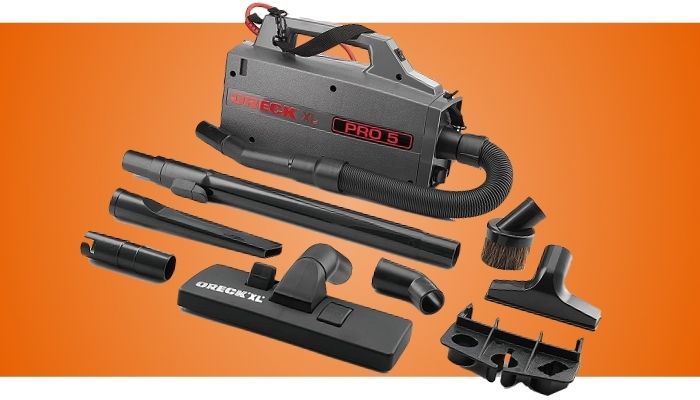 Thanks to its powerful high vortex motor, the XL Pro 5 by Oreck Commercial is a highly effective and efficient vacuum, ideal for cleaning your RV interior from top to bottom. Made in the USA from high quality components, this compact canister vacuum has been manufactured for the commercial cleaning market.
Lightweight with a one-quart capacity, this versatile vacuum can clean just about anywhere thanks to its long 30-foot power cord and four-foot hose. It comes complete with a large set of detailing tools consisting of 11 accessories, including a telescoping extension wand and a handy shoulder carry strap.
Quick and very easy to use, the main downside with this canister vacuum is that it will need replacement bags and filters, although the purchase price itself is fairly low. It has a manual cord wrap to keep it neatly stored, while its compact rectangular body makes it easy to store in your RV basement or in a cupboard.
Ideal for cleaning your entire RV interior, if you are willing to purchase a bagged vacuum, this commercial model makes a good lightweight choice that has all the accessories you'll need to get your motorhome spotless as well as pet-hair free.
Compare the Best RV Vacuum Cleaners
Table Comparing the Top 5 RV Vacuum Cleaners
Image
Title
Price
Rating
Buy
Shark Lightweight Handheld Vacuum

$$$

Buy on Amazon

| | | | | | | |
| --- | --- | --- | --- | --- | --- | --- |
| Shark Lightweight Handheld Vacuum | $$$ | 2.56 Oz | 1.4 lbs | Prime | 16.5 x 2.5 x 2.4 inches | Buy on Amazon |

Dyson V11 Outsize Cordless Vacuum Cleaner

$$$$$

Buy on Amazon

| | | | | | | |
| --- | --- | --- | --- | --- | --- | --- |
| Dyson V11 Outsize Cordless Vacuum Cleaner | $$$$$ | 64 Oz | 4.4 lbs | No Prime | 15 x 10 x 10 inches | Buy on Amazon |

Shark Rocket Ultra Light Bagless Vacuum

$$$

Buy on Amazon

| | | | | | | |
| --- | --- | --- | --- | --- | --- | --- |
| Shark Rocket Ultra Light Bagless Vacuum | $$$ | 66 Oz | 7.6 lbs | No Prime | 10.5 x 9.8 x 46 inches | Buy on Amazon |

Black and Decker Handheld Vacuum

$$

Buy on Amazon

| | | | | | | |
| --- | --- | --- | --- | --- | --- | --- |
| Black and Decker Handheld Vacuum | $$ | 25 Oz | 4.24 lbs | Prime | 15.7 x 8 x 6.5 inches | Buy on Amazon |

Tineco Pure Smart Cordless Stick Vacuum

$$$$

Buy on Amazon

| | | | | | | |
| --- | --- | --- | --- | --- | --- | --- |
| Tineco Pure Smart Cordless Stick Vacuum | $$$$ | 20 Oz | 6.6 lbs | Prime | 10.3 x 8.8 x 44 inches | Buy on Amazon |

Vonhaus Stick and Handheld Vacuum Cleaner

$

Buy on Amazon

| | | | | | | |
| --- | --- | --- | --- | --- | --- | --- |
| Vonhaus Stick and Handheld Vacuum Cleaner | $ | 44 Oz | 5.6 lbs | Prime | 12 x 6 x 6 inches | Buy on Amazon |

Bissell Crosswave Pet Pro Vacuum

$$$

Buy on Amazon

| | | | | | | |
| --- | --- | --- | --- | --- | --- | --- |
| Bissell Crosswave Pet Pro Vacuum | $$$ | 33 Oz | 11 lbs | Prime | 10.5 x 12 x 46 inches | Buy on Amazon |

Oreck Commercial Canister Bagged Vacuum

$$

Buy on Amazon

| | | | | | | |
| --- | --- | --- | --- | --- | --- | --- |
| Oreck Commercial Canister Bagged Vacuum | $$ | 40 Oz | 5 lbs | Prime | 13.5 x 5.25 x 8 inches | Buy on Amazon |
Buyer's Guide to Buying the Best RV Vacuum
With so many vacuums to choose from, finding the best model for your RV can be a lot of hard work. Don't leave it down to trial and error, check out our RV vacuum buyer's guide and find out which essential features you need to focus on when buying your new RV vacuum.
Price
There is an RV vacuum for every budget with a huge range of prices from under $50 to over $700.
At the lower end of the price range, you tend to get great suction corded models with fewer features and lower durability. At the higher end, you get cordless vacuums with long runtimes and plenty of smart or connected features.
If you're wondering how much you should spend on an RV vacuum, it really all comes down to how often you use your RV, how dirty it tends to get, as well as your budget and if you have any kids or pets.
If you only use your RV a handful of times per year, get yourself a cheap handheld vacuum for when you're away and give your trailer a good clean before setting off and once you get back.
Alternatively, if you are living in your RV full-time, we recommend spending upwards of $200 to get yourself a good compact model that will last. While you don't have to spend huge amounts to get a decent vacuum for your RV, if it is going to be frequently used up and down the country, you'll want to invest in a reliable model from a well-known brand that you can count on.
Size, Weight, and Storability
Ideally, you should be on the lookout for a lightweight RV vacuum that will be easy to handle.
As RVs don't have a lot of floor space, you're more likely to invest in a stick or other handheld vacuum meaning you'll be supporting the entire vacuum's weight as you clean. Look out for models weighing between 4-6 pounds to ensure that you don't have an aching wrist before you're done vacuuming.
Obviously, the more compact your vacuum is, the easier it will be to store inside your RV. Once again, stick vacuums with all of their accessories removed make for easy storage. So much so, you can even fit some handheld models in small cabinets and store your vacuum wand elsewhere.
As storability is key to any item purchased for your RV, consider your storage options first then look out for compatible vacuum cleaners
Cord or Cordless
While corded vacuum cleaners traditionally provide more suction power, cordless models are much easier to use. Cordless vacuum cleaners are ideal for use in RVs where their limited runtime is normally more than sufficient, especially when compared to a bricks-and-mortar home.
With a cordless vacuum for your RV, you won't have to worry about plugging in your vacuum and managing to reach from one end to the other or even getting your tow vehicle interior clean. Vacuuming without a cord is much easier and you don't have the trip hazard that a power cord son becomes when you're very short on space.
That said, if you prefer a corded vacuum cleaner for your RV, you can vacuum whenever you like for as long as you like provided you're hooked up to shore power.
Attachments
Attachments can help make cleaning your RV much easier. Here are some of the most popular RV vacuum attachments that you're going to want to see included with your purchase.
Some manufacturers also have additional or replacement attachments available at an extra cost – we recommend checking out what's on offer.
Crevice tools – long and thin, crevice tool attachments are an invaluable aid to cleaning tight spaces making them a must for your RV vacuum.
Dusting brush – sometimes a separate attachment, other times a two-in-one with the crevice tool, dusting attachments feature long soft bristles that are great for removing cobwebs and light dirt from delicate items and paintwork. You can also use them on your keyboard, around picture frames, anywhere in your RV that dust is likely to gather, saving you from getting dust everywhere with a duster.
Motorized roller head – ideal for getting deep-down dirt and pet fur off upholstery and carpets, motorized roller heads are also a great choice for quickly going round your RV entry where you're likely to have considerably more trodden-in dirt.
Wands – extend the reach of any of your attachments with a wand, ideal for cleaning high up or low down under furniture.
Stretch hoses – a good option for cleaning around furniture, in between upholstered seat cushions, and inside tight crevices. Stretch hoses give you much more flex than rigid wands, making them a good choice for tight spaces. They're also really handy for cleaning your tow vehicle if you have a trailer.
Dust Canister Capacity
Just like back at home, a larger dust canister means you can go longer between emptying. However, if you've chosen a good cordless vacuum cleaner chances are your dustbin capacity will be well matched to your battery runtime power.
It is important to frequently empty your dustbin to keep your vacuum cleaner in good working order and free from bacteria. In this respect, smaller dustbins can actually be better, as you are forced to empty them with every use.
For small RVs and full-timers without pets or children, you're unlikely to need a large capacity dustbin. On the other hand, if you are often out hiking, have pets or kids, and traipse a lot of dirt throughout your RV day in day out, you may prefer a model with a larger dustbin.
Just be aware that without extra battery power, larger models may ever actually get full before they need charging.
HEPA filters
Vacuuming your RV with a vacuum that has a HEPA filter ensures that microscopic particles including dust, bacteria, and allergens are removed from your motorhome.
If your vacuum doesn't have a HEPA filter, you risk simply recirculating these particles into the air inside rather than actually trapping them. While HEPA filters are recommended for asthma and allergy sufferers in particular, they make a better choice for everyone, giving you a cleaner, more hygienic RV without putting in any extra effort.
Suction Power
Corded models tend to have higher levels of suction power than cordless vacuums.
While you may actually get very high suction power from even low priced corded versions, bear in mind that suction can be rapidly affected by dirty or blocked filters. High suction power will remove more dirt in one pass-over with less effort. If there are no suction ratings given, you can look out for airflow ratings measured in CFM.
Some models have a boost or max mode that gives you extra suction power for cleaning very dirty areas. Remember that if you switch your cordless vacuum to maximum power, it will go through battery power much more quickly, so it's best reserved for only when you really need a boost.
Maneuverability
In small spaces like inside an RV, good maneuverability is extremely important. Compact, handheld models are much easier to move around. Attachments such as telescoping extensions and wands can also make it much easier to get your entire RV interior properly cleaned.
Noise Level
For occasional usage, noise levels are not that important, provided you are flexible as to when you vacuum. After all, anyone parked up nearby will likely be familiar with how a generator sounds, so they shouldn't complain too much about the noise from a ten-minute vacuuming session.
Quieter vacuums are preferable, however, a noisy yet powerful model isn't going to be a deal-breaker.
Warranty
All good vacuum cleaners should have at least a one-year warranty. If you are spending several hundred dollars on your RV vacuum, you'll want to look out for one from a well-known brand with several years warranty and easily available replacement parts.
Types of Vacuum
Ready to choose your new RV vacuum? Before you go ahead, check out the different types of vacuum cleaner that are available for RV use. You may find a better style for your needs.
Handheld Vacuum
Handheld vacuums are compact and very easy to store. They make a great option for cleaning up small localized patches of dirt such as spills or around your door.
If you thoroughly clean your RV at home before and after your trip, a handheld vacuum should be fine for keeping it clean for several days. If you use your RV extensively or are full-timers, a handheld vacuum isn't going to be enough as they are not suitable for full floor cleaning.
Stick Vacuum
Often similar in size to a handheld vacuum, stick vacuums can be used to clean your entire RV interior from top to bottom. Use it as a handheld for spills and dirty patches, or attach the stick and floor head and use it to clean your entire trailer floor.
Stick vacuums are also lightweight and very easy to store, being extremely compact once you've removed the wand. Generally, stick vacuums make the best overall choice for vacuuming your RV interior, although some RVers with hand or arm mobility issues may prefer to use a canister vacuum.
Canister Vacuum
Easy to maneuver without having to carry the entire weight of your vacuum, wheeled canister vacuums are generally inexpensive and come with telescopic wand and stretch hoses that are really useful for getting into small spaces.
If you have difficulty cleaning with a handheld vacuum and holding the trigger down for long periods, a canister vacuum makes a great alternative. While they are bulkier than a stick or handheld model, they can be still stored fairly easily in most RVs.
Upright Vacuum
The traditional upright vacuum can be easier for RVers who have hand or strength problems that can make holding up a handheld model more tricky. Unfortunately, uprights are not very maneuverable and are better suited to large residential properties with plenty of floor space. They are also bulkier than other types, making them hard to store out of the way in an RV.
Robotic Vacuum
Compact and self-operating, there's a lot to like about robotic vacuums. The technology behind them has come on massively in recent years, making them now a viable option for maintenance hard floor cleaning. That said, you're still, unfortunately, going to have to vacuum any rugs, carpets, and your furniture, plus above floor areas in person.
Top RV Vacuum Cleaners Video
Frequently Asked Questions (FAQ) – Best RV Vacuum
In this section, we have compiled a list of frequently asked questions (FAQ) to help you navigate the world of RV vacuums. We understand that choosing the right vacuum for your RV can be a daunting task, considering the unique challenges and requirements of RV living. Whether you're a seasoned RVer or new to the lifestyle, these commonly asked questions aim to provide you with valuable insights and guidance in your quest for the best RV vacuum.
From understanding why a specific RV vacuum is necessary to exploring the key features to consider, we'll address your concerns and shed light on the factors that make an RV vacuum stand out. Additionally, we'll touch on important considerations such as portability, cordless vs. corded options, filter maintenance, and storage limitations.
We hope that this FAQ section will serve as a helpful resource, enabling you to make an informed decision and find the ideal RV vacuum that suits your needs. Let's dive into the questions that many RV enthusiasts like yourself have asked when searching for the best RV vacuum.
Why do I need a specific vacuum for my RV? Can't I use a regular household vacuum?
RVs come with unique challenges such as limited storage space, different types of surfaces, and the need for compact and lightweight equipment. RV vacuums are specifically designed to address these challenges, offering features like compact size, powerful suction, specialized attachments, and often cordless operation. Regular household vacuums may not be as portable or suitable for the specific needs of an RV.
What features should I consider when choosing an RV vacuum?
When selecting the best RV vacuum, consider factors such as size and weight for easy storage, portability, power source (corded or cordless), battery life (if cordless), suction power, versatility, and the ability to handle different surfaces (carpets, hardwood floors, upholstery). Additionally, look for RV-specific features like specialized attachments for reaching tight spaces, pet hair removal capabilities, and efficient dust filtration systems.
Are cordless vacuums better for RVs?
Cordless vacuums offer greater mobility and convenience as they don't require an electrical outlet or dealing with cords. They are especially useful when you're on the go or when your RV doesn't have easy access to electricity. However, cordless vacuums may have shorter battery life compared to corded ones and might require recharging. Choose a vacuum based on your specific needs and preferences.
Can I use my RV vacuum to clean wet spills?
Not all RV vacuums are designed for wet cleaning. Most RV vacuums are intended for dry cleaning only, focusing on dust, dirt, and debris. If you anticipate the need for cleaning wet spills or liquids, look for a vacuum explicitly designed for both wet and dry cleaning, or consider carrying a separate handheld wet vacuum for such situations.
How often should I clean or replace the filters in my RV vacuum?
The frequency of cleaning or replacing filters depends on the manufacturer's recommendations and the usage of your RV vacuum. Some vacuums have washable filters that need to be cleaned regularly, while others may require replacement. It's important to follow the manufacturer's instructions to maintain optimal performance and extend the life of your vacuum.
Are there any special considerations for RV vacuums regarding storage and space limitations?
Yes, storage space is a critical factor when choosing an RV vacuum. Look for compact models that can be easily stored in your RV's limited storage compartments or closets. Some vacuums come with wall-mounting options to save even more space. Additionally, consider lightweight models that are easier to maneuver and carry around in a small living space like an RV.
Can I use my RV vacuum to clean the exterior of my RV?
Most RV vacuums are not designed for cleaning the exterior of your RV. They are primarily intended for indoor use and are not equipped to handle outdoor surfaces, such as the exterior of an RV. It's best to use dedicated RV cleaning tools and products for maintaining the cleanliness of your RV's exterior.
How do I maintain my RV vacuum for long-lasting performance?
To ensure the longevity and performance of your RV vacuum, regularly empty the dust canister or replace the vacuum bag, clean or replace filters as recommended, remove any tangled hair or debris from the brush roll, and store it in a dry and safe location when not in use. Following the manufacturer's maintenance guidelines will help keep your RV vacuum in excellent working condition.
Remember, choosing the best RV vacuum depends on your specific needs, the size of your RV, and the types of surfaces you'll be cleaning. Consider reading customer reviews, comparing features, and seeking recommendations to find the perfect vacuum for your RV adventures.
Final Thoughts
Consider your available storage space and how often you will be using your RV vacuum before deciding on the best model.
There are plenty of excellent RV vacuums to choose from – but a word of advice, don't overdo it. The best RV vacuums are lightweight and very easy to use in a small space, just like our favorite, the Shark Handheld WandVac. It is highly effective and comes with a great range of attachments. Keep it on its base ready to go and clean up spills as they happen, after all RVing is all about exploring, not spending excessive amounts of time vacuuming.
Alternatively, for occasional RVers who want a good vacuum without breaking the bank, the VonHaus 2-in-1 Stick and Handheld Vacuum Cleaner makes an excellent buy for the money. With powerful suction and a HEPA filter, plus the ability to switch from handheld to stick mode at the touch of a button, this corded vacuum can be used to clean your entire motorhome interior from top to bottom.