If you dread emptying your black tank, or prefer to travel to remote, off-grid locations in your RV, then you should consider getting the best composting toilet for RVs. These waterless toilet systems offer a convenient, eco-friendly solution to dealing with human waste on the road, without any nasty sewage smells.
Used correctly, composting toilets require very little maintenance, and solid waste only needs to be emptied every month or so. They're cheap to run, great for reducing your water usage, and will save you from those stomach-churning trips to the dump station.
RV composting toilets must be compact, simple to fit and easy to empty. But if you're new to the world of waterless toilets, choosing the right model for your RV lifestyle can be tricky.
To help you find the ideal model for your rig, we have reviewed five of the best RV composting toilets on the market today and included an in-depth buying guide. We've made sure to pick a variety of options, so that there's something to suit every RV lifestyle – whether you're a full timer or weekend adventurer.
What is a Composting Toilet?
Unlike standard toilets, composting toilets don't use any water. Instead, they store your waste in a sealed container while it naturally decomposes into compost.
Composting toilets usually separate liquid waste (urine) and solid waste (poop) and store them in separate compartments. Some models enable the liquid waste to flow into your black tank or gray water line, while others require you to remove the tank and tip the liquid waste away every few days.
Solid waste falls into a compartment that has had a natural binding material, such as sawdust or peat moss added to it. This coats the waste, dries it out and prevents any nasty odors.
Electric composting toilets can stir or mix the compartment automatically to 'bury' the waste, while non-electric models have an exterior handle that enables you to mix the contents manually.
The solid waste then begins to break down and decompose into compost, taking up less space in the container. Because of this, solid waste containers may only need to be emptied once every 6 weeks or so – depending on the number of people using the toilet.
Once the container is full, you can tip it out into a compostable bag and dump it in the bin, dig in into the ground (away from water sources) or use it on your flower beds.
Best Composting Toilets for RV's
Ready to convert to a composting toilet? We have reviewed five of the best composting toilets for RVs on the market today – so you can find the ideal model for your rig.
Nature's Head Composting Toilet with Spider Handle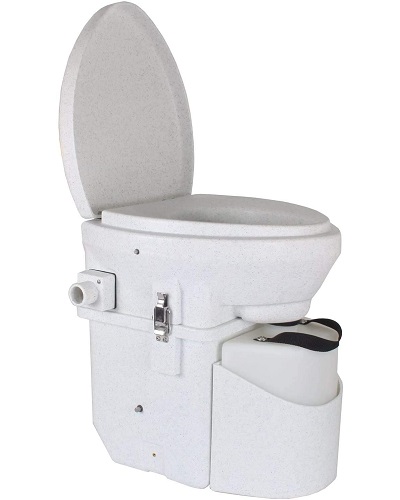 Top of our list is the Nature's Head Composting Toilet with Spider Handle. This popular model was originally created for use on boats, and as a result, it has a highly-durable design and stainless steel fittings for optimum strength.
This model stands 21 inches high and 19 inches wide, so it's compact enough to easily fit in small RV bathrooms. The height profile is comfortable for most users, too. Urine and solids are separated – liquids usually need to be emptied about every three days (depending on usage), while solids are stored in a separate area for composting.
The composting process means that solid waste takes up less space, so you won't need to worry about emptying this toilet for as long as 4-6 weeks if you're a couple using the toilet full time. This makes it perfect for long trips. When the compost bin becomes full, you can simply empty it out for use as fertilizer.
If you're worried about stinky odors, this toilet will put your mind at rest. The solid waste storage space is tightly sealed, and there's even an integrated, low volume air circulation fan system in the head – so bathroom air is recycled to limit any unpleasant smells.
Overall, this composting toilet is a top pick for long-term Rv'ers or eco-conscious travellers. One potential drawback to this model is that it can be difficult to know when the liquid tank is close to getting full. Therefore, we recommend emptying it often to prevent an overflow incident.
Pros – Things we liked
Stainless steel fittings
Compact enough to fit in small RV bathrooms
Solid waste storage is tightly sealed
Integrated air circulation fan system in the head
Cons – Things we didn't like
Hard to know when liquid tank is full
Separett Villa 9215 Urine Separating Toilet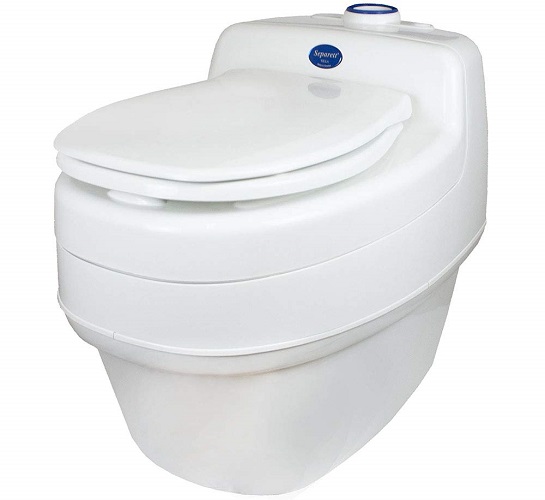 Another great choice is the Separett Villa 9215 Urine Separating Toilet. This electric composting toilet is a popular pick for long trips or full-time RV residents.
This model also has separate storage areas for both solid and liquid waste. This serves to limit bad odors and also makes it easier to empty. It has a generous capacity, so solid waste only needs to be emptied out around every 3-6 weeks – depending on the number of users. With regard to liquid waste, this can be plumbed into your gray water system, holding tank or soak away.
Another great feature of this composting toilet is its pressure-sensitive seat. The toilet detects when someone is sitting down, so it opens up the solid waste bin to divert deposits into the right place. Solid waste stored in the compost bin is also automatically rotated, so you won't need to worry about turning it yourself.
This model also benefits from a built-in electric fan, that helps to distribute airflow to limit odors in your RV bathroom. This fan can be powered via a DC supply from a battery pack or solar panels, or an AC supply if you have access to one. It comes with a venting system that can be installed up to 20 feet.
RV bathrooms are often very tight spaces, so we like that this model is also compact at only 18 inches in width. The height profile stands at a little over 17 inches, so it's very similar to a standard household toilet.
Overall, this model is an excellent choice if you're looking for a convenient solution to long-term RV living. The composting process is entirely automatic, and the included venting system ensures that no nasty odors linger in your rig.
Sun-Mar Excel Composting Toilet
The Sun-Mar Excel Composting Toilet is also a great pick for RV owners. Requiring no water or electricity, this composting toilet is ideal for off-grid living.
Like all good RV composting toilets, this model is compact and has a minimalistic design. Like other toilets on our list, it has two separate bins for liquid and solid waste. Solids and toilet paper decompose and turn into compost over time, reducing the volume of waste contained in the storage bin so that it only needs to be emptied around once a month.
Due to its compact dimensions and front-facing handle, this composting toilet should fit easily into small spaces in RV bathrooms. It is easy to install and maintain, so even if you're not familiar with DIY, you should be able to manage it without much hassle.
This model comes with a microbe and peat mixture which must be added to the solid waste compost bin before use. This mixture is specially designed to enhance the decomposition process for more efficient results. After this, all you need to do is add some more of this mixture every so often and stir the mixture with the handle. Emptying the compost when full is easy – thanks to the sliding tray.
Another benefit of this composting RV toilet is its NSF certification as a waterless toilet system. It was tested for six months at full capacity to assess its effectiveness and odor production. Over this time period, the Sun-Mar Excel didn't create any nasty smells and produced good quality compost too – making it an ideal pick for RV living.
Air Head Composting Toilet
Next on our list is the Air Head Composting Toilet. This model is a highly popular option which is specially designed for RV and marine use.
This waterless toilet system separates liquid waste and solids into different storage chambers. The solids are mixed up with peat moss or coco coir and stirred regularly to encourage decomposition and compost production. The solids storage tank has a generous capacity of 5 gallons, so you can go several weeks before it needs to be emptied. The urine tank is smaller, so it's best to empty it out every couple days if possible.
This model is compact and it's rounded shape is ideal for use in narrow RV bathrooms. It has tight gaskets and a 12 volt battery-powered fan venting system to prevent odors from seeping out into your rig. This model isn't automatic, so you'll need to turn the handle on the outside to churn the solid waste after use. The emptying process is made easier, thanks to the smooth, round design of the solid waste storage tank.
The Air Head Composting Toilet has a simple to install design, so you can hit the road in little time. The profile of this composting toilet is very similar to a standard household toilet, so you can feel right at home while doing your business. We also like that it has very few moving parts, so it's less likely to break during your trip.
C-Head Basic Composting Toilet
Last but not least we have the C-Head Basic Composting Toilet. This simple and effective model has been designed for eco-conscious travelers and full time RV'ers who want an easy to use solution to on board toilets.
The C-Head Basic Composting Toilet is compact and will easily fit into small living spaces. The profile of this model mimics a household toilet, and it is ergonomically designed for maximum comfort during use.
Urine is diverted into a separate storage tank which can be emptied daily or every couple of days – whichever is convenient. Solid waste is stored in another section of the toilet, where it is mixed up with peat moss, sawdust, organic cat litter or wood shavings to create compost with no odor. You don't need to add much material either, so this toilet is very cheap to use.
This model requires no water or electricity to work, so it's perfect for off-grid adventures. Once you have done your business, a separate handle must be inserted into the toilet seat lid and rotated to churn the mixture beneath. Depending on the number of people using it, the solid waste may not need to be emptied out for a couple of months.
Another great feature of the C-Head Basic Composting Toilet is that it comes available in a range of attractive finishes. So, rather than installing a standard white toilet, you can opt for an aesthetically-pleasing wood effect finish instead.
Buyer's Guide to Buying the Best Composting Toilet for RV
If you've read through our reviews and are still unsure which composting toilet is best for your RV lifestyle, our below buying guide has all you need to make the right choice.
Price
RV composting toilets can vary widely in price – depending on your needs and the model you go for.
When budgeting for your composting toilet, consider how many people will be using it and your RV lifestyle. Do you live in your RV full time? Will you be visiting off-grid locations, or just taking a couple trips to serviced parks during the year?
Once you have the answers to these questions, it will be easier for you to determine what type of composting toilet is best for you.
You can find simple, portable models for $150 or less, but these models tend to have smaller storage tanks, so they're not the best option if you travel as a family.
Most composting toilets for RVs are priced at over $150, with leading models reaching $700 or more. This may seem expensive, but this type of toilet is so simple and economical to run that it makes a great investment for frequent travelers or long term RV living.
Storage Tank Capacity
Storage tank capacity is an important consideration when deciding which composting RV toilet is best for your needs.
If you travel alone or as a couple, then you can get away with a smaller storage tank than if you travel with your family. On the other hand, there's no point going for a model with a large tank if you don't need it – this will only take up unnecessary precious space in your RV.
Larger models are generally more expensive than smaller ones, but it's worth it to avoid having to empty your toilet more often than you'd like. Most manufacturers will provide advice as to which size is best for your needs, with some brands providing charts for easy reference.
Decomposing rate
The decomposing rate of your RV composting toilet depends on whether it's an electric or non-electric model.
Electric models will have a faster decomposition rate because they use electricity to speed up the process. Non-electric options are much slower, but they are a better option overall if you often travel off grid or live in your rig full time.
Ease of Installation
Unless you're particularly handy at DIY, you'll want to choose a composting toilet that's quick and simple to install.
Most basic composting toilets have a straightforward design that's easy to install, even for beginners. But more complex models may require a more complicated install that's not well-suited to beginners.
Reading RV composting toilet reviews is a great way to assess user experience of the installation process. Some manufacturers also have installation videos on their websites, so you can gauge how awkward the task is likely to be for your set up before purchasing.
Size & Weight
The weight of your composting toilet largely depends on its size. The bigger the storage tanks, the heavier it will be. Some models can weigh as little as 25 pounds, while others can reach 350 pounds or more.
If you spend a lot of time on the road, it's best to opt for the lightest model that fulfils your needs. This helps to limit the overall weight of your rig and your fuel costs.
Size is clearly a major consideration as RV bathrooms are not known for their spaciousness. We recommend taking down some measurements of your bathroom dimensions and not forgetting to take into account access to any drawers or cupboards once the toilet is in place.
The last thing you want is to have your toilet installed and then realize it prevents you from using your bathroom as expected.
Ease of Cleaning & Emptying
Composting toilets shouldn't be difficult to clean and empty.
The best RV composting toilets will separate urine from solid waste, as this not only reduces odors, but also makes emptying out your waste easier. Urine collection tanks will need to be emptied much more frequently than the solid waste composting tank, but these are often easy to disconnect and carry out of your RV to be disposed of.
Some models can also be plumbed into your gray water line or black tank, so you don't need to disconnect a urine tank for emptying. The best set up for you will depend on your preferences.
With regard to the solid waste storage, we recommend looking for models that have a smooth interior surface and a slightly rounded shape. This helps the compost to slide out of the bin easily when it's time to empty it.
For day to day cleaning, check the manufacturer specifications about what chemicals can be used. Gentle household cleaning products should be fine, but the construction materials of different models will vary so it's worth finding out for certain.
Electric or Non-Electric
Electric composting toilets may have automatic mechanisms for churning the solid waste mixture, as well as power-driven fans to circulate air for ventilation.
They don't tend to use much power, and may be compatible with battery packs and solar panels as well as standard AC supply if it's available. Electric models tend to have faster decomposition rates, but they're less convenient if you prefer to travel off grid.
The waste in non-electric composting toilets must be manually turned using a handle that is attached to the exterior of the solid waste bin. They have a slower decomposition time, but if they are managed properly, they shouldn't smell, even though they lack an electric fan. These models are simple to install and many full time RV'ers prefer them as they require little maintenance.
Benefits of Having a Composting Toilet in Your RV
There are several good reasons to switch to a composting toilet – here are some of the main benefits.
Eliminate Black Tank
One of the best things about having a composting toilet is that you don't have to deal with a black tank.
Dumping the black tank is a pretty unpleasant job that most RVers would rather avoid. If you take long trips in your RV or live aboard full time, a black tank would probably need to be emptied once a week, but you can eliminate this stinky task from your life by choosing a composting toilet.
The solid waste storage tank of a composting toilet doesn't need to be emptied anywhere near as frequently as a black tank. It also doesn't smell, which is a bonus if you have a weak stomach!
Save Fresh Water
Composting toilets don't need water to work, so they're a fantastic option for conserving precious fresh water on your travels.
This means you can save water for drinking, washing and other domestic tasks, especially if you prefer to travel to off-grid locations where there's no amenities.
Increase Gray Tank Capacity
Using a composting toilet frees up the capacity in your black tank for use as a gray tank overflow. This enables you to extend the time between dumps, so you can make fewer trips overall.
Reduced Odor
Many people mistakenly believe that composting toilets are smellier because they don't use water and hold the solid waste beneath the bowl. This isn't true.
Composting toilets actually emit very little odor, if any at all. This is because urine and solids are usually separated, and the waste is mixed up with a natural binding agent such as sawdust or peat moss which prevents any stinkiness from infiltrating your rig.
Don't Have to Worry About a Clogged Toilet
Clogged toilets are certainly no fun. Not only does it make your RV smell awful, but the process of unblocking the system is also pretty disgusting.
By using a composting toilet, you won't need to worry about a clogged toilet ruining your trip. Because no flushing is involved, your waste simply drops down into a storage tank filled with natural material where it gradually decomposes. Nothing can get stuck on the way.
Doesn't Produce Any Noise or Splashing
Another benefit of composting toilets is that they don't emit a splashing noise when you make your deposit.
RV bathrooms are small, and some people may feel a bit embarrassed about potentially broadcasting their toilet activities to their companions.
You don't have to worry about this with composting toilets. Because they don't contain any water, when you go, nobody will know.
Top Composting Toilet for RVs Video
FAQs: Best Composting Toilets for RVs
As RV enthusiasts, we understand that finding the perfect composting toilet for your RV can raise a lot of questions. To provide you with the information you need, we've compiled a list of frequently asked questions (FAQs) about composting toilets for RVs. Whether you're new to the world of composting toilets or looking to upgrade your current system, these FAQs will help you make an informed decision. From understanding how composting toilets work to addressing concerns about odor, maintenance, and compatibility with different RV models, we've got you covered. So, let's dive into the most common inquiries and shed light on everything you need to know about the best composting toilets for your RV adventure.
What is a composting toilet for an RV?
A composting toilet for an RV is a self-contained unit that separates solid waste from liquid waste and promotes the natural decomposition process. These toilets use a combination of ventilation, organic material (such as peat moss or coconut coir), and aerobic bacteria to break down waste into compost-like material.
How does a composting toilet work in an RV?
Composting toilets in RVs work by separating solid and liquid waste. The solid waste is directed into a separate chamber, where it is mixed with organic material to facilitate decomposition. The liquid waste is usually diverted to a separate container or evaporated through ventilation. With the right conditions (such as proper airflow and moisture control), the composting process takes place, resulting in safe and odorless compost.
Are composting toilets suitable for all types of RVs?
Composting toilets can be suitable for various types of RVs, including motorhomes, campervans, and travel trailers. However, it's important to consider the available space and installation requirements before choosing a composting toilet. Some units may require additional ventilation or plumbing modifications, so make sure to check compatibility with your specific RV model.
Do composting toilets smell?
When used correctly and maintained properly, composting toilets should not produce any noticeable odor. The design of composting toilets includes features like vent fans and odor-trapping mechanisms to ensure an odorless experience. Adequate ventilation, regular emptying of the solids chamber, and the use of composting material are crucial to preventing any unpleasant smells.
How often do I need to empty the composting toilet?
The frequency of emptying a composting toilet depends on factors such as the size of the unit, the number of users, and the usage habits. Generally, smaller composting toilets may require emptying every few weeks, while larger units can go for several weeks or even months before needing to be emptied. It's important to follow the manufacturer's guidelines and monitor the composting chamber to determine when it needs emptying.
Can I use regular toilet paper with a composting toilet?
Most composting toilets can handle regular toilet paper without any issues. However, it's recommended to use single-ply or biodegradable toilet paper to ensure easier and faster decomposition. Avoid using excessive amounts of toilet paper to prevent potential clogging or slow composting.
Can a composting toilet be used while driving an RV?
While some composting toilets are designed for use while driving, it's generally recommended to avoid using them during travel. The vibrations and movements of the RV can disrupt the composting process and lead to potential messes. It's best to use the toilet only when the vehicle is stationary.
How much water does a composting toilet save compared to a traditional RV toilet?
Composting toilets are known for their water-saving benefits. Traditional RV toilets use water for flushing, which can be a significant water drain. Composting toilets eliminate the need for water flushing, thus saving hundreds or even thousands of gallons of water over time, depending on usage. This makes them an eco-friendly choice for RVers looking to conserve water resources.
Are composting toilets more expensive than traditional RV toilets?
Composting toilets generally have a higher upfront cost compared to traditional RV toilets. However, they can provide cost savings in the long run by reducing the need for water and disposal fees associated with conventional systems. Additionally, composting toilets offer greater independence and flexibility, as they don't require a connection to sewage systems.
Can I use a composting toilet in cold climates?
Yes, composting toilets can be used in cold climates. However, colder temperatures may affect the composting process, slowing down decomposition. To mitigate this, some composting toilets have heating elements to maintain optimal temperature conditions. It's important to choose a composting toilet suitable for cold climates or follow any specific instructions provided by the manufacturer.
Final Thoughts
The best composting toilet for RV users is heavily dependent on their needs and lifestyle.
If you live in your RV full time, you'll need a different model to someone who takes a few weekend trips a year. Travel plans come into it, too. Do you prefer to stay at serviced RV parks or head to the wilderness for some off-grid adventures?
All of the models featured in our RV composting toilet reviews are great options in their own right, but it's crucial that you assess your own requirements before purchasing.
If you like to hit the road for long periods, or prefer getting away from the crowds for some wild camping, then we recommend going for the Nature's Head Composting Toilet, the C-Head Basic Composting Toilet or the Sun-Mar Excel Composting Toilet. Both of these models are very well made, are incredibly simple to install and require little to no electricity, so they're perfect for remote adventures.
On the other hand, if you prefer a little more luxury, then the Separett Villa 9215 Urine Separating Toilet is a good choice. This electric model has a built-in fan, comes with a venting system and is almost completely automatic, so it will mix up your compost for you after each visit.