No matter how luxurious your RV kitchen is, when you're enjoying nice summer weather, it makes sense to keep your indoor living quarters nice and clean by grilling your meals outdoors. Nothing quite says camping like a delicious meal cooked alfresco.
Whether you're discovering the world town by town in a tiny camper or glamping in a luxurious 5th wheel, we've found the best portable grill for your next camping trip in our best portable grills for RVing reviews.
Best Portable Grill
Whether you're considering investing in a portable pellet grill for RVing or a more traditional charcoal model, we've reviewed the top-rated portable grills in each fuel category so you can easily decide which one to take with you on your next camping adventure.
Best Portable Gas Grill
Coleman RoadTrip 285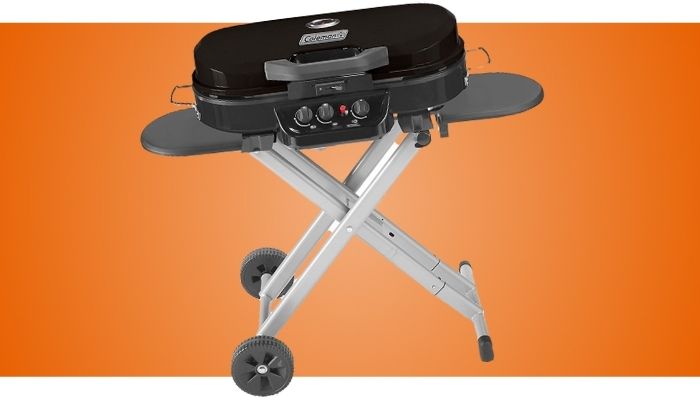 Highly portable and easy to set up, the aptly named Coleman RoadTrip 285 is the best gas grill for RVing. Easy to transport, thanks to its fold away legs and two rugged wheels, you'll have no problem setting it up on arrival at your campsite.
When you're on the road, it can even be stored vertically, saving you precious cargo space, although you may want to supplement the fragile lid lock with a bungee cord to keep your motorhome interior clean and protected.
Aside from its excellent portability, this gas grill for RVing also boasts three individually adjustable burners with a total heat output of up to 20,000 BTUs. The large grilling area totals 285 square feet – plenty of space for cooking up a family-sized meal.
The push-button ignition makes for easy lighting, while the durable cast iron porcelain coated grates are easy to clean and replaceable with Coleman's interchangeable griddle tops – ideal for cooking breakfast at the campground.
This gas grill takes one-pound propane tanks and comes complete with a three-year warranty. Despite its included cart, it is one of the most compact models to store onboard and very easy to set up and use.
While you'll have to take care when using the sliding side tables, as they are fairly flimsy and can only be used for sauces and grilling tools, on the whole, the Roadtrip 285 by Coleman makes an excellent choice for RVing.
Pros – Things we liked
Up to 20,000 total BTU output
3 independently adjustable temperature zones
285 sq inch grilling area
Push-button ignition
Easy to set up & transport
Cons – Things we didn't like
Side trays are not very robust
Lid lock may need reinforcing with a bungee cord
Runner-up Portable Gas Grill
Weber Go-Anywhere Gas Grill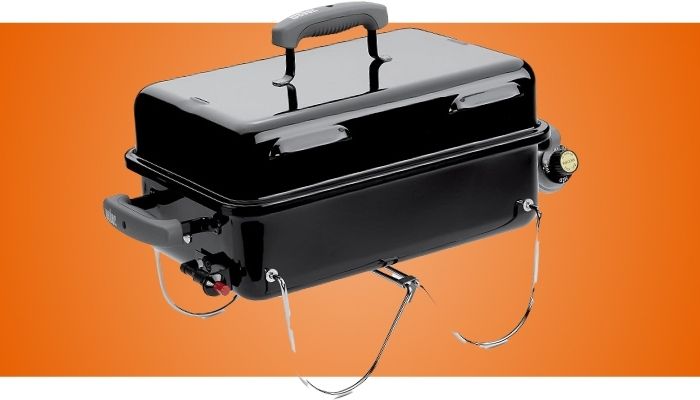 If you RV in a camper or small trailer, you'll need an extra compact portable grill. The Weber Go-Anywhere is a popular choice measuring just 19.5 inches wide with a depth of just over 12 inches and 14.5 inches tall with the lid closed. It's also lightweight at 13.5 pounds and very easy to carry thanks to its three sturdy glass-reinforced nylon handles.
The innovatively designed steel-plated "legs" flip back to hold the lid securely in place when not in use, saving you even more space. Despite its small size, you still get a fairly generous 160 square inch cooking area – enough space for dinner for two. However, as there is only one burner with a low maximum BTU output of 6,500, you won't be able to do any two-zone grilling.
The lid, bowl, and grate are all made with porcelain-enameled steel for easier cleaning and enhanced durability, while the push-button ignition quickly lights the durable stainless steel burner.
All in all, this is a great compact gas grill for RVing. The only real downside of the Go-Anywhere grill is that when Weber changed from the previous version and took out the flavorizer bars, they neglected to put in a grease tray to catch the drips that are no longer vaporize. As a result, the grease now accumulates in the base of the unit.
Pros – Things we liked
Porcelain-enamel coated steel grate, lid & bowl
160 sq inch cooking area
Lightweight – 13lbs
Stainless steel burner
Plated steel legs lock the lid in place
Cons – Things we didn't like
One burner with 6,500 max BTU
No grease trap
Best Portable Charcoal Grill
Weber Go-Anywhere Charcoal Grill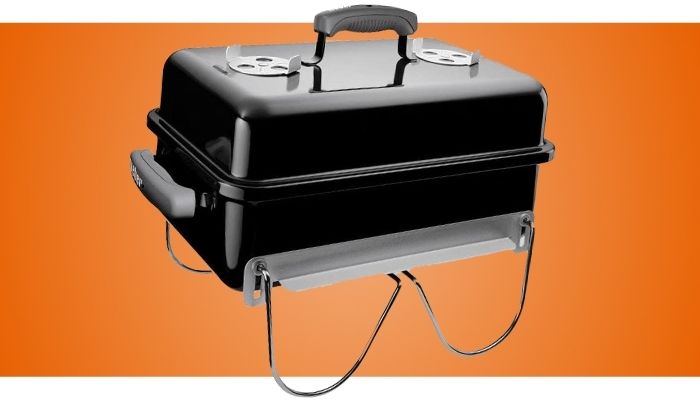 Looking for a compact charcoal grill for your next RV adventure? The Weber Go-Anywhere is also available in a charcoal burning version.
With the same compact size and low weight as the gas model, this small but mighty grill has the same easy-to-store rectangular shape that you can easily tuck away in your RV basement, tow vehicle, or even in a camper.
With its locking lid for easy portability and storage, plus three glass-reinforced nylon handles, it's easy to carry, pack away, and get back out again. The durable steel-coated cooking grate is robust and easy to clean, as is the porcelain-enameled heat-retentive lid and base. Four rust-resistant aluminum dampers give you excellent control over your airflow to increase or decrease your cooking temperature.
Thanks to its 160 square inch cooking area, this is a good-sized camping grill for basic meals for two. Obviously, with the emphasis on saving space and weight, there is not much in the way of extras, so you don't get an ash pan.
One minor assembly complaint that can be annoying in the long term is that it is really difficult to get the handles to fit flush to the grill, so you may end up with a slight gap that can pinch your hands.
However, if you need a small, easy-to-store charcoal grill for your motorhome, the Go-Anywhere is pretty hard to beat.
Pros – Things we liked
Porcelain-enameled base and lid
Locking legs hold the lid in place
Steel-plated grate
4 rust-resistant dampers
Lightweight & easy to carry
Cons – Things we didn't like
No ash pan
Handles are difficult to fit flush
Runner-up Portable Charcoal Grill
Weber Jumbo Joe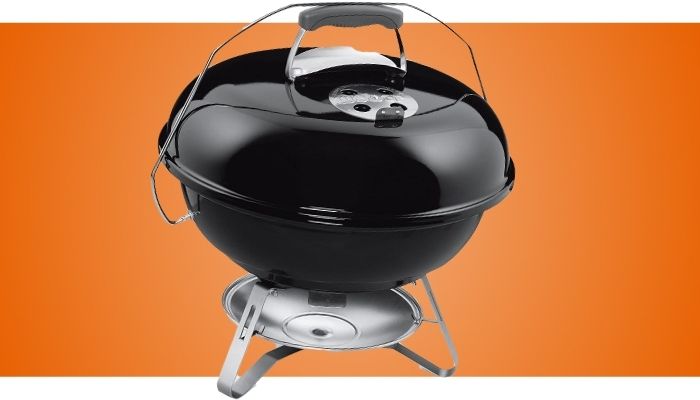 If the Weber Go-Anywhere isn't quite big enough for your grilling needs when you're on the road, the Weber Jumbo Joe, our runner-up portable charcoal grill is going to be your best model.
Weighing a little more at just over 17 pounds, the Jumbo Joe is a compact 18-inch diameter grill with a good 240 square inch grilling area, suitable for grilling up to eight burgers simultaneously.
Thanks to its porcelain-enameled lid and bowl, your grill retains heat and is protected from corrosion. Two rust-resistant aluminum dampers allow for accurate and easy temperature control. Just one main issue, the upper damper is curved to fit a standard Weber grill shape, however, this part of the Jumbo Joe is, in fact, flat.
Aside from its generous cooking space and easy portability, the Jumbo Joe also boasts a high practical Tuck-N-Carry lid lock that keeps your grill firmly closed when not in use, as well as doubling up as a lid holder when it is. The glass-reinforced nylon handle of the lid makes it easy to grab and go.
Unlike the smaller Go-Anywhere, the Jumbo Joe model comes complete with an aluminum ash catcher for an easy cleanup before hitting the road in your motorhome.
Pros – Things we liked
18-inch diameter
240 sq inch grilling area
2 rust-resistant aluminum dampers
Tuck-N-Carry lid lock and holder
Porcelain-enameled lid & bowl
Cons – Things we didn't like
Poorly fitting top damper
Best Portable Pellet Grill
Traeger Tailgater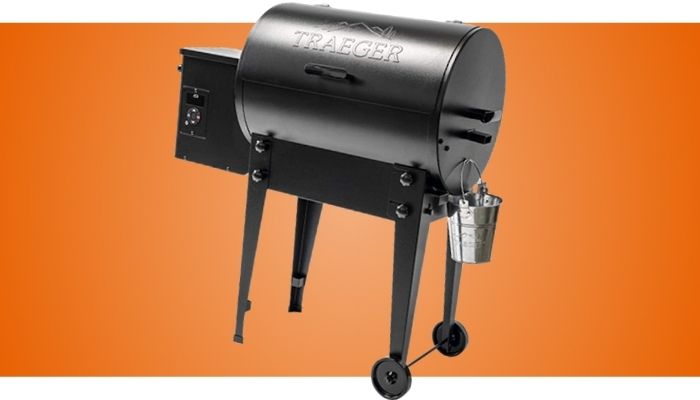 Looking for a portable pellet grill to take with you RVing? The Traeger Tailgater is the best portable pellet grill on the market for effortlessly easy grilling, smoking, and even baking at your RV campground.
With a generous 300 square inch cooking area, you can grill two chickens or up to 12 burgers simultaneously with a high top temperature of 450 degrees F. The porcelain-coated grill grates are easy to clean and highly durable.
Thanks to its compact, portable design, you can easily stow this Traeger in larger RVs or on your tow truck. The legs fold away for easy storage, although they could be better designed to make it less of a chore. Another slight flaw is the poor quality plastic handles that don't live up to the same high quality of this impressively stylish portable pellet grill for tailgating and RVing.
One of the main advantages of the Tailgater is that it utilizes Traeger's Digital Arc Controller so you get precise and consistent temperatures for perfectly cooked food. It also comes complete with a meat probe and if the kids are too busy having fun on vacation, you can simply select the Keep Warm mode and enjoy dinner together round your camping table when everyone is out of the pool.
A technologically advanced, incredibly easy to use grill that will make your next RV trip more of a glamping adventure than a rough and ready one, for some of the tastiest grilled food you'll ever enjoy with the minimum of effort.
Pros – Things we liked
300 sq inch cooking area
Digital Arc Controller for temperature precision
Keep Warm mode
Meat probe
450℉ maximum temperature
Cons – Things we didn't like
Poor quality handles
Legs could be easier to fold
Runner-up Portable Pellet Grill
Z Grills Wood Pellet Grill & Smoker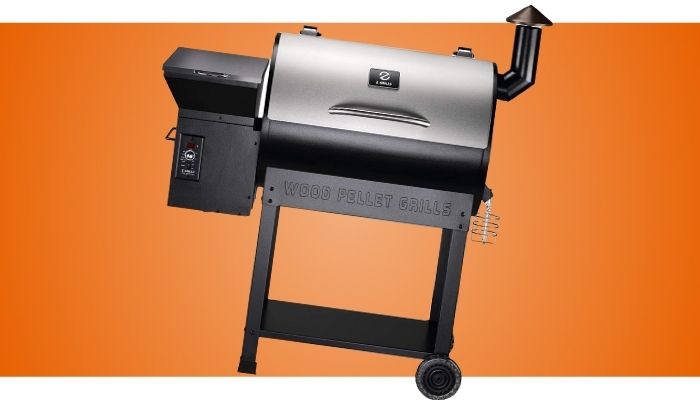 For large families RVing in a large RV, the ZPG 7002E Pellet Grill by Z Grills makes a good value buy for the money.
Granted, this is not a very portable model to get in and out of your RV, weighing 112 pounds; however, it does come with two wheels on the frame. While it does have a foldable working shelf, the cart itself does not fold, so you will need to have plenty of storage space to accommodate it plus a ramp.
Thanks to the 7002E large primary grilling area of 504 square inches, with a secondary cooking area on the upper rack of just under 200 square inches, you'll have plenty of space to create large meals for family and friends. The porcelain-coated grill grates are non-stick and easy to clean up, while the overall heavy-duty steel construction is highly durable.
Complete with a digital control board to easily select your cooking style, plus a highly accurate digital temperature control system to set your cooking temperature anywhere between 180-450 degrees Fahrenheit, cooking on the 7002E couldn't be any easier.
If you are looking for an effortless way to cook for the whole family on your next RVing trip and you have the space available to accommodate this pellet grill, then it would make an excellent choice.
Pros – Things we liked
Large 504 sq inch primary cooking area
Digital temperature control system
Heavy-duty steel construction
Cooking temperature from 180-450℉
Porcelain-coated steel grill grate
Cons – Things we didn't like
Heavy – 112lbs
Non-folding & bulky to store
Best Portable Electric Grill
Weber Q 2400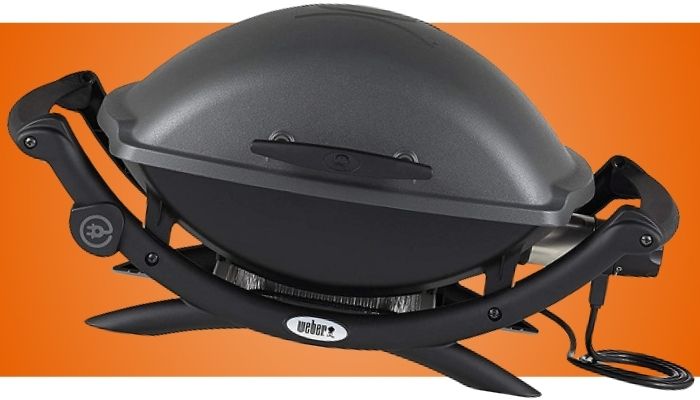 Unsurprisingly, the immensely popular Weber Q2400 is our best portable electric grill pick for RVing.
Measuring 31.5 inches wide with a depth of 19.5 inches, it's compact enough to easily transport in even small travel trailers and has a generous 280 square inch cooking area – or enough space for approximately 12 burgers.
It has a 1,560W electric heating element that works out at 13 amps, making it a good choice for use at your vacation campsite, leaving you plenty of extra amps to run the rest of your equipment even if you're on a 30 amp hookup. It also comes with a handy six foot power cord for greater ease of use and is fully assembled in the box for an easy setup.
While the cast aluminum body and lid make this grill capable of living up to life on the road, unfortunately, the inner workings, especially the power controller are less durable and tend to stop working so well after a couple of seasons use. The aluminum heat retention liner does a good job at helping to keep this electric grill's temperature up, however, it does take a good while to heat up – approximately 20-30 minutes.
Complete with porcelain-enameled heat-retentive cast iron cooking grates, infinite heat control settings, and a removable catch pan for an easier cleanup, if you are looking for an electric grill for your RVing trips, the Q2400 is a good compact choice that is a great size for three to four adults.
Pros – Things we liked
Six-foot power cord for 1560W grill element
280 sq inch cooking area
Fully assembled
Infinite control burner valve settings
Cast aluminum lid & body
Cons – Things we didn't like
Takes a while to heat up
Not the most durable
Runner-up Portable Electric Grill
Cuisinart CEG-980T Outdoor Electric Tabletop Grill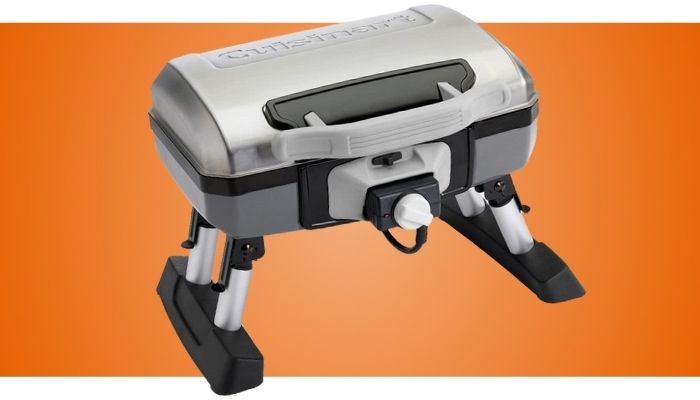 Our runner-up pick for the best portable electric grill for RVing is the Cuisinart CEG-980T.
This compact outdoor electric Tabletop Grill stores really easily thanks to its small size, measuring just 18.5 by 16 by 11.5 inches. Its folding legs provide a stable, sturdy base, as well as saving you plenty of storage space making it a good choice for small trailers and campers.
This Cuisinart Electric Outdoor Grill has a good 145 square inch porcelain-enameled grate, plenty large enough for grilling a full meal for two or a main course item each for four.
The 1500W heating element gets this grill hot surprisingly quickly for an electric model, taking around 10 minutes. The stainless steel heat-reflector in the lid helps to speed up cooking, while its briefcase-style design complete with a latched lid makes it easy to store, carry, and set up.
On the downside, the grease pan could be larger, so if you are cooking large quantities of something with a lot of fat, like bacon, make sure you keep an eye on it to prevent overflowing. To thoroughly clean the bottom of the grill, you'll need to disassemble the heating element, which makes it difficult to do a deep clean.
However, for occasional RVing, this handy little grill is an overall fantastic choice if you are looking for a compact electric grill.
Pros – Things we liked
1500W compact electric grill
Space-saving folding legs
145 sq inch grilling area
Lid latch for transportation & storage
Porcelain-enameled grill grate
Cons – Things we didn't like
Small grease pan
Difficult to clean
Best Portable Griddle
Blackstone Tabletop Grill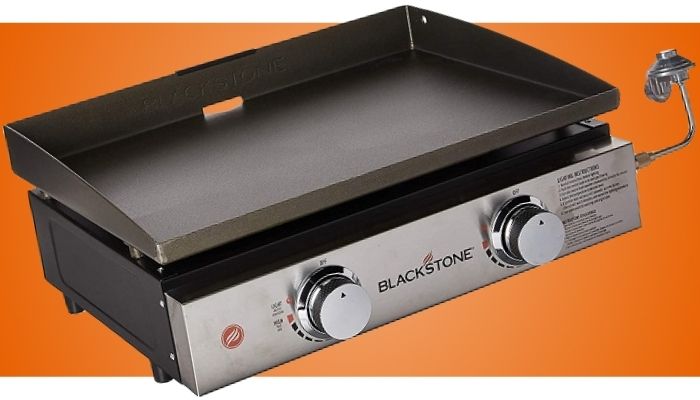 The Blackstone 22-inch Gas Tabletop Griddle is a top choice for cooking family meals and breakfasts down at the campsite.
Thanks to its large 339 square inch rolled carbon steel cooking surface complete with two individually adjustable burners, you can cook a huge variety of items on this griddle by setting up two different heat zones. As both burners are H-designed, you get good even heating results across the entire griddle surface for reduced hot spots and even cooking.
With a total maximum of 24,000 BTU heat output, this griddle can easily cook your smash burgers and steaks, getting hot in just minutes. The grease management system makes it easy to cook even greasy foods like bacon without making a mess of your camping table. Use this gas griddle with one-pound propane tanks, or pay out for an adaptor hose and use it with 20-pound ones for fewer refills.
While this top-rated griddle is certainly easy to use, bear in mind that to make sure that it does not rust and to keep food from sticking, you will need to season it and keep it regularly oiled after cleaning.
While this isn't actually that much of a chore, storing it in an RV can be, especially when it has a fresh coating of oil. For this reason alone, you may want to invest in a hood for it or at least to carefully consider where you will be storing it on board.
Pros – Things we liked
24,000 BTU heat output
339 sq inch cooking area
2 independently controlled heat zones
Grease management system
Even heating with 2 H-burners
Cons – Things we didn't like
Needs seasoning
Inconvenient to store without a hood
Runner-up Portable Griddle
PIT BOSS Gas Flat Top Grill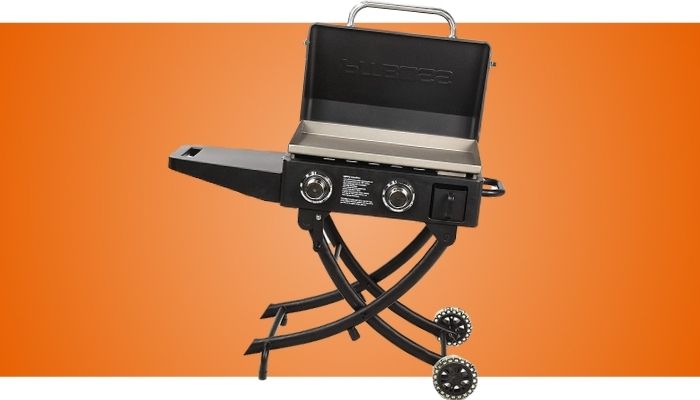 Specially designed for use when traveling, the Pit Boss Sportsman Portable Two Burner Gas Griddle is an excellent choice for RVing. It boasts a lightweight design, complete with foldable legs, in-line wheels, and a latching hood – all of which make it extremely portable. Plus it's also easy to store and set up when you've reached your destination.
With its 320 square inch 3.5mm pre-seasoned griddle top, the PB2BSPS can easily accommodate enough food for two to four adults whether you are cooking up breakfast pancakes or a hearty steak dinner. It comes complete with a locking griddle cover for easy cooking, as well as simplifying transportation and storage.
The front-access grease management tray is easy to check as you cook so you're less likely to let it overflow, while the simple push and turn ignitor makes getting this model lit nice and easy.
Its heavy-duty side shelf complete with handle gives you a convenient place to set down your griddle tools and sauces, so you always have the essentials to hand. On the downside, as this unit only takes one-pound propane tanks, you will get through quite a few if you're using it for all of your meals when RVing.
Exceptionally portable and very easy to use, with plenty of extra features, the Pit Boss Sportsman is one of the very best models around if you have space to stow it inside your RV or tow truck.
Pros – Things we liked
18,000 BTU heat output
320 sq inch cooking area
Innovative fold-and-go design
Two individually adjustable stainless steel burners
Locking griddle cover top
Cons – Things we didn't like
Goes through a lot of 1lb tanks
Best Portable Smoker
Kamado Joe Jr.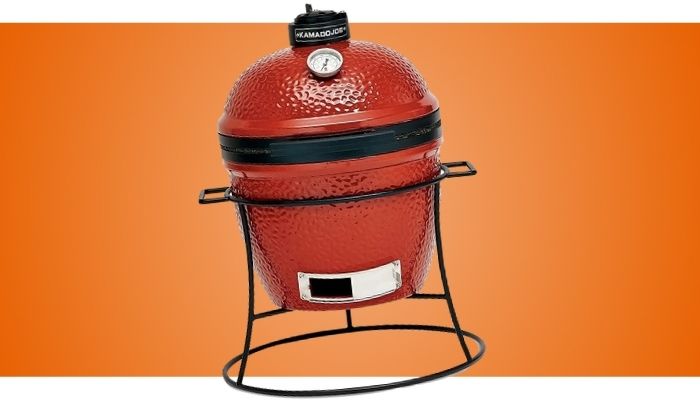 If you are looking for a portable smoker to take camping with you in your motorhome, the Kamado Joe Junior makes a top choice in terms of performance. With its 13.5-inch diameter cooking surface, you get approximately 148 square inches to cook on – ideal for creating delicious meals for two.
Like all Kamado Joes this model has a thick-walled heat-resistant shell to keep the heat inside for more efficient smoking. Thanks to its impressive temperature range from 225 up to 750 degrees Fahrenheit, you can use this compact portable smoker for cooking just about anything.
It comes with a cast iron air vent for enhanced temperature control, a built-in thermometer, plus a premium quality 304-grade stainless steel cooking grate for extra durability.
While this is Kamado Joe's most portable ceramic charcoal grill, compared to other types of grills in our reviews, it is admittedly rather awkward to be getting in and out of your RV. Bear in mind that the stand does not have any wheels and you'll have to carry your Joe Junior over to it.
Carrying a large 68 pound ovoid is easier said than done, however, if you love the versatility and convenience of cooking with a Kamado Joe at home, it's well worth putting up with its lack of portability when you're on the road.
Pros – Things we liked
148 sq inch cooking surface
Cast iron air vent
Temperature range: 225-750℉
Thick-walled heat-resistant shell
304 stainless steel cooking grate
Cons – Things we didn't like
Heavy to move and lift into stand
Awkward shape to carry in and out of RV
Runner-up Portable Smoker
Weber Master-Touch Premium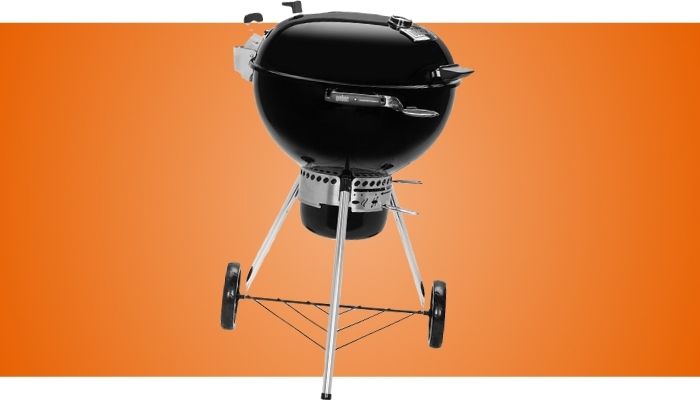 Weber's new Master-Touch Premium is an exceptional quality grill that can also be used to roast and smoke. Admittedly, it is not designed to be a portable grill. However, if you have space on your tow truck or in a utility trailer, it makes a really nice grill to use for smoking, so you may want to consider it for RVing nonetheless.
Thanks to its special diffuser plate, it can be used for cooking low 'n' slow, ideal for smoking, as well as searing your steaks. Other premium features include a hinged lid, so you don't have to search for a suitable place to put it down, plus integrated tool hooks to keep your essential grilling accessories to hand.
With its large 363 square inch hinged cooking grate, this 22-inch Weber kettle grill makes a good choice for small groups and families. For extra convenience, the grate is compatible with Weber's Gourmet BBQ Range inserts, while the unit's eight-inch rubber molded wheels make it easy to move around your campsite.
Unfortunately, the Master-Touch is not that easy to take apart for storage or simple to get in and out of an RV, being pretty bulky. It is, however, a great grilling and smoking all-rounder.
So, if you have the means to take a grill of this size with you RVing, then performance-wise, the Master-Touch Premium is a good solid choice.
Pros – Things we liked
3-in-1 design for grilling, roasting, and smoking
363 sq inch cooking area
Compatible with Weber Gourmet BBQ System inserts
Hinged lid and tool hooks for extra grilling convenience
8-inch rubber molded wheels
Cons – Things we didn't like
Not very portable
Very bulky to store
Compare the Best Portable Grills
Table Comparing the Top 12 Portable Grills
Image
Title
Price
Rating
Buy
Coleman RoadTrip 285 Portable Stand-Up Propane Grill

$$$

Buy on Amazon

| | | | | | | |
| --- | --- | --- | --- | --- | --- | --- |
| Coleman RoadTrip 285 Portable Stand-Up Propane Grill | $$$ | 285 Sq. In. | 46.67 lbs | Prime | 30.25 x 19.19 x 16.13 inches | Buy on Amazon |

Weber Go-Anywhere Gas Grill

$

Buy on Amazon

| | | | | | | |
| --- | --- | --- | --- | --- | --- | --- |
| Weber Go-Anywhere Gas Grill | $ | 160 Sq. In. | 13.5 lbs | Prime | 12.2 x 21 x 14.5 inches | Buy on Amazon |

Weber Go-Anywhere Charcoal Grill

$

Buy on Amazon

| | | | | | | |
| --- | --- | --- | --- | --- | --- | --- |
| Weber Go-Anywhere Charcoal Grill | $ | 160 Sq. In. | 13.45 lbs | Prime | 11.5 x 19.5 x 15 inches | Buy on Amazon |

Weber Jumbo Joe Charcoal Grill

$

Buy on Amazon

| | | | | | | |
| --- | --- | --- | --- | --- | --- | --- |
| Weber Jumbo Joe Charcoal Grill | $ | 240 Sq. In. | 17.61 lbs | No Prime | 19.75 x 20.5 x 19.75 inches | Buy on Amazon |

Traeger Grills Tailgater 20 Portable Wood Pellet Grill and Smoker

$$$$$

Buy on Amazon

| | | | | | | |
| --- | --- | --- | --- | --- | --- | --- |
| Traeger Grills Tailgater 20 Portable Wood Pellet Grill and Smoker | $$$$$ | 300 Sq. In. | 62 lbs | Prime | 37 x 18 x 36 inches | Buy on Amazon |

Z GRILLS 2020 Upgrade Wood Pellet Grill & Smoker

$$$$$

Buy on Amazon

| | | | | | | |
| --- | --- | --- | --- | --- | --- | --- |
| Valterra Pure Power Blue Waste Digester | $$$$$ | 700 Sq. In. | 48 lbs | No Prime | 48 x 22 x 51 inches | Buy on Amazon |

Weber Q 2400 Electric Grill

$$$$

Buy on Amazon

| | | | | | | |
| --- | --- | --- | --- | --- | --- | --- |
| Weber Q 2400 Electric Grill | $$$$ | 280 Sq. In. | 41 lbs | Prime | 25.1 x 31.5 x 26 inches | Buy on Amazon |

Cuisinart Outdoor Electric Tabletop Grill

$$

Buy on Amazon

| | | | | | | |
| --- | --- | --- | --- | --- | --- | --- |
| Cuisinart Outdoor Electric Tabletop Grill | $$ | 145 Sq. In. | 13 lbs | Prime | 18.6 x 11.8 x 17.6 inches | Buy on Amazon |

Blackstone Heavy Duty Flat Top Grill Station for Camping

$$

Buy on Amazon

| | | | | | | |
| --- | --- | --- | --- | --- | --- | --- |
| Blackstone Heavy Duty Flat Top Grill Station for Camping | $$ | 339 Sq. In. | 32 lbs | No Prime | 22.5 x 19 x 9 inches | Buy on Amazon |

PIT BOSS Gas Griddle

$$$

Buy on Amazon

| | | | | | | |
| --- | --- | --- | --- | --- | --- | --- |
| Dometic Premium Holding Tank Treatment | $$$ | 320 Sq. In. | 72.8 lbs | No Prime | 44.92 x 20.58 x 35.71 inches | Buy on Amazon |

Kamado Joe Jr. Charcoal Grill

$$$$

Buy on Amazon

| | | | | | | |
| --- | --- | --- | --- | --- | --- | --- |
| Kamado Joe Jr. Charcoal Grill | $$$$ | 245 Sq. In. | 75.58 lbs | No Prime | 19.75 x 20.75 x 27 inches | Buy on Amazon |

Weber Master-Touch Premium Charcoal Grill

$$$$

Buy on Weber

| | | | | | | |
| --- | --- | --- | --- | --- | --- | --- |
| Weber Master-Touch Premium Charcoal Grill | $$$$ | 363 Sq. In. | N/A | No Prime | 56 x 26 x 30 inches | Buy on Weber |
Buyer's Guide to Buying the Best Portable Grill
Stuck choosing the best portable grill to take with you on your next RV vacation? Check out our portable grill buying guide.
We'll discuss all of the essential features so you'll know exactly what you'll need to keep an eye out for when making your purchase decision.
Price
Portable grills are generally reasonably priced compared to some larger models for the backyard market. You can expect to pay around $80 for a budget priced model, going up to several hundred for a premium version. Most portable models are priced under $500.
Before setting yourself a budget, take a few moments to consider what type of grill you are looking for and how often you're expecting to be using it. Charcoal grills tend to be the cheapest as they have the least amount of internal components.
Basic gas and electric models can also be found at budget prices, although you'll pay a top premium for a portable pellet grill. This type of grill is usually over $500 given their complexity and technologically advanced controllers and components.
Intended Use
Will you be using your grill just for the occasional evening, mostly at campsites with on-site catering? In this case, you can easily get away with spending less.
For trips off grid with only your RV camping grill to cook with or for highly regular use, spend more and get yourself a good, reliable model that will last.
Temp Range and Controls
You'll want to look out for a grill with individually adjustable burners and easy to use controls. If you're considering a charcoal model, then pay attention to the number and location of the air vents.
On the other hand, if you are considering a pellet grill for your RV trips, make sure that you take a close look at the operating manual before deciding as they can be very different to operate compared to a standard grill.
Fuel
Your choice of fuel will be one of the main deciding factors when choosing a new portable grill to use when RVing.
Gas
Portable propane gas grills are a popular, relatively inexpensive choice. They heat up quickly and can reach high temperatures.
Propane grills are very easy to control and clean up more easily than charcoal versions, plus you won't risk getting black charcoal residue over your RV interior when you pack up.
Charcoal
BBQ aficionados swear by the taste of food cooked on charcoal grills.
Charcoal grills are less expensive than other types and highly unlikely to break down when you're away from home, having no internal mechanisms to break. This makes them a good, reliable choice, however, they are not the easiest to clean up or use.
Pellets
Pellet grills have become increasingly popular in recent years. Very simple to use and often packed with technologically advanced components, pellet grills are expensive.
They are, however, clean burning with a wide temperature range and often incorporate WiFi or Bluetooth technology for remote monitoring.
Electric
Electric grills can be safely used indoors, making them a good choice for RV trips where the weather is likely to be very changeable.
They do not have a naked flame, so they are also suitable for use in certain areas with burn bans. You will, of course, need to have access to electricity to run your grill.
Ignition
Pellet and gas gills generally tend to come with ignition systems. This is much easier than searching for matches, especially when you're grilling alongside your RV.
Some models require batteries, whereas others use a push button system to create a spark that then lights your flame.
Grill Grate Surface Area
When choosing a portable grill, you're not going to be looking at the same grill surface areas as you would at a grill for use in your backyard.
For one or two persons, especially if storage space is tight, consider models with a cooking grate size of around 160-200 square inches.
If you have more space, 300 square inches is a popular portable grill grate size, allowing you to cook a main course item for four or for a small family with children.
While larger grill grate surface areas are available, you tend to lose a lot of portability, unless you can find a model that you can store vertically.
Size, Weight & Portable Features
Consider where you will be storing your grill inside your RV and carefully measure the space that you have available. Don't forget to check the size of your RV door and that your grill and its stand, if applicable, will easily be able to pass through.
Weight is another important issue if you are likely to be carrying your grill out to picnic with or down to the beach, rather than simply setting it up next to your rig at the campsite.
Wheels can be a useful addition if you decide upon a portable stove with a folding stand. Once you have carried your grill outside, you can simply open up the stand and pull your grill over to your desired location.
Assembly and Ease of Use
Take a quick look at any instructions online for your grill before you purchase. While some models are pretty much ready to go out of the box, others may require several hours of assembly time depending on the complexity and how many pieces they are delivered in.
While pellet grills are generally considered to be the easiest type of grill to use, it also depends on your home BBQ skills. If you've spent the last 25 years grilling on a charcoal BBQ, then you're probably going to settle in just fine using a compact charcoal grill for RVing.
On the other hand, if you are used to grilling with gas in your backyard, you may find it very difficult to get used to grilling with charcoal when you're down at the campsite.
If you don't have much or any previous BBQing experience, you may want to pick up a pellet or electric grill to get started grilling on your motorhome vacations.
Cleaning
Portable grills with a good grease management system are generally the easiest to clean. Porcelain-enameled boxes, lids, and grates also make for easier cleaning.
Charcoal grills can be more time consuming to clean than electric and gas models, however, provided you give your portable RV grill a quick clean out after each use, you shouldn't have to do too much intensive cleaning on your vacation.
Once you return home, make sure you give your BBQ a through going over so it's ready for your next trip.
Materials & Construction
Aluminum is a popular choice for portable grills as it is hard-wearing but lightweight. Porcelain-enameled steel is another popular option being inexpensive, while the porcelain enamel helps to make your grill easier to clean.
There are several different types of portable grill constructions, from briefcase-style models to kettle grills, which are basically scaled back versions of what you would use at home.
Extras
Obviously, portable grills tend to have less in the way of extras. However, handles make a really good feature to look out for, as do folding shelves and stands, for extra convenience and more placement options.
Tool hooks take up next to no space and can help you to keep your grill tools ready for action, especially when you're grilling at a distance from your motorhome.
Top Portable Grills Video
The Benefits of Portable Grilling
Portable grilling is an incredibly versatile way of cooking, offering a unique set of benefits that makes it a favorite among outdoor enthusiasts, RV owners, and even those with limited outdoor space at home. Here are the key advantages of portable grilling:
Versatility: One of the key advantages of portable grills is their versatility. Portable grills can be used in a variety of settings, from camping trips to tailgating at sports events, picnics in the park, and beach outings. They're also perfect for those who love to travel in their RVs or for those who live in apartments with limited outdoor space.
Ease of Transportation: Portable grills, as the name implies, are designed to be moved. With features like foldable legs, carrying handles, and compact design, these grills can be easily transported to your favorite grilling spot. Some models are lightweight enough to carry by hand, while others are designed to fit into the trunk of a car.
Convenience: Portable grills offer the convenience of quick setup and easy operation. Whether you choose a gas, charcoal, or electric model, most portable grills are designed to get you cooking in no time. They are perfect for impromptu BBQ sessions and make packing up after your meal just as effortless.
Fuel Efficient: Many portable grills are designed with fuel efficiency in mind. For instance, portable gas grills often have excellent heat control, allowing you to cook your meals with less fuel. Charcoal portable grills are often designed to get the most out of a small amount of charcoal, reducing overall fuel costs.
Flavorful Cooking: Despite their compact size, portable grills can deliver big on flavor. Charcoal models impart that classic smoky flavor, while gas models are excellent for fast, even cooking. Some portable grills are even compatible with wood chips if you want to experiment with different flavors.
Outdoor Experience: Perhaps the greatest benefit of portable grilling is the ability to cook outdoors. There's something special about cooking and enjoying a meal under the open sky with your family or friends. It's not just about the food; it's about the whole experience that comes with it.
In conclusion, portable grills offer a host of benefits that make them a worthy investment for anyone who loves cooking outdoors. Whether you're a seasoned griller or a beginner looking to dip their toes into the world of grilling, a portable grill is a fantastic addition to your outdoor gear.
Frequently Asked Questions
Navigating the world of portable grills can come with a lot of questions. Whether you're a seasoned outdoor cook or a beginner just starting your grilling journey, you might find yourself wondering about the specifics of grill types, maintenance, safety precautions, and more.
In this section, we've compiled and answered some of the most frequently asked questions about portable grills to help demystify the process and get you grilling confidently in no time. Please remember that while this section aims to provide helpful general advice, always refer to your specific grill's user manual or contact the manufacturer for information tailored to your particular model.
What is the difference between a gas grill and a charcoal grill?
Gas grills are typically faster to heat, easier to control in terms of temperature, and cleaner as they produce less smoke. Charcoal grills, on the other hand, can reach higher temperatures and offer that traditional smoky flavor many barbecue enthusiasts love.
How to properly clean a portable grill?
After each use, scrub the grill grates with a grill brush to remove food residue. For a deeper clean, you can remove the grates and wash them with warm soapy water. Always ensure the grill is cool before cleaning, and refer to the manufacturer's instructions for specific cleaning guidance.
Can I use a portable grill indoors?
No. Grills, including portable ones, should only be used outdoors. Grilling produces carbon monoxide, a harmful gas that can build up indoors and cause carbon monoxide poisoning.
What should I consider when buying a portable grill?
Key considerations should include the grill's size and weight, the type of fuel it uses, the cooking area it provides, its heat control, and its price. Additional features, like a built-in thermometer or side tables, may also be worth considering based on your needs.
How do I maintain a portable grill?
Regular cleaning is crucial for maintaining your portable grill. Additionally, you should check for any damage or wear regularly, store the grill in a dry place, and cover it to protect it from the elements. Always follow the manufacturer's specific maintenance instructions.
What safety precautions should I take when using a portable grill?
Always set up your grill on a stable, flat surface away from flammable materials. Never leave the grill unattended when it's lit, and be careful when handling hot parts of the grill.
Can I use a portable grill on a table?
Yes, but only if the grill is designed for tabletop use. Always check the manufacturer's guidelines to ensure safe operation.
Remember, these answers are meant to be general advice, and you should always consult your grill's user manual or the manufacturer for advice specific to your model.
Final Thoughts
There are plenty of excellent portable grills to choose from for your next RV trip. Whether you're traveling as a family or going solo, consider what type of grill and fuel you want first, before focusing on any specific models.
One of our favorite portable grills for RVing has to be the Roadtrip 285 by Coleman. It has a folding cart so you can set it up and have your camping table free for meal preparation and dining. Its three burners are all individually adjustable, allowing you to cook different items simultaneously.
It has a good 20,000 BTU maximum heat output, two wheels for increased portability, plus, you can even store it vertically inside your RV, making this one of the very best all-around portable gas grills on the market.
For occasional use when RVing at campsites, the Cuisinart CEG-980T is a good compact choice that you can easily carry and store thanks to its briefcase-style design and folding legs.
Sturdy and robust, this compact electric tabletop grill is a good choice for use when RVing and as it does not feature any flames, you can also use it inside your RV if the weather turns wet or windy.