If you own a travel trailer you should treat yourself to a trailer dolly for easy parking and maneuvers in tight spaces. Trailer dollies can also be an excellent way to manage your tow trailer, be it your boat or ATV trailer that sits behind your class A or fifth wheel, making it easier to get your trailer hitched up and neatly parked when you arrive on vacation. Here's how to choose the best trailer dolly for your needs.
What is a Trailer Dolly?
Trailer dollies are designed to make it easy to park up your trailer in tight spots without using your tow vehicle. They can also be used to bring your trailer up to your tow vehicle for a quick hookup.
They generally have between one to four wheels with a ball mount or mounting bracket. Trailer dollies come in a wide range of designs and sizes, with two main distinct types: manual and motorized trailer dollies.
Most basic manual versions are designed to maneuver trailers with a gross weight of up to 600lbs, typically utility and boat trailers – although if you have an ultra-light teardrop or pop-up trailer you may just about be able to use one on a hard, flat surface.
More expensive manual versions can be used to park up some travel trailers, however, a motorized trailer dolly is recommended for standard-sized trailers rated around 5,000lbs and over. Heavy-duty trailer dollies are capable of moving fifth wheels weighing up to 12,000lbs.
Best Trailer Dolly
Wondering which is the best trailer dolly for your RV, boat, or ATV trailer? Here are our top-rated models that can help you to better park up and organize your trailer.
Best Manual Trail Dolly for Travel Trailers
Trailer-Tug – World's Greatest Trailer Dolly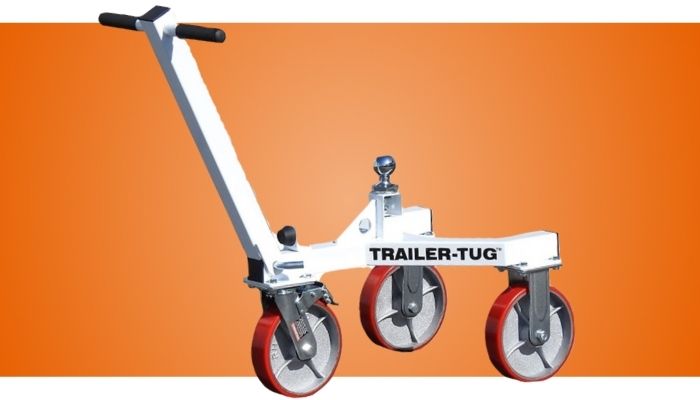 If you are looking for a manual trailer dolly with a high weight capacity, the Trailer-Tug is one of the best options out there.
It has an extremely high 3,500lb tongue weight – much higher than your average manual trailer dolly. Capable of moving standard-sized travel trailers on flat, hard surfaces, you may need to get some assistance for moving large trailers over 12,000lbs.
Thanks to its ⅛-inch thick cold rolled steel frame complete with a powder-coated protective finish, this trailer dolly is a durable choice. The three eight-inch 2,000lb capacity wheels come complete with urethane tires for easy gliding over concrete, paving, and other hard even surfaces. The push-pull tow handle has hand grips and can easily be removed to facilitate transporting the Trailer-Tug in the back of your truck.
Note that despite its price, the ball mount is not included with this model, so you will want to order one separately. Also, you may find this unit fairly difficult to maneuver with large travel trailers, however, that is to be expected considering it is only a manual trailer dolly.
So make sure you are physically up to the task with help to hand or else consider a motorized model.
Pros – Things we liked
3,500 lb tongue weight
Removable handle for storage & transportation
⅛" thick cold rolled steel frame
Powder-coated finish
3 urethane tires for easy gliding
Cons – Things we didn't like
Difficult to maneuver
Ball mount sold separately
Best Budget Trailer Dolly
MAXXHAUL 70225 Trailer Dolly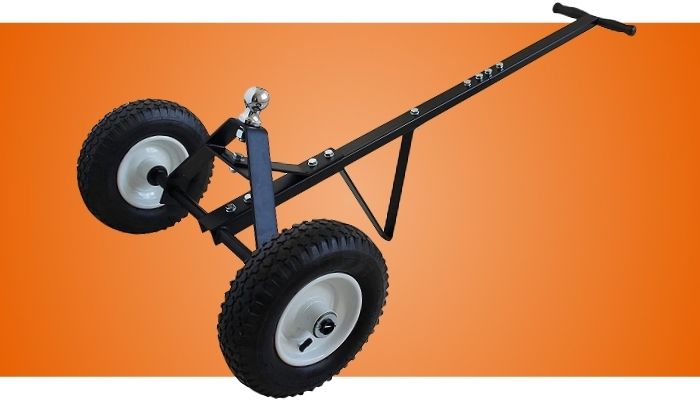 The MaxxHaul Trailer Dolly model number 70225 is our best budget pick, ideal if you are looking for an inexpensive, yet well-designed trailer dolly. With its maximum 600-pound gross trailer weight capacity, it is not suitable for maneuvering travel trailers unless you have an ultralight pop-up or teardrop model that weighs just 600 pounds.
This manual trailer dolly is a good choice for a boat or ATV trailer, making it easier to hook up to your class A for your next RV trip, or whatever small type of trailer you double tow. Thanks to its long handle you get good leverage so it's easier to push, while the rubberized handle grips make it easier to control. The 12-inch pneumatic tires are suitable for all terrains and have sturdy steel rims for extra support.
Thanks to this trailer dolly's heavy-duty steel construction and powder-coated anti-corrosive finish it is extremely durable and a great choice for quickly moving any smaller, lightweight trailer.
Unfortunately, the assembly instructions are not very helpful, although the trailer dolly itself is easy enough to put together once you have figured it out. All in all, a good budget choice for maneuvering any small trailer you tow with your RV or an ultralight pop-up trailer.
Pros – Things we liked
Durable powder-coated steel frame
2 x 12" all-terrain pneumatic tires
Rubberized handle anti-slip coating
1-⅞" solid forged hitch ball
Long handle for improved leverage
Cons – Things we didn't like
600lb maximum GTW
Poor assembly instructions
Best Overall Trailer Dolly
Trailer Valet 5X Tongue Jack Dolly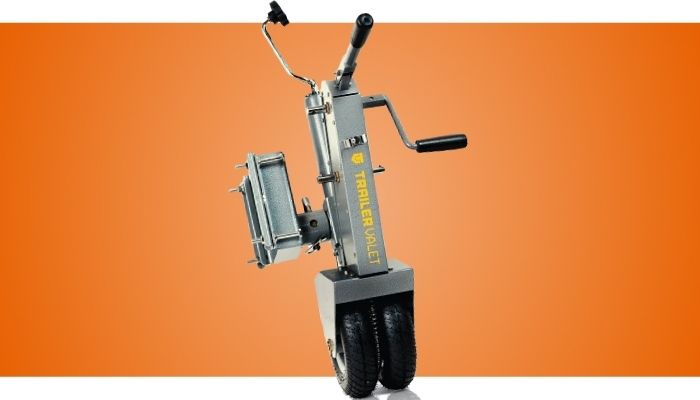 The 5X by Trailer Valet has a good 5,000-pound tow capacity, making it a suitable model for easily parking most average-sized travel trailers.
Strong and sturdy, its steel construction features a zinc-nickel plating finished with a corrosion-resistant powder coating for maximum protection and durability. "Never Flat" solid rubber tires give excellent traction and stability, while the automatic brake ensures safe operation.
Its patented gear system gives you more power for less effort, plus you have the option to motorize the hand crank by using a cordless drill. However, note that the drill attachment piece is an additional purchase for this model. One of the main advantages of this model is that once you have fixed it to your trailer's frame you can simply flip it up to store on the frame itself, allowing you to better park your trailer when you are away from home.
While the 5X only comes with a mounting bracket, you can upgrade to the XL model or the XLPro if you would prefer a hitch ball for greater control. The XL has a higher tow weight capacity of 10,000 pounds making it suitable for large travel trailers and small fifth wheels, while the XLPro has a built-in 60V DeWalt drill with an automatic trigger and a 12,000-pound towing capacity, suitable for towing most fifth wheels.
Pros – Things we liked
5,000 lb tow capacity
Hand crank or motorize with a cordless drill
Automatic safety brake
Stores alongside trailer frame
"Never Flat" solid rubber tires
Cons – Things we didn't like
Drill attachment not included
Mounting bracket only
Best Value Trailer Dolly
Ultra-Tow Dual-Pull Trailer Dolly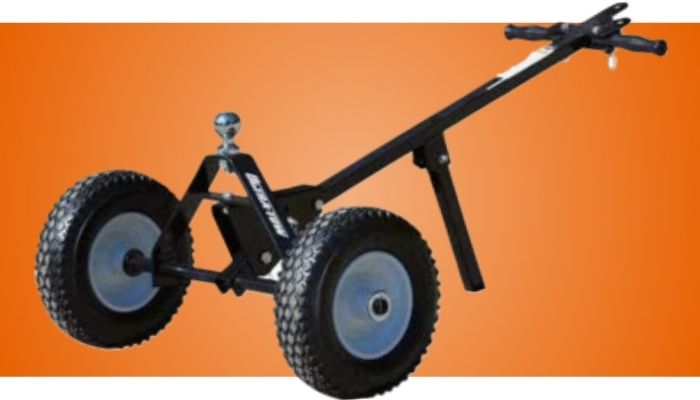 The Dual-Pull Trailer Dolly by Ultra-Tow is our best value choice being easy to use, well-built, and affordable.
Designed to be used with a variety of small trailers for boats, ATVs, and utilities, if you have a small pop up trailer that's within its maximum 600-pound tow load, you could also use it for RVing.
This trailer dolly comes with a 1-⅞ inch hitch ball set at a 17-inch height for good compatibility with the vast majority of lightweight trailers. Thanks to its pull-push designed handle, it is easy to maneuver, while its large 12-inch flat-free tires enhance traction combined with a wide, stable wheelbase.
The handlebar is a little on the short side, so you lose some leverage and if you are fairly tall you may end up stooping over to lift your trailer. However, this model is not designed for towing heavy travel trailers.
With its solid steel frame and good basic features, this value-for-money trailer dolly is a popular choice for RVers wanting to more easily park their boat or ATV trailer.
Pros – Things we liked
Solid steel frame
17" height – suitable for most small trailers
Dual pull-push design
2 x 12" flat-free tires
Wide wheelbase for extra stability
Cons – Things we didn't like
Short handle bar
600 lbs maximum weight capacity
Best Trailer Dolly for Small Travel Trailers
Apex Boat Trailer Dolly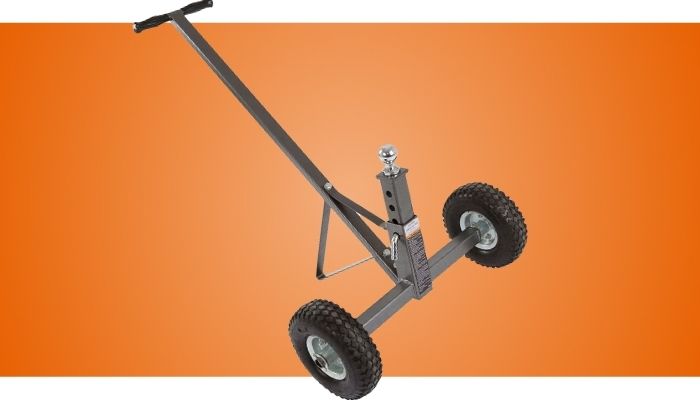 The Apex Boat Trailer Dolly is our top choice for maneuvering small travel trailers, as well as boat, ATV, and utility trailers.
Thanks to its relatively generous 3,500 pound towing capacity, it can be used with your average small trailer, although you may need to switch out the hitch ball for a two-inch one as only a 1-⅞" ball is included.
With its highly durable hammered-paint steel construction, this trailer dolly has been manufactured to last and it even goes together in just minutes, being very easy to assemble. With four height adjustments between 15.38″ to 24.38″, it is suitable for use with a wide range of trailers, while the long handle and contoured grips make it easy to use.
Unfortunately, aside from the 1-⅞" ball, the main drawback to this otherwise excellent trailer dolly is its tires. They are not solid enough to regularly take loads near to this unit's maximum capacity and end up crashing when weight is applied making it difficult to move trailers over 2,000 pounds easily.
However, if you are looking for a trailer dolly for a very lightweight trailer, like a pop-up or teardrop, you shouldn't experience this issue.
Pros – Things we liked
3,500 lb maximum capacity
Durable hammered-paint steel construction
4 height adjustments
Contoured handle grips
Rapid assembly
Cons – Things we didn't like
Tires are not very durable
1-⅞" hitch ball
Best Trailer Dolly for Pop Up Trailers
Tow Tuff Heavy-Duty Adjustable Trailer Dolly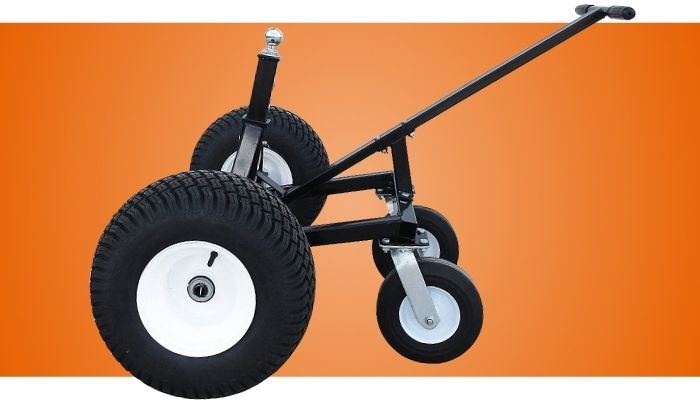 Thanks to its 1,500lb towing capacity, the TMD-15002C by Tow Tuff can be used to maneuver your average sized pop-up trailer. Its adjustable height between 23.25" and 37" allows you to park up and move around a variety of different trailers weighing up to 1,500 pounds – ideal for your light utility, jet ski, and ATV trailers.
The 36-inch wide wheelbase gives this trailer dolly extra stability while turning, as do the 18-inch tires with two 10-inch swivel casters. At 47-inches long, the handle gives good leverage for easier use, while the solid steel frame complete with powder-coat finish makes it a highly durable model that will stand up to the elements.
Suitable for use with two-inch plus couplers, this trailer dolly is a good choice for anyone with a variety of lightweight trailers to move around, especially over hard surfaces where the casters glide supportively.
On the downside, unfortunately, this model is often insufficiently packaged which can result in the loss of parts and hardware.
Pros – Things we liked
1500 lb capacity
Solid steel frame with powder-coat finish
Adjustable height: 23.25″ to 37″
2 x 18" tires with 2 x 10" swivel casters
47" handle for extra leverage
Cons – Things we didn't like
Poor packaging
Compare the Best Trailer Dollies
Table Comparing the Top 6 Trailer Dollies
Image
Title
Price
Rating
Buy
Trailer-Tug – World's Greatest Trailer Dolly

$$$$

Buy on Amazon

| | | | | | | |
| --- | --- | --- | --- | --- | --- | --- |
| Trailer-Tug – World's Greatest Trailer Dolly | $$$$ | 3,500 lbs | 54 lbs | Prime | 21 x 21 x 8 inches | Buy on Amazon |

MAXXHAUL 70225 Trailer Dolly

$

Buy on Amazon

| | | | | | | |
| --- | --- | --- | --- | --- | --- | --- |
| MAXXHAUL 70225 Trailer Dolly | $ | 600 lbs | 27 lbs | Prime | 42.01 x 14.02 x 5.98 inches | Buy on Amazon |

Trailer Valet 5X Tongue Jack Dolly

$$$$$

Buy on Amazon

| | | | | | | |
| --- | --- | --- | --- | --- | --- | --- |
| Trailer Valet 5X Tongue Jack Dolly | $$$$$ | 5,000 lbs | 51 lbs | Prime | 8 x 26 x 17 inches | Buy on Amazon |

Ultra-Tow Dual-Pull Trailer Dolly

$$

Buy on Amazon

| | | | | | | |
| --- | --- | --- | --- | --- | --- | --- |
| Ultra-Tow Dual-Pull Trailer Dolly | $$ | 600 lbs | 32 lbs | No Prime | 44.5 x 28.37 x 18.75 inches | Buy on Amazon |

Apex Boat Trailer Dolly

$$$

Buy on Amazon

| | | | | | | |
| --- | --- | --- | --- | --- | --- | --- |
| Apex Boat Trailer Dolly | $$$ | 3,500 lbs | 31 lbs | Prime | 41.5 x 30 x 24.38 inches | Buy on Amazon |

Tow Tuff Heavy-Duty Adjustable Trailer Dolly

$$$$$

Buy on Amazon

| | | | | | | |
| --- | --- | --- | --- | --- | --- | --- |
| Tow Tuff Heavy-Duty Adjustable Trailer Dolly | $$$$$ | 1,500 lbs | 110 lbs | No Prime | 44 x 43 x 34 inches | Buy on Amazon |
Buyer's Guide to Buying the Best Trailer Dolly
Wondering which is the best trailer dolly to go for to park up your rig with ease? Check out our trailer dolly buyer's guide and find out which essential feature you should be focusing on.
Price
The main difference in price will come down to whether you choose an electric or manual trailer dolly, although there is also a substantial difference between basic manual models and premium versions.
Budget manual trailer dollies can be picked up for around $100-$150. As they tend to have lower weight capacities, trailer dollies at this price point will not be suitable for most RV owners, although they may suffice for other trailers you double-tow behind your motorhome.
Higher-quality and premium manual trailer dollies will set you back anywhere between $200 to $600 if you are looking for models with advanced features and high weight capacities. Fully electric trailer dollies for RVs cost a couple of thousand dollars, although you can pick up a motorized model for several hundred that cranks up and down via a standard cordless 12V drill.
Essentially, if you want to maneuver a standard travel trailer, you'll need to pay at least $200-$300. For an easier way to park up a standard RV trailer, you'll want to spend over $500, and for a fully motorized trailer dolly that you can use via remote control, you'll need to spend over $1,000.
The more you spend the less physical effort you'll need to put in, plus you'll get better longevity and an all-around easier to use model.
Weight Capacity
It is essential to check that your trailer dolly's weight capacity is at least equal to, or preferably superior to, your trailer's gross weight.
Manufacturers will normally give you two figures, the trailer dolly's maximum towing capacity which should be equal to or less than your loaded trailer and a tongue weight figure. The latter will equate to 10-15% of your trailer's loaded weight, the weight that is directly exerted downwards upon the trailer dolly.
As stated previously, models with higher weight capacities tend to cost more which can tempt some RVers to pick up a trailer dolly with a lower capacity than their RV. This is not a smart move as you could potentially end up damaging your RV or injuring yourself.
Also, your trailer dolly isn't likely to last that long towing weights that are superior to its maximum capacity, you will end up frequently having to replace it. Best to play it safe and purchase a trailer dolly with the correct weight capacity for your trailer from the get-go.
Purchasing a trailer dolly with a superior towing capacity is also a smart move if you are considering upgrading your trailer in the not-too-distant future. Plus it gives you more options to safely maneuver other trailers that you or your friends and family may own.
Adjustable Height
It is advisable to invest in a trailer dolly with adjustable height settings so you can use it with a variety of different trailers.
Adjustable models are also a better choice for use on varied and unlevel terrain as you can alter the height as needed for smoother towing. Make sure that your trailer dolly is compatible with your main travel trailer's height before purchasing.
Tires
Basic models typically come with two tires, whereas models designed to support heavier weights will often have three tires or two tires plus casters for extra support and stability.
Flat-free tires are a popular choice as they will not deflate when being used or shrink over time. Look out for good sized tires that have plenty of tread to ensure sufficient traction to make maneuvering your trailer much easier.
Handle
You'll want to look out for a manual trailer dolly with a long handle. Longer handles give better leverage, making it easier for you to maneuver your travel trailer. A rubberized, non-slip grip will make using your trailer dolly much easier and safer.
Brake
A lot of basic manual trailer dollies do not come with brakes, whereas some of the more expensive models do. Pay close attention to the location of the brake, one on the handle is much more useful than having to bend down to the wheels.
If you are looking at getting a premium model, look for one with an automatic brake. This will ensure that your dolly will automatically stop when you cease pushing down on the handle – essential for using your trailer dolly on slopes without your trailer running you over or rolling back.
Hitch Ball
Most trailer dollies will come with either a 1-⅞" or a two-inch hitch ball. Make sure that your hitch ball is compatible with your trailer's coupler. Ideally, opt for a model with the possibility to remove and change your hitch ball so you can use your trailer dolly safely on a variety of different trailers.
Materials
Most trailer dollies are made from steel for its high tensile strength, capable of standing up to the weight of your heavy travel trailer.
To ensure your trailer dolly can withstand the elements for years of use, make sure that it benefits from a powder-coated or zinc-plated finish to resist corrosion and rusting.
Assembly
In most cases, trailer dollies are very easy to put together, although there are exceptions. Some models are in fact easy, but assembly is over-complicated by insufficient instructions or poorly translated ones.
To get an idea what you are letting yourself in for, make sure that you check out the manufacturer's user guide and any online documentation before purchase.
Ease of Storage
While some trailer dollies can be stored on your trailer's frame ready for deployment wherever you need to park, others will need plenty of space in your tow truck.
If you are going to be regularly storing your dolly on your truck bed, you may want to look out for models with removable handles to save yourself space.
Otherwise, for home use, you shouldn't have any problems storing your trailer dolly with your trailer. Simply cover it over if it is going to be wintering out.
Types of Trailer Dollies
There are two main types of trailer dollies – hand or manual trailer dollies and electric models. Here are some of the main differences between the two types of trailer dollies.
Hand Trailer Dolly
Hand trailer dollies feature a steel frame complete with wheels and a handle. Some have height adjustment points below the hitch ball. With this type of trailer dolly you will need to operate it manually.
As trailers are heavy and can cause injuries or roll off and become damaged, you may need help to maneuver your RV when using a manual trailer dolly.
Electric Trailer Dolly
Electric trailer dollies are much less physically demanding. A motor is responsible for turning the wheels and you simply guide it by pressing the handles or using a remote control. This type of trailer dolly is best for heavy trailers including fifth wheels and large travel trailers.
Top Trailer Dollies Video
Frequently Asked Questions
As you navigate the world of RVs, you're bound to have questions – especially when it comes to trailer dollies. These tools can be indispensable for maneuvering your RV, but they can also be a bit confusing, especially if you're new to them.
In this Frequently Asked Questions section, we've compiled a list of common queries and provided straightforward answers to help you make the best decision when choosing a trailer dolly for your RV. From understanding what a trailer dolly is, to choosing the right one for your needs, and learning how to maintain it, we've got you covered. If you have further questions after reading this section, feel free to contact us. We're here to help make your RV experience as smooth as possible.
What is a trailer dolly and why would I need one for my RV?
A trailer dolly is a tool that helps you manually maneuver your RV or trailer into tight parking spots or storage areas. They're especially useful for when your towing vehicle can't make sharp turns or can't fit into small spaces.
Are all trailer dollies the same size?
No, trailer dollies come in a variety of sizes and capacities. Some are designed to handle smaller trailers while others are capable of moving large, heavy RVs. It's important to choose a dolly that's rated for the weight of your RV.
How much weight can a trailer dolly handle?
This depends on the design and construction of the dolly. Some dollies can handle weights of up to 3,500 pounds or even more, while others are meant for lighter loads. Always check the weight capacity of a dolly before purchasing.
Is it difficult to use a trailer dolly?
Most trailer dollies are fairly simple to use, but it can take a bit of practice to get the hang of it, especially for larger trailers or RVs. Be sure to follow the manufacturer's instructions and use caution when maneuvering your trailer.
Can trailer dollies handle all terrains?
While many trailer dollies are capable of handling a variety of surfaces, such as gravel or grass, their effectiveness can vary. Make sure to choose a dolly that is suitable for the terrain where you'll be using it.
Are electric trailer dollies better than manual ones?
Electric trailer dollies can make the job of moving a trailer much easier, especially if it's particularly heavy. However, they tend to be more expensive than manual models. The best choice depends on your budget and the size of your RV.
What should I consider when buying a trailer dolly?
Consider the size and weight of your RV, the type of terrain you'll be navigating, and your budget. Also, look at the construction and durability of the dolly, as well as ease of use.
How can I maintain my trailer dolly?
Regularly inspect your dolly for any signs of wear or damage, particularly on the wheels and hitch. Lubricate moving parts as needed, and store it in a dry place to prevent rust.
Can I use a trailer dolly to move other types of trailers?
Yes, most trailer dollies can also be used to move other types of trailers, such as boat trailers or utility trailers. Always make sure the weight and size of the trailer are within the dolly's capacity.
Can trailer dollies damage my RV or trailer?
If used correctly, a trailer dolly should not cause any damage to your RV or trailer. However, incorrect use or overloading can potentially cause damage, so it's important to follow the manufacturer's guidelines.
Final Thoughts
Provided you take your towing needs into account, you're sure to find the best trailer dolly in our top-rated reviews and by using our buyer's guide.
If you are struggling to make up your mind, take a second look at our overall favorite – the 5X by Trailer Valet. Its 5,000 pound towing capacity makes it suitable for most standard RV trailers, while its robust construction and automatic brake make it a safe and reliable model. Store it on your trailer's frame and park perfectly wherever the road takes you.
Alternatively, if you are looking for a manual trailer dolly that can be used to park all types of RV trailers, you may want to take a second look at the Trailer-Tug. With its impressive 3,500lb tongue weight, this trailer dolly can even be used to maneuver fifth wheels – provided you've got help to push. With its removable handle for easy storage and three tires for stability and security, this popular trailer dolly could be your best bet.