While camping is the peak of summer for some, it is a year-round delight for others. Fortunately, there are numerous camping options accessible across the United States, ranging from well-kept campsites with picnic tables to rustic camping sites and dispersed camping.
Because camping and RVing have become increasingly popular in recent years, you'll almost surely have company wherever you go. However, if you want to spend the night in the great outdoors completely alone and have nature to yourself, dispersed camping is the way to go.
More skills and responsibilities are required for dispersed camping. Before engaging in this unusual experience, you must be informed of these. Certain laws and regulations must be obeyed for your protection and the benefit of fellow campers.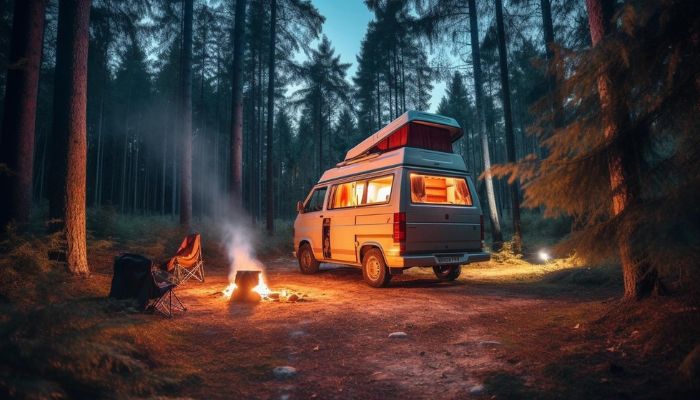 What Exactly is Dispersed Camping?
Camping on public property outside of designated campgrounds is known as dispersed camping in the United States. This type of camping is most common on Bureau of Land Management and national forest properties. Unlike dispersed camping areas, dedicated campsites usually provide amenities such as trash disposal, bathrooms, tables, and fire pits to campers. Although dispersed camping happens on public land, each controlling agency has its own set of restrictions, although they all require campers to follow the Leave No Trace principles. Other words for this type of camping include boondocking, dry camping, and wild camping.
What's more, dispersed camping is often free. It's not necessary to pay for your space or to compete for a position in a busy campsite. There is also no need to make reservations; simply arrive and set up camp.
Because you can choose a site using forest access routes, dispersed camping is ideal for car and compact RV owners, as well as hikers and backpackers. There will be no bathrooms, running water, or RV connections available to you. Bring everything you need, and remember to pack it all back up when you're finished.
Is Dispersed Camping Legal?
To be clear, you cannot simply show up and camp anyplace in the country. While dispersed camping is permitted on many public lands, some regions, such as endangered species habitats, may not permit it. However, in national parks, BLM-managed areas, and wildlife management areas, dispersed camping is frequently authorized.
Many national parks only allow "backcountry camping", or primarily tent camping, in a few approved areas. Many others outright prohibit it. In a few "National Recreation Areas", the National Park Service allows roving camping. The only way to be positive is to call the park visitor center and ask.
Where Can You Disperse Camp?
There are distinct dispersed camping restrictions for each region. Begin by searching Google Maps for BLM, National Forests, Wildlife Management Areas, and State Forests in your area. To ensure that you comply with all local rules, you should call the nearest ranger station or BLM office for advice, a complete list of restrictions, and to determine if there are any additional requirements.
The Bureau of Land Management – The Bureau of Land Management of the United States Department of the Interior is in charge of overseeing land throughout the country. The BLM is in charge of land in the western United States, including deserts and open areas. Vans, RVs, and occasionally tents are authorized to camp on BLM land. Because BLM land is used for a variety of purposes, you may wake up to sheep or cattle grazing in your campsite.
National Forests – The Forest Service is the owner of national forests, which are public lands. Although camping is prohibited in the bulk of National Parks and other locations controlled by the National Park Service (encompassing 85 million acres of public property), national forests can be found in virtually every state and commonly border national parks. In national forests, both RVs and tent camping are permitted. Dispersed campers are frequently allowed to stay in National Forests for two weeks, while the exact time depends on Forest's restrictions.
Wildlife Management Areas – Check with the local rangers or land managers in charge of these places because wildlife management areas and state forests are governed at the state level and have different restrictions.
Follow the principles of Leave No Trace
The Leave No Trace Seven Principles provide a simple foundation of low-impact activities for anyone dispersed camping or otherwise enjoying the outdoors. Although the principles of Leave No Trace originated in the backcountry, they have been refined so that they may be applied anywhere, including urban parks, rural wilderness areas, and even your personal garden. They also apply to almost all recreational pursuits. Each Principle addresses a specific topic and provides detailed suggestions for mitigating effects.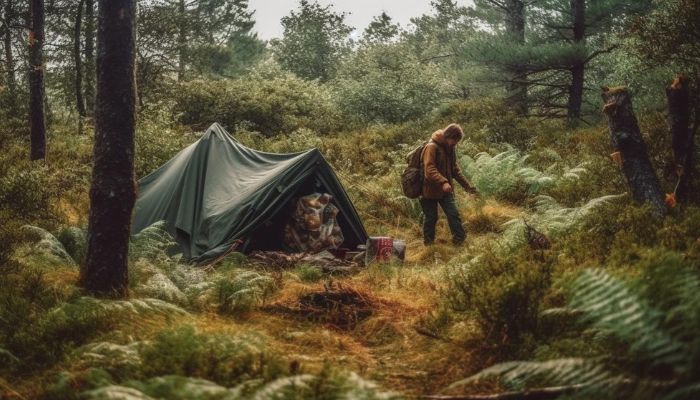 The seven principles can be found on the Leave No Trace website.
Plan Ahead and Prepare
Travel & Camp on Durable Surfaces
Dispose of Waste Properly
Leave What You Find
Minimize Campfire Impacts
Respect Wildlife
Be Considerate of Others
How Do I Pick a Good Dispersed Camping Location?
The majority of secondary roads have dispersed campsites that are either designated or not. Popular places can be identified by the distinctive flat disturbed area that was previously used as a camping spot. Not every flat land is a potential site. Please use pre-established sites to avoid further interruptions. To further protect your public lands, campers are forbidden from dumping of any trash, hazardous items, or sewage.
Speak with a ranger. If you want the inside scoop on the best locations to stay, look for any BLM Ranger Station or tourist center and ask the genuine locals (Rangers) for their advice. You'll be astonished at how far they'll go to help you because we've never been duped.
Examine numerous internet sites, such as Google Maps. Look for green landscapes that represent public lands once more. Use Google Earth to get an idea of the roads and landscapes.
Pitch your tent along a paved road. If you can't prevent it, make your camp on smooth, bare gravel. Remember that you are doing this at your own risk since if you are driving an Escape Campervan off a paved road, you are NOT insured and are NOT covered by the Escape Roadside Assistance plan. Furthermore, sleeping on a level surface is more comfortable.
As a last resort, locate a Walmart or a truck stop. However, free camping is not limited to government lands. Truck stops, rest stops, and Walmart parking lots can also provide dependable and practical overnight parking. Always check the signs beforehand to ensure you may spend the night there.
What to Bring on a Dispersed Camping Trip
It can be difficult to know what to bring when dispersed camping for the first time. Because you will be completely self-sufficient, you will require different supplies than you would at a campsite. Access to connections, water, and public bathrooms is prohibited in dispersed camping.
The good news is that you'll need a lot of overlapping dispersed camping gear whether you're going in a camper van, towing an Airstream, tent-car camping, or anything in between. Although not exhaustive, our list will cover the fundamentals that you won't want to overlook.
Chargers and Power
The first item on our list is for dispersed campers who travel in a camper or van. If you are automobile camping, you may not need to utilize a generator. It can be useful to have a few portable chargers on hand to charge your phone, torch, etc.
The addition of a generator, solar panel power system, or any other off-grid power supply makes dry camping places considerably more inviting. It lets you continue using your camper or van's luxuries such as the lighting, electric stove, and kitchen. Off-grid power systems are necessary for full-time travelers who work while traveling.
Which power source you utilize is largely determined by the type of fuel you use. You can utilize gasoline-powered generators or a solar system that uses the sun's energy to charge a bank of batteries.
Lights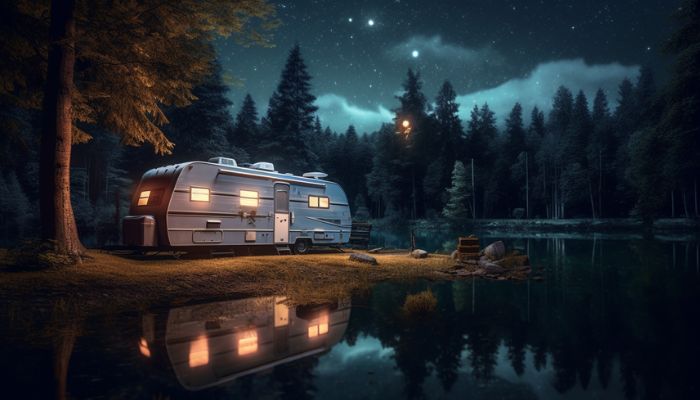 You'll undoubtedly need some lights regardless of how you power your camping vacation. Even if you want to camp in a tent, a headlight or candle is required. If you have a van or camper, your lighting may be more complicated.
Some of the more advanced lighting choices can be recharged in some way. For example, the Luci Lanterns have a little solar panel on them that allows them to recharge their batteries when they are exposed to sunlight during the day. If you prefer something more uncomplicated, you may go with a rechargeable headlamp.
Setting up LED lights around the camper door, awning, or outdoor kitchen as the sun goes down will make camp life easier for stays longer than one or two nights.
If you have a pet, putting a little LED light on their collar will make it easy to find them each night at camp. When you just let them out to pee or go for a late-night walk, seeing them from a distance will soothe your concerns.
Heating and Cooling
Depending on the time of year, having a battery-powered fan or portable heater with you can mean the difference between a restful night's sleep and staying up all night.
If your camper does not have a heating system or you are not traveling inside four walls, the Mr. Buddy gas heater is one of the best ways to keep your tent, truck, or camper heated during cold spells. This portable heat source may be powered by one of the little, green propane tanks, and you're good to go. Just keep in mind that gas heaters necessitate adequate ventilation. The one distinguishing feature of a Mr. Buddy heater is that, although employing a flame to generate heat, the electricity is cut off if the heater tips over for any reason, reducing the risk of a fire.
Even if your camper has air conditioning, a fan is an excellent way to keep bugs at bay while cooking outside or to cool down a pet on a hot day. A battery-powered fan is easy to transport and will help you save part of your portable energy. It's also a terrific addition to a tent or a car camping arrangement.
Water Bottles
One of the challenges is that you won't have much access to water if you go boondocking or dry camping. There could be a water source nearby, but it would need to be filtered or cleansed in some way. That is why keeping one or two water containers on hand is a must-have item. Camping water supplies are often available in 5-45 gallon volumes.
Unless you are camping in a trailer, bringing a 45-gallon water container may not be practical. Instead of a single huge tank, most van and truck campers will only bring a couple of 5-gallon containers for convenience.
From a number of designs, you can choose a water bladder, a hard-sided blue or jeep tank, or even a foldable 5-gallon tank. Make sure the water bottle you purchase is BPA-free and has enough capacity to last the duration of your trip.
Cooler
Gourmet dinners can be made on the spot if you're prepared and have a cool place to keep your favorite items. If you're car camping in a tent, your options are restricted, but many campers with off-grid setups opt for a fridge. In those cases, you must exercise caution to avoid acquiring a refrigerator that consumes all of your power reserves.
If you don't have access to off-grid power, you'll most likely utilize a cooler. While there are many great coolers on the market today, Yeti is one of the finest for long camping excursions. Although the Yeti Tundra cooler can keep ice for an extended period of time, food will not remain fresh permanently. Yeti coolers are on the expensive side of coolers, I have written an article for cheaper Yeti alternative coolers if you like a bargain.
As an alternative, consider an electric 12v cooler, such as the Dometic Electric Powered Cooler. Your food and beverages will remain chilled, and you will not need to use ice. There are several Dometic refrigerator options, but the one listed has a separate room for a freezer.
Pump and Portable Dump Tank
When camping without a connection, you must pay special attention to your RV's holding tanks. Use water sparingly to keep your grey and blackwater tanks from overflowing. Invest in a portable dump tank that is put in the truck bed and connected to your blackwater tank via a macerator pump to empty your grey and blackwater tanks. You may then take the portable tank in a toad to the nearest dump station to empty your black water tank without having to move your entire setup.
Water-Saving Showerhead
Now that your RV is outfitted with everything you need to lower your energy consumption, let's talk about water consumption. Because there are no water and sewer hookups or even a nearby water tap, it's critical to saving both water and tank space when dispersed camping. One of the simplest ways to attain these aims is to limit the amount of water that comes out of your faucets. A water-saving RV shower head can help with these objectives.
How to Plan Your First Dispersed Camping Trip
Although you will not have to pay for hotels or make reservations, dispersed camping does necessitate a little more planning. These guidelines will ensure that you have a good time, especially if this is your first time dispersed camping.
Select a Location
When selecting a place, we must be cautious not to enter someone else's property. The United States Forest Service has provided an interactive map of each National Forest. The National Forest is the one we're looking for, so pull it up, navigate to the location you want to visit and find out how much land is National Forest or National Park. The interactive map shows trails, approved campsites, and resources for a variety of activities.
There are other comparable maps available online from the Bureau of Land Management. Despite the fact that they are not interactive, they nonetheless represent the regions that are accessible for distant camping. Many more websites, including ones outside of National Forests and BLM land, mention wonderful places to spread camp for free across the country. Free Campsites and Campendium are excellent locations to start.
Living off-grid frequently includes living without cell service. These "special" offline materials, sometimes referred to as paper maps, are usually accessible near food stores and Ranger stations where you intend to camp. They work even when there is no power or cellular service. If you're in the middle of nowhere, the paper always works. Always have a backup plan and be aware of nearby housing possibilities, so use Booking.com and Kayak.com to search for nearby hotels, cabins, and more.
Find a Dispersed Camping Area
You'll need a spot to pitch your tent once you've settled on a trip. You must choose an approachable spot because cliffs, rivers, and dense trees are plainly not suitable for camping.
To prevent damaging any trees or plants in a new area, it is best to try to utilize an existing site. During this stage, Google Maps becomes a useful ally because it does a reasonable job of identifying National Forest regions (albeit it is not always 100% accurate). Locate the location you want to visit, enable the satellite image layer, and then zoom in extensively. Many campsites look like clearings or pullouts along gravel roads.
The Forest Service and Ranger Stations are eager to help you identify a suitable location. They can tell you where the land is accessible and if there are any restrictions. For example, certain areas may be off-limits to camping during the summer due to a fire restriction, while particular roads may be covered by snow and gated during the winter. Find the nearest ranger station and phone them immediately for the most up-to-date information.
Last but not least, allow yourself adequate time and light to arrive at your destination. Dispersed camping areas that are now in operation seldom ever feature any kind of directional indication. Certainly not for new sites. Arrive early so you can see what you're doing, unless you want to pitch your tent in the dark and possibly have to shift in the morning.
Be Aware of Wild Animals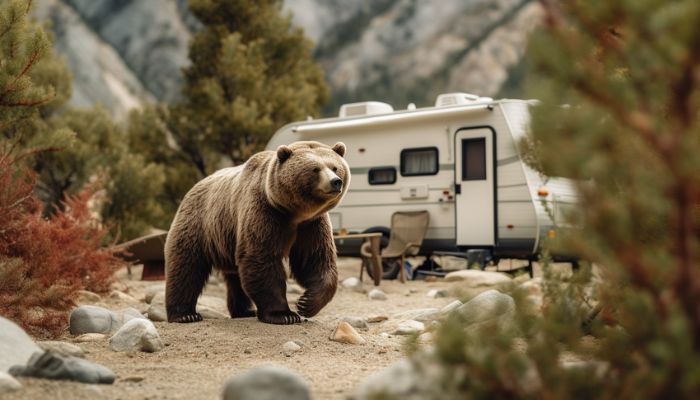 Wildlife in National Forests is a result of their seclusion and huge open landscapes. When we're out in the woods, we have to keep an eye out for wildlife. We've arrived at their home. Outstanding safety advice is provided by the U.S. Fish and Wildlife Service.
It advises against running away from bears. Bears, like dogs, can sprint at speeds of up to 40 mph and will pursue animals that flee. Use your best bear deterrent and maintain your ground if a bear approaches or charges you (i.e. bear spray). Most bear charges are defensive rather than predatory.
Be on the lookout for indicators of recent bear activity and be bear aware, especially around brown bears. When you find fresh tracks, scat, or crushed plants, leave. Make noise when hiking to avoid startling bears: clap your hands, sing, and talk. If you are in a loud or brushy environment, move in groups and make more noise.
The U.S. FWS advises that if you want to survive a mountain lion attack, try your best to appear bigger. Lift up your arms. Remove your jacket and wave it about if you're wearing one. Pick up the young ones. Throw pebbles or other things, talk authoritatively in a loud voice and wave your arms slowly. Face the attacking animal and try to stay upright. If attacked, fight back.
Avoid Going Alone
Going dispersed camping alone is dangerous unless you are an experienced camper. You'll be completely alone and potentially without anybody else nearby if something unforeseen happens. You should camp with at least one other person until you are comfortable in the woods.
It's a good idea to let a family member or friend know where you're going, who you're traveling with, and when you'll be back. Even though it's rare that anything awful would occur on a typical camping vacation, it never hurts to be cautious.
Be Ready for No Cell Service
Cell service is less likely to be available at dispersed campsites. Before you leave, send critical emails or set up your vacation email response so you won't worry about being in touch. Also, if you can't access a map on your phone, bring a printed copy of the region with you.
Camp Away from Water
Make careful to provide enough space between your campsite and any water source because camping too close to water will contaminate it. It's best to keep at least 200 feet away.
This will not only make the water spotless, but it's also a fantastic strategy to stop any unexpected guests. Animals of many sizes visit water sources, frequently at night. Your chance of encounters with the neighborhood wildlife will be reduced if you take in the lake's scenery from a neighboring hill.
Dispersed Camping Explained Video
Final Thought
You can have fun in a pristine environment, far from the chaos of conventional campsites, with a little bit of planning and gear.
There is a slight learning curve, but after a few dispersed camping excursions, you'll be able to unwind and take it all in.