Weekend RVing is a delightful way to escape the routine of everyday life, immerse yourself in the beauty of nature, and embark on exciting adventures with family and friends. It offers the freedom to explore stunning destinations, create lifelong memories, and experience the joys of the open road. Whether you're a seasoned RVer or new to the world of recreational vehicles, this comprehensive guide will provide you with valuable insights and tips to make the most of your weekend RVing trips.
In this article, we will delve into various aspects of weekend RVing, from planning your trip to selecting the perfect RV and discovering must-visit destinations. We will also explore tips for successful weekend RVing, including budgeting strategies, maintenance guidelines, and suggestions for family-friendly activities. With the right preparation and knowledge, you can embark on unforgettable adventures and create a lifetime of cherished moments.
Weekend RVing opens up a world of possibilities, allowing you to experience the great outdoors while enjoying the comforts of home on wheels. Whether you seek picturesque landscapes, thrilling outdoor activities, or peaceful relaxation, there are endless destinations to suit every taste and interest. From national parks and scenic coastlines to charming small towns and hidden gems off the beaten path, you'll find a wealth of options for your weekend RVing escapades.
As you read through this article, you'll discover practical advice on planning your trip, including considerations for campground reservations, safety measures, and efficient packing. We'll also explore the various types of RVs available, helping you make an informed decision when choosing the perfect one to suit your needs and preferences.
Furthermore, we'll take you on a virtual journey to some must-visit weekend RVing destinations across the United States. From the majestic national parks of the West to the charming coastal getaways of the East, you'll find inspiration for your next weekend RVing adventure.
To ensure a successful and enjoyable trip, we'll provide you with a comprehensive list of tips and suggestions. These include budgeting strategies, maintenance guidelines, family-friendly activities, pet-friendly considerations, sustainable RVing practices, and answers to frequently asked questions. Armed with this knowledge, you'll be well-prepared to embark on your weekend RVing journey with confidence and excitement.
So, get ready to hit the road, explore breathtaking landscapes, and forge unforgettable memories. Whether you're seeking adventure, relaxation, or quality time with loved ones, weekend RVing offers the perfect blend of freedom and comfort. Let this guide be your companion as you navigate the world of weekend RVing, unlocking a world of possibilities and creating memories that will last a lifetime.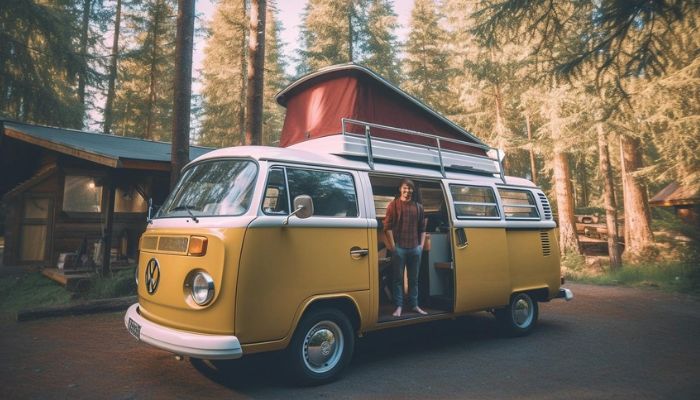 Planning Your Weekend RV Trip
Choosing the Right Destination: Selecting the perfect destination is crucial to ensure an enjoyable and memorable weekend RVing trip. Consider your interests, preferences, and the type of experience you're seeking. Do you crave stunning natural landscapes, bustling cities, or peaceful coastal getaways? Research destinations that align with your preferences, taking into account factors such as accessibility, weather conditions, and available amenities.
National parks offer breathtaking beauty and a chance to immerse yourself in nature. Consider visiting iconic parks like Yosemite, Yellowstone, or the Grand Canyon. If you prefer a coastal escape, destinations like the Outer Banks, California's Big Sur, or the Florida Keys can provide a relaxing and picturesque setting. For those seeking mountain retreats, the Rocky Mountains, the Appalachian Trail, or the Pacific Northwest offer stunning vistas and ample outdoor activities. Scenic campgrounds nestled in beautiful locations, such as Glacier National Park's Many Glacier Campground, Alabama Hills in California, or Cape Hatteras National Seashore in North Carolina, also make for excellent weekend getaways.
Route Planning: Once you've chosen your destination, plan your route accordingly. Consider factors such as road conditions, travel time, and attractions along the way. Utilize GPS navigation systems or online trip planning tools to help you map out the most efficient and scenic routes. Be sure to check for any road closures or construction that may affect your journey. It's also beneficial to identify potential rest stops, gas stations, and RV-friendly service areas along your route.
Packing Essentials: Creating a checklist of essential items will ensure you have everything you need for a comfortable trip. Some important items to consider include:
Clothing: Pack appropriate clothing for the weather conditions at your destination. Layering is recommended to accommodate changing temperatures.
Cooking Utensils: Bring pots, pans, utensils, and other necessary cooking equipment if you plan to prepare meals in your RV. Don't forget to pack a grill or portable stove for outdoor cooking.
Toiletries: Include essentials such as toothbrushes, toothpaste, soap, shampoo, towels, and toilet paper.
First Aid Kit: Stock your RV with a well-equipped first aid kit that includes bandages, antiseptic ointment, pain relievers, and any necessary prescription medications.
Outdoor Gear: Depending on your planned activities, pack hiking boots, binoculars, fishing gear, camping chairs, and any other equipment needed for your outdoor adventures.
Food and Water: Bring an ample supply of non-perishable food items, snacks, and plenty of drinking water. It's also a good idea to research nearby grocery stores or markets for fresh supplies.
By carefully planning your destination, route, and packing list, you'll set yourself up for a smooth and enjoyable weekend RVing trip. Remember to be flexible and open to new discoveries along the way, as unexpected detours often lead to the most memorable experiences.
Selecting the Perfect RV
Renting vs. Owning: One of the first decisions to make when planning your weekend RVing trip is whether to rent an RV or invest in one of your own. Each option has its advantages:
Renting an RV is a great choice for beginners, occasional travelers, or those who want to test different RV types before committing to a purchase. Renting allows you to experience the RV lifestyle without the long-term responsibilities and costs associated with ownership. Many rental companies offer a wide range of RVs to choose from, accommodating various budgets and preferences.
Owning an RV provides you with more flexibility, allowing you to embark on spontaneous trips whenever you please. It gives you the freedom to customize and personalize your RV according to your needs and preferences. Additionally, owning an RV can be cost-effective if you plan to use it frequently or for extended periods. However, it does involve upfront costs, maintenance responsibilities, and the need for storage when not in use.
RV Types: There are several types of RVs available, each offering different features and benefits. Consider the following options:
Motorhomes: Motorhomes are self-contained units that combine both the living space and the vehicle chassis. They come in three classes: Class A, Class B, and Class C. Class A motorhomes are the largest, resembling a bus or luxury coach, and offer the most amenities and living space. Class B motorhomes, also known as camper vans, are smaller and more maneuverable, making them suitable for solo travelers or couples. Class C motorhomes are a mid-size option with a distinctive over-cab sleeping area.
Travel Trailers: Travel trailers are towed by a separate vehicle and come in various sizes and styles. They offer a spacious interior and often include amenities such as kitchens, bathrooms, and sleeping areas. Travel trailers are an excellent choice if you already own a capable towing vehicle or prefer the ability to detach your living space from the vehicle.
Fifth Wheels: Fifth wheels are similar to travel trailers but require a special hitch mounted in the bed of a pickup truck. They offer increased stability, more living space, and often have multiple levels or slide-out sections that expand the interior when parked. Fifth wheels are ideal for those looking for a spacious and luxurious RVing experience.
Camper Vans: Camper vans, also known as conversion vans, are compact and versatile. They typically have a small kitchenette, a bed, and limited amenities. Camper vans are a great choice for solo travelers, couples, or those who prefer a more minimalist and agile RVing experience.
Consider factors such as the number of people traveling, desired amenities, ease of handling, and storage needs when selecting the RV type that best suits your preferences and requirements.
Remember to carefully inspect the condition of any rented or pre-owned RV before embarking on your trip. Check for any mechanical issues, ensure all systems are functioning correctly, and familiarize yourself with the RV's features and operations.
By weighing the advantages of renting versus owning and carefully considering the different RV types available, you can select the perfect RV that aligns with your budget, preferences, and travel plans.
Must-Visit Weekend RVing Destinations
National Parks: National parks offer some of the most awe-inspiring and diverse natural landscapes in the world. Here are a few must-visit national parks for your weekend RVing adventure:
Yosemite National Park (California): Famous for its towering granite cliffs, majestic waterfalls, and ancient sequoia groves, Yosemite National Park is a paradise for outdoor enthusiasts. Explore iconic landmarks like Half Dome, Yosemite Valley, and Glacier Point, and enjoy activities such as hiking, rock climbing, and wildlife spotting.
Yellowstone National Park (Wyoming, Montana, Idaho): As the first national park in the United States, Yellowstone is a true wonderland. Witness spectacular geothermal features like the iconic Old Faithful geyser, marvel at the colorful Grand Prismatic Spring, and observe wildlife such as bears, wolves, and bison.
Grand Canyon National Park (Arizona): Known for its immense size and breathtaking vistas, the Grand Canyon is a must-see destination. Enjoy panoramic views from the rim, hike along the trails, or take a scenic helicopter tour to experience the grandeur of this natural wonder.
Acadia National Park (Maine): Located on the rugged coast of Maine, Acadia National Park offers a unique blend of mountains, forests, and ocean landscapes. Explore the rocky coastline, hike to the summit of Cadillac Mountain for stunning sunrise views, or enjoy biking along the carriage roads.
Coastal Escapes: If you're seeking a weekend getaway by the sea, consider these picturesque coastal destinations:
Outer Banks, North Carolina: Stretching along the coast of North Carolina, the Outer Banks is a paradise for beach lovers. Explore historic lighthouses, visit the Wright Brothers National Memorial, or simply relax on the pristine beaches.
Big Sur, California: Located along the stunning central California coast, Big Sur offers breathtaking cliffs, secluded beaches, and majestic redwood forests. Drive along the iconic Pacific Coast Highway, visit Julia Pfeiffer Burns State Park to witness McWay Falls, or hike in Pfeiffer Big Sur State Park.
Florida Keys, Florida: Experience the laid-back island life in the Florida Keys. Drive the scenic Overseas Highway, explore the underwater wonders while snorkeling or diving, or simply relax on the sandy beaches and enjoy fresh seafood.
Mountain Retreats: Escape to the tranquility and beauty of the mountains in these weekend RVing destinations:
Rocky Mountains, Colorado: The Rocky Mountains provide a playground for outdoor enthusiasts. Enjoy hiking in Rocky Mountain National Park, go skiing in Aspen or Vail, or indulge in scenic drives like the Trail Ridge Road.
Appalachian Trail: Stretching over 2,000 miles along the eastern United States, the Appalachian Trail offers endless opportunities for hiking and reconnecting with nature. Choose a section to explore, enjoy panoramic views, and experience the charm of quaint trail towns along the way.
Pacific Northwest: Discover the stunning landscapes of the Pacific Northwest, including the snow-capped peaks of Mount Rainier National Park, the breathtaking Columbia River Gorge, and the serene beauty of Olympic National Park.
Scenic Campgrounds: Immerse yourself in nature at these picturesque campgrounds:
Many Glacier Campground, Glacier National Park (Montana): Nestled in the heart of Glacier National Park, Many Glacier Campground offers stunning mountain views, hiking trails, and access to the iconic Going-to-the-Sun Road.
Alabama Hills, California: Located near the eastern slopes of the Sierra Nevada Mountains, Alabama Hills is a unique desert landscape dotted with massive rock formations. Enjoy camping, hiking, and stargazing while marveling at the scenic beauty of the area.
Cape Hatteras National Seashore, North Carolina: Experience the beauty of the Outer Banks at Cape Hatteras National Seashore. Camp near the beach, go fishing, climb the Cape Hatteras Lighthouse, and explore the historic sites along the coast.
These destinations offer a glimpse into the stunning natural beauty of the United States and provide endless opportunities for outdoor adventures, relaxation, and exploration. Choose the destination that speaks to your interests and embark on an unforgettable weekend RVing journey.
Tips for a Successful Weekend RVing Trip
Reservations: Making campground reservations in advance is crucial, especially during peak seasons or popular holiday weekends. Many campgrounds fill up quickly, so securing your spot ahead of time ensures you have a place to park your RV. Research and book your desired campground well in advance to avoid disappointment.
Safety First: Prioritize safety during your weekend RVing trip. Before hitting the road, ensure that your RV is in good working condition. Check tire pressure, inspect brakes, and verify that all essential systems (such as plumbing, electrical, and propane) are functioning properly. Familiarize yourself with basic maintenance procedures and carry necessary tools and spare parts.
Don't forget to pack essential safety items, including a fire extinguisher, smoke and carbon monoxide detectors, a first aid kit, a flashlight, and a roadside assistance kit. It's also wise to have a communication plan in place, such as a cell phone or two-way radios, to stay connected with your travel companions.
Efficient Packing: Optimize the space in your RV by packing strategically. Create a packing checklist to ensure you have all the essentials without overpacking. Pack clothes suitable for the weather conditions at your destination, and consider layering for versatility. Utilize space-saving storage solutions, such as collapsible containers and vacuum-sealed bags, to maximize storage capacity.
When it comes to food, plan your meals in advance and pack non-perishable items that are easy to prepare. Consider pre-cooking some meals or prepping ingredients to save time and effort during the trip. Don't forget to stock up on plenty of drinking water and refillable containers for hydration.
Campground Etiquette: Respect campground rules and be considerate of your fellow campers. Keep noise levels to a minimum, especially during quiet hours, to ensure a peaceful environment. Properly dispose of trash and recycling, keeping the campground clean and free of litter. Follow any specific guidelines provided by the campground regarding campfire safety and waste disposal.
Embrace Flexibility: While it's important to plan your trip, leave room for flexibility and spontaneous detours. Embrace the opportunity to discover hidden gems and unexpected attractions along the way. Sometimes the most memorable experiences come from unplanned adventures. Allow for extra time in your itinerary to explore intriguing sights or engage in activities that capture your interest.
Be prepared to adapt to unforeseen circumstances, such as weather changes or road closures. Having a backup plan or alternative activities in mind can help you make the most of your weekend RVing trip, regardless of any unexpected challenges.
By following these tips, you'll enhance the enjoyment and success of your weekend RVing adventure. Remember to prioritize safety, be respectful of campground etiquette, and remain open to the spontaneous wonders that can arise during your journey.
Recommended RV Accessories
When embarking on a weekend RVing trip, having the right accessories can greatly enhance your comfort and convenience. Here are some recommended accessories to consider:
Leveling Blocks: Leveling blocks are essential for ensuring a stable and level foundation for your RV. They help you compensate for uneven terrain and prevent the RV from rocking or tilting. Look for sturdy and stackable leveling blocks that are easy to use and can support the weight of your RV.
RV Awning: An awning provides valuable shade and shelter from the sun or rain, creating an outdoor living space right outside your RV. It allows you to relax in the shade, enjoy meals, or entertain guests. Choose a durable and easy-to-operate awning that fits your RV's dimensions.
Outdoor Furniture: Consider investing in foldable and lightweight outdoor furniture, such as camping chairs and a portable table. These allow you to comfortably relax, dine, and socialize outside your RV, enhancing your camping experience.
Solar Panels: Solar panels are a sustainable and energy-efficient accessory for your RV. They harness solar energy to charge your RV's batteries, reducing the need for relying solely on electrical hookups. Solar panels are ideal for off-grid camping or extending your stay without worrying about battery drain.
Bike Rack: If you enjoy cycling or want to explore the surroundings on two wheels, a bike rack is a valuable accessory. Choose a bike rack that is compatible with your RV and can securely hold your bikes during transit.
RV-Specific Navigation System: GPS navigation systems designed specifically for RVs can be extremely helpful in planning your routes. These devices provide information on RV-friendly roads, low clearance bridges, and other RV-specific points of interest, ensuring a smooth and stress-free journey.
RV Vent Covers: Vent covers allow you to keep your roof vents open, even during inclement weather, without worrying about rain entering your RV. They provide ventilation and help prevent condensation buildup and odors inside the RV.
Surge Protector: Protect your RV's electrical system from power surges and fluctuations with a surge protector. This device safeguards sensitive electronics and appliances from potential damage caused by unstable campground electrical connections.
RV Extension Cords and Adapters: Carrying a variety of extension cords and adapters ensures that you can connect your RV to different types of electrical outlets at various campgrounds. This versatility allows you to adapt to different power configurations easily.
RV-specific Tool Kit: As an RV owner, having a comprehensive tool kit is essential. Include tools such as screwdrivers, pliers, wrenches, and tire pressure gauge. Having the right tools on hand can help you address minor repairs or maintenance tasks during your trip.
Remember, the selection of RV accessories depends on your specific needs, preferences, and the type of RV you own. Carefully consider the features, quality, and compatibility of the accessories before making a purchase. Investing in these recommended accessories can significantly enhance your weekend RVing experience, making your trip more comfortable, enjoyable, and hassle-free.
Budgeting Tips for Weekend RVing
Planning and managing your budget effectively is crucial for a successful and cost-conscious weekend RVing trip. Consider the following tips to help you make the most of your budget:
Plan Ahead: Before your trip, create a detailed budget outlining all your expected expenses. Consider costs such as campground fees, fuel, food, activities, and any additional equipment or accessories you may need. Research and gather information on prices, discounts, and special offers to make informed decisions.
Choose Budget-Friendly Campgrounds: Look for campgrounds that offer reasonable rates for RV sites. Some public campgrounds or state parks provide more affordable options compared to private campgrounds or resorts. Consider off-peak seasons or weekdays, as rates tend to be lower during these times.
Cook Meals in Your RV: One of the advantages of RVing is having your own kitchen on wheels. Take advantage of this by preparing your meals instead of dining out. Plan your meals in advance, make a shopping list, and stock up on groceries before your trip. Cooking your own meals not only saves money but also allows you to have healthier and customized dining options.
Take Advantage of Free or Low-Cost Activities: Research and explore free or low-cost activities in the area you're visiting. Many national parks offer hiking trails, scenic viewpoints, and ranger-led programs at no additional cost. Look for local attractions, parks, or beaches that have minimal or no entry fees. Engaging in outdoor activities, such as hiking, fishing, or wildlife spotting, can be both enjoyable and budget-friendly.
Consider Membership Discounts: Look into RV membership clubs or organizations that offer discounts on campgrounds, fuel, and various services. For example, programs like Good Sam Club and Passport America provide members with access to discounted rates at participating campgrounds and RV-related services. Membership benefits can help you save money in the long run.
Fuel Efficiency and Trip Planning: Fuel costs can be a significant portion of your budget, especially for longer trips. Practice fuel-efficient driving techniques, such as maintaining a steady speed and avoiding excessive idling. Plan your route efficiently to minimize unnecessary mileage. Utilize trip planning tools or apps that can help you find the most economical fuel stops along your route.
Avoid Excessive Utility Usage: Be mindful of your utility usage while RVing to conserve resources and reduce costs. Practice energy-saving habits, such as turning off lights and appliances when not in use. Use campground facilities, such as showers and restrooms, to minimize water and propane consumption in your RV.
Research Local Deals and Coupons: Before your trip, search for local deals, coupons, and discounts for restaurants, attractions, and supplies in the area you'll be visiting. Check websites, social media platforms, and local tourism bureaus for promotional offers or special packages that can help you save money.
Track and Review Expenses: Throughout your trip, keep track of your expenses to monitor your budget. Use mobile apps or a simple spreadsheet to record your spending. Regularly review your budget and make adjustments as necessary to stay within your planned limits.
By implementing these budgeting tips, you can enjoy a weekend RVing trip that is both enjoyable and financially manageable. Remember, being conscious of your spending allows you to allocate your resources wisely, ensuring a stress-free and memorable experience.
RV Maintenance and Care
Proper maintenance and care are essential for keeping your RV in optimal condition and ensuring a smooth and trouble-free weekend RVing trip. Here are some key aspects to consider:
Regular Inspections: Perform regular inspections of your RV to identify and address any potential issues before they become major problems. Check the roof for signs of leaks or damage, inspect seals and caulking around windows and doors, and examine the exterior for any cracks or dents. Additionally, inspect tires for wear and proper inflation, test all lights and signals, and ensure all safety equipment is in good working order.
Fluid Checks and Changes: Regularly check and maintain fluid levels in your RV, including engine oil, transmission fluid, coolant, and brake fluid. Refer to your RV's owner manual for specific guidelines on when to change these fluids and follow the manufacturer's recommendations.
Electrical System: Inspect your RV's electrical system regularly, including the battery, wiring, and connections. Clean and tighten all battery terminals, check for any signs of corrosion, and test the battery's charge. It's also a good idea to carry a voltmeter or multimeter to check the electrical connections and troubleshoot any issues.
Plumbing System: Maintaining the plumbing system is crucial for a comfortable and functional RV. Inspect all water lines, faucets, and connections for leaks or damage. Test the water pump, water heater, and all valves to ensure proper operation. If you plan to use the RV's freshwater tank, sanitize it regularly to prevent the growth of bacteria.
HVAC System: Check and clean the filters in your RV's heating, ventilation, and air conditioning (HVAC) system. Proper airflow and clean filters help maintain optimal performance and prevent dust and debris from circulating in the RV. If you have a roof-mounted air conditioning unit, inspect and clean the filters, condenser coils, and drain lines.
Seals and Weatherstripping: Regularly inspect and maintain the seals and weatherstripping on your RV to prevent water leaks and drafts. Clean and condition rubber seals, check for any signs of deterioration, and replace them as needed. Apply silicone spray or specialized sealant to keep the seals flexible and effective.
Exterior Maintenance: Keep the exterior of your RV clean and protected from the elements. Regularly wash the RV using mild soap and water, and use RV-specific cleaners for the roof and other specialized areas. Apply a protective wax or sealant to the exterior to maintain the finish and protect against UV damage.
Interior Care: Keep the interior of your RV clean and organized to enhance your comfort and enjoyment. Regularly vacuum or sweep the floors, wipe down surfaces, and clean the bathroom and kitchen areas. Use RV-friendly cleaning products to prevent damage to sensitive surfaces and materials.
Winterization and Seasonal Maintenance: If you plan to store your RV during colder months or for an extended period, it's essential to winterize it properly. Follow the manufacturer's guidelines or consult a professional to drain the water system, protect the plumbing from freezing, and prepare the RV for storage. Before using the RV again, perform a thorough inspection and maintenance check to ensure everything is in working order.
Professional Servicing: Consider scheduling regular professional servicing for your RV. A professional technician can perform more in-depth inspections, address complex issues, and provide maintenance services such as wheel alignments, brake checks, and generator maintenance. Professional servicing can help identify and resolve potential problems early on, saving you from costly repairs down the line.
By following these maintenance and care tips, you can keep your RV in excellent condition and minimize the risk of unexpected issues during your weekend RVing trips. Regular maintenance not only ensures your safety and comfort but also extends the lifespan of your RV, allowing you to enjoy many memorable adventures.
Family-Friendly Weekend RVing Activities
Weekend RVing provides an excellent opportunity for families to bond, explore, and create lasting memories together. Here are some family-friendly activities to consider during your weekend RVing adventure:
Nature Exploration: Encourage your children to connect with nature by engaging in outdoor activities. Take family hikes along scenic trails in nearby parks or national forests. Look for trails with interpretive signs that provide educational information about the flora, fauna, and geological features of the area. Keep an eye out for wildlife sightings and encourage your children to document their observations through drawings or a nature journal.
Campfire Fun: Gather around the campfire in the evenings for some classic family fun. Roast marshmallows to make s'mores, share stories, and sing campfire songs. Bring along a guitar or other musical instruments for a sing-along session. You can also engage in storytelling, taking turns creating and sharing imaginative tales.
Outdoor Games and Sports: Pack some outdoor games and sports equipment to keep the whole family active and entertained. Play a game of catch with a Frisbee or a ball, set up a badminton or volleyball net, or enjoy a game of bocce ball or cornhole. These activities promote physical activity, friendly competition, and lots of laughter.
Bike Riding and Scenic Drives: If you have bicycles, explore the surrounding area with family bike rides. Look for bike-friendly trails or paved paths near your campground. Alternatively, take scenic drives along designated routes to enjoy beautiful landscapes and scenic viewpoints. Stop at picnic areas or designated lookout points to take breaks and soak in the views.
Junior Ranger Programs: Many national parks and state parks offer Junior Ranger programs designed to educate and engage children in learning about the natural world. These programs provide activity booklets or workbooks with age-appropriate activities that allow children to earn Junior Ranger badges or certificates upon completion. Participating in these programs can be educational and fun for the whole family.
Outdoor Crafts and Scavenger Hunts: Encourage creativity and engage your children in outdoor crafts or scavenger hunts. Bring along materials for activities such as leaf rubbings, rock painting, or making nature-inspired crafts. Create scavenger hunts tailored to the area you're visiting, where children can search for specific plants, animals, or geological features.
Stargazing: Take advantage of the dark skies at your campground for a memorable stargazing experience. Bring a telescope or simply lie on blankets and observe the stars, constellations, and perhaps even shooting stars. Use stargazing apps to help identify celestial objects and teach your children about the wonders of the night sky.
Educational Activities: Turn your RV into a mobile classroom by incorporating educational activities. Carry field guides or nature books that allow children to identify plants, trees, and wildlife they encounter during hikes. Use educational apps or websites to learn about the local history, geology, or cultural significance of the area.
Movie Nights and Board Games: Set up cozy movie nights inside your RV by bringing along a portable DVD player or streaming device. Enjoy family-friendly movies or TV shows together. On rainy days or during downtime, play board games or card games as a family. These activities promote quality time, communication, and friendly competition.
Remember, the goal is to create a fun and engaging experience for the entire family. Involve your children in the planning process and let them contribute ideas for activities they would enjoy. Encourage curiosity, exploration, and a love for the great outdoors through these family-friendly weekend RVing activities.
Tips for RVing with Pets
If you're planning a weekend RVing trip with your furry companions, it's important to make their experience safe, comfortable, and enjoyable. Here are some tips to consider when RVing with pets:
Pet-Friendly Campgrounds: Research and choose pet-friendly campgrounds for your RVing adventure. Look for campgrounds that allow pets and have designated pet areas or walking trails. Check for any specific rules or restrictions, such as leash requirements or breed limitations, to ensure compliance.
Pack Pet Essentials: Bring all the necessary pet essentials to ensure your pet's well-being during the trip. This includes:
Food and Water: Pack enough pet food for the duration of your trip, along with bowls for food and water. Stick to their regular diet to avoid digestive issues. Also, carry an ample supply of fresh water for your pet.
Bedding and Comfort: Bring your pet's bed or blanket to provide them with a comfortable sleeping space inside the RV.
Medications and Medical Records: If your pet requires medication, ensure you have an adequate supply for the duration of the trip. Carry any necessary medical records, vaccination records, and contact information for your veterinarian.
Leashes, Collars, and Tags: Keep your pet secure with a sturdy leash and collar. Ensure the collar has an identification tag with your contact information in case your pet gets lost.
Toys and Enrichment: Bring your pet's favorite toys or chew items to keep them entertained during downtime. Interactive toys or puzzle feeders can also provide mental stimulation.
Secure RV Interior: Ensure the RV interior is pet-friendly and secure. Secure loose items and potentially hazardous objects to prevent accidents. Use pet gates or crates to restrict access to certain areas of the RV if needed. Also, be mindful of any open windows or doors to prevent your pet from escaping.
Familiarize Your Pet with the RV: Allow your pet to get acquainted with the RV before your trip. Let them explore the space, including the bedroom, bathroom, and living area. This will help them feel more comfortable and reduce anxiety when you start your journey.
Regular Exercise and Bathroom Breaks: Pets need regular exercise and bathroom breaks, even while RVing. Take frequent breaks to allow your pet to stretch their legs and relieve themselves. Utilize pet-friendly areas within campgrounds for walks or find nearby trails suitable for pet exercise.
Temperature Considerations: Keep temperature considerations in mind when RVing with pets. RVs can heat up quickly, so never leave your pet unattended in a parked RV, especially in warm weather. Use shades or window coverings to block direct sunlight and ensure proper ventilation within the RV.
Be a Responsible Camper: Practice responsible pet ownership while camping. Always clean up after your pet and properly dispose of waste in designated areas. Respect quiet hours and keep noise levels to a minimum to avoid disturbing other campers and wildlife.
Pet Safety During Travel: Secure your pet safely during travel to ensure their safety and minimize distractions. Use pet seat belts, crates, or travel carriers that are appropriate for your pet's size and comfort. Avoid letting your pet roam freely within the RV while in motion.
Plan Pet-Friendly Activities: Research and plan pet-friendly activities and attractions in the area you'll be visiting. Look for nearby pet-friendly hiking trails, beaches, or parks where your pet can safely enjoy outdoor adventures with you.
Pet Health and First Aid: Keep a pet first aid kit handy in case of any minor injuries or emergencies. Familiarize yourself with basic pet first aid procedures and know the location of nearby veterinary clinics or emergency services in the areas you'll be traveling.
By following these tips, you can ensure a safe and enjoyable RVing experience for both you and your beloved pets. RVing with pets allows for unforgettable adventures and quality time with your furry companions.
Sustainable RVing Practices
As outdoor enthusiasts, it is important to practice sustainable habits while RVing to minimize our environmental impact and preserve the beauty of the natural landscapes we enjoy. Here are some tips for practicing sustainable RVing:
Conservation of Water: Conserve water by being mindful of your usage. Take shorter showers, turn off faucets when not in use, and fix any leaks promptly. Consider using water-saving devices such as low-flow showerheads and faucet aerators. Additionally, collect and reuse greywater (used water from sinks and showers) for flushing toilets or watering plants, following local regulations.
Energy Conservation: Conserve energy by minimizing unnecessary electricity usage. Turn off lights, appliances, and electronics when not in use. Utilize natural lighting during the day by opening curtains and blinds. Opt for energy-efficient LED bulbs inside your RV. Consider using solar-powered lights or portable solar panels to charge devices or power lighting when boondocking.
Waste Management: Practice responsible waste management by properly disposing of trash and recyclables. Recycle whenever possible and follow campground guidelines for waste separation. Minimize single-use plastic items by using reusable containers, water bottles, and grocery bags. Reduce food waste by planning meals and purchasing only what you need.
Minimizing Carbon Emissions: Reduce your carbon footprint by practicing eco-friendly driving habits. Drive at a steady speed and avoid rapid acceleration or braking, which can improve fuel efficiency. Plan your routes efficiently to minimize mileage and choose less congested roads whenever possible. When parked, use alternative transportation options such as bicycles or walking to explore nearby areas.
Leave No Trace: Adhere to the principles of Leave No Trace to preserve the natural environment and leave it as you found it. Pack out all trash and waste, including pet waste. Respect wildlife and observe from a distance, never feeding or approaching them. Stick to designated trails and avoid trampling vegetation. Educate yourself and your travel companions on the principles of Leave No Trace and practice them during your RVing adventures.
Campfire Safety: If campfires are permitted, practice campfire safety to minimize the impact on the environment. Use existing fire rings or designated fire pits and avoid building new ones. Only use firewood sourced locally to prevent the spread of invasive species. Fully extinguish the fire before leaving, ensuring it is cold to the touch. Observe any fire restrictions or burn bans in effect in the area.
Support Sustainable Businesses: Support local businesses and campgrounds that prioritize sustainable practices. Look for eco-certifications or green initiatives when selecting campgrounds or RV parks. Choose locally sourced or organic products when shopping for groceries. By supporting sustainable businesses, you contribute to the preservation of local communities and their natural resources.
Educate Yourself and Others: Continuously educate yourself and others about sustainable RVing practices. Stay informed about environmental issues and initiatives related to RVing. Share your knowledge and experiences with fellow RVers, encouraging them to adopt sustainable habits. By raising awareness and promoting sustainable RVing practices, we can collectively make a positive impact on the environment.
By incorporating these sustainable RVing practices into your trips, you contribute to the preservation of the natural environment and ensure that future generations can continue to enjoy these outdoor spaces. Let's strive to be responsible stewards of the environment while enjoying the beauty of the great outdoors.
Frequently Asked Questions (FAQs) – Weekend RVing
Planning a weekend RV getaway? We understand that you may have a few questions about weekend RVing and what it entails. In this FAQ section, we have compiled the most common questions and answers to help you navigate the world of weekend RVing with confidence.
Whether you're new to RVing or a seasoned enthusiast, these FAQs cover a wide range of topics, including the benefits of weekend RVing, suitable RV types for short trips, parking options, essential packing items, finding destinations, cost considerations, safety tips, and much more.
From understanding the basics to discovering practical advice, our aim is to provide you with the knowledge you need to make the most of your weekend RV adventures. So, let's dive in and explore the answers to your burning questions about weekend RVing!
What is weekend RVing?
Weekend RVing refers to the practice of using a recreational vehicle (RV) for short camping trips or getaways over the weekends. It allows people to experience the freedom of travel and the comforts of home while exploring new destinations in a compact and mobile living space.
What are the benefits of weekend RVing?
Weekend RVing offers numerous benefits, including the opportunity to escape the daily grind, reconnect with nature, and create lasting memories with family and friends. It provides the convenience of having a comfortable place to stay while enjoying outdoor activities, and it allows for flexibility in choosing different destinations without the need for extensive planning or hotel reservations.
What types of RVs are suitable for weekend trips?
Various types of RVs can be suitable for weekend trips, depending on individual preferences and needs. Class B motorhomes, travel trailers, pop-up campers, and camper vans are popular choices for weekend RVing due to their compact size, ease of towing, and convenience of setup. These options offer comfortable sleeping arrangements, cooking facilities, and bathroom amenities, making them ideal for short-term getaways.
Where can I park my RV for a weekend trip?
There are several options for parking an RV during a weekend trip. Campgrounds and RV parks are the most common choices, offering designated spaces with amenities such as electricity, water hookups, and dumping stations. Additionally, some national and state parks, as well as private landowners, may allow RV parking for a fee. It's essential to research and make reservations in advance to ensure availability.
What should I pack for a weekend RV trip?
For a weekend RV trip, it's crucial to pack essentials such as clothing, toiletries, bedding, and kitchen supplies. Depending on the season and destination, you may need to bring appropriate outdoor gear, including hiking shoes, swimwear, or warm clothing. Don't forget to pack any necessary RV-specific items like leveling blocks, sewer hoses, and power adapters. Make a checklist to ensure you don't forget anything important.
How can I find suitable destinations for weekend RVing?
Finding suitable destinations for weekend RVing can be an exciting part of the planning process. You can start by researching popular campgrounds or RV parks near your location or desired area. Online resources, travel websites, and RVing forums can provide valuable information and recommendations from fellow RV enthusiasts. It's also a good idea to consider factors like the distance, activities available, and amenities offered at the destination.
How much does weekend RVing typically cost?
The cost of weekend RVing can vary depending on several factors, including the type of RV, campground fees, fuel expenses, and personal spending. On average, you can expect to spend between $100 and $200 per night for campground fees. Additional costs may include fuel, groceries, dining out, recreational activities, and any necessary RV maintenance or repairs. It's recommended to set a budget and plan accordingly.
Can I bring my pets on a weekend RV trip?
Yes, many RVers enjoy bringing their pets along on weekend trips. RVing offers a pet-friendly environment, and most campgrounds and RV parks allow pets with certain restrictions and guidelines. Be sure to check the campground's pet policy before making reservations and ensure that your pets are up-to-date on vaccinations. Remember to pack essentials like food, water bowls, leashes, and bedding for your furry companions.
Are there any safety considerations for weekend RVing?
Safety is paramount when weekend RVing. Before each trip, it's essential to perform routine maintenance checks on your RV, including tire inspections, brake tests, and fluid levels. Familiarize yourself with your RV's emergency procedures and make sure you have necessary safety equipment like fire extinguishers and carbon monoxide detectors. Always drive cautiously, observe speed limits, and follow traffic rules to ensure a safe journey.
Can I rent an RV for a weekend trip?
Yes, renting an RV for a weekend trip is a popular option, especially for those who do not own an RV. Many rental companies offer various types and sizes of RVs for short-term rentals. It's advisable to book in advance, especially during peak travel seasons, and to familiarize yourself with the rental policies, insurance requirements, and any additional fees that may apply.
Remember, every RV trip is a unique experience, and it's important to plan, prepare, and enjoy your weekend RVing adventure to the fullest.
Final Thoughts
Weekend RVing offers a remarkable opportunity to escape the confines of everyday life, immerse yourself in nature, and create cherished memories with loved ones. Whether you're a seasoned RVer or embarking on your first RVing adventure, careful planning and consideration of various aspects will ensure a successful and enjoyable trip.
From planning your itinerary and selecting the perfect RV to exploring must-visit destinations and engaging in family-friendly activities, there are countless possibilities for a fulfilling weekend RVing experience. By following the tips and recommendations outlined in this article, you can make the most of your weekend getaway while minimizing any potential challenges or pitfalls.
Remember to plan ahead, make campground reservations, and consider the specific needs of your travel companions, including pets. Selecting the right RV that suits your requirements and preferences is essential for a comfortable and convenient journey. Take the time to research and compare options to find the perfect fit.
Once you're on the road, immerse yourself in the beauty of nature, exploring scenic trails, enjoying outdoor activities, and indulging in the tranquility of starlit nights around a campfire. Engage in family-friendly adventures, foster a sense of wonder, and create lasting memories with your loved ones.
While on your RVing journey, it's important to be mindful of sustainable practices and respect the environment. Practice conservation, reduce waste, and leave no trace behind. By being responsible stewards of the land, we can ensure that future generations can also enjoy the beauty and serenity of the natural world.
Lastly, embrace the flexibility and spontaneity that RVing allows. Take detours, discover hidden gems, and embrace the unexpected adventures that come your way. RVing is not just about the destination but also the journey itself, filled with serendipitous encounters and unforgettable experiences.
As you embark on your weekend RVing trips, keep in mind that every journey is unique. Adapt the tips and advice provided in this article to suit your personal preferences, travel style, and the specific needs of your travel companions. With proper planning, a spirit of adventure, and a love for the great outdoors, your weekend RVing trips are bound to be incredible experiences that will be cherished for years to come.
So, pack your bags, hit the open road, and embark on an unforgettable weekend RVing adventure. Happy travels!